This is the Budget Survival Alternative to the Esee 3
Anyone who's ever drooled over an ESEE knife only to have their heart broken by the three-digit price tag might appreciate the Rat III for what it is: the cheaper, identical cousin of the ESEE 3 design.
From afar they appear to be the same, aside from maybe an inch size difference and the lifetime warranty offered by Esee. After testing the Rat, though, I'm pretty sure the price difference signals a big difference in quality that you just have to feel.
Before I get too critical, the Rat III is a good knife, but it suffers from being a part of a very large family of bushcraft and survival knives. And if Jeff Randall is the grandfather of that extended family, he puts most of his paternal attention into making Esee knives as good as they can be, while the Rats are stuck in the mass-producing maze of the Ontario Knife Company factories.
That's not to say the Rat III doesn't have some impressive qualities. I've had fun with it, and it's certainly convinced me that Micarta is absolutely the way to go with survival knives. It just has a few performance issues that I suspect have been weeded by Rowen Manufacturing.
Specifications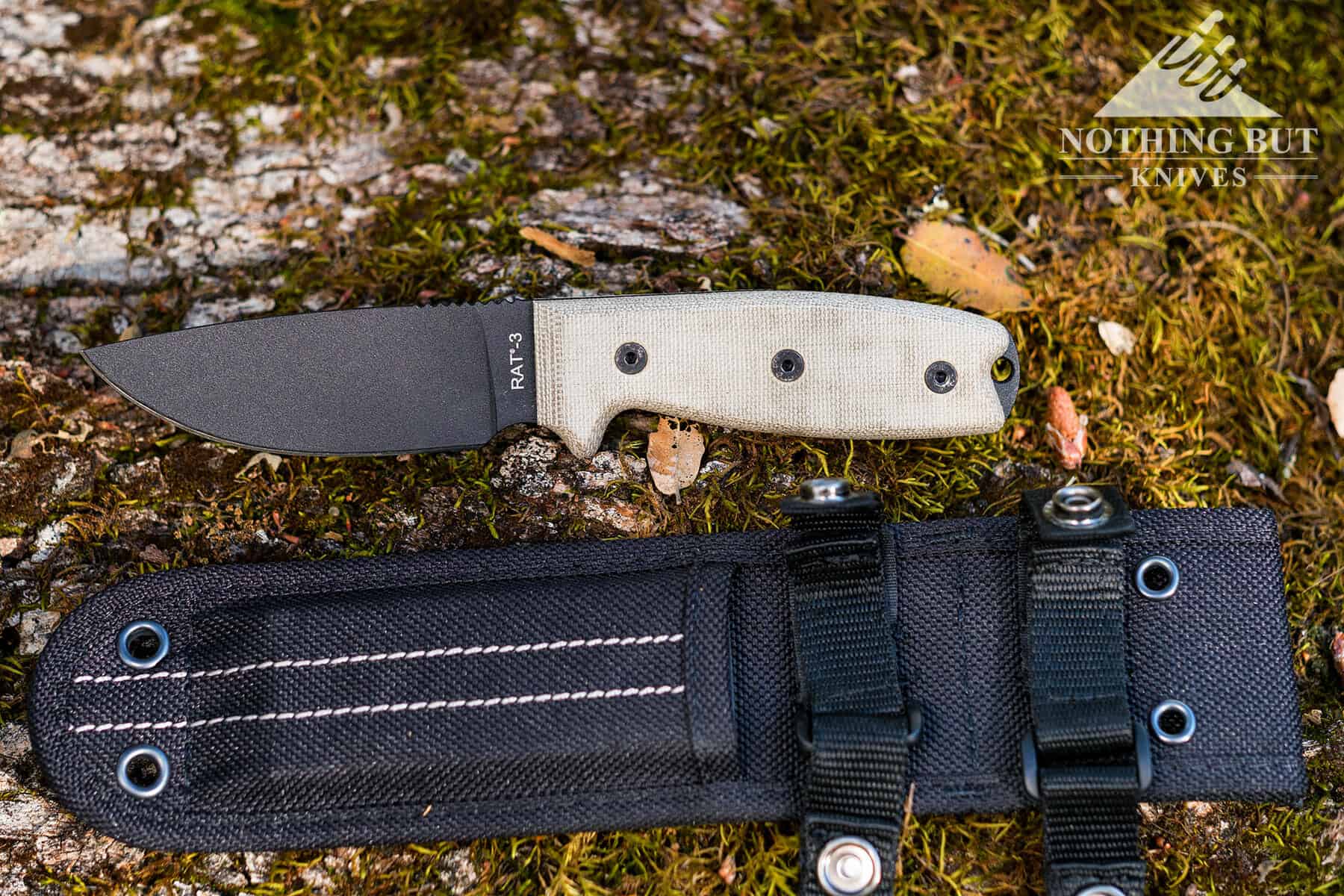 | | |
| --- | --- |
| Overall Length: | 7.6″ |
| Blade Length: | 3.6″ |
| Handle Length: | 4.0″ |
| Blade Steel: | 1095 |
| Blade Grind: | Flat |
| Blade Style: | Drop point |
| Handle Material: | Micarta |
| Knife Weight: | 4.9 oz |
| Weight w/ Sheath: | 7.4 oz |
| Sheath: | Nylon |
| Made in: | USA |
| Price Range: | $60 – 70 |
Pros
Tough steel with a good factory edge
Good edge retention
Comfortable handle
Carries light with MOLLE nylon sheath
Cons
Doesn't spark well on a ferro rod
Sub-par on chopping and feathersticking
The Blade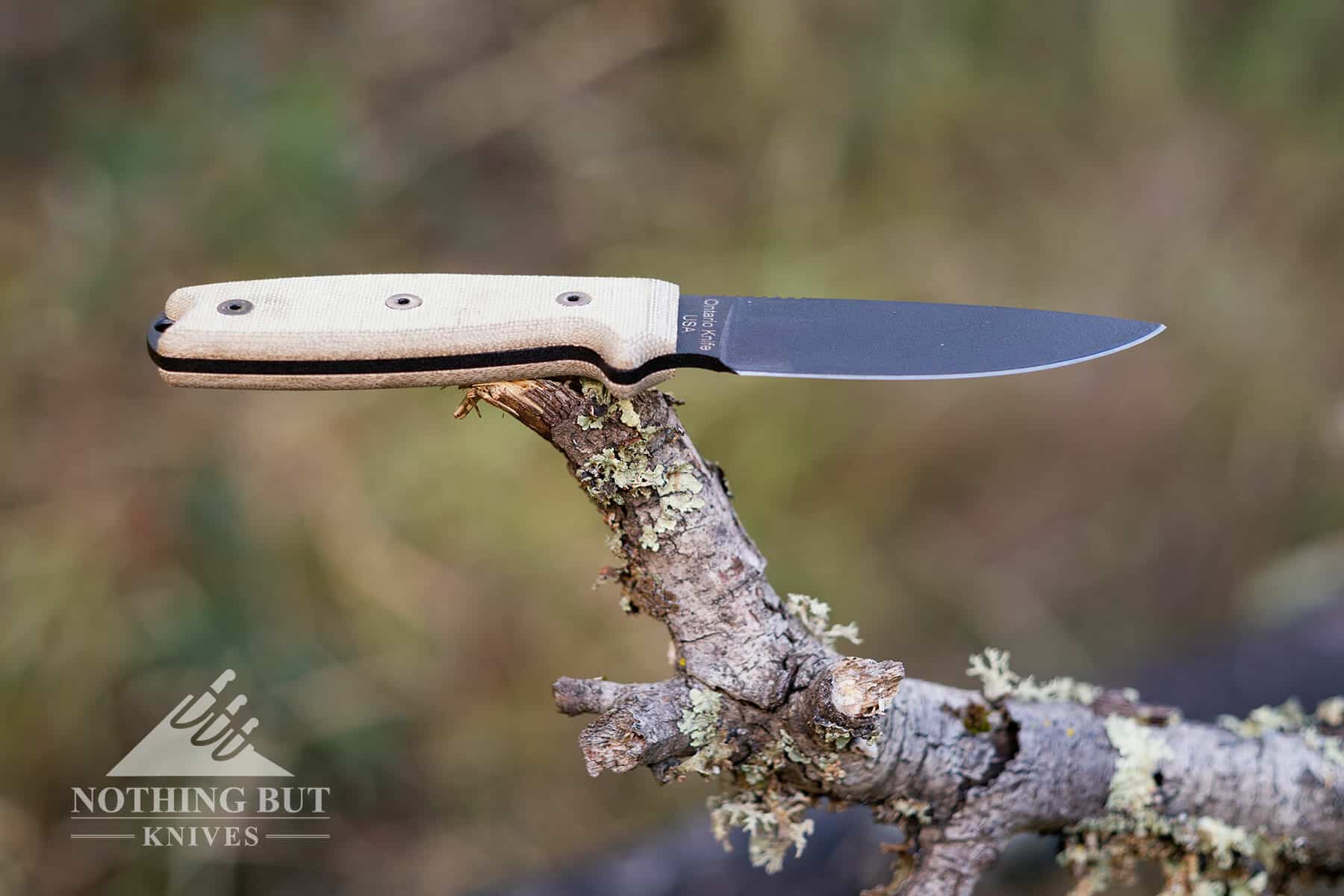 I don't know what you usually expect from a 1095 survival blade, but I expect it to be tough over sharp, and for that level of sharpness to stick around a while. The Rat III actually surprised me a bit here. It performed pretty well on a paper test. It took a few starts, but I got quite a few clean cuts through some standard printer paper even after chopping with it.
So the grind and steel tempering of this blade are clearly well done. Which means the complaints I'm about to lay out about the Rat III are possibly caused by some deliberate design choices, but I'm going to complain anyway.
On Chopping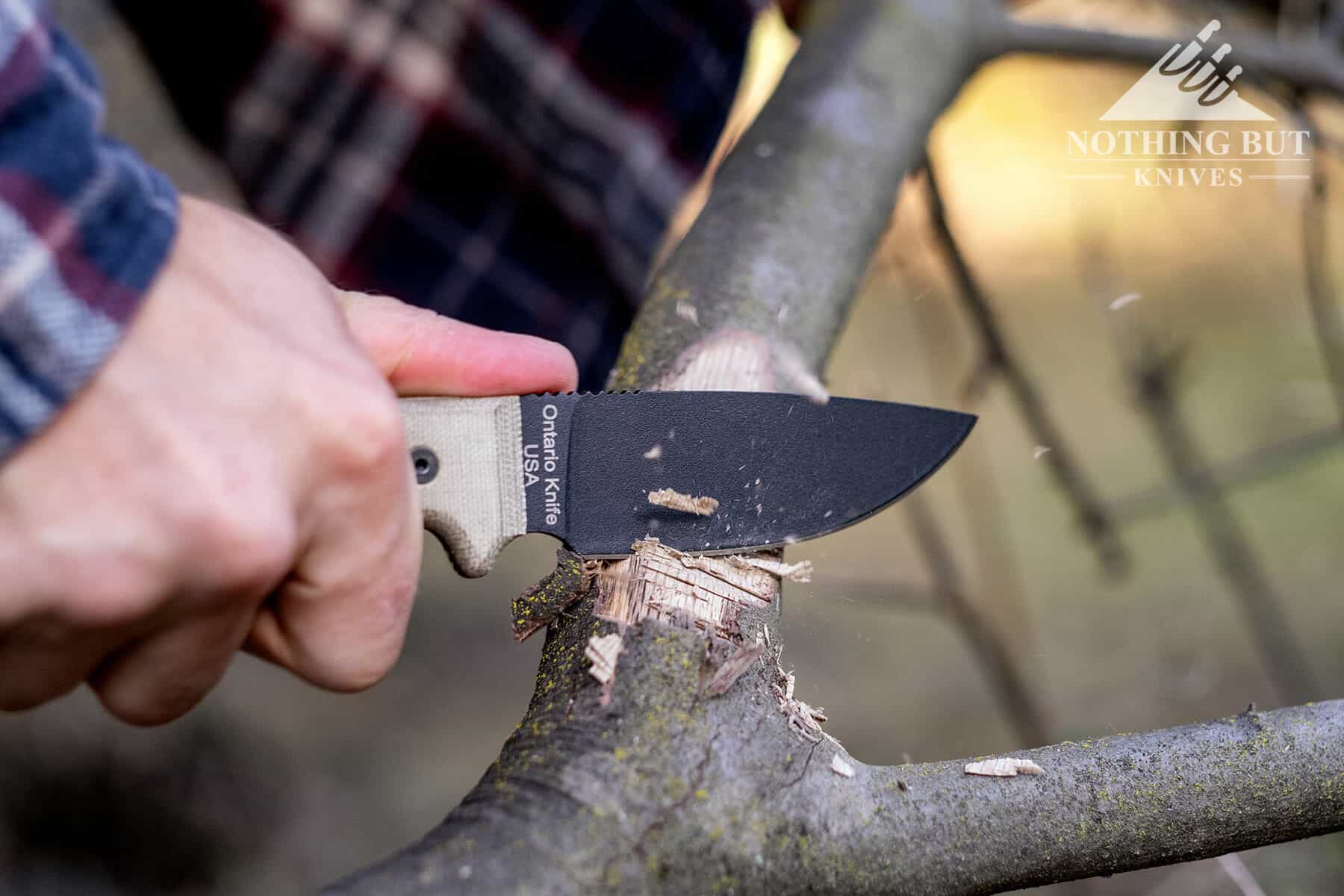 This thing is a pain to chop with. It doesn't bite into harder wood very well, and the handle starts slipping after a few hard swings. I probably spent close to ten minutes chopping away at a branch without getting very far. Granted, the branch was a little too big for a knife this size, but I didn't even make it halfway through before I decided to just call it. If you want to chop anything thicker than maybe an inch and a half you'd probably be better off batoning.
On Feathersticking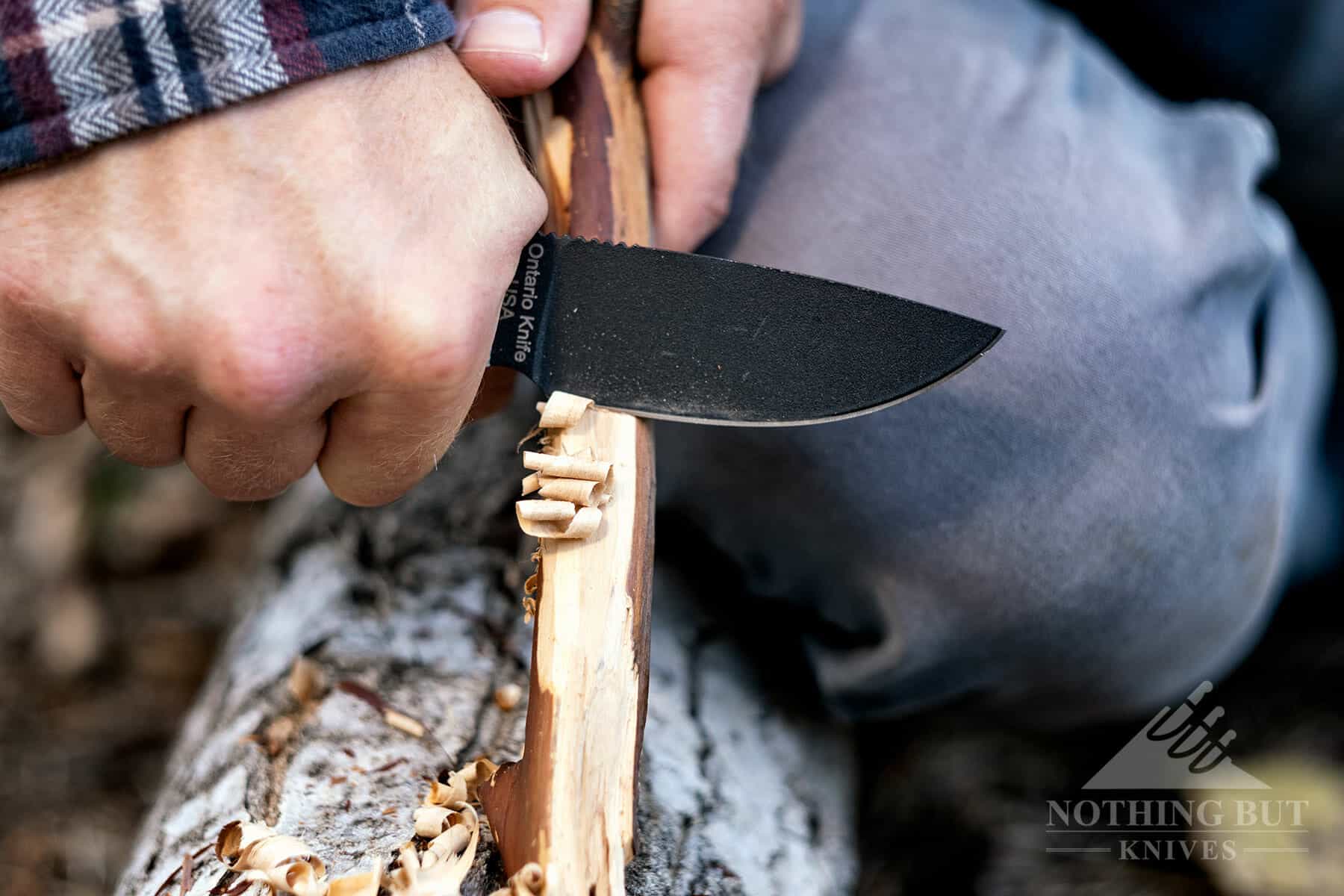 The grind also doesn't seem to take to feathersticking too well. I tried both manzanita and what I'm pretty sure was a stick off a stray birch tree, and the Rat 3 had trouble biting hard into both to create nice long shavings. I got some usable wood scraps out of it, but nothing that very closely resembled a decent feather stick.
On a Ferro Rod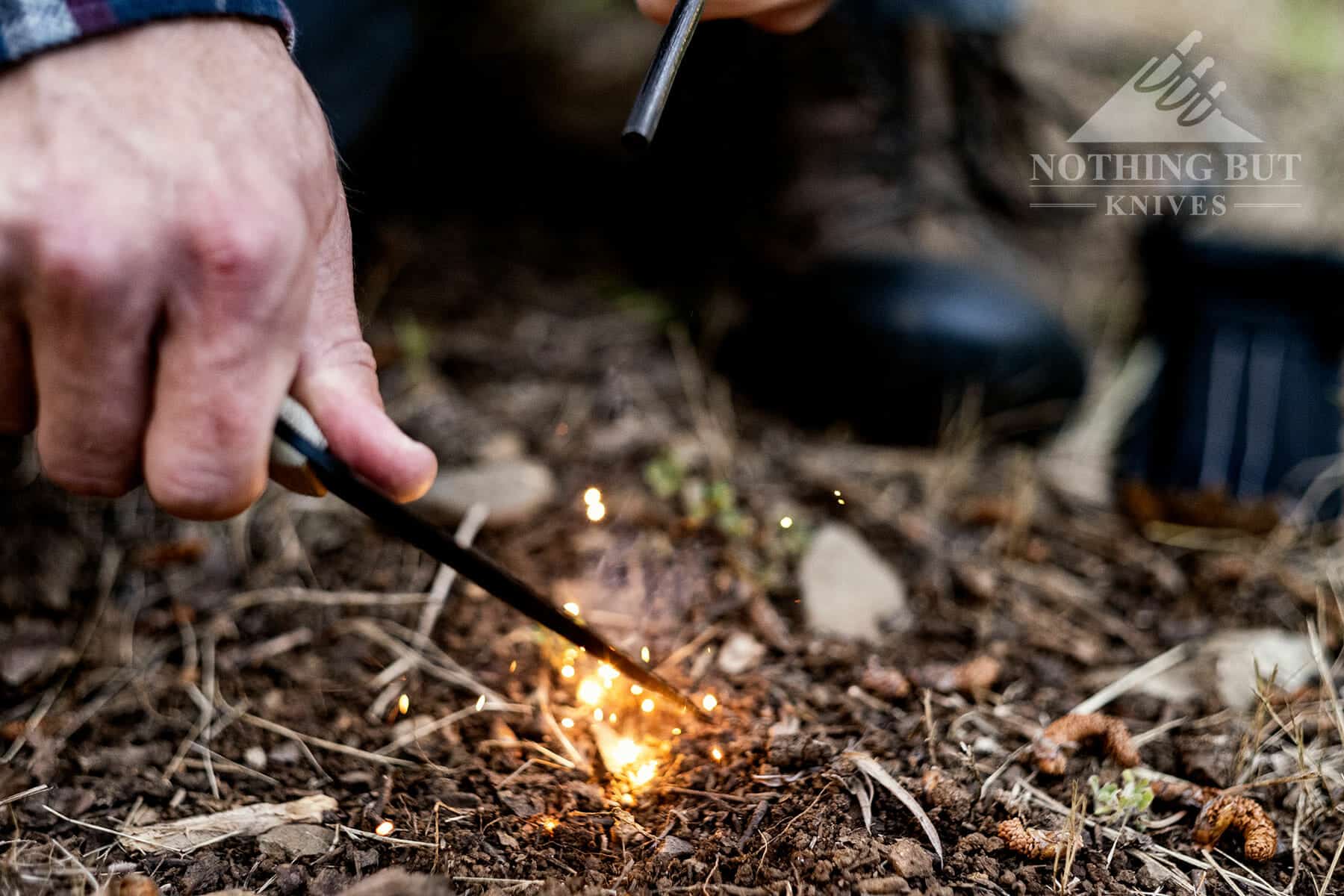 Frankly, that might not matter so much, since this doesn't throw sparks off a ferro rod very well anyway. It takes a lot of effort to see anything light up, and the sparks aren't big enough to travel far at all. The spine seems sharp enough to work well in this area, so I don't know if its the finish, or if I just don't have the skill for this kind of thing. I do know that when I run the Buck Selkirk over the same rod, making sparks is effortless. More on that comparison later, though.
Ultimately, the best I can say about this blade is that it's tough as hell, and it'll hold an edge. It could stand a bit of stropping before you take it out though.
The Handle and Ergonomics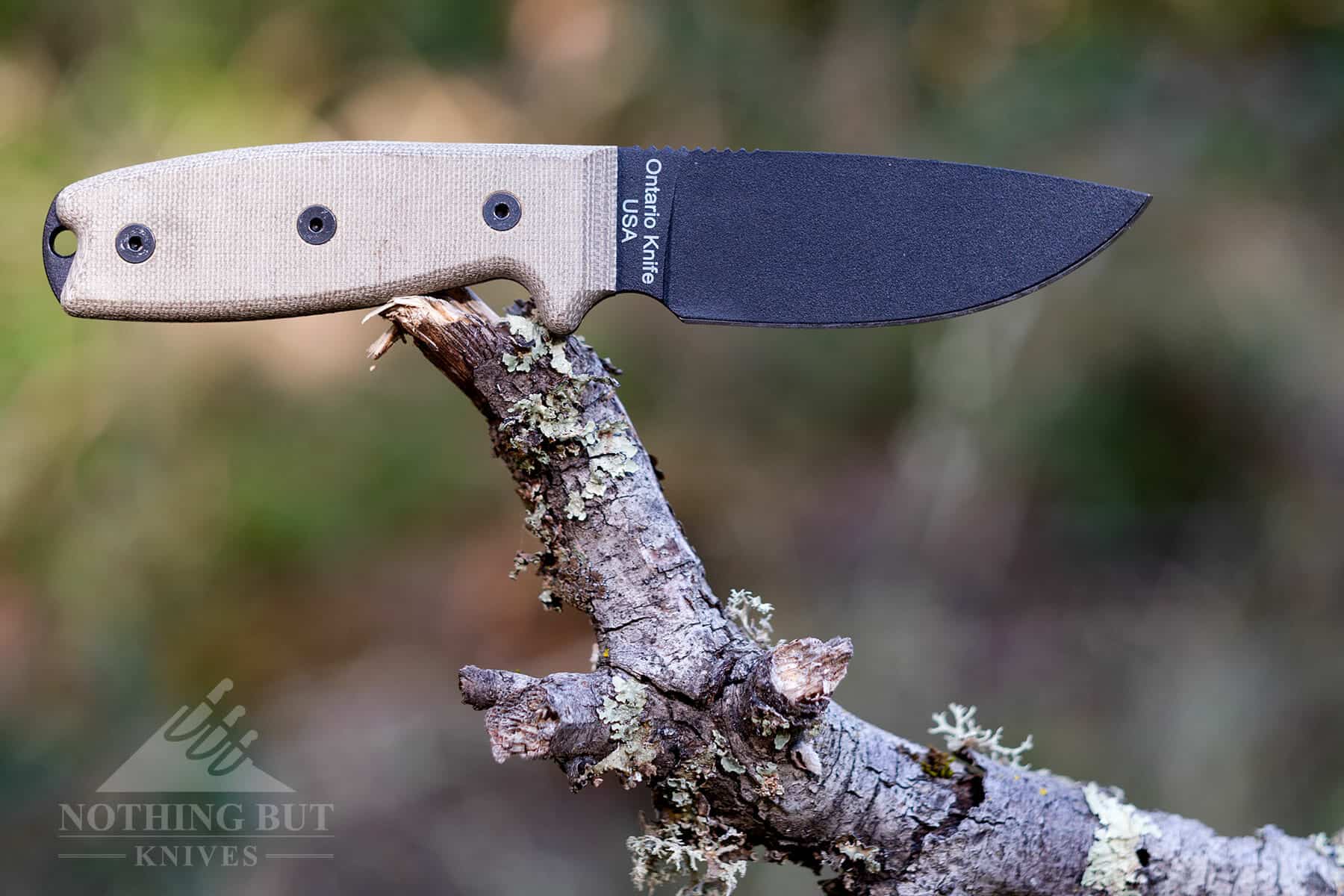 I really like this handle. It's a healthy next step in my burgeoning love of Micarta. My only issue is that I wish it was either a little bit grippier, or that the scales were a little wider, because it was trying pretty hard to slip out of my hand when I was chopping.
Aside from that, the ergonomics of the knife are great overall: The tang is perfectly flush with the scales so there are not hotspots. It's not over-shaped, so there are a lot of different ways you can comfortably hold it (though I can't imagine what you'd want to do with this thing in an ice pick grip). The Micarta is soft and mostly grippy, and the jimping feels just about right to keep the thumb from slipping without feeling too aggressive.
The finger choil is almost too small for me to choke up comfortably, and the height of the blade detracts from the amount of control you get overall, but that's a nitpicking detail. For a simple knife, there's clearly a lot of little manufacturing details in it that feel like they hit the Goldilocks zone.
The Micarta does stain pretty quick. There was almost no lag between me taking it out of the box and the scales looking a little scuffed from my grimy hand oils. I don't see that as a problem, though. This knife was made to get dirty, and the stains play into it's rustic aesthetic.
The Sheath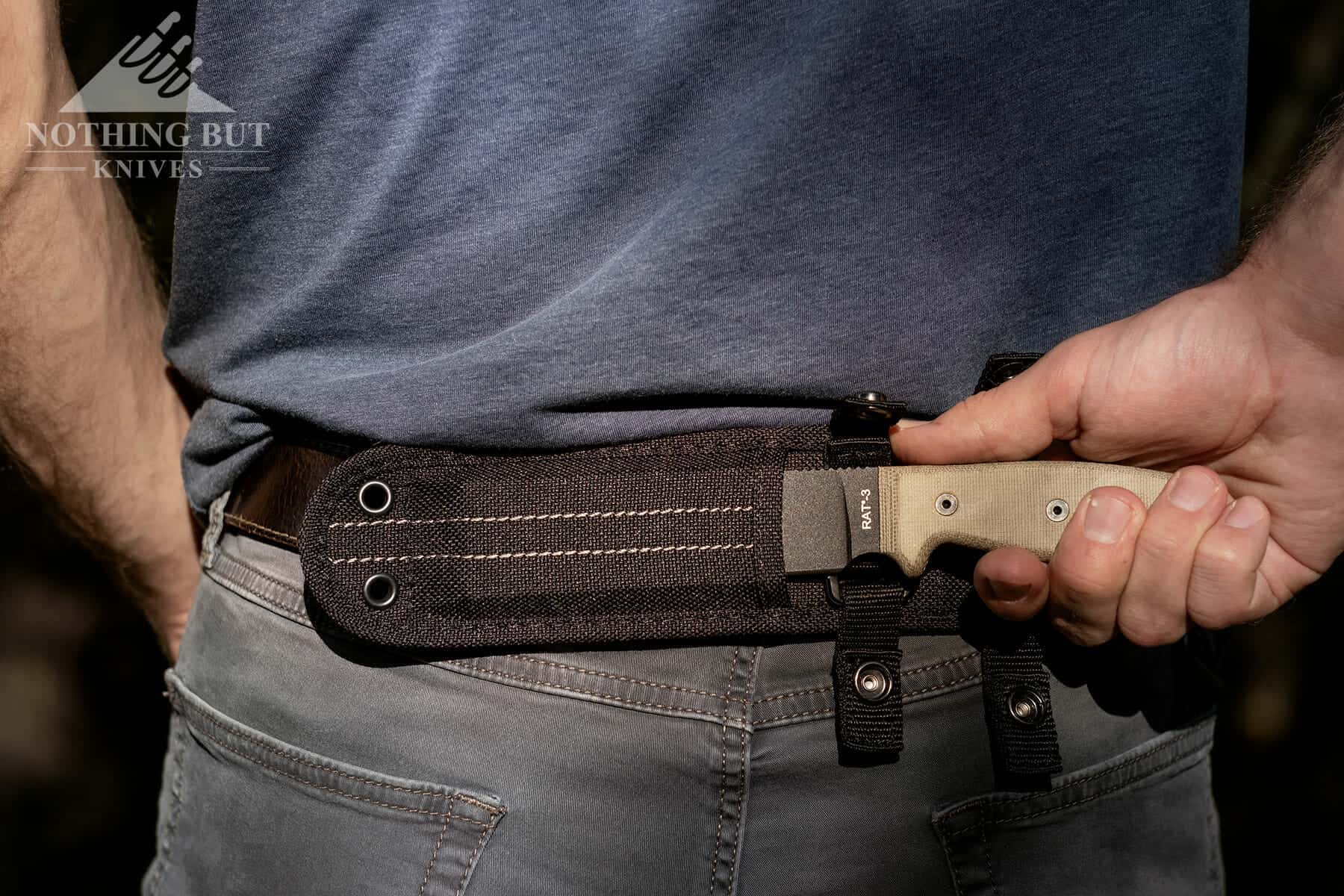 I like this sheath better than most I've dealt with. It's really comfortable in vertical and scout carry. The straps for horizontal carry are a little bit of a pain to get on a thick leather belt, but it has great weight distribution once it's on.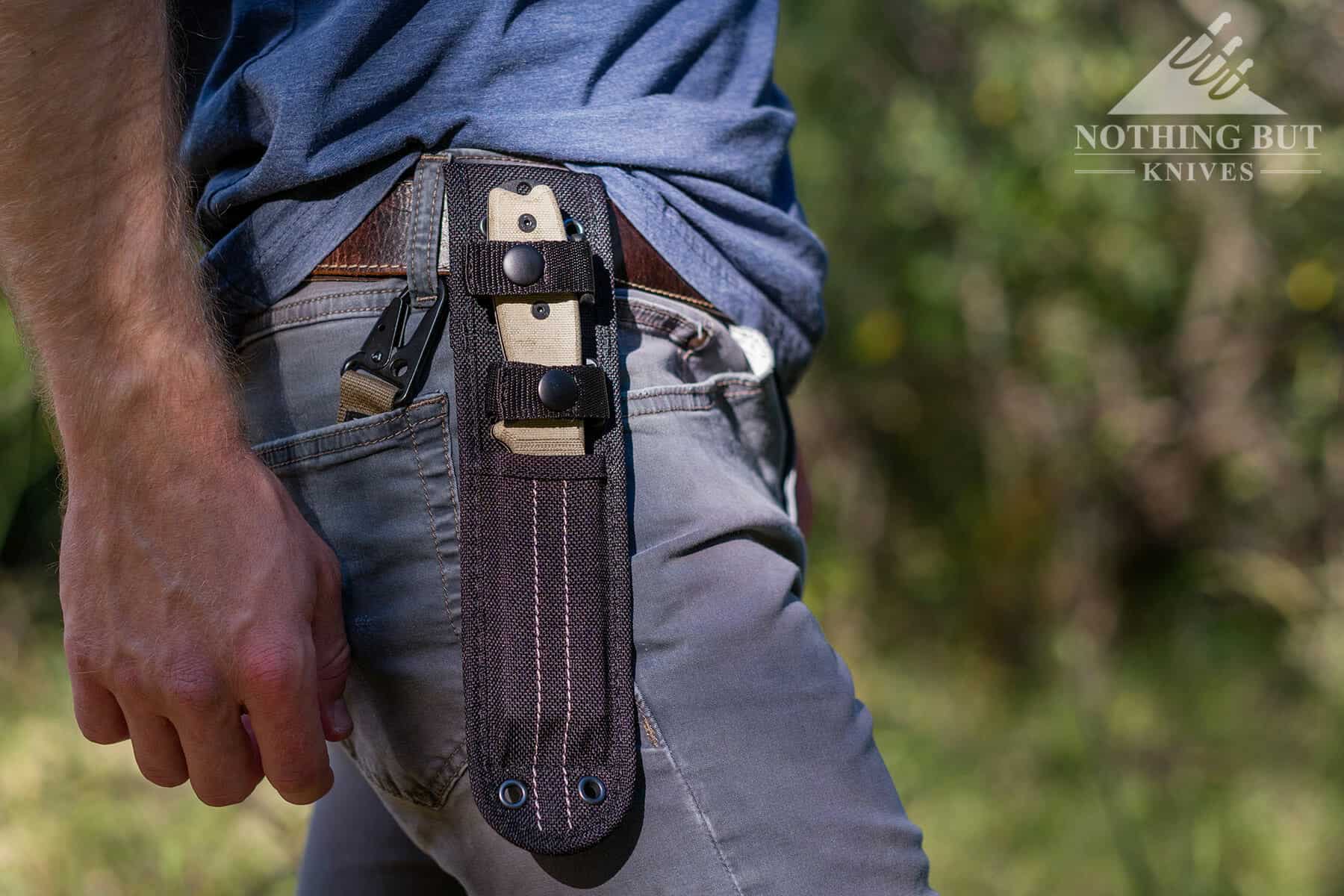 The button straps that go across the handle are mostly nice, but they aren't both necessary for keeping the knife secure. If you want to keep the knife in a little quicker access, it'll sit fine with just one strap buttoned. It would be fine for a OK with neither strap buttoned if you're hiking a clean trail. I didn't notice the bounce of walking hills shaking the knife out much, but it did fall out with a little shake test at home, so I wouldn't risk that for too long.
OKC does make a Kydex sheath sold with a Tek Lok for the Rat III. I haven't tried that out, but my past experience with that kind of set up has shown it won't feel quite so well balanced as the strap-heavy nylon sheath. It's a good way to make it an adaptable carry. And if you have a really big belt, a Tek Lok is probably the only way you're going to carry this thing horizontally.
Comparison and Alternatives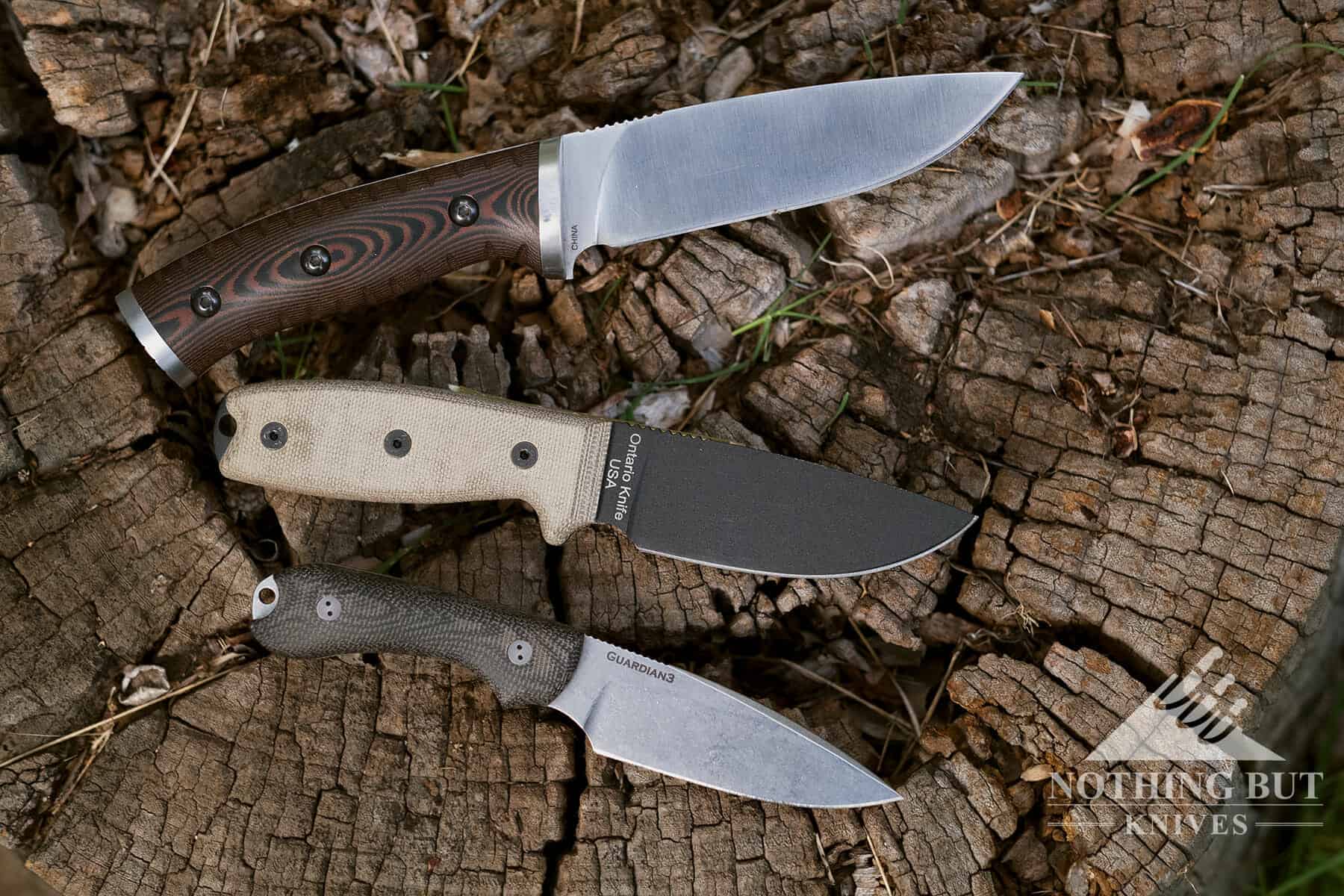 I've already pointed out the Esee 3. These two are very similar in style because they were both designed by Jeff Randall. Ontario Knife Comany manufactures all the Rat designs under a licensing deal that I believe was made shortly after Jeff Randall left Ontario Knife Company to start Esee knives with Mike Perrin.
I haven't handled the Esee 3, but I know Esee offers a no-questions-asked lifetime warranty on all their knives, and I've heard the fit, finish, and overall quality control is much better in the smaller Idaho factory that Esee uses for most of their knives. If the Esee 3's edge performs at all better than the Rat III I'd say the extra price is definitely worth it.
If you're on a strict sub-$100 budget, I've also heard that the Ka Bar Campanion BK2 is a good alternative. I haven't handled that knife either (yet), but its reputation certainly makes it worth considering before you pull the trigger on a Rat or Esee.
As far as knives I have handled personally, though, the Bradford Guardian 3 and the Buck Selkirk seem like good alternatives. At least, those are the knives we remembered to bring along when we tested the Rat III.
The Rat III Compared to the Bradford Guardian 3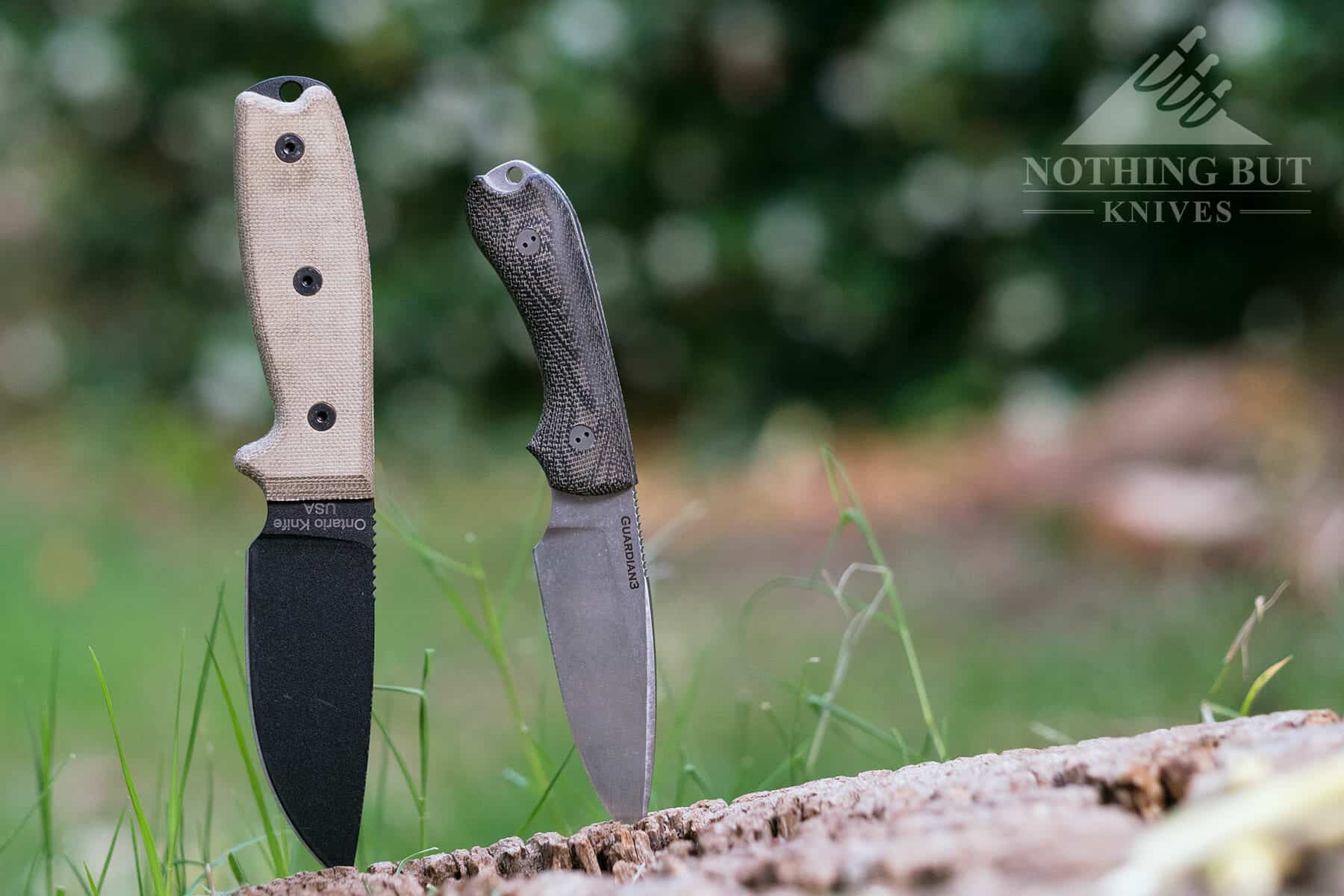 The Guardian 3 beat out the Rat III in pretty much every category: handle ergos, carving, feathersticking, and even chopping were all easier with the Bradford knife. If you're just going by price, you should expect the Guardian to do better, but if you're going by size and shape, it really seems like the Rat III should have put up a better fight.
Surprisingly, the Guardian 3 is a little thicker in the spine, but to me it looks like it angles down to be thinner behind the edge, so you get a much more extreme wedge shape from the Guardian than you get from the Rat III. That might explain the difference in cutting and chopping ability.
The best feature the Rat III has over the Guardian is toughness. The wide blade and drop point shape should make the tip a lot safer, and I would expect the edge in general to hold up to more abuse before it chipped.
We ran both knives through some pretty hard use, and neither chipped, by the way. I could probably draw some helpful conclusion about the difference between the Rat's 1095 steel and the Guardian's Bohler N690 steel. I'll just say that they both survived my abuse like champs, but I'd be far more comfortable batoning the Rat III, and abusing it general, than the Guardian 3.
The Rat III Compared to the Buck Selkirk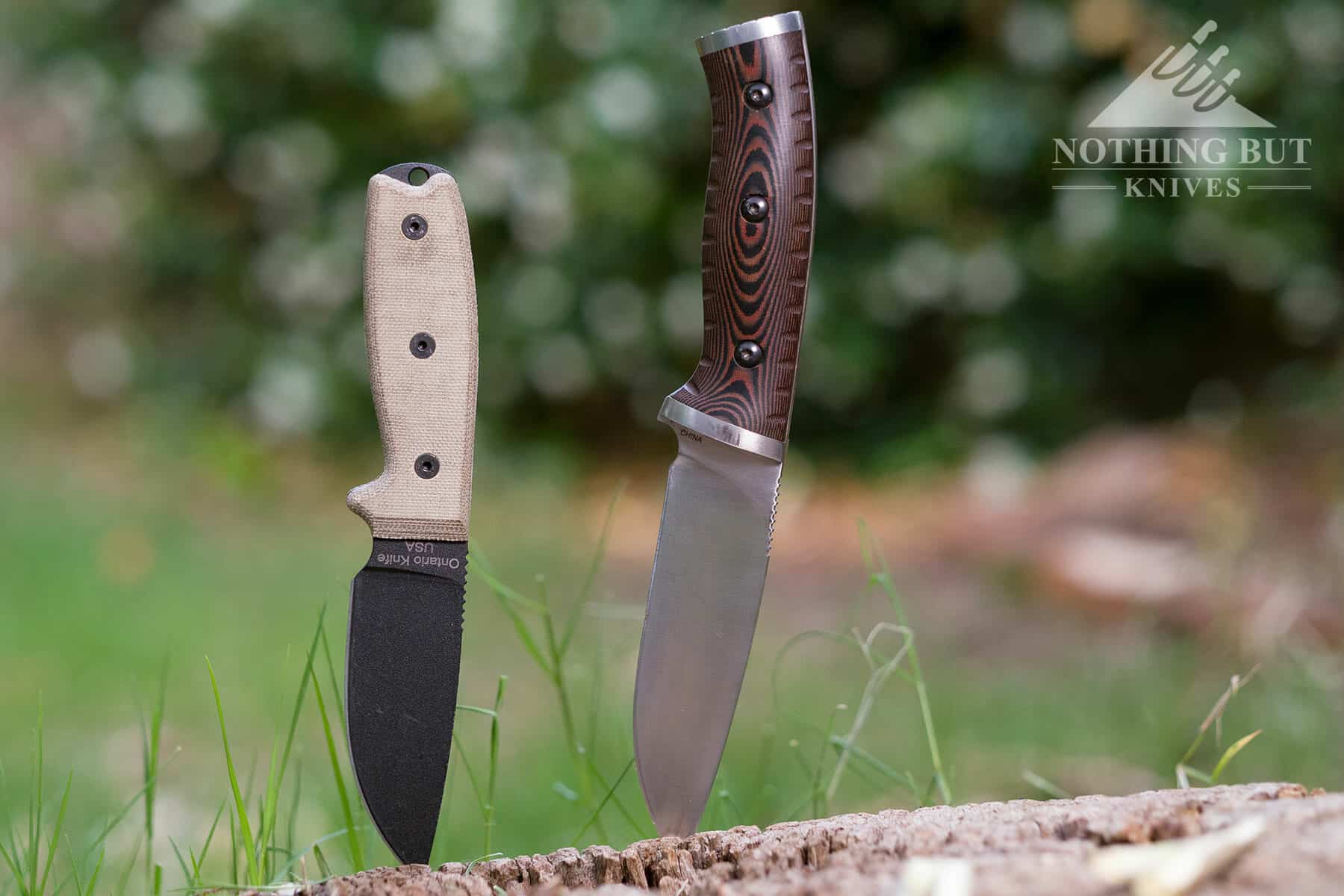 The Buck Selkirk is a much more price-even comparison, and honestly I have yet to test a fixed-blade knife in this size range that I could recommend over the Selkirk with a clean conscience. It cuts better, it throws great sparks with little effort, it has Buck's 420HC, and it comes out a little cheaper.
The only thing the Rat III has solidly over the Selkirk is the sheath and Micarta handle. The Selkirk's handle has a good shape, but the material is cheap and slippery. I also wouldn't really want to chop with the Selkirk. The edge bites well, but I think the Chinese manufacturing makes the knife a little weaker overall, so I'd just be more hesitant about really hard tasks overall compared to the Rat III.
Conclusion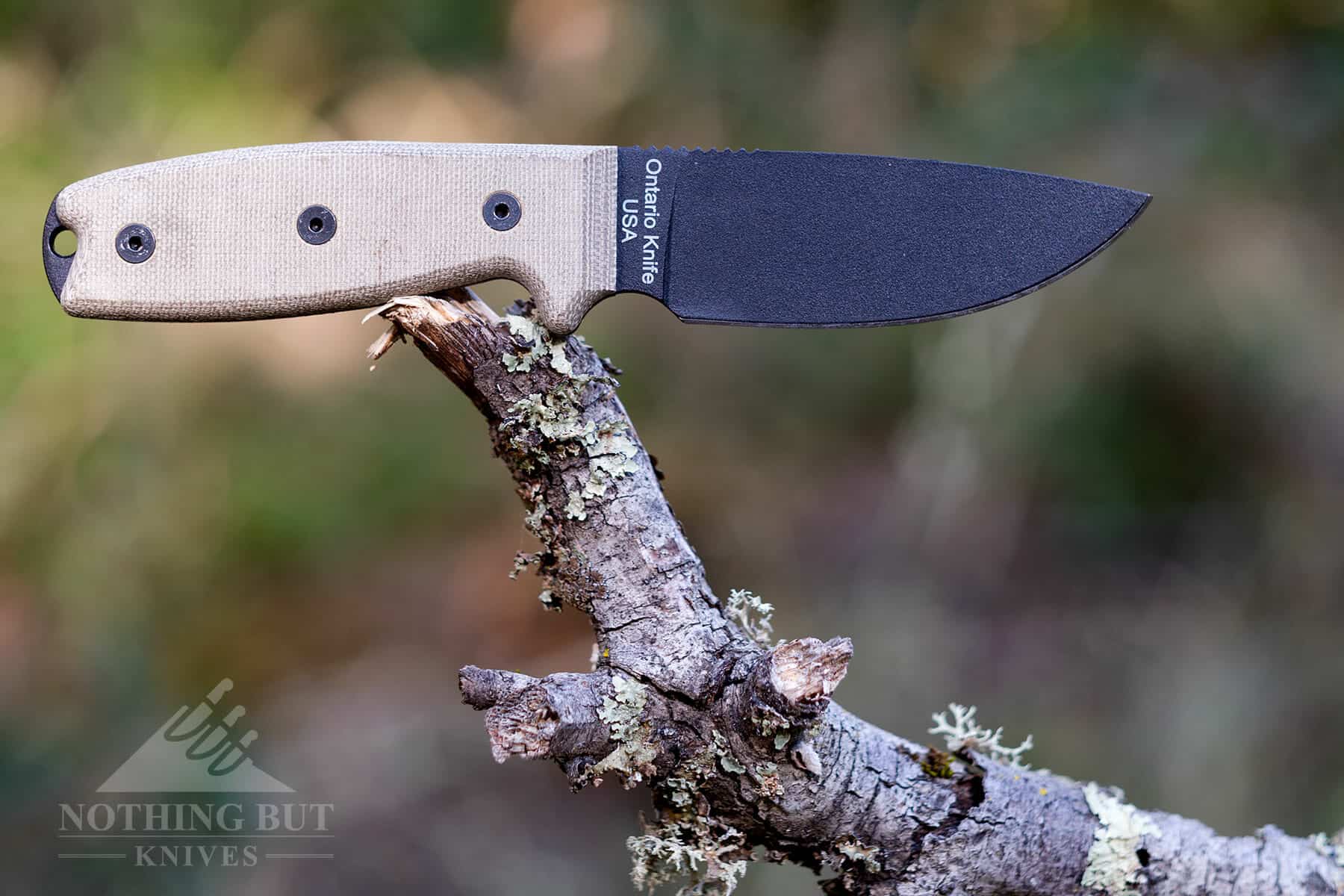 At the end of the day, the question is if this knife is worth your money. I'd have to say yes, but just barely. You can usually expect to pay around $70 for the Rat III, and I think that's fair considering what you get. OKC does some solid manufacturing here in the US, and so long as you give this knife the barest attention, it could last long enough to hand down to your children, and provide close to the same performance as when you got it.
I like it. But as a survival knife it really feels like it should be performing a bit better when there are so many other great options available in this category.