New Fixies and Fancier Folders with Benchmade and Case Knives
We had a couple of pleasant surprises on the first day of Shot Show. The first being that we managed to navigate the three-floor maze of cool, shiny things well enough to find the people and companies we wanted to talk to, and without getting so distracted by the other cool, shiny things that we still had time to talk to said people and companies.
We're starting off with some unexpected drops from Benchmade (who's playing with some new colors and different sizes of old models), and Case Knives (who is having a blast dipping their toe in the modern-style EDC world).
Case Knives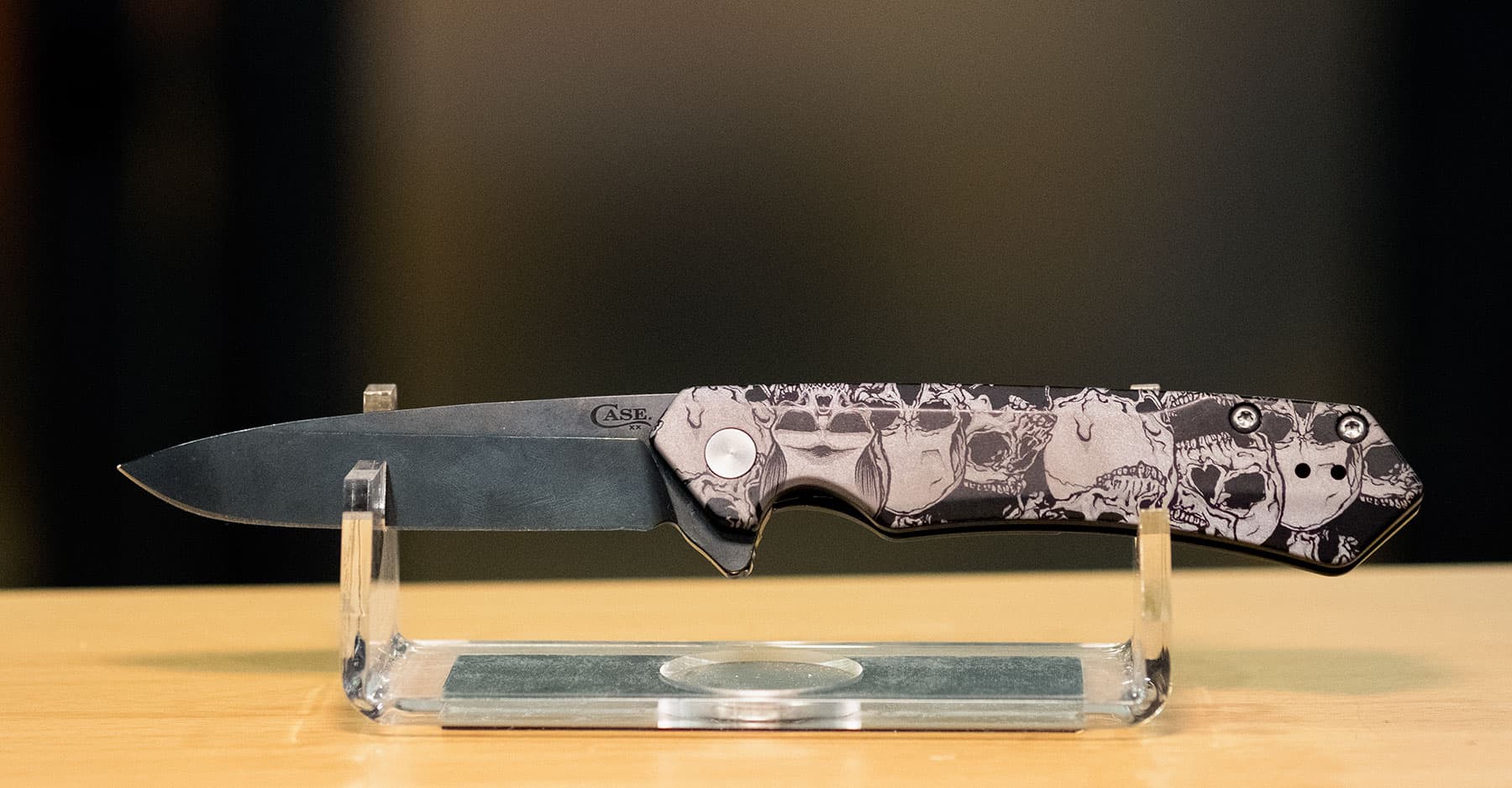 Case fans will probably remember the release of their first jump into modern flippers. The Marilla and Kinzua designs are still going strong. The Kinzua will soon be available with a spear point blade, and both knives are now highly customizable thanks to Case's new offering of blade coatings and laser deco designs: soon you'll be able to order the Marilla and Ketzua with Cerakote or DLC coating, as well as a whole mess of new colors and deco designs for the handles.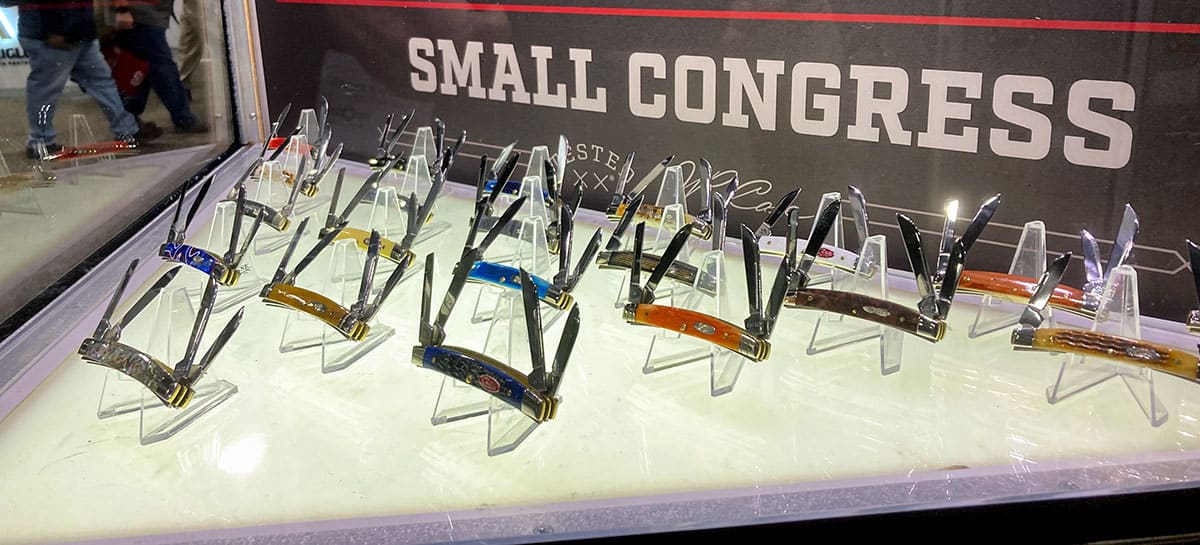 They're also bringing the Small Congress out of the past for the Vault program (although that's not quite as new of an announcement). Case will be making Small Congress knives in a variety of handle materials and colors for the whole year before the stop and switch to a new old model for 2024, so grab them while you can.
The Westline Assisted Open Folder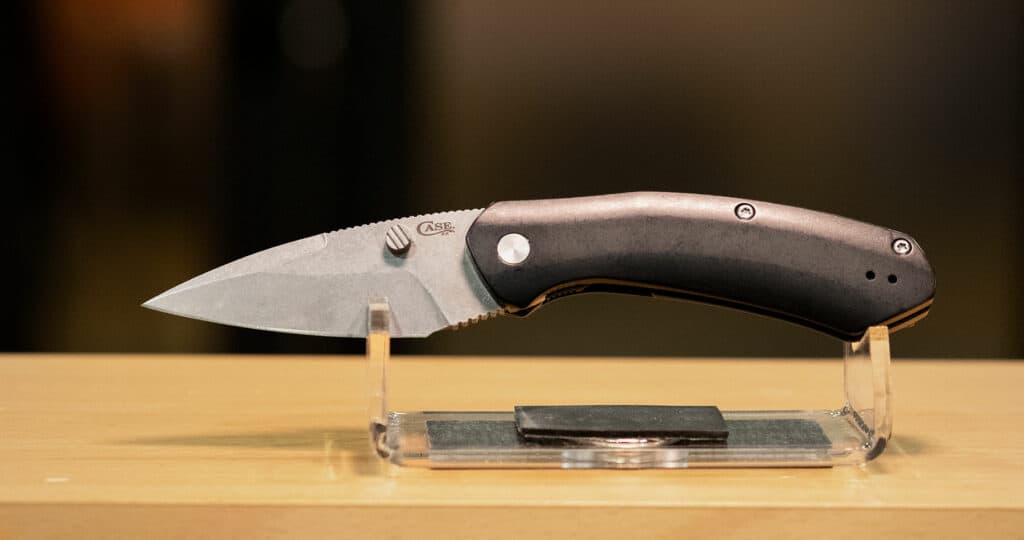 The really big news starts with their brand new assisted-open folder. The Westline is a tough EDC with a 3-inch blade in S35VN steel, anodized aluminum scales, ambidextrous thumbtstud opening, and a reversible deep-carry pocket clip. It'll be available soon in black, red, blue, or silver handle scales.
The Case New Fixed Blade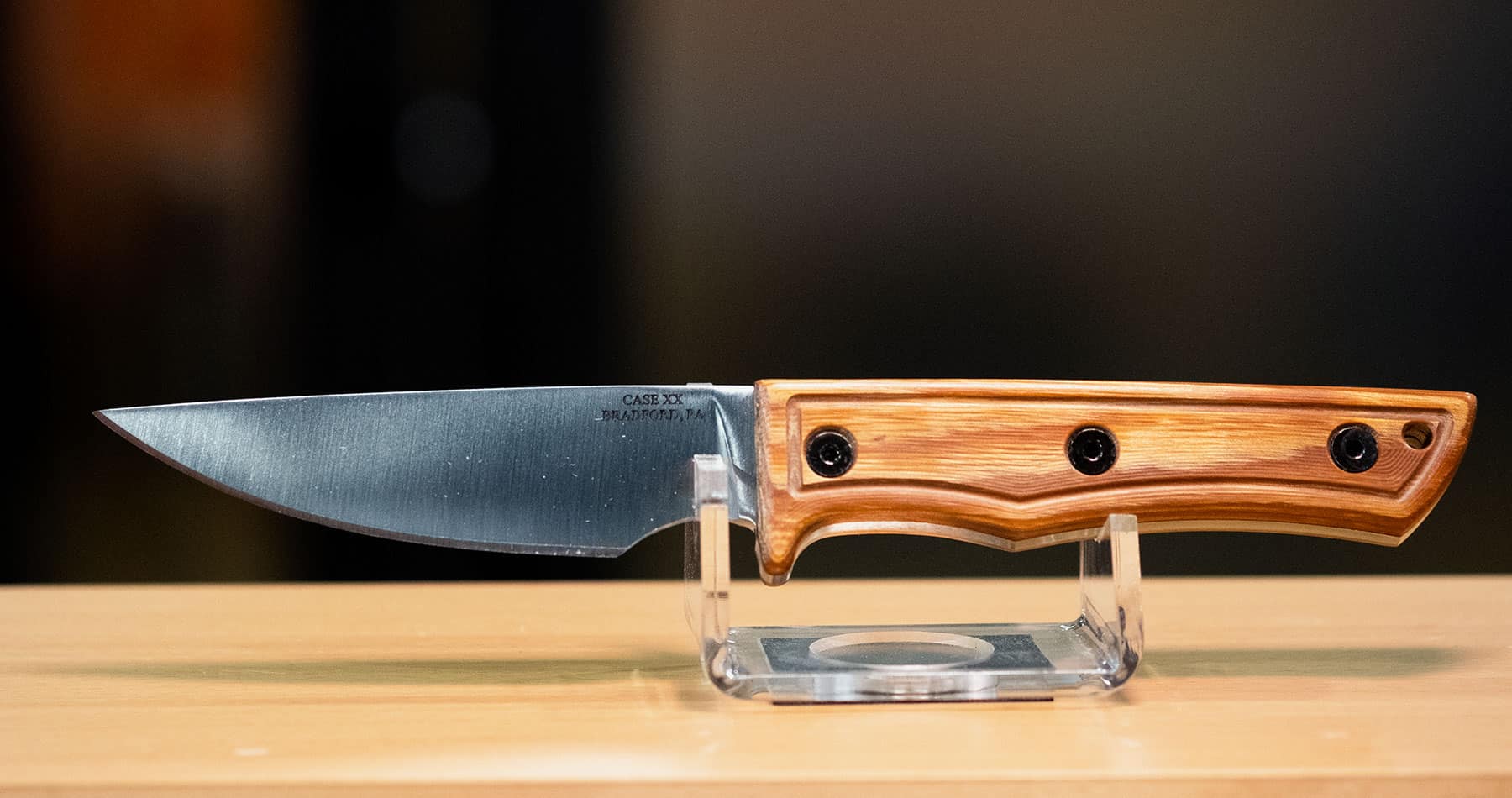 Before you ask what the actual name is, we don't know. It might very well be the Case Fixed Blade. But it is sweet.
It has a 4.46-inch blade in 420HC steel, and a nicely contoured composite hardwood handle that will be available in natural, orange peel, or black rust colors. We forgot to ask about a sheath, but we're making an educated guess that it'll be leather.
Benchmade
We had gotten used to Benchmade being very quiet when big shows came around the last few years, but they're running full steam ahead this year with a new fixed blade and some new folders in the hyper-lightweight category.
New Looks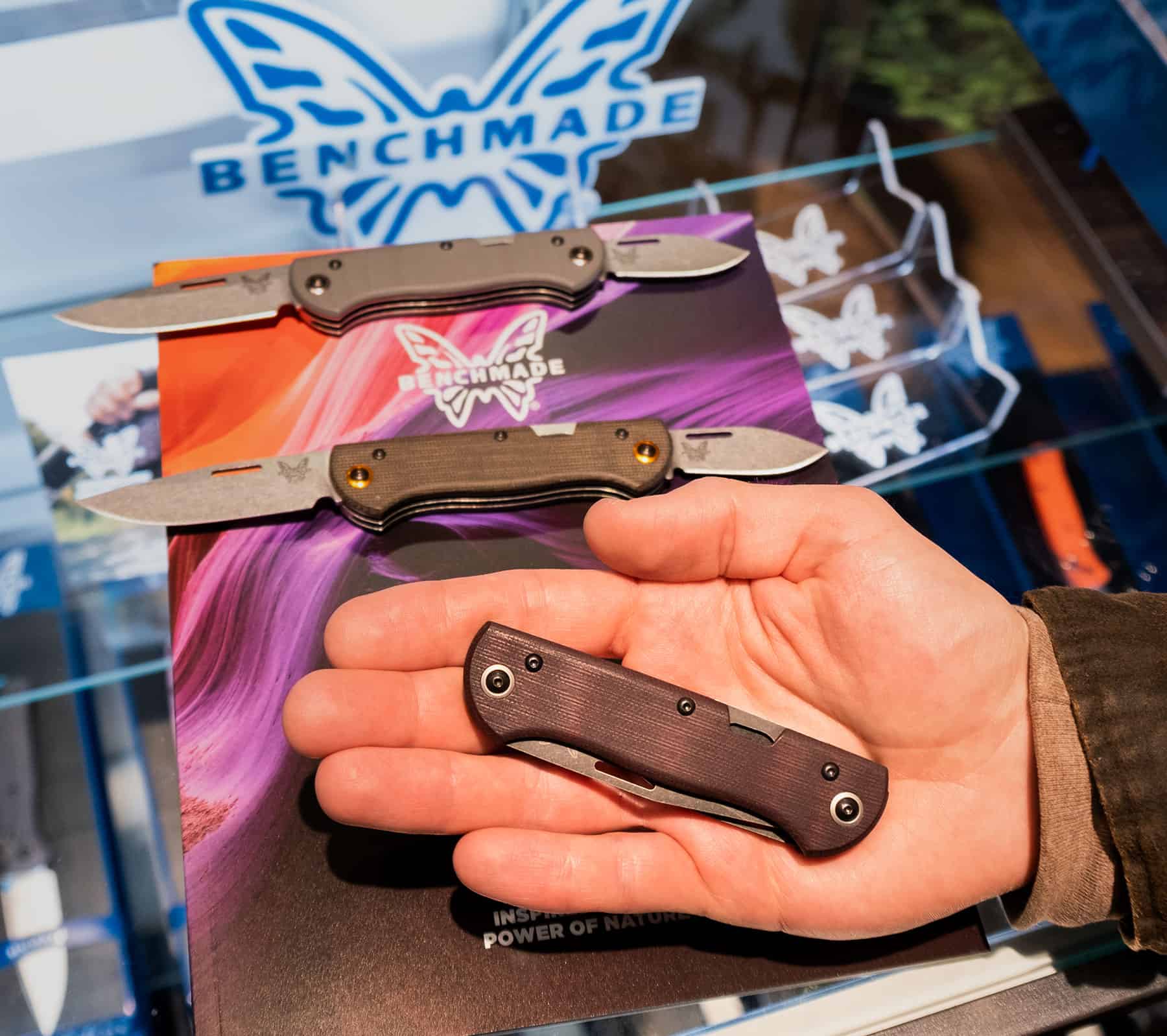 They're giving older models some updated color and steel options. Fans of models like the Bugout, the Shootout, and the Bailout will soon find them available in Crater Blue, Sea Foam Green, Alpine Glow (kind of a pastel pink), and Mesa Red.
The Weekender will also be available with Burgundy canvas Micarta scales for a limited time this year. They're going to open up a window for orders, make as many as they need, then close that window up. So this color will be scarce in the coming years.
They've also given the Grizzly Creek folder a makeover with wood scales and shiny new orange accents.
Hunters might be happy to see that the Raghorn is now available with a satin-finished blade rather than hunter orange (the color everyone desperately hates but also desperately needs if they ever actually go into the woods and drop their knife).
New Legal Carry Folders
The Immunity Family isn't exactly new (Benchmade announced them at Shotshow 2022), but they had some production delays. They should finally be releasing the Immunity family of knives this year.
The Full Immunity is a manual folder with the Axis lock featuring a 2.4ish" wharncliffe blade in CPM-M4 steel. That should be available in May this year.
The Auto Immunity (same dimensions but with automatic deployment and a few different color options) should be available around September.
New Knives on the Lighter Side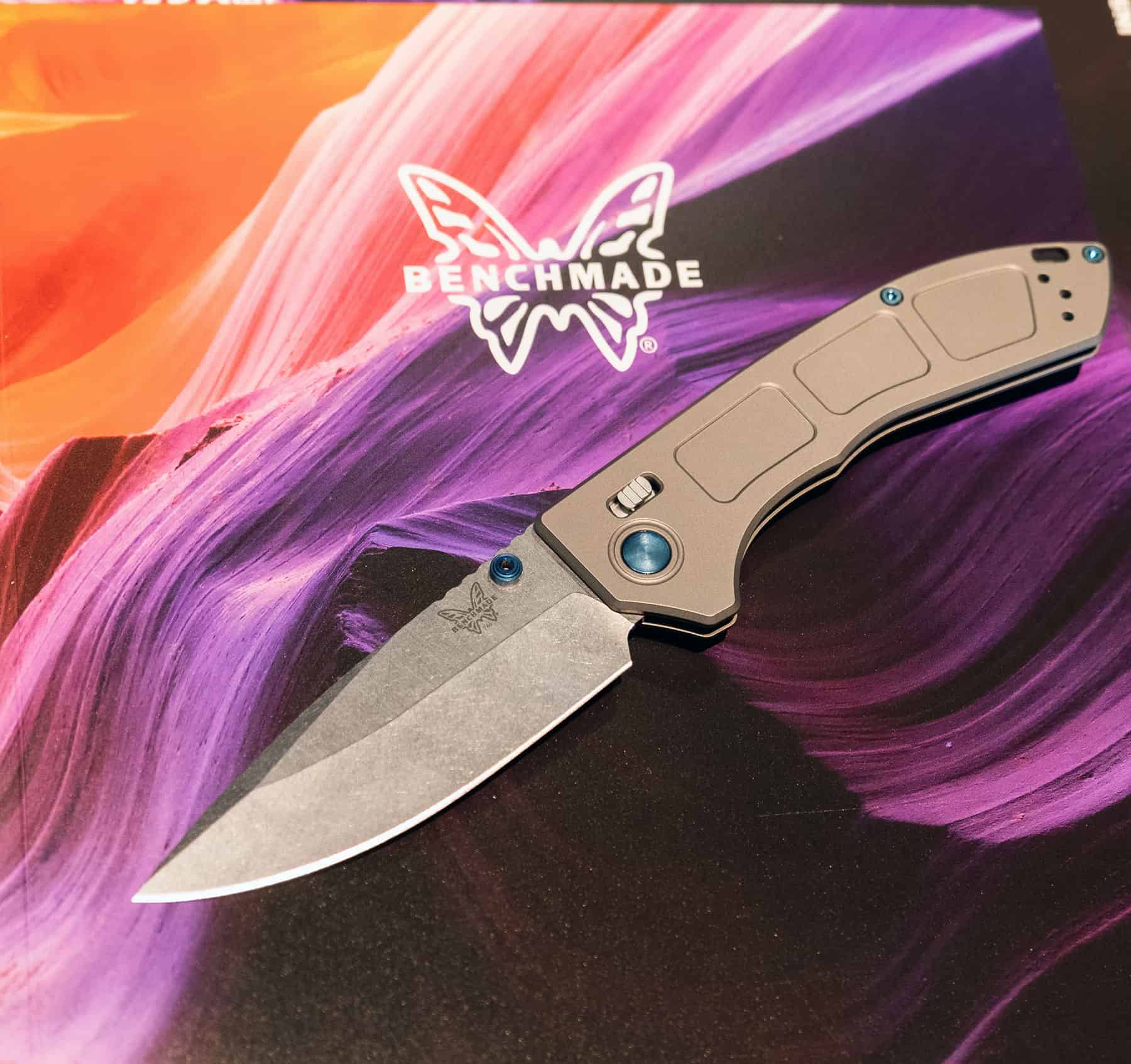 The Narrow is the knife Benchmade came up with after saying "what's the lightest we can possibly make a titanium-handled knife?" The result is a 2.4 oz knife with a 3.5" blade in M390 steel. They say it's 30% thinner than the Bugout (we're not going to do that math for you), with 2X the breakforce.
Interestingly, they've changed the Axis lock slightly for this design. It has a squarish thumb piece angled in one direction rather than round shape we're all used to, and they use a slightly different (slightly stronger) spring around the lock. The Narrow should be available in June.
The Mini Claymore strikes a more familiar note. They've taken their popular push-button auto and shrunk it down to an overall length of 7" (with a 3.0" blade). That little guy is launching in April. They're also releasing the full sized Claymore with a tanto blade in May, if anyone here is really into tantos.
The SOCP Fixed blade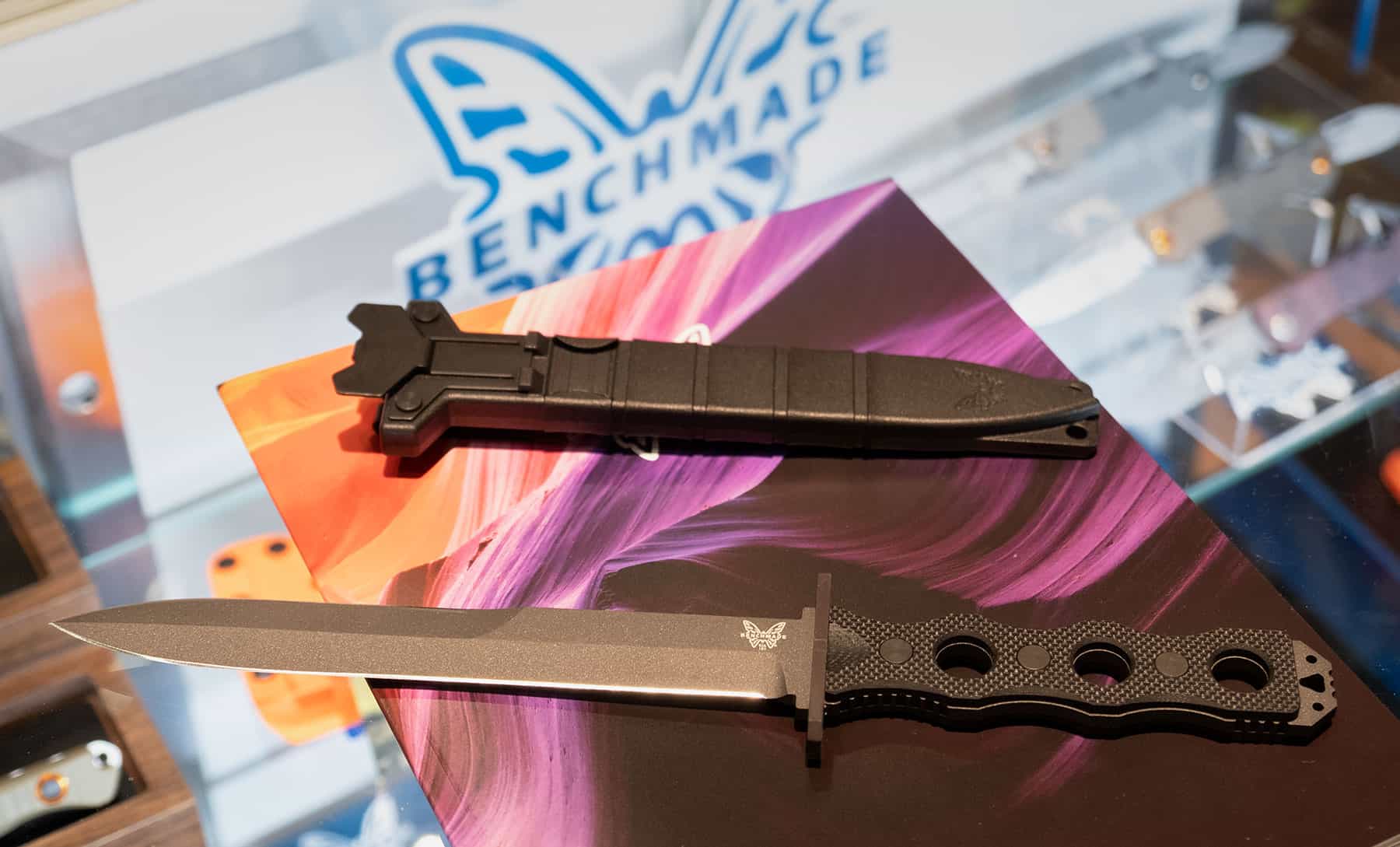 This is what really got the shock-and-awe response out of us. This big, ol' bayonette-looking fighting knife has a 7" CPM-3V steel blade and full tang G10 handle that brings the overall length to 11.7". Greg Thompson designed this knife as a companion piece to the M4 rifle, but it can also ride in an injection-molded plastic sheath with a clip.
The plain edge and trainer versions of the SOCP are launching in April, and they're following that up pretty quickly with the partially serrated version in June.