CRKT's New Line-up Features A Few Surprises, New Collaborations and Plenty of Variety.
Columbia River Knife and Tool is putting a lot of attention into updates this year. Many of their new models are continuations of established designs, and in some cases a resurgence of some knives we thought had gone away years ago. But the word you'll be seeing the most in this announcement is "Compact", so I hope your little hands are ready.
First the Onion Family
We got a few new designs from Ken Onion this year, but we also get a new Ken Onion on the scene with his son's first design.
Jake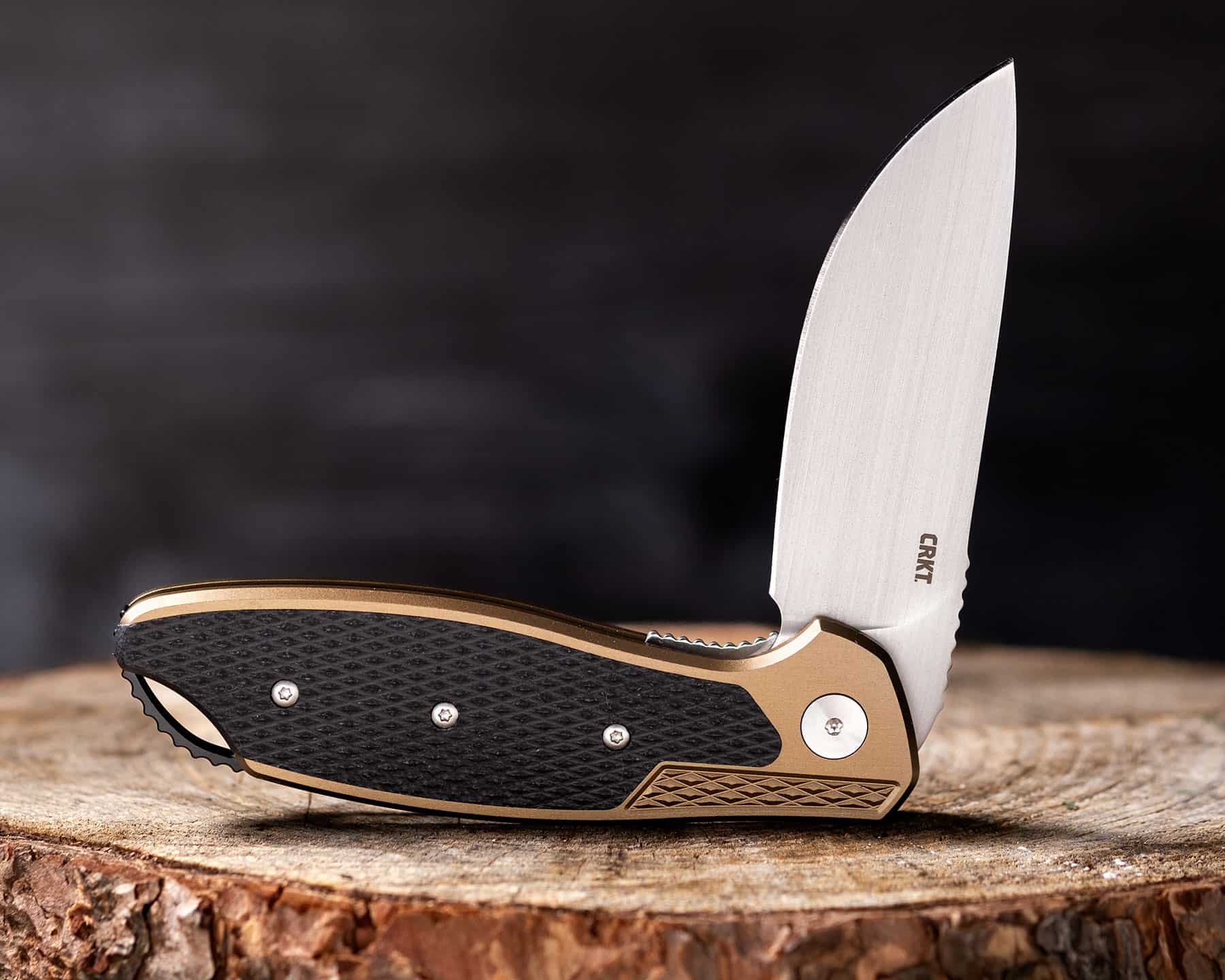 Starting with the Onion family, we get a production model of Ken Onion's Jake design. It's a predictably comfortable and slicey flipper with aluminum handles, G10 inlays, and a 12C27 steel blade running on IKBS ball bearings. It's about 8" long overall with a 3.3" blade.
Where Onion's custom model had been a fairly hefty frame lock with rubber inserts, CRKT's rendition is a more lightweight liner lock with a much more approachable price of about $100.
It's a simple but smooth-flipping working knife that looks and feels like a less involved version of the CRKT Homefront.
Bamboozle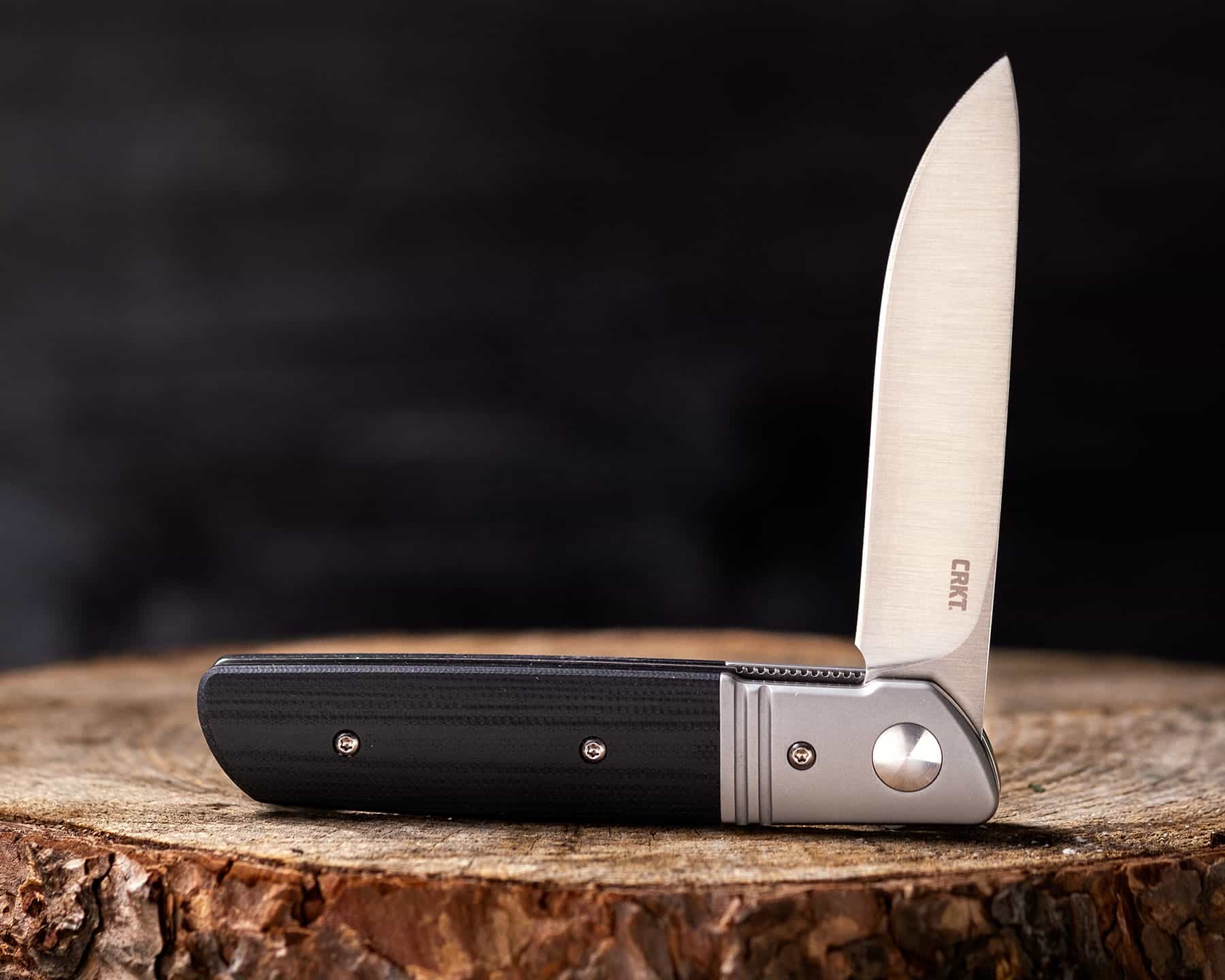 The Bamboozled is Ken Onion Jr's introduction to the world. His first design is an assisted open gentleman-ish carry with a drop point D2 steel blade, G10 scales, and stainless steel bolsters. As a deep carry knife, it is nearly invisible in the pocket, and the assisted open action running on ball bearings is fine-tuned to make the whole experience of the knife lowkey but snappy.
At the risk of tying the son too closely to the father, this knife looks and feels a bit like what would happen if someone asked Ken Onion to make his own version of the CRKT CEO. That's not to say Onion Jr doesn't have his own language, but we can see the family resemblance in the blade shape.
The overall length is a little under 8" with a 3.3" blade, and an MSRP of $75.
Onion Throwing Knives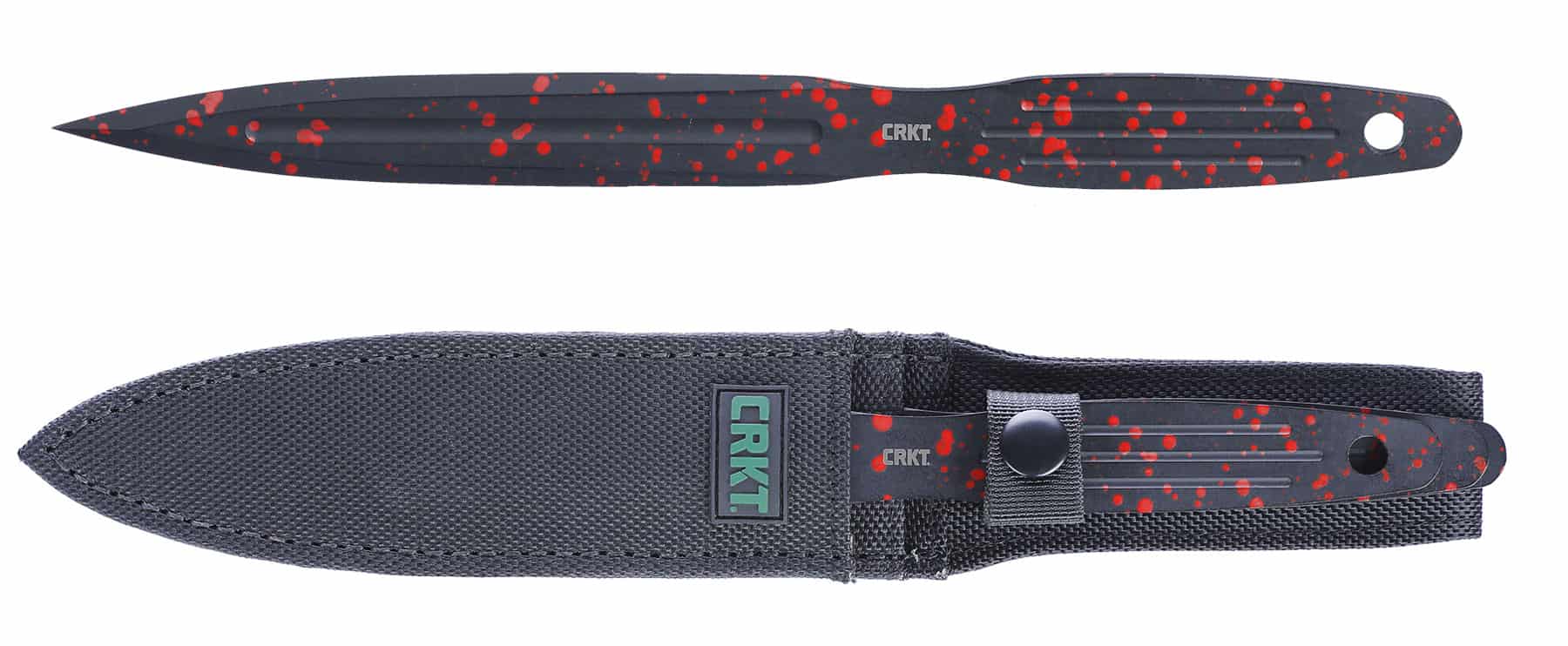 Going back to big Ken, we got another surprise with his throwing knife design. This 11.6" long knife (6.25" blade) is made from 1050 steel with a black powder coating (and a dash of red). There's some simple (but generous) milling work in these knives, including three grooves on each side of the handle and a fuller in the blade to dial in the balance. At 5 oz, it's not the lightest throwing design, but it's definitely got its own style, and toughness shouldn't be any kind of problem with this steel.
The Onion throwing knives come as a set of three in a nylon carrying case, and are hitting the shelves at $75.
Weird Looking Fixed Blades
CRKT did some stuff with the Razel design by Jon Graham: First making it a fixed blade, then making it into a fixed blade four different ways.
Razel Fixed Blades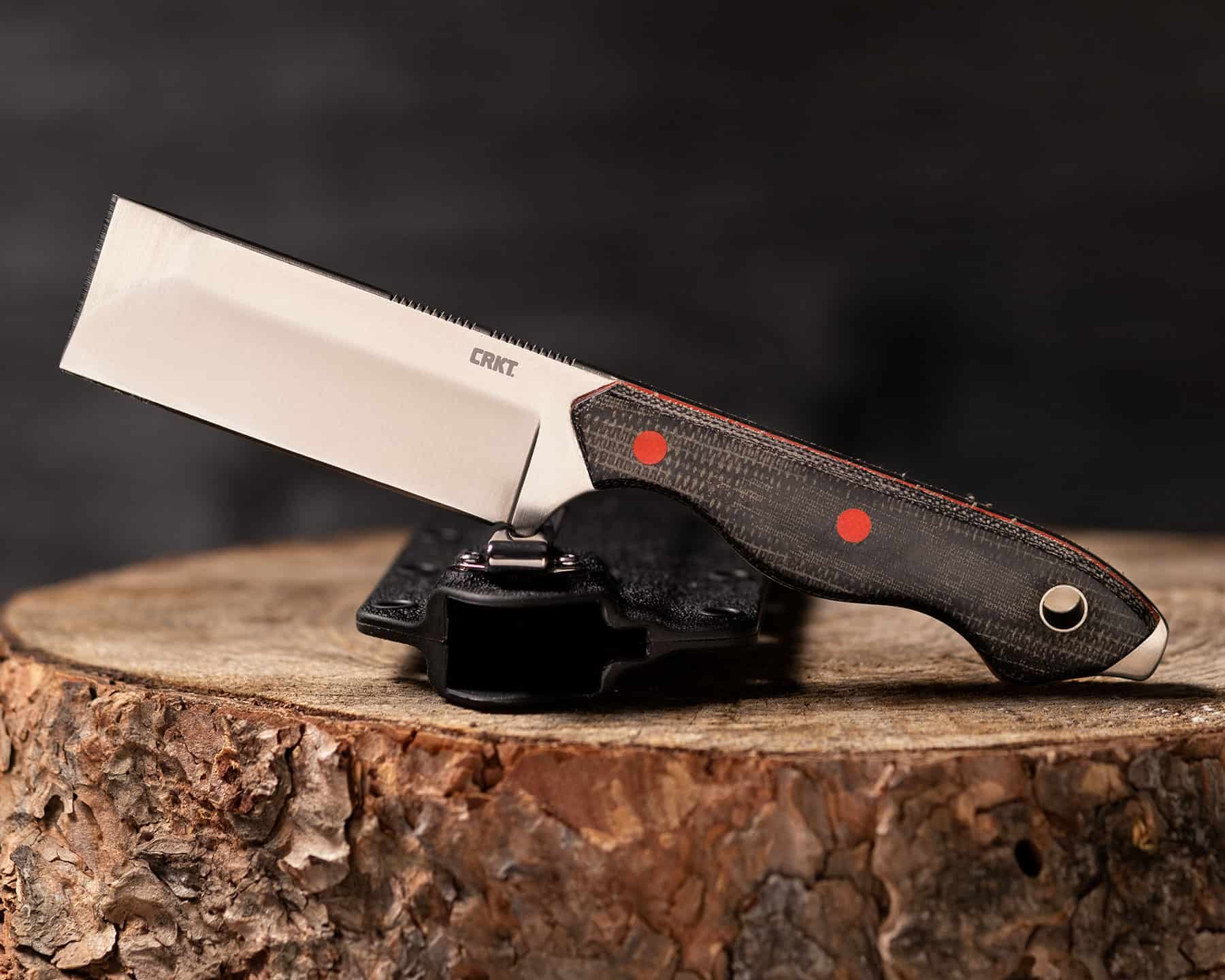 In the simplest version of this transition from flipper to fixed, we have the CRKT Razel with a D2 blade with the flat top sharpened to a chisel grind. The handle has Micarta scales with red pins and liners, with a lanyard hole left at the bottom with the third pin would normally be. The blade is just under three inches, making this a very interesting utility knife that could be carried a lot of different places without raising concern.
They also made a Razel Compact, which has a 2.3" blade, slightly different angles to the blade that give it a sharper point, and Veff Flat Top serrations on the spine, but otherwise the materials and grinds are the same. That goes for the skeletonized version, the Razel Chisel, as well.
All of these knives come in Kydex sheaths with a pocket clip, so you don't need a belt to pack them around (although the Compact and Chisel might be the only ones small enough for that to be comfortable).
The plain Razel fixed blade comes in around $90, while the Compact is in the $50 range, and the Chisel bottoms the list out at $40.
Check out our in-depth review of the Razel to learn more about this unique fixed blade pocket knife.
Razel Nax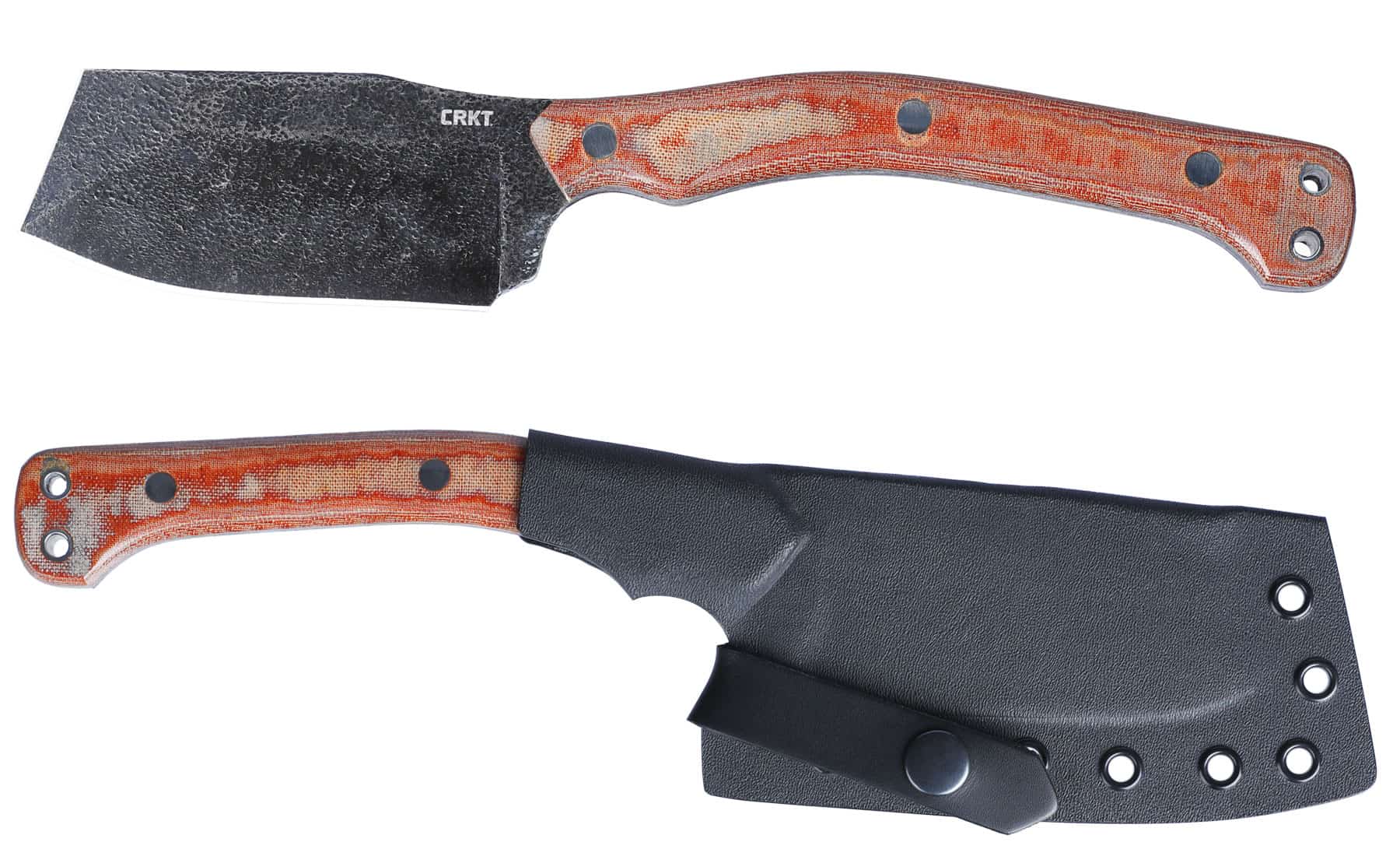 The Razzle Nax "knife" and "ax" amalgamation is the Razel modded up for the bush. It features 1075 carbon steel, and a long, curved Micarta handle designed to give you range and momentum for heavy swings. But they also left a finger choil at the top of the handle to help users comfortably choke up on the blade.
It comes with a kydex sheath with a leather retention strap, but otherwise no feature to help you carry it. This is something you'll either hang in the shop or tie to your pack.
CRKT slotted Condor Knives to manufacture this one, so it was made in El Salvador by a crowd that is pretty familiar with bushcraft designs. This weird, but tough creature of a tool is hitting the shelves somewhere just under the $100 mark.
T.J. Schwarz Stuff
We've gotten two new designs from the man behind the Overland and the Caligo, and one of them is completely new.
Dextro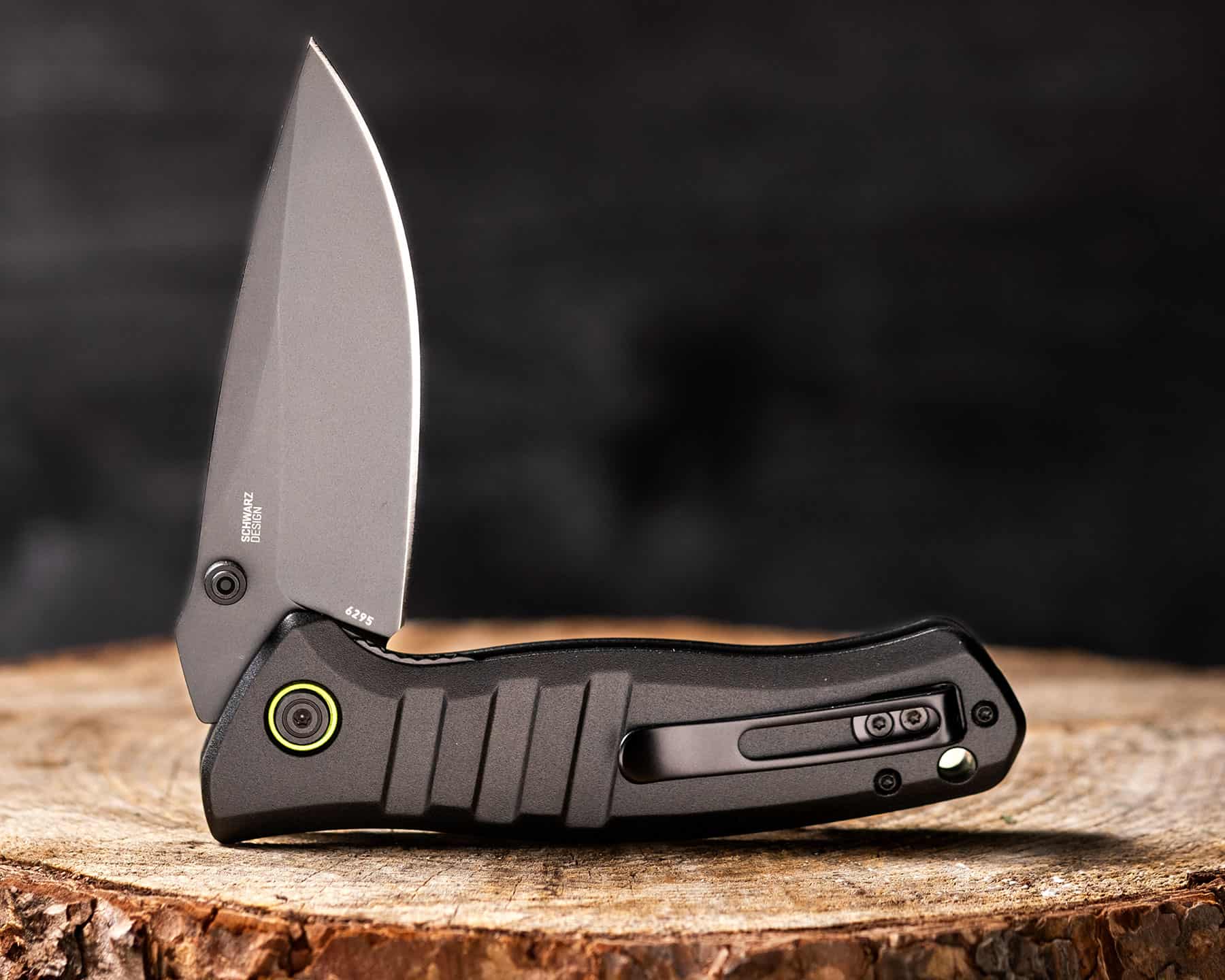 This high-speed-low-drag of a looker has a D2 steel blade at 3.2" with a titanium nitride finish (so corrosion is much a concern and it might make some people think you're cooler), and a lightweight aluminum handle (also with a black finish). It's a super snappy flipper running on IKBS bearings (although they've also given us the option of a thumbstud), and a deep carry pocket clip.
The overall design is 7.8" and has some minimal but highly effective detailing, including the milling work in the handle that adds a little texture for grip on otherwise very smooth scales, and some slight contouring for the fingers to seat into.
At $64 the CRKT Dextro is a solid, sleek, budget folder.
Overland Compact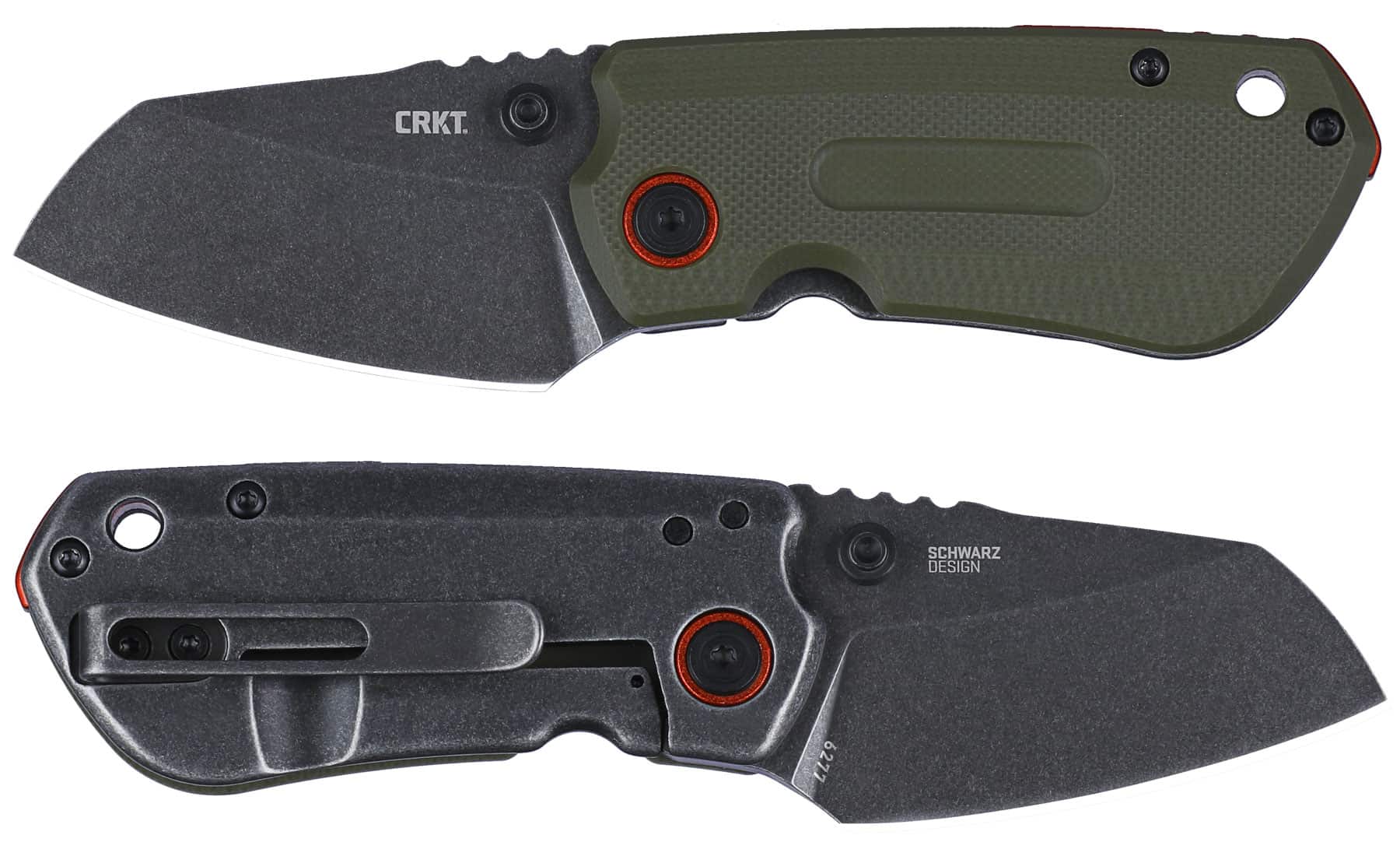 While this bears the name of an older model, it is a very different knife. With a 2.25" sheepsfoot blade and an overall length of 5.4", the Overland Compact almost fits into the handle of the larger folder it shares a name with.
But if it's small, it's built to be a small tank (or small Jeep Rubicon, maybe, if we're sticking to the theme of the name). It's a frame lock with G10 scales running on washers. It's the kind of thing that was meant to be run through mud and cleaned up for work again tomorrow a hundred times in a row.
This little off roading tank should be available now in the $50 range.
The Compacts and Updates
CRKT kept up with their shrink ray tactics with four other models:
The Tuna Compact designed by Lucas Burnley has a 2.73" blade with 8Cr13MoV steel (it's still a frame lock with a G10 scale), and comes in a couple dollars cheaper in the $40-50 range.
Burnley's other big hitter got the tiny treatment with the Squid Compact. The little Squid has a 1.75" blade and makes the change to an assisted open flipper, but it has the same 8Cr13MoV steel and frame lock configuration. The price is sitting at about the same as the original Squid in the $25-30 range.
The CEO Microflipper by Richard Rogers breaks the naming pattern, and breaks the CEO pattern as well with textured aluminum scales and a sheepsfoot blade in 12C27 steel instead of the AUS8 of the original. The price on this is also a little higher than the original at $60.
The S.P.I.T (or Small Pocket Inverted Tanto) by Alan Folts is the reverse tanto edition of the S.P.E.W., but with smoother (and brighter) G10 scales and a maybe a little more contouring in the handle. The steel is 8Cr13MoV, and the price should be the same as the S.P.E.W in the $30-40 range.
And of course it wouldn't be a proper CRKT drop without a new Pilar from Jesper Voxnae. The Pilar IV brings a D2 steel clip point blade to the well established line up, and at a little over 3" this is also the longest Pilar model to come out so far. It's still a frame lock with G10 scales, though, and this one should be hitting shelves in the $60 range.
What might be the biggest surprise of this drop, though, is the rebirth of the Ignitor by Ken Steigerwalt. We reviewed this assisted open flipper years ago and came away a little lukewarm about it. CRKT discontinued it sometime after, but now it seems they want to revisit the design with more brightly colored G10 scales in a bolster configuration and a deep carry pocket clip. The steel is the same old 8Cr13MoV, though. This is coming in at around $60.