A Decent 3-Inch Fixed Blade for All Occasions
The S.P.E.W is one of the few horizontal carry knives I own that I actually consider an EDC. It's small enough not to be intrusive on a day to day basis, the blade is non-threatening, and it's shaped well for most of the light tasks I need an EDC for like opening packages and breaking down cardboard.
Not surprisingly, the name stands for "Small Pocket Everyday Wharncliffe", which is a helpful, if weirdly specific, signal for the whole spirit of the knife: A small, fixed-blade EDC.
It's a small knife, but it handles that size very well. It's comfortable, it looks neat, and it rides easy enough to carry all the time. The cheaper materials do hold the design back some, but that's all part of the attractive price point.
Specifications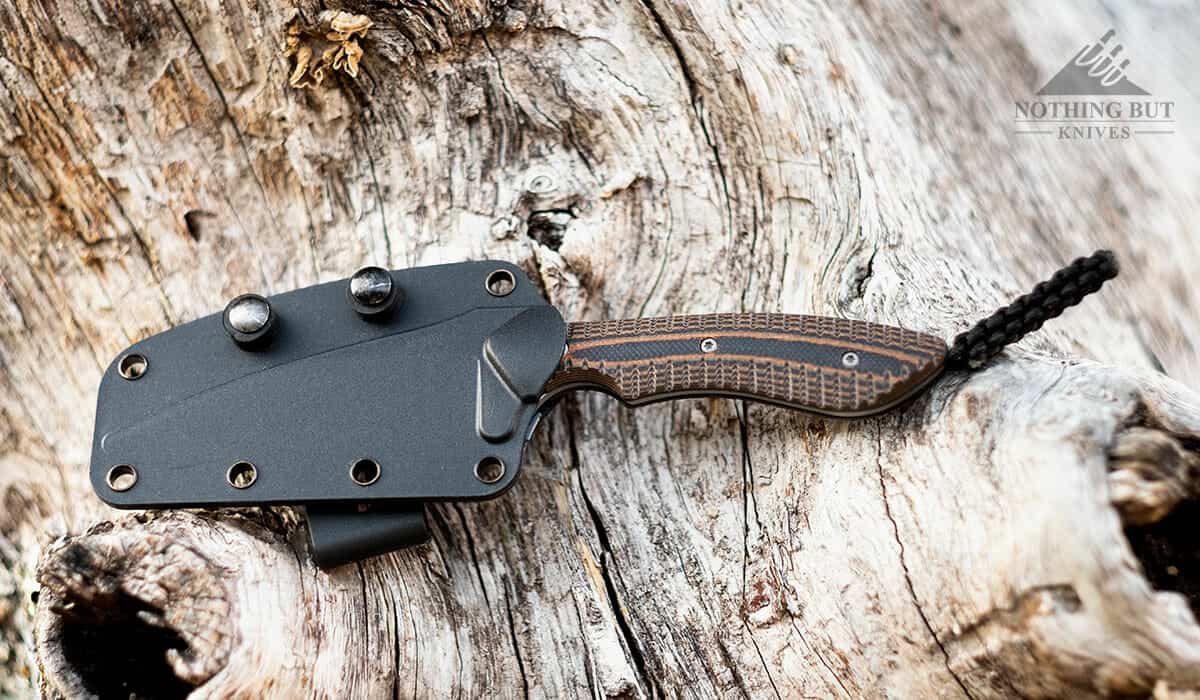 | | |
| --- | --- |
| Overall Length: | 6.19″ |
| Blade Length: | 3.0″ |
| Blade Steel: | 5Cr15MoV |
| Blade Grind: | Hollow |
| Blade Style: | Wharncliffe |
| Blade Thickness: | 0.10″ |
| Handle Length: | 3.19″ |
| Handle Material: | G-10 |
| Weight: | 1.7 oz (2.8 oz w/ sheath) |
| Sheath: | GRN |
| Made in: | China |
| Price Range: | $30 – 45 |
Pros
Comfortable for the size
Easy to handle
Sharp edge with a fine tip
Comfortable horizontal carry
Cons
Low-grade steel
Sheath hangs a little loose
Good Blade Design, Okay Execution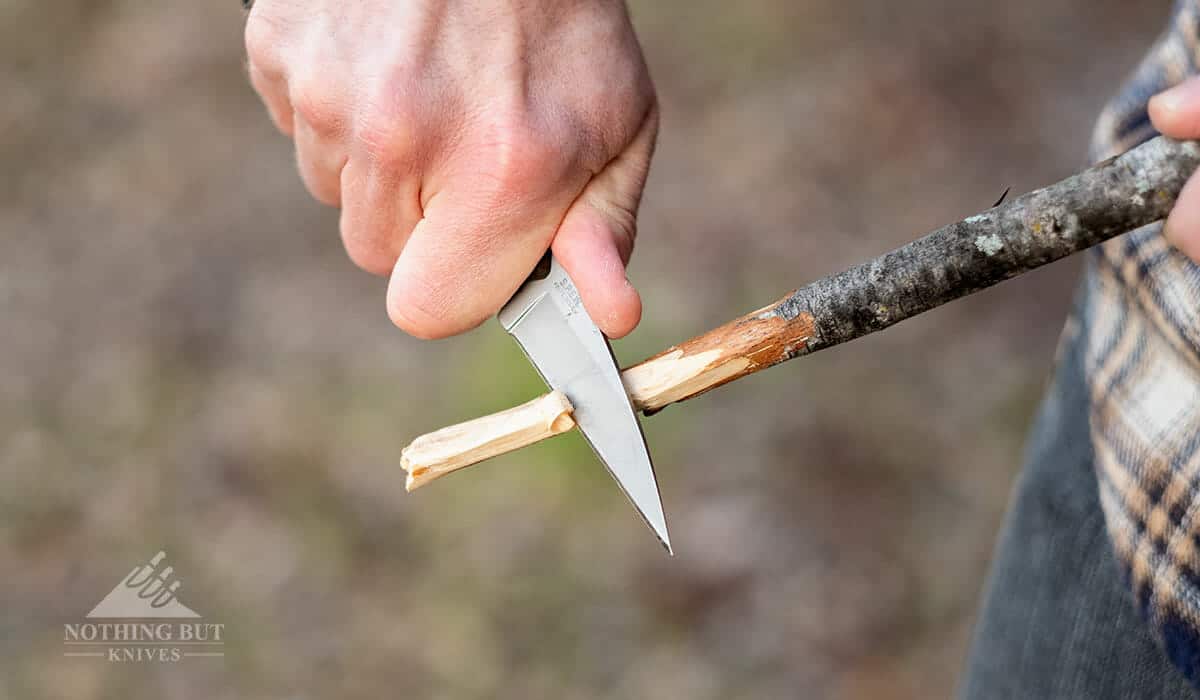 I love the design of the blade. Having that thin, sharp tip comes in handy for a lot of tasks. For me those tasks are usually digging out splinters and opening the packages of the other knives I bought, but it has the potential for a lot more in the hands of someone more active than me. It would be nice for fishing as it's slicey enough to cut fishing line and softer ropes, and pointy enough to start a good cut for gutting something like a trout.
There are some imperfections on the blade that I got. The tip is just slightly bent, and the grind doesn't seem to be consistent along the whole edge, but that's not enough to destroy its efficacy. It is enough to bother me, and get a little frustrated at CRKT manufacturing practices for detracting from an otherwise great design, but that's just the nature of budget knives.
There's also no sharpening choil, which is going to be very frustrating later down the road. I understand why. With a blade this small and riding so close to where the index finger rests, they really need to have that bolster there, and if they added a choil on top of that it would really eat into the length of usable cutting edge on an already small design.
On that note, though, I don't find myself using the edge near the handle too often. Something about the grind and the way leverage works out with the size of the knife seems to make it a lot easier to cut with the edge near the tip of the blade, a characteristic that I think should make it a pretty handy thing to take along on a small-game hunting trip.
Size Doesn't Matter with this Handle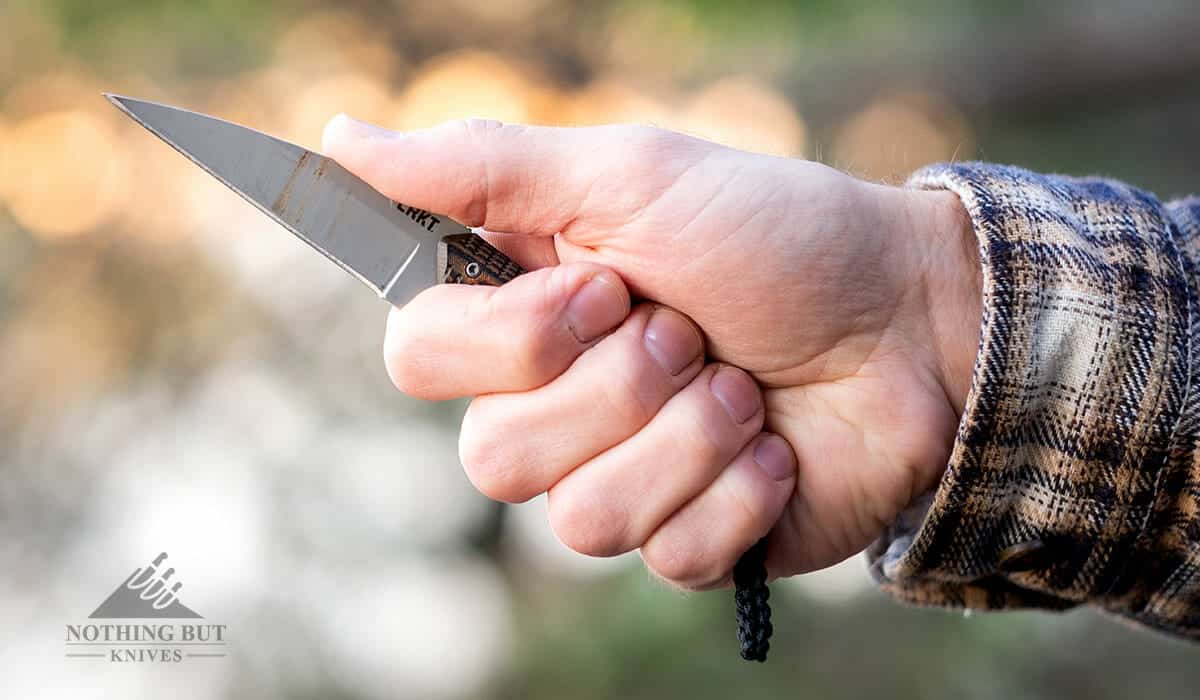 The handle does a lot for how small the knife is. I love that the scales bulge out a little, and the texturing is just enough to make the knife much easier to hold onto where it could have been disastrously slippery.
My hand feels surprisingly at home holding the SPEW. I expect to feel a lot of strain in my hand when I'm handling small knives like this, but there aren't really any hotspots I can find on this thing, and it's easy to keep a grip on. It can feel a little rough when you're actually cutting. That's partially because of the shallow grind just not biting into things very easily combined with the texturing on the thumb ramp. A little bit of honing should help with that.
Like most horizontal carry knives, the SPEW has the potential for very fast deployment.  Its small size adds a little more to that, though, because you can wear it pretty comfortably on the front of your belt (I'll talk more about that in a minute).
It's pretty common that I find at least one thing in a handle that I was different, whether that's the material or the shape, or the size. Or I might have to say "this is good enough for what it is", but honestly I think the SPEW's handle hits all the best points for me. It's weighted well, the texture helps the grip without being too aggressive, and it exceeds the limits of its size rather than being "just good enough" for what it is.
The Sheath Problem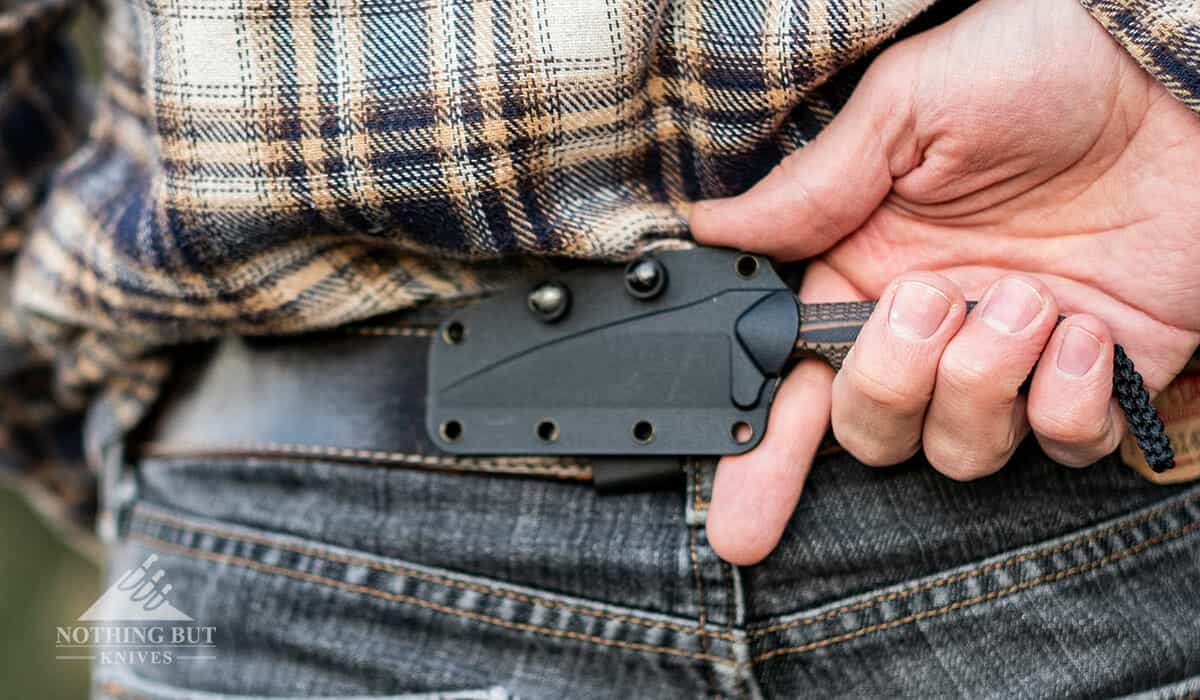 It's simple and sturdy, for the most part, with pretty good retention, but still easy to deploy.
The main problem with it is the stock belt loop. It needs a pretty thick belt to keep the knife from drooping. It's not a deal-breaking problem, but it is annoying, especially when you wear it scout style at first.
After a while I switched it to wearing in in front when I realized that it was small enough to sit comfortably there. Once I started doing that I could pull the thing out a lot quicker, and it was a lot easier to correct for the handle moving around. In fact, that's become my favorite spot to pack it, because it's so much easier to pull and sheath it, it doesn't dig into my back while I'm driving, and the handle is short enough that it doesn't get in the way of my buckle or zipper.
So big points on this design for being so well balanced and grippy. The drooping continues to be awkward, though.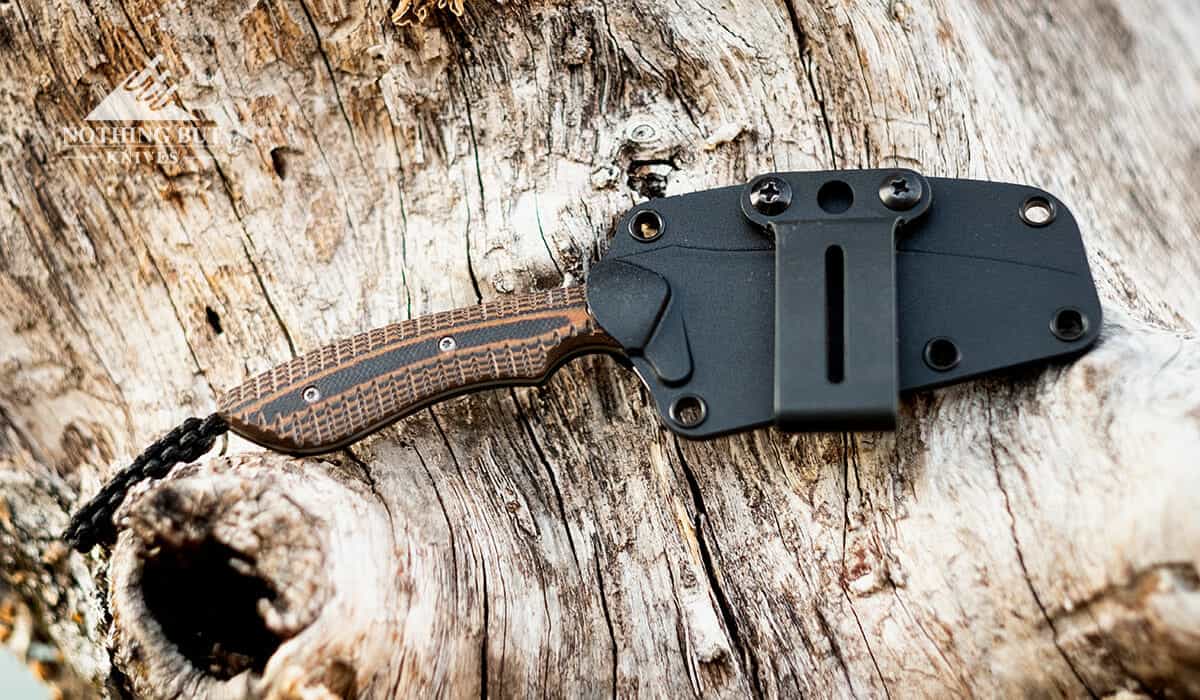 The relative ease of changing the sheath around can also be a problem, though.
CRKT was kind enough to make the spacers on the screws for the belt loop generously sized, so it's easy to unscrew and modify how you carry the SPEW. While we were out shooting I ended up fiddling with the spacers absent mindedly and didn't realize the screw was still loose when I took the knife out to test it on something. Suddenly the knife handle was hanging down over my pants and I heard the horrible sound of a tiny screw hitting a rock and flying off into the dirt somewhere, never to be seen again.
This ended up playing into the strength of its size again, though. This was made to be a "pocket" fixed blade after all. It turns out this can actually sit pretty comfortably in your pocket. I spent the rest of our shoot keeping the knife in my shirt pocket, but I've since tried in my front and back pants pocket and it seems to carry pretty well.
Of course, I eventually just got some paracord and converted it into a neck knife, but it's good to know that if all else fails I could just carry this thing behind my wallet.
A Camping EDC Design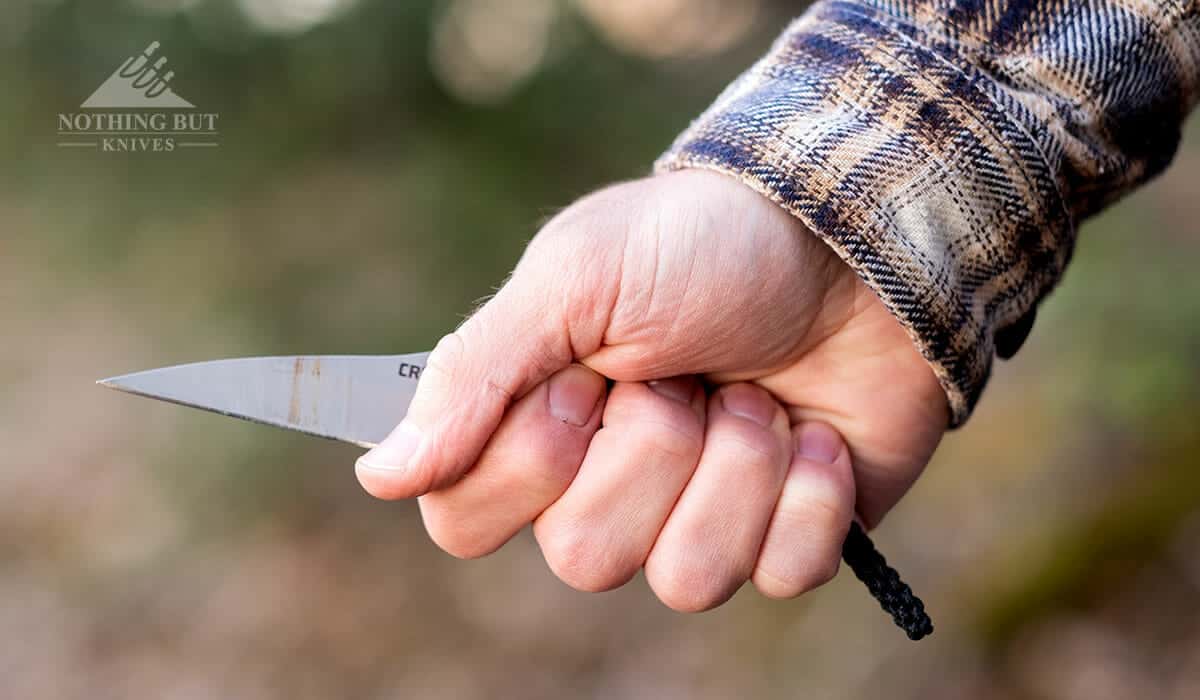 This is one of the few knives designed by Alan Folts that doesn't feature a prominent wave of finger grooves, and I think that's one of the first things I liked about this knife. The handle has more of a traditional vibe with its wood-colored G-10 scales. It doesn't look like some kind of tactical solution to a concealed urban carry. It looks like something you take camping and gut a fish with. It looks at home carving a hot dog stick and whittling a little boat out of drift wood.
It's not a bushcraft knife. I wouldn't want to risk the fine tip getting hammered into firewood to make kindling, But I would trust it to cut up twine and rope and do a little food prep. So long as you keep a sharp edge on it, the SPEW is a good tool for anything else you'd want to do in the woods.
The Price and Materials Compromise
Since this was designed to be an indiscreet EDC, I get the need to keep the price low and use things like 5Cr15MoV steel and a barebones sheath. It makes the SPEW (in my opinion) a more useful and cost-effective alternative to the Gerber Ghostrike. But if they had put something like 154CM steel for this thing and made the sheath a little sturdier and tighter fitting like the Benchmade Azeria, I'd be willing to drop an extra $50 on this thing.
The more relevant comparison is the Ka-Bar TDI, which is much more tactically oriented than the SPEW, but similar enough in price and size that it invites comparison. And frankly the comparison is frustrating. I much prefer the style of the SPEW, but when it comes to materials and sheath quality, Ka-Bar clearly had a better handle on the compromise.
The steels might be similar to most people (though I'd much prefer AUS-8 to anything that starts with 5Cr), the sheath and the ergonomics as a whole were clearly better thought out.
Conclusion: Worth the Price, but it Could have been Better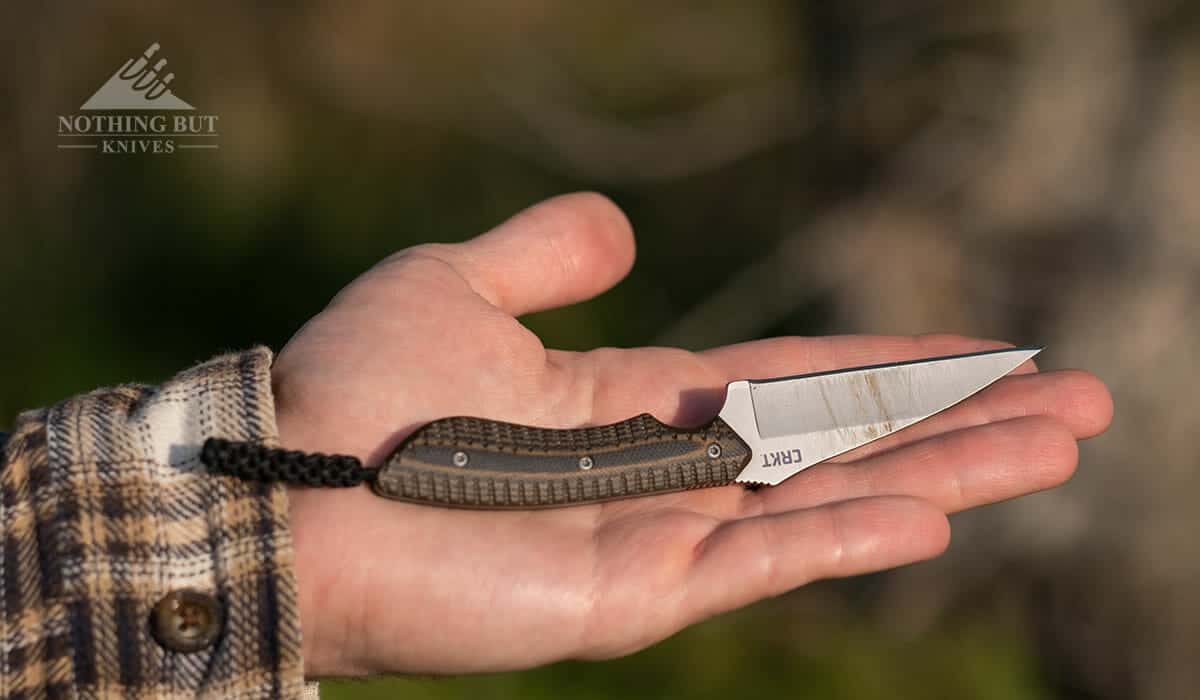 This is just a good knife. It didn't blow my mind, but for $30 I didn't really expect it to. It's useful and unobtrusive. It's come in handy for a few different things. I've certainly used it more than the Gerber Ghostrike since it has an actual edge and a tip and not just a slab of metal with vague motivations toward a hollow grind.
The big thing working against it is the sheath. If it carried a little tighter to the belt (and if I hadn't lost a screw) I would carry this all the time. The thing is a little bit too small for a Tek-Lok to be practical, but it's simple enough that I could probably replace the cheap belt loop with some kind of MOLLE strap system.
That aside, the SPEW falls neatly into that spectrum of good design and cheap materials that I can get dirty. The tip is probably going to break off eventually because I'm going to do something stupid with it that thick knife with better steel could handle, but what's a $30 knife to someone who's going to get bored and buy another knife in a couple days anyway?