Small Modern and Traditional Friction Folder Pocket Knives are Cool Again, Apparently
Whether you enjoy the minimalism of a simple knife or have legal limitations because of your state or workplace, there's usually a place for at least one friction folder in your EDC rotation.
Most modern companies make them for legal reasons, but that's slowly changing with the growing popularity of traditional Japanese friction folders (one of which is included in this blog). So while there are a host of people out there living within the bounds of strict knife laws that can only carry a knife that's non-locking and under 3 inches, there are others who have some nostalgic pull to a simpler time when knives were just sharp pieces of steel between two slabs of wood.
Whether that's from a natural evolution in knife culture, or because so many knife designers have put effort into making friction folders for legality's sake, and by extension made interesting knives everyone wants because it feels new I couldn't say. The fact is we have options, and we should appreciate them.
Friction Folders Under $75
Friction Folders Over $75
Slip Joints vs Friction Folders
The difference between a slip joint and a friction folder is just a spring. It never occurred to me to make this distinction before because I just categorized both slip joints and friction folders as non-locking knives. Mechanically speaking, they are very different, though.
Friction folders use the handle's friction against the tang to stay open or closed.
Slip joint knives have a spring mechanism that holds the spine of the blade in place.
The tang is a lot more important in a friction folder's design as it's usually what you'll use to open the knife and keep the blade in place when you're using the knife. A slip joint doesn't need a tang, so you'll usually see them as a nail-nick open with a half-stop mechanism to safeguard against closing on your fingers..
Legally this might not be a relevant difference, but they do have a big impact on how people design each knife. I'm not exactly trying to say which type I think is better, but I do think the relative simplicity of friction folders leaves things open to a lot more diversity in the hands of clever knife makers.
Friction Folders Under $75
The pattern here will mostly be flat grinds and nondescript high carbon steel. On the whole, each of the knives in this section have the potential to be the toughest knife you'll ever own. This is a good section to find your next work knife or wallet-friendly gift.
Svord Mini Peasant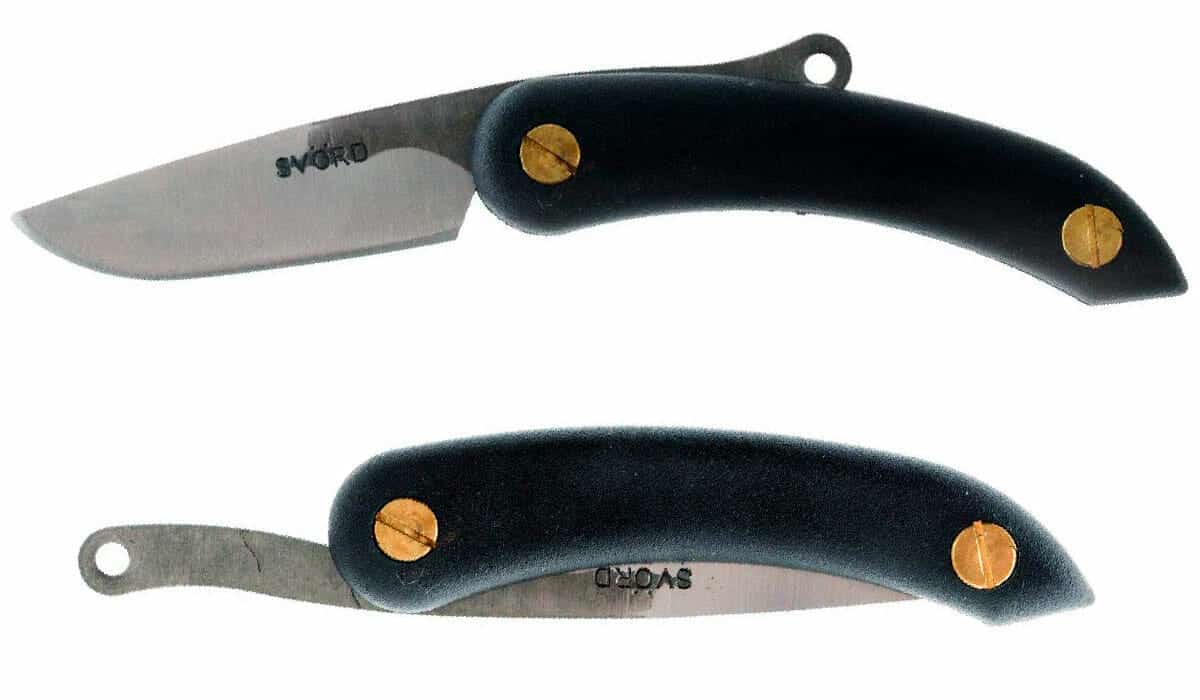 | | |
| --- | --- |
| Overall Length: | 6.75″ |
| Blade Length: | 2.5″ |
| Blade Style: | Drop point |
| Steel: | Stainless steel |
| Grind: | Flat |
| Handle Material: | Polypropylene |
| Carry System: | Pocket |
| Price Range: | $10 – 20 |
For people who like friction folders for the sake of the friction folder itself (and not for legal reasons) this is one of the essential models to own. "Mod friendly" is the term you'll see as the Peasant's best feature. The large simple screws and barebones scales make it very easy to switch materials out and maintain.
This is the smaller version with a 2.5-inch blade, but even the regular Peasant comes in at just 3 inches and barely breaks the $20 range most of the time. They're viable options for a fun tool to play around with and make your own, but if the 3-inch mark is really important for you legally, you should probably go with the Mini. I haven't measured the regular version myself, but very often blades marked "3 inches" can creep above the line and cause trouble down the road.
Kershaw Pub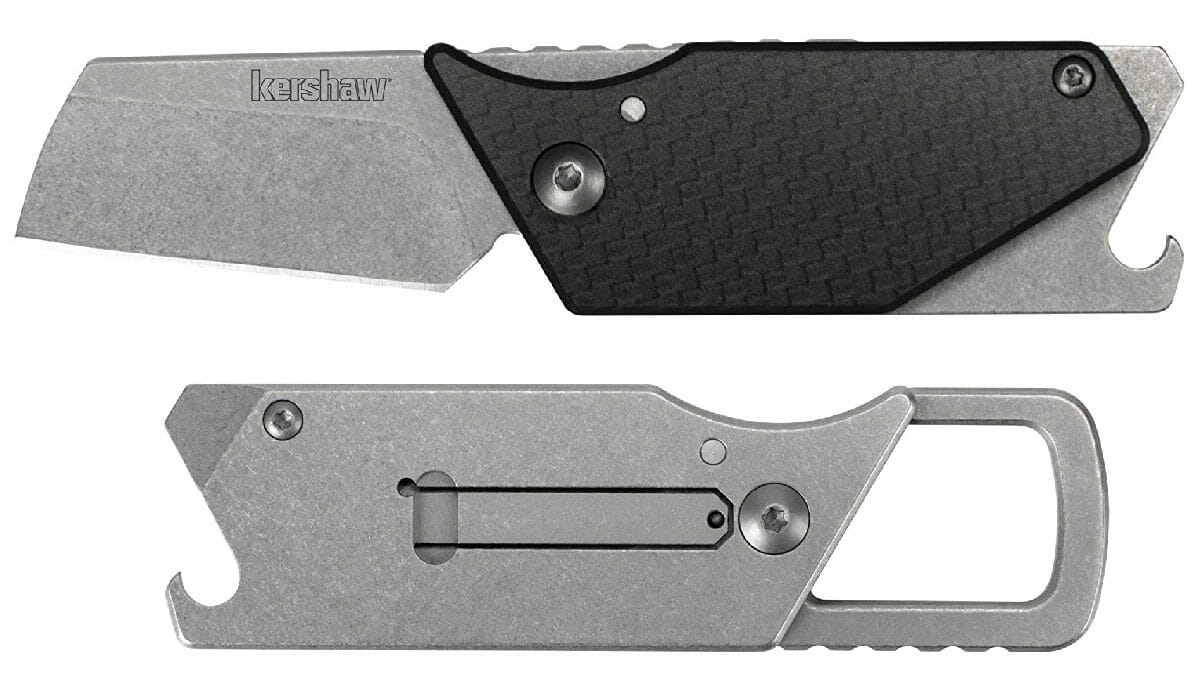 | | |
| --- | --- |
| Overall Length: | 4.5″ |
| Blade Length: | 1.625″ |
| Blade Style: | Sheepsfoot |
| Steel: | 8Cr13MoV |
| Grind: | Hollow |
| Handle Material: | Aluminum |
| Carry System: | Pocket or keychain |
| Price Range: | $16 – 20 |
This Sinkevich design is more of a keychain multitool than a pure knife. It manages to pack a flathead screwdriver, a bottle opener, and a one-and-a-half inch blade into a body less than 5 inches long. It's not impressive to look at; it's just one of those little things always lying that happens to be useful 80 percent of the time.
That also means it's well within the "where the hell did I put that thing" size category, but that's why there's a keychain attachment. And the thing costs about the same as a burger nowadays so replacing it is essentially a choice between greasing your mouth for the third time this week or being able to open beers and letters with the same tool.
Nagao Higinokami Folder no. 5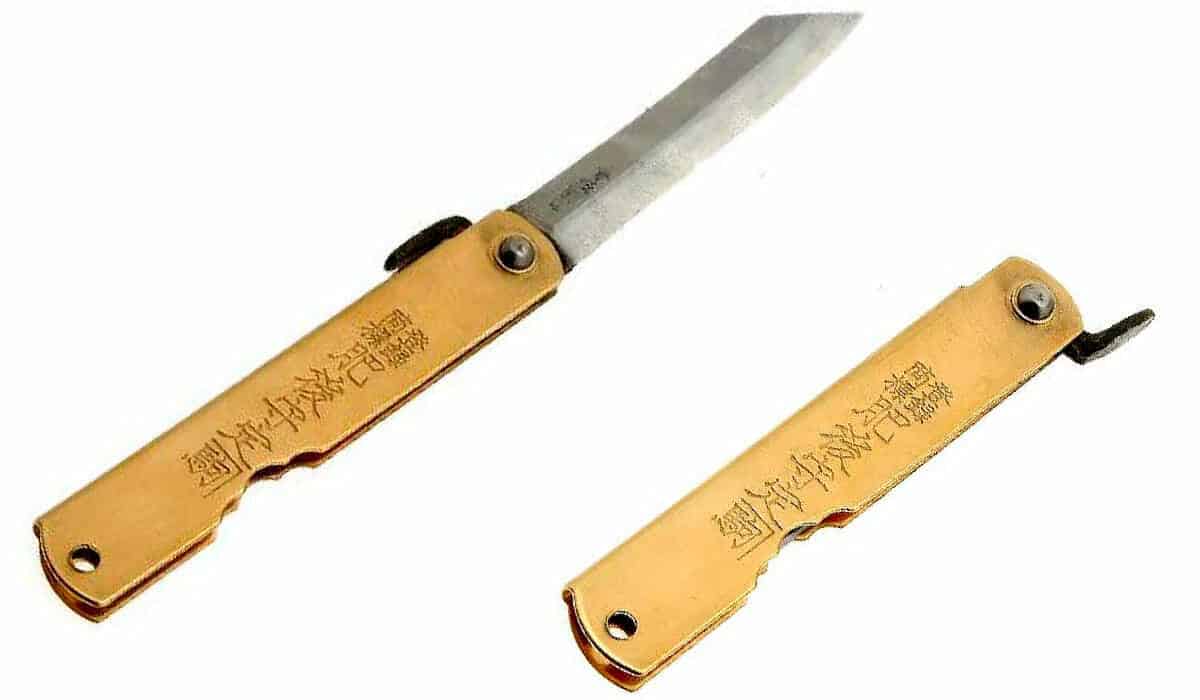 | | |
| --- | --- |
| Overall Length: | 6.75″ |
| Blade Length: | 3.0″ (or close enough) |
| Blade Style: | Reverse Tanto |
| Steel: | Blue steel |
| Grind: | Flat |
| Handle Material: | Brass |
| Carry System: | Pocket |
| Price Range: | $30 – 40 |
I'm pretty sure this is design the reason there's some new attention on friction folders. If you're getting a "real" Higinokami folder (if you're willing to believe any of them are "real" anymore) there's probably going to be some variance in lengths and quality as they're all handmade. Outside of even the different versions meant to be different lengths, getting a 3-inch Higinokami means getting a knife around 3 inches.
Reports on the quality of this thing vary quite a bit too. This is really more about having a neat knife to talk about than having a useful knife. That's not to say it isn't useful, it's just that there are tougher and less ambiguously useful knives in the same price range. Getting a traditional Higinokami is a practice in knife masturbation. There's nothing wrong with that in moderation, I just think it's important that we're all honest with ourselves here.
Opinel No. 6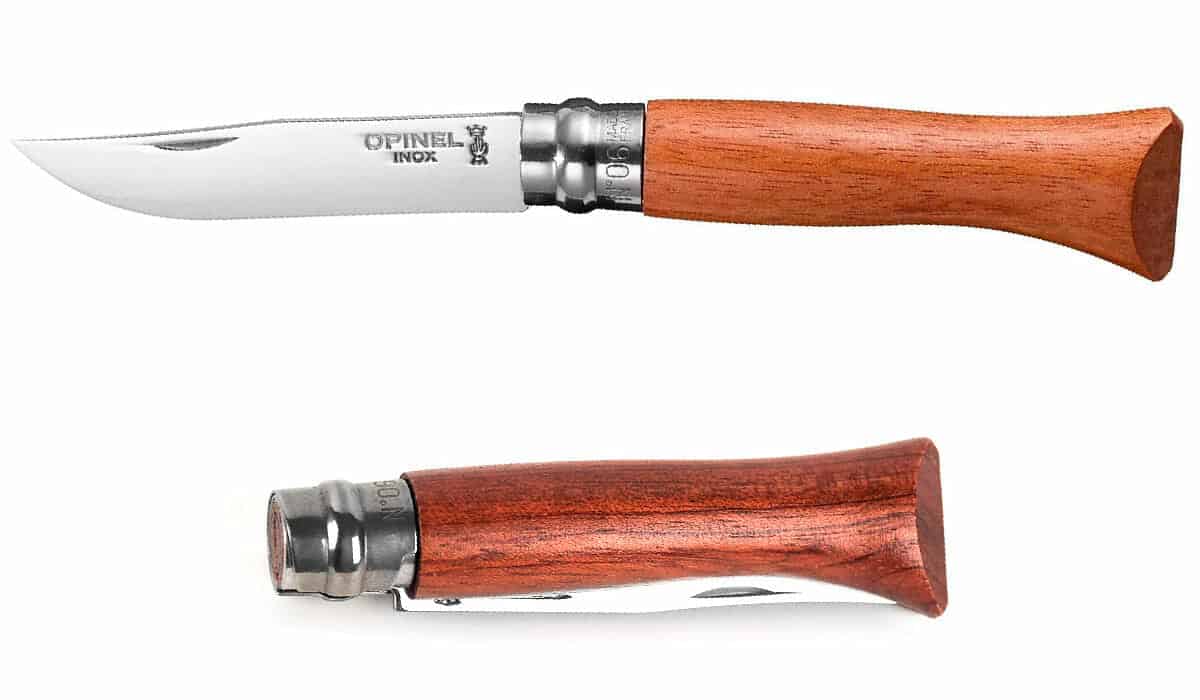 | | |
| --- | --- |
| Overall Length: | 6.5″ |
| Blade Length: | 2.9″ |
| Blade Style: | Clip point |
| Steel: | High carbon |
| Grind: | Convex |
| Handle Material: | Beechwood (traditionally) |
| Carry System: | Pocket |
| Price Range: | $13 – 25 |
The only reason I picked the Opinel No. 6 is because that's the biggest version before the blade gets over 3 inches. There are still five other smaller versions if this isn't quite the size you like.
That's part of the beauty of getting an Opinel. Any other company gives you simplicity, but Opinel is set on giving us options. Not only do they make the exact same design in ten different sizes, they make them with different handle materials. No change at all in the shape of the knife itself. Basically all they do slap a different color and mold on the same knife they've been making for a hundred years.
One difference the keen-eyed might pick up on is the convex grind where the vast majority of cheaper models sport a flat or hollow grind. I won't pretend to know the reason behind this, but it does make for a tough edge, which is really important for all the terrible abuse You're probably going to put this thing through.
Something else I should probably mention is the ring lock which would technically disqualify it as a friction folder. Thing is, the mechanism is the same. The ring isn't holding the blade in place more than the handle is, and the ring has only been part of the design since the 50s. I won't speak to the legality of the thing, but in terms of design this is still basically a friction folder. The same goes for the Nontron down in the expensive part of this blog.
Fred Perrin Le Shark Pilante Friction Folder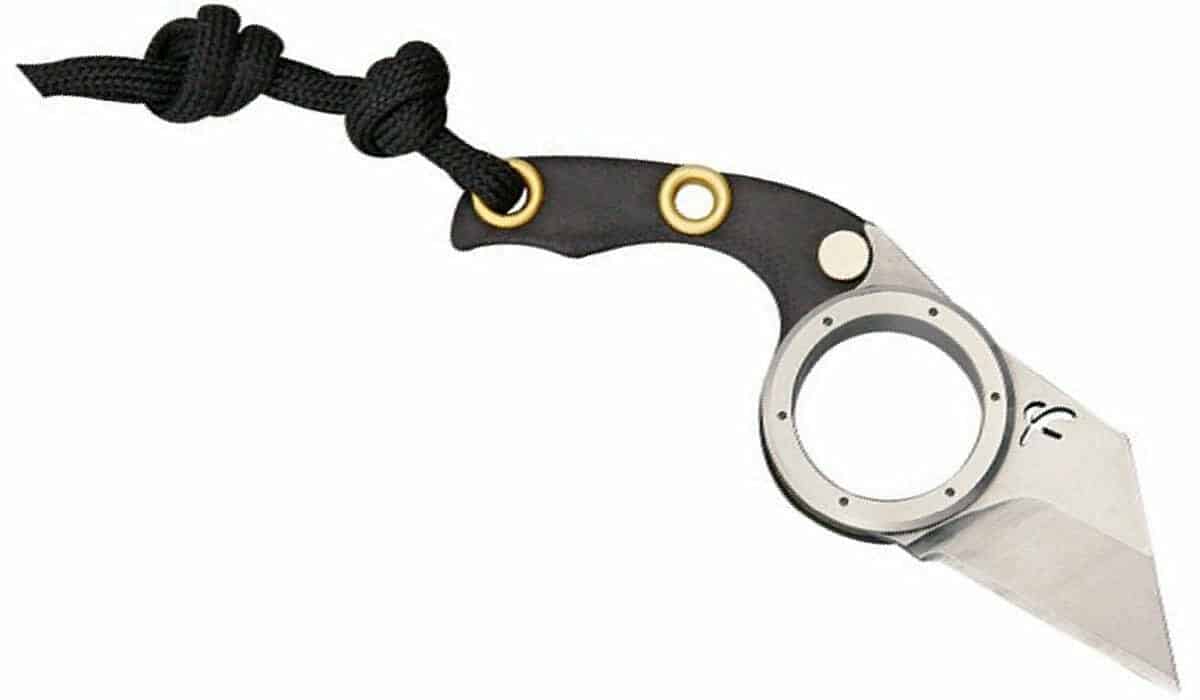 | | |
| --- | --- |
| Overall Length: | 4.125″ |
| Blade Length: | 1.375″ |
| Blade Style: | Wharncliffe |
| Steel: | 440C |
| Grind: | Chisel |
| Handle Material: | G-10 |
| Carry System: | Kydex sheath |
| Price Range: | $60 – 65 |
Fred Perrin's Le Shark is more of a tactical neck knife, taking us far from the casual office carry or honest farm work territory. Because apparently he looked at the fixed-blade version of the Shark and thought "This would make a great friction folder". He wasn't wrong. It just begs the question… why?
Odds are you don't own a knife like this, though (unless you're already a Fred Perrin fan). There are plenty of French-styled pocket dwellers, traditional folders, and fancy box cutters out there, but a friction folder with a finger hole and a kydex sheath is a pretty big step out of my comfort zone, and I'm annoyed that I kind of like it. I'm thrown off by how small the blade is. It's basically an inch long, so it doesn't give you much of a cutting edge. But between the size and the 440C steel it's a damn tough knife. I just have trouble imagining many uses beyond breaking down boxes.
But whatever. All you legally-minded tactical knife idiots have this thing to pack around now, so I hope you enjoy yourselves, you weirdos.
Friction Folders Over $75
It feels odd to see friction folders with premium steel, but here they are. This is the section of nice leather pouches, hand-crafted wood handles, and hundred-dollar price tags. Knock yourself out.
Fox Knives Dragotac Piemontes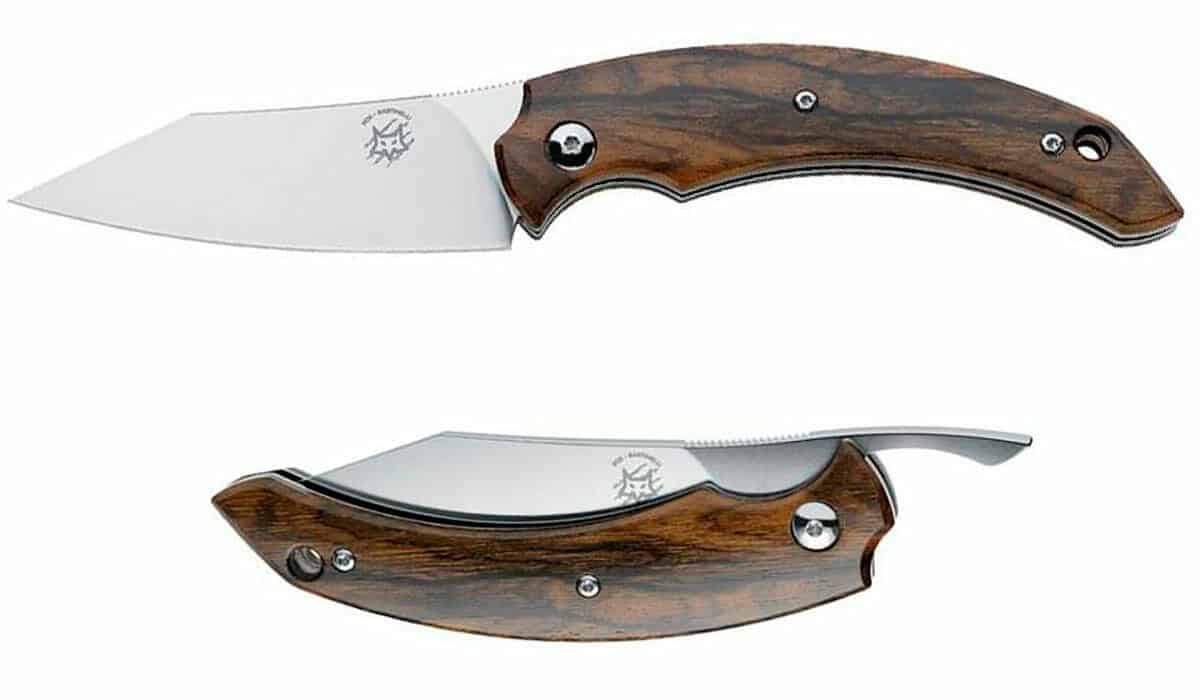 | | |
| --- | --- |
| Overall Length: | 7.25″ |
| Blade Length: | 3.0″ |
| Blade Style: | Wharncliffe |
| Steel: | N690 |
| Grind: | Flat |
| Handle Material: | Ziricote |
| Carry System: | Leather pouch |
| Price Range: | $90 – 110 |
Fox Knives is good at classy knife designs, so a friction folder in their hands is a pretty sure thing. Complete with wood scales and a leather sheath, the Dragotac Piemontes is a great tool to carry around as a subtle way of telling everyone else you're better than them. And that's even before you tell them the steel is Bohler N690.
Typical of an Italian company, the name comes from a region on the French border where there are apparently a lot of mountains and wine. I'm not sure if the purpose of the knife is supposed to match the land. Like is the Wharncliffe blade good for cutting grape bunches off the vine or skiing somehow?
Whatever the purpose, it's a good design. The ergonomics are pretty well thought out, the blade has a nice shape, and the edge retention should be stellar between the hard steel and flat grind.
The James Brand – The Pike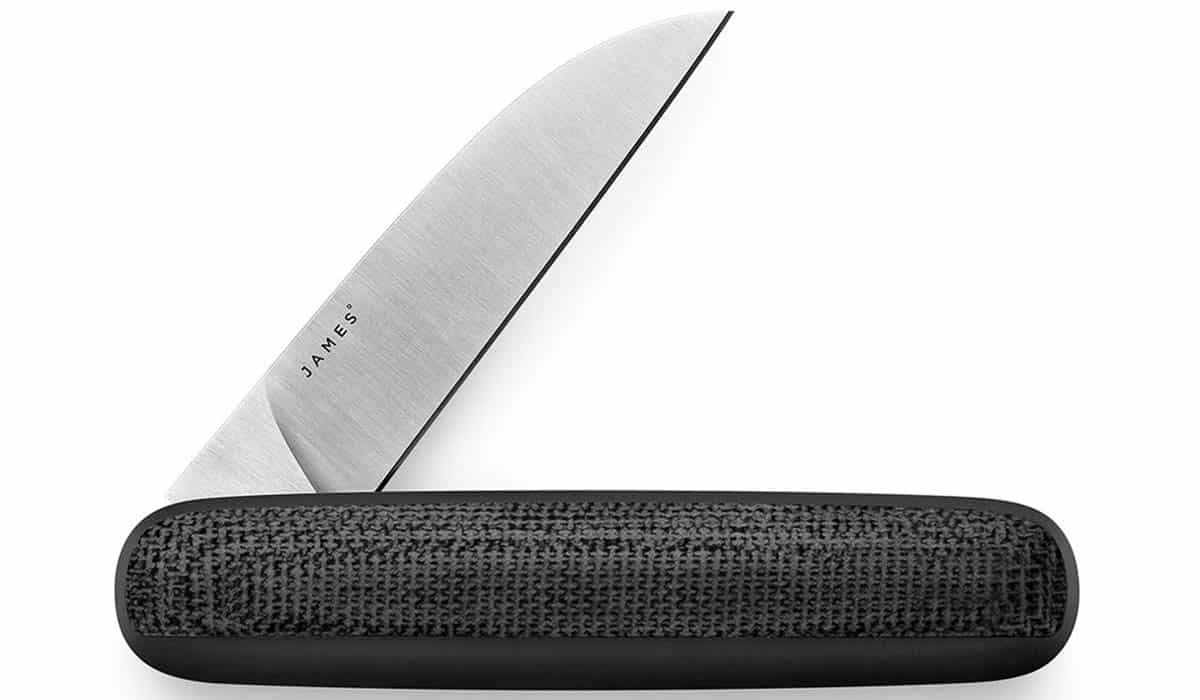 | | |
| --- | --- |
| Overall Length: | 5.7″ |
| Blade Length: | 2.3″ |
| Blade Style: | Wharncliffe |
| Steel: | S30V |
| Grind: | Chisel |
| Handle Material: | Micarta |
| Carry System: | Pocket |
| Price Range: | $120 – 130 |
There are two indisputable facts about The James Brand. The first is that they are obsessed with a certain proposition. The second is that they make great knives. You can always count on getting a knife with excellent fit and finish, top notch materials and classy styling when you order a James Brand knife. This quality and styling with a fairly steep price tag, but buyer's remorse is not a common affliction of their customers.
The Pike is a classic friction folder witch a slightly modern sleek look. The canvas micarta handle is extremely grippy even when wet, and the Sandvik 12c27 steel blade holds a decent edge. With an opened length of 5.7 inches the Pike is larger than a lot of the other folders in this article. Fortunately it is still small enough to be barely notable unless you wear extremely tight pants. If that is the case I am not sure how you ended up on this site.
Kizer WPK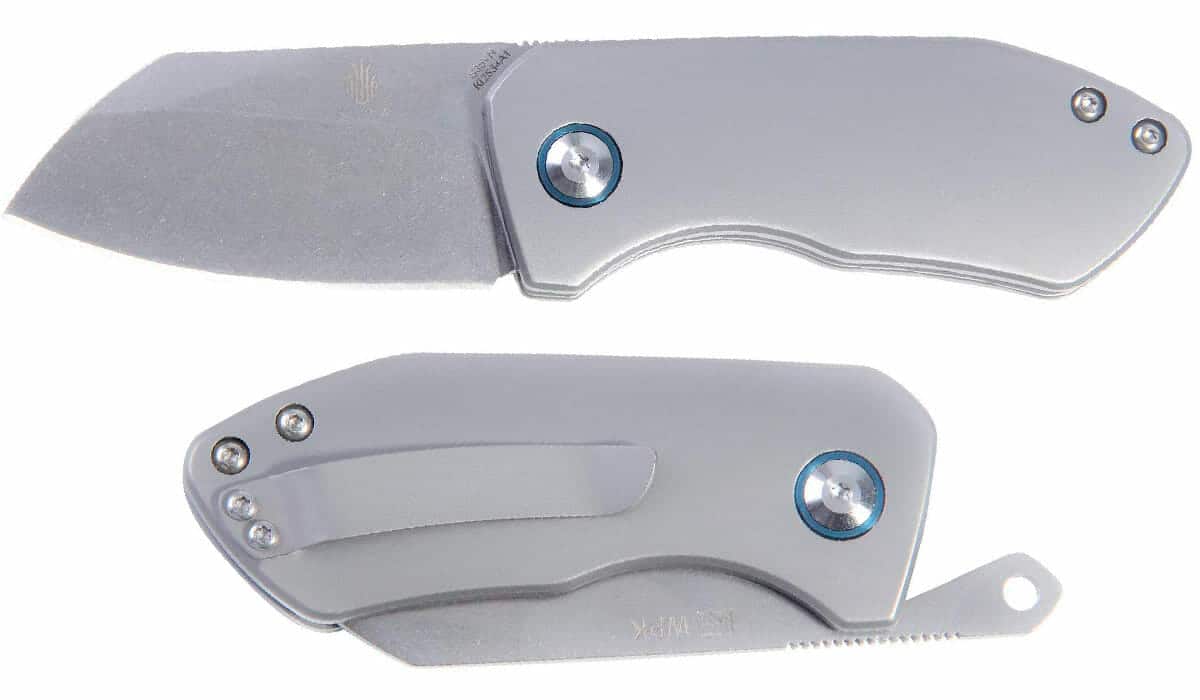 | | |
| --- | --- |
| Overall Length: | 5.6″ |
| Blade Length: | 2.5″ |
| Blade Style: | Sheepsfoot |
| Steel: | S35VN |
| Grind: | Flat |
| Handle Material: | Titanium |
| Carry System: | Tip-up pocket clip |
| Price Range: | $140 |
The designer, Jared Price, has a pretty strong history of making sensible EDC knives. Most of them are much bigger than this thing, but it looks like the Kizer Jared was made specifically for legality purposes. That said, it's a fun little thing to play around with. It features that famous Kizer action, and cuts well.
One potential problem is you might have some ergonomic issues. Titanium is not known for its grippy characteristics, and I haven't seen a design of this where the metal is textured at all. That's likely to be a small annoyance when paired with a nice sharp edge, though.
It's oddly refreshing that the Jared is one of the few knives on here that doesn't have some kind of overwrought etching or design to make it look cool. Maybe you want something that's a little flashy when you get over the $100 mark, but for my part it's nice to see a modern friction folder that was clearly just made to be a good tool.
Tops Knives Tac-Raze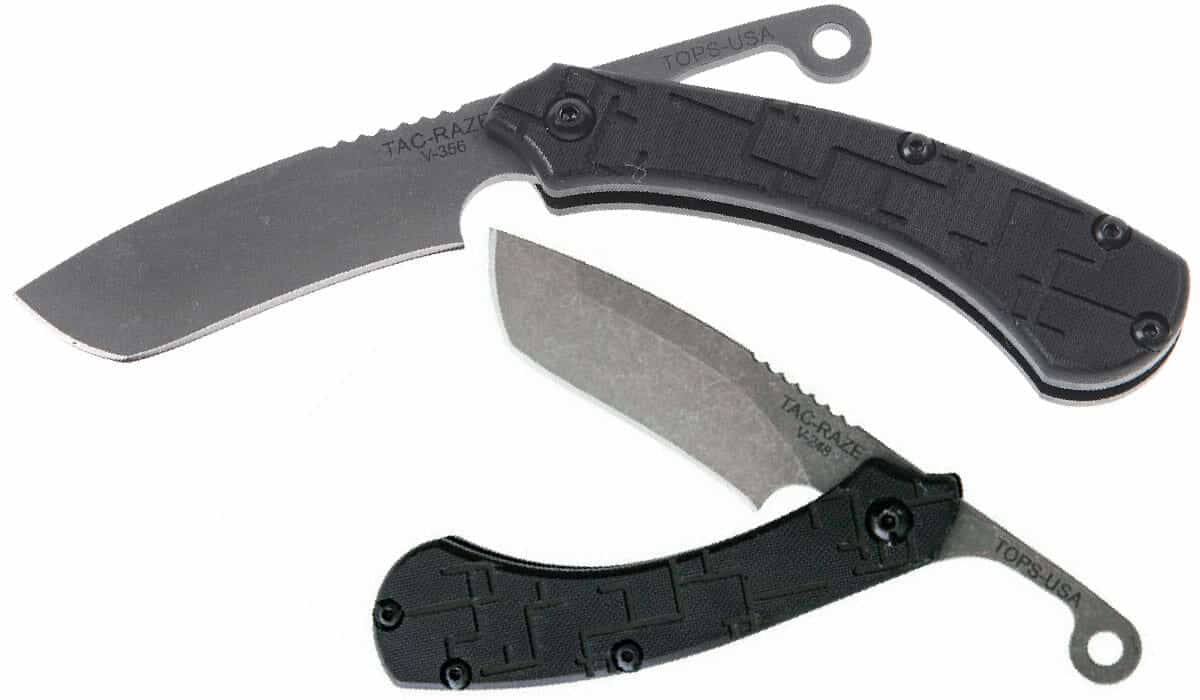 | | |
| --- | --- |
| Overall Length: | 7.625″ |
| Blade Length: | 3.25″ |
| Blade Style: | Tanto |
| Steel: | 1095 |
| Grind: | Hollow |
| Handle Material: | G-10 |
| Carry System: | Leather sheath |
| Price Range: | $80 – 90 |
This knife tests the size restriction of this blog, so tread lightly if you need a sub-3-inch blade. It's also one of the few knives on here with a recurve, 1095 steel, and a tanto-style tip, so it looks a little more threatening your typical friction folder. If this thing were a fixed blade it would make a cool bushcraft knife. The fact that they designed the leather sheath to adapt to vertical carry seems to indicate they made it for some kind of hard, outdoor use, so maybe this is the farm knife of the future.
I still see it sold as some kind of "gentleman carry", though, so I could be wrong there. It's just that if you put the Tac-Raze next to any of the knives in this blog (with maybe the exception of the Shark), this seems like the one you should go to for getting dirty.
Nontron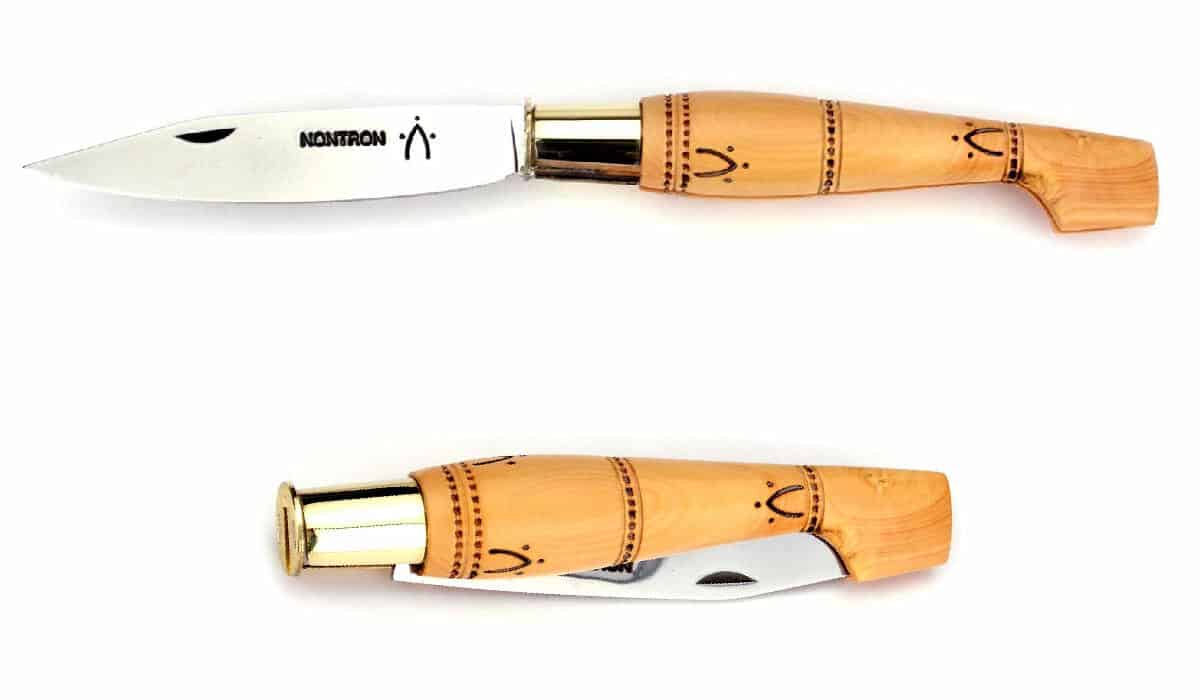 | | |
| --- | --- |
| Overall Length: | 8.3″ |
| Blade Length: | 3.5″ |
| Blade Style: | Drop point |
| Steel: | XC75 |
| Grind: | Flat |
| Handle Material: | Boxwood |
| Carry System: | Pocket |
| Price Range: | $90 – 100 |
This is testing the 3 inch limit again, but Nontron is one of those companies that always comes up in friction folder conversations. They do make smaller knives than this "9 cm" version, but they can be hard to find in American markets.
The simple way to say it is that Nontron knives are the really expensive version of Opinel knives. The less simple version is that these are usually made by hand to order with a much tougher carbon steel. There might be more status than practicality to these. The range of things you can do with a Nontron versus an Opinel are probably close to exactly the same, but you don't get the same level of detailed designing.
If you're just looking for a knife that works, get an Opinel, but if you want a gift that blows someone away this is the sure-bet option, despite the fact it's French and they measure everything in centimeters.
If you finished this article and decided that you actually want a big friction folder, check out our Esee Pinhoti Review.