Buck Knives Brings Back the Old, and CRKT is Back in the States
These two old powerhouses started making a lot of motion this year. Where CRKT is always a good source of fresh new designs, but we're not used to seeing this much activity from Buck. The impression we got from talking to folks in their booth is that they have a hungry eye moving forward.
Buck's New Old Knives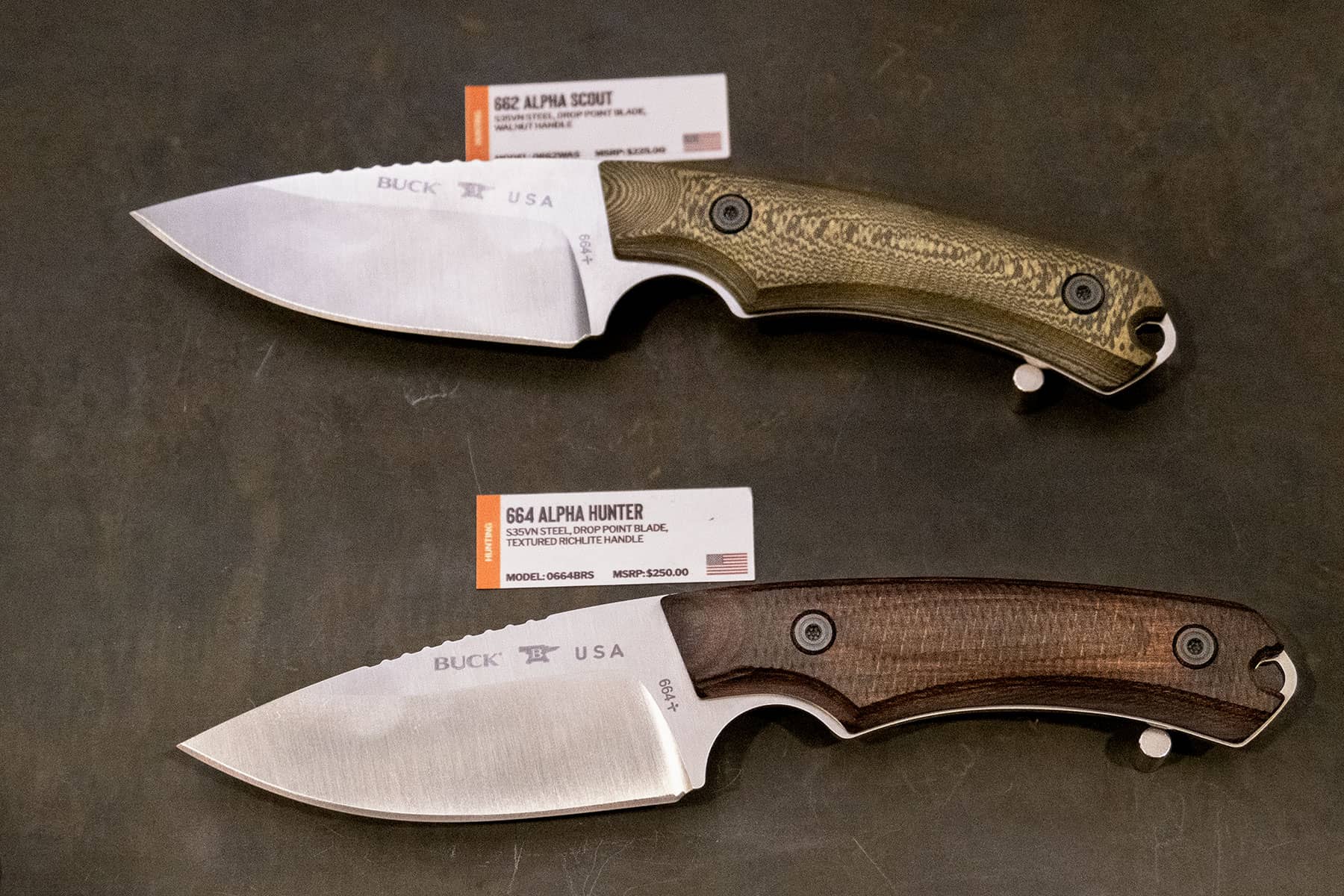 The first thing that stood out to us was the return of the Alpha series, which is a pair of great hunting knives that's been in their line up for a long time. They're releasing the fixed blade Alpha Hunter (3.6" blade) and its smaller companion the Alpha Scout (2.8" blade) with S35VN steel, leather sheaths, and a choice between walnut wood or Richlite for the handles, both of which feel a lot grippier and natural than the older models.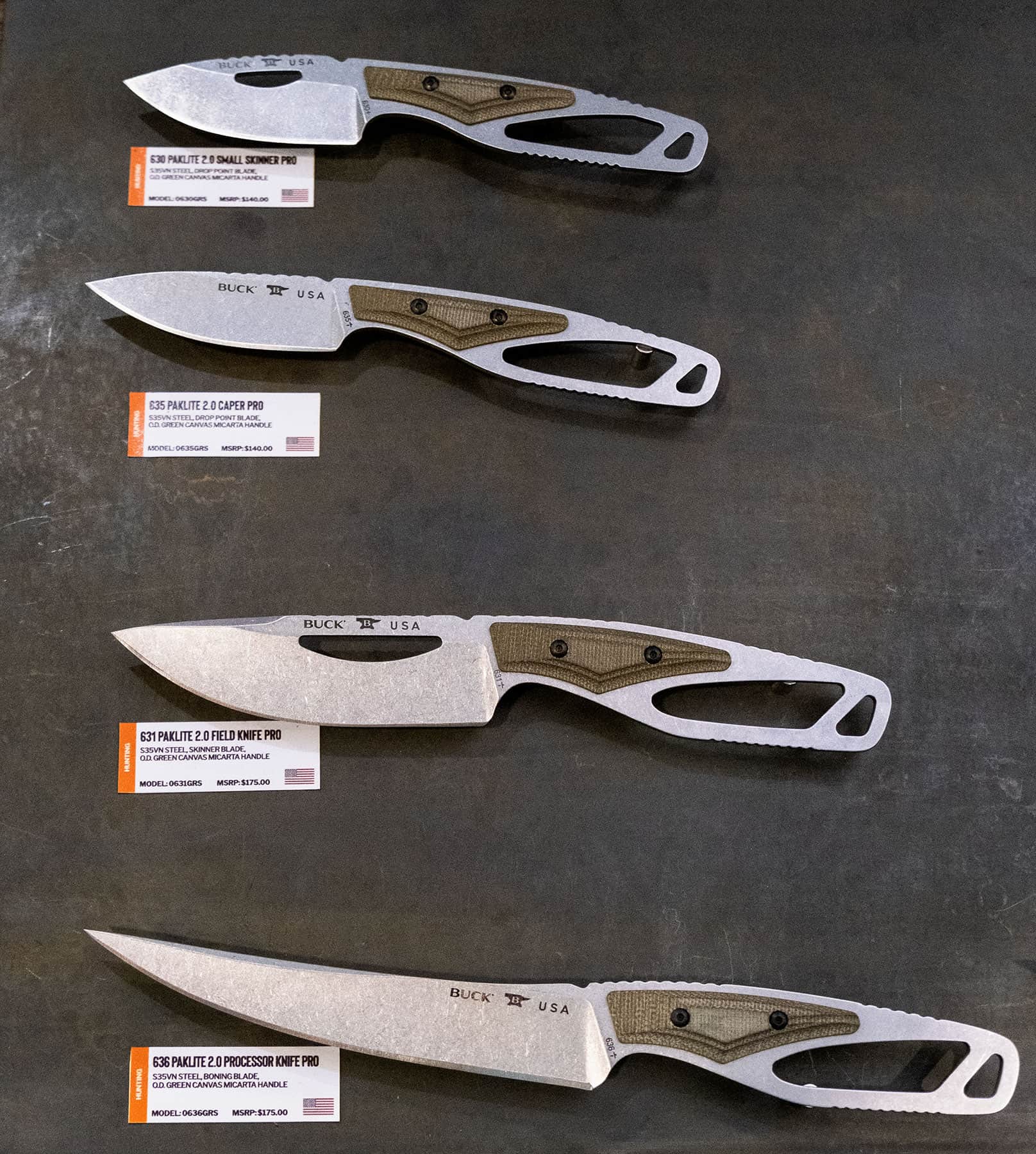 The Paklite series also got the new release treatment. They've brought back the super lightweight hunting knives with the addition of scale inserts in the forward portion of the handle to make the grip a little more natural. The series consists of a skinning knife, a boning knife, and a small caper knife. The Pro version of the series will have Micarta scales and S35VN steel, while the plain version will have G10 scales and 420HC steel.
Each knife comes in simple polymer sheaths that aren't exactly belt-ready, but are slotted for various kinds of straps and packs.
Buck's New Less-Old Knives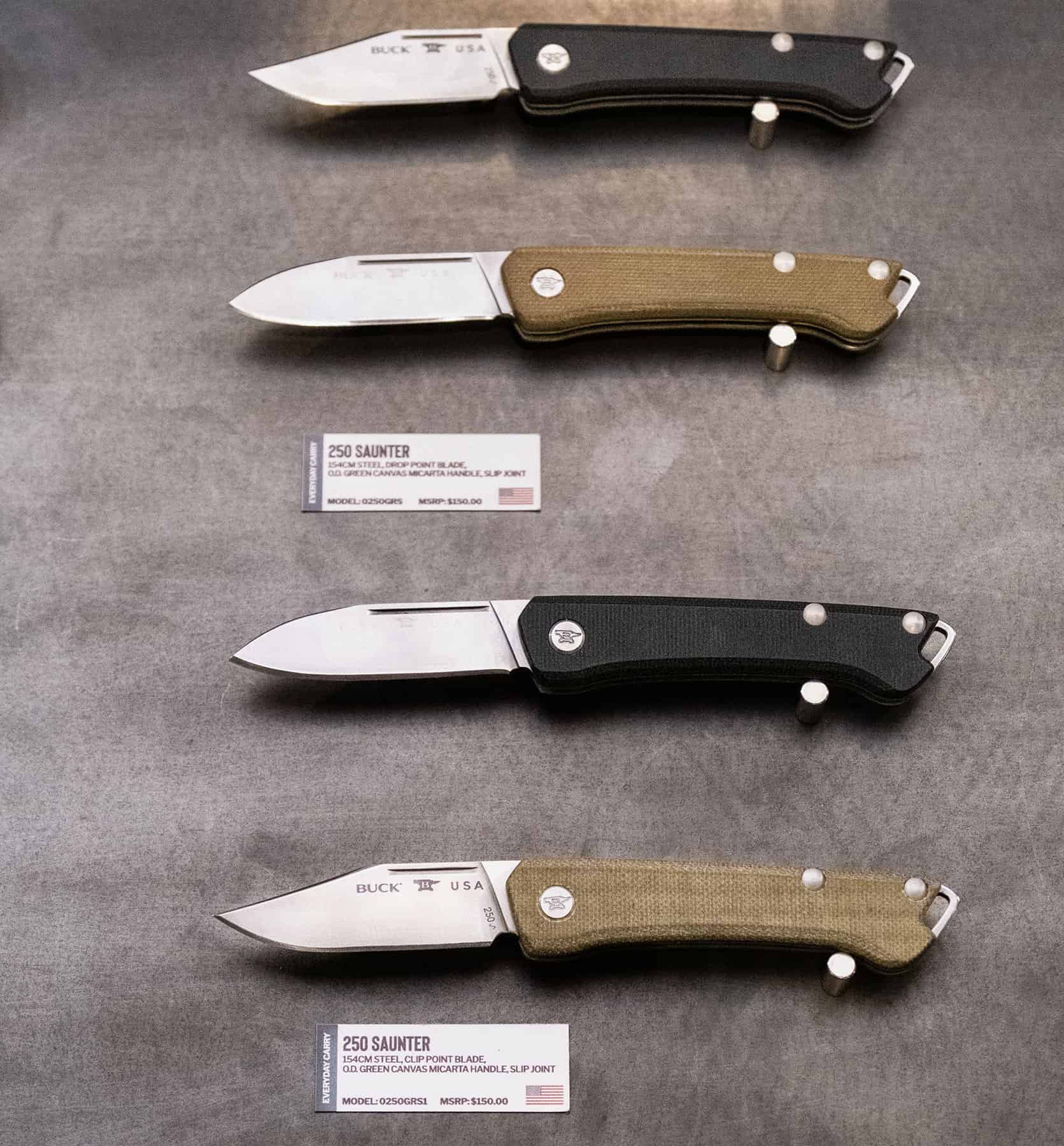 We were especially happy to see that the Buck Saunter design is entering into regular production. They're slapping it with 154CM steel and Micarta scales in green and black, and an option for a drop point or clip point blade.
The Buck 117 Brahma is another special project entering into regular production. It's essentially a smaller version of the Buck 119 with a 4.5" blade. They're releasing this in a regular version with a phenolic handle and 420HC steel, and a Pro version with S35VN and Micarta. Both have the standard Buck leather sheath.
Buck's Special Ol' Knives
They're still doing their special projects along with all the new releases. The Buck 110 is getting several different material treatments for the year including a titanium handle with a modified clip point bade, and a scalloped Richlite handle with a drop point blade.

They're also playing around with the Paradigm in raindrop Damascus and ivory G10 scales with a bolster lock mechanism, and the Vanguard is getting a Pro version with S35VN steel.
Buck's Actually New Knives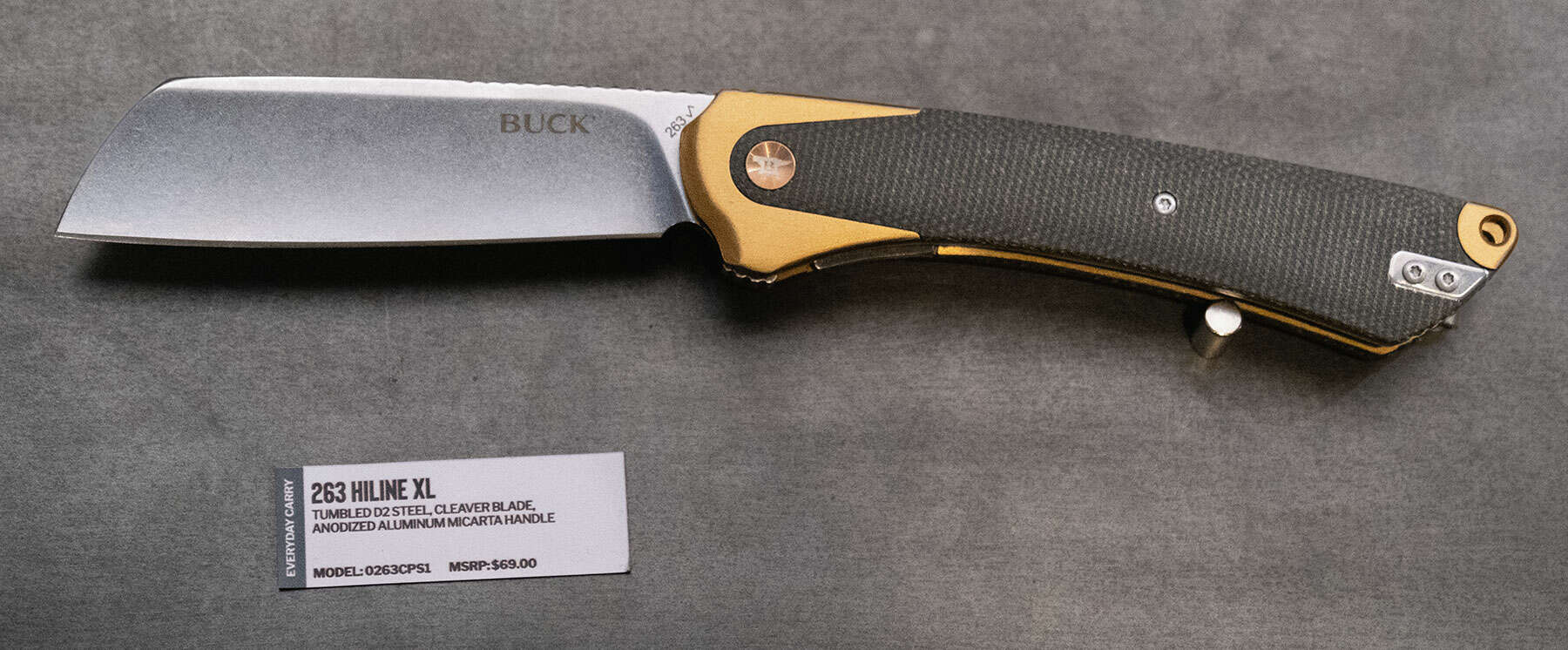 They're really leaning hard into the cleaver blade, because the Hiline is wearing big boy pants now. The Hiline XL has a 3.75" blade in D2 steel, and a Micarta handle with aluminum bolsters and an ambidextrous, deep-carry pocket clip.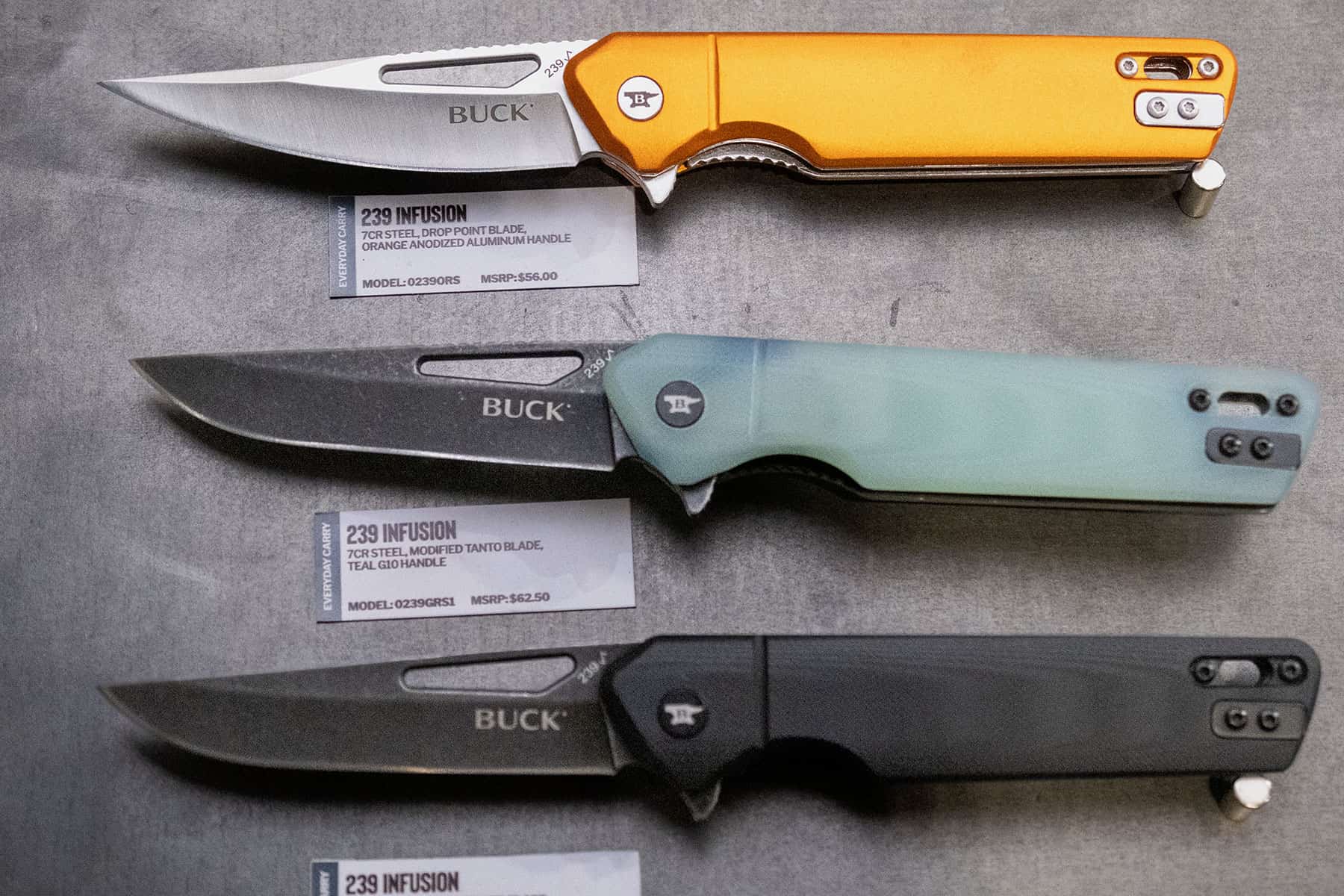 The Infusion is a strange nod to more modern aesthetics from them, but not an unwelcome one. This lowkey assisted-open flipper has a 3.25" blade in 7Cr steel available as a drop point or a modified tanto. The handle options seem to be specific to the blade profile, so bear with us a second:
The modified tanto comes with G10 scales available in green, black, or jade. The drop point comes with anodized aluminum scales available in black, blue, or orange.
CRKT's New U.S. Made Knives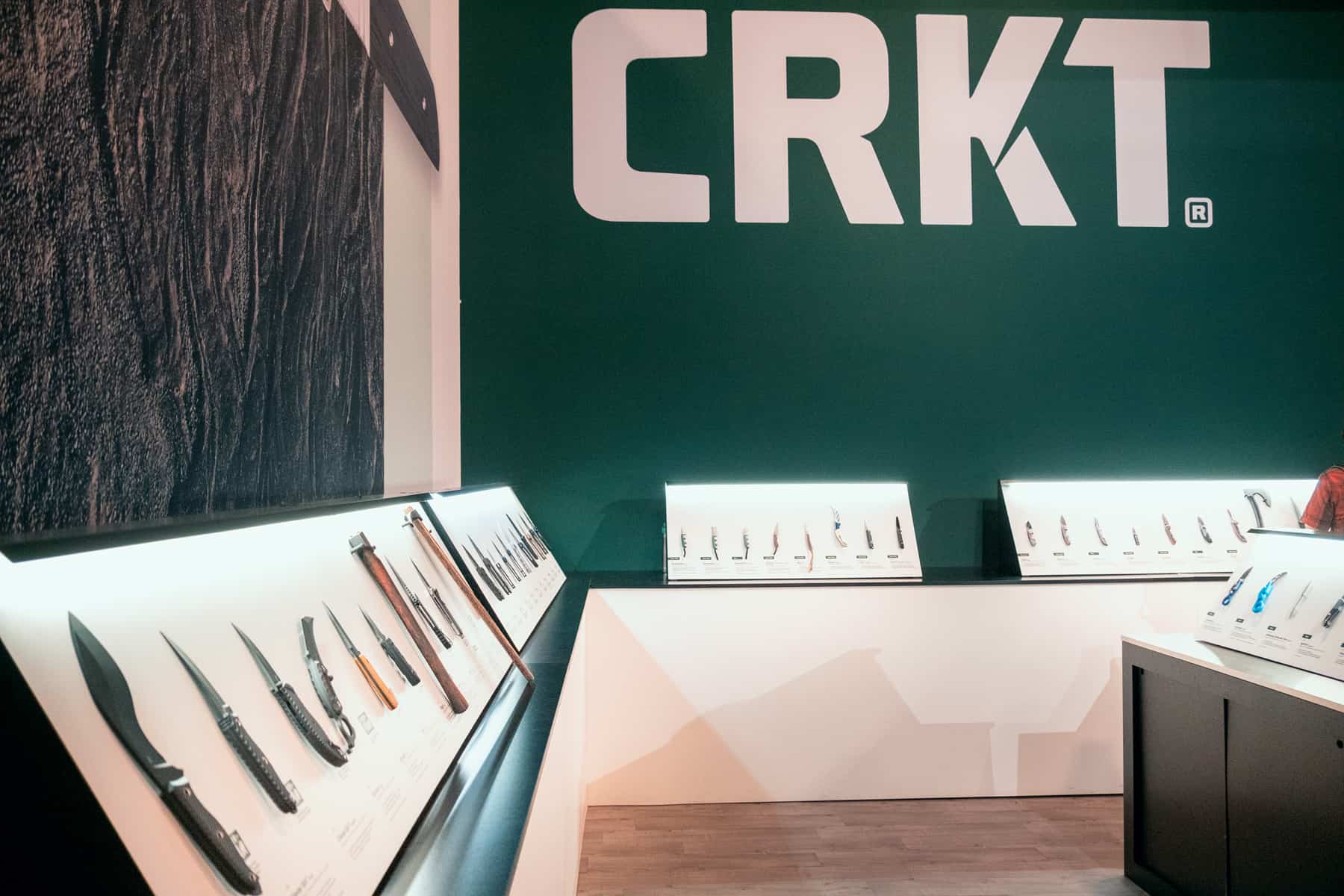 CRKT had already announced a line of pretty impressive stuff before Shot Show, but they neglected to mention the real whopper news that they're releasing two new knives that will be made in the USA. They've cut a deal with Hogue to make their two new flagship folders, the Definitive and the LCBK, designed by the Lerch family and both featuring CRKT's crossbar lock: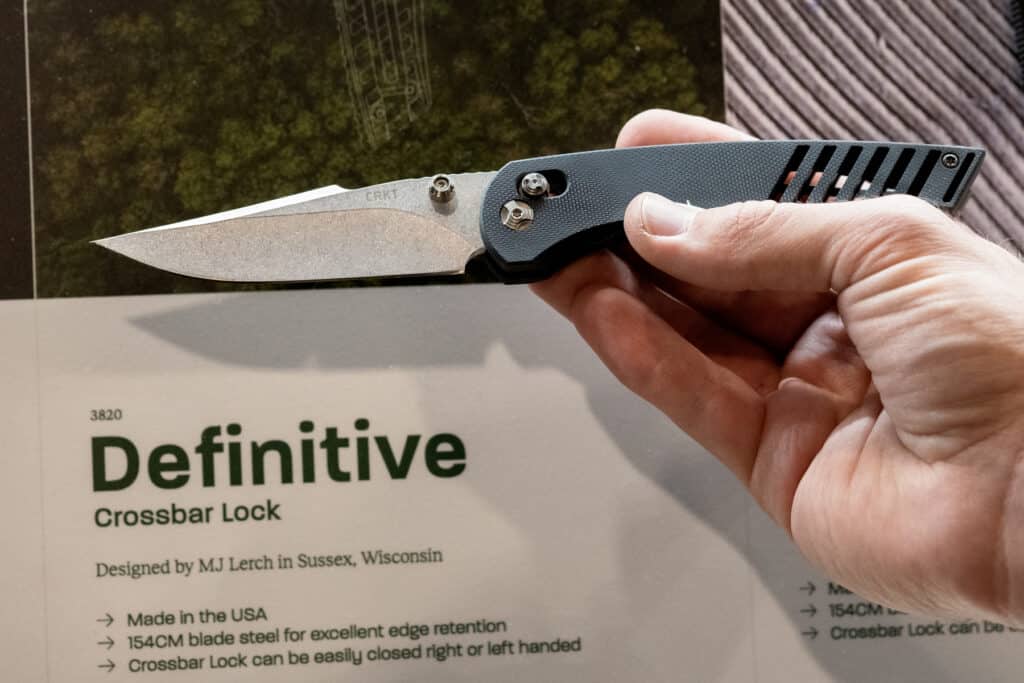 The Definitive is an MJ Lerch design with a 3.7" harpoon blade in 154CM steel and thumb stud opening. It has a deep carry pocket clip, and a super lightweight G10 handle that brings the whole knife to around 3 oz.
The LCBK (short for Lightweight Crossbar Lock Knife) comes from Matthew Lerch and features a 3.5" blade that's either a wharncliffe or a reverse tanto or some modified version of both in between. Either way, it's a shorter knife but with a more gradual belly and a cut-out spacer portion at the butt for lanyard or fob purposes.