Condor and Artisan, but Mostly Joe Flowers & Jason Breeden if We're Being Honest
You know you're in for a special conversation when you walk up to a booth and see Joe Flowers talking to Ben Peterson with the Big Banter stuck into a log surrounded by thin curls of wood. We didn't pry into what that particular conversation was about (which was maybe bad journalism on our part), but it did feel like a good primer for what the day held as we moved from the bushcraft-heavy Condor booth to the Artisan booth, where "bushcraft" is only just coming into use with their designs.
Condor Knife and Tool
We spent more time talking than taking pictures here, so I'm about to mention a mention a lot of things you're not gonna see. But you have the internet. Go look at Condor's site if you want to see everything so bad, damn it.
Jason Breeden Knives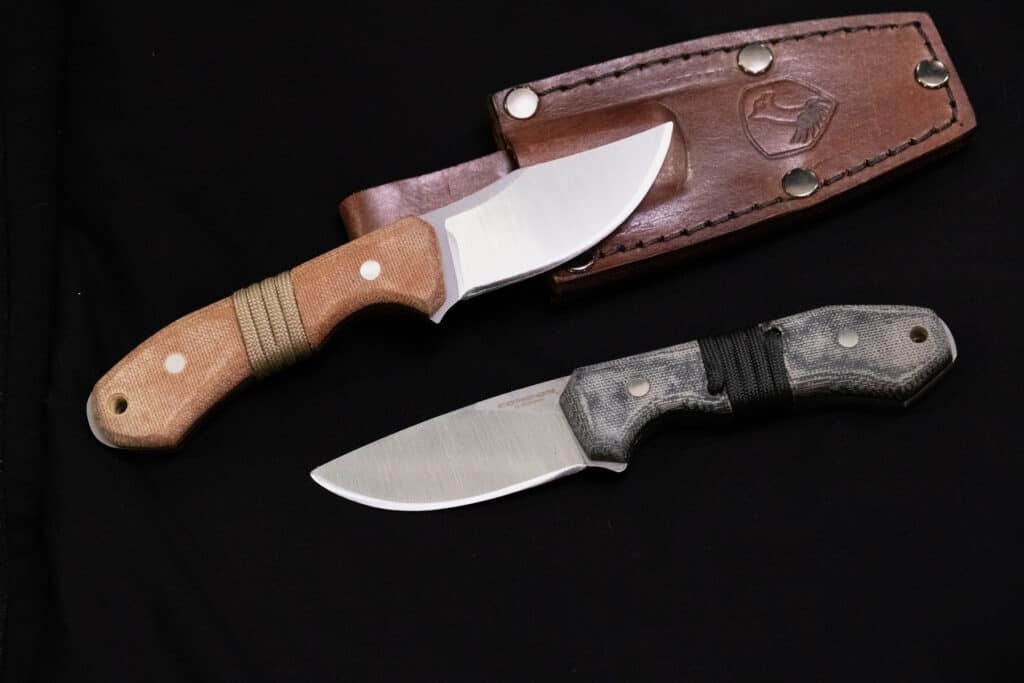 Jason has been designing for Condor for a long time, and it doesn't seem like he's in danger of slowing down anytime soon. He had two different series at the show:
The Mountaineer Trail knives are a group of small EDC-sized knives that excel at tasks around hiking, small game hunting, and whittling.
The Hunter has a 4.27" blade made of 440C steel with a scandi grind and a scalloped spine so your thumb or index finger has a comfortable place to rest for carving and skinning work. That's a walnut handle on there wrapped in paracord for a nice secure grip, and it comes in a leather dongle sheath with three or four different ways of carrying it (Jason showed us, but we're not going to remember all of them until we get the knife and strap the thing on).
The Wingman has the same handle materials, but a 2.76" clip point blade with a lot more belly and made of Sandvik 14C28N steel with a high flat grind. This also comes in a leather sheath, but no dongle attachment on this one.
The Intent has a similar handle configuration and leather sheath as the Wingman, but it has a 3" drop point blade (also in Sandvik 14C28N steel).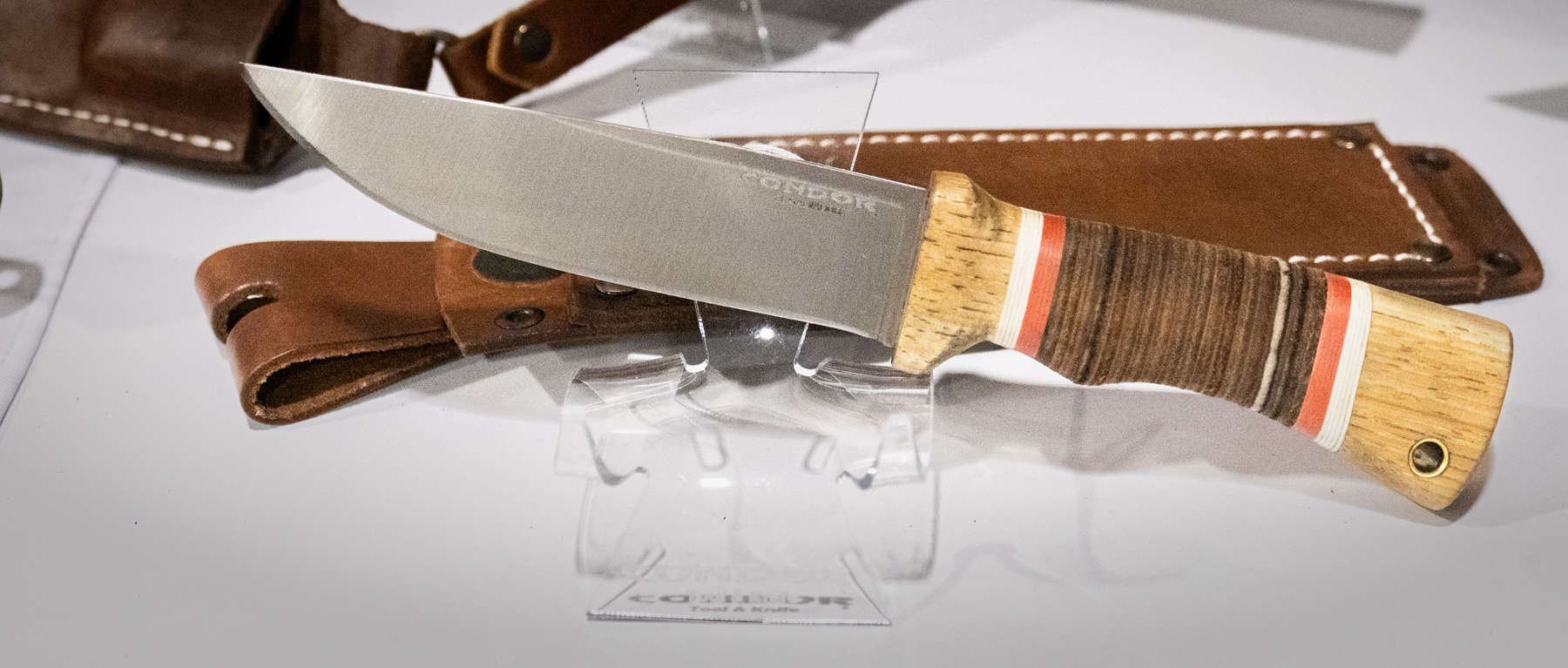 The Country Backroads series is geared more for larger, rougher tasks that might take you through thicker brush and up to bigger game. All the designs have 1075 carbon steel, but if everyone is being totally honest, it's all about the handles with stacked leather between hickory wood:
The Country Backroads Knife has a 5.5" blade with a (mostly) full flat grind, some slight contouring in the handle, and a bit of a guard to protect the hand. It comes in a leather sheath that rides fairly high on the belt.
The machete has a 15.8" blade with a full flat grind and a similar leather sheath configuration, and the axe is 12" overall with a convex grind in a leather cover that features a belt loop.
Joe Flowers Knives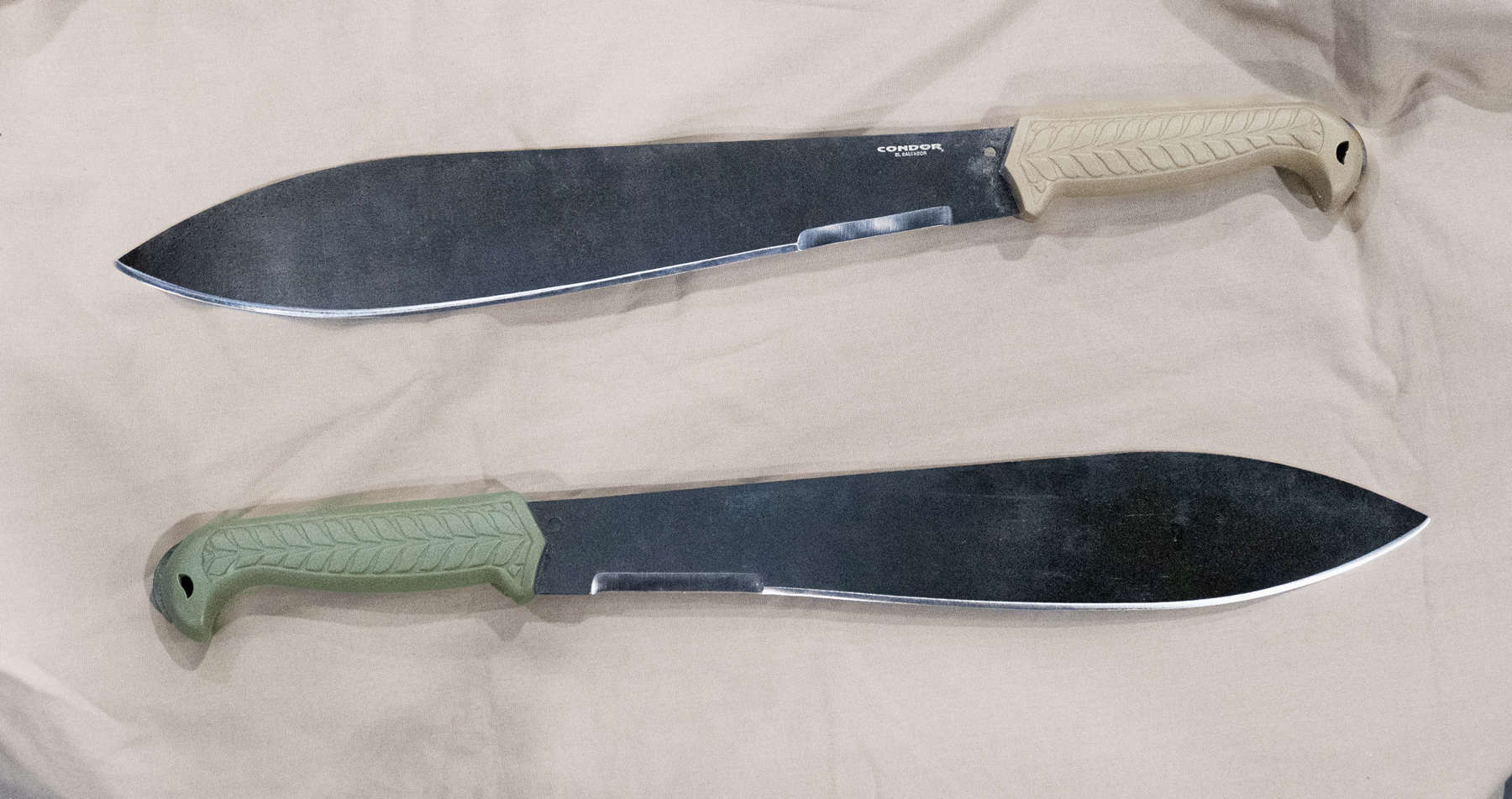 He has a bunch of new designs with Condor this year. Most of them aren't knives, though. In fact, the one he was most excited about was a machete, but there's a knife-like thing in there too:
The Terrachete was one of the more unique things we came across today. It's part of the Flowers-designed terrasaur family in Condor and features a handle with a hooked pommel for grip security when you're swinging. The 14.6" blade is 1075 steel and has a forward lanyard hole, and is mostly a flat grind except for about 4-ish inches at the bottom of the cutting edge that's a scandi with a convex bevel. He left a few morte inches beneath that so you can choke up on the blade to carve wood and make feathers and do general fire-encouragement tasks. It also comes with a pretty sweet propylene sheath that hangs on the belt.
The Polarwind machete is less complicated but still pretty cool. It has a 20" blade that's super thin and lightweight. It was made for very fast swings, which Flowers says is excellent for chopping through certain kinds of things, and we're willing to take his word on that until we get to test one properly ourselves.
The Trade Dag Knife was made in the tradition of North American fur traders. The 7.9" blade has a flat grind on both sides in 1095 carbon steel. He left a large bulbous shape for the pommel for a leather wrap, which is apparently a very traditional element as people used to tie the knife to their wrists when they carried it. The Trade Dag comes with leather sheath.)
The Condor Miscellaneous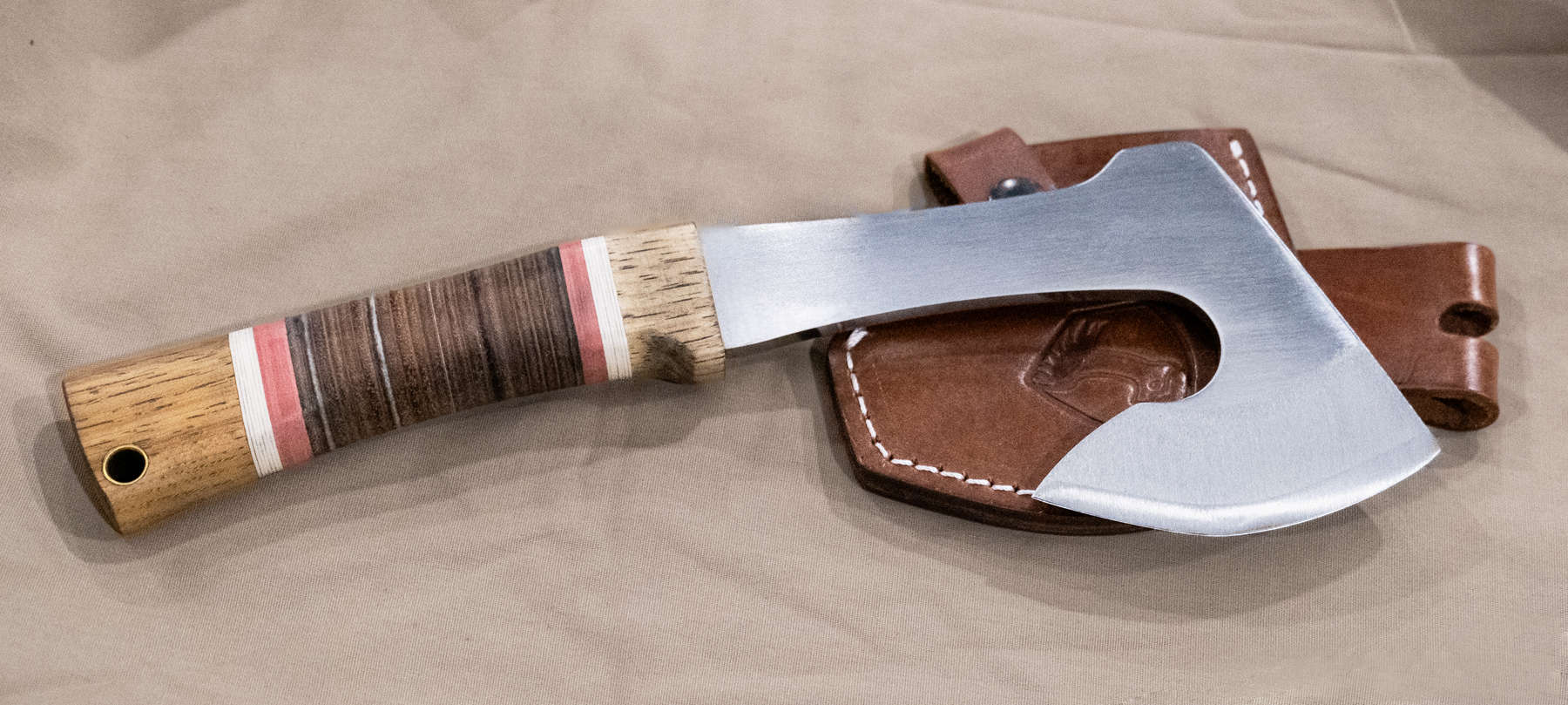 There were a lot of other really cool things in the Condor booth that we just didn't have time to check out in detail. But you should be excited about things like the blade updates to the Cadejo (it has three different blade shapes now), and the Patagon Knife, which is a massive drop point thing by Walter Matthews.
They also have a new Serbian Cleaver by Goran Mihajlovis, and one of our other favorite designers, Julio Diez, has two new fixed blades, the mid-sized Black Leaf in 1095 steel and the smaller Ceres in 14C28N, both featuring some excellent kydex sheaths.
Artisan Cutlery
Artisan is usually busy, but this is one of the first years we've paid attention to them, so it seems like they're much busier than usual.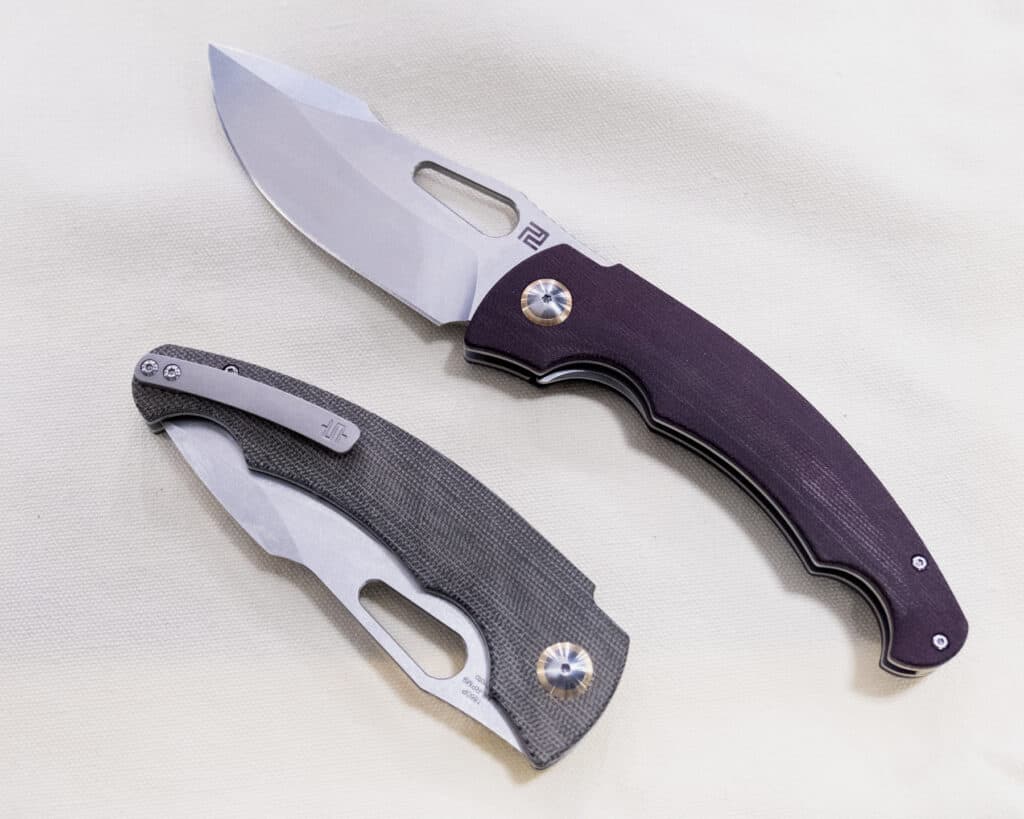 First up is the Xcellerator by Mike Snody, who came up with a folder that's bigger than your typical Artisan folder with a big-bellied blade and a heavily contoured handle that has a lot more ways to comfortably hold it than you would think. It was still in a late-stage prototype version at Shot Show so we don't know the exact specifications, but you should see its final form hitting shelves around Blade Show time in June.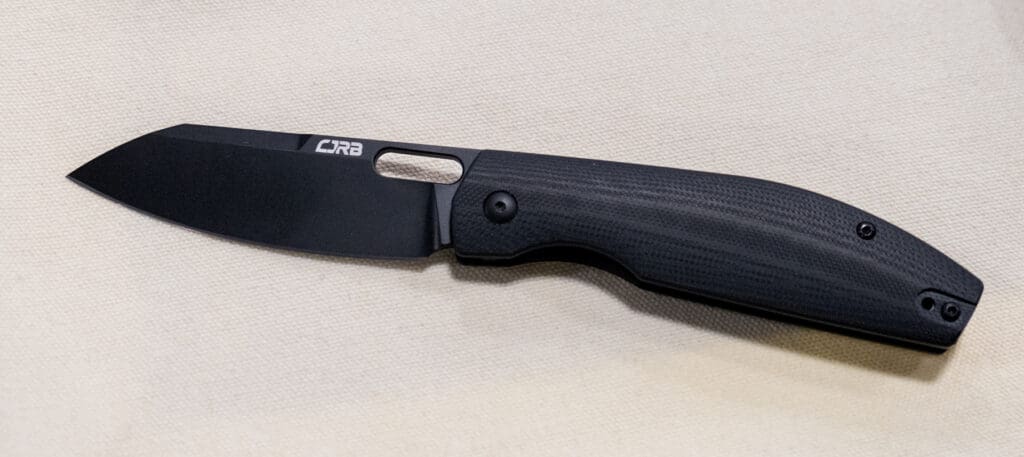 The Lago is an in-house design with a 3.4" wharncliffe blade and AR-RPM9 steel running on ball bearings. Elsewhere on the table was a large, nameless Ferrum Forge flipper, and some new colors on the Pyrite.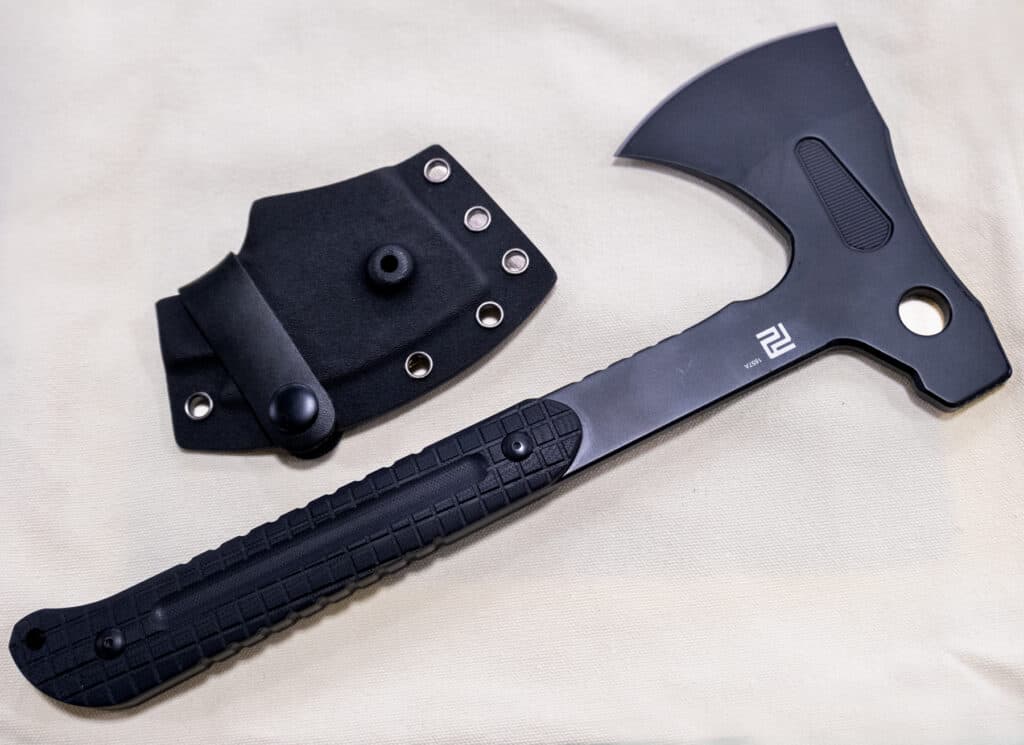 They also had an axe by Joe Flowers, called the Nebulax, which may or may not have seen some actual use in starting a fire while we were at the booth, but we aren't snitches and we're not about to talk about certain fire-encouraging adults showing up at certain booths to make a bunch of wood shavings and throw a spark with every sharp tool within reach.