Little LionSteel Knives, Kitchen Knives from White River, and Other Stuff We were Too Drunk To Post Earlier
Here's all the other stuff we saw but didn't have time to write about during Shot Show week. We're still a little hungover from our week in Vegas, so bear with us. We did our best, but we aren't always known for our attention to detail.
LionSteel Does Some Fancy Stuff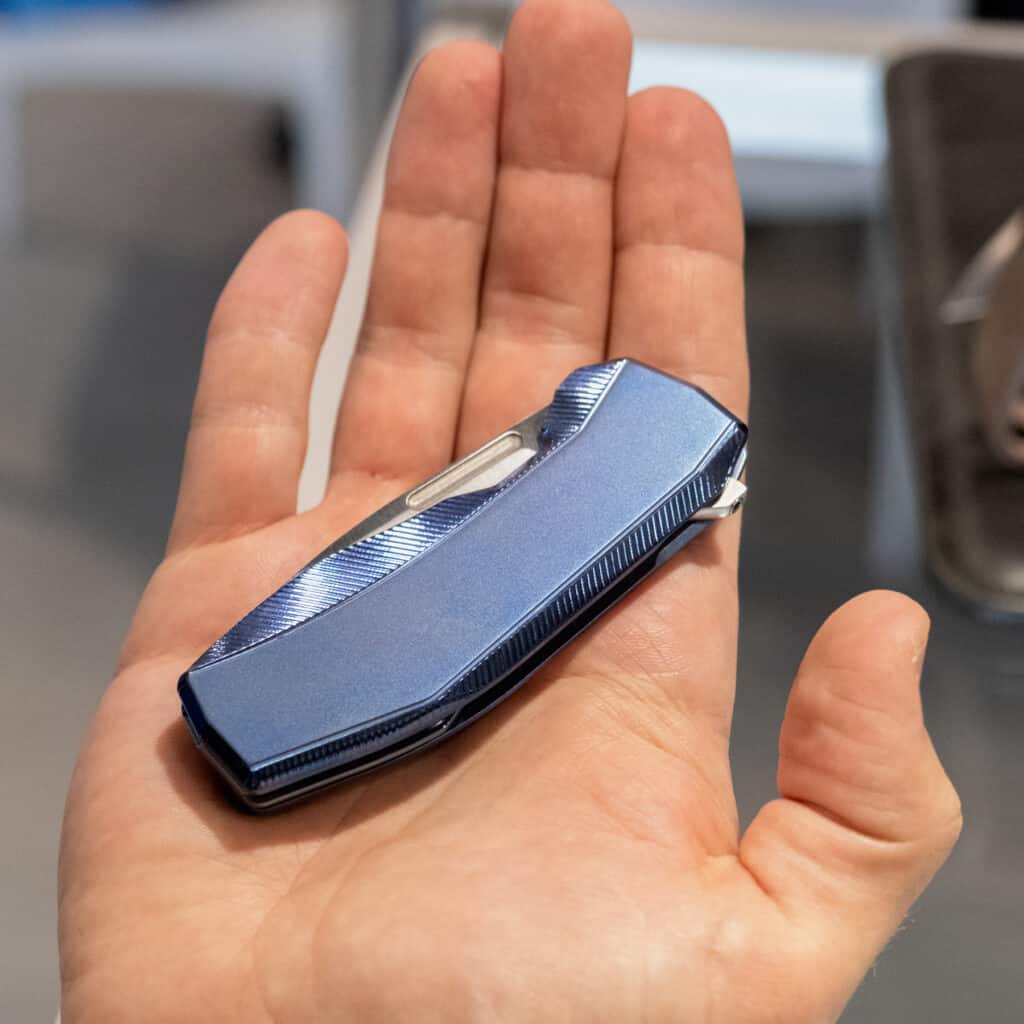 They showed up with a new choice between a new EDC-sized fixed blade and a mystifyingly engineered folder:
The Nano is a frame lock folder with a mid-sized blade in Magnacut steel. The mystifying part is the titanium frame with no screws. They handed us one, coyly asking if we could "find its secret", which is a bit like handing a rubix cube to a cow, except the cows are drunk hillbillies, and the rubix cube is very sharp. It also has a milled, reversible pocket clip, which deepens the mystery. This will probably be released around June or July (about Blade Show time).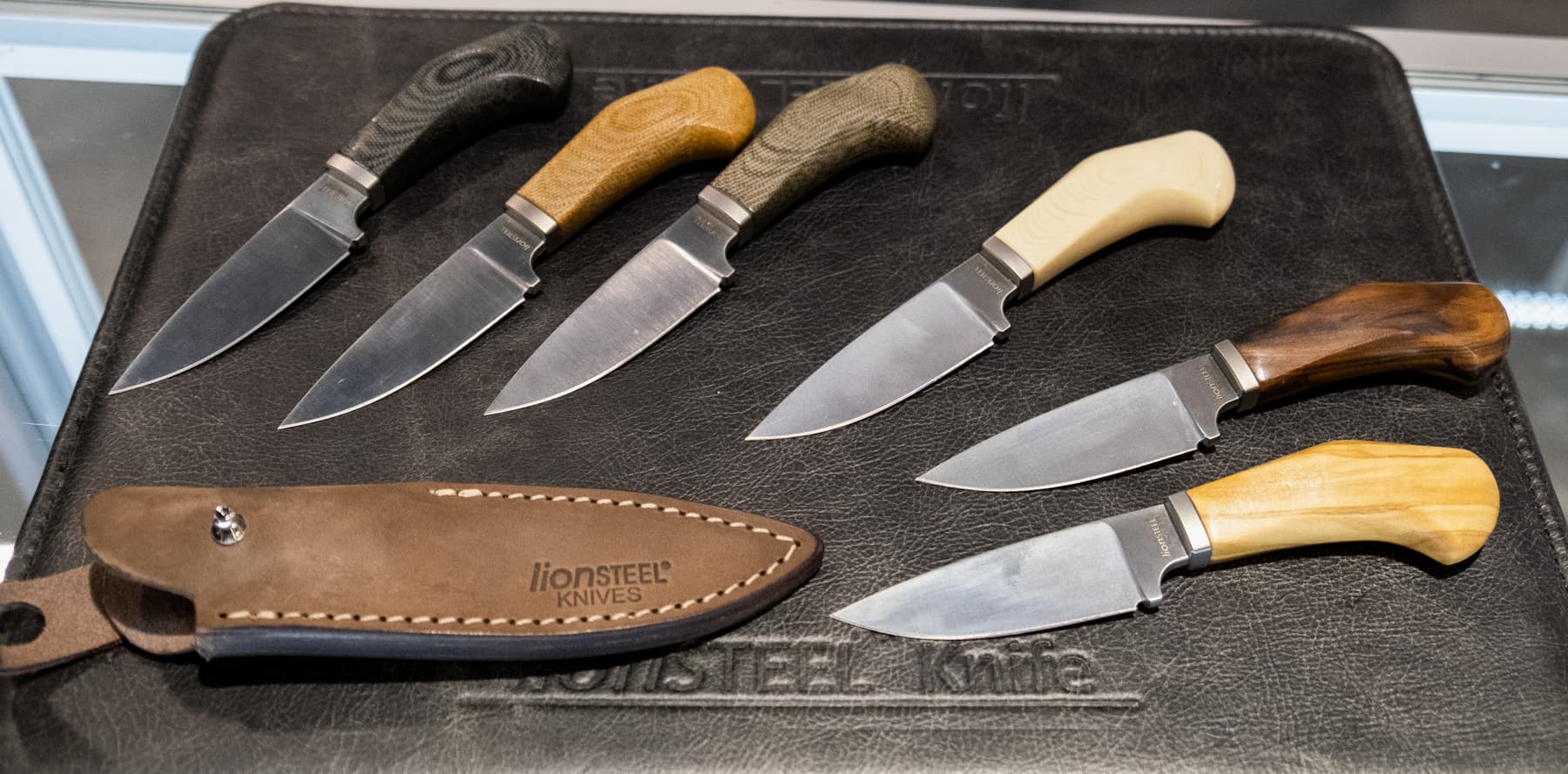 On the simpler side is the Willy: a small fixed blade with a 2.5" blade with a full flat grind in Bohler M390 steel with a cleverly shaped handle with a solid three-finger grip and a range of colors options in wood and Micarta. It also has a titanium guard and comes with a leather sheath. May is the expected release time for this.
White River Knives Hits the Kitchen with Liong Mah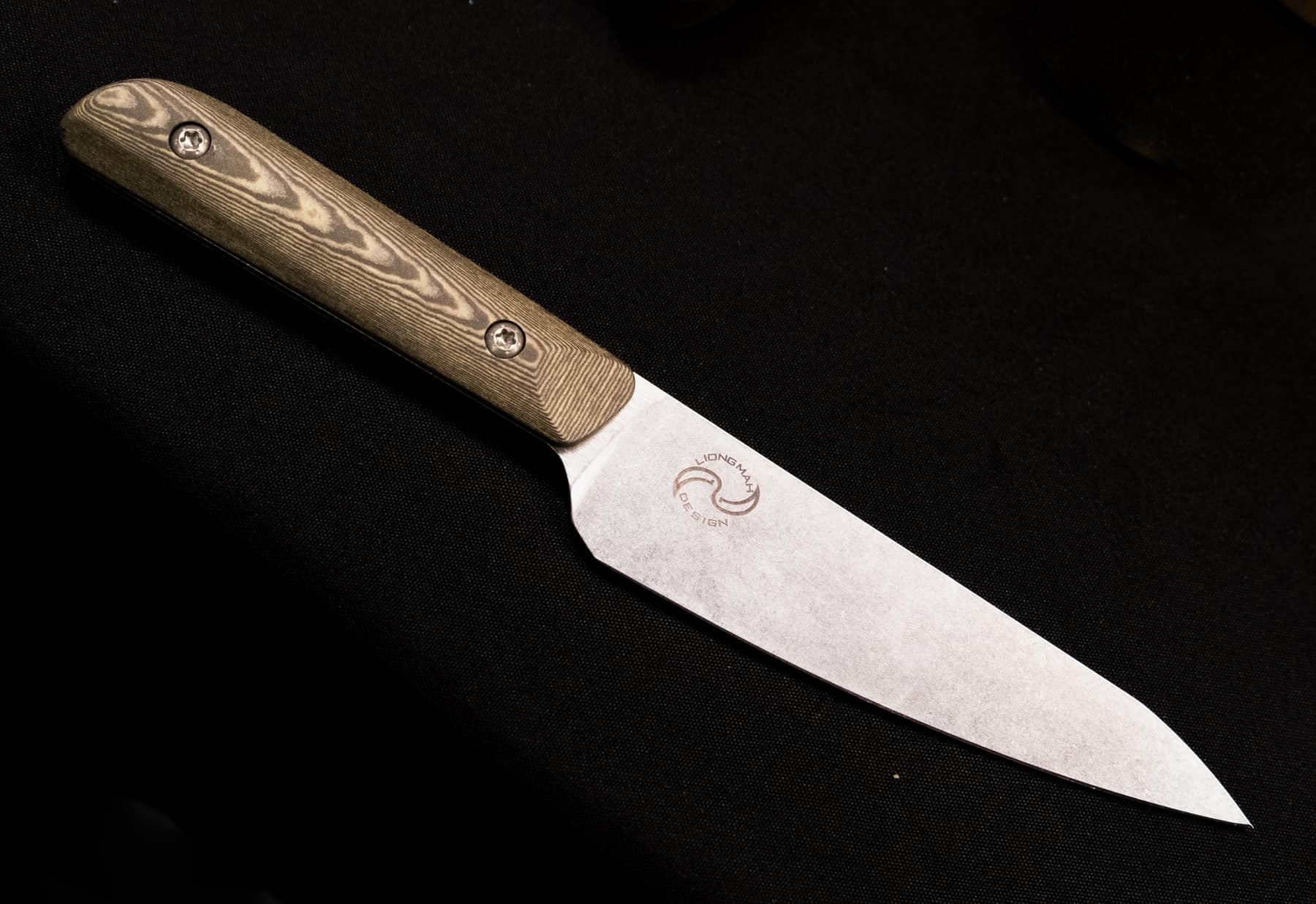 There were a couple cool things on the table, but we weren't sure how much of it we actually allowed to talk about so we're just gonna show the Liong Mah kitchen knives.
Currently White River Knives is coming out with two, an 8" chef's knife and a 5" utility knife, both in S35VN steel with Micarta handles available in green and black.
It's cool enough that these are Liong Mah designs, but the storage option makes these pretty unique from other kitchen knife options. Each knife comes in a sort of wooden puck fitted to the knife with a magnet set into the back. It sounded like they have plans to keep filling out their kitchen knife options. In the meantime these should be available sometime this spring.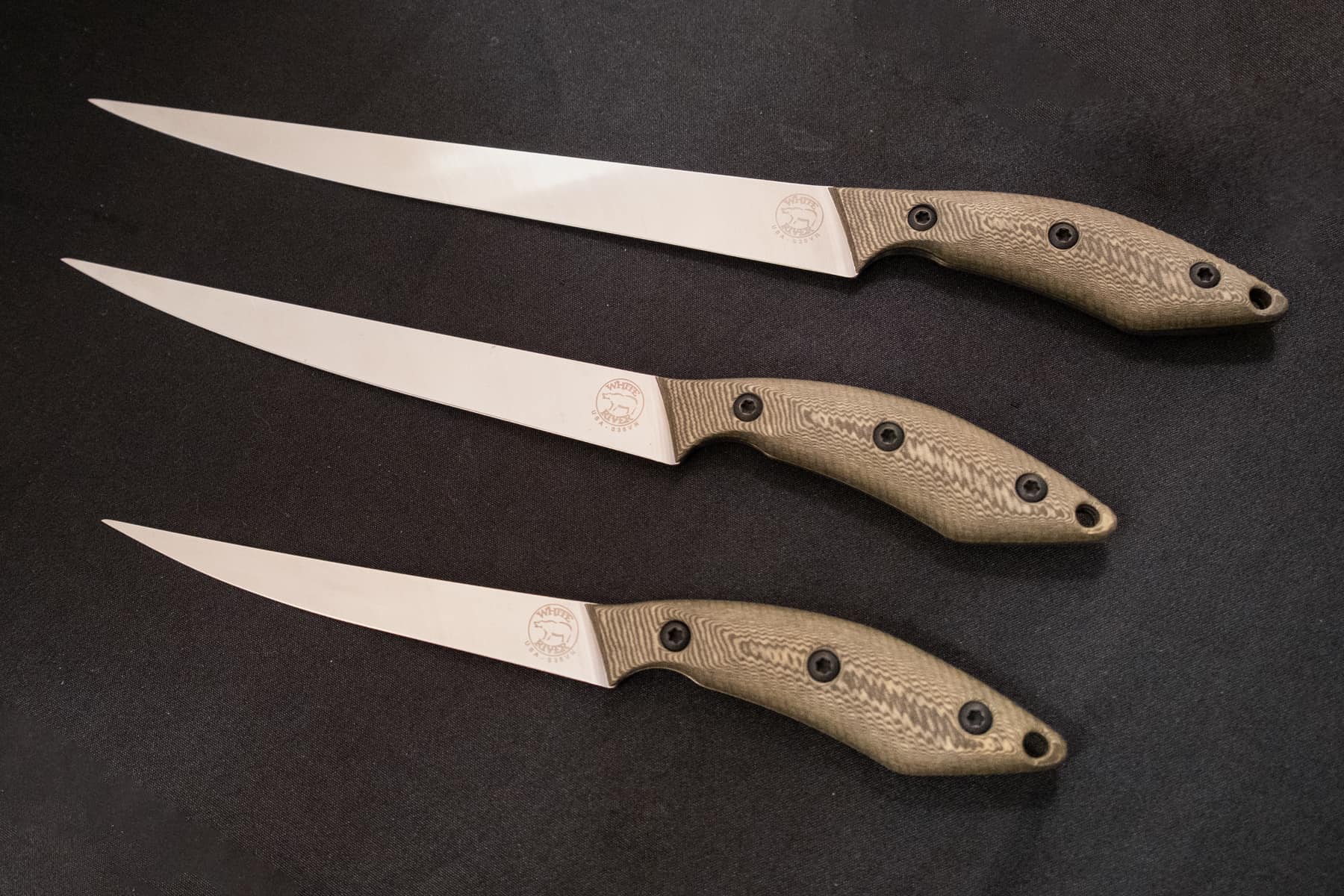 They're also coming out with a set of three filet knives with 6, 8, and 10" blades in S35VN steel and Micarta scales in three different colors, and coming in a pancake style kydex sheath.
Spartan Blades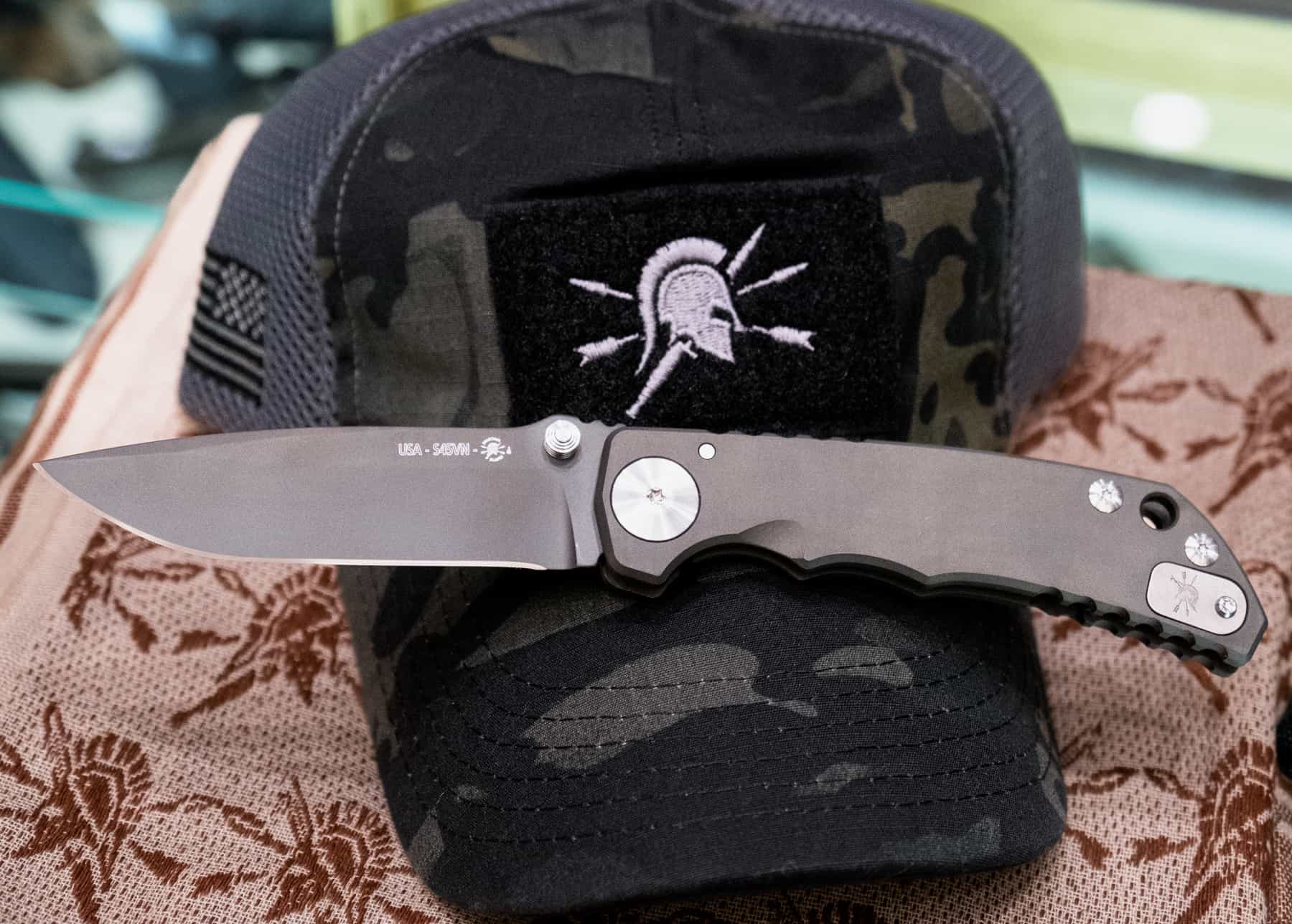 We generally expect to see a lot of things we love but can't really afford from Spartan, and they definitely had things like that (the special editions of the Spartan Harsey folder this year look pretty phenomenal), but they also put out a few really solid designs in their Bronze and Silver lines.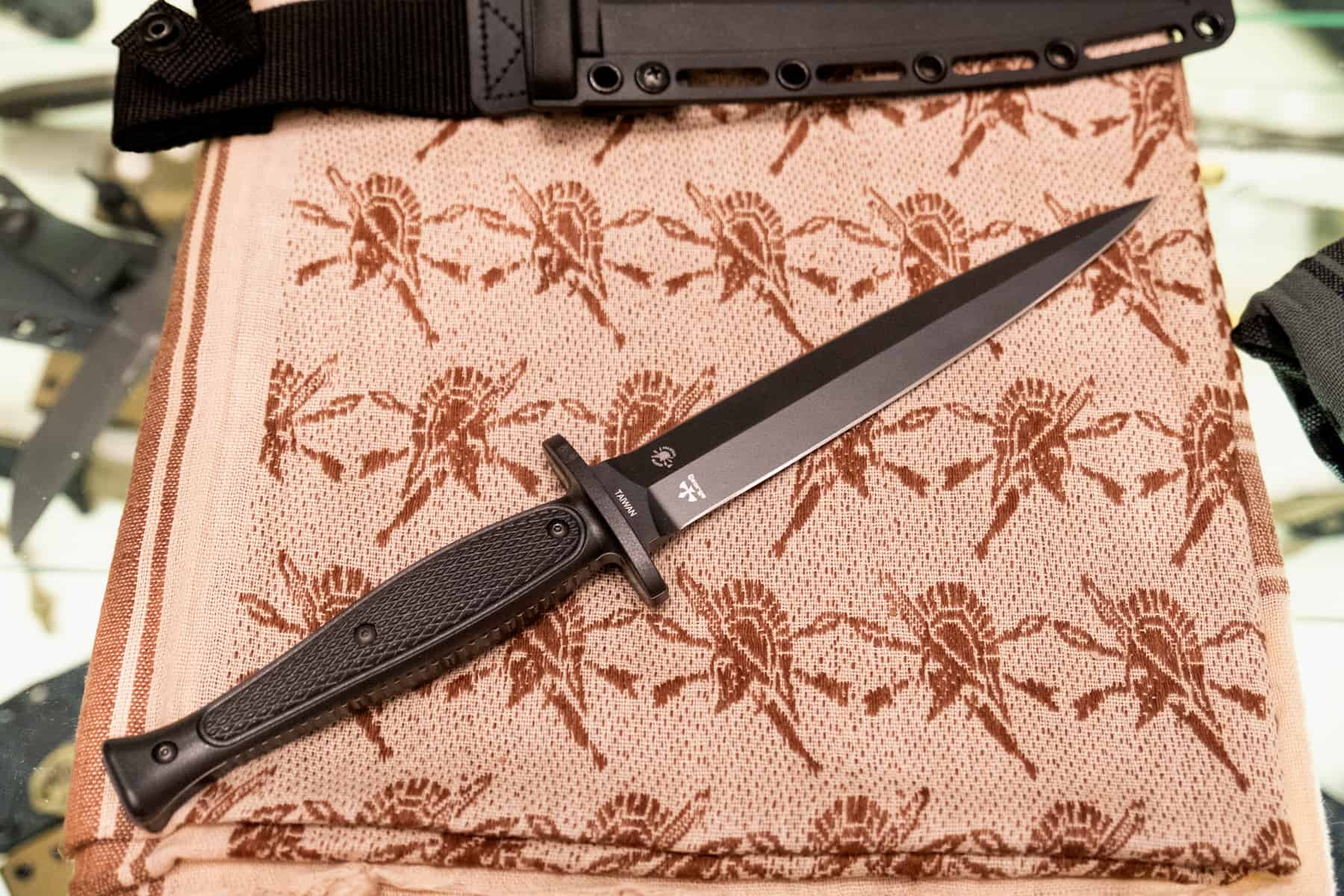 First is the Spartan George Raider Dagger, a slightly smaller version of the Les George dagger design with a slightly boxier handle to help index the blade. It features SK5 steel and a Tek-Lok-compatible injection molded sheath.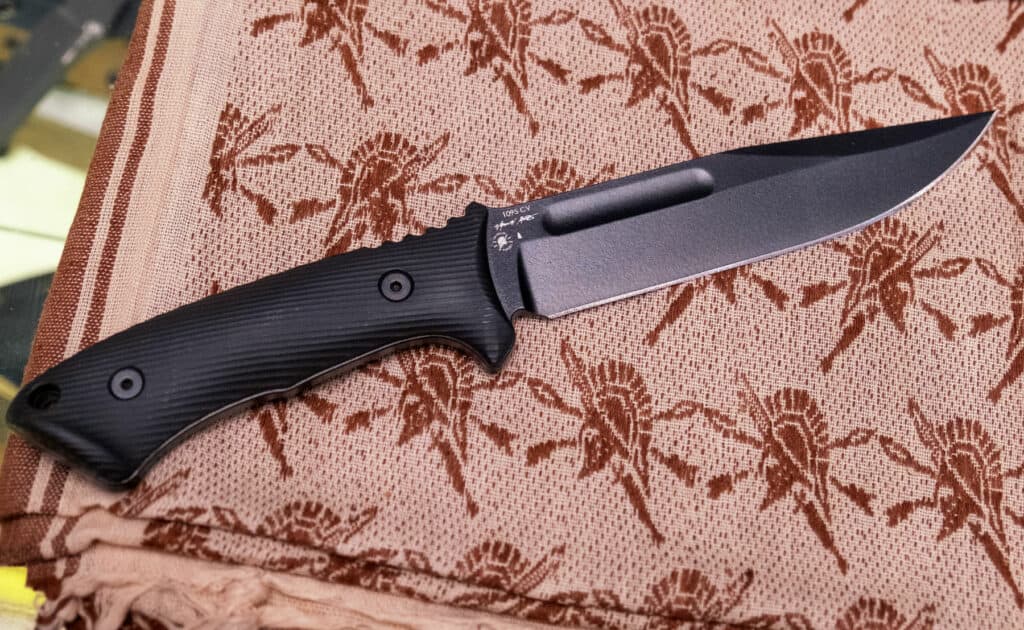 Up in the Silver series is the Spartan Harsey Fighter made by Ka Bar. It's a full-sized bushcraft / tactical design with a 7" blade in 1095 Cro Van steel, coming with a Kydex sheath with the same Teklok-compatible configuration and a few different options for belt carry and extra retention.
They even went a step farther and put a nessmuck blade on the same handle. That will have the same kydex sheath configuration and be about the same size.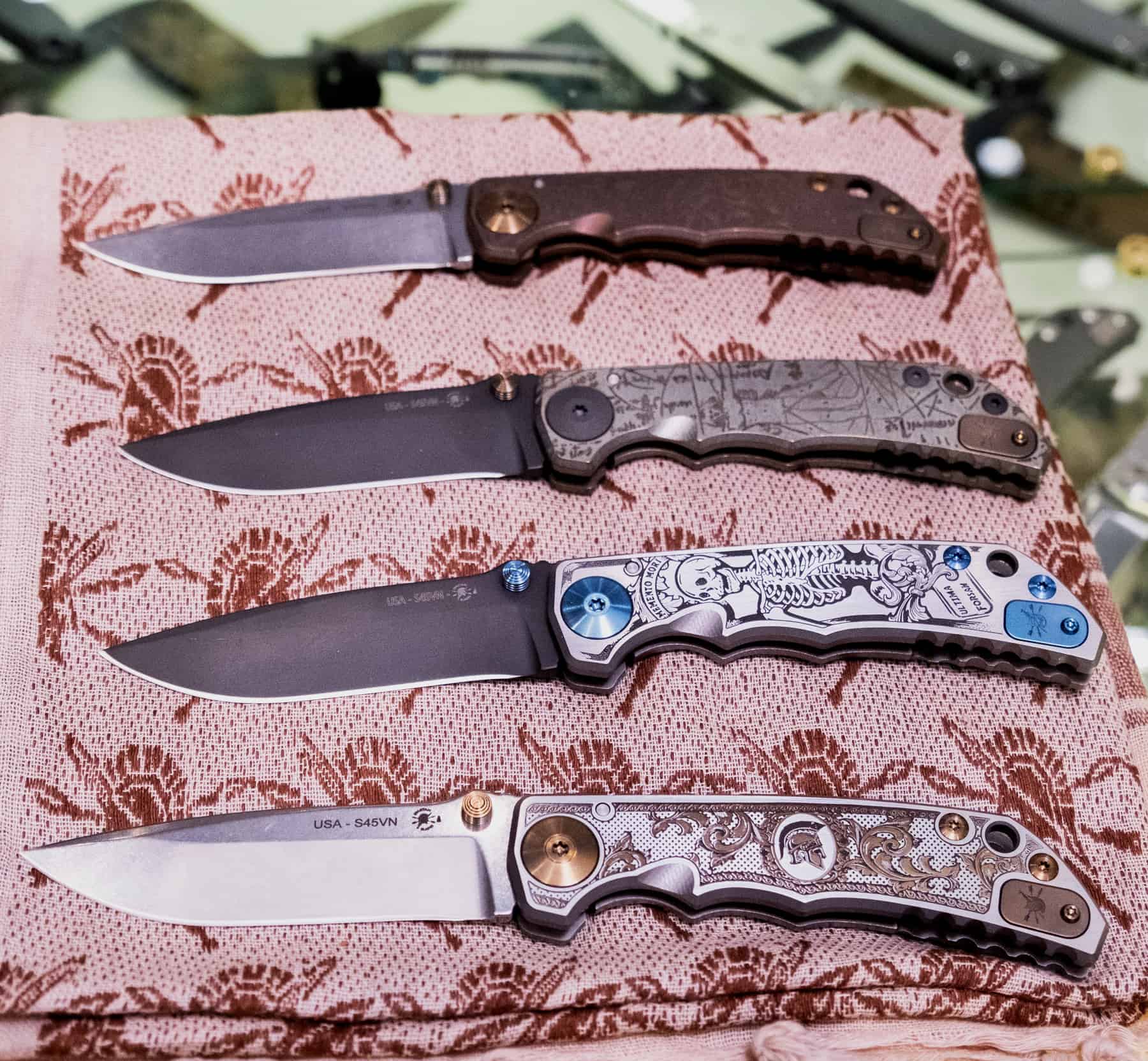 Back in the collectible range of things we'll be staring at for a while are four different engravings for the Harsey Folder with titanium scales. From top to bottom is the Relic design (meant to look like a dug up Celtic relic), the Da Vinci (engraved with part of a page of Da Vinci's notes that included the Vitruvian Man), the Momento Mori (engraved with a skull motif and the phrase "Momento Mori"), and the Flourish (engraved with flourishes and a Spartan helmet).
Mcusta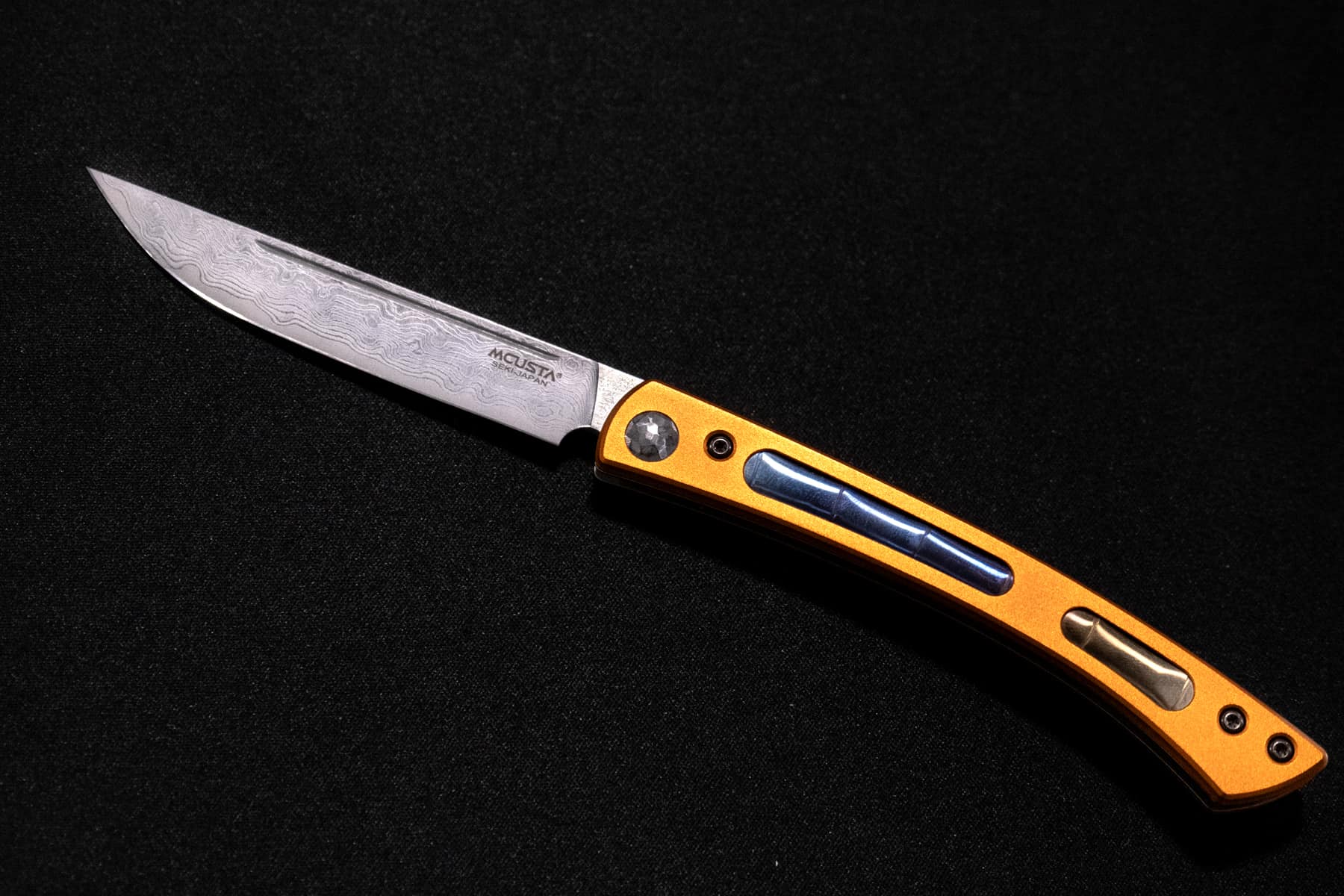 For a company that does a lot of EDC folders, Mcusta had some pretty cool special interest designs on the table.
The Executive is a folding steak knife with san mai blade with VG-10 in the core. It's a slip joint that comes with a leather sheath, but it will have the option of a pocket clip.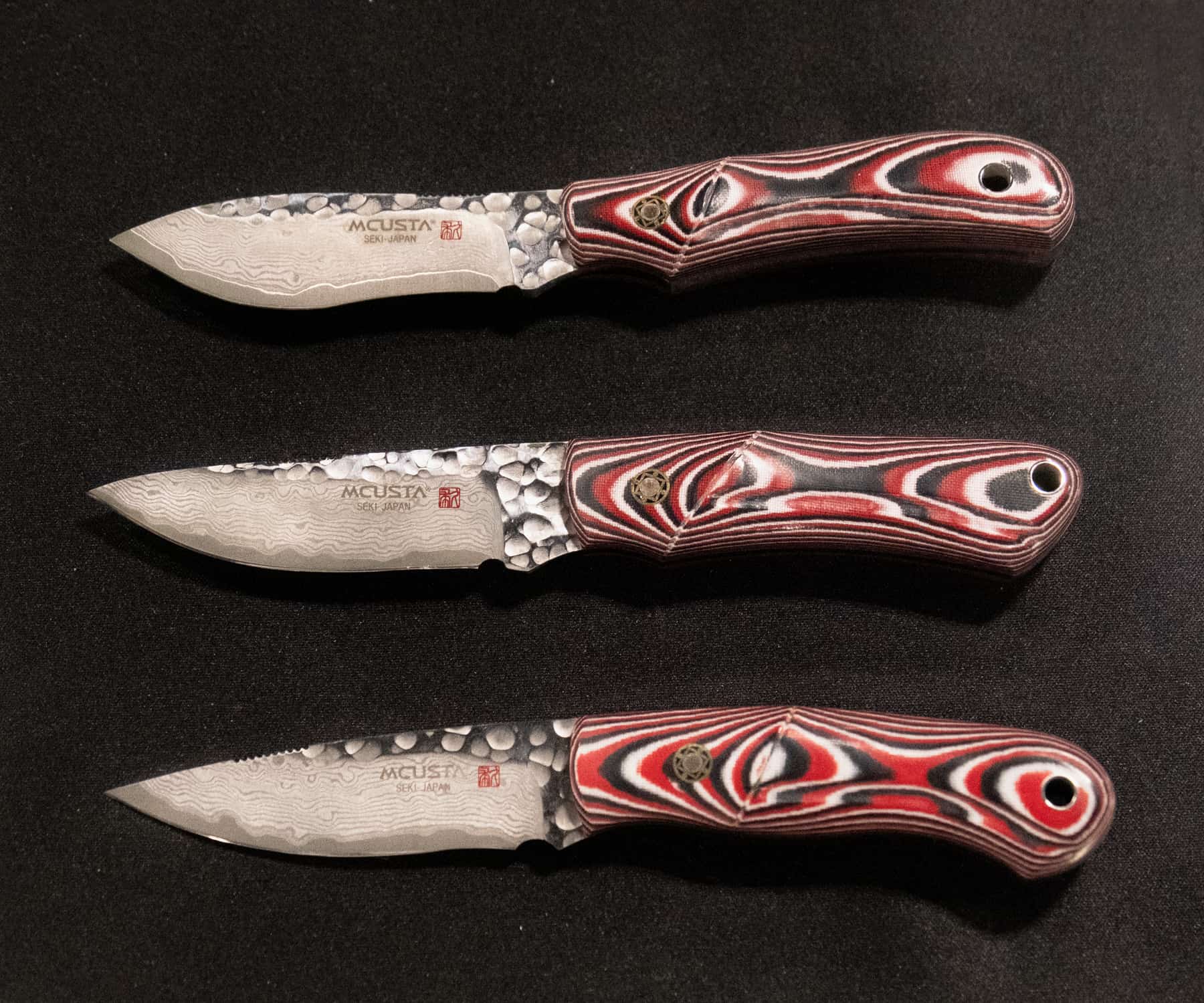 They're also putting out production versions of Mike Irie's custom Sport series (although not in the colors pictured here). The Sport 100 (a little drop point with a 3.12" blade), the Sport 200 (A slightly smaller knife with a 2.8" blade but good ergonomics for choking up the blade), and the Sport 300 (a 3" blade with a bigger-bellied skinning shape) will come with leather sheaths, and should be available around June.
Acta Non Verba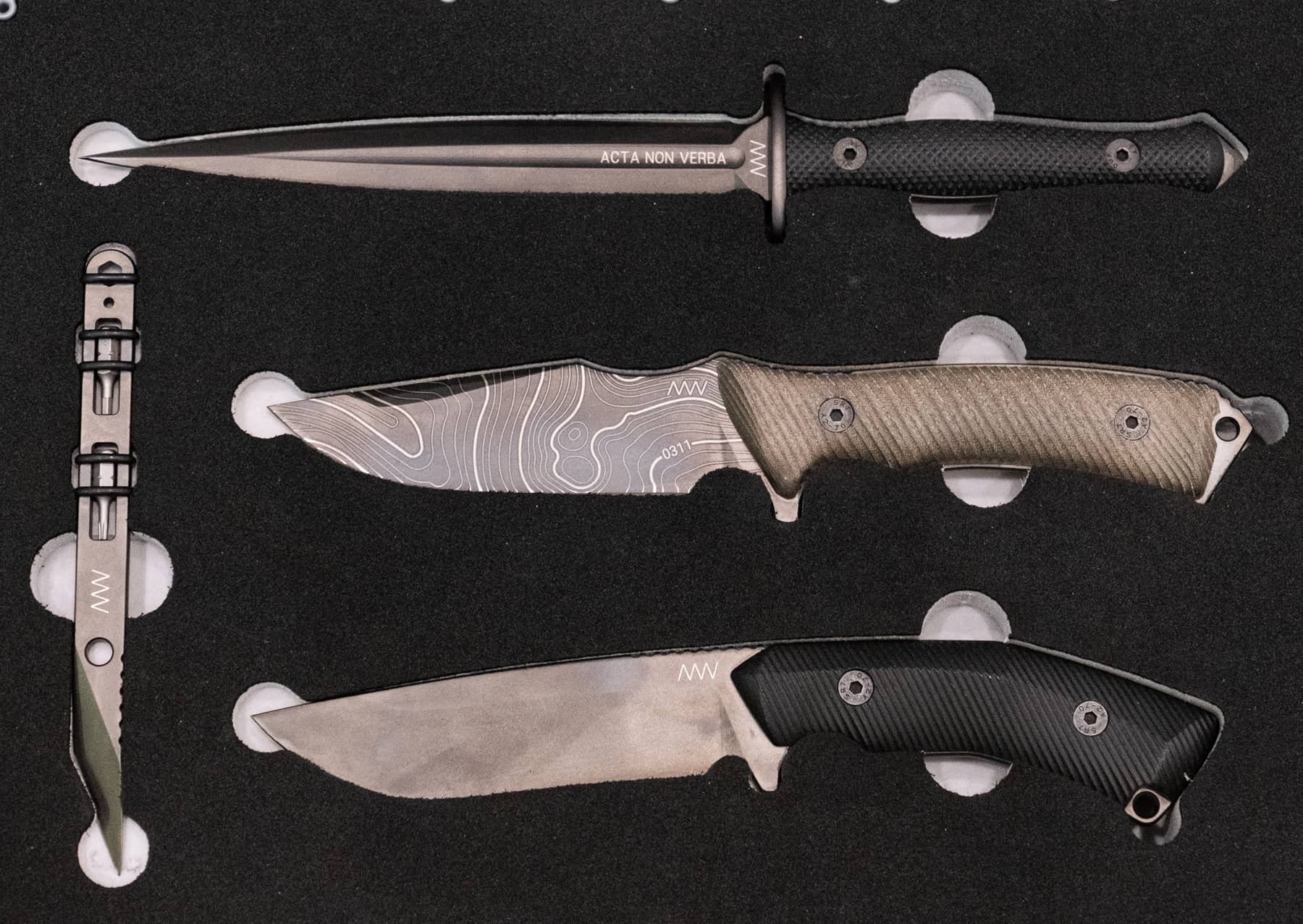 The M311 Compact from Acta Non Verba is the smaller version of their M311. The blade is shorter (about 3.5") and has a thinner blade stock so it's about a third the weight of the standard M311, but comes with the same style of kydex sheath.
The M06 is a pretty sweet skeletonized push dagger made for law enforcement. It's Elmax steel at 60 HRC and has pretty firm ergos in the hand that allow you grab onto other things without having to re-sheath the knife. That will probably ship for around $120.
Also in the compact category is a smaller version of the M500, a Harsey style dagger. It's in a very early prototype stage but looks to have about a 4.5" blade in Elmax steel. There should some kind of complete version available by Blade Show in June.
Boker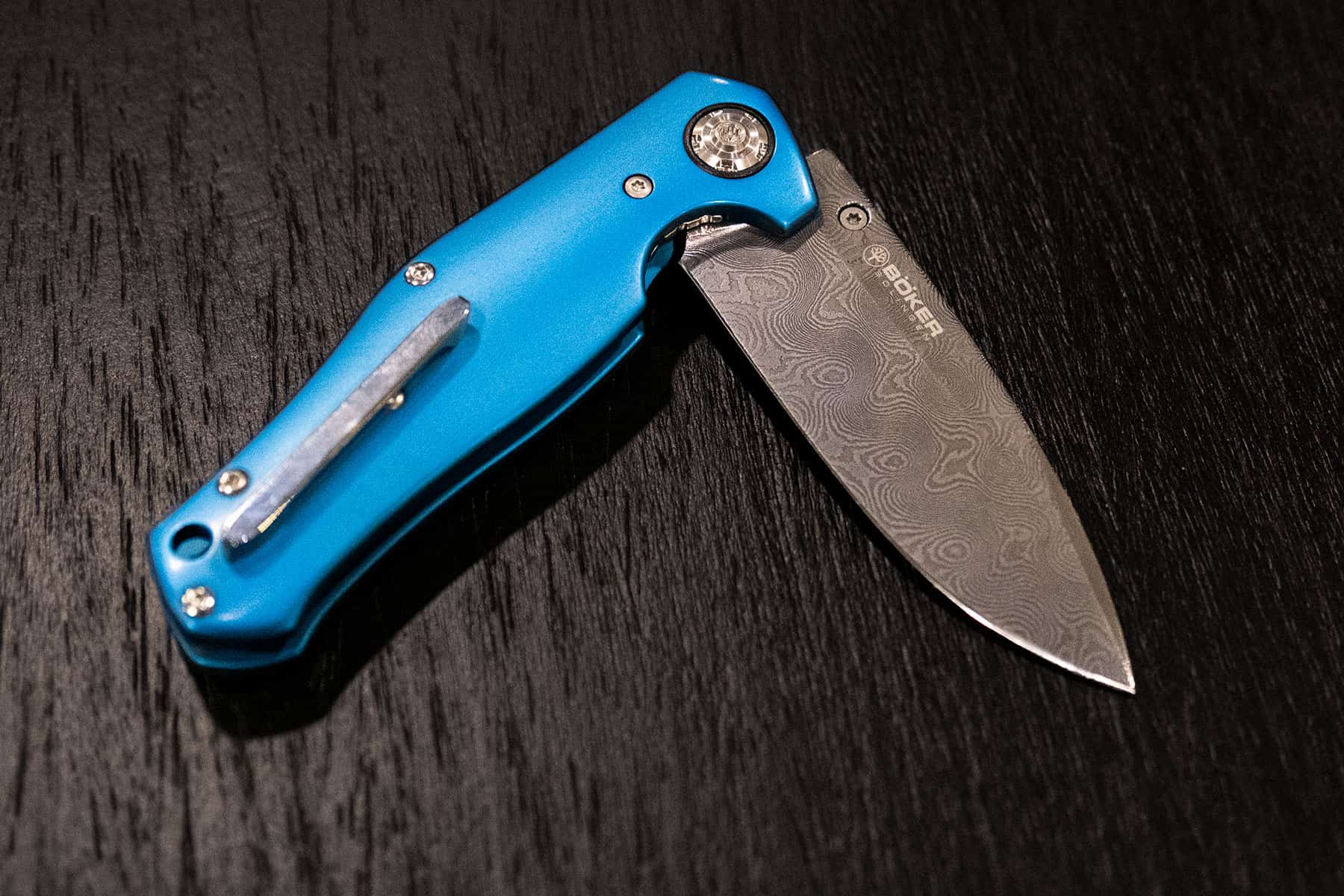 Boker had a lot of new things out, and an overwhelming amount of knives in their booth in general. You can check out more thorough coverage than ours if you want to see all of it, but in the meantime, check out this sweet limited edition 1969 Damast Z28 folder we're never going to buy.
WE Knives / Civivi
WE Knives and Civivi had a lot going on, as usual. Rather than go into an exhaustive list of all their new releases we just took a picture of this new Torbe fixed blade, the Concept 22.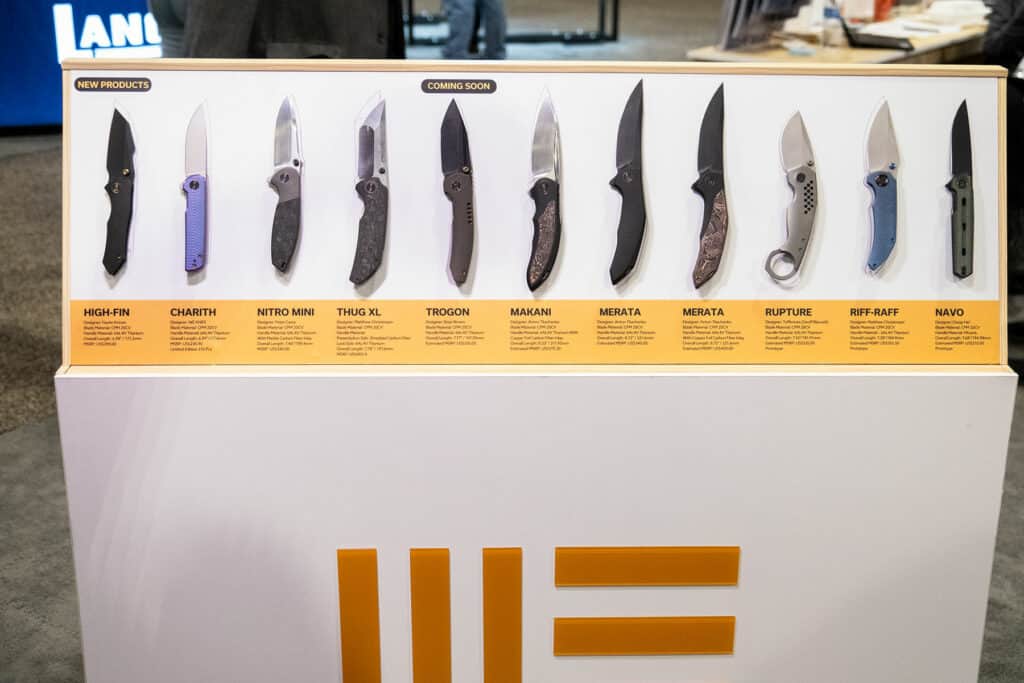 Eikonic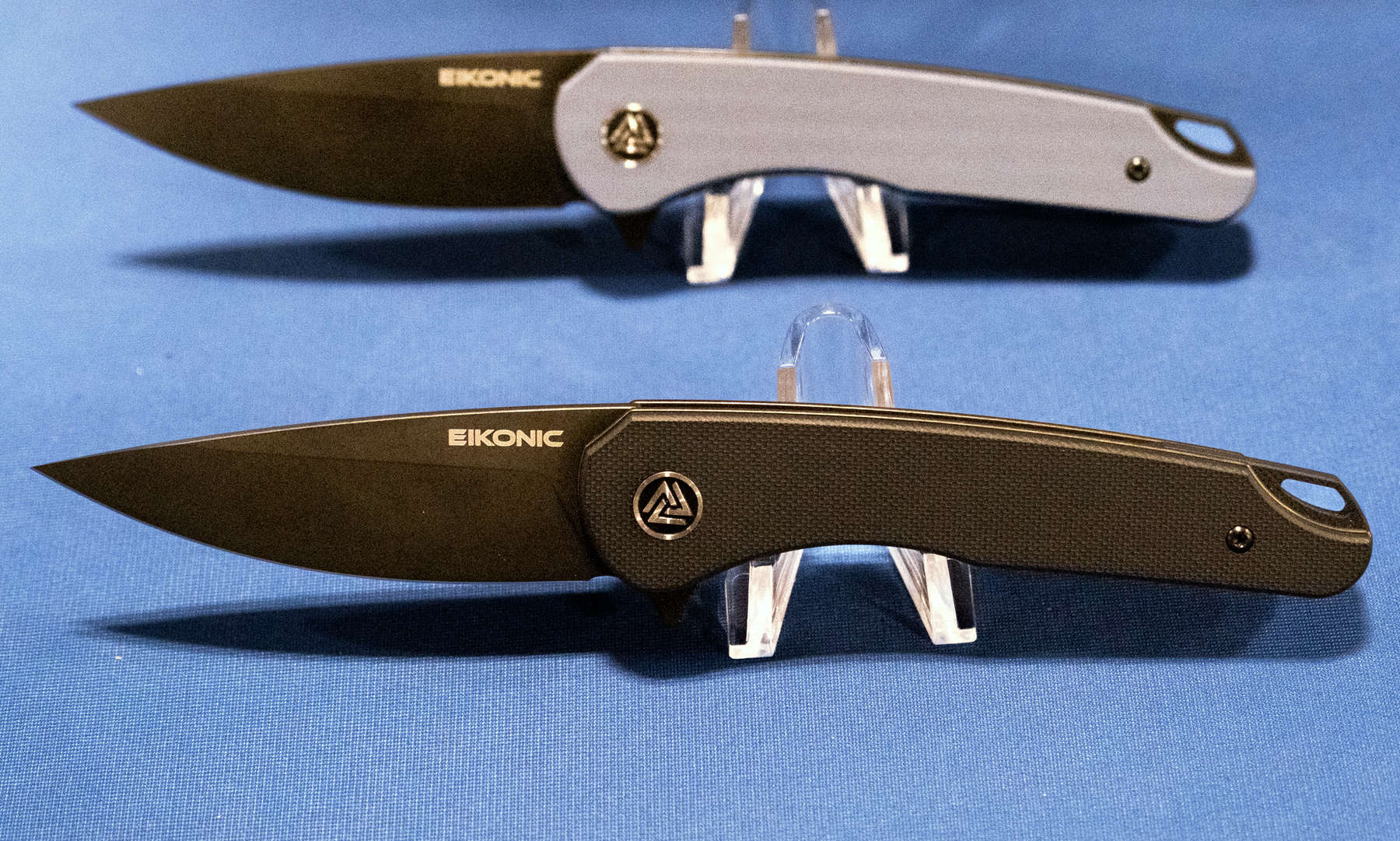 This is a very new kid on the block. The Eikonic Knife Company had been out and in the world for less than a month when we rolled up on their table. They hit the ground running, though. They already have five pretty solid designs under their belt, each with pretty well established designers.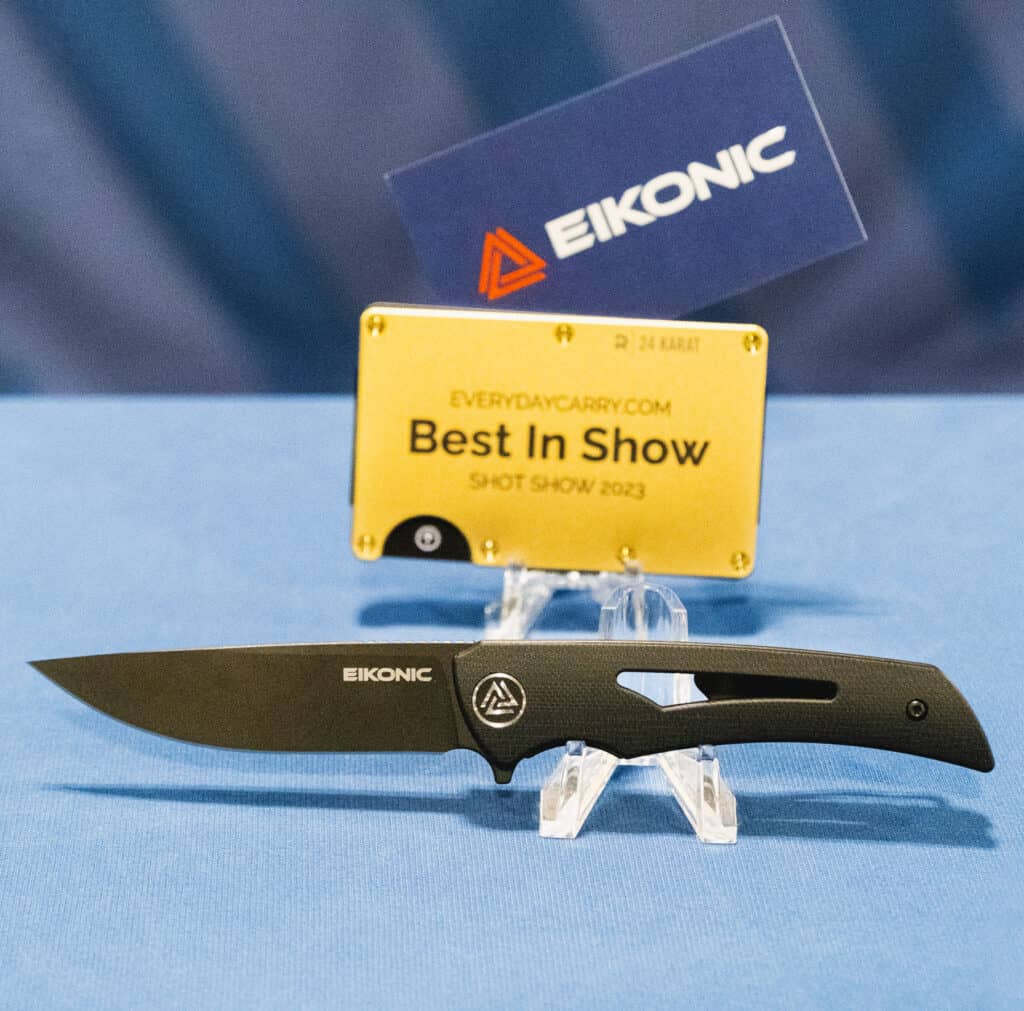 Their current offerings are Aperture designed by Brian Nadeau of Sharp by Design, a 3.14″ drop point folder with a hollowed out insert area in the handle and a deep carry pocket clip.
The Dromas is a slightly heftier drop point with a taller 3.25″ blade designed by Brian Brown. The Fairwind is a 2.72″ bladed thumbstud folder by Sam Abdelrahman of HEA Designs; the Kasador is a Jonas Iglesias folder with a thumb stud and a drop point that comes a little closer to a spear point at about 2.7″. The RCK9 is a squarish design by Roman Chavez with a 2.9″ standard blade that was adapted from a fixed blade design.
All models have feature D2 steel and an option of several colors in G10 and Micarta (except for the RCK9 which is currently only available in G10), and all in the $80 – 90 range. All in all a strong start from a new company that's packing a lot of experience behind the scenes.