Steak Knives are a Good Holiday or Birthday Present, but They're Even Better in a Fancy Box
Plenty of companies make steak knife sets, but they don't package them all equally. If you're buying a set as a gift, it's nice if you can get them in a presentable box rather than a clunky ball of plastic packaging.
So here's a guide to steak knife sets that come in nice boxes that are, if not always "gift boxes", at least nice enough to present as a gift. We've done our best to separate them by price range if not necessarily quality. Some in the same price range are frankly better than others, but they all cut meat, and after that sometimes it's just more about style than performance.
Jump to knife set:
What Makes a Good Steak Knife?
Comfort and cutting ability are obviously the most important factors in a steak knife (and any knife, really), but steak knives are a lot more varied than you might think. The traditional image of a steak knife is some thick, wood-handled knife with a wide blade and a serrated edge, but you'll see plenty of knives on here with a plain edge, thin handles, and not a hint of wood in sight.
The important thing is that they work for the person you're buying them for, so here are a couple of things to consider.
Serrated vs. Plain Edge
Most steak knives are made with serrated edges, but that's not a requirement for the style. Each edge type has its advantages.
Serrated edges tend to tear rather than cut, which makes them good for cutting bread are crustier pieces of meat. Typically if you're getting a cheaper set of steak knives, it's good to have them serrated as they'll keep their cutting ability longer.
Plain edges are preferable for cutting smooth pieces off your meat, but if the edge isn't done well, the knife is useless. Most nicer sets will be plain edge because the grind and steel are good enough to hold an edge.
Handle Size
Generally a thicker handle will be more comfortable, but depending on how sharp a knife is, that might not be necessary, and not everyone holds a knife the same way. If a steak knife has a really nice edge (like a Shun, for example), you probably don't need to hold it in a full grip to cut anything well. When the edge isn't quite up to par, though, it really helps to have a good chunk of handle to fill the hand.
Steel
This isn't quite as important on steak knives as it is on other kitchen cutlery since you're mostly using it to cut cooked meat. But that meat will usually be on a porcelain plate, and that can wreak havoc on an edge. Generally speaking, the harder the steel the better in this situation, but harder will usually mean more expensive, so you might need to compromise. Soft steel with a plain edge will just have to be honed really quick after use. But hard steel with a serrated edge will take up a lot of your time down the road if you want to keep them in top shape.
Steak Knife Sets Under $500
This is a pretty small category for now as not many companies feel the need to make high end steak knives like this. I don't know who needs steak knives that are this nice, but I won't judge.
Miyabi Kaizen 4-Piece Set
| | |
| --- | --- |
| Blade Length: | 5″ |
| Handle Material: | Black Linen Micarta |
| Steel: | VG-10 Damascus |
| Blade Style: | Plain Edge |
| Gift Box: | Bamboo |
This set is all about high precision with a traditional Japanese design. The edges are ground to around a 12 degree angle on layered VG-10 steel. There's no question these knives will cut through any meat like butter. The larger consideration should be to the D-shaped handle. It's the kind of thing you expect to see on a Japanese cutlery, but it can feel a little strange to people who aren't used to it, especially those who are left handed. What's a little more strange is the Micarta handles, but that's not strange in a bad way. You rarely see Micarta in kitchen cutlery, but it has the potential to be an incredibly comfortable and attractive material.
While these knives have a Japanese design with Japanese materials, and were made in Seki, Japan, it's worth noting that Miyabi is owned by the German company Zwillings. That's still a pretty fantastic company with some great designs (which you'll see farther down on this blog). Really the only difference it makes is that a few Miyabi designers have easy access to German steel, and every now and then you'll see a new design with some heavy western influence.
Shun Premier 4-Piece Set
| | |
| --- | --- |
| Blade Length: | 5.0" |
| Handle Material: | Laminated Pakkawood |
| Steel: | VG-10 |
| Blade Style: | Plain edge |
| Gift Box: | Cardboard and felt |
Visually the Shun Premier knives are one of the most striking sets on this blog, and not at all what most people imagine when they picture a steak knife. These work great, though. Shun grinds some of the best edges in the industry, usually taking it to around 16 degrees on both sides, so these are going to cut very clean slices.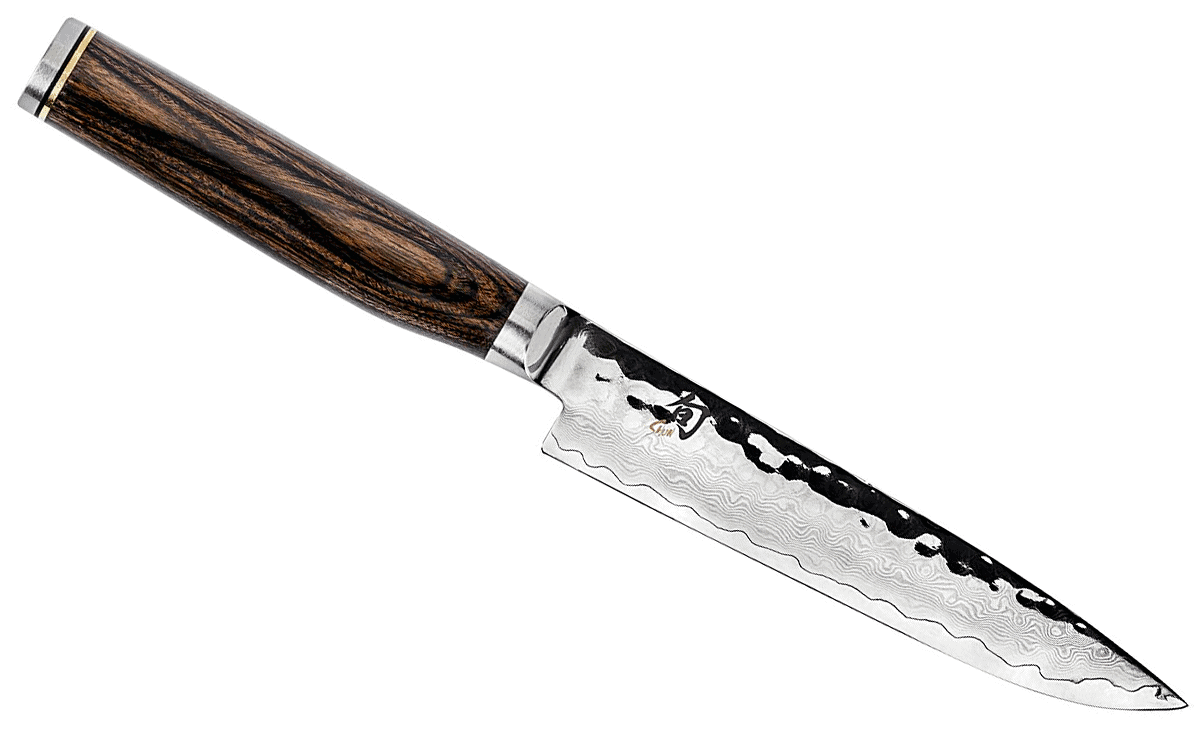 I've put a few Shun sets on this blog, so I should clear this up now: They don't exactly put their steak knife sets in gift boxes. They package them in cardboard and felt boxes that look halfway decent. I would personally wrap the thing up or tie a bow around it and think it looked just fine, but other's probably have a higher standard of gift wrapping. Just keep in mind, you're probably not going to get a Shun set in a nice wood box unless you get the box yourself.
Steak Knife Sets Under $400
This seems to be an awkward category for steak knives. There are options, but not always consistent ones. A lot of sets tend to start here and go on sale for less, or are simply prices just a little above.
Miyabi Koh 4-Piece Set
| | |
| --- | --- |
| Blade Length: | 4.75″ |
| Handle Material: | Pakkawood |
| Steel: | FC61 |
| Blade Style: | Plain Edge |
| Storage: | Bamboo Box |
While not totally dissimilar from the Miyabi Kaizen set featured above, the Koh steak knives feature octagon handles in Pakkawood that might be more readily comfortable to some. You'll see a few descriptions saying the edges on these knives are an "homage to samurai swords", and while that might not just be advertising exaggeration, it's not a helpful phrase. What they're probably referring to in that sense is the thinly ground edge to make cuts cleaner, and the way the repeated layering of the steel has resulted in a wave pattern just behind the edge.
The steel name might also raise a few eyebrows. FC61 steel isn't a name used by any other company as far as I know, but it seems to be Zwilling's term for Sandvick 13C27 steel, which is a very hard, fine grained Swedish steel. This is one of those odd things resulting from a German company owning a Japanese manufacturer, but it's not a bad combination. This is a great steel for sharp edges that need to start sharp for a long time.
Shun Classic 4-Piece Set
| | |
| --- | --- |
| Blade Length: | 4.75″ |
| Handle Material: | Ebony Pakkawood |
| Steel: | VG-MAX Cutting Core w/Damascus Layers |
| Blade Style: | Plain Edge |
| Gift BBox: | Cardboard and Felt |
The Classic series will cut pretty much the same as other Shun sets. Almost all Shun knives are ground to 16 degrees. These have the benefit of a Damascus design with genuinely folded steel. They've made these blades so that the edge stays sharps as it wears down through different layers, so those nice looking lines you see on the side aren't laser etched designs for show. That's actually what the steel did naturally and it's there for a reason.
But it does also look cool, and if we're being honest, that's the real reason you're thinking of buying them as a gift. Tell your friend these knives were made with "ancient techniques to be sharper" so you can both pretend you didn't just pull the trigger on the first set that looked neat, and go on your merry ways.
Cangshan TN1 Series 8-Piece Set
| | |
| --- | --- |
| Blade Length: | 5″ |
| Handle Material: | Stainless Steel |
| Steel: | Swedish Sandvik 14C28N |
| Blade Style: | Plain |
| Gift Box: | Wood |
This set is more quantity of quality, but the quality is still decent. The steel is more chromium than what Wusthof or Shun uses, so these are softer knives. They also are probably not as comfortable despite the amount of copy Cangshan puts out about the great "ergonomics" of these knives. The fact is these things are all steel all over, and the handles are pretty thin and that's just not a recipe for comfort. It does, however, make them a lot easier to wash, and there's something to be said for the minimalist design of the TN1 series.
I think the real selling point here is the 8 knives in a wood box, which up to this point has been a rare find, especially for knives that could be considered anywhere near high end. They won't have the performance of Wusthof or Shun, but these are still good knives, and the pageantry of the wood box with a whole mess of sweet knives inside should give you just enough gift cred to phone it in for the next few birthdays.
Steak Knife Sets Under $300
Wusthof 9716 Classic Ikon 4 Piece Set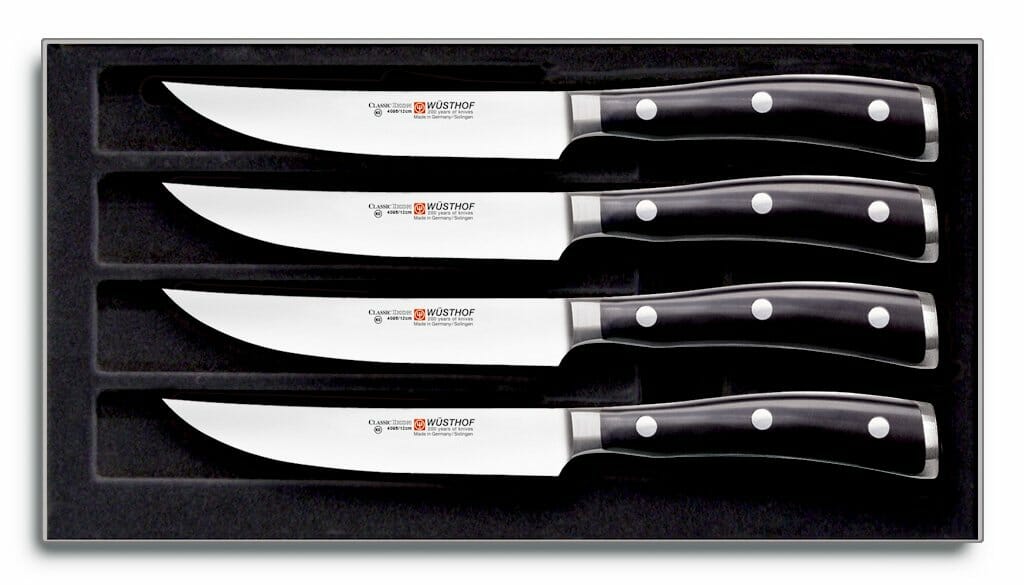 | | |
| --- | --- |
| Blade Length: | 4.5″ |
| Handle Material: | Polyoxymethalene |
| Blade Style: | Trailing Point |
| Gift Box: | Wood & Felt |
| Steel: | High Carbon German Steel |
Keep an eye out. Not every listing of this comes in a gift box and the price can fluctuate accordingly, but regardless, the Classic Ikon series is an American favorite at this point. It might be one of the most popular brands among professional cooks (at least, all the ones I know), and by extension a favorite among every sucker trying to look like he knows what he's doing in the kitchen at home.
These have solid German steel with great edge retention and durability, but more importantly, the knives are very well balanced. They aren't light, but Wusthof has put a lot of thought and design into the handles on these things to make them comfortable. For someone who likes to cut into big slabs of meat at the dinner table, these are a great way to enable further heart-stopping activities.
Laguiole En Aubrac 4-Piece Set
| | |
| --- | --- |
| Blade Length: | 4.5″ |
| Handle Material: | French Wood |
| Steel: | Sandvik Stainless Steel |
| Blade Style: | Plain Edge |
| Gift Box: | Wood |
This set comes in a lot of variations, so if you don't like how the handles look on one set, there's a good chance you can find an En Aubrac set with handles you do like. The hitch is that they can get pretty pricey. I've seen some sets run as high as $600. But as far as gifts go, this style leaves a profound impression.
As far as actually using them goes, they might take some getting used to. These have smaller handles than any other set you're likely to find, but they cut well. Learning to use them is more a matter of learning how to hold them. If you can get that down, they're a neat thing to have around. Ultimately they're more of a novelty than a practical option. But if you were scrolling down looking for the trendy oddball option on this blog, you found it.
Steak Knife Sets Under $200
This is where the options start opening up a little. Under $200 is nice halfway point between absurdly expensive but high quality and absurdly cheap but questionable.
Shun Shima 4-Piece Set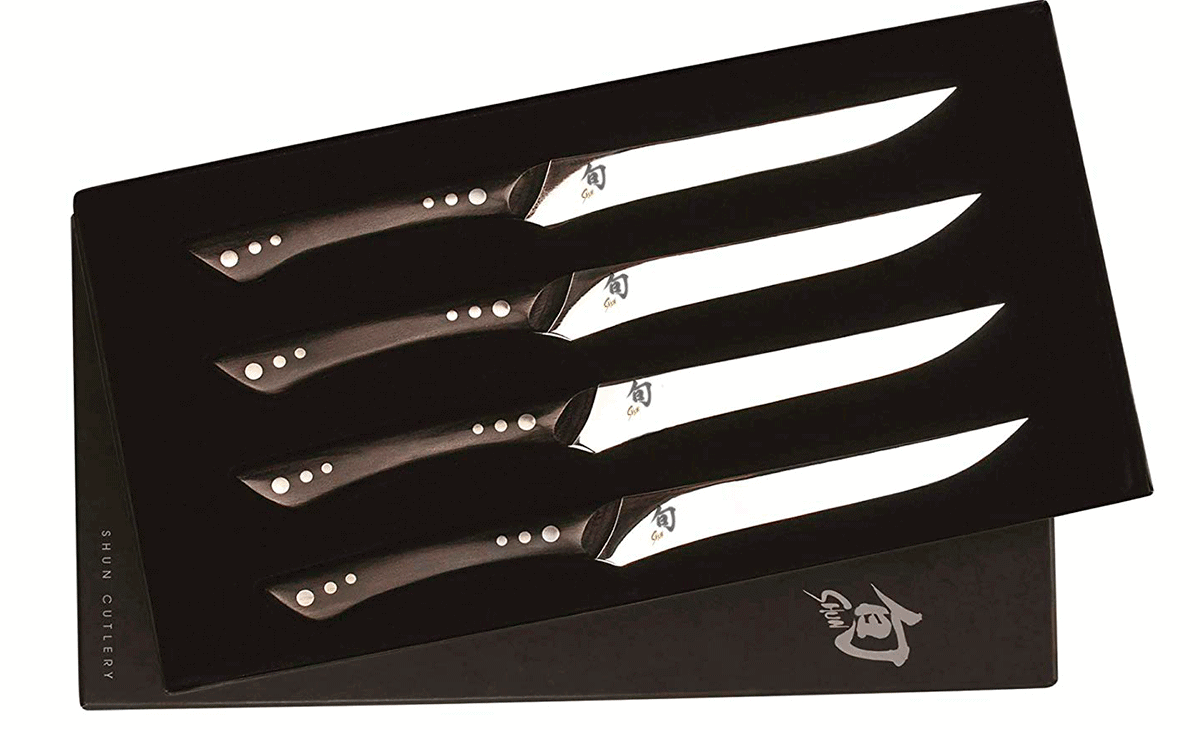 | | |
| --- | --- |
| Blade Length: | 5″ |
| Handle Material: | Tagayasan (Wenge) Wood Handles |
| Steel: | AUS8A |
| Blade Style: | Plain Edge |
| Gift Box: | Cardboard & Felt |
These are essentially the same build as other Shun knives, except the Shima series has a softer steel. That has the double benefit (depending on how you look at it) of making them easier to sharpen and cheaper. The handle and blade styles different pretty drastically in shape though. You have a lot less height on the blade, so you'll probably have to adjust to the way they cut, and the handles are a more contoured shape versus the D-shaped handles of the classic.
Jean Duboste Laguiole 6-Piece Set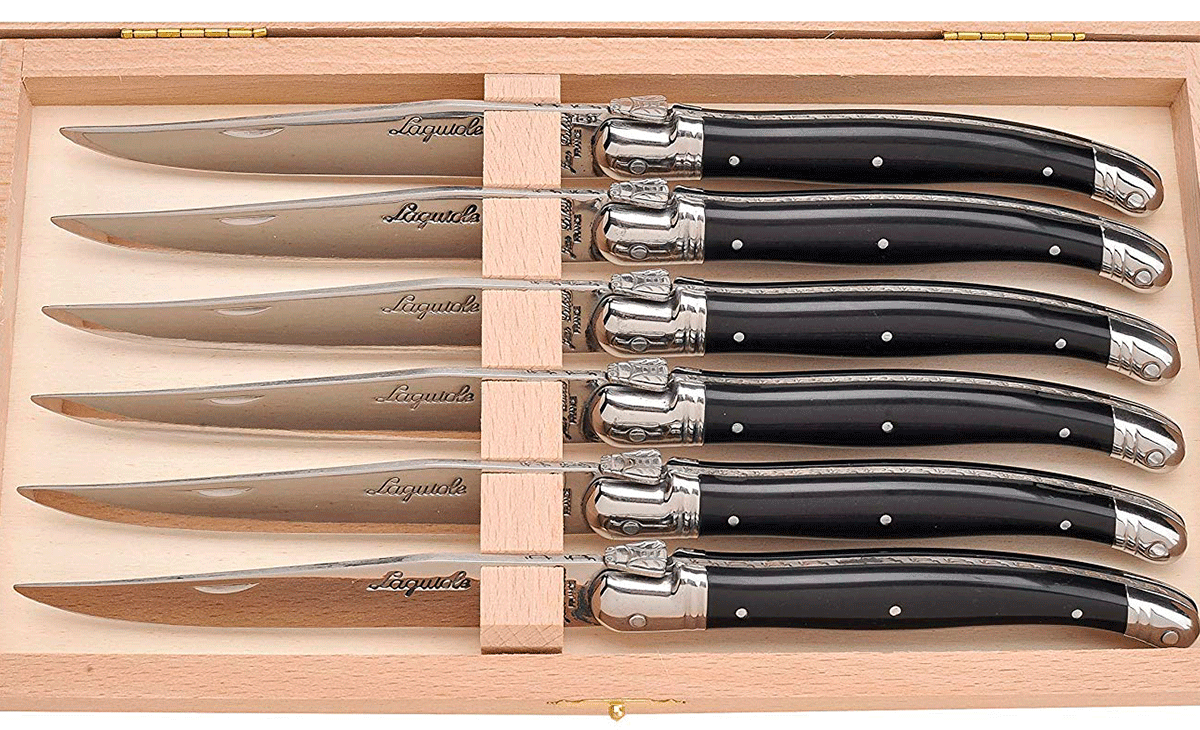 | | |
| --- | --- |
| Blade Length: | 4.5″ |
| Handle Material: | Acrylic |
| Steel: | Stainless |
| Blade Style: | Plain Edge |
| Gift Box: | Wood |
Again, the Laguiole design is more novelty than practicality. This style comes in a huge range of colors and handle materials, so if you're getting something to look nice, this is certainly one of the most interesting ways to do it. Which is to say, it's a good gift to tell people you know they're trying hard to seem like interesting people, but generally end up derailing conversations with thinly relevant factoids about the taste palette of barrel aged beers.
Cangshan V2 59502 German Steel Forged 8-Piece Knife Set w/ Acacia Wood Block
| | |
| --- | --- |
| Blade Length: | 5″ |
| Handle Material: | Phenolic |
| Steel: | X50Cr13MoV |
| Blade Style: | Serrated |
| Gift Box: | Wood |
So technically this doesn't come in a gift box, but the Acacia wood knife block is a nice alternative, even if it isn't exactly high quality. And Cangshan packaging is still on point.
The V2 series provide a wealth of comfortable steak knives with a bit of decent serration so you cut most things without much trouble. The steel on these probably won't stay looking nice as the steel has a habit of forming patina. A lot of people complain that rust spots develop on these quickly but that's probably not quite what's happening. These need to be cleaned and dried pretty quickly after use to avoid that kind of discoloration. But that's a fairly small cosmetic problem on knives that are pretty high functioning for the price.
Hammer Stahl 4-Piece Set
| | |
| --- | --- |
| Blade Length: | 5″ |
| Handle Material: | Pakkawood & Stainless Steel |
| Steel: | X50CrMoV15 |
| Blade Style: | Plain Edge: |
| Gift Box: | Cardboard |
If nothing else, Hammer and Stahl seems to understand the gifting nuance of buying a steak knife set. They purposefully package their knives in magnetically sealed boxes with a nice black shine to them.
They like to talk about something called "quad tang" in their knives that supposedly makes them more durable and better balanced. That sounds like a marketable way of just saying they put a bunch of steel in the handle, but the result is a neat design anyway, and no doubt these knives are tough. I'm not sure what intense pressures someone would want to put them under to test that durability, but the look and function of Hammer and Stahl knives make them a great gift option.
Steak Knife Sets Under $100
In the context of a blog featuring $400 dollar knives, this category probably seems cheap. But trust me, an $80 set is still high class, and there are some big names here. Frankly, this much more my comfort zone.
Zwillings J.A. Henkels Accessory Steak Knife Set
| | |
| --- | --- |
| Blade Length: | 4″ |
| Handle Material: | Stainless Steel |
| Steel: | High Carbon Stainless |
| Blade Style: | Serrated |
| Gift Box: | Wood |
You can always count on J.A. Henkels knives to be reliable if not spectacular. General consensus is these knives aren't on the spectacular end of the spectrum, but they are on the "8 good knives for $80" end of the spectrum.
Between Henkel's quality control and the light serrated design, these make a reliable cut into any stringy steak that happens to be blessing your plate, and the box they come in makes it a nice quick gift. Keep in mind that these knives are much thinner than most steak knives and in general are smaller than average. That's a selling point for some, but people with big hands might not take to them so well.
Wusthof 8-Piece Stainless Steel Steak Knife Set w/ Wooden Gift Box
| | |
| --- | --- |
| Blade: | 4.5″ |
| Handle Material: | Stainless Steel |
| Steel: | High Carbon 18/10 Steel |
| Blade Style: | Serrated |
| Gift Box: | Wood |
This Wusthof set sits in a similar spot as the J.A. Henkels set, although I would argue the gift box on this one looks a lot nicer. You have some of the same benefits: All steel structure, lightly serrated edge from a company with good QC, and a good value for $80 in general.
There are similar problems too, though. These are thin knives, that Wusthof hammered out for a budget-end line. They're still good, but these are no Ikon Classics and people with big hands likely won't find them very comfortable. But take the bad with the good. They still work great, and they make an impressive addition to a table seating a lot of people.
La Cote 6-Piece Set
| | |
| --- | --- |
| Blade Length: | 4.8″ |
| Handle Material: | Pakkawood |
| Steel: | 420J2 |
| Blade Style: | Serrated |
| Gift Box: | Bamboo |
La Cote knives might win out in terms of looks. They did a great job on the wood styling on the Pakkawood handles and the colors. They look just trendy enough that most people will think they look cool, and just rustic enough for you to pretend you don't care about looks.
There have been a few complaints about the durability of these knives. There are a few legends of them chipping, but of all the problems they might have that seems the least likely. The 420J2 steel they're made with isn't exactly a premium Japanese steel, but its softer quality isn't prone to chipping. The 54 HRC is more in survival knife territory than your typical kitchen cutlery. I'd be more worried about them losing their edge and adapting to the way the wider serrations cut meat.
Outside that, these are great looking knives with nice, rounded handles that should fit comfortably in any hand.
Steak Knife Sets At or Under $50
Now we're on cheap grounds. Not "bad-knife" grounds exactly, but certainly where you should look carefully at what you're getting and think very carefully about just how much you really like the person you're buying for.
Culina Steak Knife Collection 8 pcs in Wooden Box
| | |
| --- | --- |
| Handle Material: | Stainless Steel |
| Steel: | 18/10 |
| Blade Style: | Serrated |
| Gift Box: | Cherry Box |
We're back in thin-knife territory, so comfort might be an issue with the Culina steak knife set, but they hit it out of the park with the cherry wood gift box. The presentation adds a lot of value to them; the sub-50 dollar mark adds a lot more value to them.
These aren't incredible knives. At first glance I actually thought they were butter knives, and frankly they would work well enough in that capacity. There are serrations on there though, and they work pretty well for any well-cooked meat. You might have a harder time if something is overcooked, or just naturally tough.
Saken 4-Piece Set
| | |
| --- | --- |
| Blade Length: | 5″ |
| Handle Material: | Phenolic |
| Steel: | High Carbon German Steel |
| Blade Style: | Serrated |
| Giftbox: | Cardboard |
This is a little more about the gift-ready packaging than the quality of the knives themselves. Saken is another budget company that understands our insatiable need to buy things in fancy boxes and fill our lives with temporary meaning to trick ourselves into happiness while our bodies slowly wither away.
The knives are still good, though. They won't have the same seamless cutting ability as the Laguiole or Shun sets, but as steak knives go these are about on par. The serrerations are aggressive and the handles are thick. These will cut exactly the way you would expect a steak knife to cut, and no better. However, these will look good doing it, and you'll win another year of the gift giving competition as yet another moment in life ticks toward your inevitable demise.
La Mongoose 6-Piece Set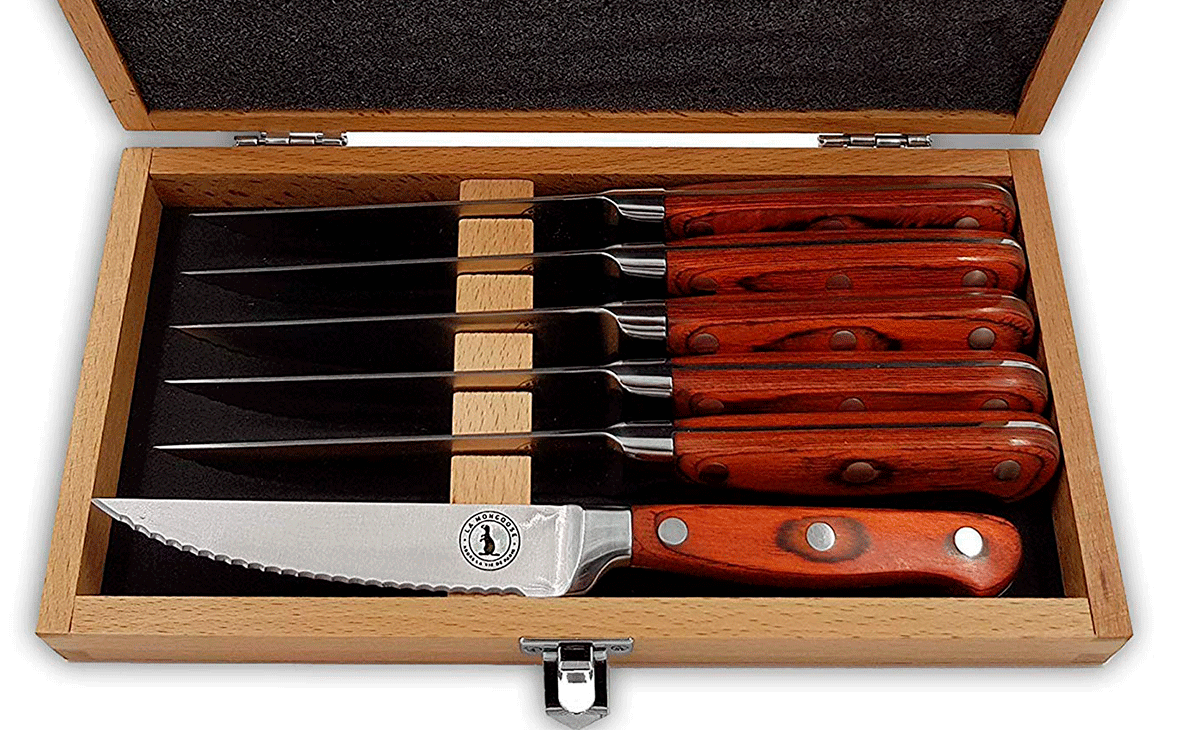 | | |
| --- | --- |
| Blade Length: | 5″ |
| Blade Material: | Pakkawood |
| Steel: | High Carbon Stainless |
| Blade Style: | Serrated |
| Gift Box: | Wood |
If you want something more toward the wood aesthetic in the same price range, this La Mongoose set is likely your best option. They have a similar robust build to the Saken set, but more toward the rustic side of things. The more important difference, though, is the tapered serrations which have more of a slicing action compared to the typical tearing of other serrations. The cuts still won't be as clean as a sharp plain-edge knife, but certainly better than a regular pointy steak knife.
Bear in mind that these knives won't make your life any better, but they will make you think it's better long enough to get some steak in your mouth.
Mozzbi 6-Piece Steak Knife Set
| | |
| --- | --- |
| Blade Length: | 4.3″ |
| Handle Material: | Polished ABS |
| Blade Style: | Serrated |
| Steel: | German 1.4116 |
| Gift Box: | Cardboard |
The bad with these knives is that serrations are a little subpar (they tear far more than cut), and the otherwise nice gift box they come in is marred by some promotional text. But let's be honest here: You're buying 6 full tang knives for $30. At this point, high quality clearly isn't a priority, you're just desperate for a good gift that will work. These knives will work.
And at the end of the day, how fancy do you really need steak knives to be? If your friend is so bothered by the way the soft-but-adequate German steel and aggressive serrations of these knives cut into his over-cooked tri-tip than maybe the problem isn't so much these perfectly usable knives as it is his myopic view of life and inflated opinion of his skill with a barbecue.