Great Bang for the Buck on This Full Tang, Clip Point Fixed Blade Knife from Schrade
I am going to start this review off with a question to the manufacturer. Schrade! What the hell is up with the name? Seriously you named this well priced, fixed blade, full tang knife, "SCHF32"? It makes no sense!
That is the sort of name you are supposed to give to a product that embarrasses you, and there is no reason to be embarrassed of this knife, especially at the crazy ass price you are selling it for. Seriously nobody is gonna remember the name SCHF32 when they are trying to tell their friends about the awesome knife they just got for under $25.
Just because the knife is made in China doesn't mean you have to give it a name that reeks of insignificance. I know this is the naming structure that Schrade uses for most of their new model knifes, but it makes no sense other than that they save money on copyright fees to their attorneys. OK the rant ends here, and the review will begin on the next paragraph.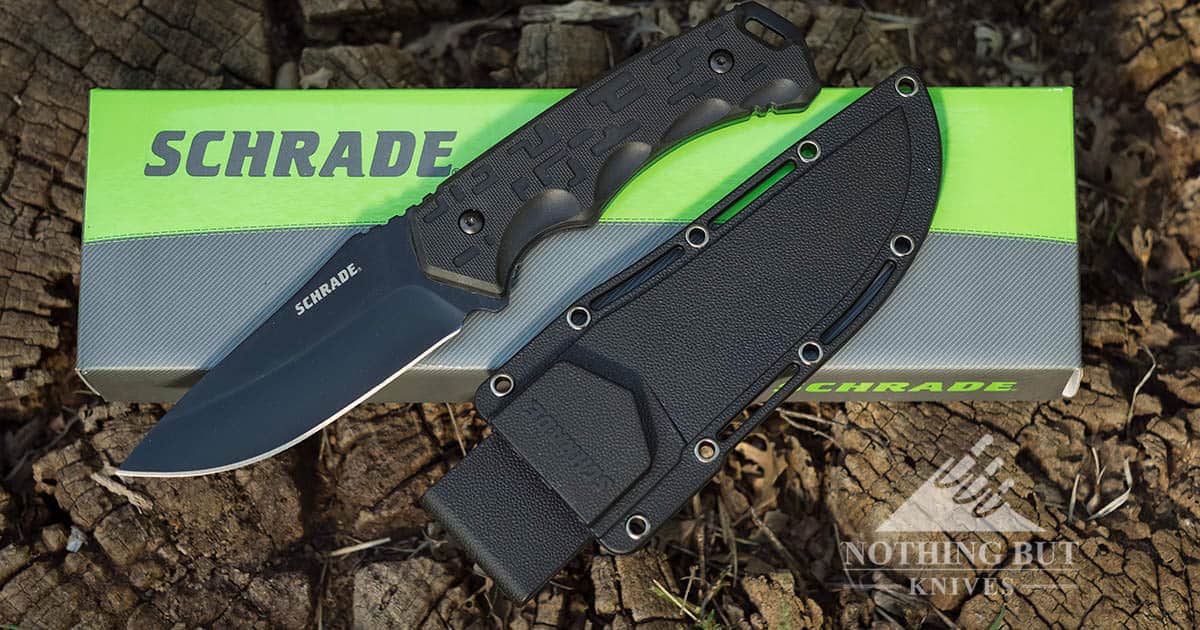 Knife Specifications
| | |
| --- | --- |
| Overall Length: | 9.4″ |
| Blade Length: | 4.2″ |
| Blade Steel: | 8Cr13MoV |
| Blade Thickness: | 3.42 mm |
| Blade Type: | Drop point |
| Sheath: | Thermoplastic |
| Handle Material: | Rubber |
| Weight: | 7.37 oz |
| Made in: | China |
Pros
Great Value
Full Tang
Spine Jimping
Rear Handle Jimping
Versatile Design
Comfortable, Easy to Grip Handle
Cons
Made in China
Not Really Well Balanced (It's a little back heavy)
Small Cosmetic Flaws on the Handle That Don't Affect Functionality
Belt Loop on the Sheath is not Removable
Blade Construction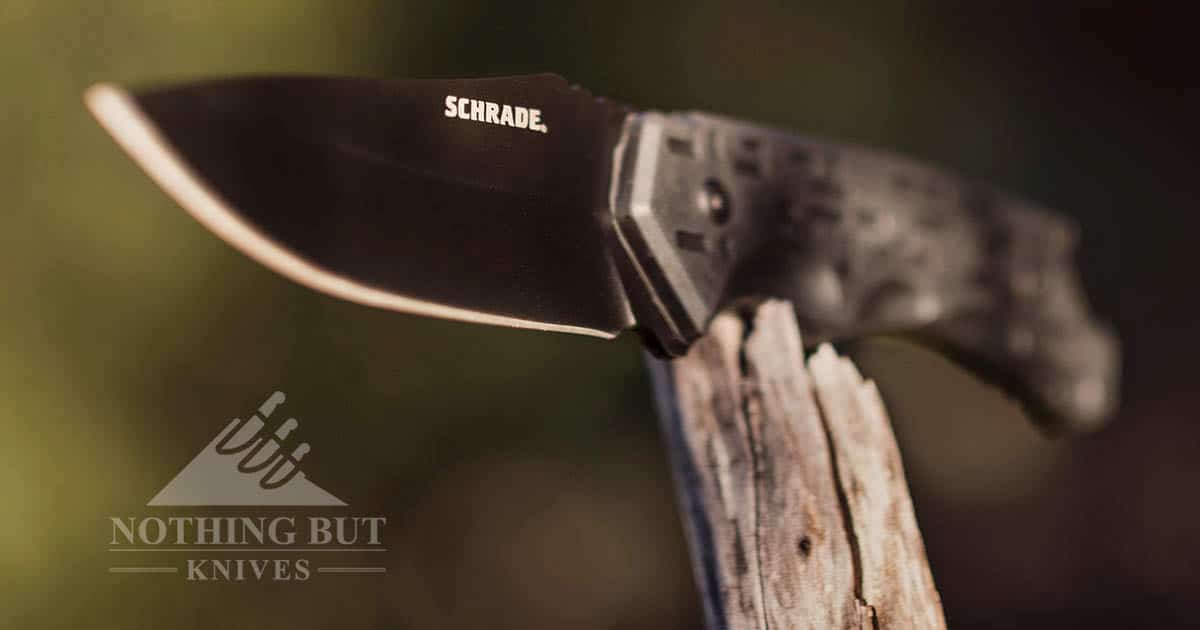 Schrade gave this knife a 4.25 inch 8Cr13MoV Stainless steel blade which is a decent quality Chinese steel. It is not quite as corrosion resistant as the AUS-8 steel that Cold Steel uses in a lot of their knives, but it is easier to sharpen. 8Cr13MoV steel is certainly not in the same league as SV-30, but it is pretty durable for a budget steel, and the fact that it is a little softer than higher carbon steels makes it easier to sharpen out small chips and dings that are an inevitability when using a knife outdoors as an actual tool.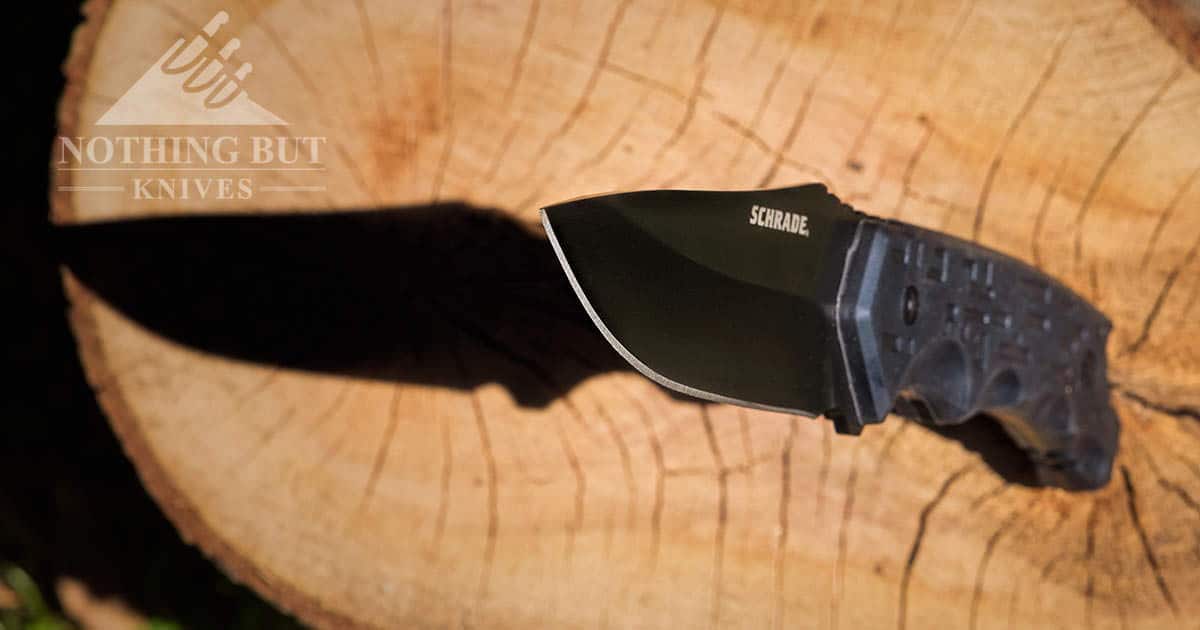 The spine of this blade is fairly wide, and it handles batoning well enough that it can pass as a decent bushcraft knife even though the blade is only 4.2 inches long. That may be a little on the small side for a bushcraft knife, but it helps make the SCHF 32 a decent campsite food prep knife. It is certainly a lot easier to slice and dice food at a campsite with this knife than the much heavier Schrade SCHF9 Survival Knife.
The design of the blade is really functional, and lends to the overall versatility of the SCHF32. It is a relatively tall blade that is wide enough on the spine to hammer in a tent stake, and it works great when used with a ferro rod to start a fire due to the sharp 90 degree angles on the spine of the blade.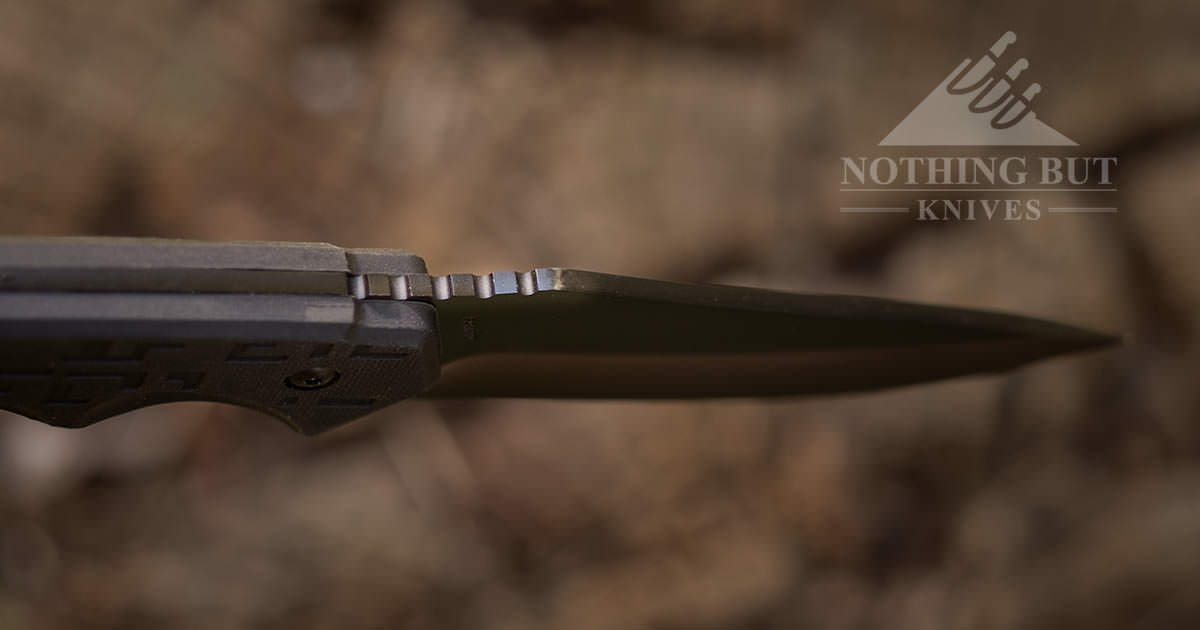 Schrade added jimping on the thumb ramp of the SCHF 32 which gives it a bit more credibility as a tactical knife if you want to use it as one. It also makes it easier to use when it gets wet. The jimping on the SCH32 is not as comfortable to press your thumb against as some of the higher end knives, because the gaps are wider than normal.
In spite of this drawback the jimping still gets the job done. It is also possible that I spend too much time on a computer writing about knives and not enough time out in the woods using them, and as a result I have sissy, little hands that cause me to bitch about relatively inconsequential details.
Knife Classification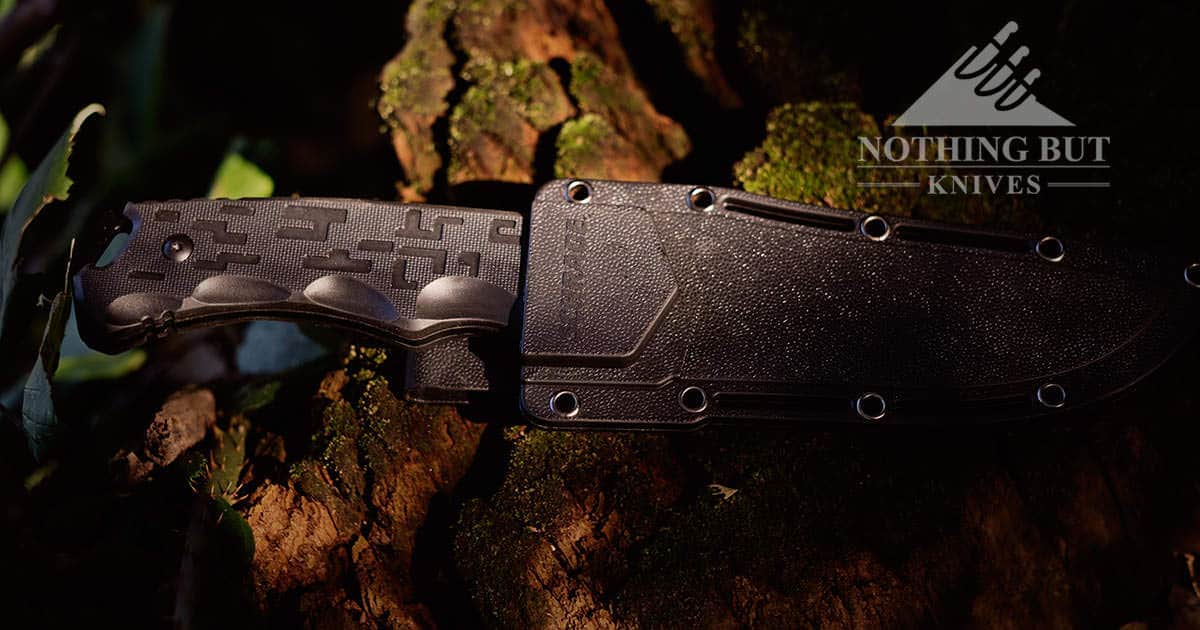 I am not sure if Schrade designed this knife to be a tactical knife, a bushcraft knife or a utility knife, and they don't offer much information about their intended purpose which is fine, because I would just ignore it anyway. The SCHF32 certainly doesn't cut it as a great tactical knife, because it's balanced about as well as a Volkswagen Bug (all the weight is in the back). However it's feature set would make it usable as a tactical knife for those who want to use it as an EDC.
I would say that this knife is a bushcraft/utility hybrid. It doesn't necessarily excel in either category, but considering it sells for under $25 it does a lot of things well. Also the fact that it is so cheap means that you won't hesitate to use it as a tool. Go ahead and hammer in those tent stakes, dig in the dirt, cut branches with abandon and carve your name in a tree.
Do all the things you won't do with the $150 knife you never take out of it's sheath. There is a certain freedom in bringing a budget knife on a camping, hunting or fishing trip especially one that has a great design, decent steel and a comfortable handle.
Handle Construction and Ergonomics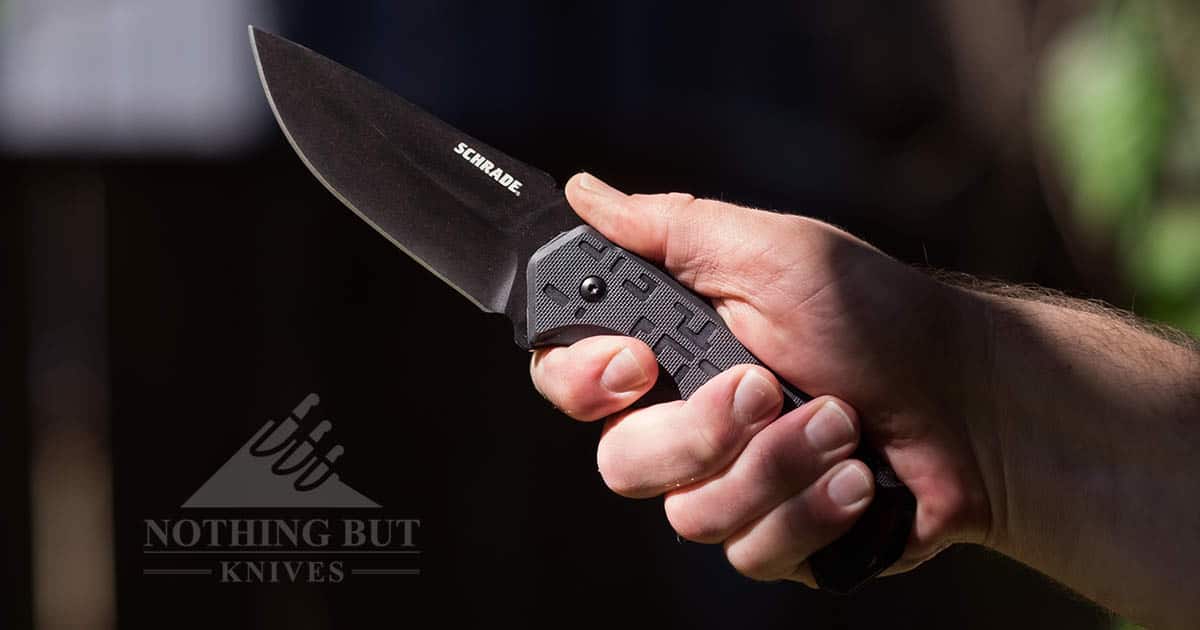 There is nothing revolutionary about the TPE rubber handle of the Schrade SCHF32, but it is surprisingly sturdy and form fitting for a knife in this price range. The finger grooves are well placed and comfortable, and a surprising bonus on a knife under $25. The finger grooves are the sort of functional detail you generally don't see on a knife in this price range.
If you look really close you will observe some slight flaws and alignment issues with the handle, but they don't really affect the functionality of the knife, and they are expected on a sub $25 knife.
"Grippy" is a term that is thrown around a lot in knife reviews these days , so I will join in and say that this handle is grippy even though I am against the overuse use of made up adverbs. It is a fake word that accurately defines the way this knife feels in your hand.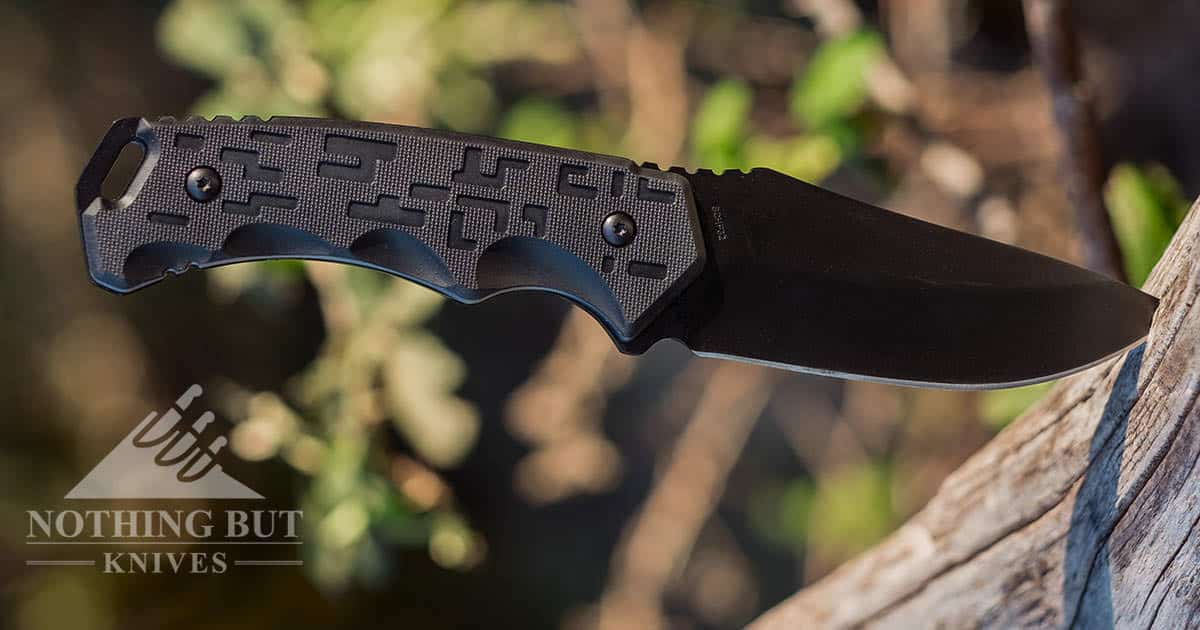 The but end of the tang sticks out bast the handle and has a slot for a lanyard. It would also work for breaking glass if you ever needed it for that. The TPE rubber slabs are held in place securely with two hex screws that are easy to tighten if needed. The back of the hand has jimping which was a nice surprise. This makes it easier to hold the the butt end of the handle with two fingers to chop wood which is another reason I think the SCHF32 could be used as a bushcraft knife.
Sheath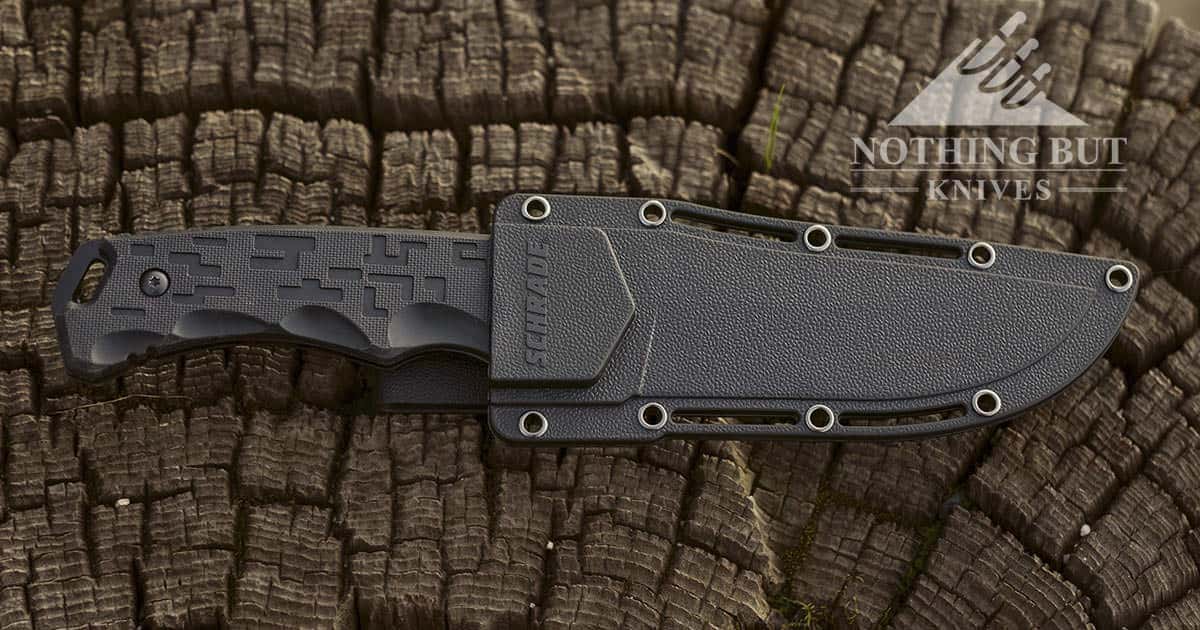 The sheath works well right out of the box. It is made of some type of thermoplastic material that will endure an average amount of usage for a relatively extended period, but it is certainly not on par with a custom kydex sheath or a high end leather sheath. However, the grommets that hold the sheath together are made of steel rather than plastic which is more than I can say about other knives at this price point.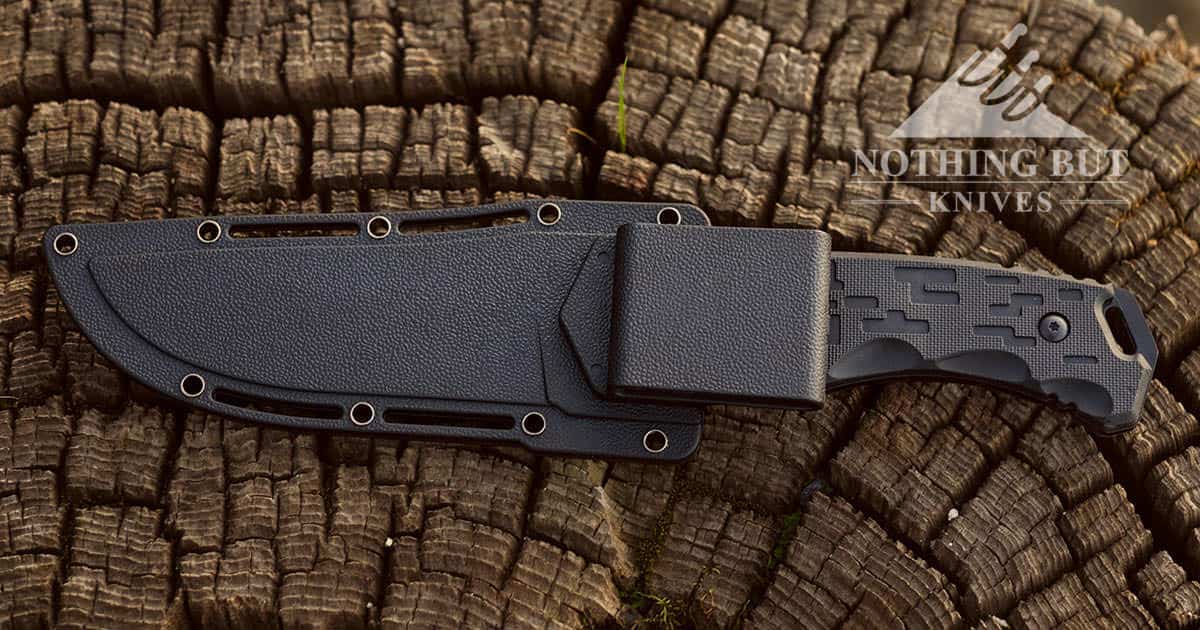 The belt loop on the sheath is fixed, so if it doesn't fit right on your belt or backpack strap you will have to do some custom strapping with the grommet holes on the edge of the sheath. I tried it out on a few different belts, and it seemed to fit them all well, but if you tend to wear really wide belts this may not be a good option.
Conclusion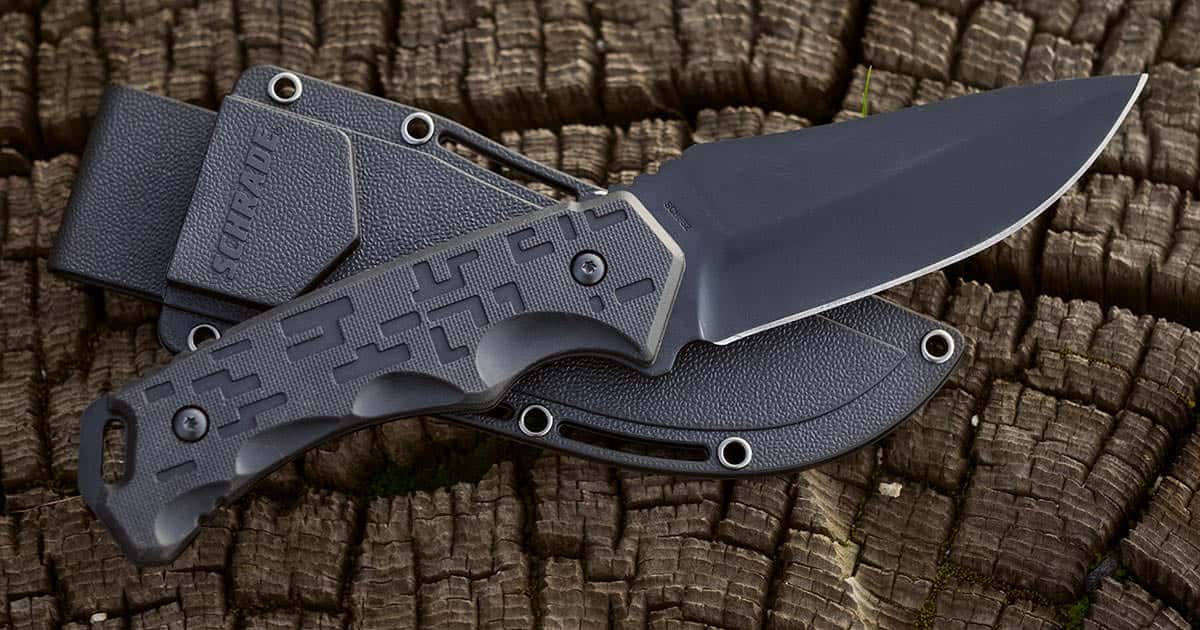 While it may be true that the Schrade SCHF does not necessarily excel at any one application, it is good at almost all of them. It could be used as a tactical knife, a bushcraft knife, a utility knife or a hunting knife which makes it a pretty good all around outdoor tool that deserves a place in your camping bag or truck tool box.
The impressive combination of low price and durability mean you don't have to worry about damaging it if you are the type of person that actually uses a knife as tool in the great outdoors. If you do somehow manage to break it, you are only out 25 bucks.
If you are in the market for a more specialized bushcraft Knife check out the Schrade SCHF9