What Makes a Good Tactical Knife And How Do You Choose The Best One For Your Needs?
Whether you want a tactical knife because it makes you feel safer, or a you want a robust EDC, or even just because you like the way it looks, it's important to understand the components that make a tactical knife tactical.
Renowned knife designer Ernest Emerson made a sound point in an interview with The Daily Caller that you can't really know what makes it "tactical" until you understand the context it's going to be used in. Undercover police, SWAT teams, survivalists, hunters, or everyday city walkers require different things to fit their body shapes and lives.
As a result the best tactical knife varies depending on a person's needs. It's not always appropriate or practical to carry a fixed-blade Ka-Bar around with you, but maybe a smaller folding knife just isn't big or strong enough to handle your job.
Clearly this takes some thought, so here are some of the details you should consider for choosing the tactical knife that fits your needs. As we go through these I'll provide some examples of knives, not necessarily for you to consider buying, but as examples of good or bad materials and design.
If you want more specific tactical knife recommendations, check out our guide of the best tactical knife brands.
Handle Materials
The primary thing to worry about here is the longevity of the materials and whether they can really survive through impact. Most knife handles are made out of wood, metal, or some kind of resin composite like G10 or Micarta, and occasionally something with a leather wrap.
The first thing I always look for in a handle is how hard do I have to grip the knife to keep it secure, how badly that grip will slip as it gets damp with sweat and water, and how it will feel and hold up under high impact.
The Ka-Bar Becker BK-18 pictured above is a great tactical knife that ships with a Zytel handle that is not especially easy to grip securely under a variety of conditions. Fortunately the knife can be upgraded to micarta handle scales which are much easier to grip.
Micarta And G10 Handles
The tactical quality of these higher-end composites depends a lot on how the designer shapes and textures the handle, but they can create a fantastic grip and take a lot of abuse when used well.
They're also very easy to clean and don't generally absorb moisture at all. There are some important differences between micarta and G-10 in the kind of composite used, but on the whole they behave the same when compared to other materials.
Micarta Examples to consider:
ESEE 4
Or alternatively the OKC Rat III if you want something smaller. Both have really nice Micarta and handle shapes. They'll slip a little at high velocity, but the ergos remain solid.
Buck GCK
Buck Knives is known more for it's hunting and camping knives, but they also make some excellent tactical knives including the Buck Ground Combat Knife or GCK. This knife handles some survival or camping tasks fairly well, but it was designed primarily as a tactical knife.
Check out out full review of the Buck Ground Combat Knife to see how it handled the rigors of the great outdoors.
LionSteel T5
LionSteel is an Italian company that is growing in popularity due to their practical designs and quality craftsmanship.
The T5 pictured above is one of our favorite tactical knives of all time here at Nothing But Knives due in large part to the knife's great micarta handle which is made from a single piece of micarta rather than two separate pieces. The T5 is also an excellent survival knife. You can learn more about this versatile tactical/survival knife hybrid by reading our in-depth review of the lionSteel T5.
G-10 Handle Examples to Consider:
Kizer Little River Bowie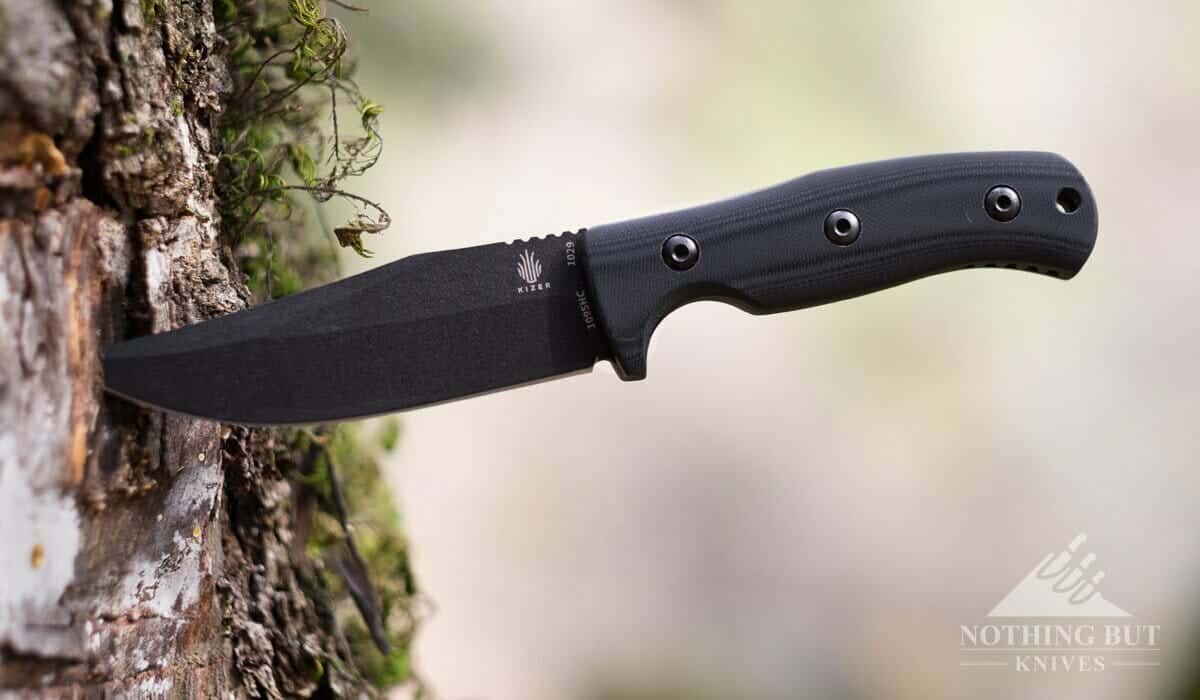 This is a good example of a great shape that badly needs to be textured better. Almost everything else about the knife feels good, but slipping is a danger with it. The fact that this knife can be carried horizontally or vertically is a big plus.
Update: The Little River Bowie is discontinued, so we'll probably replace this entry eventually. For now it still serves as a good example of a nice handle shape held back by sleek scales.
Check out our full review of the Kizer Little River Bowie if you think this knife looks interesting. Unfortunately the Little River Bowie has been discontinued, but the Artisan Cutlery Wreckhart is a good alternative.
Cold Steel Mini Tac Neck Knife:
The G10 on this knife is textured really well, and the finger grooves help a lot to keep the thing secure in your hand, but they do pose the problem of making it a little awkward to grab in a hurry in the first place. Check out our in depth review of the Cold Steel Mini Tac to learn more.
Kershaw Emerson CQC series
Emerson knows ergos better than most folding designers, especially in terms of fast deployment. His knives don't always feel like the most comfortable option at first, but they always handle well, and you can usually get them out of the pocket fast if you practice a little
Rubber and Rubber Polymer Handles
This is the best option in my opinion. It's grippy and it won't splinter or crack. A lot of companies have gotten pretty clever about making their own rubber-type materials like Kraton which is a lot easier to clean and handles high temperatures a lot better.
Rubber Handle Examples to consider:
Gerber StrongArm
This fixed blade knife  has a big rubber handle that fills the hand. It's pretty much everything you want to feel when you're handling a knife in an emergency (this isn't the last time you'll see this knife brought up in this blog, by the way).
Morakniv Bushcraft
Any Morakniv knife is a good example of a good rubber handle, but the Mora Bushcraft Black is a good example of a decent tactical option in large part because of its grippy rubber handle.
Gerber Ghostrike
This shows just how versatile rubber can be when you start wrapping it around harder materials, even if the ergonomics do become problematic in practice.
If you want to learn more about this knife check out our in depth Gerber Ghostrike review.
Spyderco Bill Moran Drop Point
The Kraton rubber handle of the Bill Moran Drop Point make it easy to grip in just about any situation. It would be a fantastic tactical knife if the blade steel was tougher and the handle were shaped a little wider at the top to protect the hand. As it is I'd be worried about chipping it in an emergency, or my hand slipping forward. The ergonomics and edge geometry can get a lot of quick work done, though.
You can read our review of the Spyderco Bill Moran Drop Point is you want to read more about this knife or just want to see a few more photos.
Leather Wrap Handles
I love leather in a handle for every aspect except its weather resistance. Very few materials provide a better grip than leather, and in many ways it performs as well or better than rubber, but when put under extreme use over a long period of time it is very susceptible to drying and cracking.
Leather Handle Examples to Consider
Ka-Bar USMC Straight Edge
It has a nice rounded handle with a big hand guard at the top. As the most classic example of a combat knife, it's hard get much better than this design.
Boker Plus M3 Trench Knife
Again you've got a big round handle with a hand guard, and a blade that closely resembles a bayonet.
Carbon Fiber Handles
It's tough and lightweight, but almost always far too slippery to be viable.
It makes the design of the handle highly pivotal, which is why almost all of the knives with carbon fiber handles getting labeled as "tactical" are anything but that. Fred Perrin designs some of the only exceptions I've seen to that rule since he tends to make knives that emphasize keeping the knife in the hand.
Carbon Fiber Handle Examples to Consider
Camillus 7.75″
The 7.25 is a pretty good option if you are looking for a knife with a blade under 3 inches. The textured handle is a little easier to grip than a lot of other carbon fiber handle pocket knives out there, and the titanium coated VG10 blade holds a decent edge.
Wood Handles
This is the time-honored choice, but compared to a lot of modern materials it comes up subpar for toughness and grip. It's hard to generalize since so many different kinds of wood are used from pakkawood to cocobolo that are going to have different ranges of toughness and longevity.
It has the same problem as leather by absorbing oils and moisture over time, but it doesn't have the same benefit of grip.
Wood Handle Examples to Consider:
Boker Arbolito El Gigante
There's a lot of great wood handles to be found in the Arbolito line, but they're all very expensive examples. El Gigante does a great job of making up for any slipperiness in the polished wood with a slightly curved handle, a simple texture, and a big handguard.
Bone Handles
This material is good enough for hunting designs, but it's not ideal for tactical use at all. Bone handles usually form a nice rounded form that fits most hands pretty well and are very easy to keep clean, but they rarely have any texturing that helps the grip or comfort in any way.
They also tend to splinter under high impact, if not the moment you do it, certainly over a period of regular use. Bone might have a slightly better grip than most wood handles, but the frailty of it makes it all but useless in high stress situations.
Bone Handle Examples to Consider
Boker Arbolio Hunter
This is a pretty incredible design in every category except tactical. It's a beautifully design handle that's likely more comfortable than most natural bone handles. There's even a bit of a finger guard to help keep your hand in place, but the form will absolutely slip and splinter under frequent high impact.
Schrade Uncle Henry Bowie
This is about 15 inches of bad idea. The bone handles set in with brass pins is a guaranteed fracture in the handle down the road, especially with a blade that large.
Blade Materials
Emerson recommends any of the high-quality stainless steel knives. If you aren't a practiced blacksmith with an eye for steel, probably the best way to determine quality is price.
There's no way around it; no five dollar knife is going to last through hard use. If you want good steel, you better expect to hit at least the twenty dollar mark in most cases. That said, toughness is usually one of the biggest deciding factors in a tactical blade. You either want to look for softer steels or high carbon steels with a thick blade stock.
The reason is that if a steel is soft it will take a sharper edge and it'll be easier to hone or sharpen out damage. Harder steels like Bohler M390 or S90V aren't bad for tactical use; they can take a massive amount of abuse, but they're much more prone to chipping versus something like CRMoV steels.
A good rule of thumb is that you don't usually want something higher than 60 on the Rockwell Hardness scale or lower than 56. If you'd like a more detailed run down of the various steels check out our quick guide to common knife steels.
Meanwhile, I'll just run through the difference between carbon and stainless steels, and why you might want one over the other.
Carbon Steel Tactical Knives
You don't see a lot of tactical knives with carbon steel, and I think the reason for that is it doesn't usually handle harsh elements very well. But it is tough. There's a reason survival knife companies like Esee, Condor, and TOPS mostly use 1095 steel. It's a simple steel that's easy to maintain in the field. It's more prone to rust, though, and if isn't tempered well it basically just gives you a pry bar.
Ka-Bar Mark 1 (1095 Cro-Van)
The simple blade structure is important here. As is the relatively thick spine, flat grind, and the fact that it's cooked to 56-58 HRC. It's right in the gold standard of hardness, and even though it might not be the sharpest out there, it can accomplish most tasks by virtue of its well-made handle and overall weight.
Ontario Knife Company Dozier Arrow Liner (D2)
It borders on a stainless steel which is what makes D2 a good tactical element. It's still tough and it can weather some moisture.
Stainless Steel Tactical Knives
Almost all tactical knives are stainless steel. I suspect that's partly because they tend to be softer (and therefore tougher) and can get run through the elements without rusting as easily.
This is where we need to step back hard from the trend of making stainless steel as hard as possible, though. Bohler M390 usually gets cooked to 60 HRC or above, so unless the blade has a flat grind and a perfect heat treatment you run a high risk of chipping. This is where budget steels like 420HC and 8Cr13MoV actually start to shine because they take nice edges, are easy to fix up, and if the worst happens, the knife is usually pretty cheap to replace.
Gerber Strongarm (420HC)
We mentioned this knife earlier, but it is such a great tactical knife we felt it deserved another listing in this article. Gerber makes a good 420HC steel which is pretty important here, and it usually sits around 56 HRC. The StrongArm's versatility allows it to excel as a tactical or survival knife which is one reasons it is so popular.
Browning Battle Bowie (8Cr13MoV)
A lot of people turn their nose up at the soft Chinese steels, but the Battle Bowie is one of the few blades I've had that can slice through a free-hanging rope. That sharp edge from the relative softness is a huge factor.
Size and Environment
Where will you be carrying this? Because if it's in city limits in a state where open carry isn't allowed, you're probably looking for a 3-inch pocket knife.
What will you be using it for? Tactical doesn't just mean fighting. It can mean smashing windows to get in or out of a wrecked car. It could be slashing away branches or a rope that got tangled around your leg while rock climbing. It's about handling emergencies, so you have to consider what's most likely to come up in the places you're walking around in every day. If you need to cut through a jungle, which is more in the realm of survival knives, you'll need a pretty long blade. If you live in an urban area, though, maybe nothing above a 4-inch blade is allowed no matter what you're afraid might come up. But let's take this piece by piece:
Let's say for the sake of simplicity that a small knife is under 4 inches and a big knife is over 4 inches.
Also, if you're not sure what the knife laws are in your state, here's a handy state knife law resource from the American Knife & Tool Institute.
Small Urban Knives
It's safe to say this is the biggest concern for most people looking for a tactical knife. You need something tough and reliable, but you're walking around in situations where a big knife will either make you look like a crazy person, or it will get your knife confiscated by law enforcement. That gives you limited options that can become even more limited depending on how your local law feels about concealed knives, so this is likely a choice between a very good pocket knife or a neck knife: mostly stuff that excels at slicing and poking.
Folding Options: Spyderco Paramilitary 2, Kershaw Emerson CQC-7K
Fixed Blade Options: Cold Steel Mini Tac, Gerber Ghostrike, Ka-Bar TDI Law Enforcement, Cold Steel Urban Edge,
Big Urban Knives
Not much chance of concealing here, so discussing a big urban-carry knife assumes you live in an open-carry state (lookin' at you, Texans). That's great. All you need to be concerned about is how easy it carries and how quickly you can get to it. The sky's the limit, but if you'll be carrying this everyday you probably just want something simple that rides easy on the belt (which usually means a horizontal carry knife).
If you don't live in an open carry area but still want a big knife, there are still options, believe it or not. But mostly you're probably looking for something that's fast to deploy, good on the cut, and either fits in the pocket or doesn't look stupid to wear in the open.
Folding Options: Cold Steel Voyager, Fox Knives Anunnaki Folder
Fixed-blade Options: Ka-Bar Mark II, Cold Steel SRK Search and Rescue
Small Country Knives
The countryside presents a lot of different challenges from getting caught in barbed wire to hacking at wood to coming up on territorial wildlife. Fortunately concealing isn't an issue here, so the options open up a lot. Most likely the types of knives you'd be looking for are those excelling at chopping, poking, and just all around toughness.
Folding Options: Ruger CRKT 2-Stage Compact, Ontario Rat 2, Ka-Bar Dozier
Fixed-Blade Options: Ontario OKC Rat 3, Bradford Knives Guardian 3, Outdoor Edge Le Duck
Big Country Knives
At this point, you can probably just carry a machete, but something that big can get unwieldy pretty fast. But being in the country also assumes that your tactical use could cover a lot of creative ground from trail clearing to fending off upset bears (which, by the way, would be a really unfortunate use for a knife). So hacking and swinging seem like the most likely things you need your knife to be good at. That means you're either looking at a machete or a bowie that feels good on the hike.
Folding Options: Cold Steel Voyager XL, Fox Knives Tracker Meswaki
Fixed Blade Options: Browning Battle Bowie, Ka-Bar Becker BK-7, Gerber StrongArm, Buck GCK.
Lock Mechanisms
If you need to go with a folding tactical knife, then the locking mechanism becomes a very big concern. There's really no such thing as a good tactical lock up. No matter how well it's made, the moving part of your knife is going to be its weakest point, and it's exactly the part that keeps the blade from slamming shut on your fingers.
The good thing is every company is constantly drawing up new designs for knife lock ups, and those designs are mostly making the knives safer. It used to be you only had three options: a liner lock, a frame lock, and a back lock. Now the options are a little more complicated to get into.
Besides the strength of the lock, though, you need to think of where the release for the lock is in relation to your hand when you have a full tight grip on the handle:
Liner/Frame lock: Release mechanism is inside the handle. Lock strength is low to medium; Low chance of an accidental release.
Back lock: Release mechanism is on the back. Lock strength is high; chance of an accident is medium to high depending on whether they've placed the release at the bottom or middle of the handle.
Compression lock: Release mechanism on the back near the top of the hand. Lock strength is high; Chance of an accident is moderate.
Axis Lock (aka a slide lock): Release mechanism is a pin at the top of the handle. Lock Strength is high; chance of an accident is fairly low.
Slip Joint: Release mechanism is your hand pushing the blade away from a tension bar pressing on the back. Lock strength is extremely low; chance of an accident is very high.
There are several other types of locks (and more coming out every year), but you get the idea. Always looks at where the lock is released on the handle and test it to see how close you can come to triggering the release in a full grip. Remember that if you plan on putting a knife under heavy use, you'll be swinging and moving a lot with heavy impact. The last thing you want when you're trying to cut a seat belt off yourself or fending something off is for the blade to collapse.