A Big Bushcrafter with a Perfect Scandi Grind
The Ridgeback is a big knife that feels and moves like a big knife, but it cuts and carves fluidly, chops brutally, and, oddly enough, carries on the belt politely.
Before I run out of adverbs, I should address the fact that we received this knife for free from Off Grid. We do a lot of things with Off Grid like this, and we have had suspiciously few bad things to say about them. That will be even worse with the Ridgeback.
I've been having a hell of a time trying to find large concerns to criticize in this knife to keep this review from sounding like an infomercial. The problem is that bushcraft and survival knives are simple by nature. So long as the handle is comfortable and the steel has been heat treated properly with a halfway decent grind I'm happy. But this particular knife has a scandi grind with big, grippy Micarta scales, and a steel that I'm growing increasingly fond of.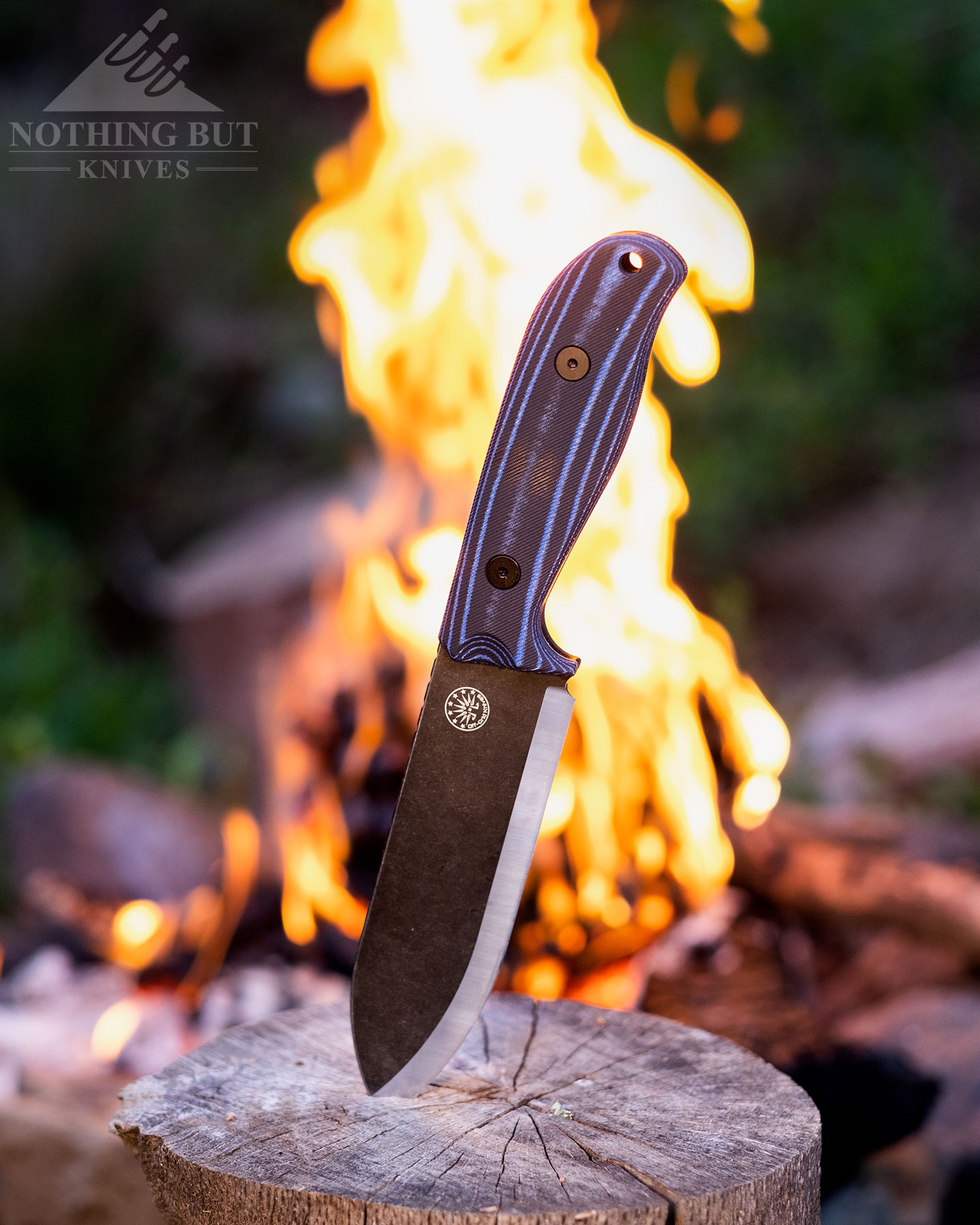 It isn't just that the Ridgeback is a good bushcraft knife. It meets and exceeds all the standards I have for a bushcraft knife (outside the fact that it only throws spark off the sharpening choil, but that's something for a later discussion). I'll pick at a few small issues, but overall, this really could be the last fixed blade you ever need.
Specifications
| | |
| --- | --- |
| Overall Length: | 9.7" |
| Blade Length: | 5.2" |
| Blade Steel: | Sandvik 14C28N |
| Blade Thickness: | 3.8 mm |
| Blade Shape: | Spear point |
| Blade Grind: | Scandi |
| Blade Hardness: | 61 HRc |
| Handle Length: | 4.5" |
| Handle Material: | Micarta |
| Sheath: | Kydex |
| Weight: | 10 oz (14 oz w/ sheath) |
| Made in: | Taiwan |
Pros
Chopping beast
Great for wood carving and general bushcraft
Comfy handle with secure grip and versatile ergos
Tough steel in a tough grind
Somehow obscenely sharp
Cons
Sheath retention is a little snug
A big knife with a fat handle means a lot of weight
A little tricky to get sparks on a ferro rod
A Big, Cool, Comfy Handle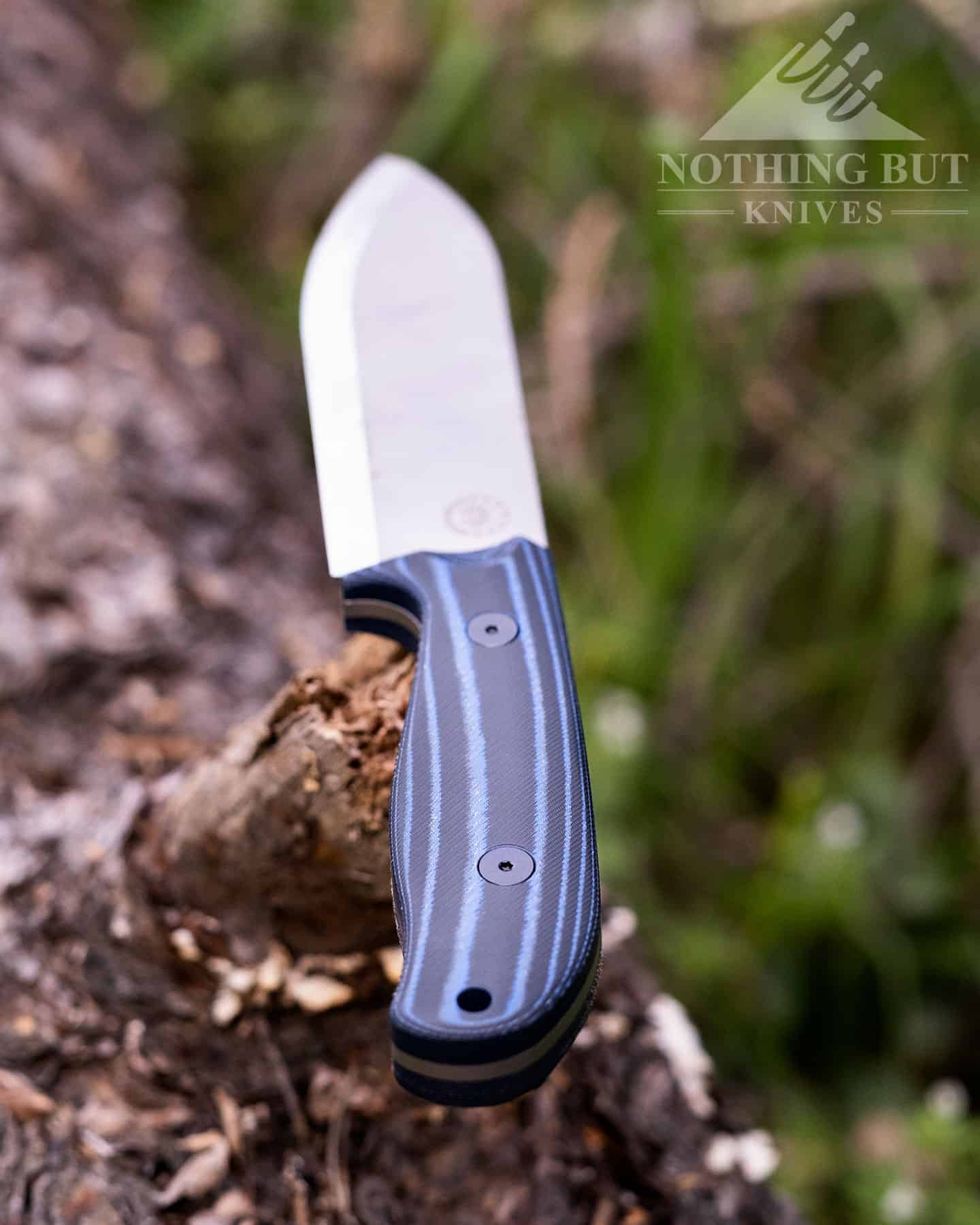 I like a lot of choices with this handle, including the dark blue coloring. It seems like a silly thing to gush about, but a lot of survival and bushcraft knives tend to have natural coloring that turns into expensive camouflage the second I drop it any nature that is remotely gray or brown or green (which is all of it in my neck of the woods), or it's a garish neon orange meant to be visible in nature, but remains violently visible everywhere I go to the point that I just don't want to carry it in the first place.
But this handle has a nice dark blue that still looks kind of natural in a way that doesn't make it chameleon into a bramble bush the second it slips from my hand.
Good Ergos for All Occasions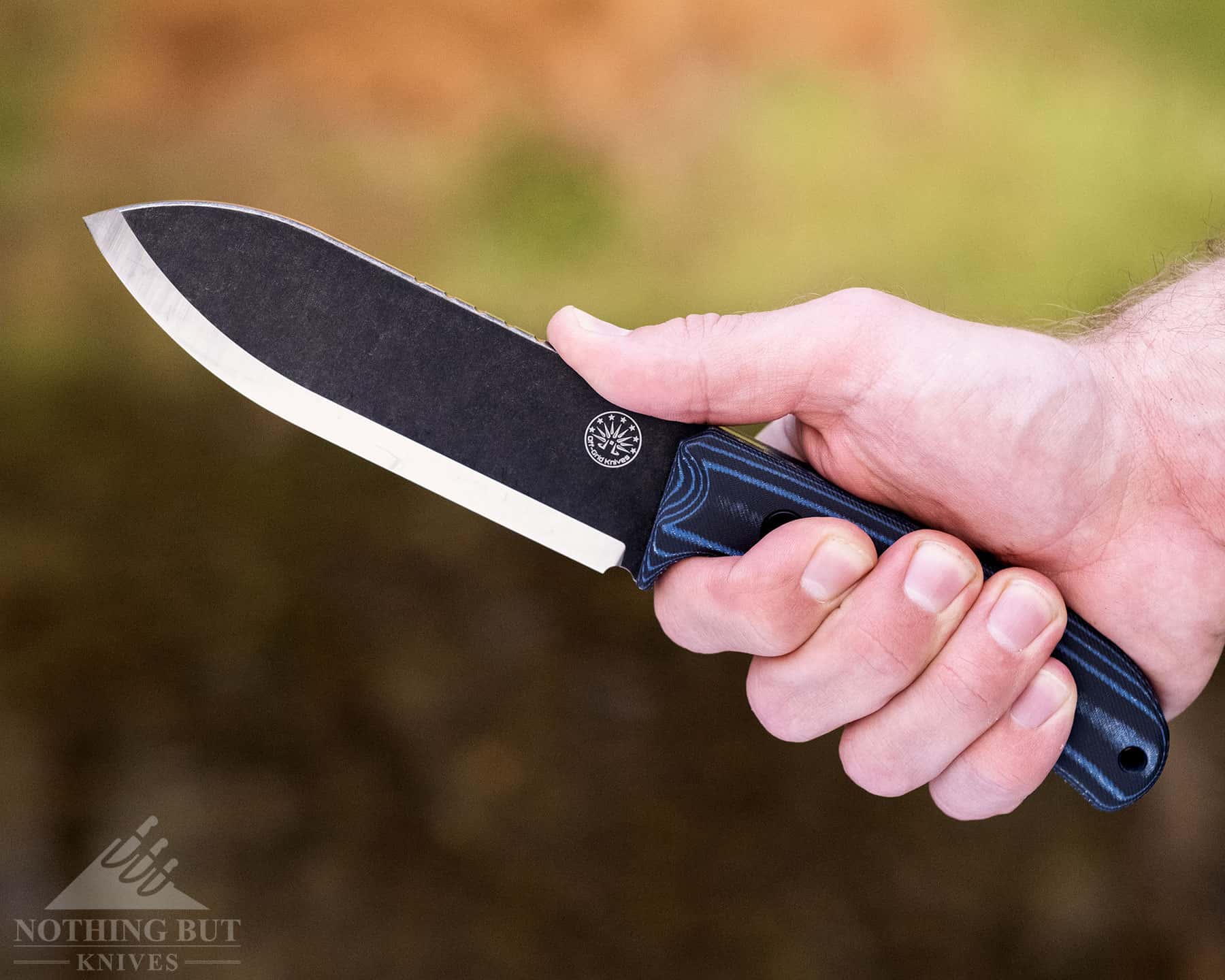 There are good, practical elements of this handle too, though. The slight inward angle, the little thumb ramps to make slicing cuts more comfortable (and this thing can definitely slice), the Micarta has a good fabric texture that's easy to grip onto without feeling too dry.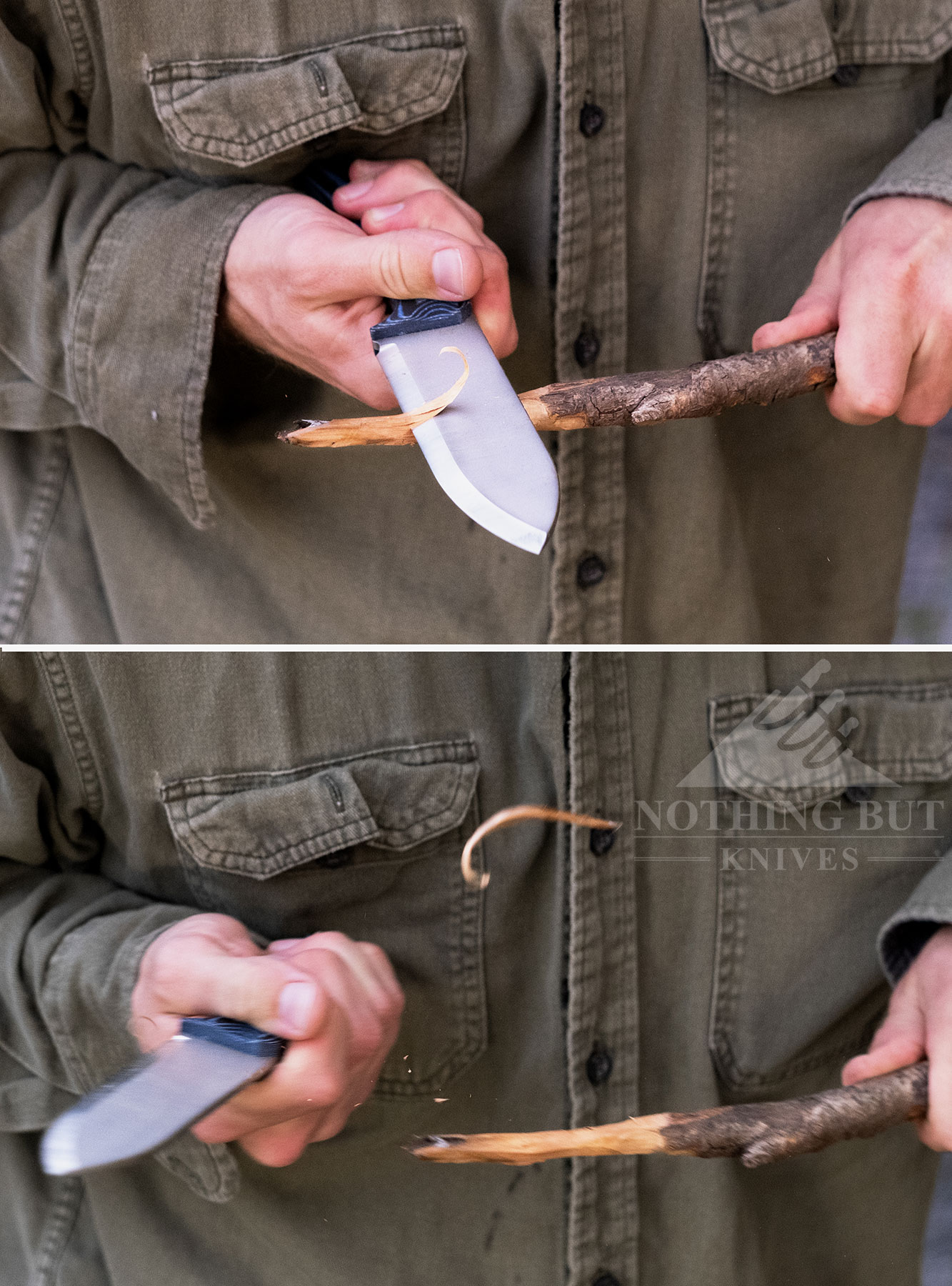 The shaping of it also provides a strong grip in the reverse position. Chest levers especially feel great with the Ridgeback.
The guard and big swoop beneath it create a fantastic finger groove. It feels incredibly secure and just all around pleasant to hold. Even the slight angle of the top of the handle on this knife is conducive to pinch grip in a way that I'm not used to seeing outside of kitchen cutlery.
On Hiking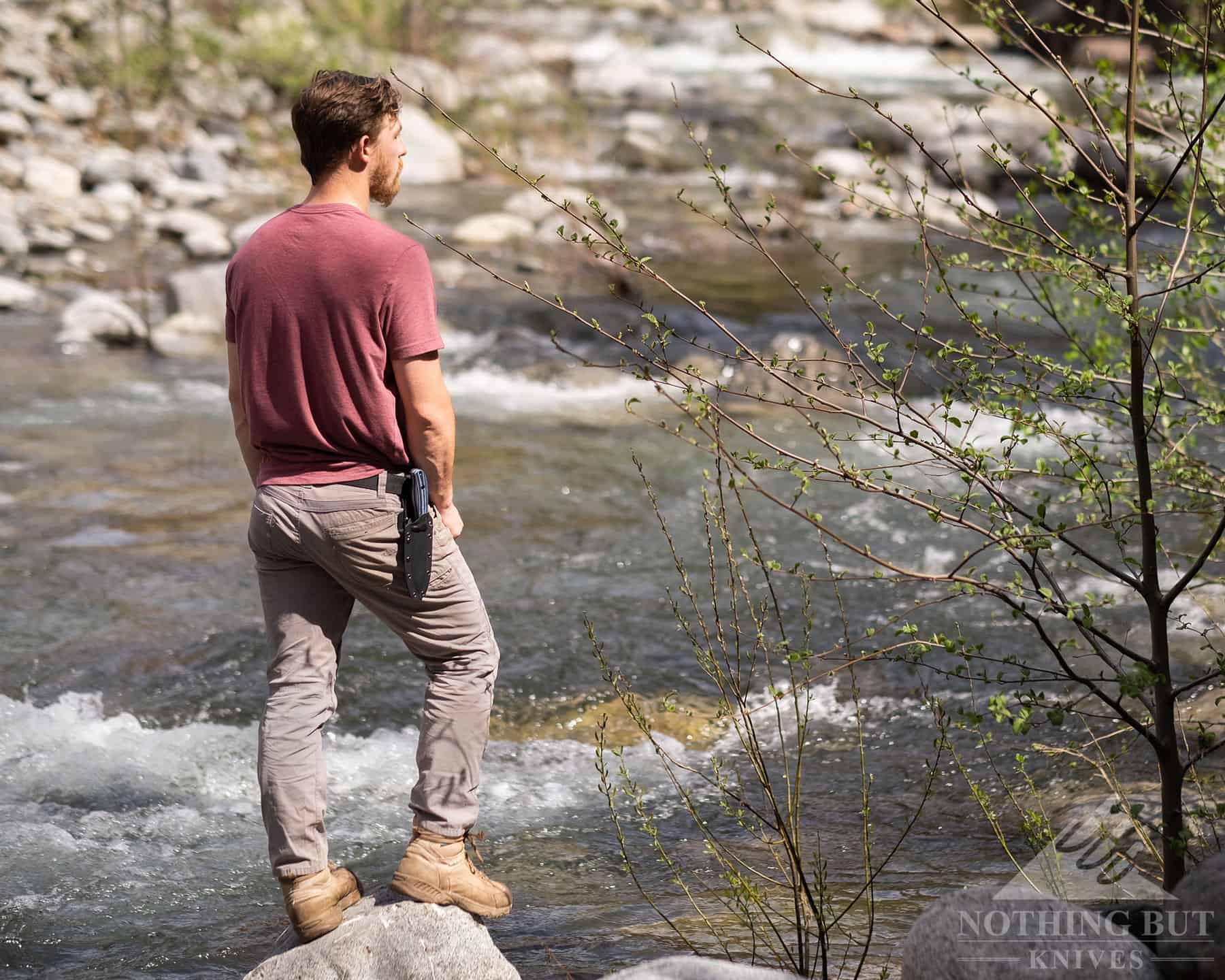 Hiking activity doesn't exactly fit into the handle category, but the sheath extension seems to be a magic bullet for a lot of carrying problems. For the Ridgeback, at least, it keeps the knife sitting at a comfortable height for me to draw without too much trouble (putting the tight sheath retention aside). And I didn't feel it slamming against my leg as I was hiking, which, for a knife with this weight, would have been a bruising experience.
Off Grid Likes Fat Handles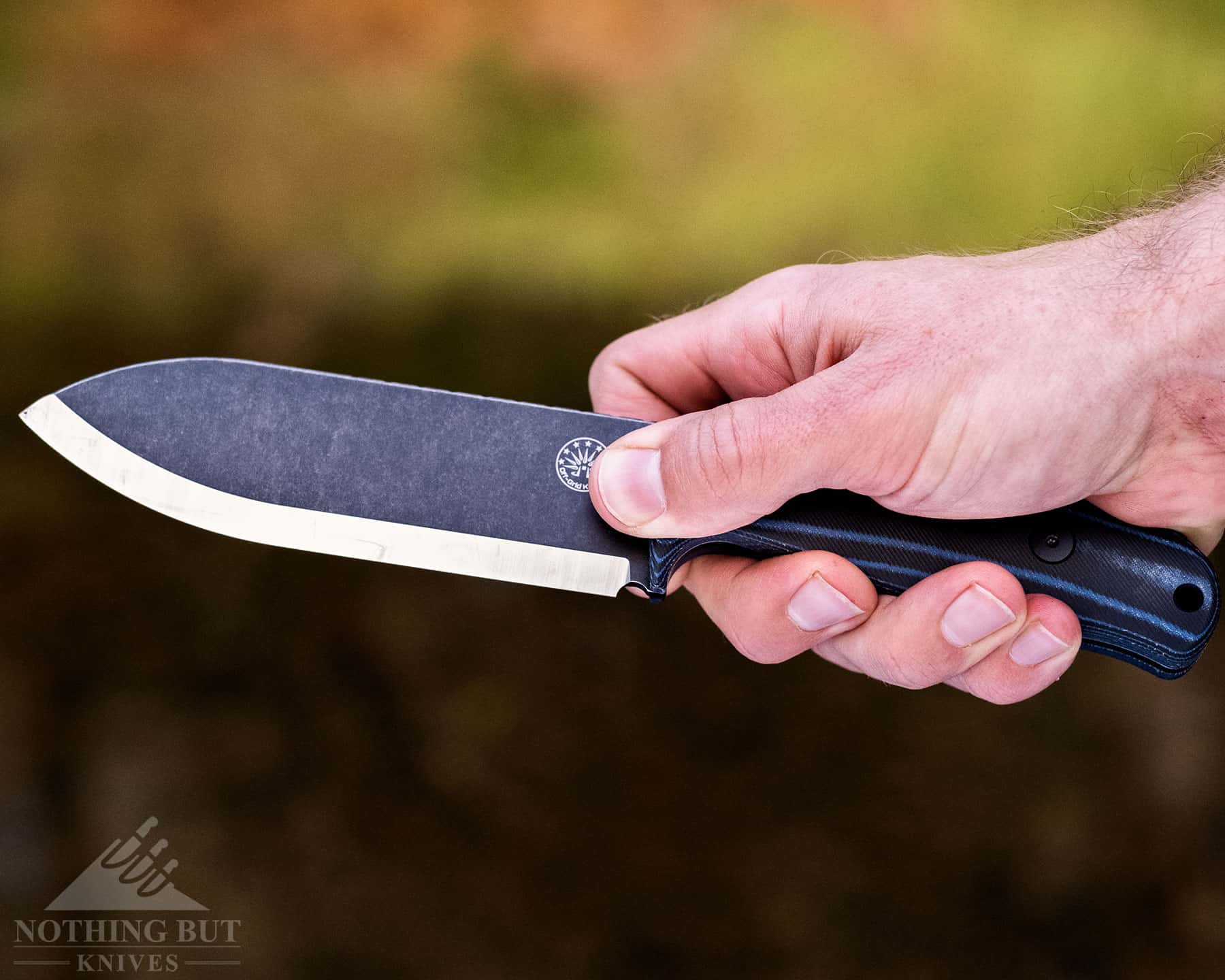 I think the only thing I'm not crazy about is how thick the handle is. But I realized a while ago that thick handles are very much an Off Grid hallmark that other people seem to love.
The corners of the handle can also feel a little biting sometimes, but I don't think I'd want to change that. As it stands I feel like I have a lot of control over the blade when I'm cutting and chopping, and at least some of that is thanks to the way the corners of the handle keep the knife from turning in my hand.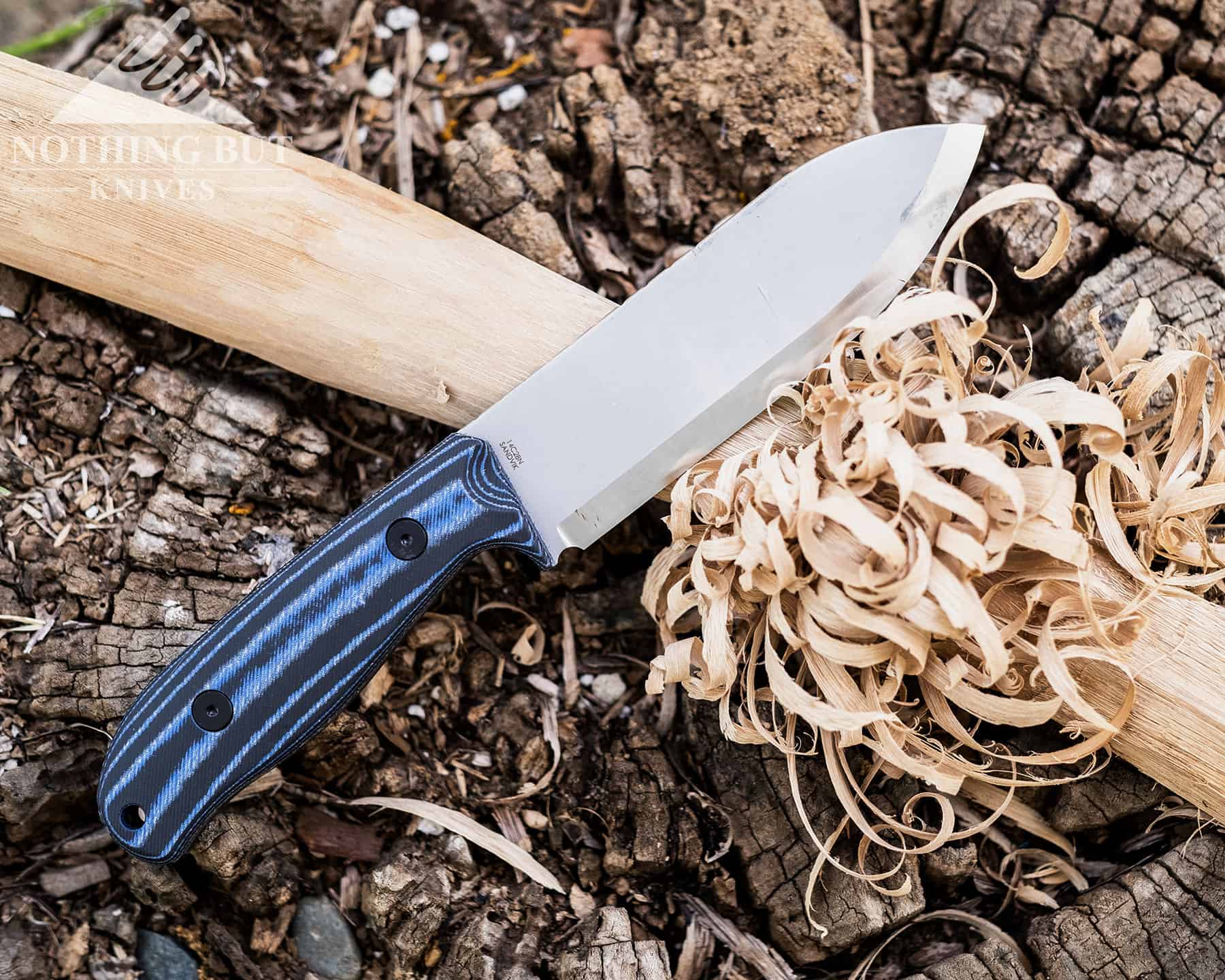 This becomes especially useful when doing things like making feather sticks because it helps control the size of the curls. It's really easy to adjust your grip as your going down a stick with just a little movement. It's a lot more pleasant compared to oval handles like what's on the Condor Swamp Romper that you basically have to hold in a motorcycle grip to control the feather sizes.
The Name and the Jimping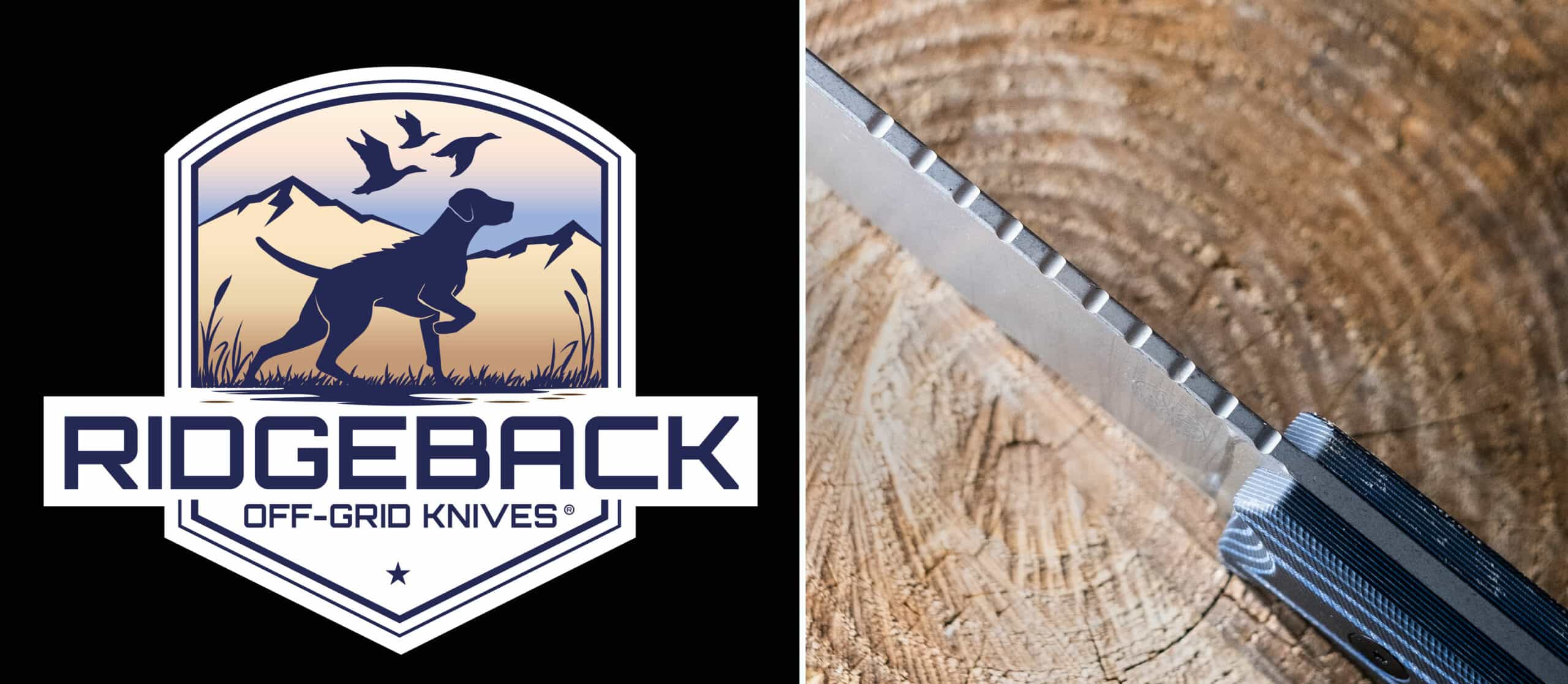 This knife is named after the South African hunting dog, and made with an agreeable jimping on thespine to emulate the ruffled nature of the dog's back, which is all pretty cool to me.
It's a pretty subtle feature to name a one-pound, ten-inch bushcraft knife after, though. For both the sake of the name and the ergos of the knife, I feel like the spine could stand to be a little more aggressive. This is a hyper-nitpicking critique here, because the texture on the spine is actually in a good compromising spot that gives my thumb a little purchase without biting into it. But if I let myself talk about small degrees of change (and I'm grasping for genuine critique here, so I will allow it), the jimping could stand to be just a little more pronounced, because my thumb does start slipping a little under high pressure.
Thick Blade, Thick Grind, Sharp Edge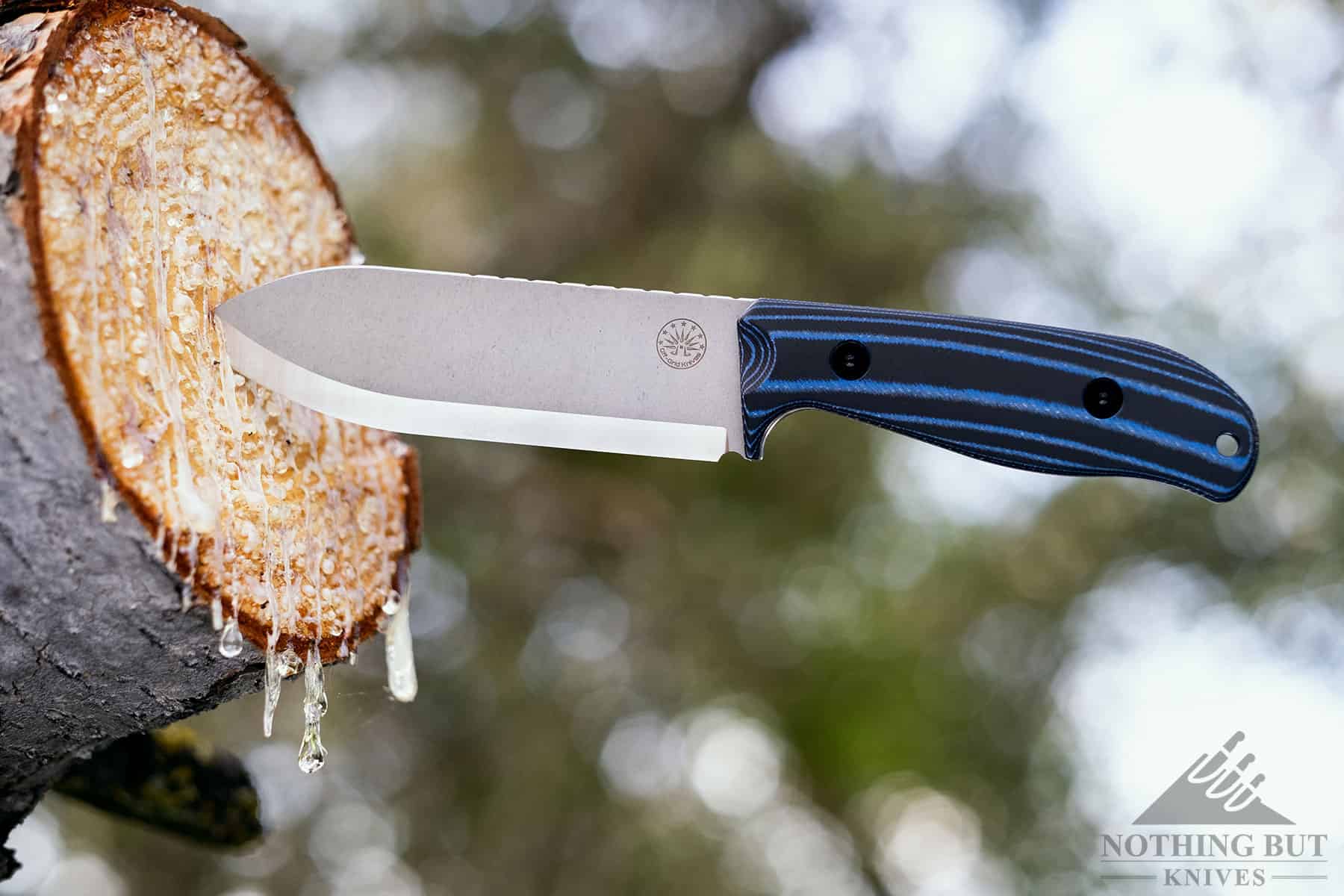 I've stopped being surprised by the edges on Off Grid knives. I've been surprised too many times. They're always perfect, and definitely always cut better on their fat knives that it seems reasonable for any fat knife to cut.
This thing is super smooth cutting through paper out of the box, and even after doing a little bit of chopping and carving (a little bit).
It took a couple boxes on top of the first bit of bushcrafting we did to get the edge to feel rough on paper. Which is not to say that it felt rough in actual, practical use. I basically just used it on things until I felt a hiccup during a cut.
This thing got scary sharp after a short round on a honing rod and a strop. Now by scary, I don't just mean because the edge was terrifyingly sharp. There are sharper knives in the world (although not many with this thickness). What's scary is I got this thing to cut almost like a kitchen knife, but it has the heft and durability of a survival knife.
Blade Shapes and Scandi Grinds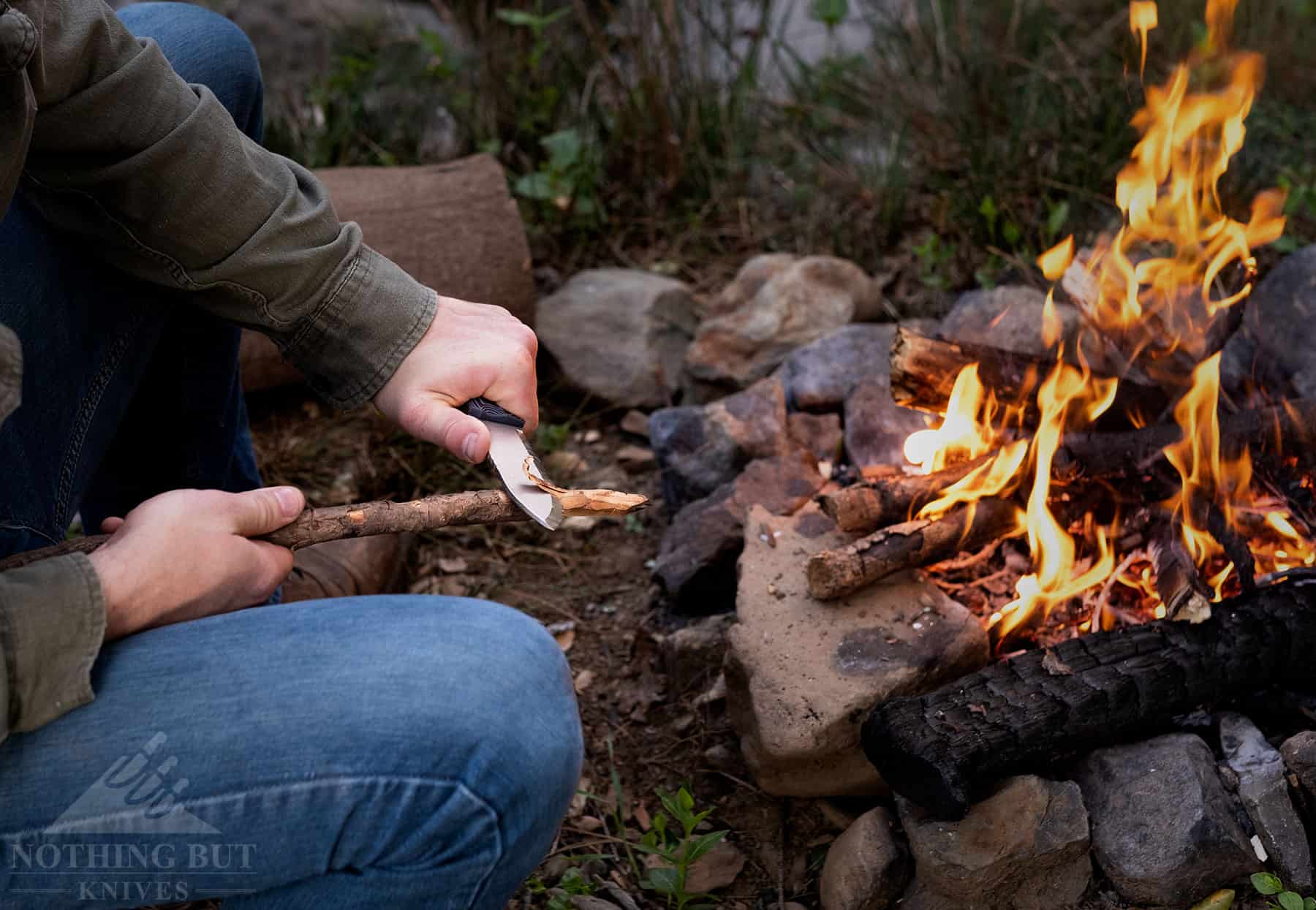 A super sharp scandi grind is a beautiful thing for long-term camping and hunting trips, especially with the kind of edge stability the Ridgeback has.
This came out of the box with a very toothy edge. It does wonders with wood, whether it's carving, chopping, or feathersticking. Basically it performed the way a scandi grind should. Actually it performed better than that, because normally it's harder to get thin curls off wood to make a feather stick than a flat or convex grind, but the Ridgeback were got some great tinder off this after a little trial and error. That's mostly due to the handle shape providing so much easy control, but the sharp edge and wide grind round the whole experience out.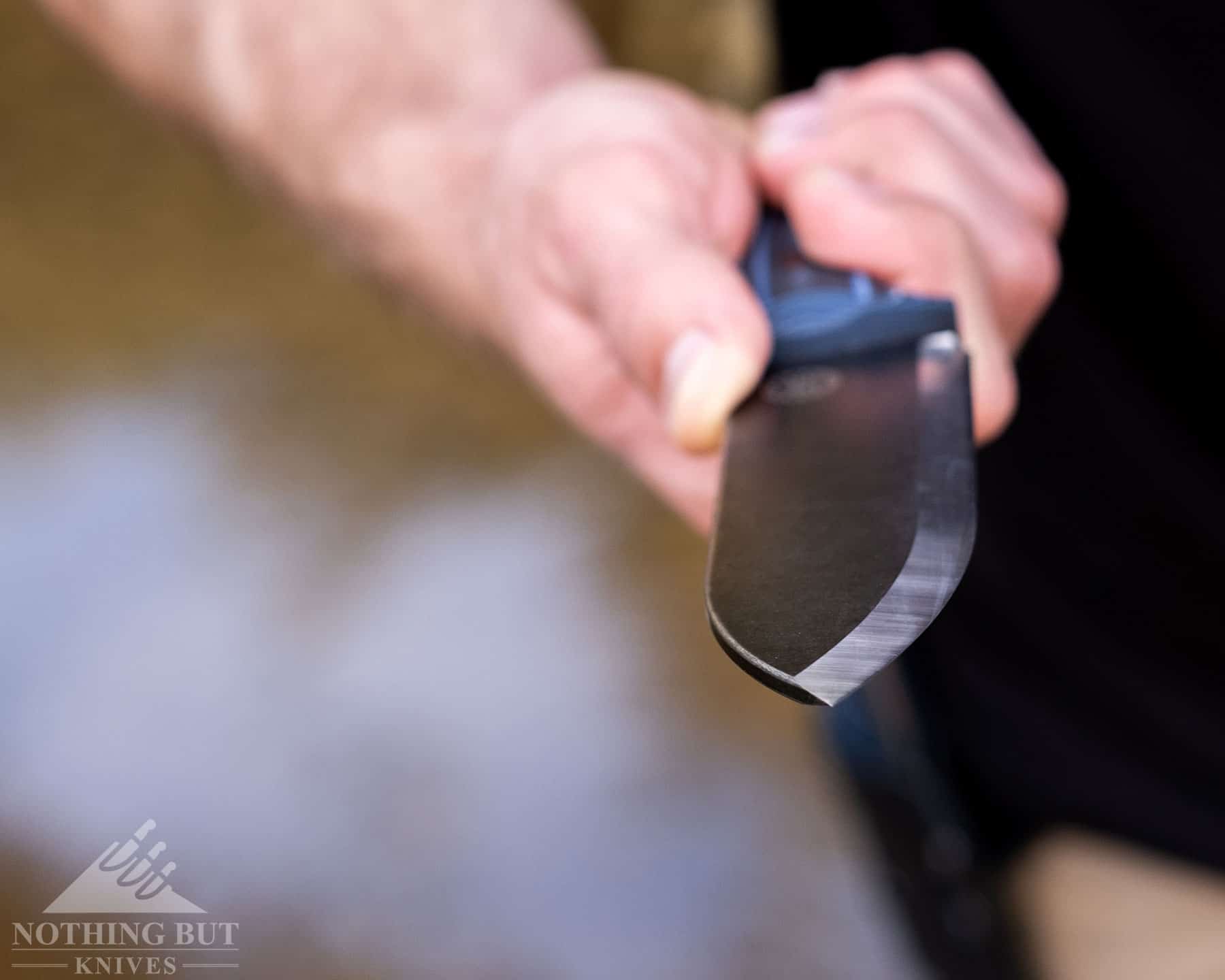 The shape of the blade threw me off at first, because I was sure it was a spear point, then less sure the more I looked at it. It's kind of hard to gauge with the naked eye because of how prominently the primary edge shows up (especially on the Blackout version).
After a while it seemed almost sheepsfoot-ish to me because it seems like the point is actually going downward, but the edge isn't flat enough to fit that category. Off Grid lists this as a spear point, and I'm not here to argue against that, but my slipshod measuring showed the tip of the blade falling about a quarter inch below the centerline, and the tip is mostly facing forward, so I'm tempted to call this is a modified spear point.
I don't think that has much in a way of a noticeable difference in actually using the knife (and certainly not for most of the tasks it was designed for), but it is an interesting little detail for hyperfocused jack asses like me to zero in on when they're desperately trying to pad on content that isn't just unhinged praise.
The Fire Starting Sharpening Choil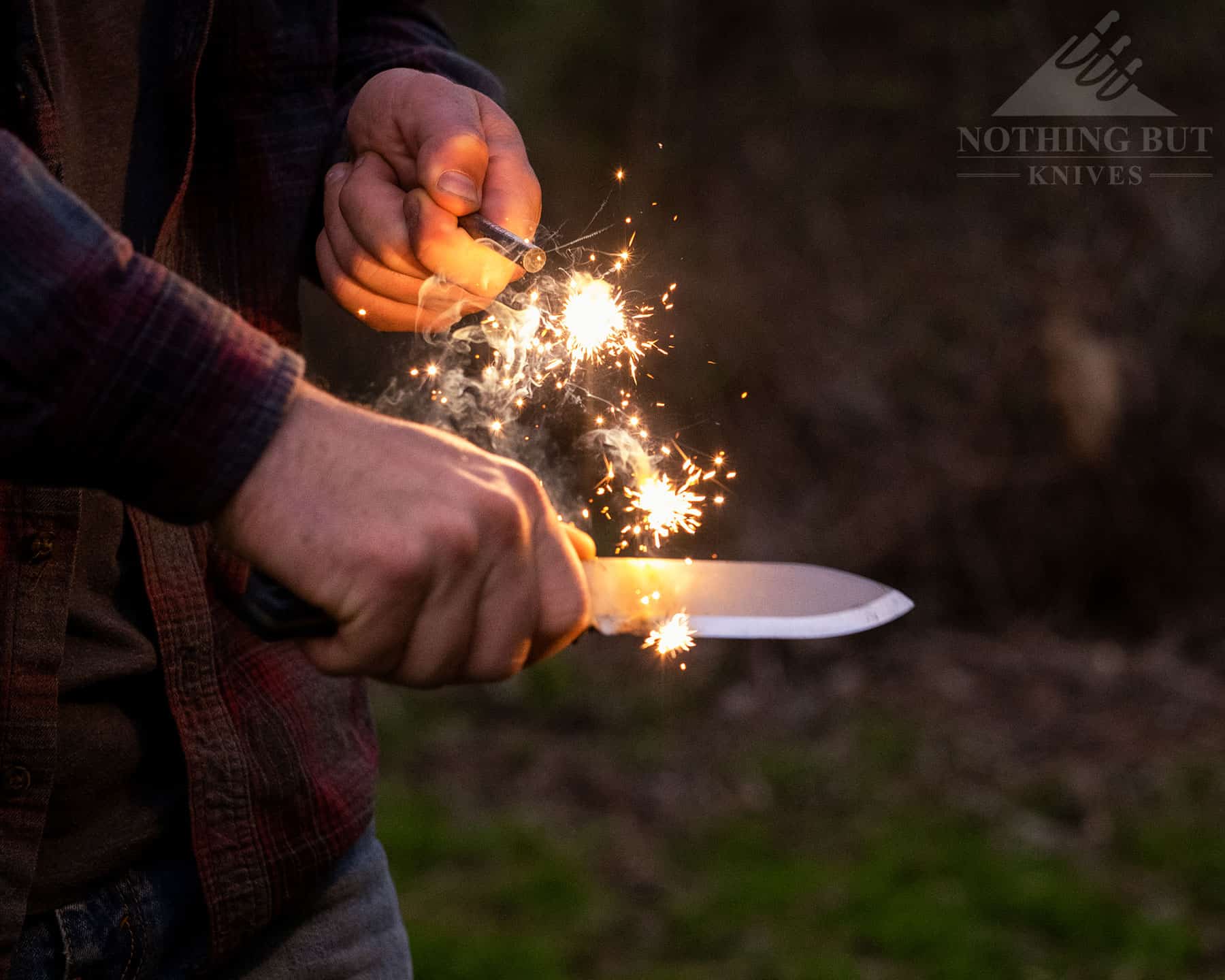 It took us a while to realize we could use the sharpening choil to get sparks off a ferro rod. The spine is crowned, so we knew there was no hope of any steel catching there, and I don't really like using the front of a knife for that kind of thing. It just feels like asking for trouble, both for the edge and my hand.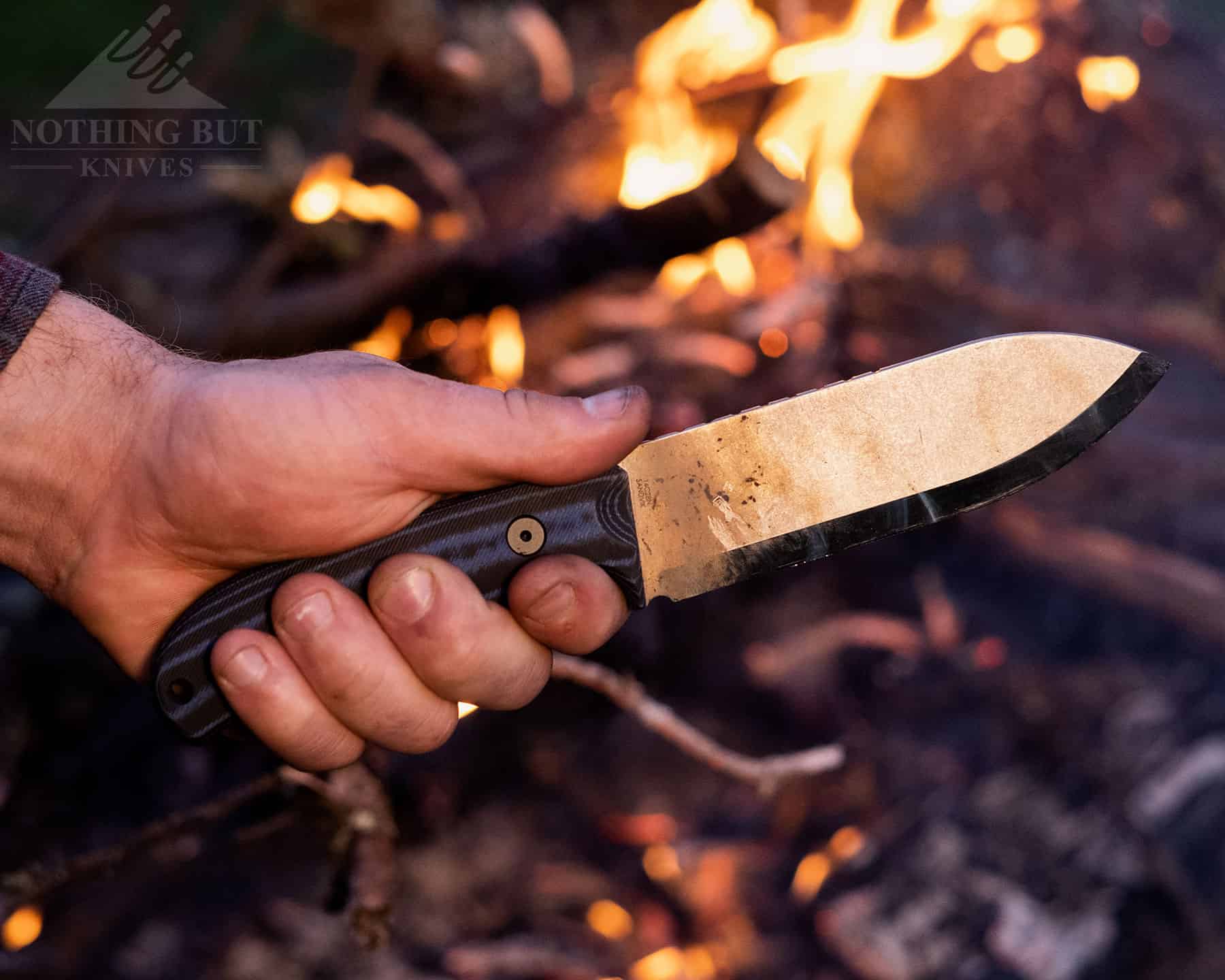 But eventually we started playing around and tried a rod on the choil a couple of times. Once we found the angle, it turned out to be super effective for lighting feather sticks. There's a small section of 90 degree angle in there, but the plunge line of the grind also comes to a more aggressive corner that can catch fire steels and create a nice shower of sparks.
It takes some adaptation, and it's not an ideal spot to me, but you absolutely can use the Ridgeback to start a fire.
Chopping and Fun with Pinecones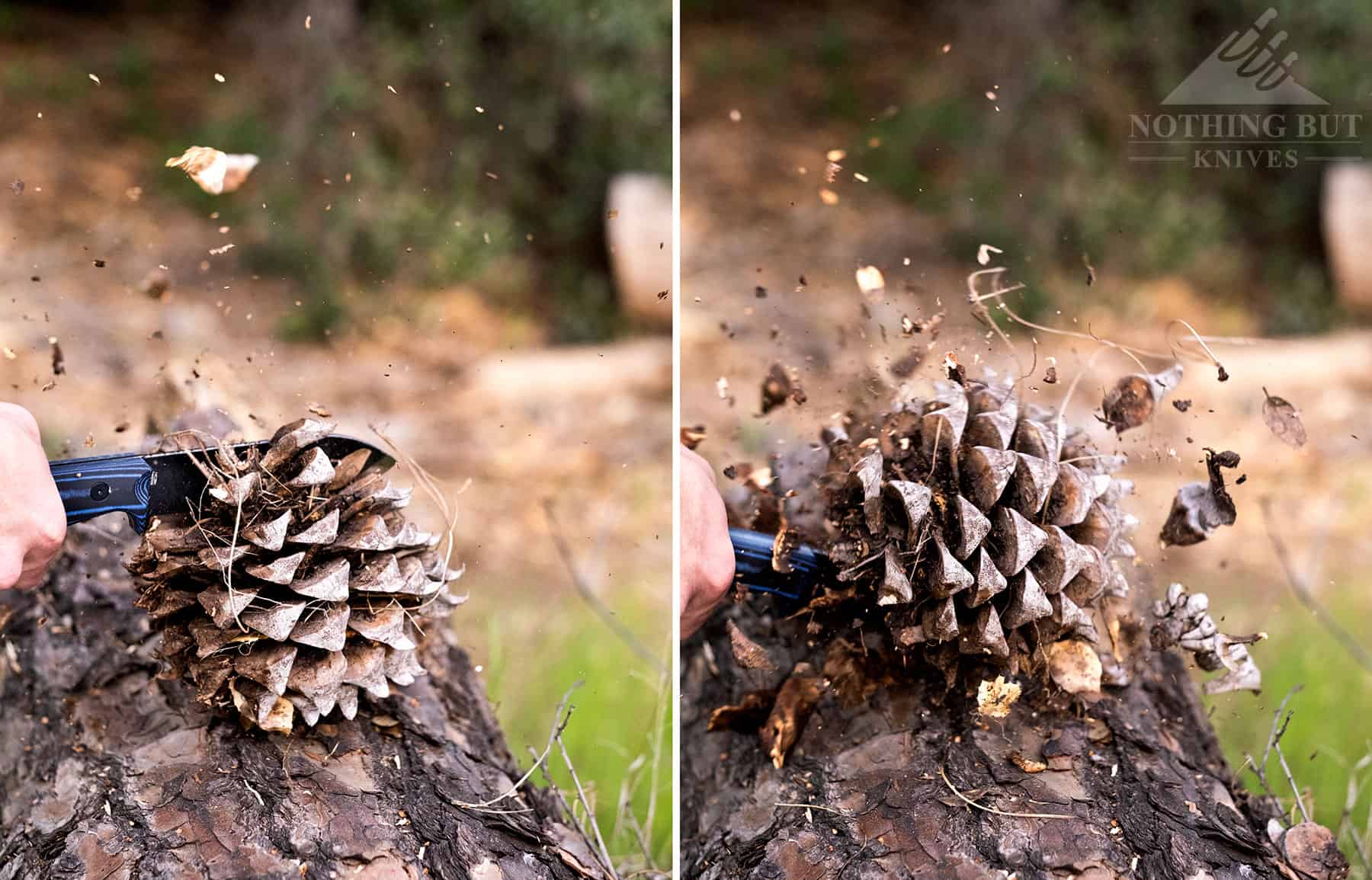 I could chop for days with this thing. The scandi grind on this takes chunks out of tree branches, and the handle is so easy to hang onto that I can hold it pretty easily from the bottom.
We tested that out pretty thoroughly when we decided to play around with some pinecones. Now, chopping a pinecone with a knife is a little bit like trying to limbo under razor wire (I assume) in that if you flinch or overreach your mark, you're probably going to lose a fair amount of skin. The trick is to get your hand as far down the handle as you can manage, center yourself on the cone, and make sure that it's just at the edge of your reach.
The second and third parts are an issue of personal growth, but the first needs the knife to be designed well. So when I say the Ridgeback is great for chopping pinecones, I know it sounds like I'm making a joke, but it's actually an enormous compliment about the contouring and grippiness of the handle.
Food Experiments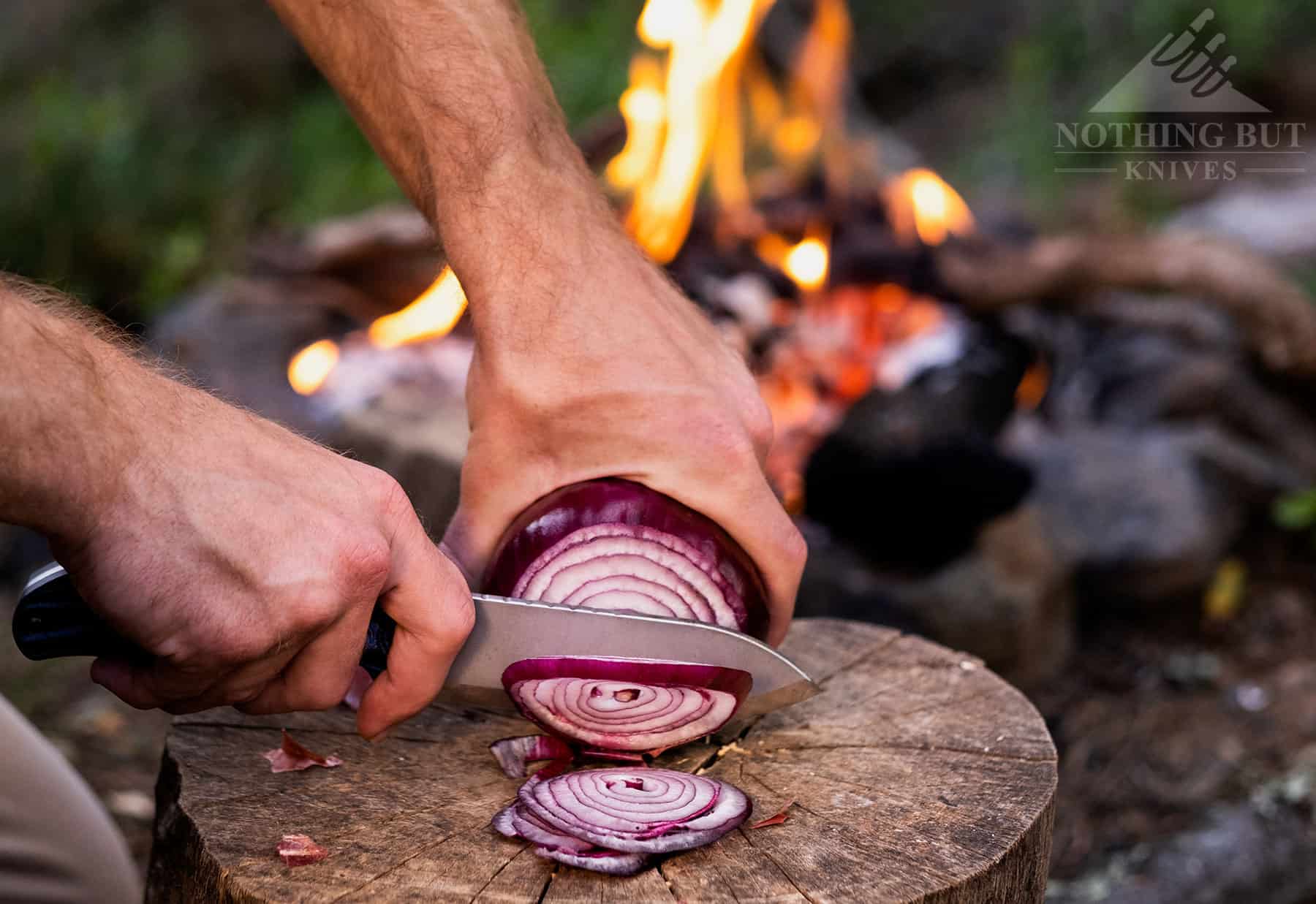 I cut some slices off an onion with this just to experiment, and it was actually pretty nice. It wasn't nice compared to a kitchen knife or most any thinner outdoor knife with a full flat grind, but the Ridgeback came so sharp, and it's so easy to maneuver the knife to control the cut that I managed to get some respectably thin slices that I wouldn't hate throwing into a campfire stir fry.
This wouldn't be my first choice for food prep by any means (certainly not when I have so many other options available), but it's a good commentary on just how good the edge geometry is on this, and how nicely that plays with the handle ergonomics.
Fit, Finish, and Overseas Factories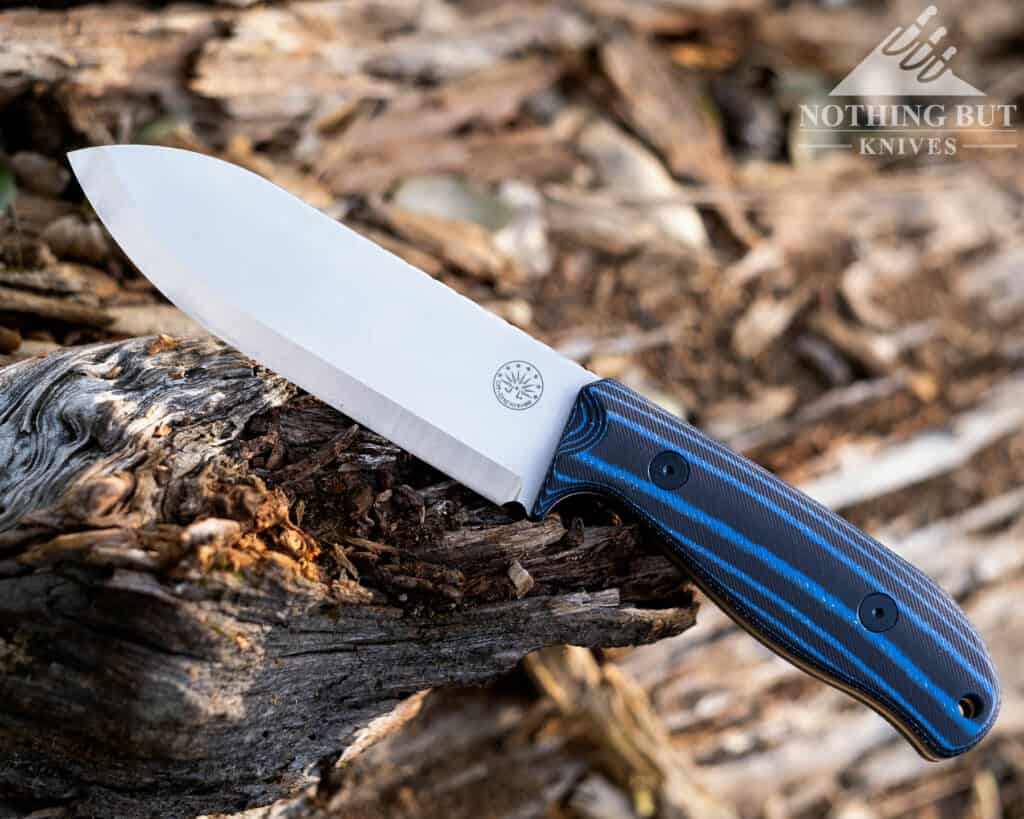 When I hear people complain about "overseas manufacturing" I point them at companies like Off Grid. I rarely see this level of quality control and design ingenuity from any company unless they're big hitters like Spyderco or Cold Steel who have the resources and name recognition to eat the cost of mistakes and experiments here and there. Off Grid has impressed me more consistently with all their Taiwan and Chinese-made knives than over half the bigger brands I write about, including the old hats like Buck and Case.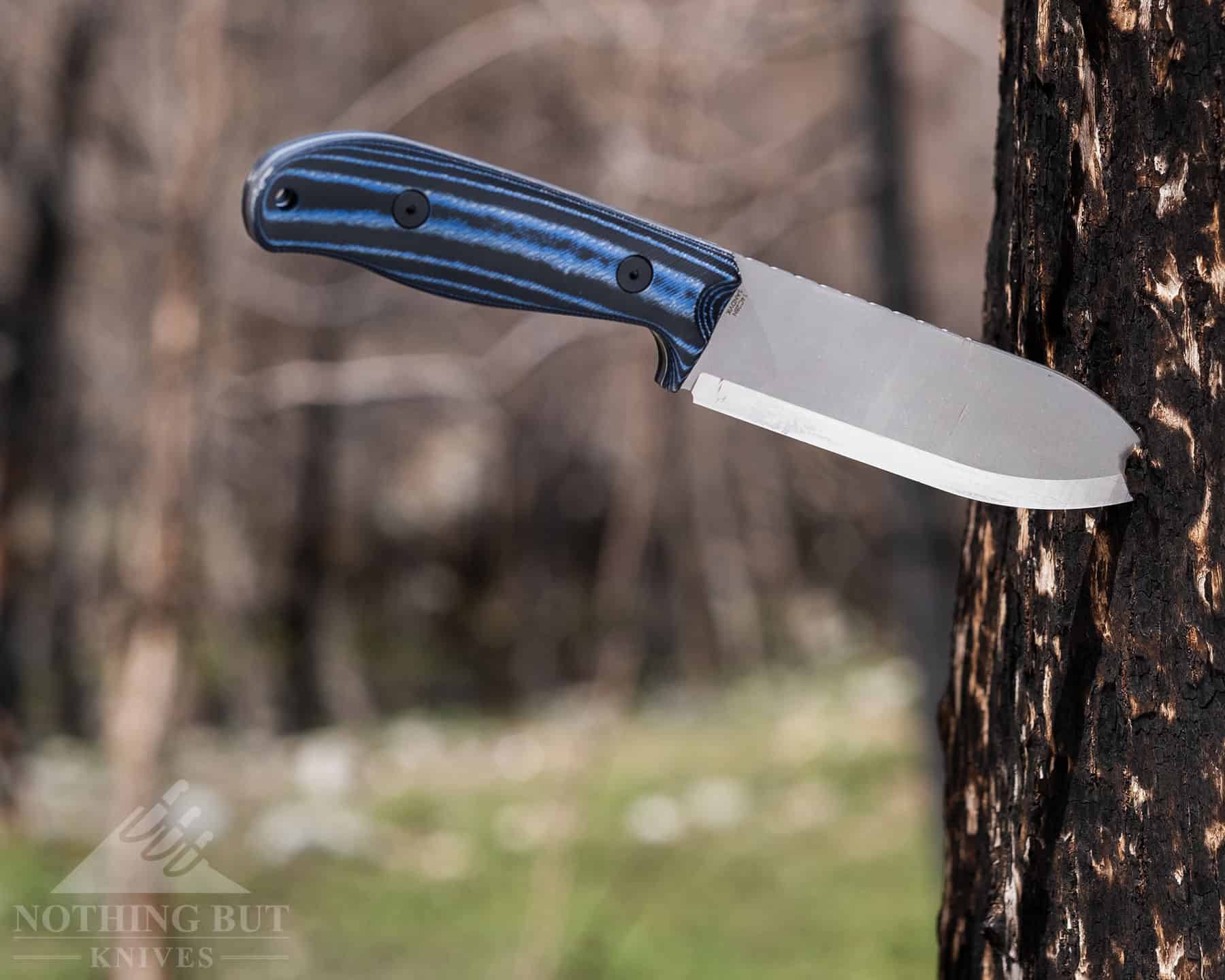 I don't say this to call out bigger companies (although God knows I'd like to see more effort from Gerber), but to put credit where it's due: The Ridgeback is a wonder of edge geometry, durability, and hard-use ergonomics, but it isn't an outlier. Almost every Off Grid knife I've tested has surprised me, and punched above its weight in terms of comparison.
They make their stuff overseas, but they picked their OEMs carefully, and as far as I can tell they've been maintaining strict quality control on everything coming out of those factories. I'm all for people keeping to a USA-made consumer diet, but there's a right way to do overseas production, and Off Grid seems to be doing it.
Price and Comparison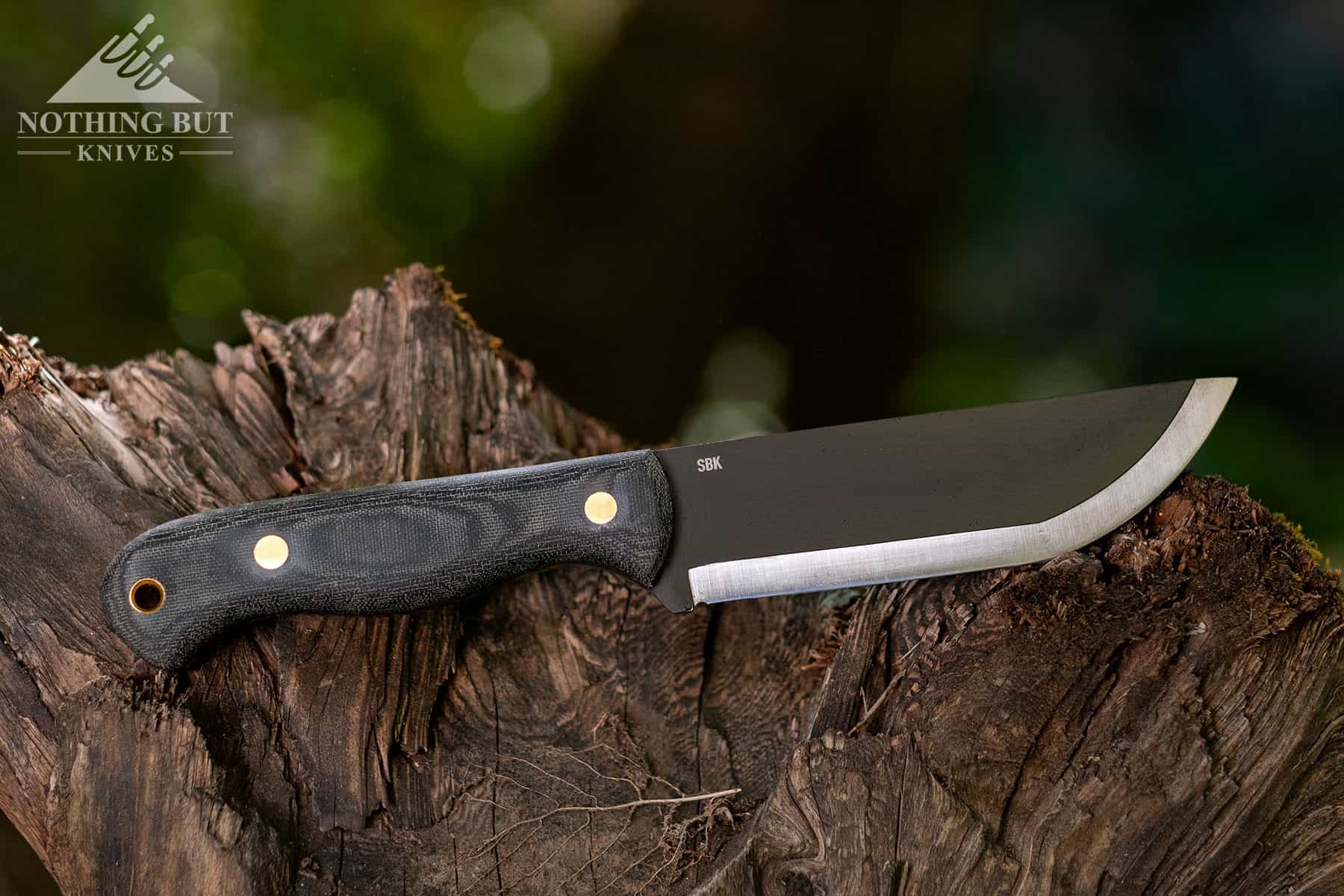 There is no shortage of knives in a similar size and price range to compete with. But it's doing pretty well for itself at $90-ish.
The best knife we have to put this next to is the Condor SBK. It has the same scandi grind and it's pretty similar in weight. But the blade is in a standard shape and made with 1075 carbon steel, which might be more familiar territory for some people. Personally I prefer 14C28N, but Condor's carbon steel treatment is pretty formidable. Plus, the Condor knife comes with a Julio Diez sheath, which is almost worth the higher price tag all on its own.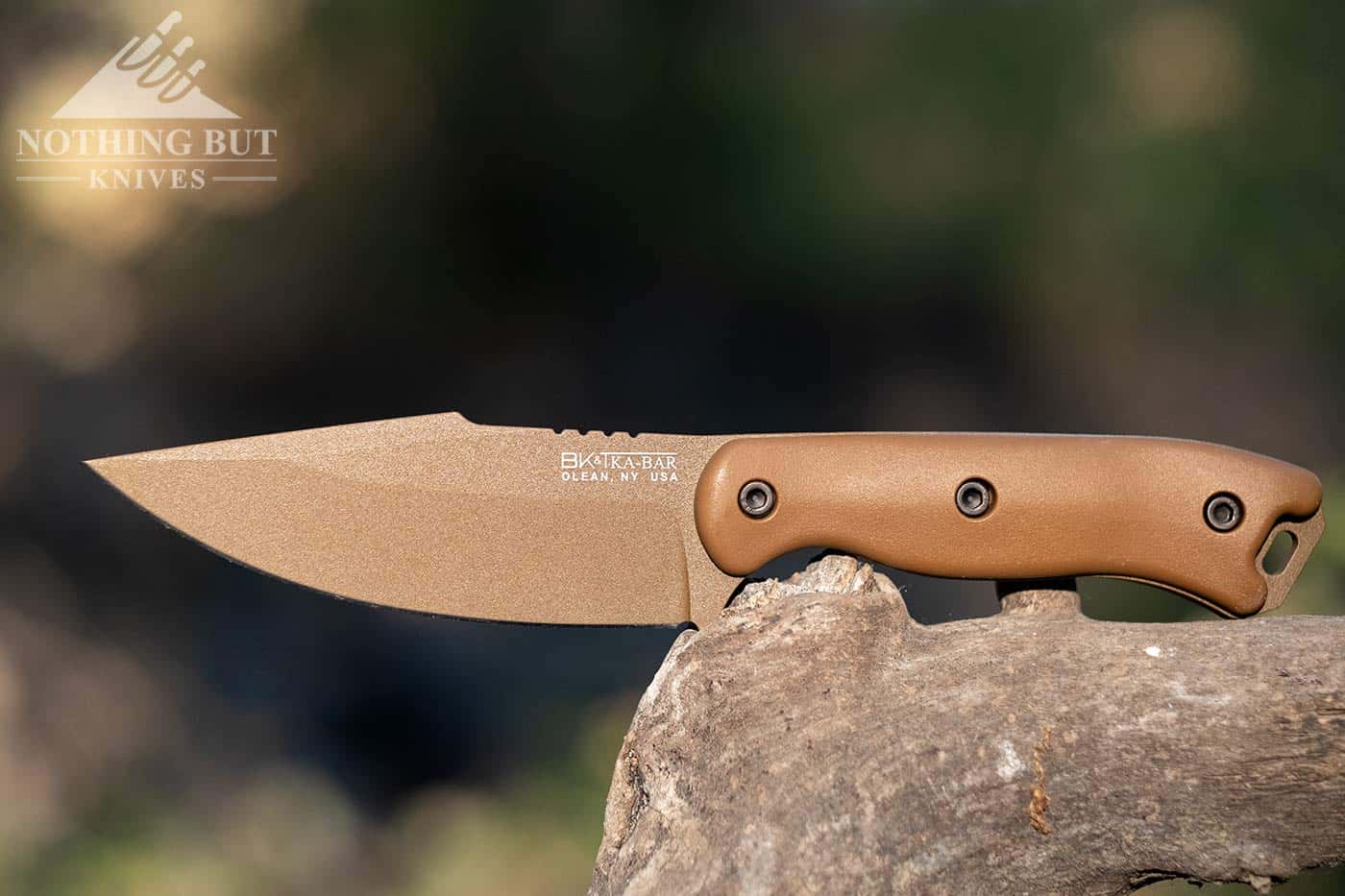 If you're looking for something that's American made or more tactically oriented, the Ka Bar Becker BK18 Harpoon can actually do a lot of the same tasks in a smaller package with just a moderate drop in carving performance. With the stock scales switched out for Micarta, I'd say it's much more comfortable. It just doesn't have quite the same roof on momentum.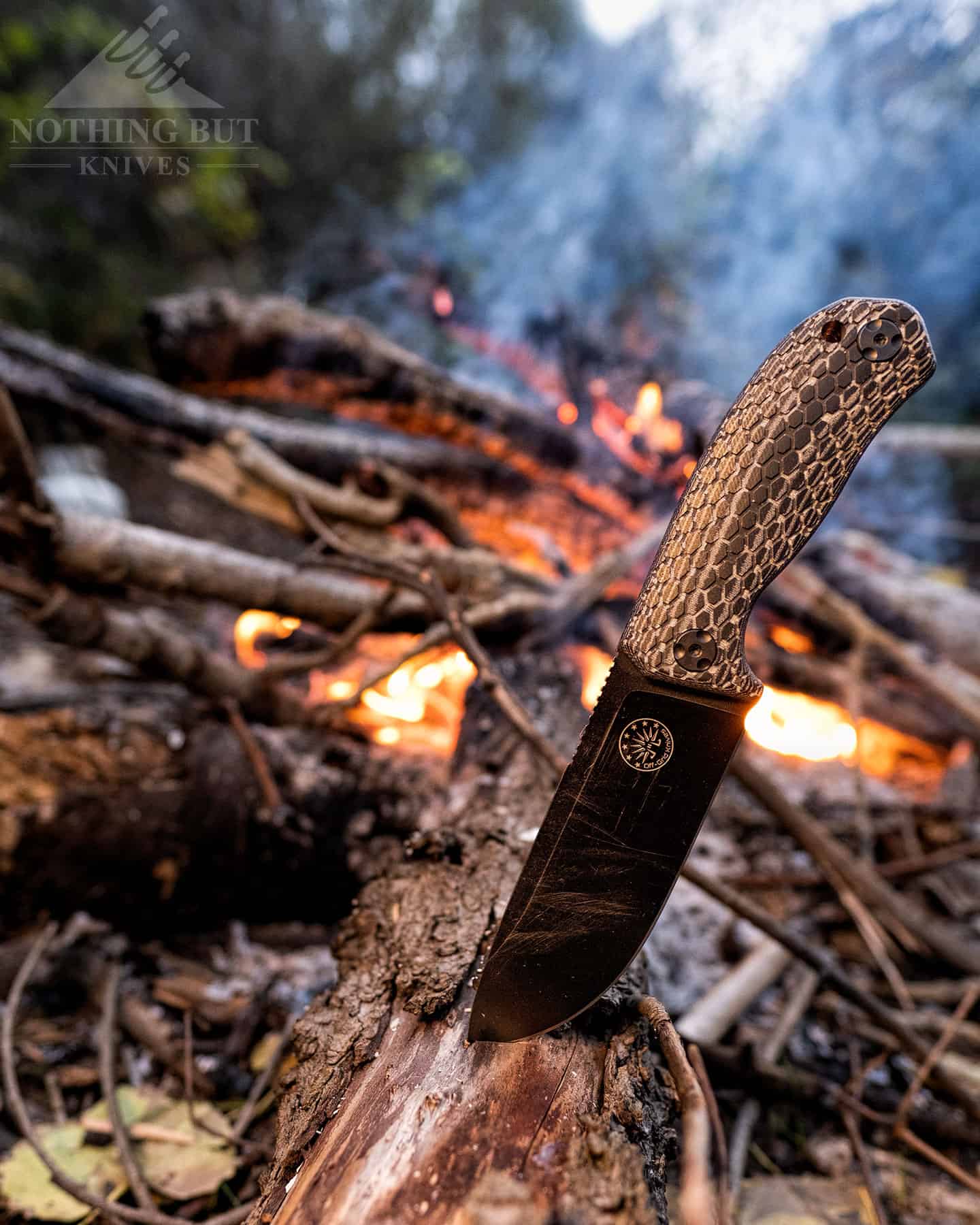 If you like the size but not the grind, the Off Grid Tracker X (what I consider to be the Ridgeback's older brother) has a fantastic sabre grind in D2 steel that has much better edge retention. I don't find the handle to be as comfortable, though, and it is a hell of a lot harder to sharpen.
And then there's Mora. At some point I think I made a deal with myself to stop bringing Morakniv knives up, because they're a viable alternative for basically every tool in existence. But the presence of a scandi grind makes the suggestion more relevant here. If you like the way blades like this cut, but you prefer something smaller and lighter (and generally cheaper), the Swedes always have you covered with things like the Mora Companion.
Check out our Survival Knife article for more alternatives to the Ridgeback.
Conclusion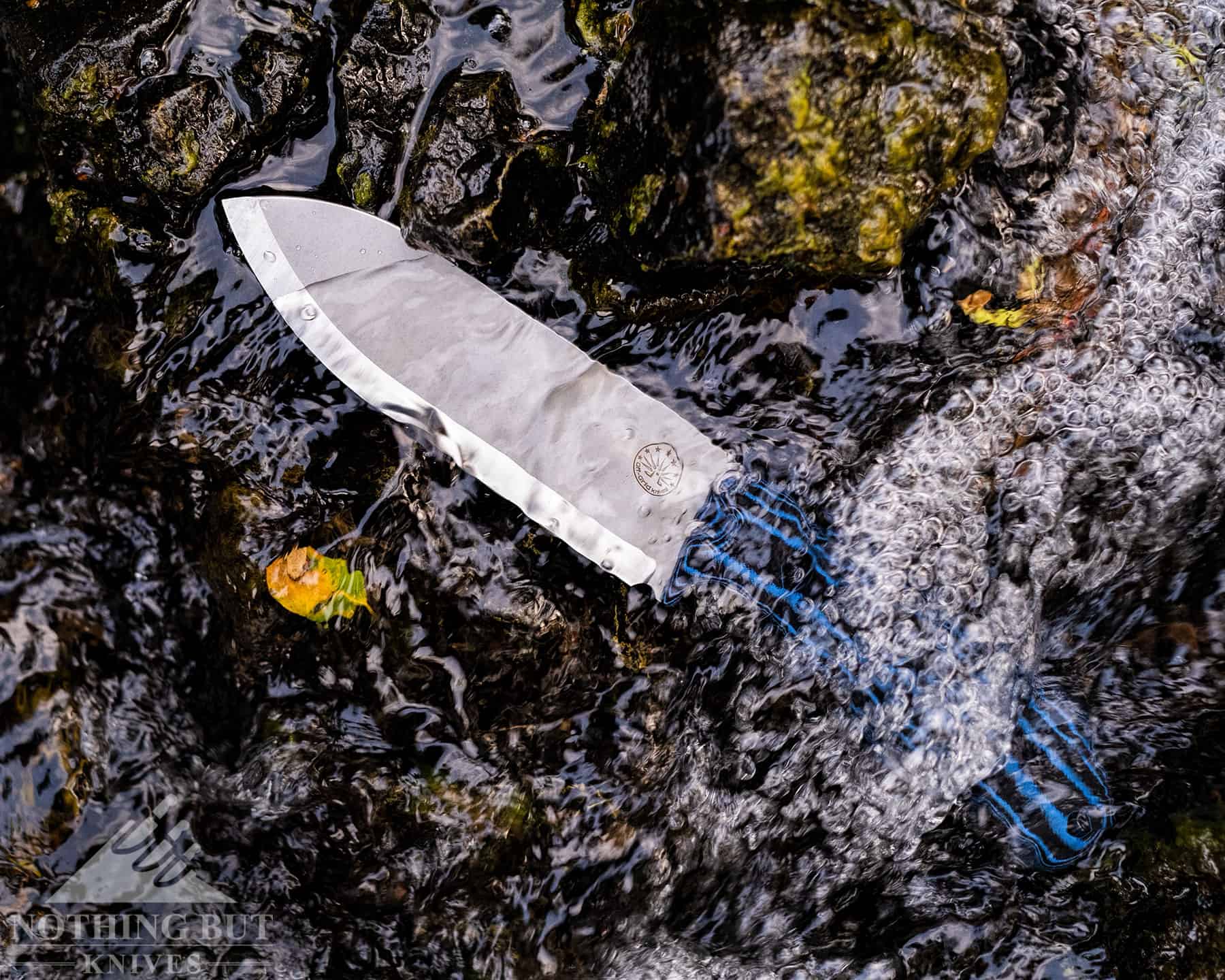 The Ridgeback fills a big scandi shaped hole in Off-Grid's line up. I didn't realize that's what I wanted Off-Grid to make until I started using this knife, but then maybe that's why I'm not the one designing knives and running factories.
As a bushcraft knife, there really isn't anything I can think of that needs to be changed with the Ridgeback. It chops like an ax, cuts like a laser, takes a screaming edge, and it's comfortable in a dozen different grips through a dozen different camping tasks.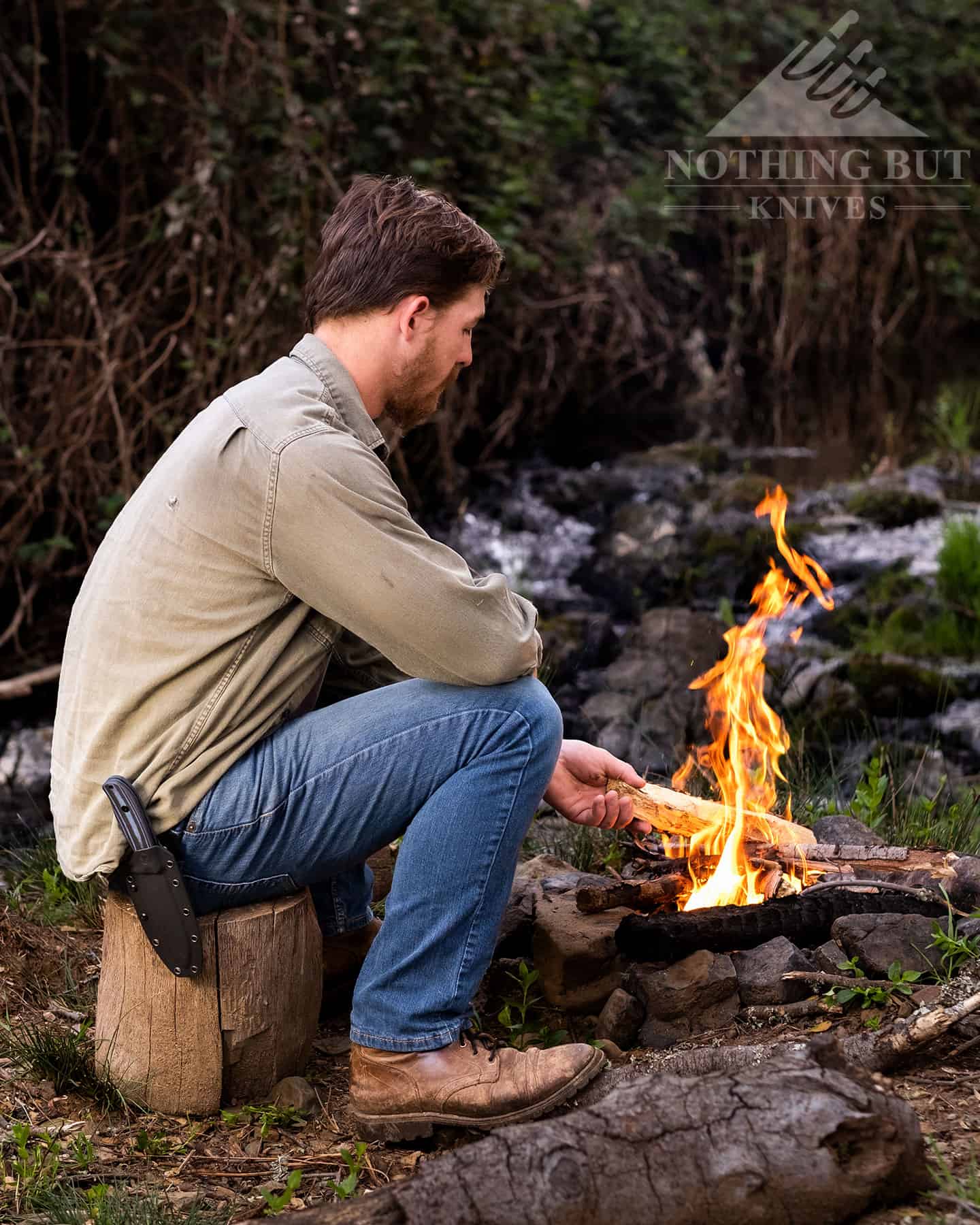 I can't really even cling to the big handle or the limited ferro rod space as legitimate criticism, because overall the handle was a champ for the whole testing process, and when you get the hang of using a ferro rod with this knife it's ridiculously good at starting fires. I don't score knives because I can't be trusted to stay with a consistent scale, but if I did I'd be fighting with myself about giving the Ridgeback a perfect one.