The Kaizen 8″ Chef Knife Is A Great Budget Option For The Home Cook.
Speaking as a marginally talented home cook, I can say with some authority that this is a pretty handy knife to have in the kitchen. It's a great price, it cuts well and feels comfortable in the hand. Kaizen seems to know their target audience well, judging by the resources they offer along with the full box set for learning how to use the knife. It comes with a sharpener and a finger guard, and a card encouraging you to call a number and register for a guide on using chef knives, so there's a definite sense of covering the basics in this box set.
As a whole, the knife just feels approachable. It's not like picking up a Shun, which might as well be handed to you by the Lady in the Water. It's just nice and comfy. The handle is good for an average to above average amount of use, and the blade is reasonably sharp and seems to have a decent edge retention. It's accessible overall, with maybe a few hiccups along the way. In short this chef knife set is a steal at it's current price of $40.
Knife Specifications
| | |
| --- | --- |
| Overall Length: | 13.3″ |
| Blade Length: | 8.3″ |
| Handle Length: | 5″ |
| Blade Steel: | 7CR17Mov |
| Blade Grind: | Flat |
| Handle Material: | Micarta |
| HRC Rating: | 56-58 |
Pros
Excellent Value
Ergonomic Handle
Excellent Packaging (great for gift giving)
Full Tang
Easy to Sharpen (even with a stone)
Extended Lifetime Warranty
Ships With Finger Guard and Sharpener
Cons
Softer Steel Than Competitors
Stain Resistance Could Be Better
No, Not that Kaizen Chef Knife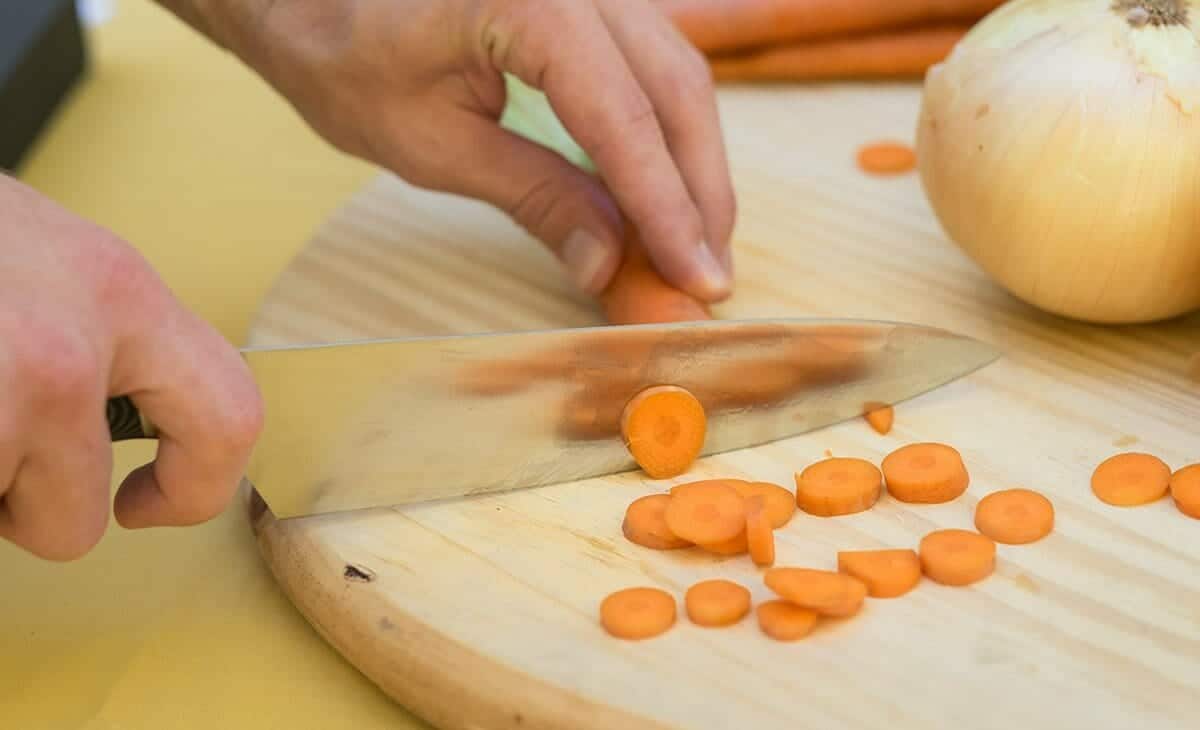 Before we get deep into this thing, I should probably clear something up about the name of this company, because if you search for "Kaizen Cutlery" you're gonna find a couple things: the site for Kaizen Cutlery, which is the company that makes this knife, then a bunch of different sites selling the Miyabi Kaizen knife set, which is a series made by Zwillings.
Just in case you didn't work it out on your own, these are not the same companies. Kaizen Cutlery is a new kid on the block that just came out with its first 8" chef knife and a magnetic strip. Zwillings is the other kitchen cutlery company with like 10 other kitchen cutlery brands under its umbrella, including Miyabi which makes a line called Kaizen.
I haven't had the pleasure of handling the Zwillings Miyabi knife, mostly because their 8-inch Kaizen chef knife runs about $100, and Kaizen Cutlery was kind enough to send us their significantly more reasonably priced 8-inch knife to review.
So full disclosure, I'm predisposed to like this knife, but I'll do my best to explain why without too much bias
Decent Cutting Edge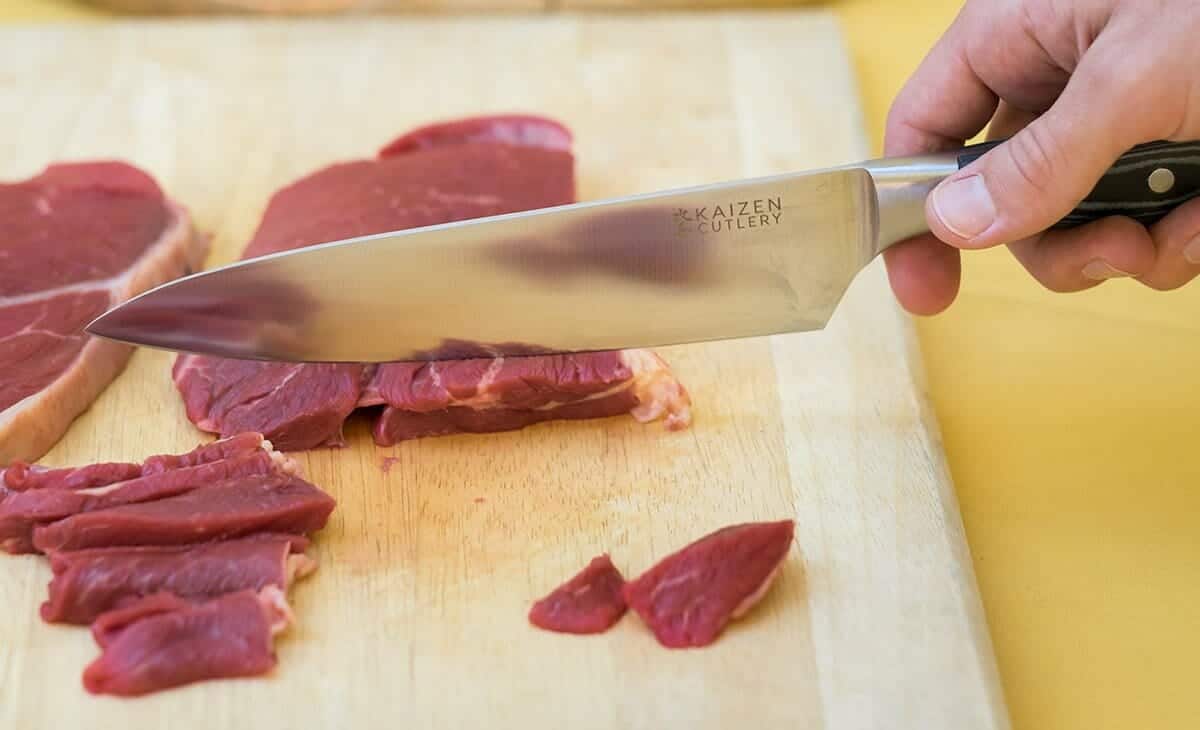 Compared to the J.A. Henckels Twin Signature knife we had lying around for comparison, I'd say it cut on par. To be fair, though, the Henkels knife had seen some heavy use. We sharpened it before we put the two side by side, but it still probably wasn't at what you'd call factory sharpness.
I didn't have any problem cutting up any number of random food items we tossed onto to the table for testing. That's not the same as saying the knife performed perfectly, but if you want to see a ballet with a knife, frankly, you have to pay significantly more. This Kaizen performed just fine in the hands of someone who is only marginally competent enough to slice meat without cutting his own thumb off.
I was able to slice both meat and vegetables pretty thin with it. The slabs of raw beef were definitely the trickiest thing to handle but it managed to cut thin enough slices for stew meat. It pulled a little as I cut which made it hard to get clean slices as I got thinner. Someone with steadier hands than me could probably get some half decent carne asada slices out of it, though. Cooked meat is a different story, of course. The cutting gets a lot smoother but you're still not going to get deli-thin slices with this knife on its factory sharpness. At least, not all in one piece.
The biggest issue I kept having as I cut was with things sticking to the sides, especially when I cut anything with a lot of surface area like the fat side of a squash. I'm not sure if this is because of how Kaizen has shaped their blade, the mirror finish, or if it's the grind itself, but I had to stop quite a bit to wipe large trimmings off the sides. I know it's not traditional for your standard chef knife, but it almost made me wish the blade had some kind of granton design on it.
It did its job, though. It was cutting up tomatoes without a problem, which was the real test for me, since that's what I use chef knives for half the time. There's just a second of resistance on tomato skin before I run the blade and then it moves through like butter. It's made my sandwiches significantly easier to eat.
Good Handle Ergonomics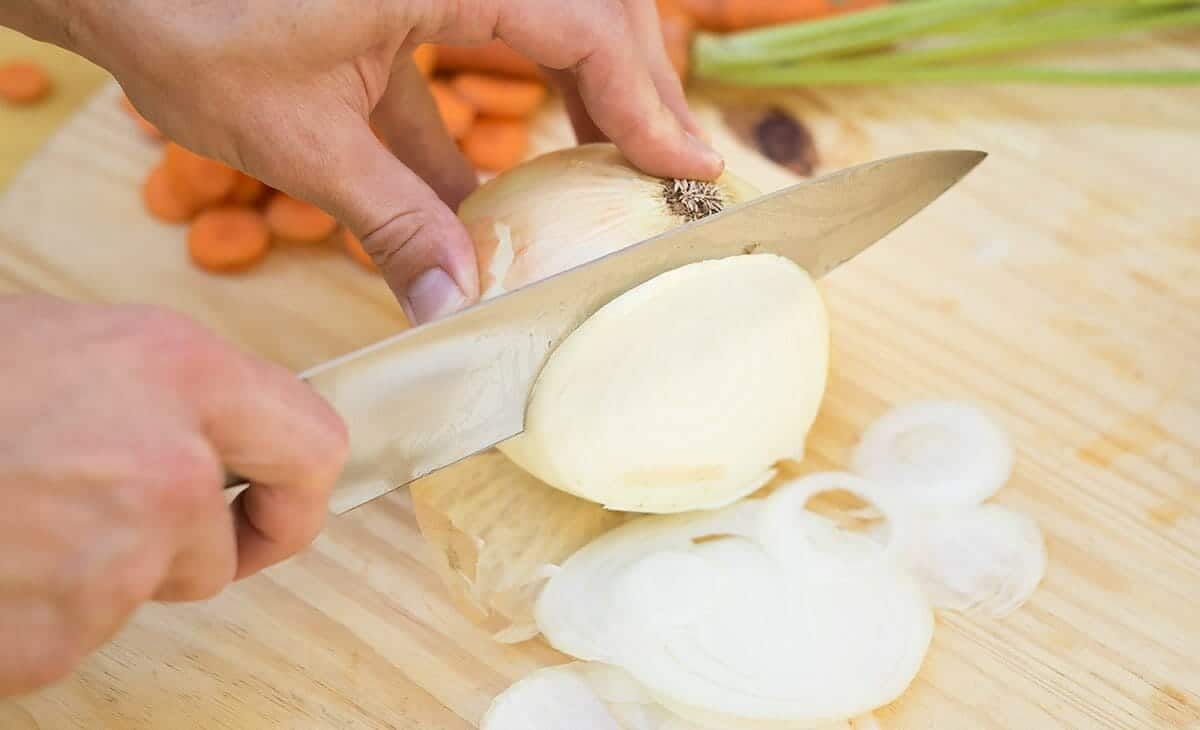 Design-wise, I think this knife sets itself apart in the handle. When I grip the Kaizen normally, it feels great. That little bit of belly to it fills out the hand nicely and gives me an easy grip where the JA Henckels knife felt just a little clunkier thanks to the harder handle material and the odd grooves carved into it, which, by the way, would be a lot worse if I were left handed. I have to appreciate the Kaizen knife for not trying to hard to meet the hand half way with finger grooves or a weird curving handle. It's just simple, durable micarta with a nice design.
The Kaizen gets a little trickier when I pinch grip it, though, because of the way the bottom of the blade slopes up. It's also not balanced quite so well, so it's a little harder to chop with any speed. That was the biggest failing compared to the Twin Signature knife, which has a great balance and a flat bottom to the blade so you can really feel solid leverage on your fingers.
Ultimately, that's not a big deal for me, though, since I'm not remotely good at chopping fast anyway. I think someone who's smoother with a chef knife might get a little frustrated with the feel, but it's absolutely fine for the busy home cook who needs a versatile chef knife.
Steel You can Check Your Teeth With
The blade is made of 7CR17MOV stainless steel which is a decent enough Chinese steel. It's certainly not on the same level from an edge retention standpoint as VG10 or SG2, but it is easier to sharpen, and it provides good rust resistance. Also knives made with VG10 or a quality SG2 steel cost considerably more money than the Kaizen chef knife, and 7CR17MOV steel is definitely a better steel than the terrible 2CrMOV6 or 440A steel found on a lot of budget chef knives.
Aesthetically speaking, the mirror finish is not my favorite. There's nothing wrong with a dull gray on a knife that's primarily going to be cutting up tomatoes and fish. Others might like a shiny knife, but for me it's just so reflective that it makes cleaning a bit of issue. This knife stains very easily. I have to scrub pretty hard to get the blood from raw steak off, and then I had to scrub a little harder to get all the random soap and oil smudges off it. Fingerprints show up like a cloud across the sun on the blade. Putting it away has become an almost surgical practice in which I delicately drop it into its slot then keep going back to double check that I didn't leave any smudges behind.
None of this interferes with performance, and in the long run it will make it a lot easier to see rust spots (in case you're not following proper care instructions). It's just one of those annoying little things in a knife that I have trouble letting go. Overall, though, this thing looks great before you use it.
The Accessories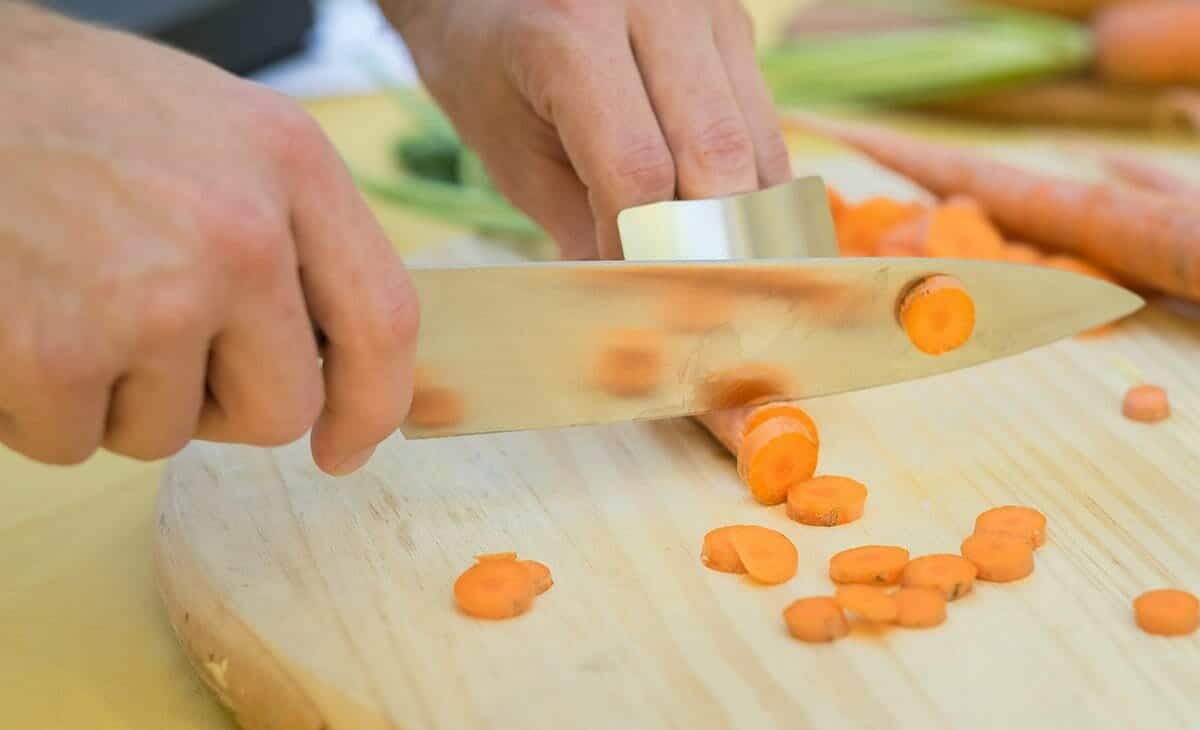 Since we got the box set, it only seems right I talk a little about what this knife comes with. They aren't necessarily reflections on the knife itself, but they do offer their own value, and as long as we're talking about potentially spending $90 on something (even though it's usually on sale for $40), we should take into account all the things included in that $90 or $40.
So first the finger guard:
I'm not sure I get the finger guard thing. It felt more silly than protective while I was using it, but maybe that's just me. I know plenty of people who cook more than me and always seem to have gnarly scars on their fingers, so this could be a genius addition. I will say that it wasn't as intrusive as I thought it would be.
I was worried it would be distracting or make it too difficult to see what I was cutting, but after a while I didn't even realize I was wearing the finger guard. I don't use it regularly, but if you're the type to cut fast and die young, it's probably a worthwhile accessory.
The Sharpener
I only passed the Kaizen knife through the sharpener a few times and didn't see much change, but it hasn't lost any edge through my two weeks of testing, so I wasn't expecting much anyway.
However, I do have a drawer full of other, cheaper chef knives that I have neglected horribly, so I ran some of those through the sharpener. It works pretty well when you're working off of rock bottom. One of my knives in particular couldn't even break the skin on a tomato without a worrisome degree of force applied to it.
I passed it through the Kaizen sharpener a few times, held up a tomato and tried it out. It left a promising bruise, so I passed it through the sharpener a few more times, and then went back to the tomato and it finally cut into it pretty easily. Now that knife is actually usable until the disastrously soft 55CrMoV14 steel it's made of turns it back into a very thin baseball bat.
Either way, that's another point in favor Kaizen.
The VIP Membership
You'll find a card in the box this knife comes in telling you to call a number before using it, which is good advice if you have no idea how to take care of a knife. The number takes you to a pre-recorded thank you for buying the knife from the founder Reggie Young and a quick tip to hand wash the knife, dry it immediately, and store it in the gift box it came in. There's also an offer to register for their VIP club in which you'll get neat promotional deals and tips on using, or not using, a chef knife.
So Is It Worth the Price
This gets tricky, because that standard price for this is $90, which puts it in an awkward space. The JA Henckels Twin Signature we tested it against runs anywhere from $70 – $100 depending on what sales you catch. You also have the Dalstrong's Phantom series, which is nice but has some design issues, and frankly makes you feel like you're just handling a cheap Dalstrong, but still cuts decent enough for some professionals.
Thing is, Kaizen Cutlery's chef knife normally runs on Amazon for $40, which makes it worth the price by a long mile as long as they're running that deal.
For home users there's a pretty large disparity in options below a hundred dollars. You can either get one of the $20 – $40 dollar blades that can't hold an edge and feel like handling a brick with phenolic handles, or you can aim your wallet over the $100 mark and go for Dalstrong, Wusthof, Shun or the impressive Tojiro DP. Pickings are slim between those ranges.
At $90, Kaizen Cutlery's knife helps fill that void somewhat. It doesn't feel like a budget knife. This thing is nice to use. It might not be as nice to use as your more high-priced options, but for us plebeians just trying to get by on whatever time we find in the day to cook random internet recipes, this is more than enough. At $40, though, I'm not sure why you would get anything else unless you're cooking professionally 40 hours a week.
So I appreciate the Kaizen Cutlery chef knife for its economic placement more than anything. It puts you in a comfortable middle ground where you don't have to put up with uncomfortable handles and almost unworkable edges, but you also don't need to try too hard to justify buying the thing in the first place.
The knife alone might be hard to justify at $90, but I will say that the little things they add with the gift box make a strong case for themselves, despite some of the clunkiness. The sharpener and the lifetime warranty are good deals, and the finger guard is a nice touch if nothing else. I do hope that Kaizen Cutlery starts selling the knife on its own down the road for those who don't need finger guards or general advice on knife care, but all in all I think they've made a great start with this knife, and I can't wait to see what cutlery products they announce next.
You can learn more about the Kaizen Cutlery 8″ Chef knife at www.kizencutlery.com.