A Good Looking Budget Gentleman's Folder That Needs A Steel Upgrade
There is something to be said for low expectations. They are a great way to approach both relationships and knife purchasing. It is more difficult to be disappointed if you are not expecting anything great. This is exactly how I felt when I ordered the Boker Magnum Co-Operator.  I knew the blade was made of  440A stainless steel, but the Huanghuali wood handled knife looked so cool that I bought it anyway. Ordering a cool looking knife with a blade made of 440A stainless steel is basically the relationship equivalent of dating a high maintenance person just because they are good looking. You know eventually you may regret it, but for now it's cool, because you think your friends will be impressed. Lowered expectations are ultimately the key to a happy relationship with a needy person or a knife with soft steel.
Fortunately knife purchasing is a much less commitment-oriented affair than a relationship, so it really is a stupid simile, but I am gonna run with it anyway, because I recently discovered a great budget bourbon even a poor knife blogger can afford, and I have been slowly working my way through the bottle for a few hours. As a result the quality of this knife review will suffer, but I feel great. Also there is very little information online about this knife, so you are pretty much stuck with my drunk ass review.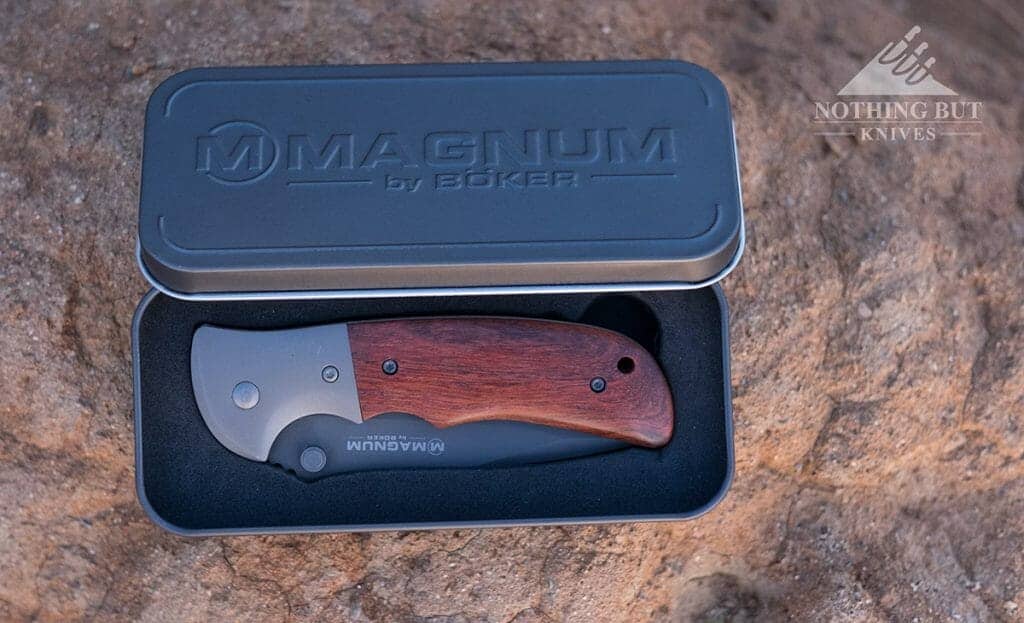 Specifications
O

verall Length: 7.9"

Blade Length: 3.4"

5.6oz

Steel: 440A

Style: Spear Point

Grind: Flat

Handle: Huali Wood

Liner Lock

Made in: China

Included Accessories: Gift Tin & Allen Wrench
Pros
Great classic look

Ships with a handy gift tin

Thumb stud is removable

Easy to sharpen

Comfortable handle

Sharp out of the box

Limited lifetime warranty
Cons
The blade does not hold it's edge as well as other knives at this price point

Included hex wrench does not remove the clip

Clip feels a little uncomfortable when the knife is held tightly

Uncomfortable Thumb Ramp
Blade Construction and Design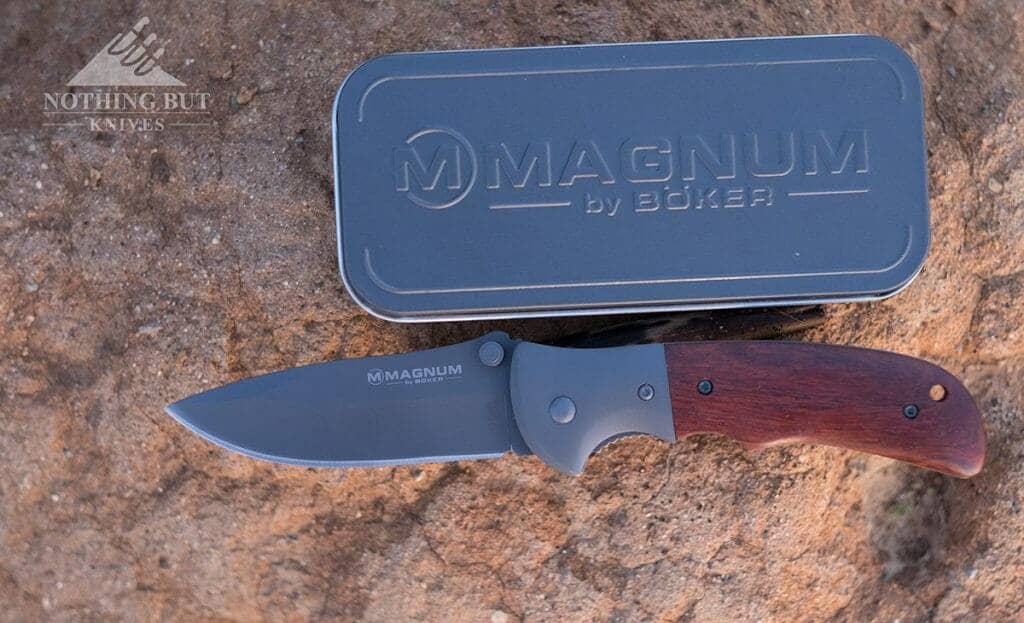 As I mentioned above the sub par steel Boker used on this knife makes it a poor choice for hunting or any other type of situation that would result in heavy use. It really is more of a gentleman's folder type knife unless you really like sharpening. A lot. All the time. Several times a day. Did I mention the steel was soft?
Ok now that we have thoroughly covered the shortcomings of the steel lets talk about design. Unfortunately, I like the design in spite of a few issues. The spear point / drop point hybrid blade of this gentleman's folder pairs nicely with the ergonomic Huali Wood handle. The fact that I like the design of this knife is unfortunate, because it makes it difficult to just write it off as a substandard folder with a soft blade.
Overall the design of the blade was great for most tasks you would expect a gentleman's folder type knife to be good at. It opened boxes with ease, pried stuck things out of tight crevices, carved a few hot dog sticks on a camping trip, and it even removed a large splinter from my thumb. My only complaint with the design of this blade is the placement of the thumb ramp. It is too close to the front finger grooves which causes the hand to be a bit cramped when the thumb is pressed against the ramp. I would have preferred that Boker left the thumb ramp off of this design, because then I would be able to place my thumb on top of the blade when necessary. With the thumb ramp, that grip is too uncomfortable. However, if you have really small hands your experience may be different than mine.
On the upside, the modified drop / spear point type tip design came in handy for several tasks. Sometimes it is nice to have a bit of an edge on the spine of the knife for certain jobs like prying things out of cracks and crevices or wedging something in place temporarily.
Handle Ergonomics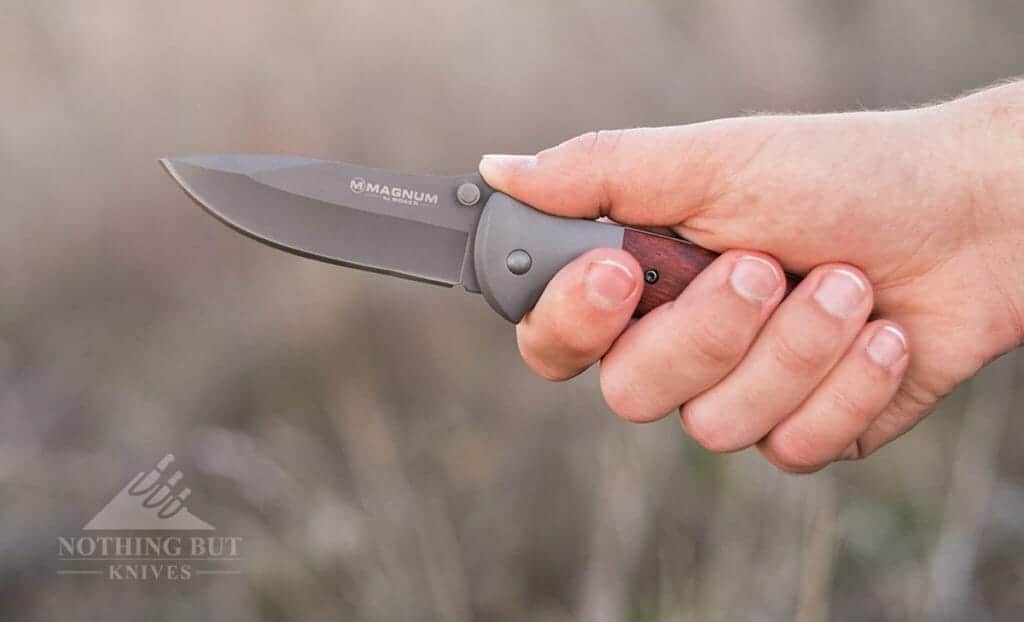 I was pleasantly surprised at the natural feel of this knife when I held it in my hand. I initially expected it to be uncomfortable and unwieldy, because it had a blade made of 440A steel, and how could such a blade be connected to a handle that was reactively ergonomic and comfortable to hold.  Turns out that my expectations were incorrect, but that really is the beauty of low expectations isn't it? The only issue I had with the Co-operator when I held it other than the above mentioned thumb ramp placement was that the clip seemed to be a little longer than necessary and the tip of it tended to dig into the palm of my hand a bit when I used it. This was only slightly noticeable, but still a little annoying. 
Rounded handles are rarely found on pocket folders, because they tend to feel a bit wide and uncomfortable when carried the way they were designed. However, I think this really dependent on what type of pants or shorts a person is wearing. I never noticed any discomfort when carrying this knife even though it is wider than my other pocket folders. However, I don't wear any of the tight hipster stuff that adorns the loins of so many of the suburban dwelling types. This is mostly due to the fact that I am too old and lazy to attempt to be fashionable.
The Co-Operator really shines is when is chopping small limbs off branches. When my hand was choked back on the handle for ideal chopping results the handle felt great. This is due to the fact that my thumb was wrapped around the handle of the knife rather than being placed on the poorly designed thumb ramp. The rounded butt of the handle also adds to the ergonomics when the hand is choked back, because it accommodates all hand types, and there are no pointy corners poking into the palms of those with larger hands. So props to the Boker designers for thinking of that.
Field Performance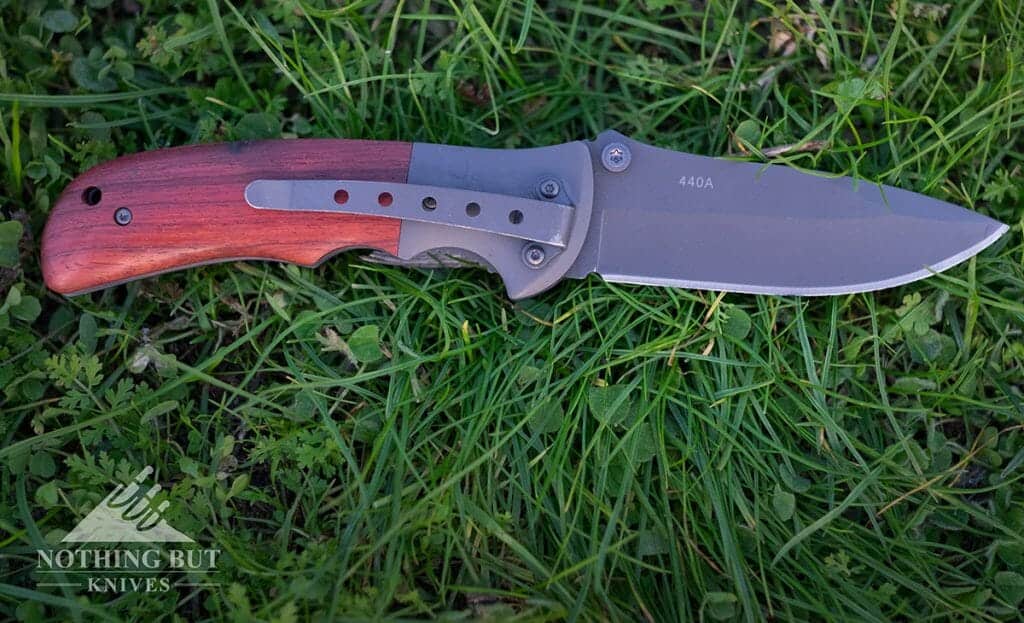 When it came to actually using this knife if the field or street or work place or home I was moderately satisfied. It certainly didn't excel at any one task, but it handled most tasks fairly well. During the three weeks that I used this as my primary EDC I only left it at home twice when I knew I would need something that was better for clearing branches or grass from the front of my camera. For that task I always grab the Cold Steel Voyager XL.
I am not a great whittler, but I was fairly impressed with the Co-Operators performance at carving tent stakes that I really didn't need and cutting wedges to use underneath the knife when I took pictures of it for this review. I have not attempted to carve a spoon yet, because the results of that exercise are almost always embarrassing for me no matter what knife I use.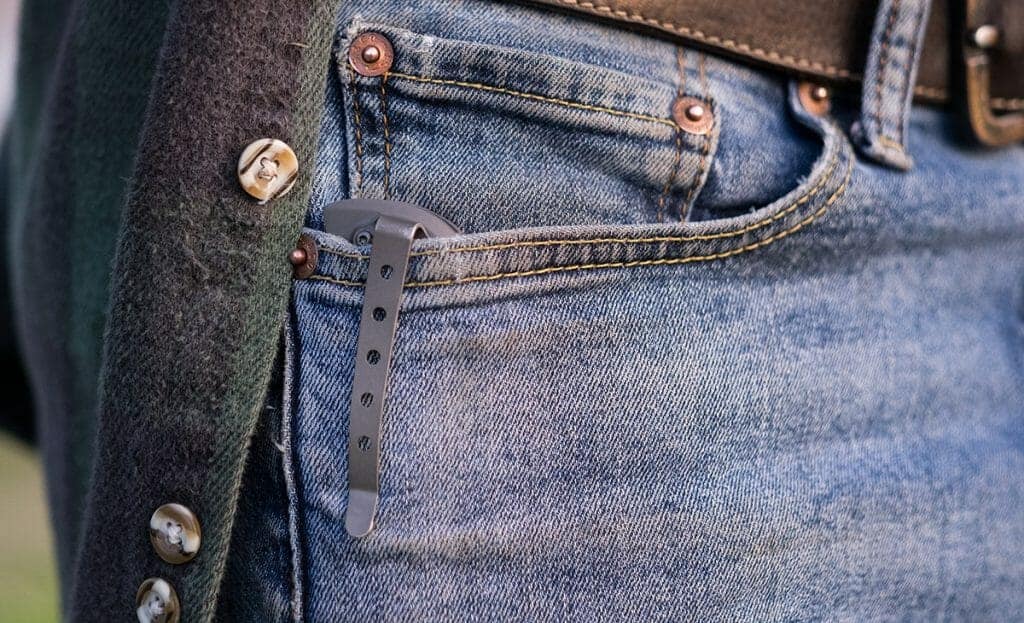 Whoever designed the Boker Magnum Co-Operator was not really big on offering the user a lot of options. The clip can not be moved from the top to the bottom or from the right side to the left. So if you don't mind having a knife with a clip on the right side that can only be carried in the pocket blade tip down, Boker has you covered. As you can see in the above picture the Co-Operator sits pretty low. This is great if you are looking for something that isn't really noticeable. The downside of course is that  it is pretty difficult to draw an deploy quickly, but if you are reading this review, you are probably not really in the market for a tactical folder.
Conclusion
When I bought this knife I was looking for a knife with a pocket clip that could replace my much used Buck Alpha Hunter. The Co-Operator fell short of that by a wide margin, but I am still going to keep the knife for social occasions where its classic look would be a bit more acceptable than the tactical look of my primary EDC knives. While I think the current price of $30 is a bit high for a fairly well designed budget folder with soft steel, I don't regret the purchase. It really does have a unique look that is anice change from the glut of aggressive looking tactical EDC knives we see on the market today. If you find yourself screaming at your screen as you read this, "A knife is a tool and performance is all that matters", I would just offer the argument that for me personally that isn't always the case. I take pictures for a living, and sometimes I use knives as props. I assume there are other reasons people may have for choosing aesthetics over performance, so I will just end this review by saying, "the Boker Magnum Co-Operator is a great looking knife that performed better than expected."