Whether It's Hunting, Bushcraft or EDC, Steel Matters
Anyone who only buys their knives in a certain kind of steel is the kind of person who's going to have an opinion about S30V, S35V or S45V steel. Or 154CM versus CPM154, or D2 and why a $50 price increase for Crucible powder steels is worth it. Buck is a little late getting to this party, but regardless of where anyone stands on steel types, they were happy to see Buck finally show up.
Everyone has this weird idea that getting a knife in one of the S30V steels automatically makes it the best version of that knife. That is nonsense, but it is a nice steel if you like really high edge retention and corrosion resistance. Like any steel though, not all S30V or S35V steels are equal. Some companies are just better at handling it than others, and Buck's S30V heat treatment method goes a long way toward making their Crucible steels some of the best out there.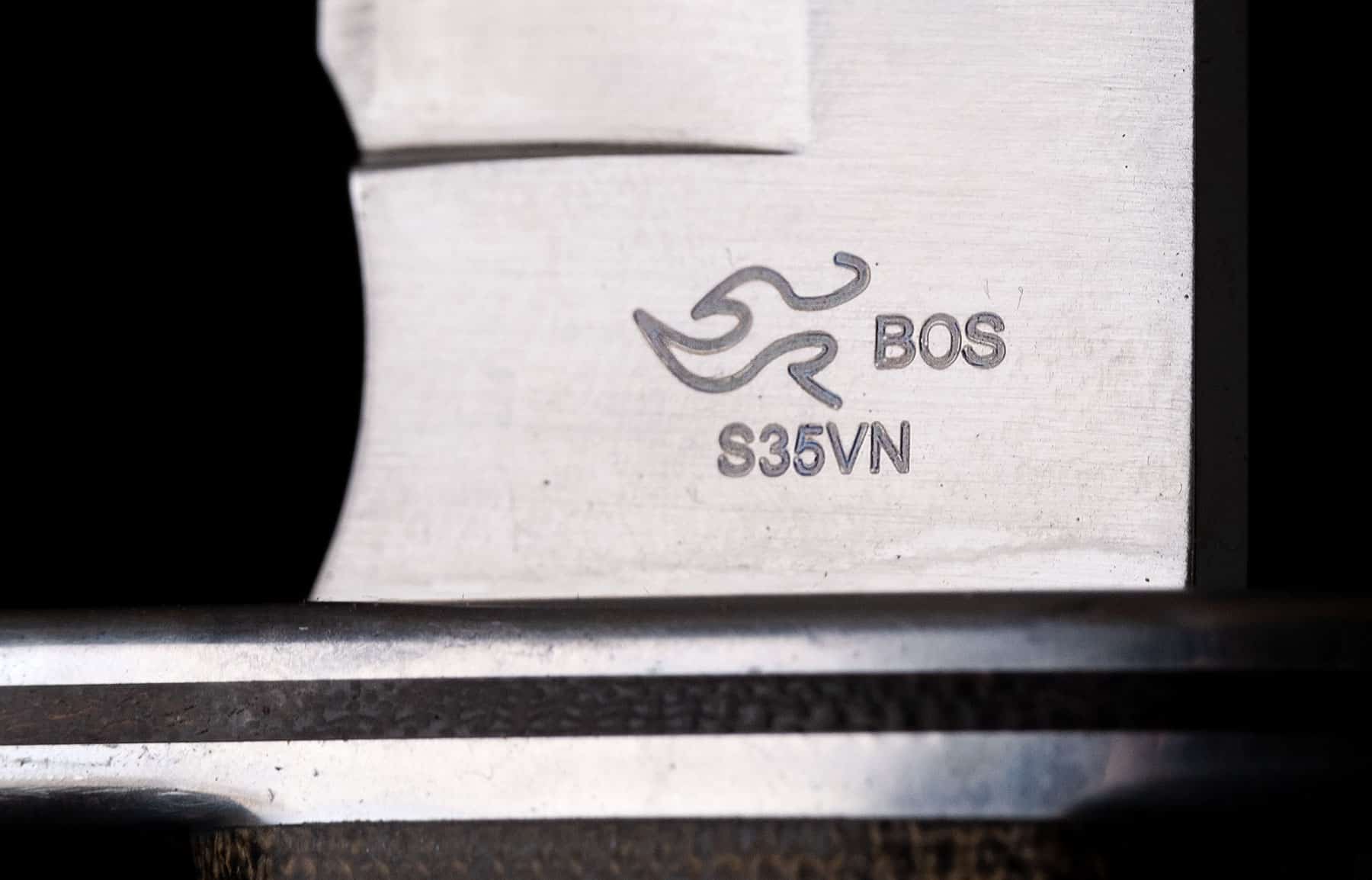 I should qualify something really quick since we are talking about two different types of steel. The distinction is minute for most people. S35VN is essentially the same steel with a few more chemicals added in to make S30V steel tougher and easier to machine. I suspect that's the reason you'll mostly see S35V on Buck's larger knives.
Buck's Custom Knife Shop
Most of the knives in Buck's customizing page can come in S30V or S35V. The only exceptions seem to be incredibly large knives like the 916 Bowie and the handful of models that they still make in China. Other than those, this is a great resource if you not only want a Buck knife in a Crucible steel, but if you want it engraved or to have a specific handle material.
Just be careful. I've lost a lot of time playing with knife variations in there that I had no intention of buying.
Here are 10 of our favorite fixed blade and folding Buck knives with SV30, SV35 or S45V steel:
103 Skinner Pro
656 Pursuit Pro
119 Special Pro
102 Woodsman Pro
110 Hunter Sport
250 Saunter
040 Onset
841 Sprint Pro
347 Vantage Pro
417 Budgie
Fixed Blade Bucks
A fixed blade in S30V borders on excessive, in my opinion, but there is a place for it.
If you're kind of person who spends days to weeks in the wilderness, either hunting or hiking or just not being around people, then S30V starts making a lot of sense because of the wear resistance. Especially if you're in jungle or generally muggy weather where you'll be in extreme conditions far from your cleaning oil, honing rods, and sharpening stones.
It's all well and good to know how to bring your hunting knife back from a dulled coat of rust, but there's a practical comfort in knowing you can get wet and dirty and still get by just wiping your blade off for a while.
103 Skinner Pro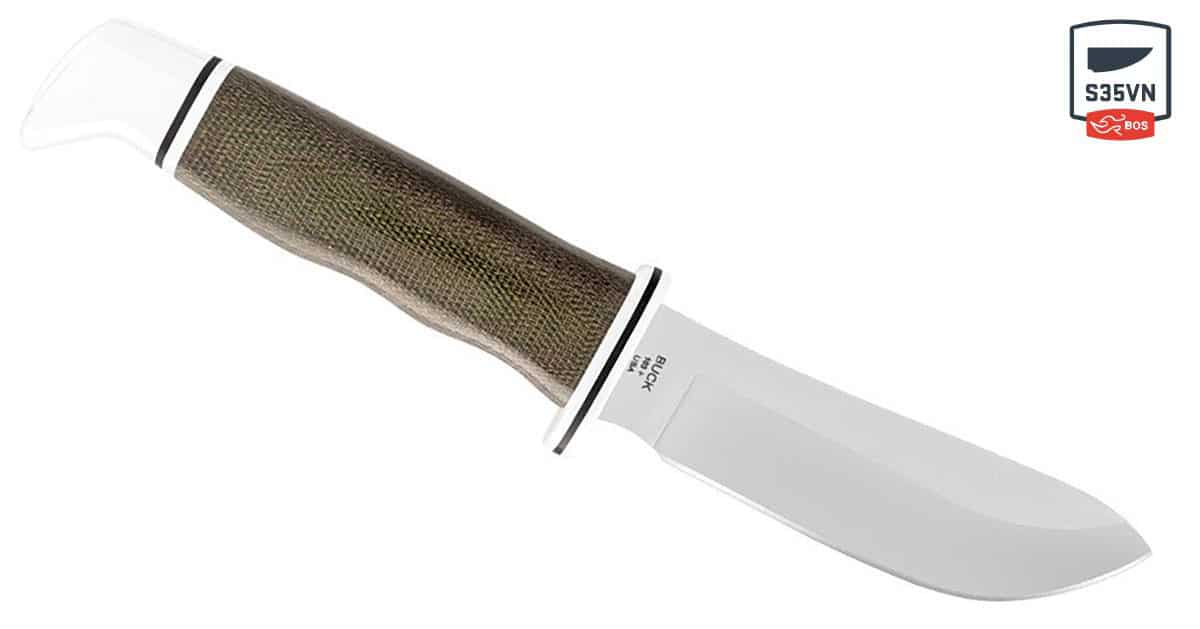 | | |
| --- | --- |
| Overall Length: | 8.25" |
| Blade Length: | 4" |
| Weight: | 10.2oz |
| Blade Style: | Drop Point Skinner |
| Handle Material: | Micarta |
| Sheath: | Leather |
| Blade Steel: | S35V |
The Buck 103 Skinner Pro is possibly the best fixed blade Buck makes for field dressing large game. I mean, it was designed specifically for that, so one would hope. The thick Micarta handle is probably its best feature, although, like a lot of their classic fixed blade designs, I think it's held back some by the hand guard. And I wish Buck wouldn't use so much resin so I could actually feel the fabric, but it does make the handle easier to clean, which is pretty important considering the purpose of the 103.
The S35V blade seems like an especially helpful steel for a skinning knife since it has the edge stability of a high hardness powder steel, but emphasizes toughness more. This thing should stay at about the same sharpness through the whole process.
656 Pursuit Pro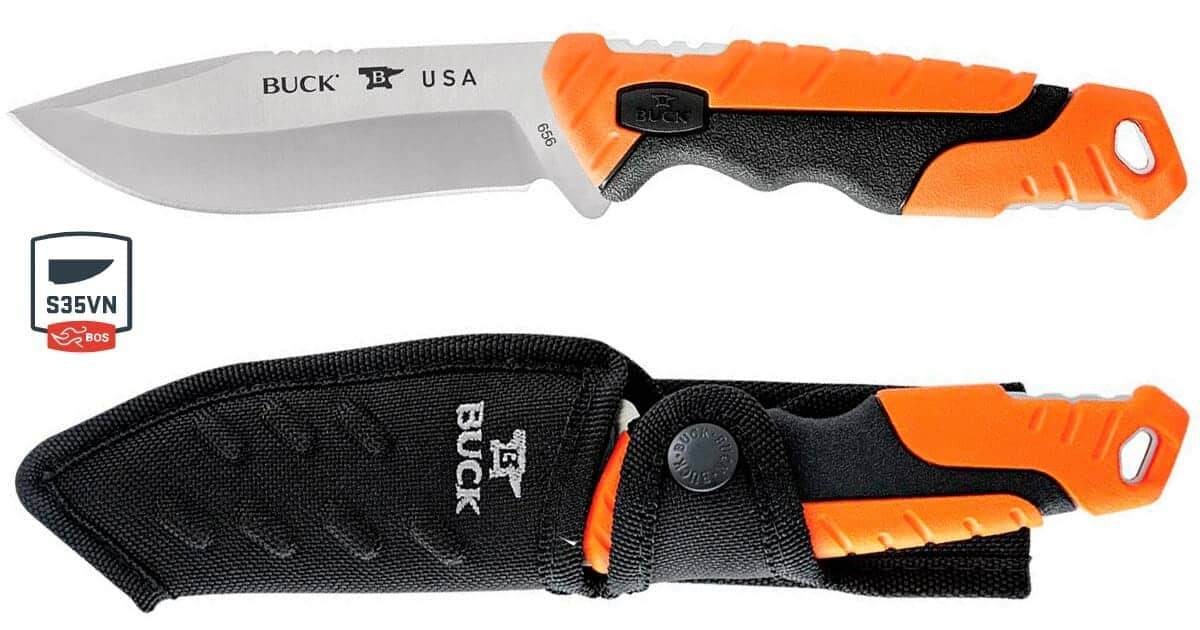 | | |
| --- | --- |
| Overall Length: | 8.0″ |
| Blade Length: | 4.5″ |
| Weight: | 6.4 oz |
| Blade Thickness: | 0.14″ |
| Blade Style: | Drop point |
| Handle Material: | GFN / Versaflex |
| Sheath: | Nylon |
The Pursuit Pro series is one of Buck's newest lines of knives. They were designed with hunters in mind, but they work great for camping, hard use, or even survival tasks. The bright orange handles are a different look for Buck, but it does make it easier to find the knife if it's dropped in low light. The Pursuit Pro knives also come with green handles if you're willing to take the added risk of dropping it on the forest floor and never seeing it again.
In either color, the handle of the Pursuit Pro Large is made of a GFN/Versaflex combination which makes it incredibly grippy and durable even in cold and wet weather. They've managed to do a pretty solid job at making a knife that's good for multi-day hunting or backpacking trips in any weather.
119 Special Pro
| | |
| --- | --- |
| Overall Length: | 10.5″ |
| Blade Length: | 6.0″ |
| Weight: | 0.175″ |
| Blade Thickness: | Clip point |
| Blade Style: | Micarta |
| Handle Material: | 7.5 oz |
| Sheath: | Leather |
We are pretty excited about the Buck 119 Special Pro here at Nothing But Knives. The slick phenolic handles of the old 119 have been replaced with grippy Micarta, and the new S35VN steel blade holds a great edge. We will have an in-depth review of this knife posted soon.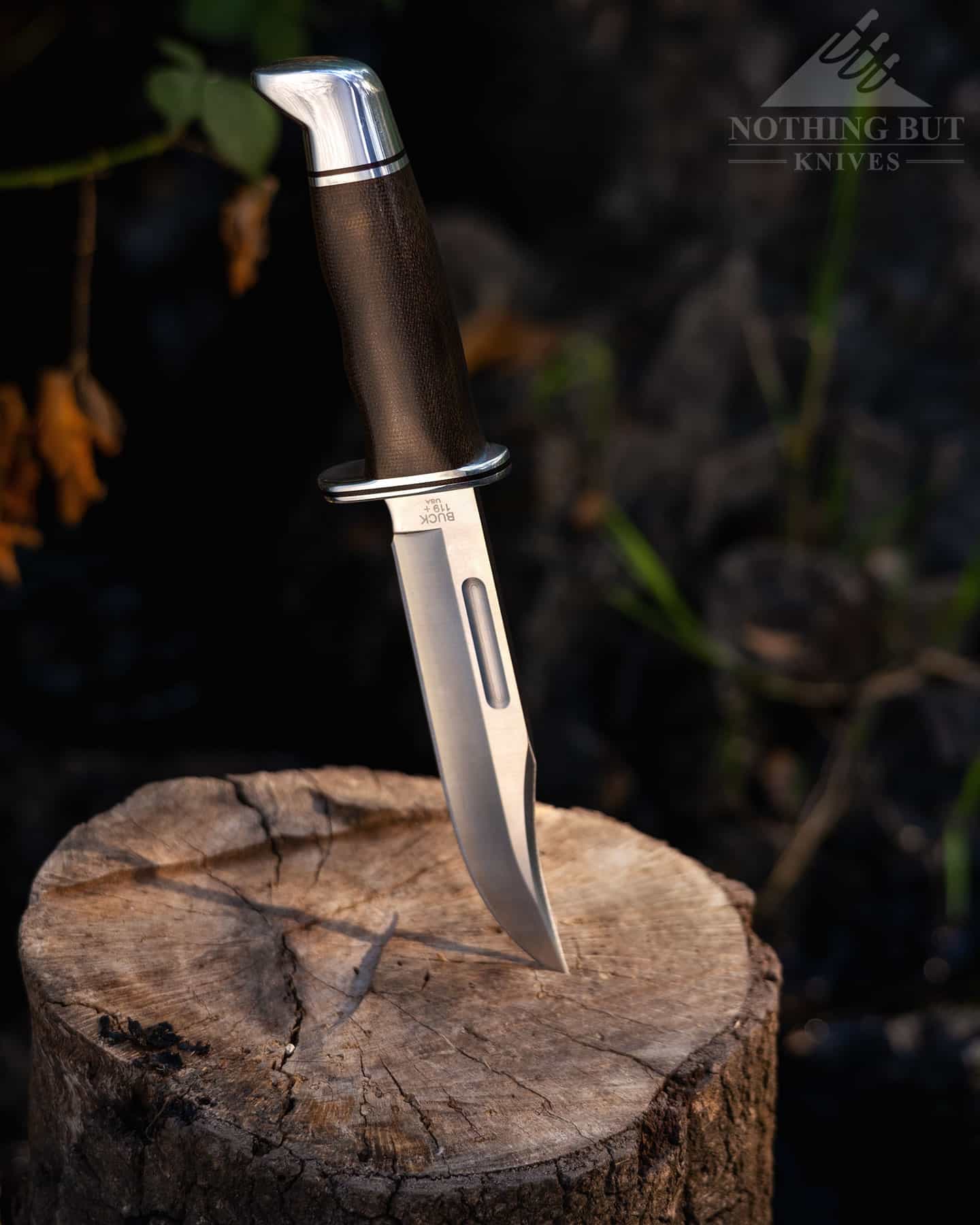 Any time you pick up a bowie style fixed-blade knife, especially a Buck, you compare it to the 119. It makes for a great hunting knife, but it's tough enough to work for bushcraft as well. In S35V you have a lot less to worry about in terms of getting wet or dirty, especially over the 420HC they usually use for it. It does get harder to sharpen along with the improved edge retention, but the blade shape is so large and simple that sharpening is really a matter of patience over skill.
Hopefully this knife stays in production for a a long time, and remains easier to find than the old 119 Pro.
102 Woodsman Pro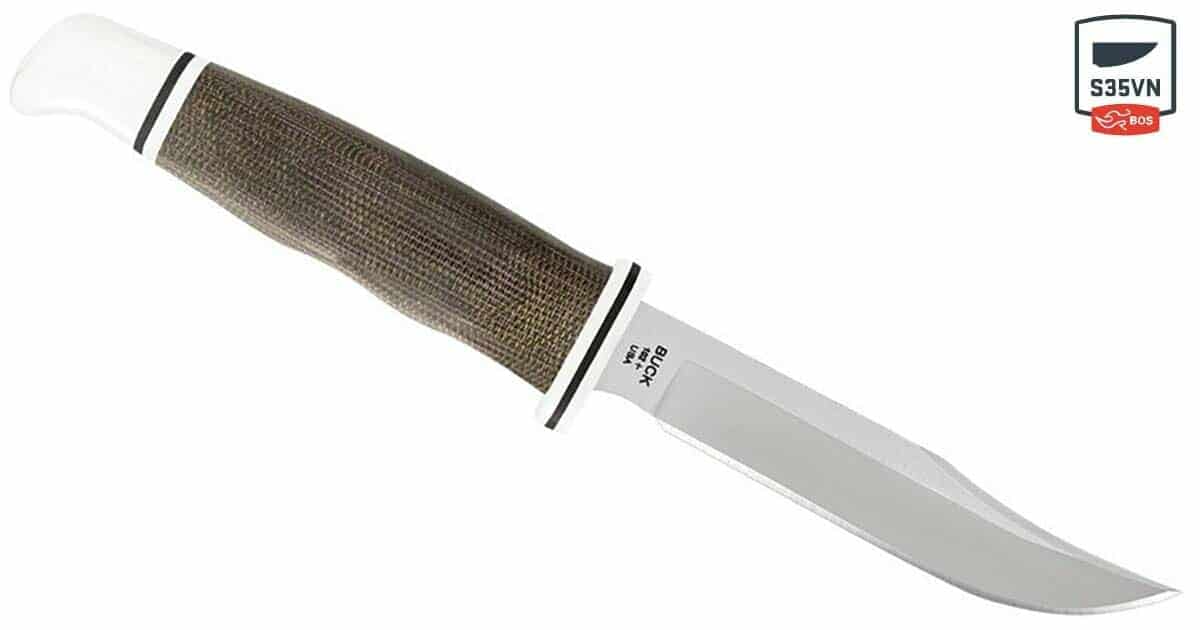 | | |
| --- | --- |
| Overall Length: | 7.75″ |
| Blade Length: | 4.0″ |
| Weight: | 205 oz |
| Blade Style: | Clip point |
| Handle Material: | Micarta |
| Sheath: | Leather |
You could call this the mini-119. It has the same basic style and materials as the 119 but comes in about 2 inches shorter. If you hold the philosophy that bigger is not always better, the Woodsman is a good choice for general outdoor work.
If we're being honest, it's probably better for skinning and splitting the pelvic bone (if you forget a saw) since a shorter blade will be easier to handle and less likely to break. Even if you don't plan on sticking it into edible animals, though, it will ride a little easier on your belt if you're hiking, and has just about the same cutting power as the 119 with a slightly better price point. It's more about personal preference, though, because who really needs more than 4 inches on a blade?
Folder Bucks
Any tool with a lot of moving parts can benefit from S30V, mainly because of its corrosion resistance. Keeping a blade clean and rust-free is one thing, but on pocket knives you have parts inside the handle where you can't see getting grimy and wearing out.
You still have to be vigilant, but there are some places where plain high carbon steels are just a nightmare to maintain. Steels like S30V give you a lot more margin for error on cleaning and weatherproofing knives that are a little more complicated to take care of.
110 Hunter Sport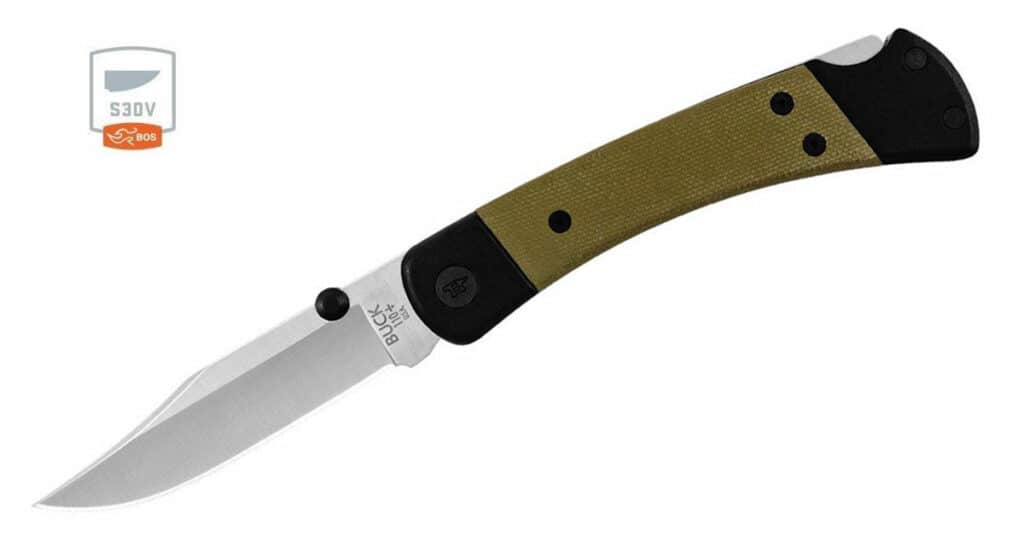 | | |
| --- | --- |
| Overall Length: | 8.75″ |
| Blade Length: | 3.75″ |
| Weight: | 7.2 oz |
| Blade Thickness: | 0.12″ |
| Blade Style: | Clip point |
| Handle Material: | Micarta |
| Lock Type: | Lockback |
| Steel: | S30V |
Of course you can get the Buck 110 in S30V steel. Buck offers more customization options on this knife than anything else in the world. You could probably get it mounted with a scope if you wanted.
It's been the go-to gift knife in America for at least twenty years. Considering the ever-changing preferences of every new generation, it makes sense for Buck to make it in every possible variation they can think up. It's good for skinning, whittling, picking your fingernails, displaying, carving your initials, losing in the bottom of a messy drawer, etc.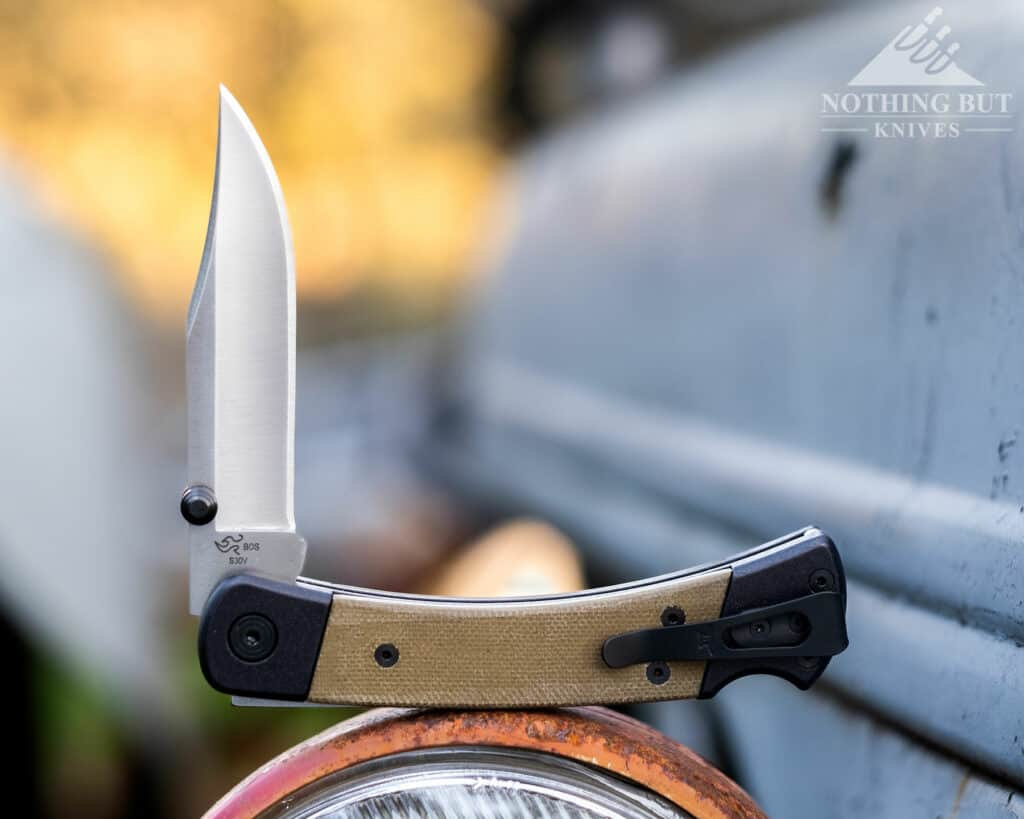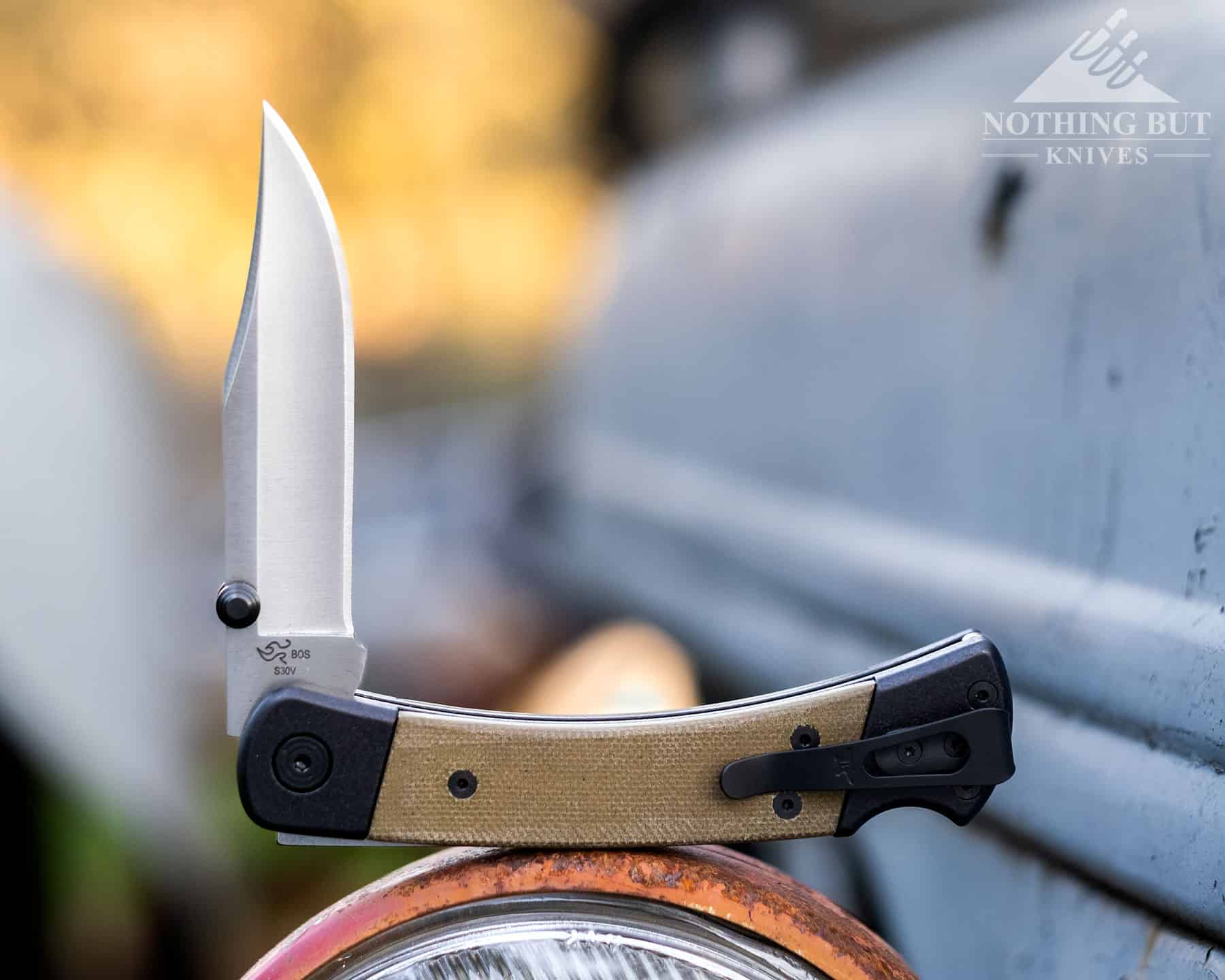 The Sport version of the 110 is probably the best update Buck has come out with so far (though it's still not quite perfect). The thumb studs make one handed open quick and easy. The dry linen Micarta handles are extremely grippy even when wet. The S30V blade holds its edge well, and is extremely slicey. The only downside to this version of the 110 Hunter is the thumb studs tend to get in the way when doing certain tasks like food prep or skinning.
Check out our Buck 110 Hunter Sport Photo Tour to see more photos and specs on this knife.
250 Saunter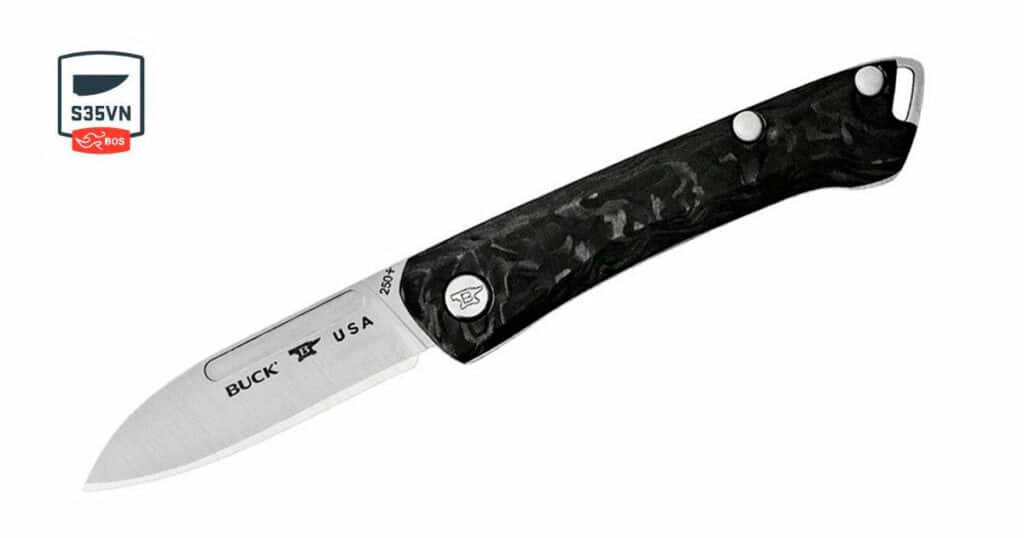 | | |
| --- | --- |
| Overall Length: | 6.25″ |
| Blade Length: | 2.5″ |
| Weight: | 6.4oz |
| Blade Style: | Drop point |
| Handle Material: | Carbon Fiber |
| Lock Type: | Slip Joint |
| Steel: | S35V |
This modernized slip joint is one of the coolest, most original new designs Buck has come out with in a long time, so it's a little frustrating that they're calling it a limited release.
It's a great knife, though. The S35V blade is incredibly sharp, and the drop point shade is so pronounced it borders on becoming a sheepsfoot, so it really emphasizes an ability to cut forward near the tip (which is a design feature I always appreciate deeply on slip joints).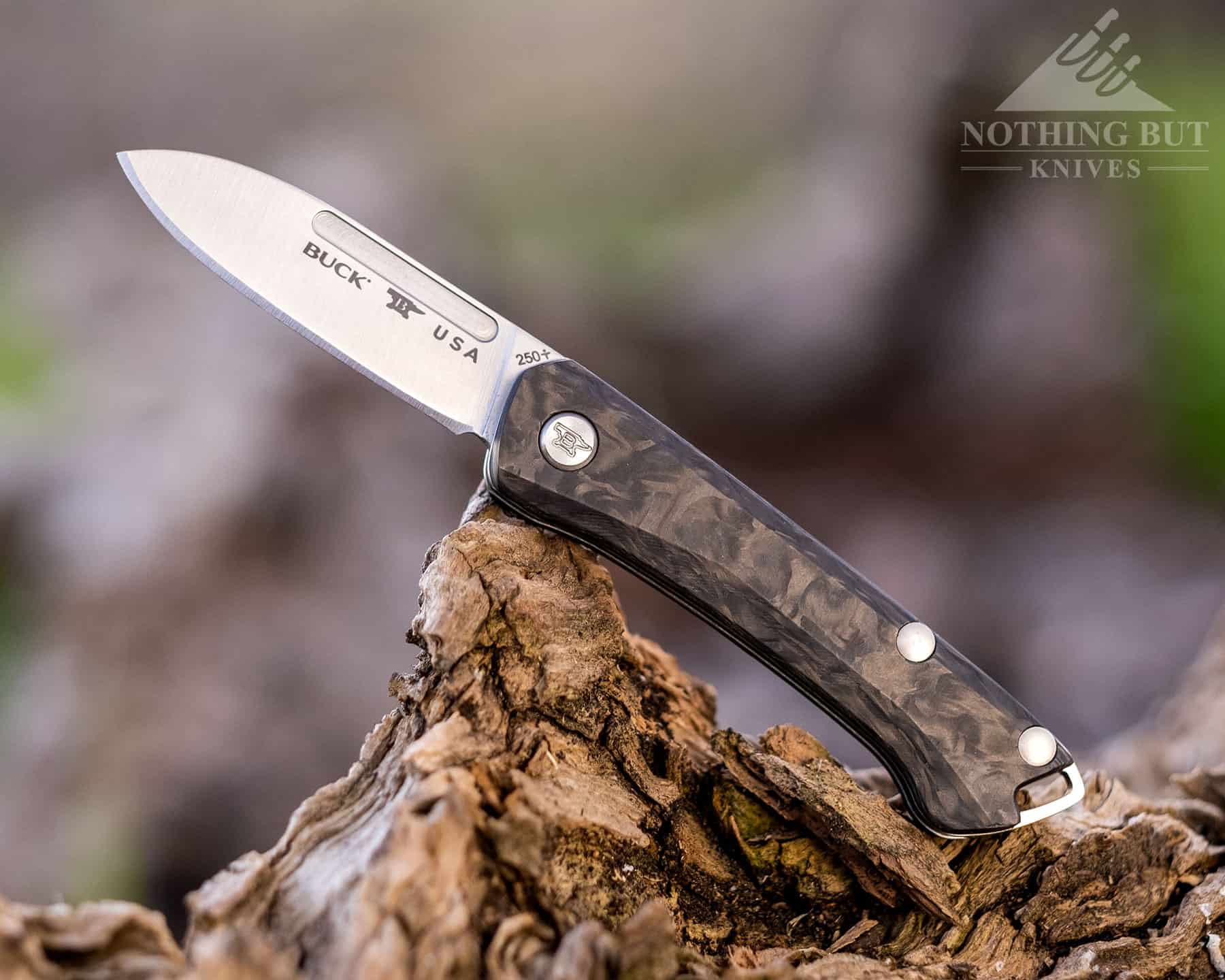 This also might be the carbon fiber handle that doesn't make me wish it was anything else. I really like the way the marbled pattern looks, and it actually changes quite a bit depending on what type of light it's under.
I found the handle to be a little easier to grip when cutting and slicing tough material than the average slip joint. The entire design of the knife feels like it was made for folks who actually use their pocket knives regularly, so the Saunter is more than just pocket art. The flat grind and drop point of the blade made it pretty versatile for a variety of tasks.
We liked the Buck 250 Saunter so much we included in our best slip joint knives article. Now we're just hoping Buck comes to their senses and puts this into regular production.
040 Onset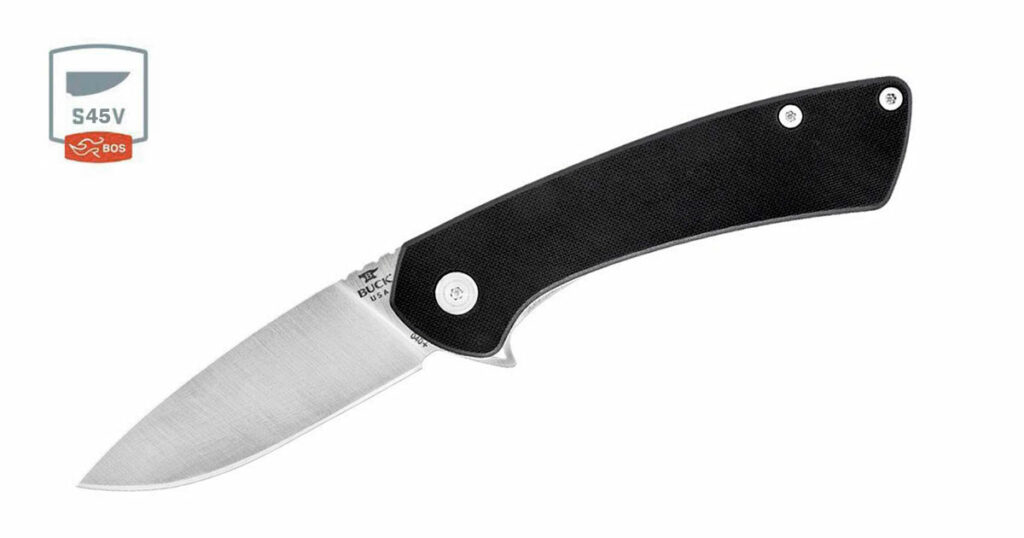 | | |
| --- | --- |
| Overall Length: | 6.25″ |
| Blade Length: | 3.37″ |
| Weight: | 4.5oz |
| Blade Style: | Drop point |
| Handle Material: | G-10 |
| Lock Type: | Frame Lock |
| Steel: | S45VN |
The 250 Onset is one of Buck's first designs to feature a frame lock and S45VN steel. This has helped to establish Buck in the burgeoning premium pocket knife world that they have mostly ignored.
The design of the Onset has a somewhat boring utility type look that I think is part of the reason it doesn't seem to be as popular as a few of Buck's other new designs. However, the handle is comfortable and easy to grip even pushing through tough material, and the blade sports a flat grind that helps to make it a little more versatile than some of Buck's hollow ground pocket knives.
The ball bearing pivot of the Onset provides a smooth action, and the flipper tab provides enough real-estate that misfires are rare. The blade of the Onset is a little thicker behind the edge than similarly priced pocket knives with S45VN steel. This means the blade is not as slicey, but it should be a little more durable.
841 Sprint Pro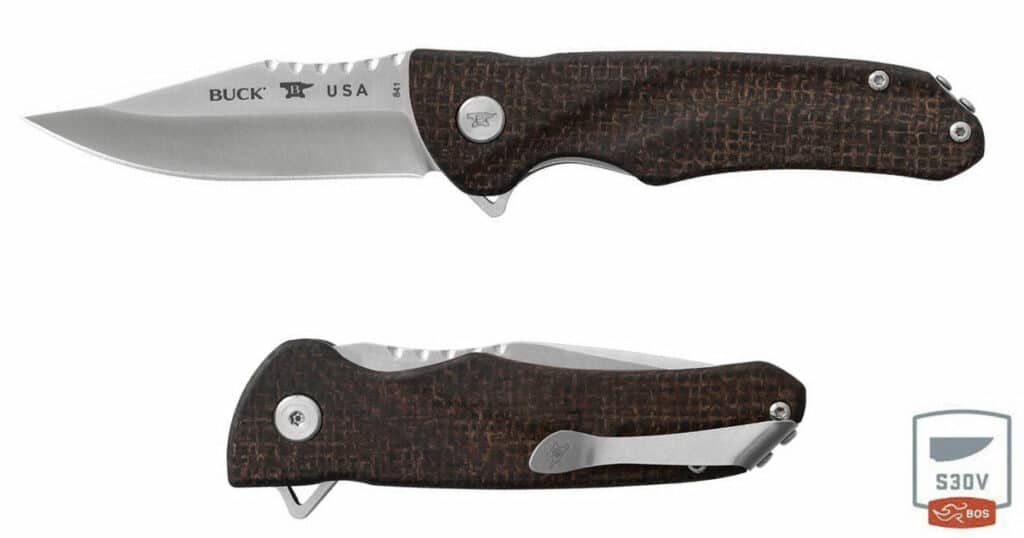 | | |
| --- | --- |
| Overall Length: | 7.5″ |
| Blade Length: | 3.125″ |
| Weight: | 3.2 oz |
| Blade Thickness: | 0.12″ |
| Blade Style: | Drop point |
| Handle Material: | Burlap Micarta |
| Lock Type: | Linerlock |
| Steel: | S30V |
Stepping out of the classic Buck era, we get something a little more sleek with tactical lines. The Sprint Pro is made to be streamlined. It opens easy and it's stripped down to be lighter. Unfortunately the pocket clip is not reversible, so the Sprint Pro may not be the best choice for lefties. If you like the look and feel of dry burlap Micarta, you will love the Sprint Pro's handle.
It makes a lot of sense to get this knife in S30V since it's not the kind of thing you would put under the hammer, and honestly it's exactly the kind of knife you might forget about. It's good to have it tougher against dirt and water until you remember you need to clean it properly.
The Sprint Pro is a capable EDC pocket knife with a comfortable handle, good action and decent edge retention. The jimping is a little over the top, but if you are right handed, and don't mind weird jimping this knife is a good S30V option from Buck.
Check out our in-depth review of the Buck Sprint Pro to learn more about this knife.
347 Vantage Pro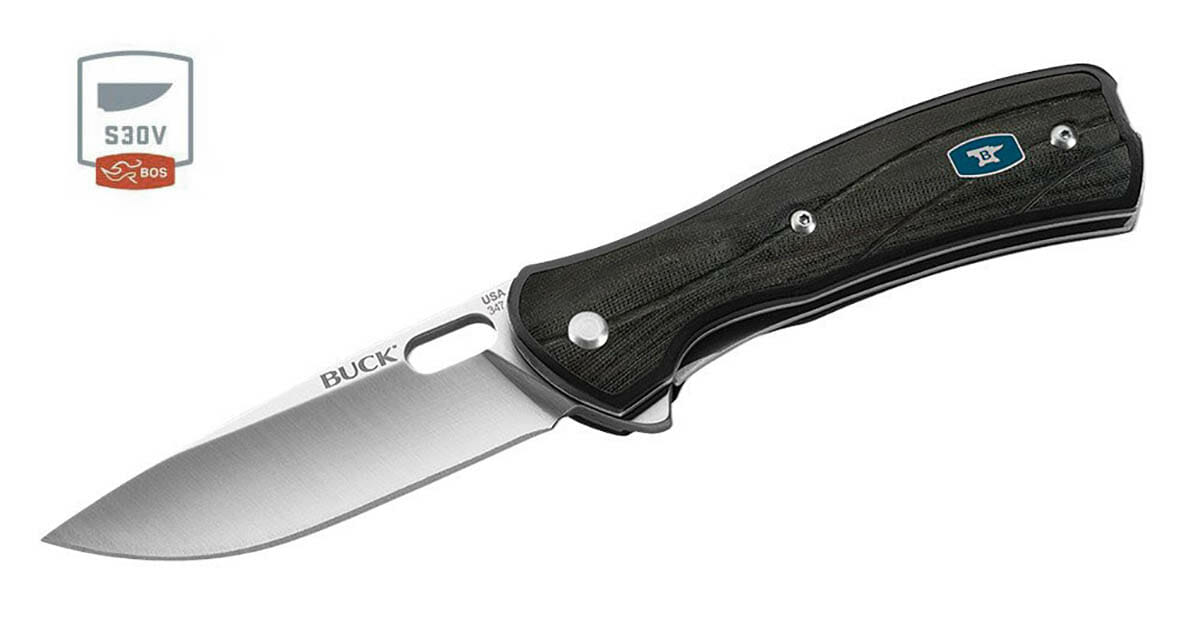 | | |
| --- | --- |
| Overall Length: | 7.6″ |
| Blade Length: | 3.25″ |
| Weight: | 4.0 oz |
| Blade Thickness: | 0.12″ |
| Blade Style: | Drop point |
| Handle Material: | G-10 |
| Lock Type: | Liner |
Buck isn't typically known for their one-handed open flipper designs, which is a shame, because the Vantage definitely deserves some praise. It's a neat slicer with a compact design and a clean look.
The edge takes a very simple line with a hollow grind on a drop point blade. It's a whole lot of really simple details that add up to make a solid knife. G10 is a fantastic, inexpensive handle material, but I've never liked it much for looks. In this case, though, Buck has made a handle that actually improves the overall aesthetic. It's one of those knives that you like a little more every time you see it.
417 Budgie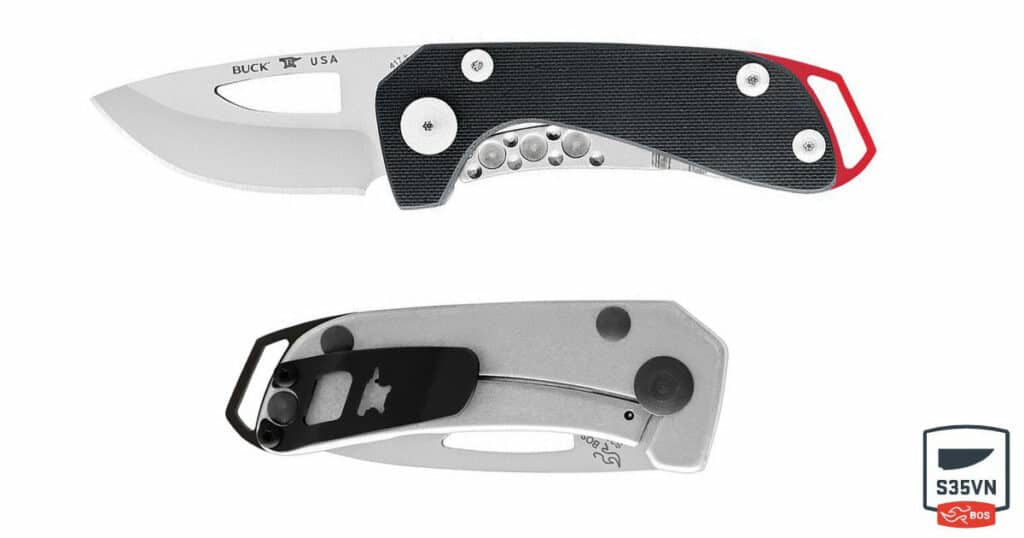 | | |
| --- | --- |
| Overall Length: | 5.25″ |
| Blade Length: | 2″ |
| Weight: | 2.1 oz |
| Blade Thickness: | 0.09″ |
| Blade Style: | Drop point |
| Handle Material: | G-10 |
| Lock Type: | Frame Lock |
| Steel: | S35V |
The Budgie is a capable hard use knife that doesn't take up much room in the pocket. The short, stubby drop point blade makes it a good option if you need a good knife for opening boxes or breaking down carboard.
Buck included a lanyard hole on this knife, so it can be worn around the neck or attached to a backpack if that is your preference. Overall the Budgie is one of Buck's most practical modern designs. They checked a lot of consumer need boxes, and the knife has been really popular as a result, despite the fact that it's one of Buck's ugliest creations to date.