Hell Yea! It has A Bottle Opener.
The Minibarbar is a pint-sized cleaver designed specifically with outdoor food prep. Although it has a certain degree of rugged versatility that could handle some light campground tasks like cleaning branches and carving sticks. The Kickstarter campaign is active and ready for backers.
The Blade and Design Intention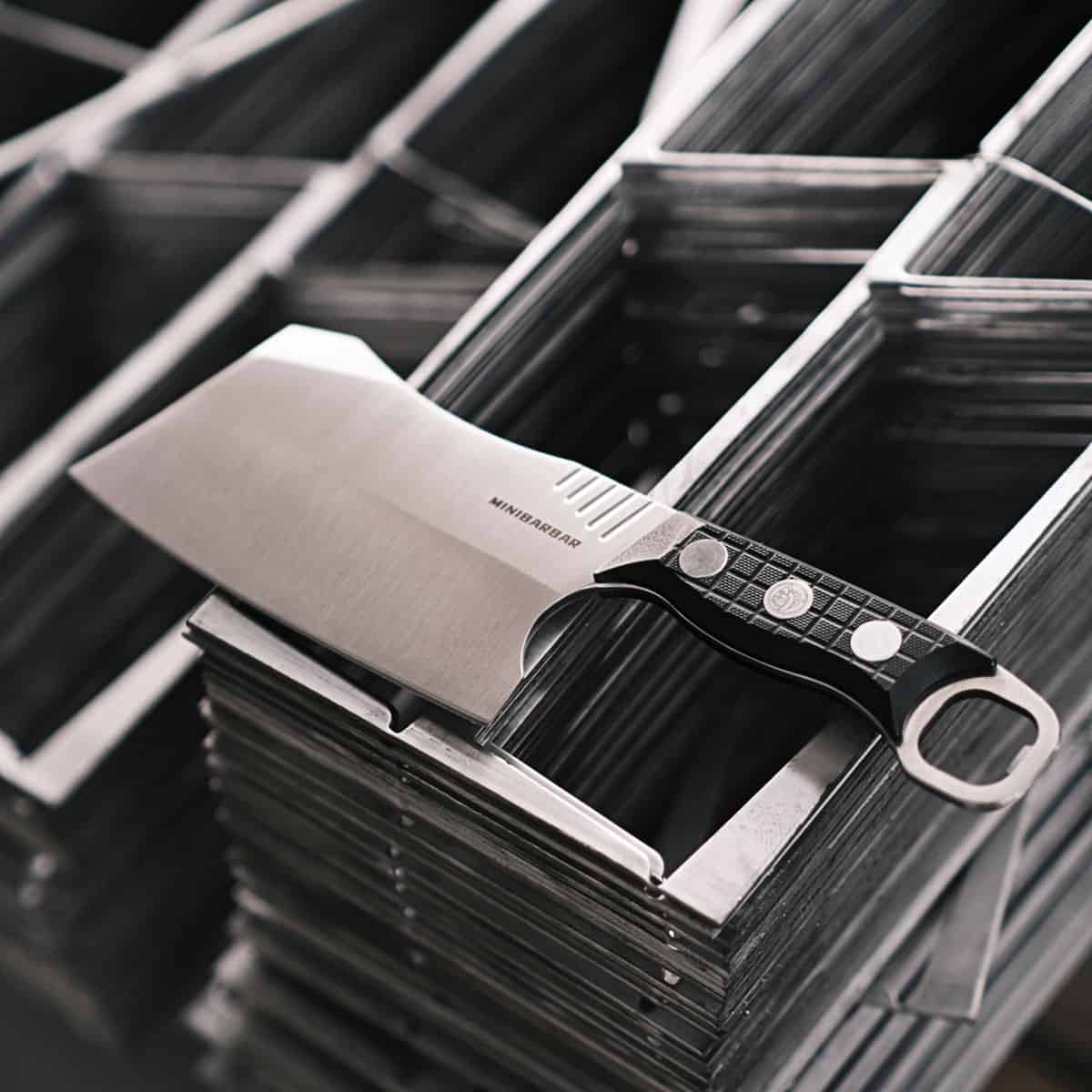 It has a 6-inch blade with a 4mm thick spine, and a full tang going through handle scales with triple rivets and a frag-pattern texture. They've also ground out some of the bottom of the blade and milled a slope into the top of the scales so there's plenty of room for a comfortable pinch grip.
They even milled out grooves around the spine so the side of your grip has more traction, and gave the edge a little bit of curve so you can rock chop with it. Top that off with the steel-ring pommel that serves double time as a hook ring and a bottle opener and you've got a well-rounded BBQ companion.
The Color Options
Starting off, they'll be offering four different options of the Minibarbar ranging in a couple colors between G10 and Micarta scales:
A satin-finished blade with either white G10 or green Micarta scales,
A stonewashed blade with black Micarta scales,
And a Damascus blade with gray G10 scales.
It doesn't sound like they have plans to offer other colors just yet (but past experience has shown how much the Vosteed crowd likes playing with colors).
The Steel
Knife enthusiasts won't be too impressed by the 7Cr17MoV steel, or even the 10Cr steel making up the core of the Damascus version, but it's one of many factors keeping the cost of the knife down.
You shouldn't be too concerned about it, though. Considering how tall the blade is, with a primary bevel that takes up almost half of that height, the edge retention should be pretty good even for a budget steel, and you'll still have the high corrosion resistance, easy maintenance, and toughness inherent in a stainless steel with a good heat treatment.
Vosteed's Track Record
This is far from the first foray into food prep at Vosteed. In fact, it's the second cooking knife that designer Yue Dong has put through a Kickstarter (the first was the Vosteed Morgan). So even though the bulk of their portfolio is in smooth EDC flippers, they're no strangers to the kitchen.
They're making the Minibarbar under the Grandknife branch, which is the brand they made for "outdoor kitchen knives, camping, and fishing environments". Currently there are three knives under the Grandknife name. The Minibarbar will be the third cleaver in the Grandknife line up.
The Minibarbar Kickstarter campaign is well underway, but it doesn't end until April 10th, so there's still plenty of time to get involved. You can check it out here.