It's Nice to Have Options. The ESEE Sencillo Will be Available in Magnacut or A2.
The Sencillo will be ESEE's first Magnacut knife, joining a host of other knife companies in testing waters with the new supersteel (in fact this announcement came right on the heels of CRKT's Redemption press releases, and a couple weeks after The James Brand's The Wells). Although ESEE's release feels a little more curmudgeonly (in a lovable way).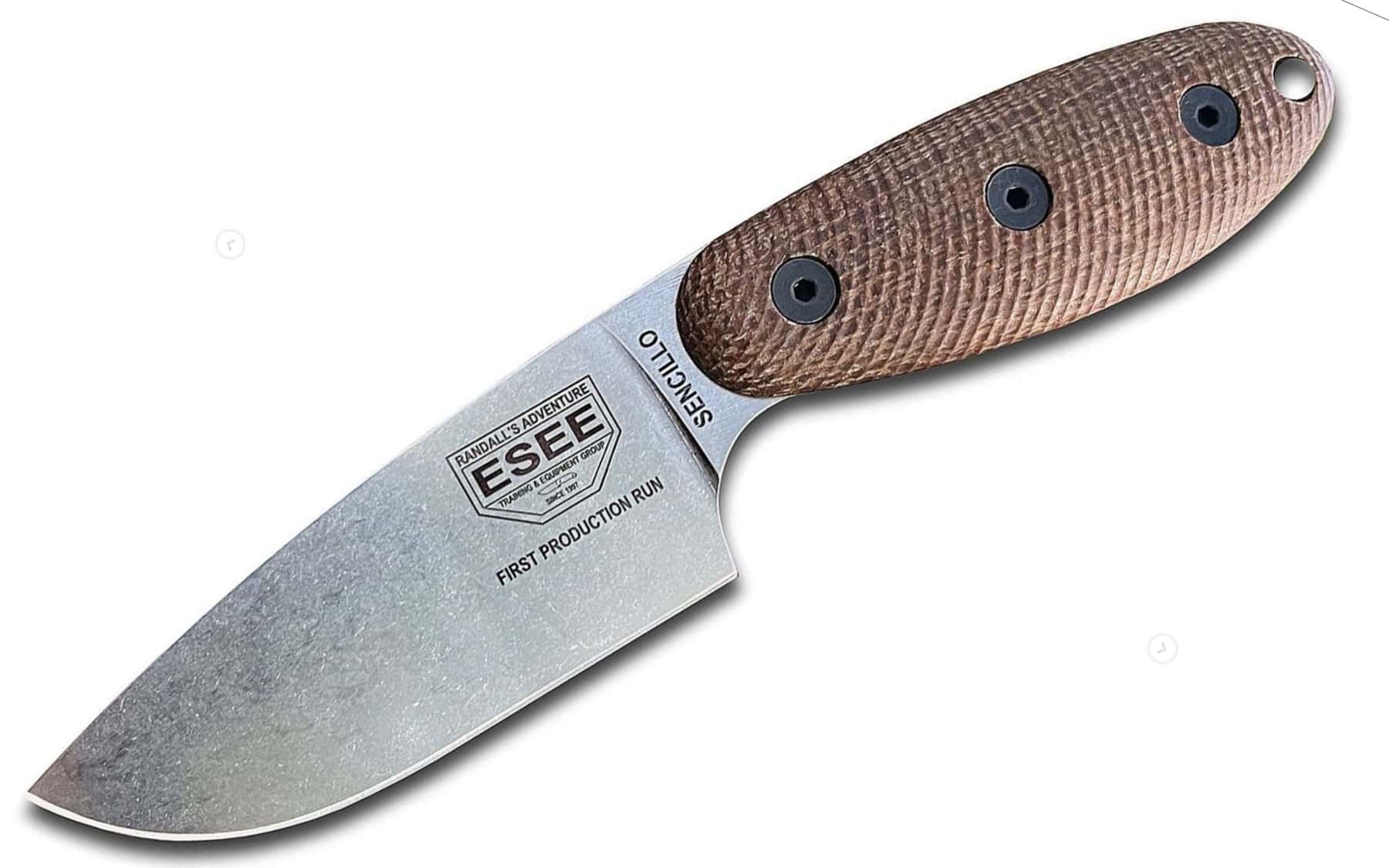 Jeff Randall pushed the design forward in response to customer requests for knives with Magnacut steel, per ESEE's recent Instagram post announcing the Sencillo. Randall already had the lines for the design worked out on a carboard box in sharpie (using the traditional designer tools), and whipped up a prototype in A2 steel before the other folks in ESEE said it would be good in Magnacut.
So they called up White River Knife and Tool about making the design, and now they're offering the Sencillo in both A2 and Magnacut.
Here are the quick specs:
| | |
| --- | --- |
| Overall Length: | 7.25″ |
| Blade Length: | 3.3″ |
| Blade Style: | Drop point |
| Steel: | Magnacut or A2 |
| Handle: | Burlap Micarta |
| Sheath: | Kydex |
Fans of the ESEE Izula 2 will be in familiar territory with the Sencillo. ESEE describes it as "slightly bigger than the Izula-II and features 3D handles". That "slightly bigger" phrase essentially translate to the Sencillo's handle being a bit fatter and the blade a bit longer and taller.
ESEE goes on to say "bottom line is it will cut hay string, whittle a stick, and cut your sandwich in half. If you're looking for something innovative and hyped then it's probably not the knife for you. If you are looking for a knife to work day in and day out, it's worth your consideration". So, jumping on the new steel wagon they might be, but they're keeping to the old woodsman vibe while doing it.
The Sencillo should be shipping to dealers in the next three weeks, but it sounds like the A2 version will be coming first. No specific date on the Magnacut Sencillo just yet, so keep your eyes out.