More Designs from Michael Walker and an Introduction to Darriel Caston
CRKT showed up with 6 new models at their booth in Utah. Three from renown designer and inventor Michael Walker, and three from a new face in the production world: Darriel Caston of D Rocket Designs.
The New Fortuitous and a Pursue Update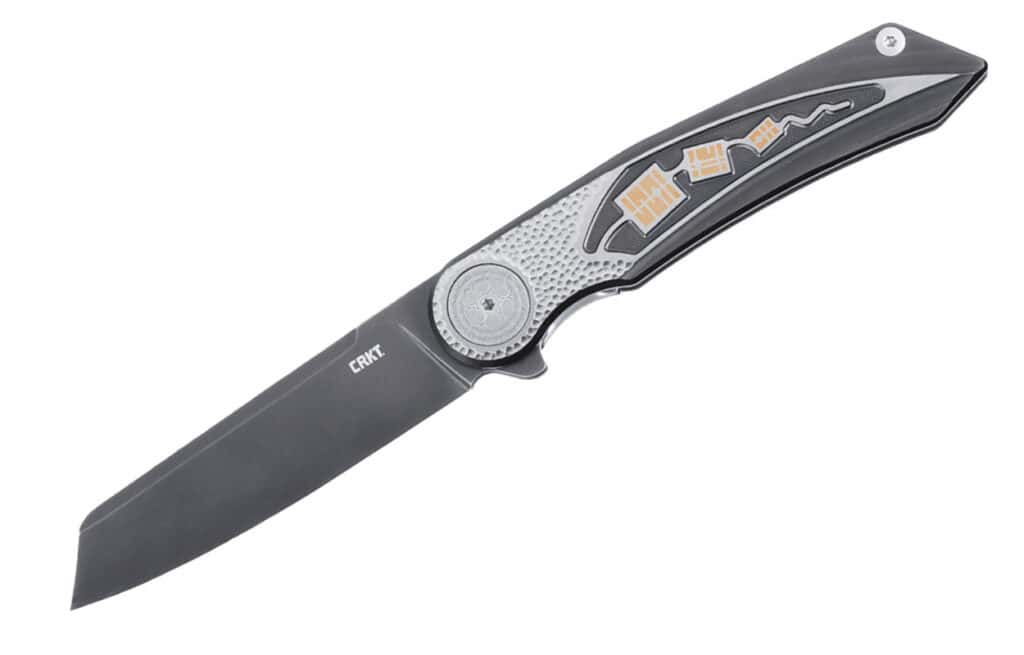 Per CRKT's press release, all the Walker designs are "premium in every sense of the word", which means more of what we saw from them at Blade Show Atlanta: sleek handles and super steels all brought through the LionSteel factory in Italy.
The Fortuitous is a big 8-inch flipper with a 3.5-inch sheepsfoot blade, IKBS ball bearing pivot system, and a titanium handle etched with Walker's signature geometric styling.
They're releasing two versions with some distinct color schemes:
One has a CPM Magnacut blade with a black stonewash finish (MSRP $250), and one with a Rose pattern Damasteel blade with an acid etch finish and a Bluetongue Damasteel pivot (MSRP $400).
The third new Michael offering is an update on the Pursue. It has the same Super Dense Twist Damasteel blade and oversized mother of pearl pivot, but you can now get it with a black Fat Carbon Fiber handle.
Bringing D Rocket Design into the CRKT Line Up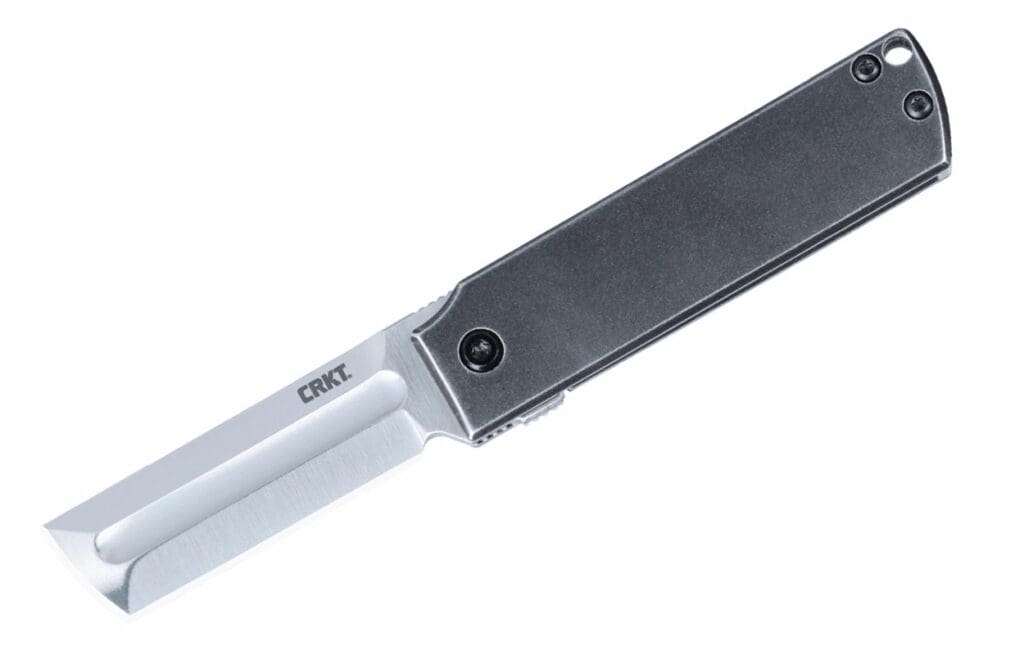 Anyone already familiar with Darriel Caston knows about D Rocket Designs, but for those who don't the short version is Caston is an electrical engineer with a bit of a Renaissance man bent. He's been making his own unique knives ranging from autos to OTFS.
He designed three new knives for CRKT, two of which are plays on the same design:
One design imprint was based on a commission Caston received from SpaceX for a milestone launch (so I guess you could call these the rocket launch knives?)
The MinimalX is a flipper with a Sandvik 12C27 steel cleaver blade featuring a pseudo-tanto grind that has the front side sharpened. Blade length on that is a little over 2 inches and the handle is steel with a frame lock and tip-up pocket clip (MSRP $80).
The Mbombo, named after the Kuba god of creation, is the premium version of the MinimalX. It has a Damascus steel blade and a titanium handle, but has essentially the same frame lock and flipper build. Of course, materials will likely make the lock up and performance feel different.
The KatanaX is a compact manual OTF with a 2-inch blade made of D2 steel. The handle is all steel and technically skeletonized with a frame lock. It also has a deep carry pocket clip, but it's definitely small enough to slip into the inner pocket or hang onto a keychain.