And it's a little more vintage than the kind of overbuilt, tactical fare we've all come to expect from Cold Steel.
The Cold Steel Republic is an outdoor fixed blade with a roomy Micarta handle and a 3.9 mm spine, which is sort of a long way of saying it was designed to be a beast in the woods.
Here are the specs:
| | |
| --- | --- |
| Blade Length: | 5.0" |
| Steel: | CPM-S35VN w/ 58-60 HRC |
| Blade Type: | Drop point |
| Handle: | Linen Micarta |
| Sheath: | Leather |
| Weight: | 8.4 oz |
It's listed on Cold Steel's site as the "Republic Bushcraft Knife", but definitely seems like a more generalized survival design with its flat grind and exposed-tang pommel. Either way, the build on paper looks rugged enough for whatever outdoor work you have in mind.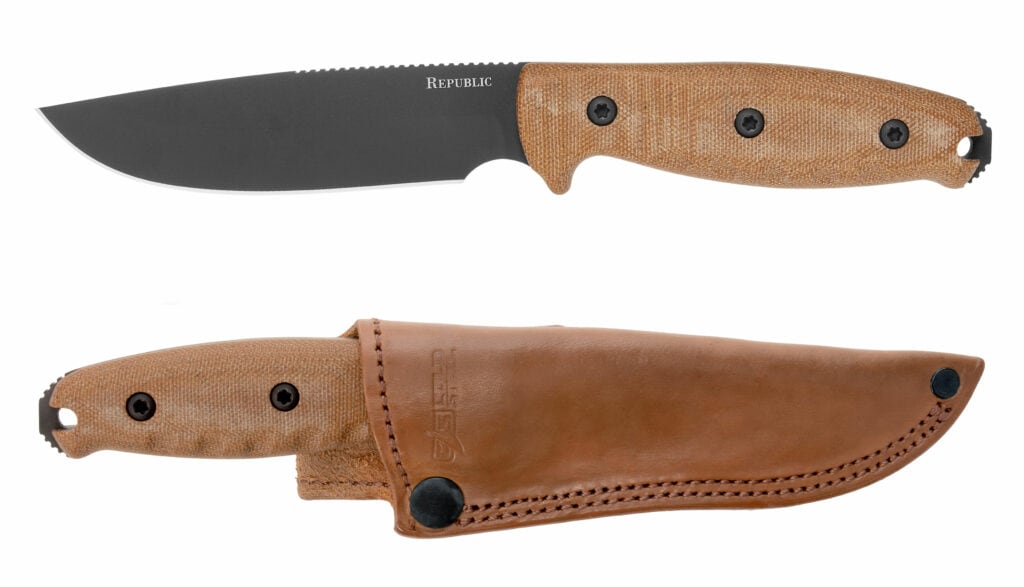 One interesting detail about the Republic, besides the uncharacteristically rustic look, is that they've made the Micarta scales fairly easy to replace by setting them to the tang with three torx screws. The blade also has an Ionblond coating (which is just a brand of PVD coating), giving it an almost black look and adding some (possibly unnecessary) corrosion resistance to the S35VN steel.
This isn't the first time Cold Steel has put out an American-made blade, but it happens rarely enough to raise eyebrows when they get to it. The Republic might remind some of the OKC RAT 3 (it did for us, anyway), which all comes together as an odd consolation in light of the recent closing of the Ontario Knife Company.
The Republic is available on the Cold Steel site now with a $270 MSRP, and should be hitting retailers very soon.