This Versatile Compact Fixed Blade Knife is Fun and Practical And Kinda Cute In a Sharp, Pointy, Tactical Sorta Way
Modern knives are often made for very specific purposes like bushcraft, self defense or skinning. The Outdoor Edge Le Duck, however, seems to have been made to just be versatile.
It was designed by knife maker Jerry Hossam. Until recently I didn't know who he was, but after using this knife I would like to shake his hand and maybe buy him a beer. Mostly because this knife is something that is somewhat difficult to find these days. Unique, but not in an impractical attention grabbing sort of way.
It is unique in that it really is super useful in a lot of different situations. Is it perfect? No, of course not, but I was so constantly impressed with it over the course of the past few weeks that I will say that the few negatives in this review are really only quibbles. I expect to buy several of these over the course of my lifetime, because I will wear them out, lose them, or give them away. At its current price, buying several is no big deal even for a broke-ass knife blogger.
A note about the knife name, and a warning about the author.
The reason for the Le Duck's name is pretty obvious. The handle looks like a fricking duck.
This was not just a cutesy attempt by the knife maker to stand out in a crowd and maybe get a few extra sales. It actually makes it easier to grip which I will get into more later. However, I completely failed to see the way the handle very plainly resembled a duck until someone else mentioned it. At that point I had been using the knife for at least two weeks.
I only bring this up as a warning to the reader that my observational ability is suspect, and you may want to take any opinions I offer with more than a grain of salt. In fact, if you decide to skip the words all together and just look at the photos, I totally get it. That's what most folks do anyway. [Editor's note: Then what the hell am I doing here?].
Specifications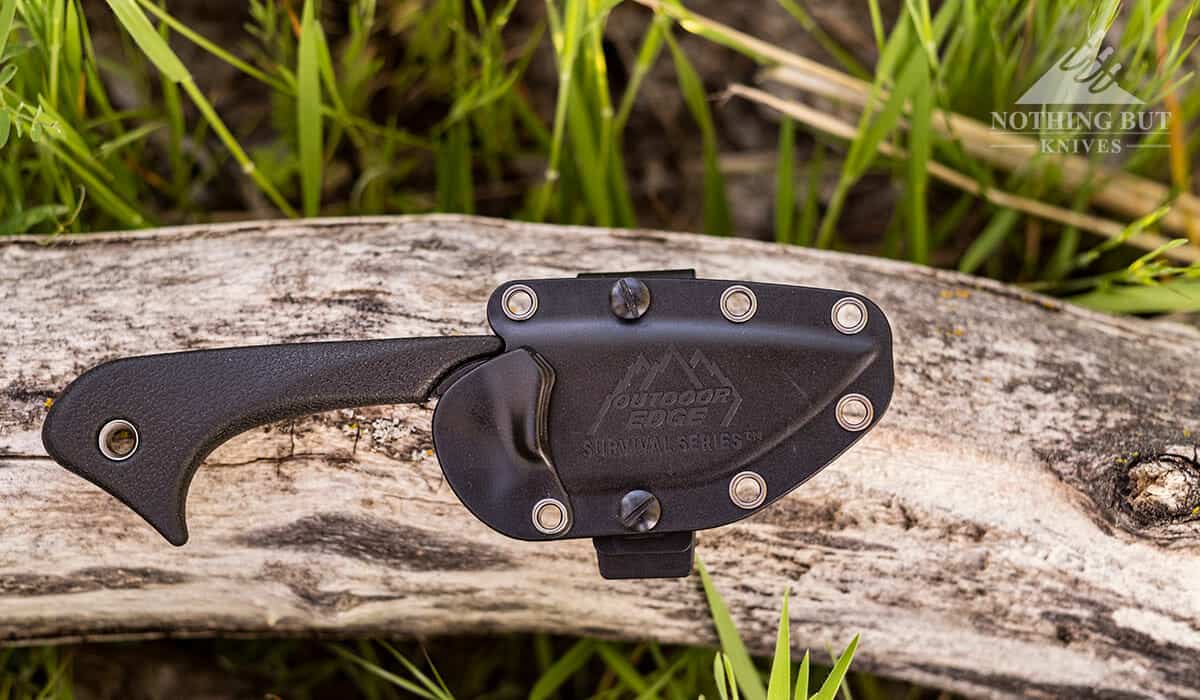 | | |
| --- | --- |
| Overall Length: | 6.25″ |
| Blade Length: | 2.5″ |
| Handle Length: | 3.75″ |
| Blade Steel: | 8Cr14MoV w/ Blackstone Oxide Coating |
| Blade Grind: | Flat |
| Blade Style: | Drop point |
| Handle Material: | Rubberized TPR |
| Weight: | 3 oz |
| Sheath: | Polypropylene |
| Made in: | China |
| Price Range: | $27 – 35 |
Pros
Multi Carry Sheath System
Easy to handle
Rotating Sheath
Comfortable horizontal carry
Cons
Budget steel
Not ideal for cutting rope, but it will get the job done
Blade Design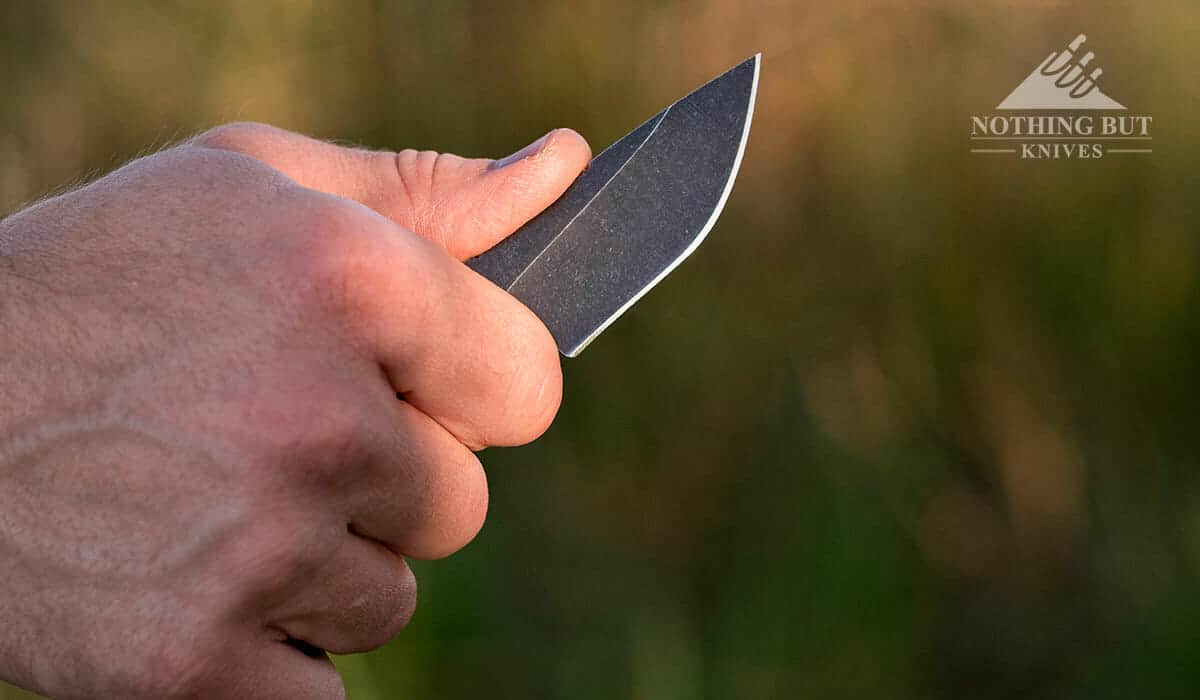 The blade of the Le Duck is 2.5 inches. I assume the size is due to concealed carry restrictions of knives over three inches in most states.
The diminutive size of the blade certainly limits it's usefulness in a lot of situations, but the Le Duck was much more effective at the variety of tasks we threw at it than most other small-bladed knives. From a tactical standpoint the small blade is great, because it allows you to aggressively attack Amazon boxes without any fear of damaging the contents. [Editor's note: We only attack them in self defense, though].
The blade is made of 8Cr14MoV steel and it is covered by a blackstone oxide coating. 8Cr14MoV is a pretty good budget Chinese steel. It will not hold an edge as well as S30V or even Buck's 420 HC. However, it holds an edge better than regular 420 or the cheaper Chinese steels like 7Cr. Considering the great price point of the Le Duck the steel choice makes sense. It holds up fairly well to corrosion and is easy to sharpen.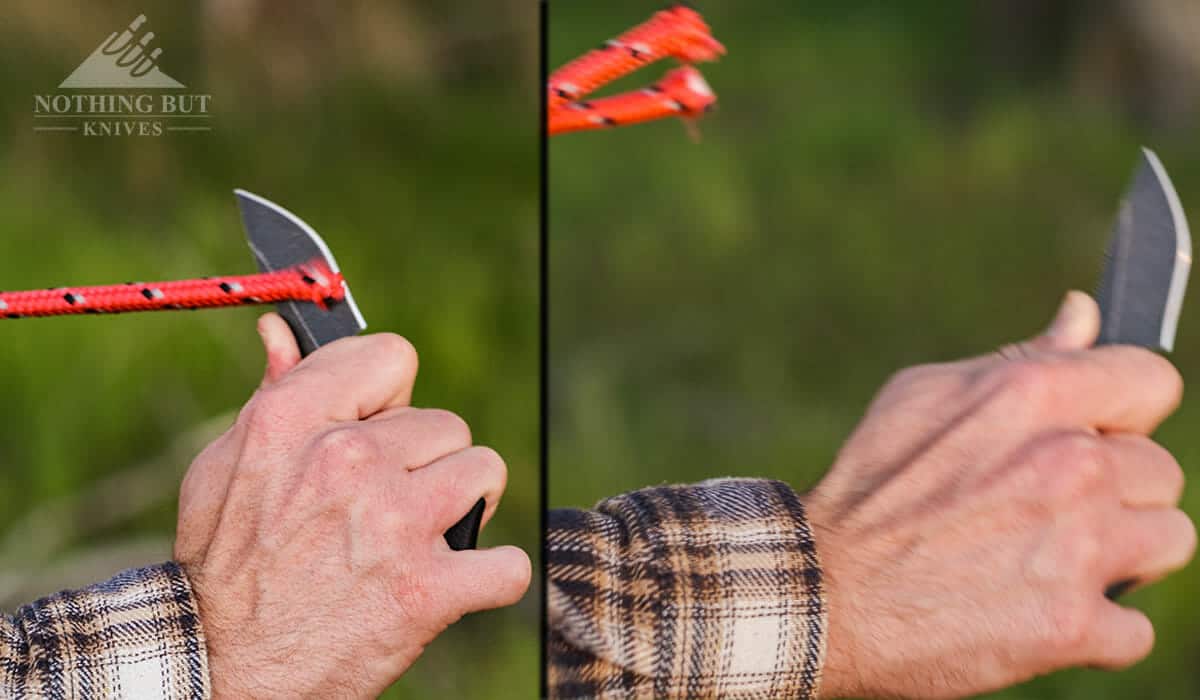 Right out of the box the Le Duck blade performs fairly well, but there was a bit of a performance uptick after spending a little time with a leather strop. This seems to be a common theme with other reviewers, so I do not think the relative dullness of my knife was an outlier.
The short drop point design of this blade made it less than ideal for cutting rope, especially when compared with the CRKT SPEW which we happened to be reviewing at the same time. However the the generous belly of the blade and the flat grind make the Le Duck a great choice for a small skinner. It also excelled at cutting cardboard and plastic.
Where the blade of the Le Duck impressed me the most was outdoor food prep. Obviously the short length of the blade makes it a poor first choice for camping food prep, but if you are packing light or you lose or break your primary knife in the woods, the Le Duck does a better job of cutting and slicing fruit, vegetables and meat than just about any other non cutlery knife with a sub-3 inch blade I have used.
Handle Ergonomics
The handle of Le Duck is really creative. Ultimately the funny looking design is quite practical from a grip standpoint. Most small-neck knives have thin handles for the sake of concealment, but this often makes them difficult to grip in a hard use situation.
The Le Duck also has a thin handle, but it compensates with the duck bill design. The beak of the duck shaped handle sits between your ring finger and pinkie finger. This really does make the Le Duck easier to grip than a lot of other small neck knives. However, the design is not perfect for consistent hard use. It caused a few hot spots after using this knife over an extended period of time at a variety of camp tasks.
If for some reason you ever need to use the Le Duck in a reverse grip you will be happy to know it is super comfortable in that position.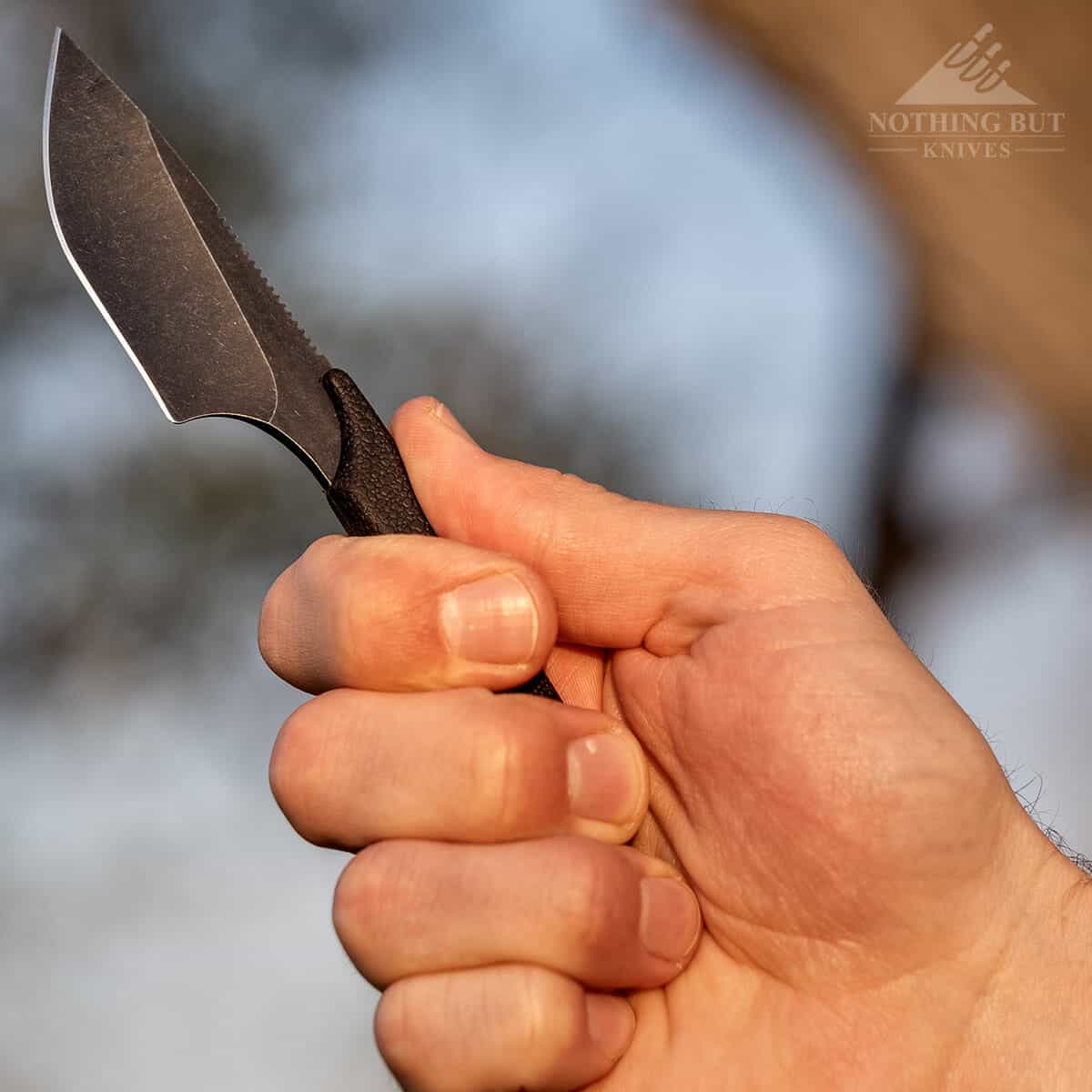 The design of the Le Duck handle makes it easy to get a firm grip of the butt end of the handle in case you ever needed to chop small branches off a slightly larger branch, or for some unknown reason try to chop through a piece of wood.
We actually tried this just for fun [Editor's note: "just for fun" literally describes our motivation behind everything we do with knives, but that's none of your business]. It is doable if you are patient. I won't spend a lot of time talking about the TPR rubber the handle is made of. If you have read this much of the blog you are most likely familiar with TPR. I think it is the best budget handle material on the market, because it is fairly durable and easy to grip.
Sheath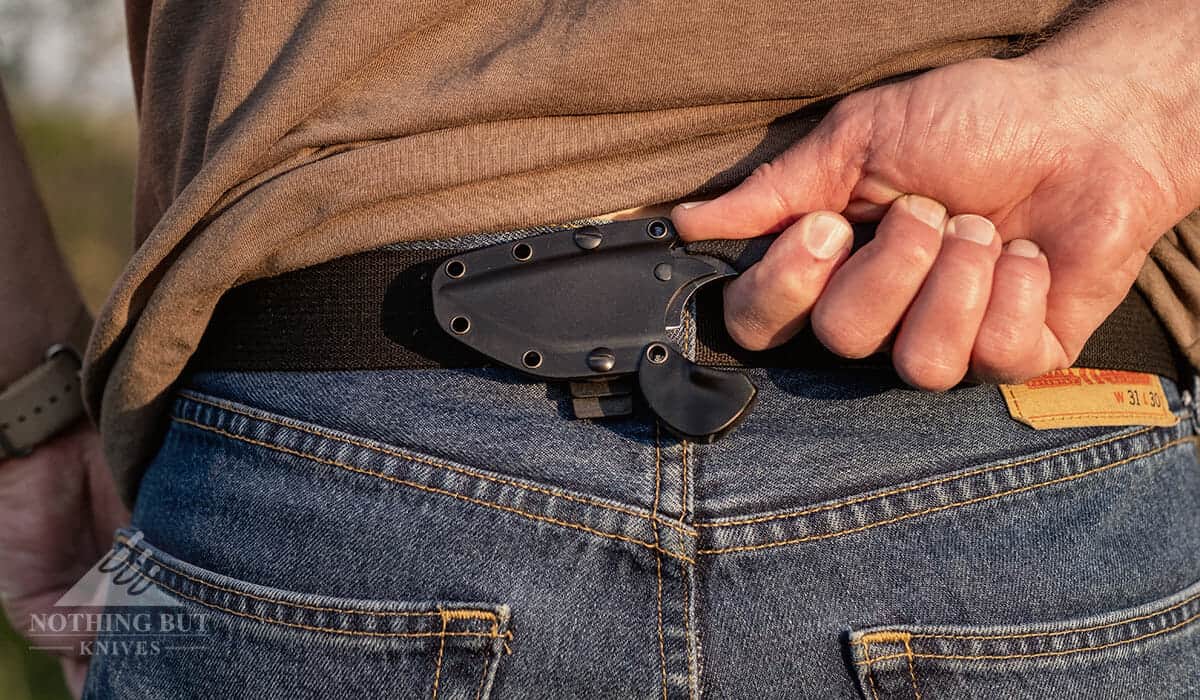 While the knife itself is well designed the sheath is where the Le Duck truly shines especially from a versatility standpoint. It is molded plastic, not kydex, but it feels solid and performs well.
The sheath has a locking retention tab which I personally prefer to pressure fitted when it comes to molded plastic sheaths. Obviously the retention tab requires an added step prior to drawing the knife from the sheath, but with a little practice flipping the tab and pulling the knife become a seamless move that feels a lot smoother than trying to yank it past the retention grip of a normal sheath.
As you can see by the photos the Le Duck can be carried horizontally or vertically on a belt or as a neck knife. The lanyard hole in the handle also allows it to be carried in a pocket with a lanyard around a belt if that is your preferred method of carry.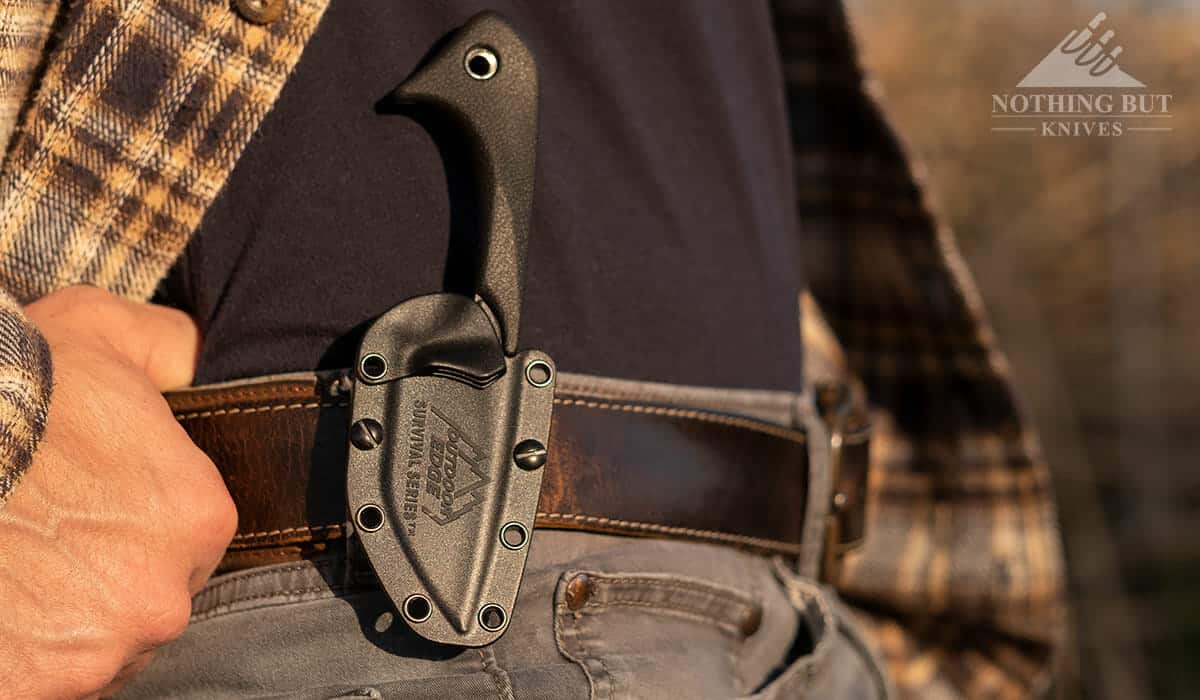 The detachable 360 degree belt clip makes it super fast and easy to switch between vertical and horizontal carry. When in the desired position the clip holds really well even when bumped or slammed which is more than I can say for a few other knives with a similar set up.
Unfortunately, this knife rides kind of high in the vertical position, and can be a bit uncomfortable. When carried vertically I personally prefer it slightly to the right of the small of my back. I am guessing most people who buy this knife use it as a neck knife or in the horizontal carry position, but it is nice to know that the vertical option is available if it is needed even if it is a bit uncomfortable.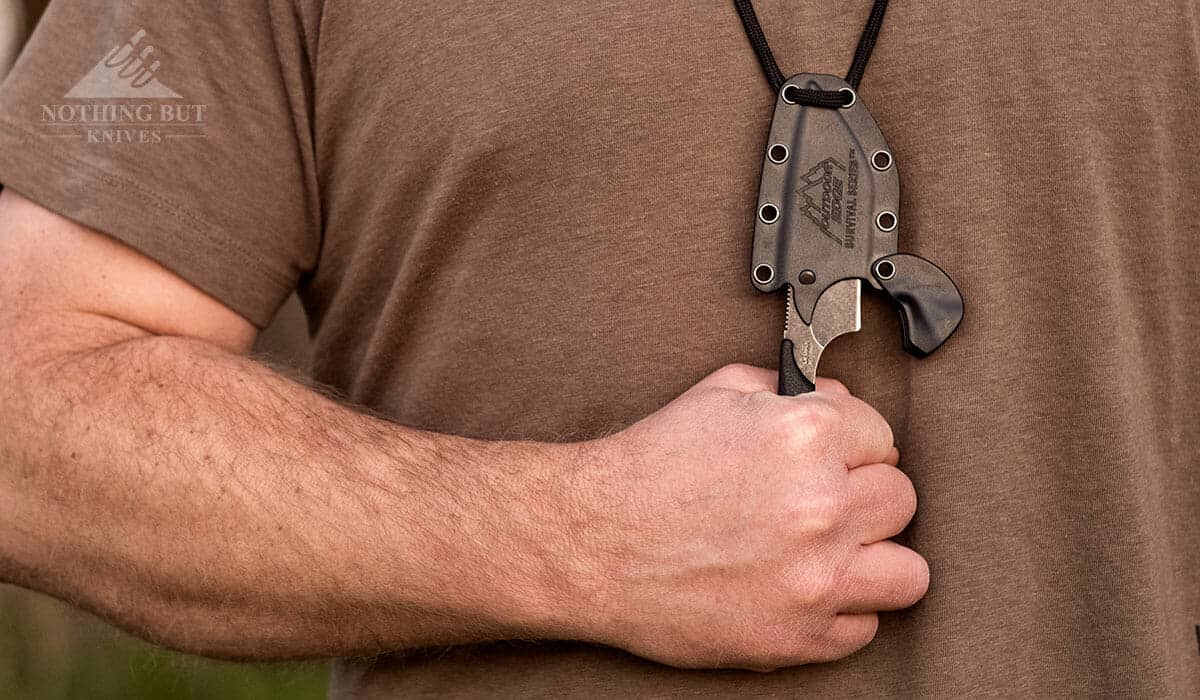 The belt clip on the sheath is easily removable if you decide to turn the Le Duck into a neck knife. The supplied 550 cord works great and it is adjustable. The sheath is compatible with any MOLLE system and is pretty easy to attach to most backpacks or life jackets. There are very few knives on the market of any type that are as versatile from a carry standpoint as the Le Duck.
In The Field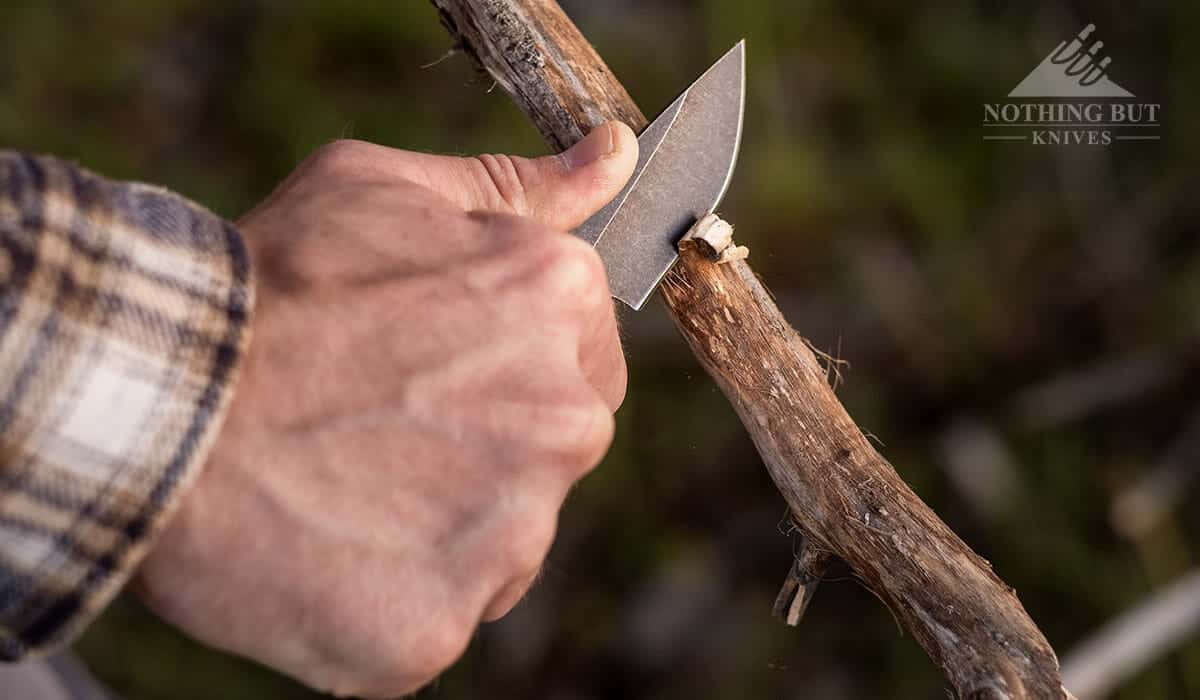 As I mentioned in the blade design section of this post, the Le Duck performs pretty well outdoors in a variety of tasks.
I think it is too small to be used as the primary knife for most outdoor excursions, but it makes an excellent back up blade for camping, hiking or hunting. The flat grind of the blade and grippy handle make it more than usable for feather sticking, carving or just sharpening hot dog sticks for yourself or the kids.
The ability to grip the base of the handle firmly thanks to the duck head design makes it possible to chop through wood if you are really patient. Really, really really patient. It is a 2.5 inch blade after all.
Conclusion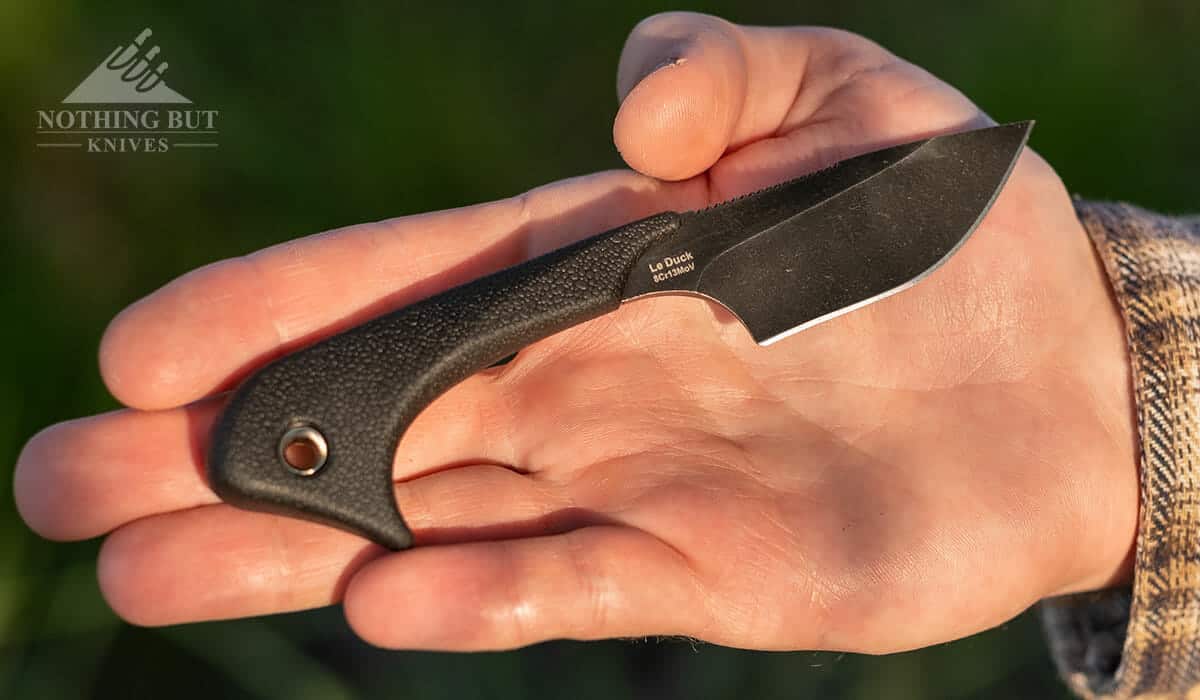 The promised versatility in the contrived knife speak of many knife product descriptions offers an amazing value in theory, but they often fail to deliver in practice because the conversion from one type of carry to the other is too cumbersome or complicated to be carried out in the field under questionable lighting conditions.
If you have ever found yourself trying to convert an unnecessarily complicated sheath by firelight you may know what I am talking about. I am looking at you Buck Selkirk [Editor's note: we have lost so many tiny screws]. The detachable 360 degree clip of the Le Duck sheath is really impressive for a budget blade, and it works much better than similar features on much more expensive knives I have tried like the Mora Black.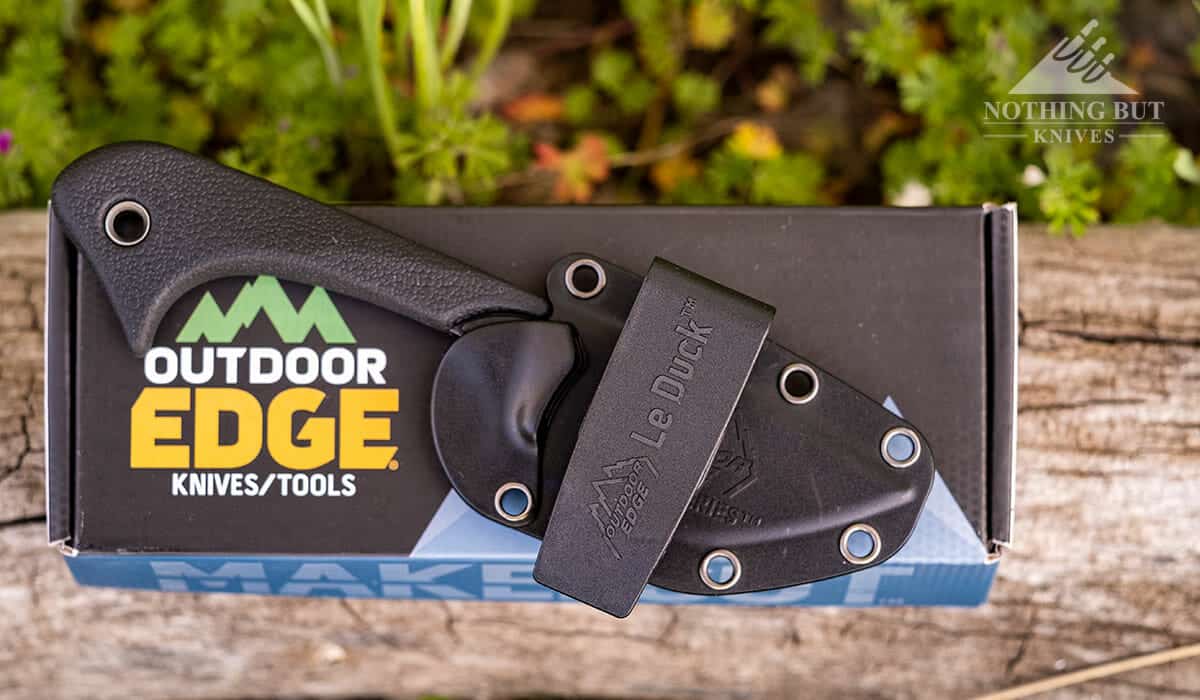 In short the Outdoor Edge Le Duck is an easy knife to recommend as a neck knife or back up outdoor adventure knife.
The versatility of the sheath and the great overall design of the knife make it a steal at it's current price point. I would love to see a more expensive version with a micarta handle and an S30V or even AUS 8 steel blade, but I feel that way about a lot of well-designed budget knives I have used.