Mastering Identity and Craftsmanship in the World of Damascus Blades
Every artist must create their own identity and should be able to be recognized when placed among others in their niche. Scott Gallagher has achieved this and more. Like others, I love a good damascus blade, especially patterns that seem to dance on their own and tell their own story. There hasn't been a piece from him yet that doesn't do this, damascus or not. All his work is done on his own, from damascus to even some of the engraving. I have yet to see something from Scott that I haven't wanted for myself. His quality of craftmanship is top of the line.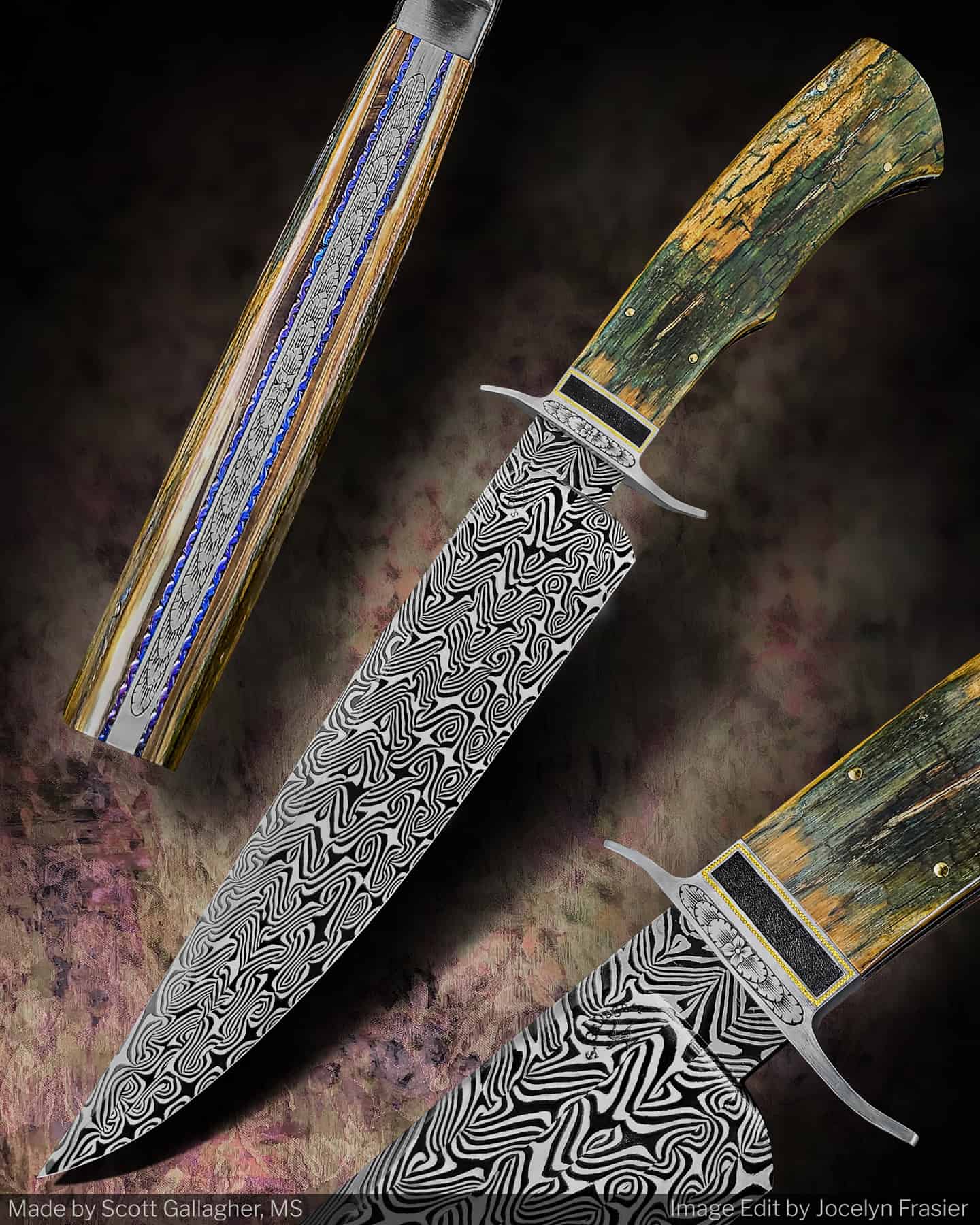 The world's largest knife show, Blade Show Atlanta, is the perfect place to meet new makers, see how your work stands out from others and find inspiration for yourself. Scott started his knifemaking career after attending this show in 2014, where he bought his first grinder from Chris Williams of Wilmont Grinders and 1084 steel from New Jersey Steel Baron.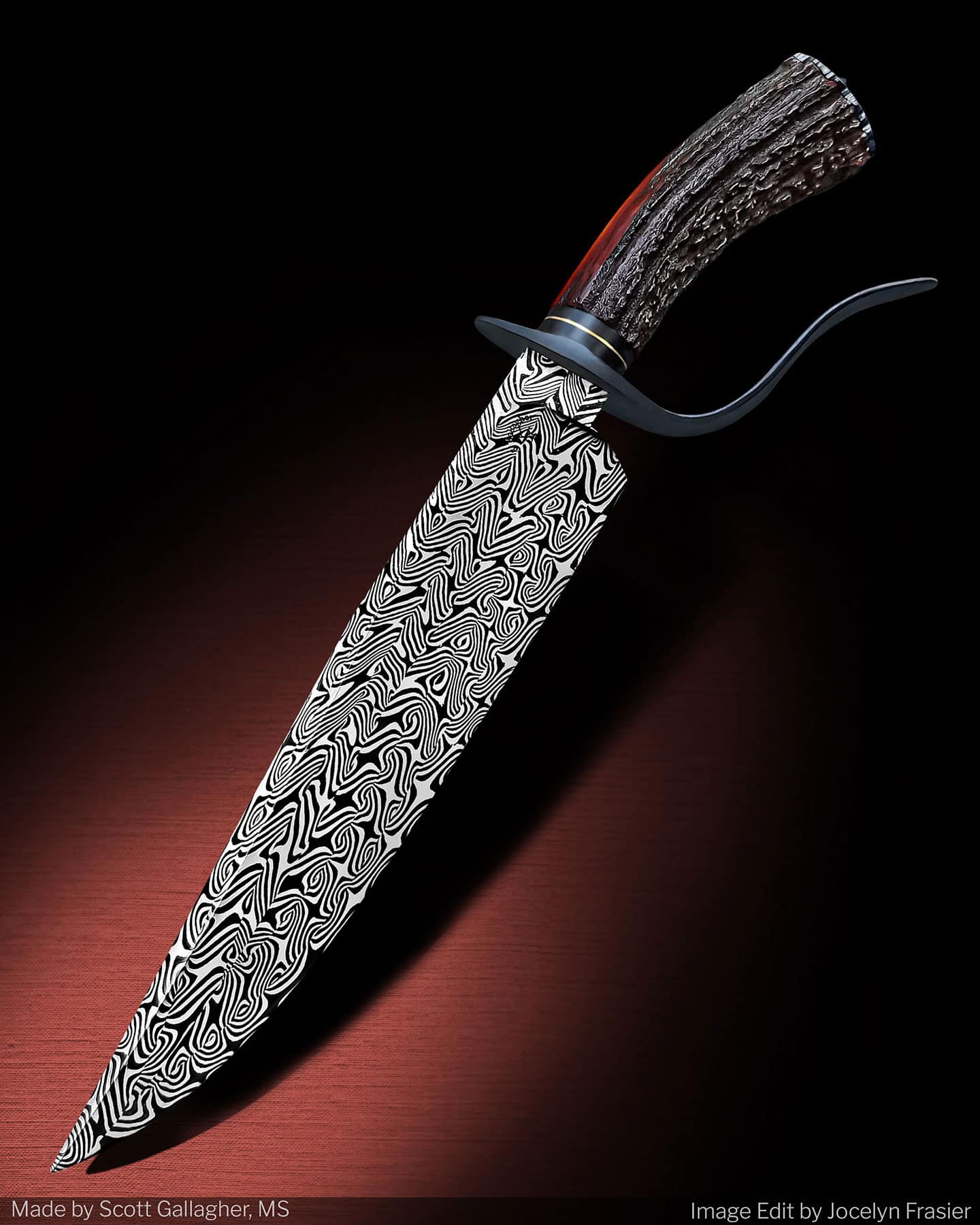 He didn't waste any time setting up the grinder and making a couple stock removal knives. "I've always loved knives, I just never thought about making one."
Scott first found his inspiration through Mastersmith Scott McGhee and late Mastersmith John White. John lived only 40 minutes away, so Scott bugged him to help teach him knifemaking until John told him to take a beginner's class.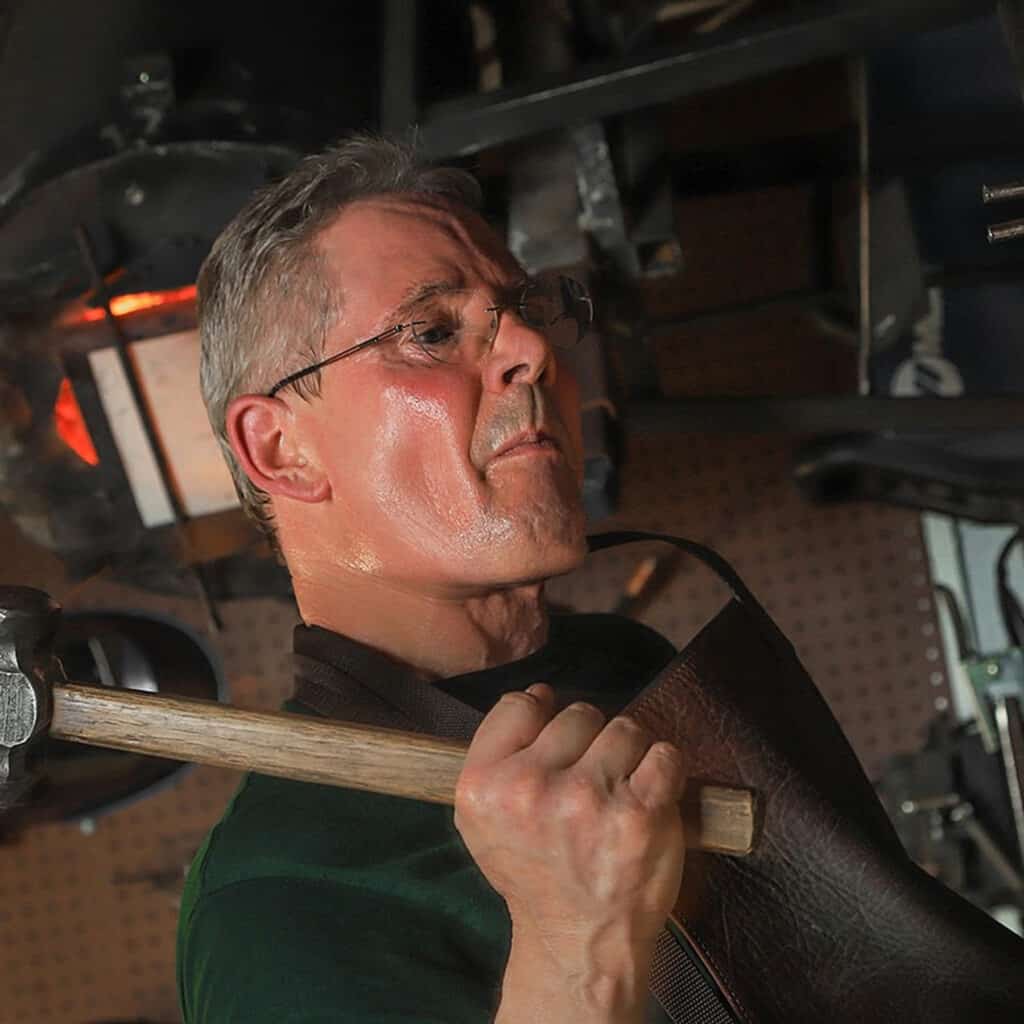 There was an Introduction to Bladesmithing class in Clyde, North Carolina with the American Bladesmith Society that Scott attended in 2014. Through this class he learned the tricks of producing collector grade knives that are both artistic and functional.
Anyone can make a knife, but it takes something else to make a knife that is perfect both inside and out. The fit and finish is something Scott takes pride in. He gained knowledge learning from his many teachers including John Horrigan, Rich Genovese, Lin Rhea, John White and Scott McGhee, who all taught him how to make a great knife.
That means making it in proper balance, having good lines, creating functional designs and making the knife proportional and appealing to the eye. He also studied other people's work over and over. He says, "by doing that, a maker can and will develop their own style!"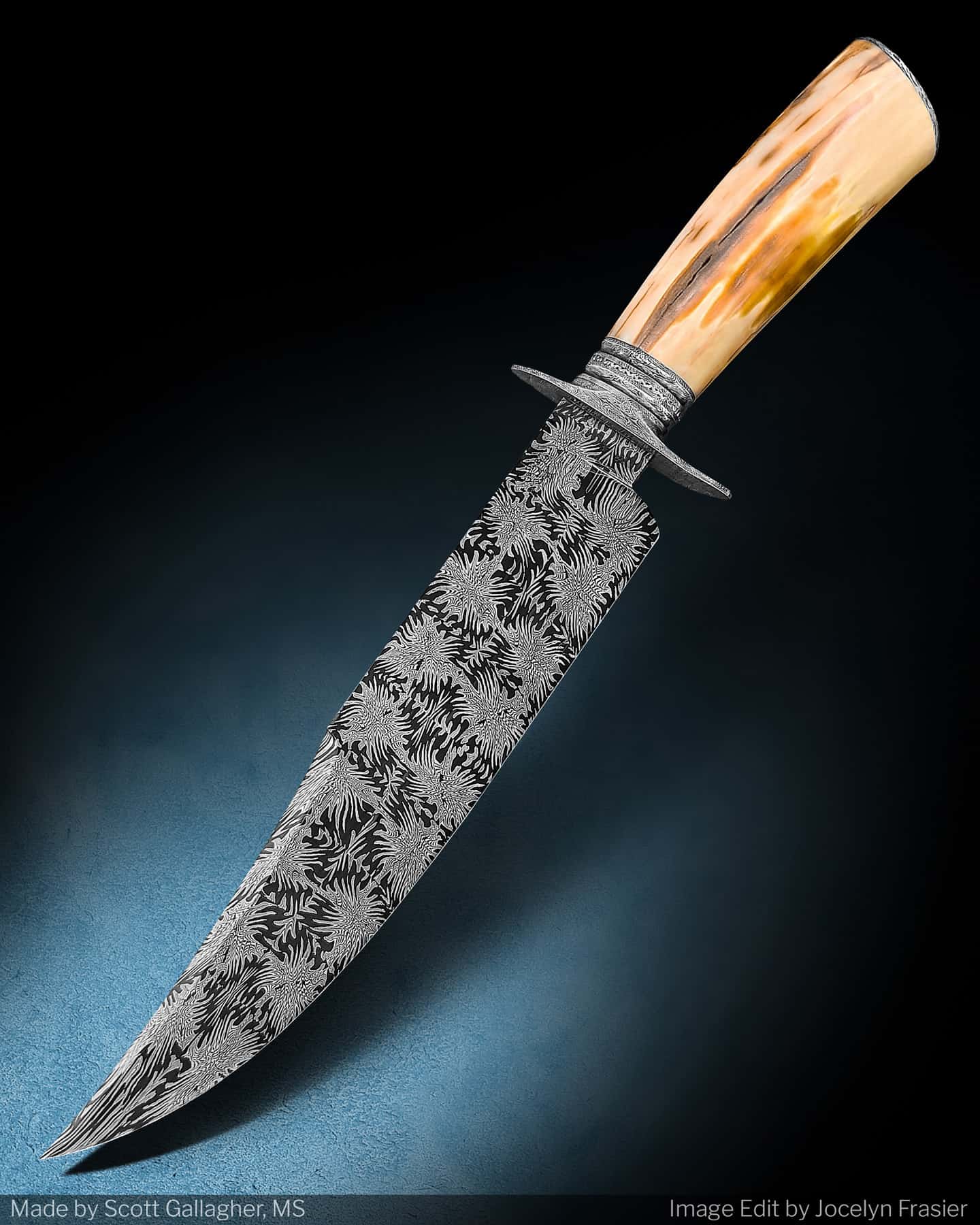 Motivation in any profession can be hard to find, especially when it feels like you're always taking steps backwards. Scott says he keeps his motivation by constantly pushing himself to learn new things about knifemaking, like creating new damascus patterns. Being a full time knifemaker is motivating in itself, because the bills have to be paid somehow!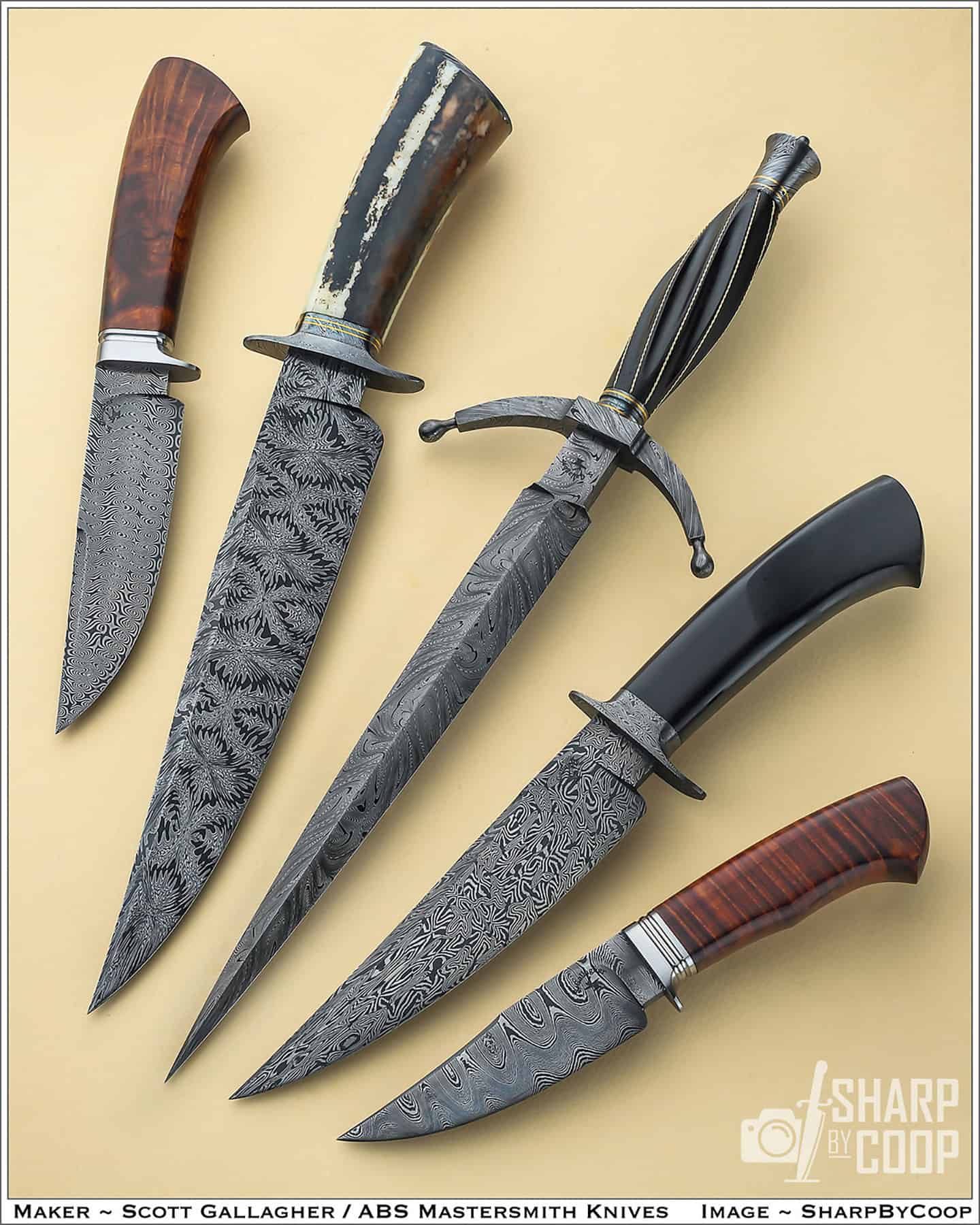 In 2016 Scott passed his Journeyman's test with the ABS and in April of 2021 he earned his Mastersmith title. Achieving this ranking was the most difficult thing he has had to overcome. He says "Mastersmith knives must be the maker's best work. They need be as perfect as possible, there is no such thing as 'good enough'." Knowing that, the maker can tend to second guess their work and create stress.
Out of five required knives, his European Quillon dagger was the most difficult to make – which also made it his proudest build. He says that the Mastersmith test made him a better maker and developed a better eye for detail. Taking a dagger class from the New England School of Metal also helped prepare him for this challenge.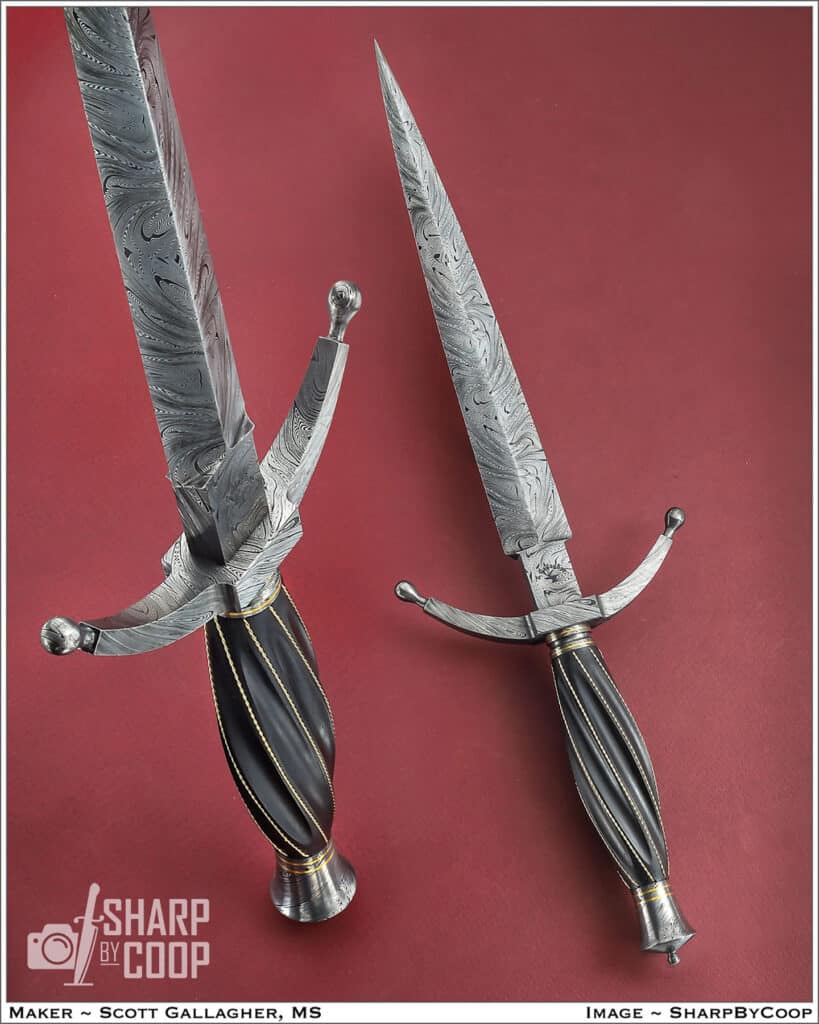 Scott makes a wide variety of models from inner frame lock back folders to quillon daggers, but his personal favorite builds are folders and bowies. He uses a lot of natural materials such as fossil walrus, mammoth ivory, stone and his own in-house Damascus.
You can reach Scott through social media, email, or a good ole' text:
Text – (850) 865 8264 (text or call)
Email – [email protected]
IG: scottgallagher04
FB: scottgallagher04
Official Website: Custom Knife Maker | Scott Gallagher Knives