This Young New Zealander Has Skills Far Beyond His Years
There is an outstanding number of knifemakers here in the US, but today we are not only leaving the country to find them, we are leaving the continent entirely and taking a look over at the talent that is hiding on an small island overseas. Liam Walle is a very skilled knifemaker at only 18 years old. You would never know just by looking at his knives that he has very limited resources of both materials, tools and other knifemakers. With what he is putting out at this young age, I can't wait to see what he will be making in five or ten years from now.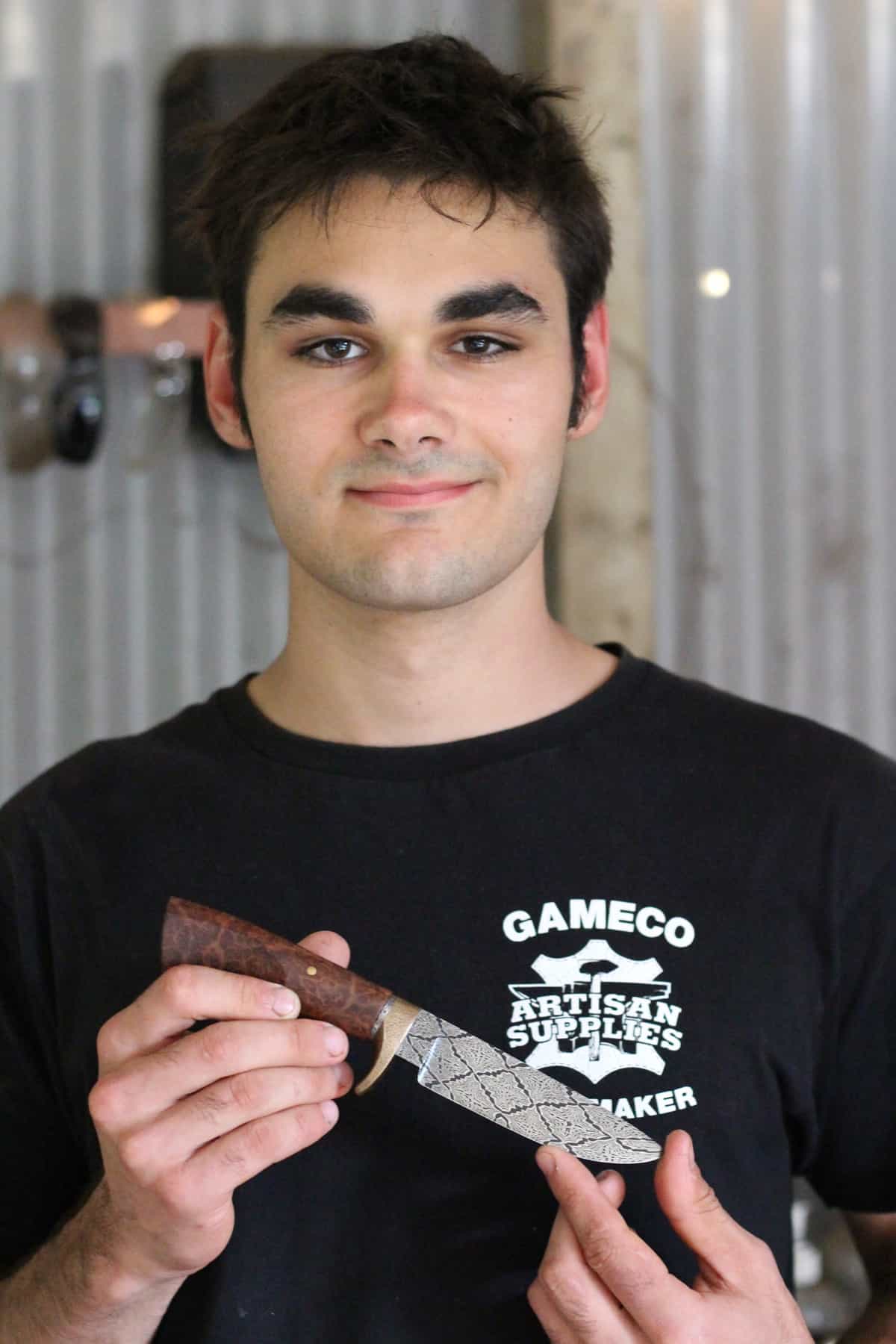 Liam Walle spent most of his childhood living on remote islands of New Zealand. He always had an affinity for creating things like rafts, art, and even fictional writing. At the end of 2017 is when he started messing around with hot steel.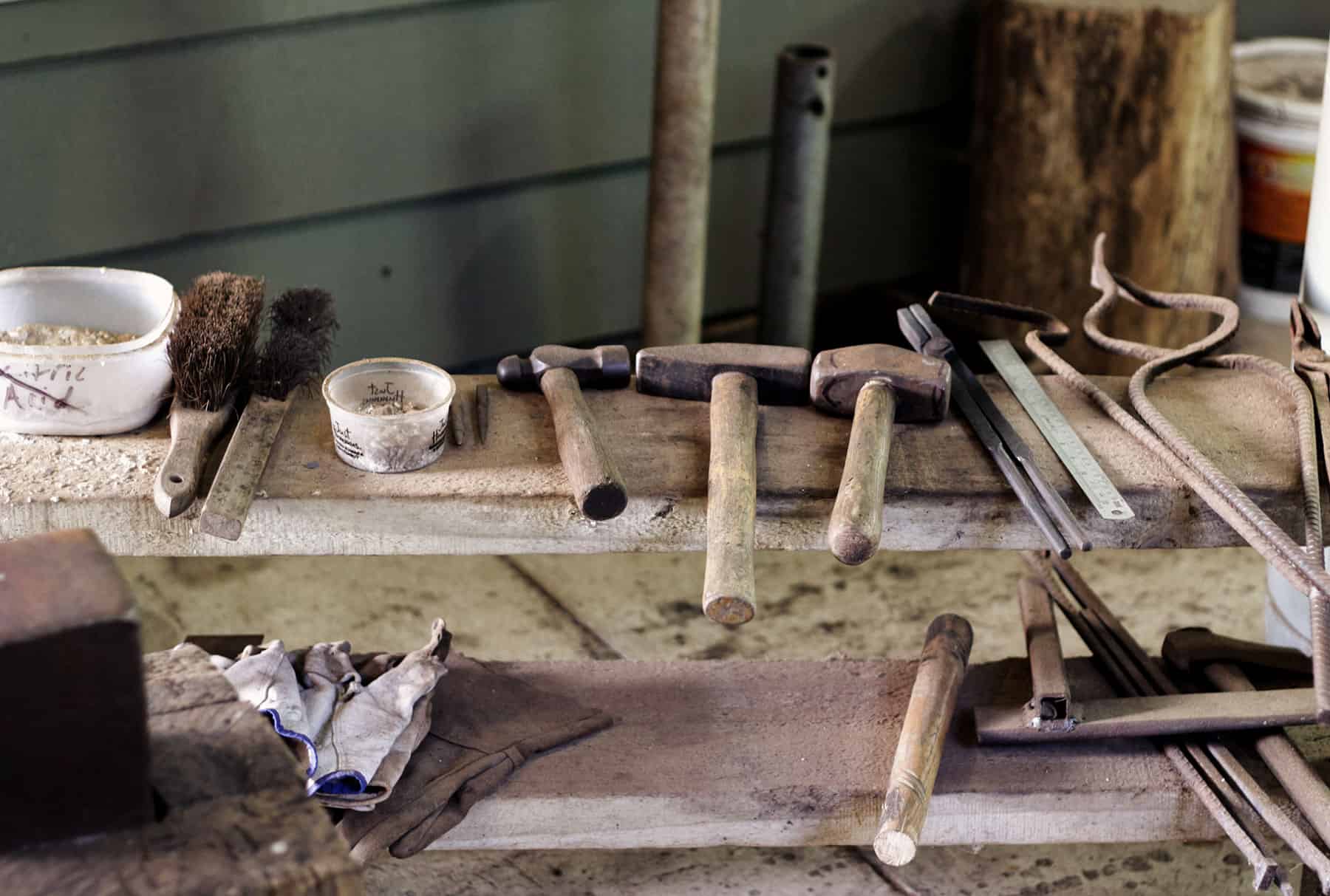 The spark of knifemaking came to him when he was reading fantasy novels and noticed that the protagonist always seemed to have a sword. Liam says, "I wanted a sword… the solution: Make one! I started off forging spring steel in an old brick barbecue in our garden, heating the embers by pumping air into the fire using a foot-pump from an inflatable raft. Then I upgraded to a hairdryer and rubber bicycle inner tube attached to a metal pipe with holes in it.
After about two years of making, to put it bluntly, abominations, my mum booked me a one-on-one knifemaking class with Shea and Lena of Stackhouse Knives." That is when Liam set the bar higher for himself with the skills he learned and upgraded to a real gas forge, which opened the door to Damascus.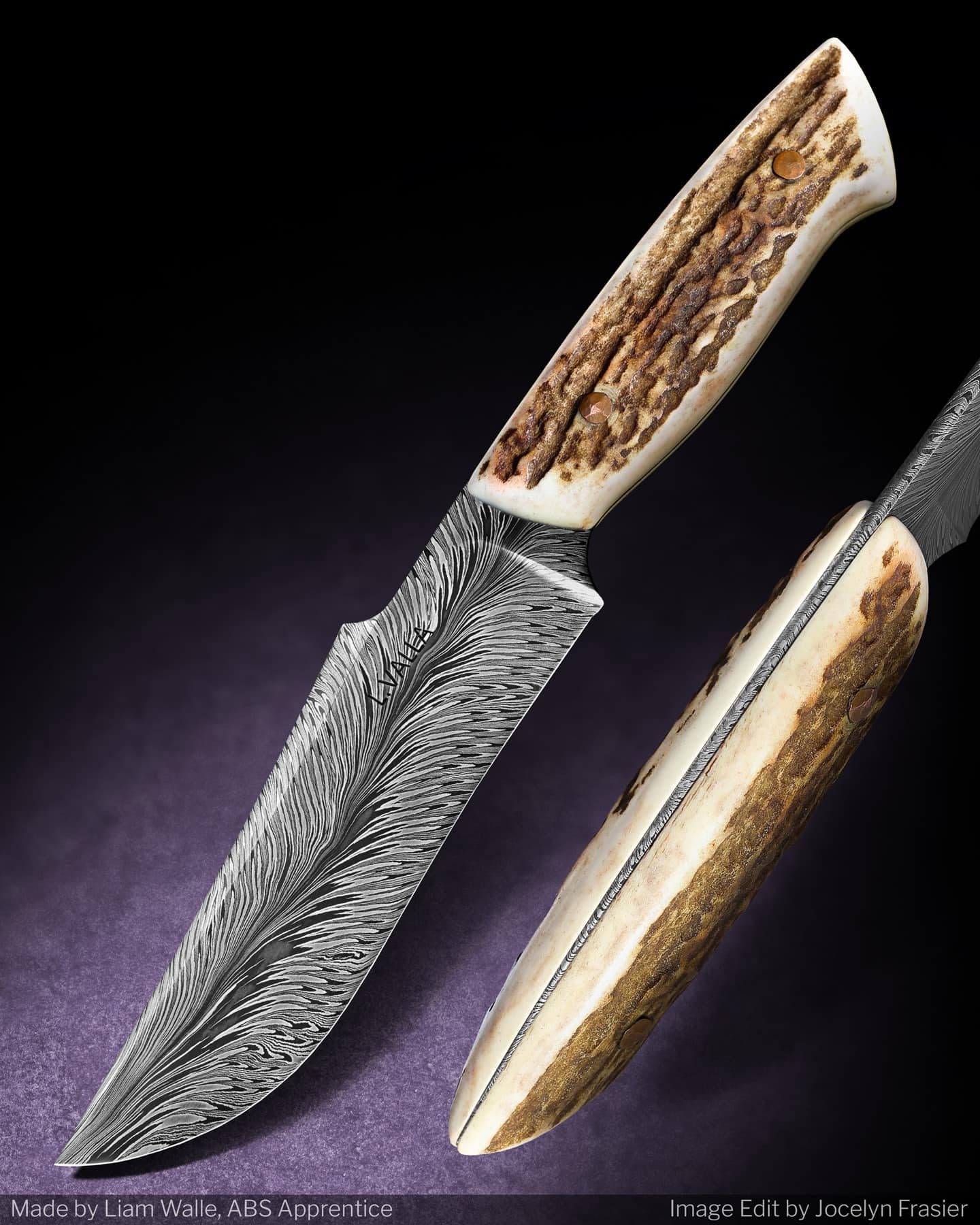 While living on islands, Liam found inspiration for his knives through nature, making a few themed knives that capture the essence of the wild. Living on nature reserve islands has given him an appreciation for the infinite finesse and beauty of the natural world. Inferno and Orion are two of those, Orion named after the star constellation of the 'hunter in the skies'.
Inferno is a bowie that Liam is particularly proud of. It was his first real build he was happy with and remains the most complex knife he has created so far. "I still have no idea how I pulled it off. There were about 20 firsts in it for me and having spent 166 hours creating Inferno and its sheath, it's the knife I've bonded with the most." Outside of nature's inspiration, he is inspired by Kyle Royer and Neels Van Den Berg because they present a level of quality that is exceptional and inspirational.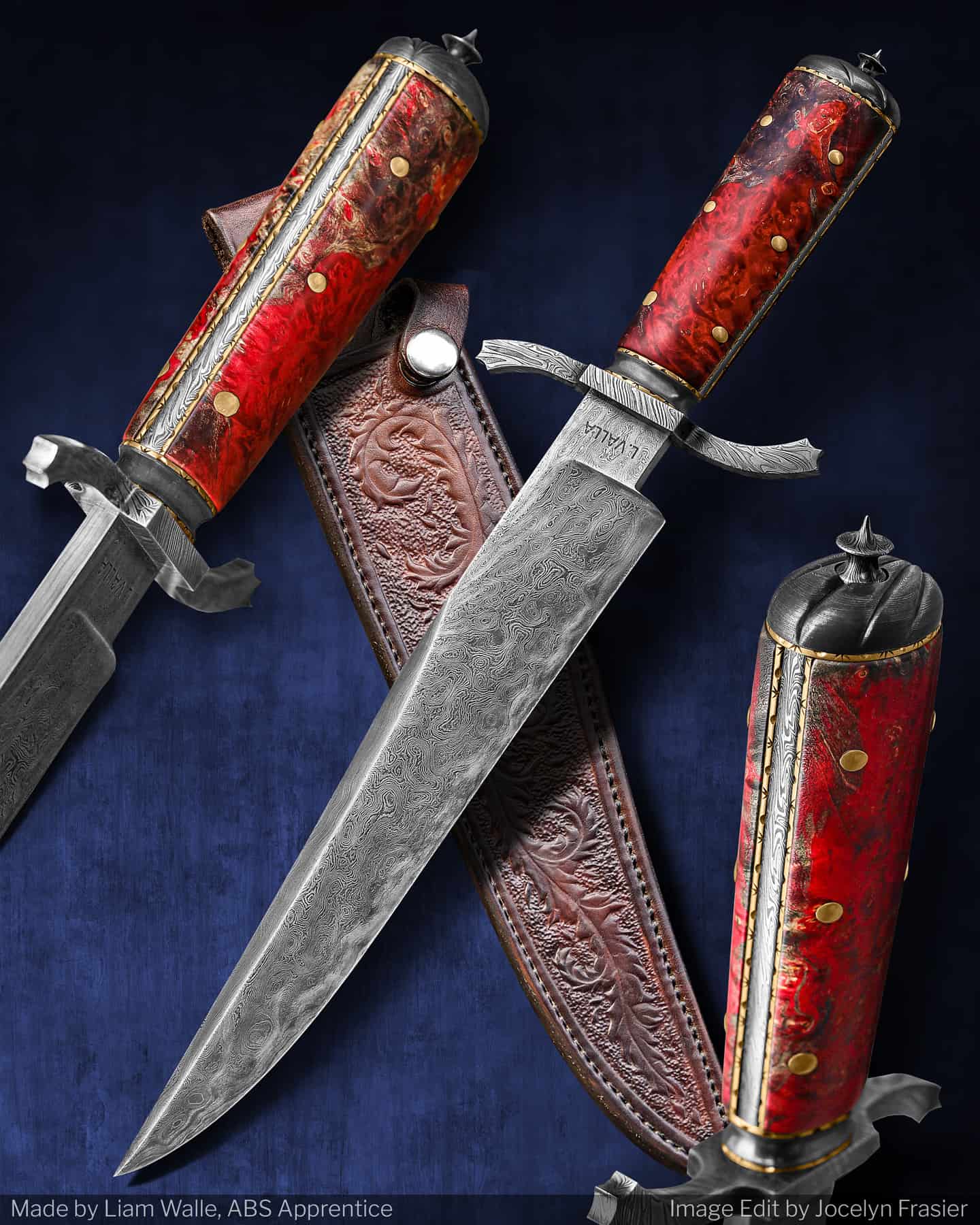 Liam's biggest challenge in knifemaking, is the difficulty to obtain supplies. Because of where his island is located, they only get a boat supply run every 3 weeks, so it is extremely important to be organized in ordering materials since you can't exactly pop down to the local hardware store. You could probably guess too that this is quite costly – which is one thing that most, if not all, beginner knifemakers struggle with. Because of these challenges, Liam has learned to improvise with the unconventional tools he uses.
At the moment he uses a drill press, linisher and a gas forge, with the rest of his tools being inadequate for the job that he tries to coax them into performing. He forges his own damascus with a sledgehammer, which gives him an appreciation and understanding that other people who have power hammers don't have. He built his own surface grinding attachment and uses a home-made hand graver to make the recesses in his guards. While it is frustrating, it can be fun to have the challenge.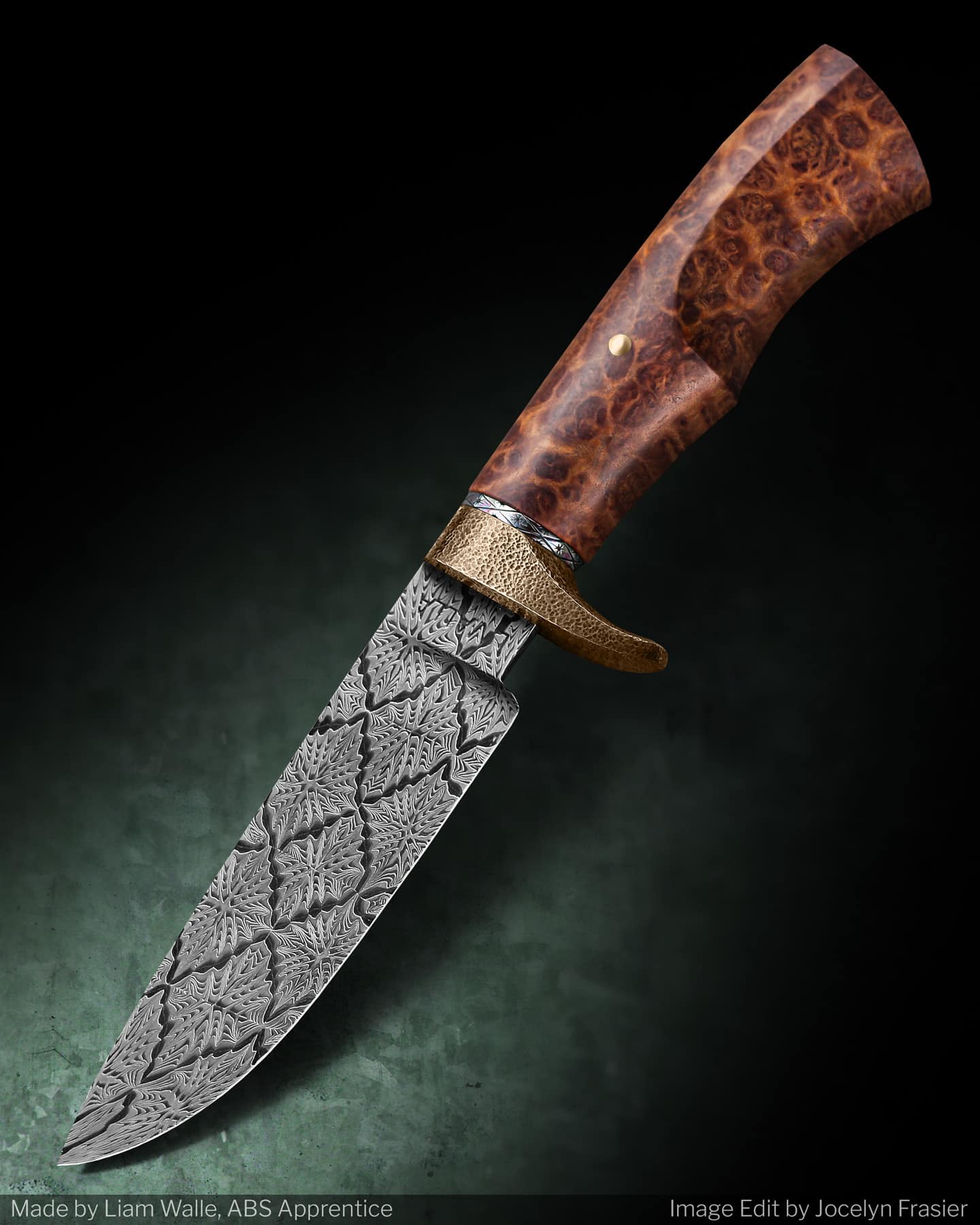 All of the knives you see from Liam, including the damascus and sheaths, are all made himself. He always tries to get every knife as close to perfect as possible, which has taught him patience from taking things slow. While he has made mostly kitchen knives, he prefers to push himself to develop new skills and techniques in the more complex knives like bowies and daggers. Eventually he will find his way into folders and swords, but not until he can get a more proper set up.
Liam loves working with Damascus of any form, but especially those in the area of feather and mosaics, as well as anything with chatoyance. 1084 and 15n20 are his go to for Damascus, but he will be getting in to 5160 for his Journeyman knives. As for handle material, "I really like wood burl for handles for the fact that they aren't uniform and are always a unique pattern. I want to dabble in the realms of mammoth ivory and possibly inlays in the future as well."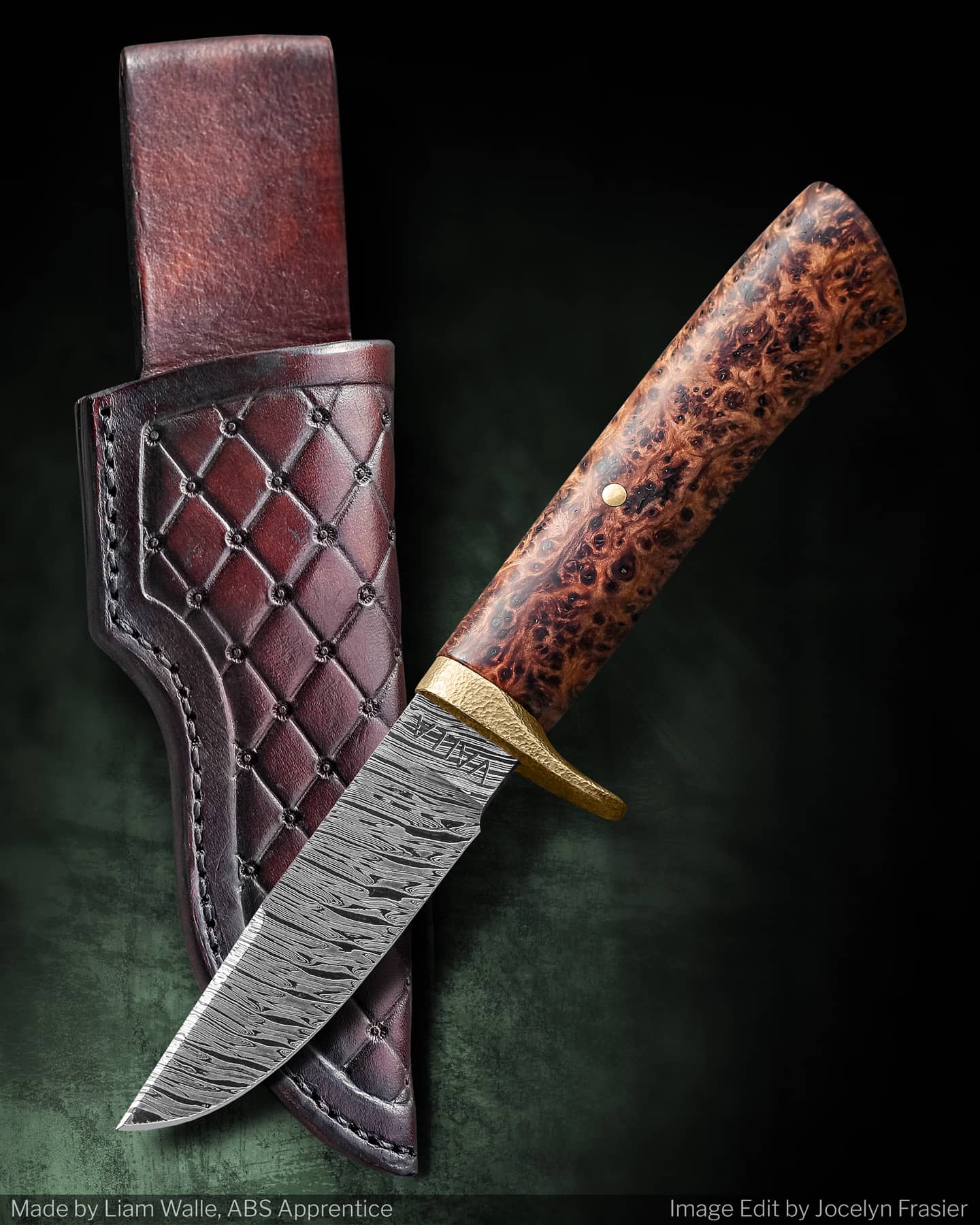 Right now, Liam is working on a smaller bowie in a similar style to Inferno that he is excited to perfect his skills on. In 2024 he plans to present his Journeyman test knives to the American Bladesmith Society, which he says, "will be terrifying but most certainly exciting!".
His current focus is with commissions but hopes to get to a point where he can let his creativity take full swing and sell those reliably. But outside of knifemaking, he has a few other talents as well. As a hobbyist author he is working on a fictional series, and in his free time he enjoys freediving, spearfishing, painting, drawing, and playing the viola. He also says, "for those confused, my surname is Walle, but is pronounced Valla, (the last 'a' is a weird mix between an 'a' and an 'e') hence why my brand is Liam Valla Knives, but I am Liam Walle."
If you're interested in getting in on his books, shoot him a message on Facebook or Instagram, or through email.
Official Website: https://www.liamvallaknives.com/
Email: liam.va[email protected]
FB: https://www.facebook.com/LiamVallaKnives
IG: https://www.instagram.com/liam_valla_knives/