A Great Gentleman's Folder that Signals the Return of the American Made Nail Nick Knife
Kershaw hit 2022 with a bucket of slip joint designs (along with basically every other major knife company, but we aren't complaining). Only one of them comes out of their US factory, though. In that sense, the Federalist has a lot of pressure riding on it. Fortunately it makes use of a decent US-made steel, and has a lot of the classic feel of an old school slip joint with some modern lines that make the handle both lightweight and comfortable. In short, it's a good knife.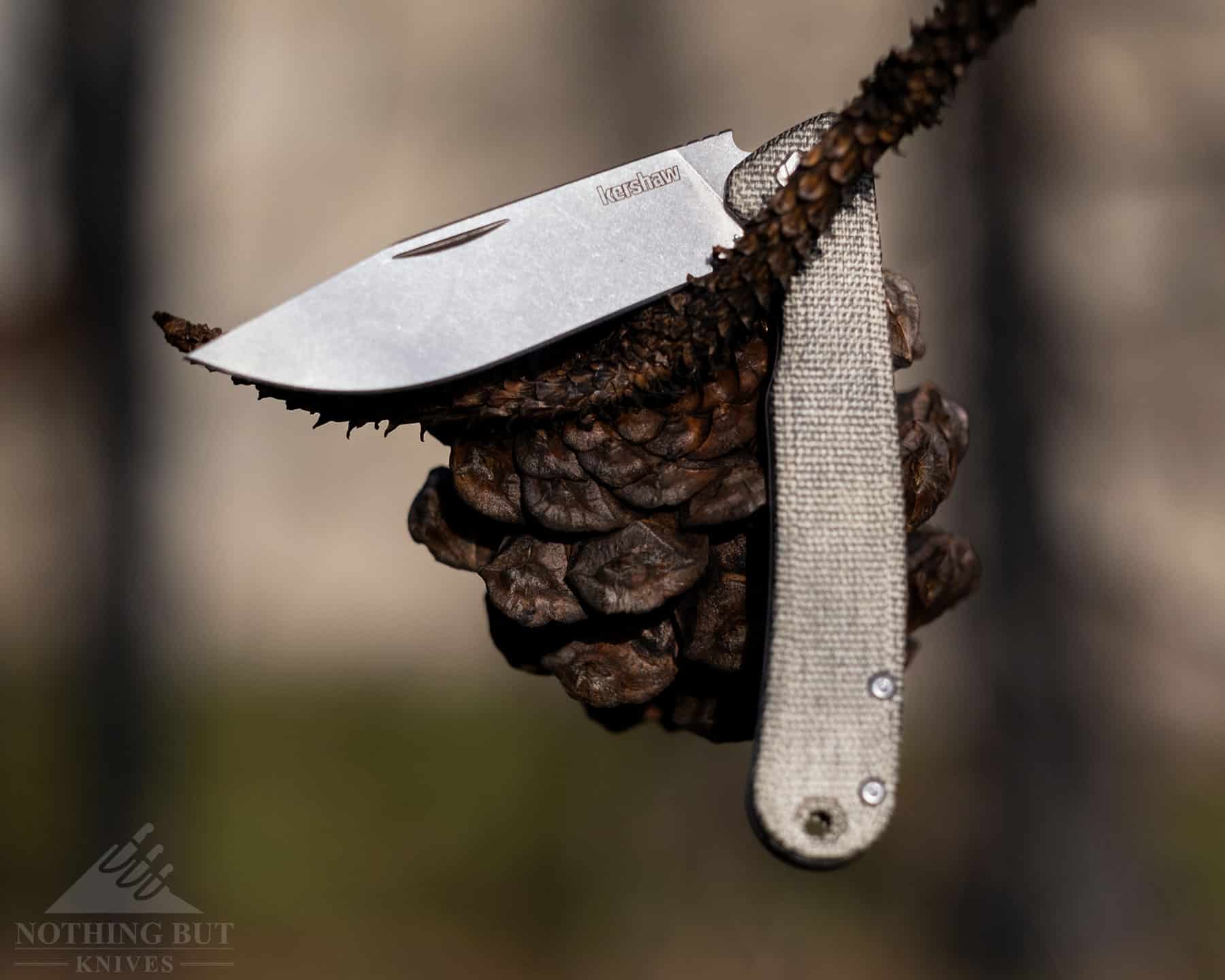 There's no pocket clip, so it doesn't fit perfectly into the modern standard of carrying knives these days, but it cuts better than anything I grew up with. It's a well-made example of a modern call back, and even though it's one of dozens of new classically-styled slip joints coming out right now, it stands out both because of where it's made and who's making it. Kershaw hasn't released a Micarta knife or a slip joint for a long time, especially from their US factory. It almost feels like too much to hope for that they'll continue in this vein if the Federalist does well.
Specifications
| | |
| --- | --- |
| Overall Length: | 7.5" |
| Blade Length: | 3.25" |
| Blade Steel: | CPM-154 |
| Open System: | Nail nick |
| Blade Thickness: | 2.2 mm |
| Blade Shape: | Clip point |
| Blade Grind: | Flat |
| Handle Length: | 4.25" |
| Handle Material: | Canvas Micarta |
| Lock Type: | Double-detent slip joint |
| Weight: | 2.1 oz |
Pros
Nice steel with a nice edge
Super lightweight
Good looking, grippy handle scales
Rides easy in the pocket
Cons
No pocket clip (but that's normal for classic slip joints)
Dry Micarta is hard to clean
Light lock up
A Thin Handle with a lot of Grip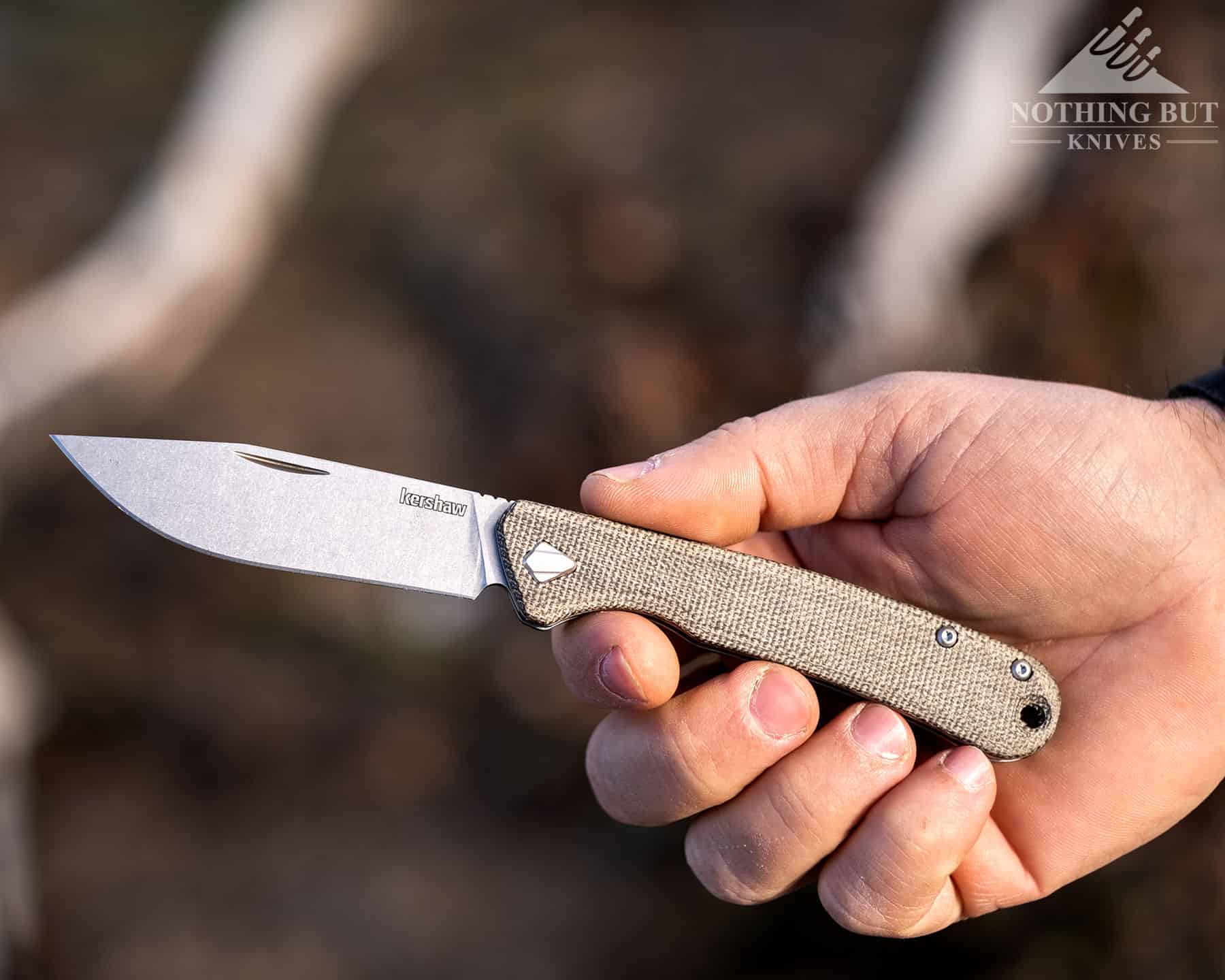 The handle is pleasantly minimalist. There's the hint of a finger groove in there, but it's just slight enough to make it feel like the handle is helping your hand out without trying to force your fingers into specific positions.
I'd personally prefer a little more height on the handle just to match the natural grip of my own hands better, because my thumb and index finger start to feel like they're crossing each other when I tighten up my grip, and in a gorilla grip it feels like there isn't quite enough material for my index finger to hold onto comfortably. But I haven't found myself wanting to use a gorilla grip with this much. I tend to use it in either a pinch grip, a halfway saber grip, or a reverse grip with the edge facing the back of my hand. The handle provides plenty of control in all those grips, with one little caveat for a saber grip that I'll get into later.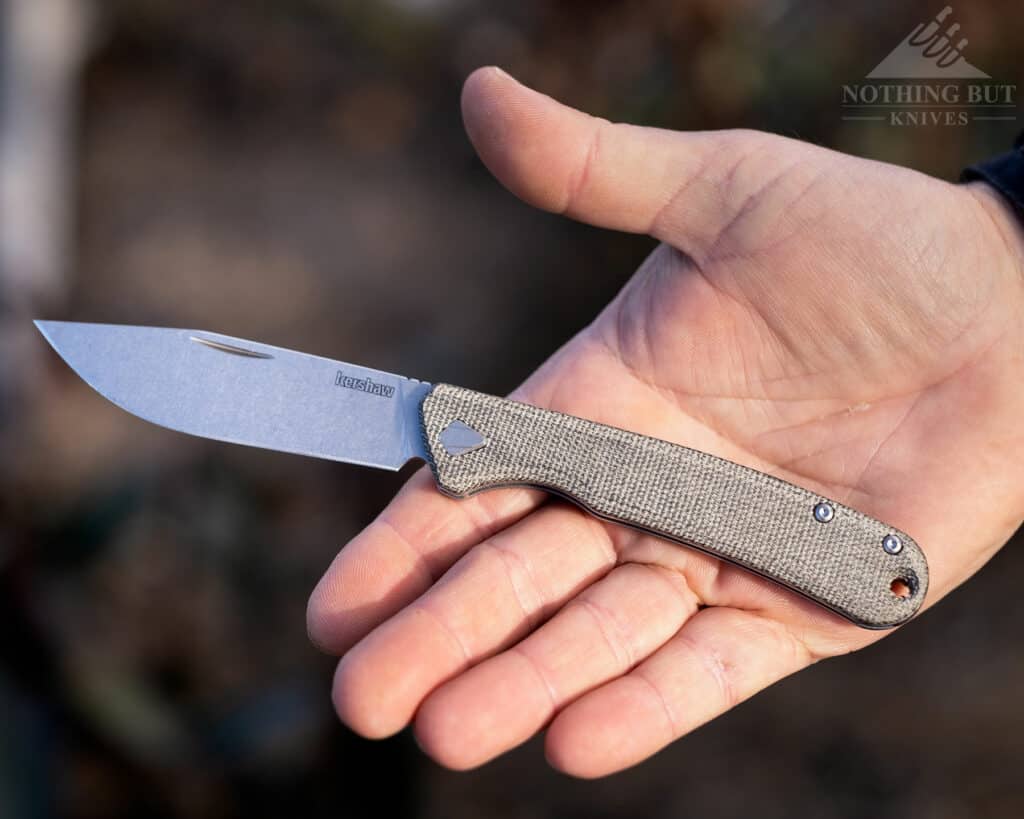 Overall, Kershaw did a great job with shaping the handle. Not only is it easy to maintain a grip, it's easy to switch grips. I've found myself going from a standard grip to a reverse grip to a chest lever in the same cutting session pretty seamlessly. The combination of the minimal contouring with the grippy scales is great for staying out of your way as you move into different tasks.
Problems with Dry Scales on a Gent's Folder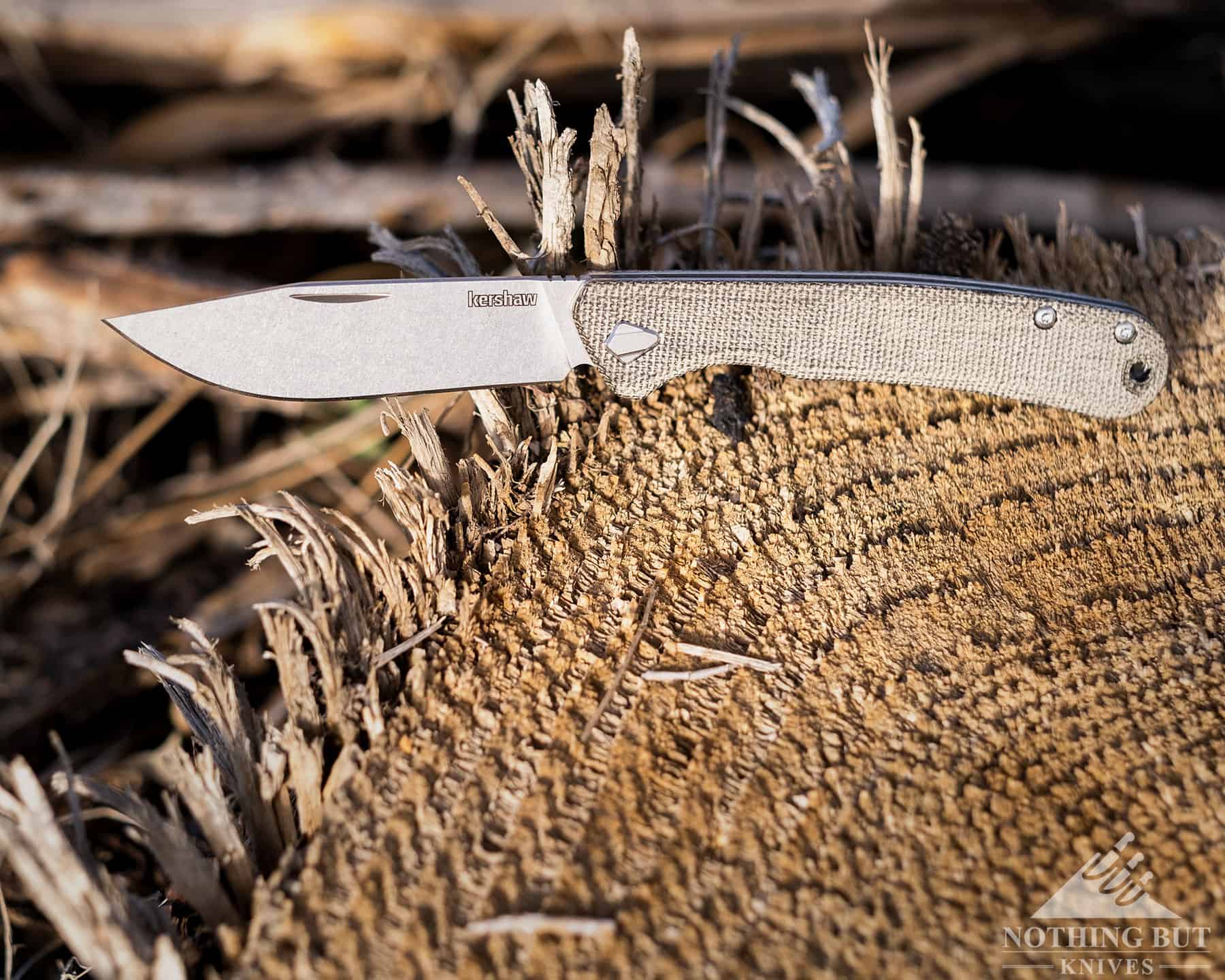 There is a little issue with the scale material here, though. The Micarta is incredibly dry. Too dry even for me, a person who might as well have a switch on his back that has a default setting labeled "bitch about how much resin I can feel in this Micarta handle".
On the one hand, that's great for grip. It is a self-evident truth that the Federalist is not going to slip out of your fingers. But it also makes this knife very difficult to clean, and that's kind of awkward on a gentleman's folder. Especially if you're a pack of hooligans like us and take knives up into the burn scars of the Sierra Nevada foothills and drop the knife in the ashy carcasses of two to six trees.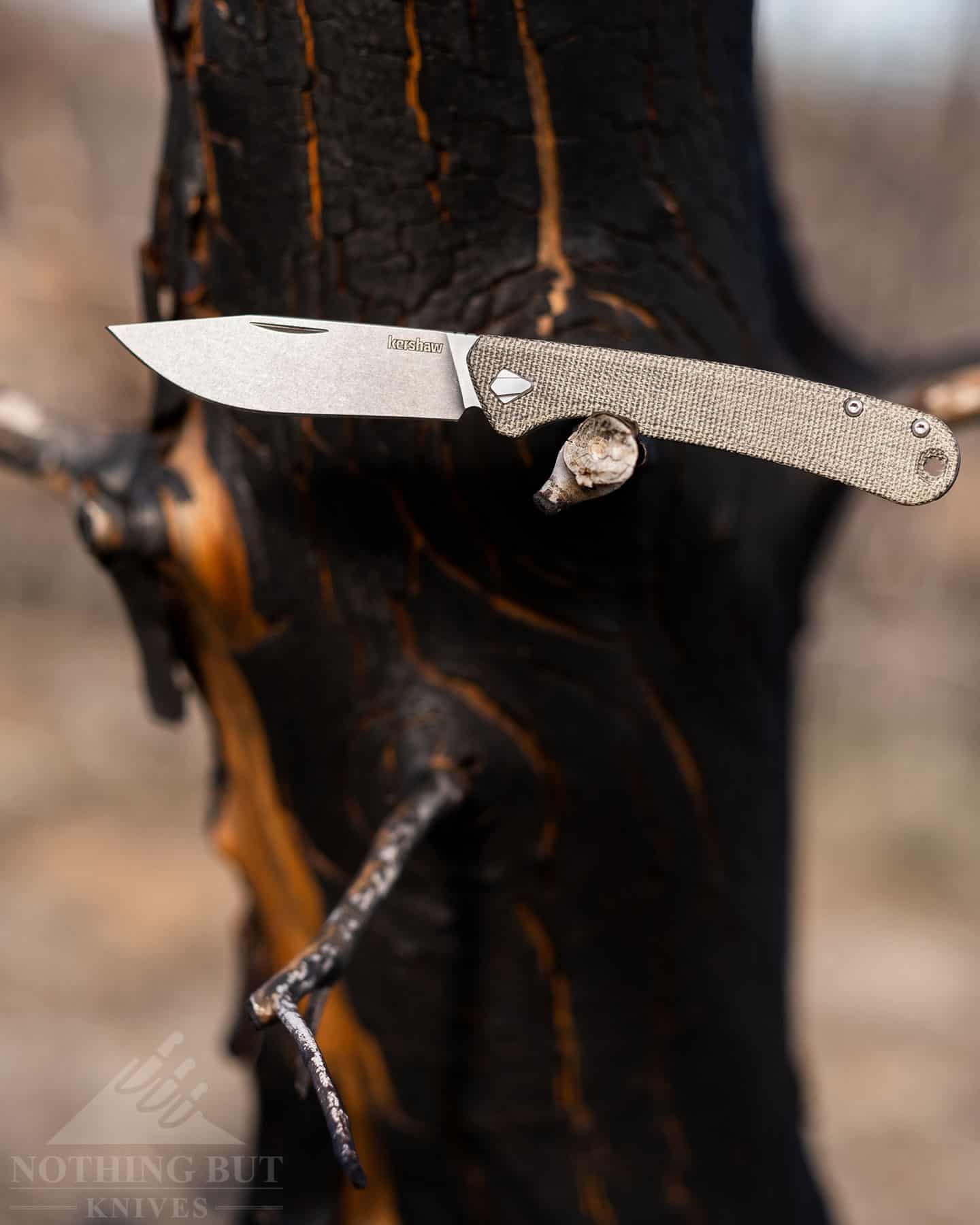 So let this be a warning: ash does not rub out of dry Micarta easily, or at all, really. At best it'll spread around until it looks like a mild coffee stain, or like you're a gross person who produces ash or coffee-colored sweat. Either way it's just setting you up for awkward questions.
That is, assuming anyone would bother to ask you why the Micarta on your new slip joint has a brown stain on it in the first place. It looks great out of the box, though.
The Double Detent System and Minimal Texturing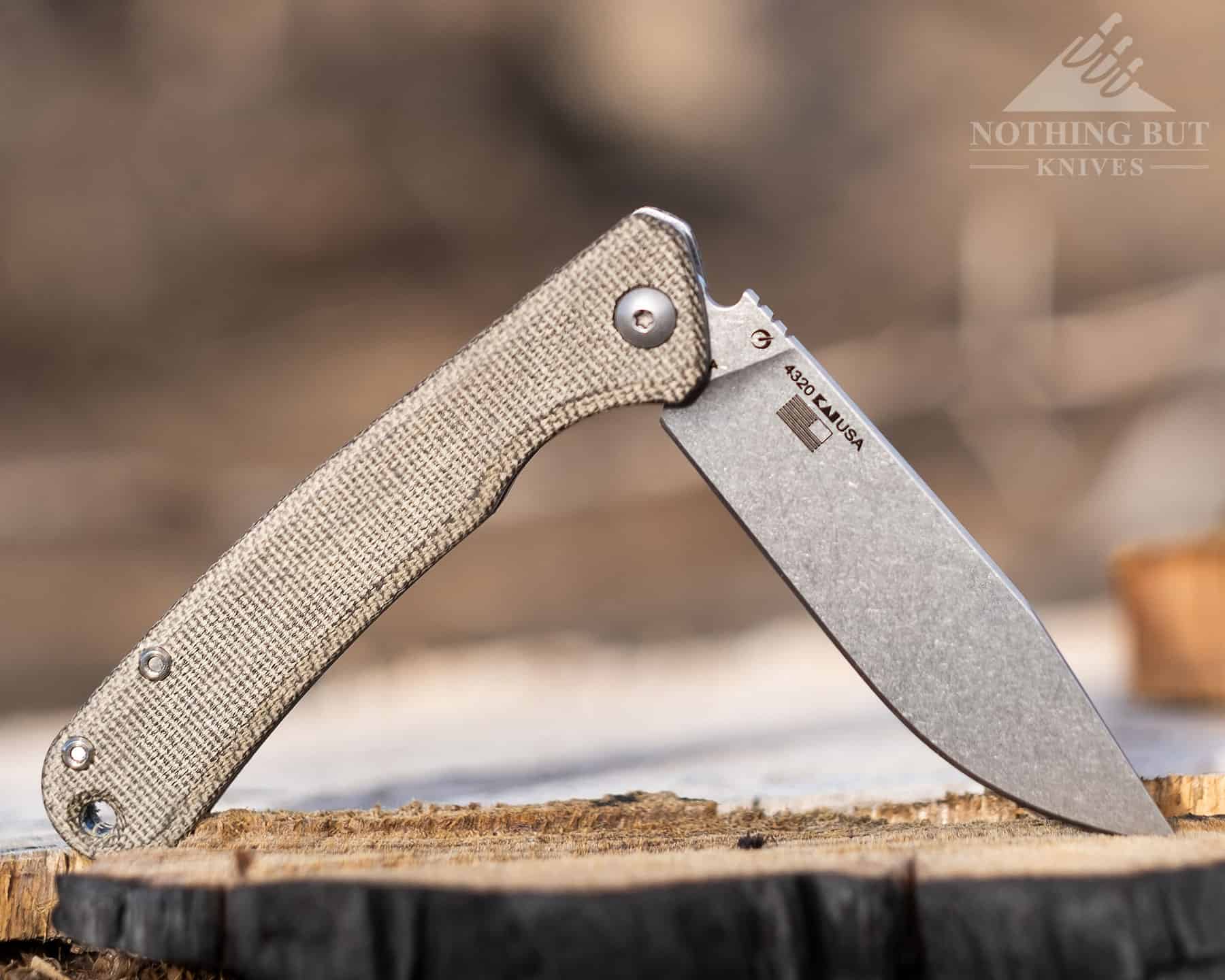 The Federalist is using an Anso-designed detent system with a half stop. It's a satisfyingly simple mechanism that has two tension bars in both of the steel liners with a detent ball on top that matches up with three different holes in the tang: one when it's open, one for the half stop, and one when it's closed. It's the same thing found in the Zero Tolerance 0230
As elegant as the double detent system is, though, it isn't incredibly strong. That brings up a couple of worrisome ergonomics issues, primarily in where they've put texturing. The only place there's any jimping is right at the base of the blade's spine. That gives the thumb about 7 millimeters of texture. That's plenty for getting work done, but the spine of a slip joint knife is not an ideal place to emphasize pressure, especially when the detent is as subtle as this knife.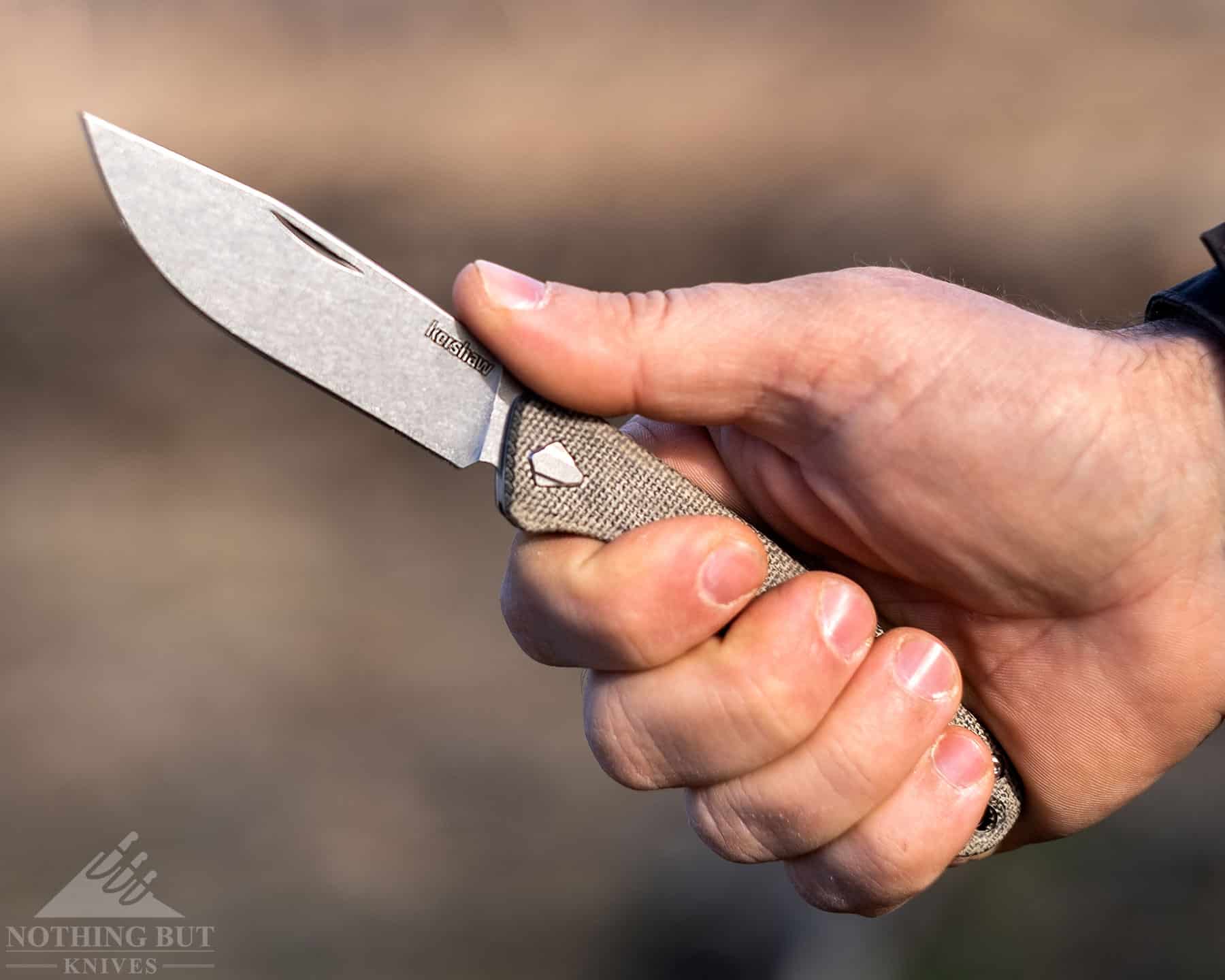 Granted, it takes a lot more pressure to disengage the blade if you're only pushing on the jimping. I've done the best I can to safely (if unscientifically) test how much danger there actually is in accidently pushing the blade on my fingers from the base of the spine, and it took a lot of pushing before the blade came loose.
It probably takes more pressure than anyone could reasonably expect to put on the spine during regular use, especially when you consider that in a standard grip you naturally squeeze the handle tighter as you put more pressure on the blade, which makes the detents clamp down harder on the tang. But I can still feel the phantom edge across the backs of my fingers every time I place my thumb on the jimping of this knife.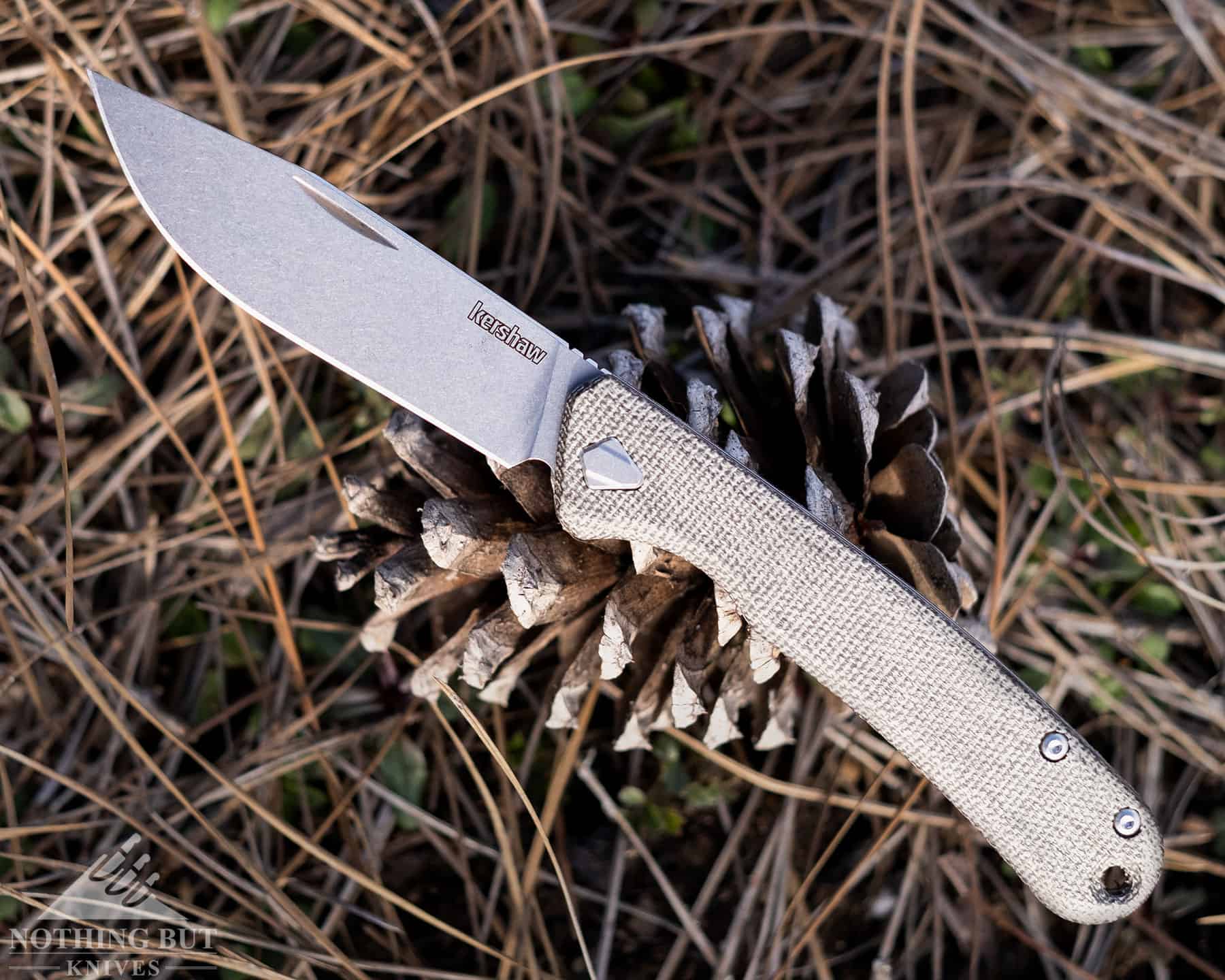 I'd like to see them put a bit of jimping, or some kind of extra texturing, on the back of the handle just below the blade if for no other reason than so I can feel when my thumb is about to shift onto the spine. If I can't get a stronger detent on this, I'd like to be able to maintain a good sense of my thumb placement.
The other side of that is this isn't a hard use knife, and the blade is sharp enough to cut most things without applying a lot of pressure with the thumb. But I'm a clumsy idiot, and it just feels like inviting disaster to put my thumb on the blade.
I finally tightened up the pivot screw as an added safety measure. One benefit of a nail nick is that I don't have to worry about tuning in one-handed flipping action, and at the very least, the detents are doing just fine at their primary function: keeping the knife closed in the pocket.
Slip Joint Carriability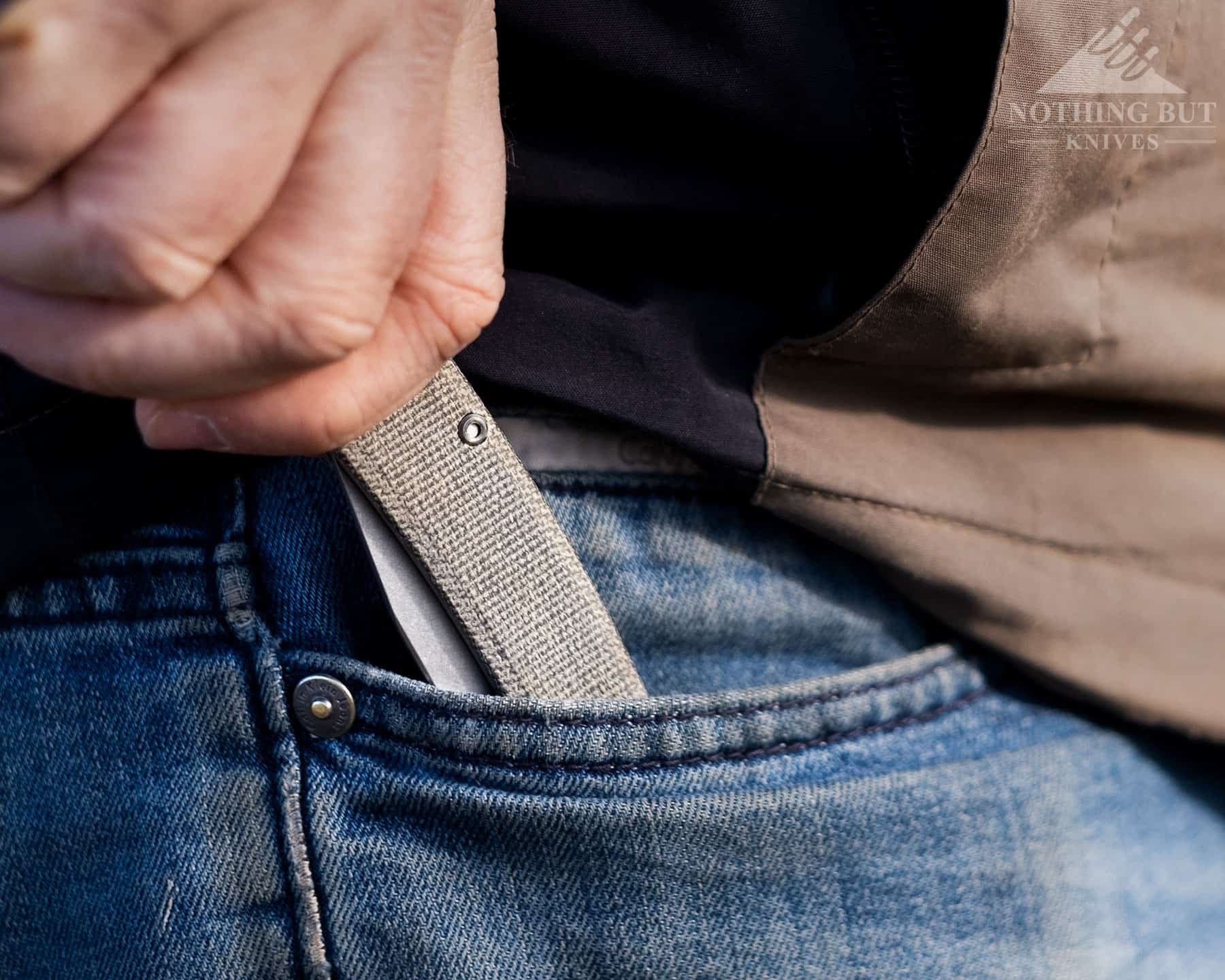 The thinness and weight come in really strong for the design here, but it took some adapting on my part to carry the Federalist comfortably.
The problem with the size is that it isn't small enough to fit safely in the third pocket (or inner pocket, or whatever it is people call that extra smaller pocket we all forget until we start carrying a Swiss Army Knife again), but it's small enough to get lost in a large pocket. So speaking as someone who doesn't generally carry knives just free-floating in the pocket like an anarchist, or someone who isn't prone to bedazzling their knife with a braided lanyard like a schoolboy with a charm collection, this is kind of a frustrating knife to carry.
America lived through decades of slip joint knives with no pocket clips, so this shouldn't really be a con point, but for all those past decades of slip joint popularity people weren't walking around with 6 inch phones in their pockets.
For my part, I had to make the awkward switch to carry this in my left pocket next to my wallet, and it did actually start feeling natural pretty quickly. The Federalist benefits from its slim profile and grippy scales here, because even if it's in a different position than I left it, it's always easy to fish out of my pocket even without a lanyard. And usually doesn't feel bulky sitting next to my old leather wallet and all the spare change that keeps falling out.
The Federalist still has me missing pocket clips, but I usually end up slipping a second knife in my usual spot when I carry this. I assume if you're reading about a knife without a pocket clip you have your own coping mechanism.
A Great Blade Shape with an Okay Edge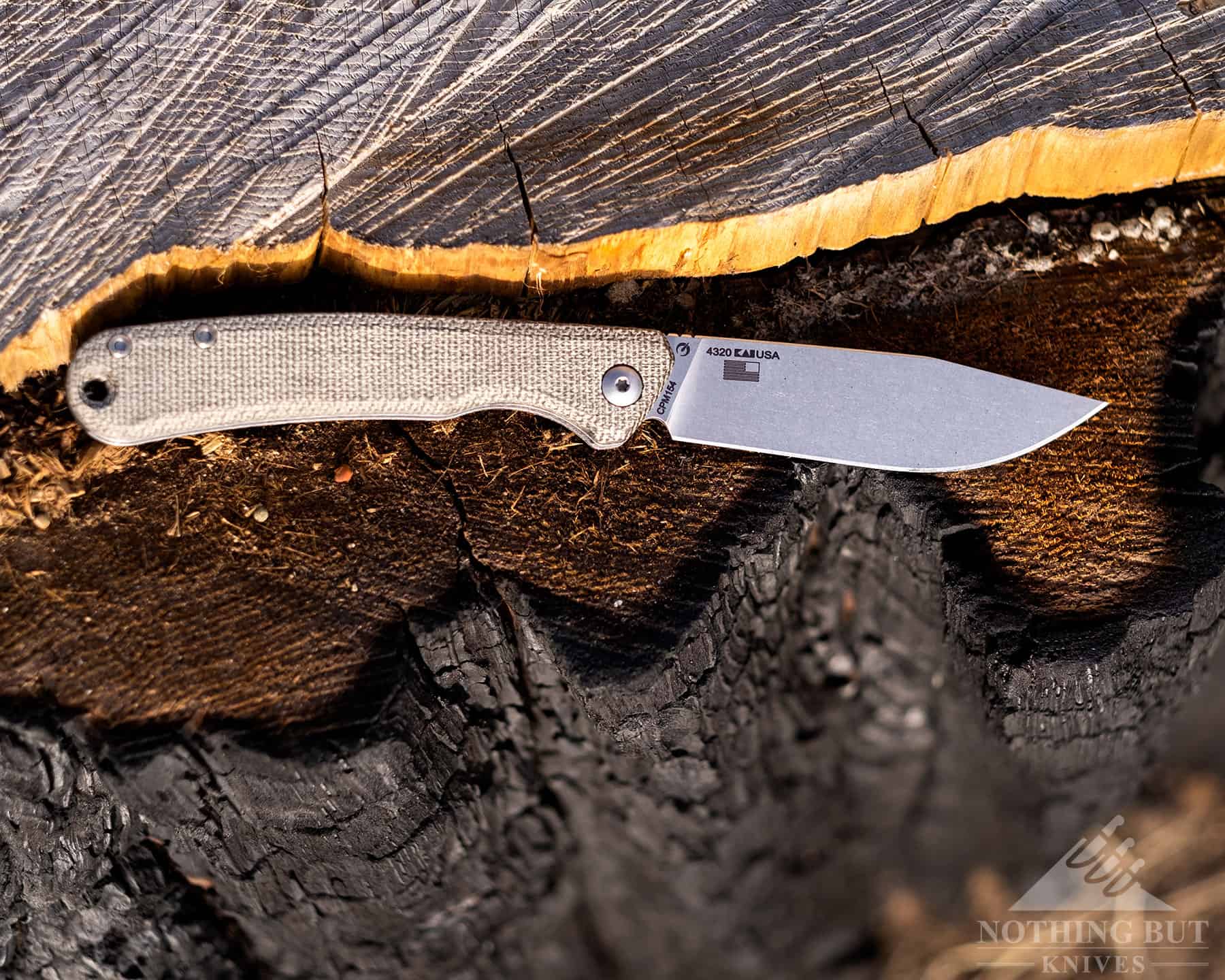 The blade shape is the winning feature of the Federalist (at least, as long as we're talking about practical features). The blade shape, the steel, and the edge geometry all mix very well here to make a knife that can last for decades.
The blade stock is 2 mm with a flat grind, so smooth cutting is kind of a given so long as the micro bevel isn't slipshod. And since Kerhsaw's American factory is pretty stellar there was never really any danger of this knife having a subpar edge. It's not a laser edge. It isn't going to do a clean push cut through phone book paper right out of the box, but this is a mostly full flat grind with a powder steel, so it only takes a few passes on a stone or Sharpmaker to get the edge screaming if you want.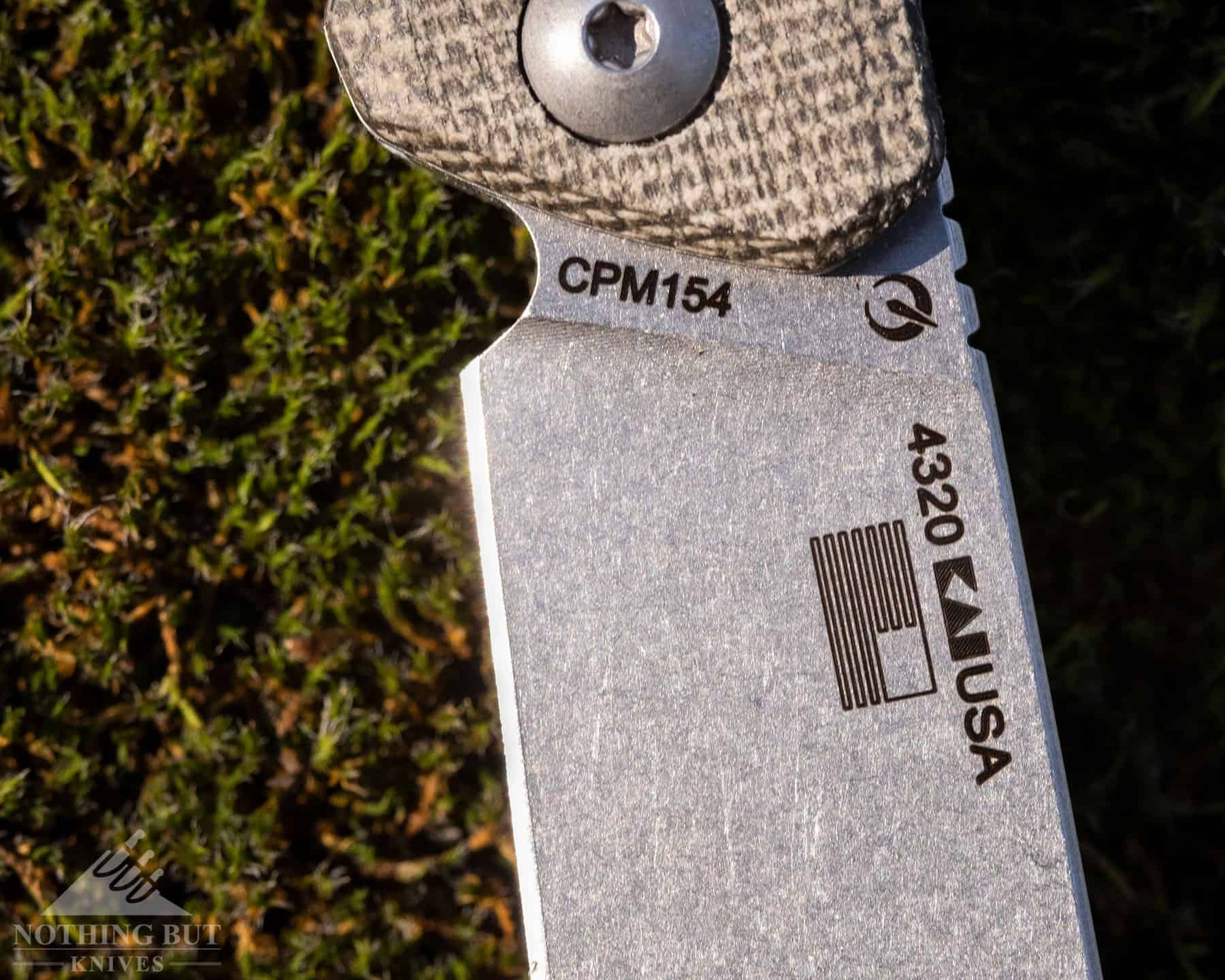 The blade to handle ratio is great for a slip joint. There's a lot of cutting edge to work with because of the way the edge flares out then curves back to meet the clip point. It makes this knife super slicey. I had an easy time breaking down boxes and cutting rope because the shape lends itself to strong cutting thanks to the slightly expanding angles of the blade. It's pretty easy to get more leverage to push through when a cut gets difficult, and the belly adds a lot of extra slicing area.
The blade is also big enough for me to pinch up on the base, which is what I started doing when I wanted to just use the top inch-and-a-half of the blade. The big curve of the blade helps get a lot of work done in that position. To be fair I didn't do much work that was more strenuous than filling up the recycling can, but a corrugated box is probably the toughest thing I'm likely to put this blade against anyway.
Now Let me Complain About the Name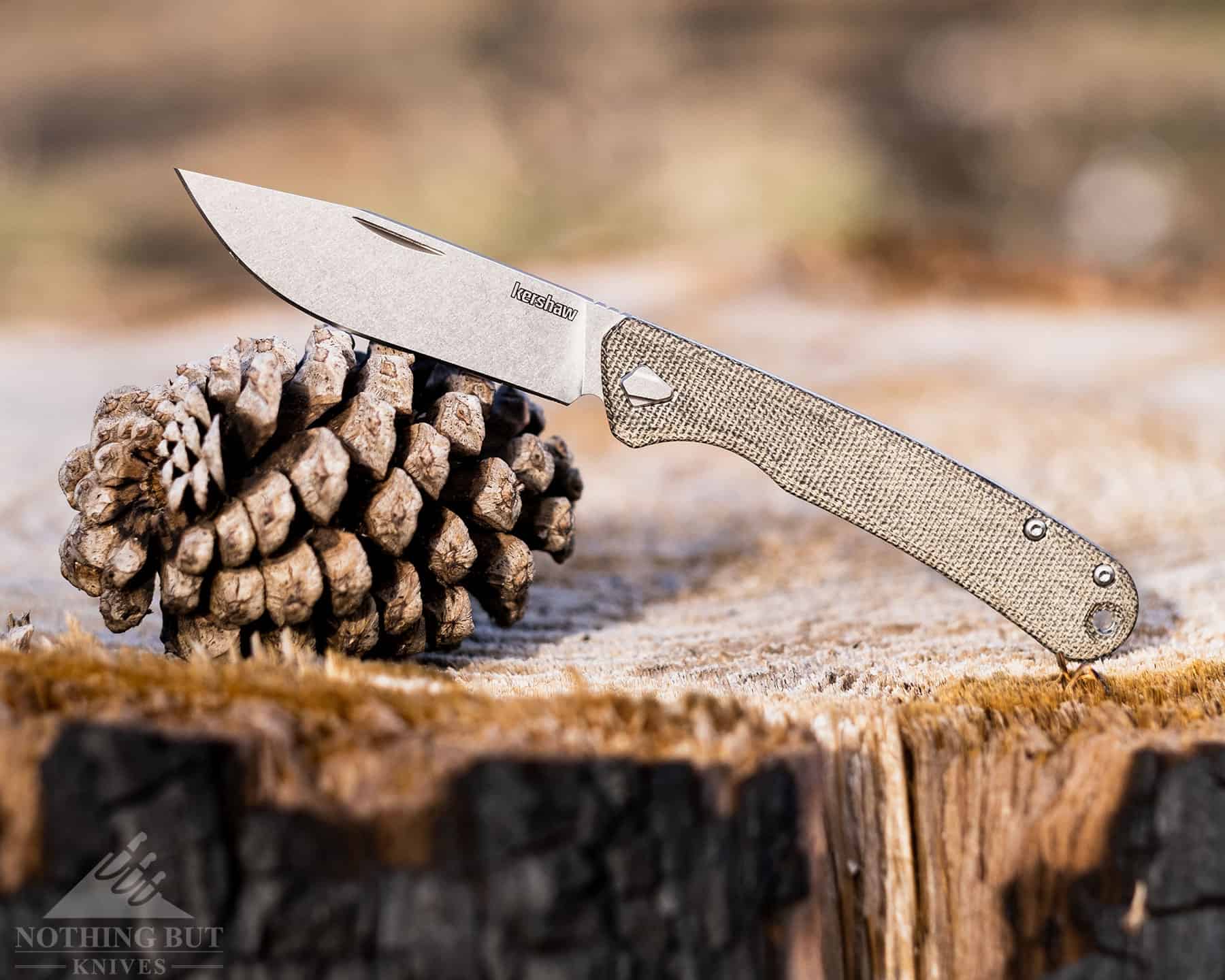 The practical stuff is out of the way, so let's make an unnecessary fit about the naming scheme of the genius nerds in Kershaw's design team.
On the surface, the Federalist seems like a good name for a classic slip joint made in America. But it starts to feel a little arbitrary when you realize it was designed and made by a company based in Oregon which was still a picture of perfect, uncut wilderness at the end of a video game when the Federalist Papers were written. Add to that the fact that Kershaw is owned by a Japanese company and the name starts to feel suspiciously like pandering (but to be fair, it's a Japanese company with a significant manufacturing presence in America).
I'm not saying this was a bad move on their part, because slip joint collectors are nothing if not suckers for historical references to American founding fathers, and God knows it's only a matter of time before Kershaw comes out with a two-inch bladed version of the Federalist called "Publius" and we give every online knife vendor whiplash by clambering onto their sites at the same time and buying that thing the hell out of stock. I'm just saying that the name should have been left for a knife company based closer to New York or Philadelphia.
I say this as someone who grew up in California, so it's not really my fight to pick, but in my defense, I enjoy watching history buffs argue. I'm just here to light the fire and run away.
Comparison and Alternatives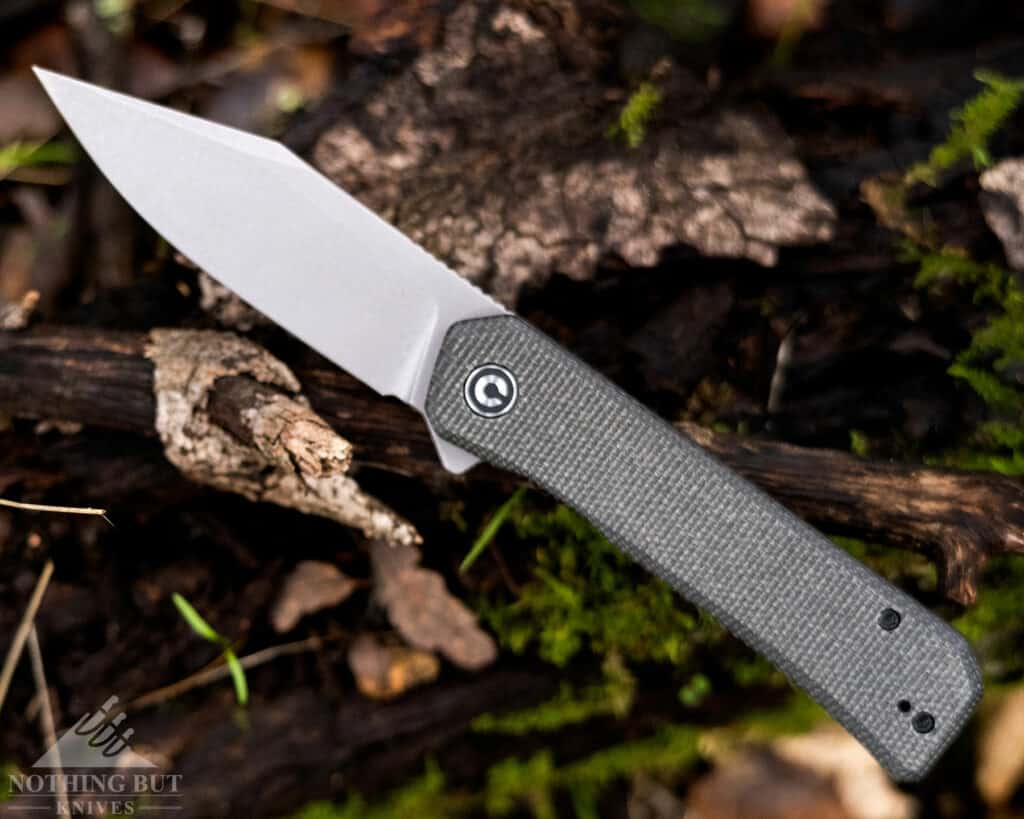 This is a throwback design that could bring up memories of a Case Sodbuster or a Buck toothpick knife, but it really doesn't feel like any of those, because the handle shape follows more modern lines.
Actually the closest comparison I've handled personally is the Civivi Relic. It's a similar size with canvas Micarta and a clip point blade. They both handle in kind of the same way, although the contouring of the Federalist makes it a little more agreeable. But I'm pretty comfortable recommending the Relic as a locking alternative if you don't want to go the slip joint direction.
I'd also point you toward the LionSteel Gitano if you want a slip joint with a pocket clip and a stronger lock up. That knife cuts and handles like a dream, but it goes too far the other direction and is a terrifying nightmare to close.
Conclusion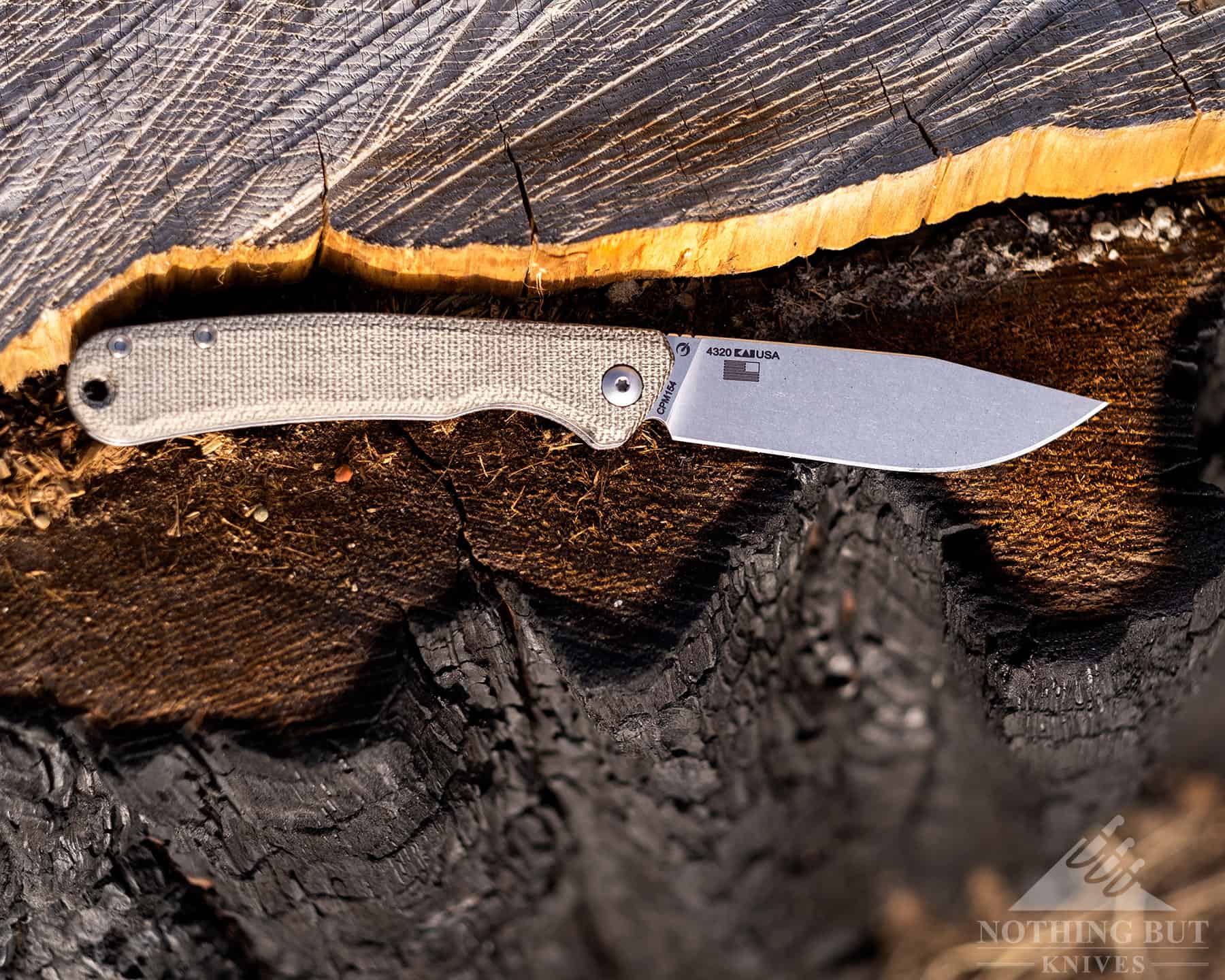 I like this knife even with no pocket clip, the stain-prone Micarta, and the weak, double-detent system. I would probably still love it with a few more flaws thrown in there, because that's the nature of classically-styled slip joints with no pocket clip. I didn't get this knife, because I thought it was better than anything else I had, I got it because it looks good, and there's still an undeveloped part of my brain that's trying to claw its way back to the days when the only things I had to carry in my pockets were a knife and a cool rock I found.
But this is a sharp edge on a good blade with nice steel slapped between a set of comfy Micarta scales. Even the price seems right for the materials and level of manufacturing involved here. It scratches a lot of itches I have as a grown up, modern consumer with grown up, modern-consumer responsibilities like opening the boxes my other knives keep coming in. I just hope Kershaw continues pandering to that senseless craving for more knives like this made so close to home.