The Best Hunting Knife Kits For Deer or Rabbit or Anything in-beween.
Maybe there are some knives that can do it all when it comes to dressing a deer, from the first slit down the belly to separating the pelvic bone. God knows companies like Condor and Buck make some pretty impressive knives that shoot for that role, but the average knife really isn't ideal for taking you all the way from a whole deer with a bullet hole to venison hanging off the tree.
There's no shame in using scissors and a saw to get the work done properly, and you'll probably get better results using the right tools anyway. That's why they make hunting kits with a whole set of different hunting tools for dressing game.
Contents
Small Game Hunting Knife Sets
Big Game Hunting Knife Sets
Tools in a Hunting Kit (a quick rundown of the different kinds of blades in a set)
Small Game Hunting Sets
These are knife sets that I've decided to classify as best used for small game, meaning anything from rabbit and fowl to boars. Usually it's because the sets includes some kind of thin, flexible boning knife and short, stout skinning blades. Anything that seems best for working around small bones and shallow muscle generally falls under this category.
Morakniv Knives Hunting Set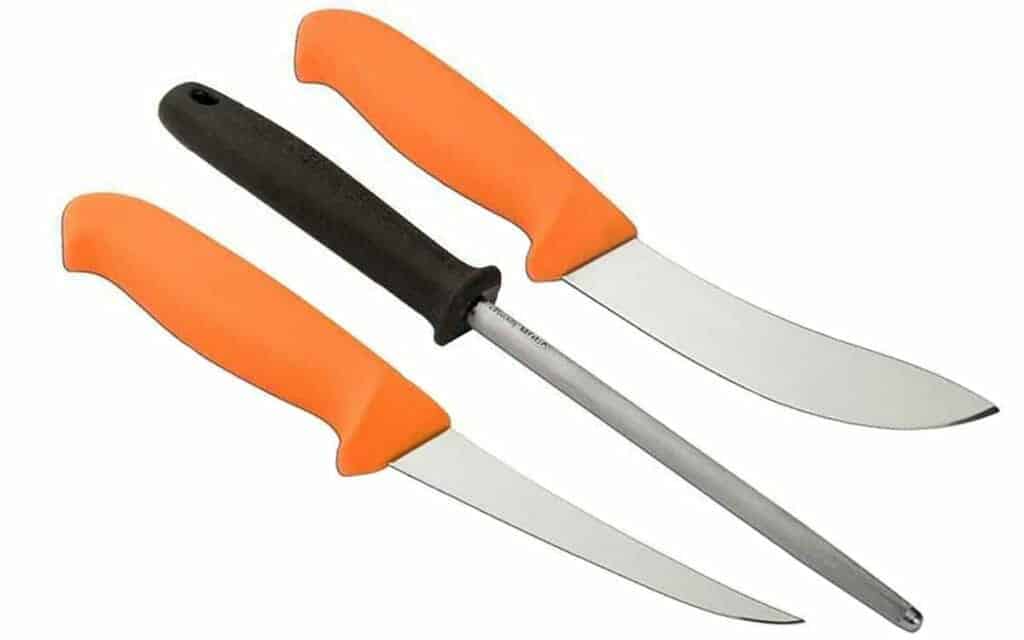 Set Contains:
5.75″ Boning Knife
6.2″ Skinning Knife
7″ Sharpening Knife
Stainless Steel
Textured High Friction Plastic Handles
Set Ships with a Case
This isn't quite an all-in-one set, but anyone who's ever used a Mora knows that this will be a massively tough pair of blades to use. Their knives tend to be pretty flexible. They're made to be abused, so you can usually get a Mora to work even on a job it wasn't designed for. The fact that they've actually designed knives specific for skinning and boning is doubly helpful for hunters. Without a saw, this might seem better suited to something like turkey hunting, but if you really know what you're doing, you should be able to do most of the work on bigger game. It might become a tense matter of perseverance, which is why I put this kit under small game sets, but the point is that the only thing better than one Mora is two Moras.
Victorinox Fish Fillet Kit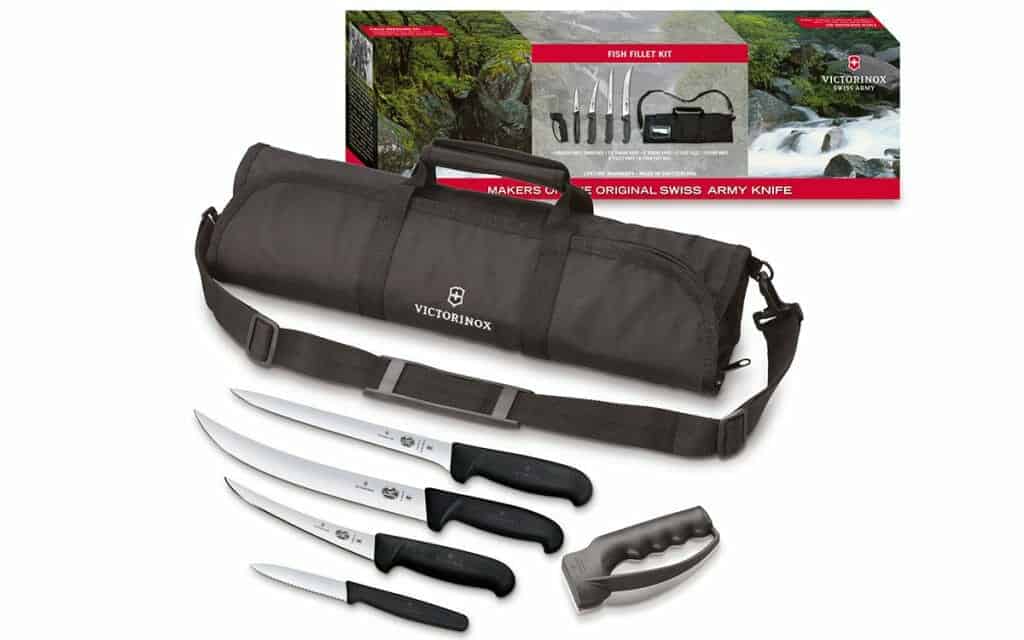 Set Contains
3,25″ Paring Knife
6″ Boning Knife
8″ Fillet Knife
10″ Breaking Knife
Handheld Knife Sharpener
8-Slot Poly Knife Roll with Removable Shoulder Strap
If we're being honest, you'll probably end up using two out of the four knives in this kit. The breaking is for butchering larger stuff, typically, but these are high quality knives and the paring knife with both a fillet knife and a boning knife give you a lot to work with whether you're gutting a fish, birds, or rabbits. The roll up carry case has a few empty slots in it so you can add a few more knives to take outdoors with you. The case isn't officially made for wilderness travel, but it's still well made and not the kind of thing that will fray at the seams from being dragged in the dirt a few times. Personally, I would go so far as to add a Mora knife to throw in this bag for good measure. That would pretty much ensure you've got a blade for every animal you come across.
As a bonus, you can have the boning knife and the breaking knife engraved if you get it from the Swiss Knife Shop. That will pad the bill a bit though, and probably add onto the delivery time. Ideally they would offer that service through their Amazon listings as well, but I have yet to see that option on there.
Big Game Hunting Sets
In general, I classify any set containing a saw to be an okay big game set. Not that all of these have saws, though, and that's partly because it's hard to find a set that includes a decent one. Some big game kits just have big damn knives that are made either well enough or tough enough to handle heavy pressure.
Elk Ridge ER-252 3-Piece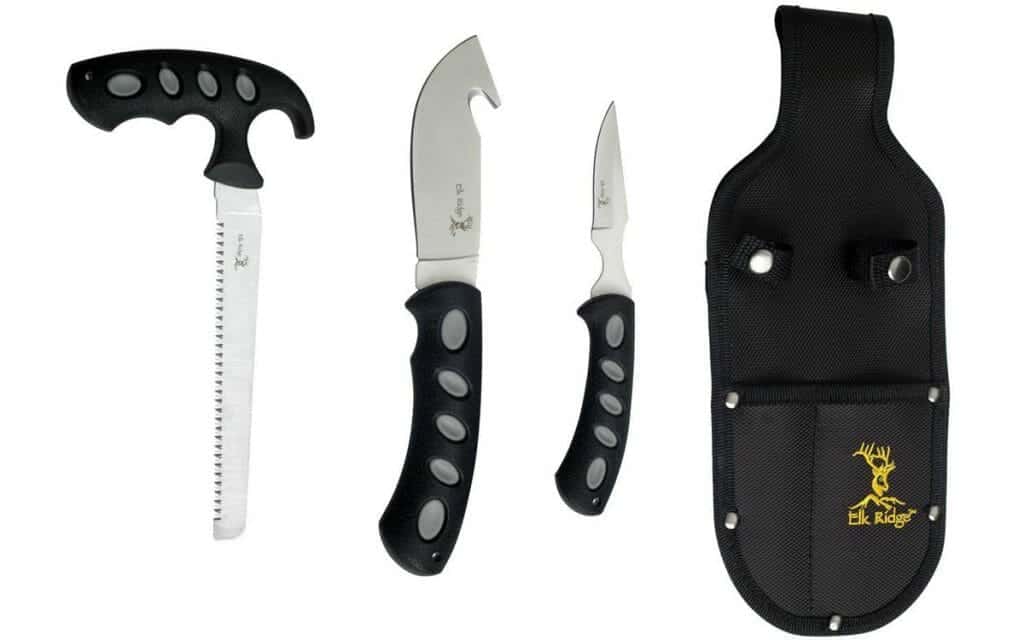 Set Contains:
7″ Knife
9″ Knife
8.25″ Bone Saw
440A Steel
Nylon Sheath
Plastic Handles
This is a reasonable budget set. There's nothing spectacular about the Elk Ridge tools except that they're pretty cost-effective and they pack light. Also they work. That's important too. The 440A steel is easy enough to sharpen and work with, but it's not anywhere near what you'd call top quality, even in terms of corrosion resistance so you better be vigilant about cleaning. This is great for two kinds of hunters, I think: the one who just got into hunting and dressing game and doesn't want to cut their teeth on a $300 set, and the hunter who has nothing to prove and just wants something cheap and easy to carry. This will work for both.
Gerber Myth Field Dress Kit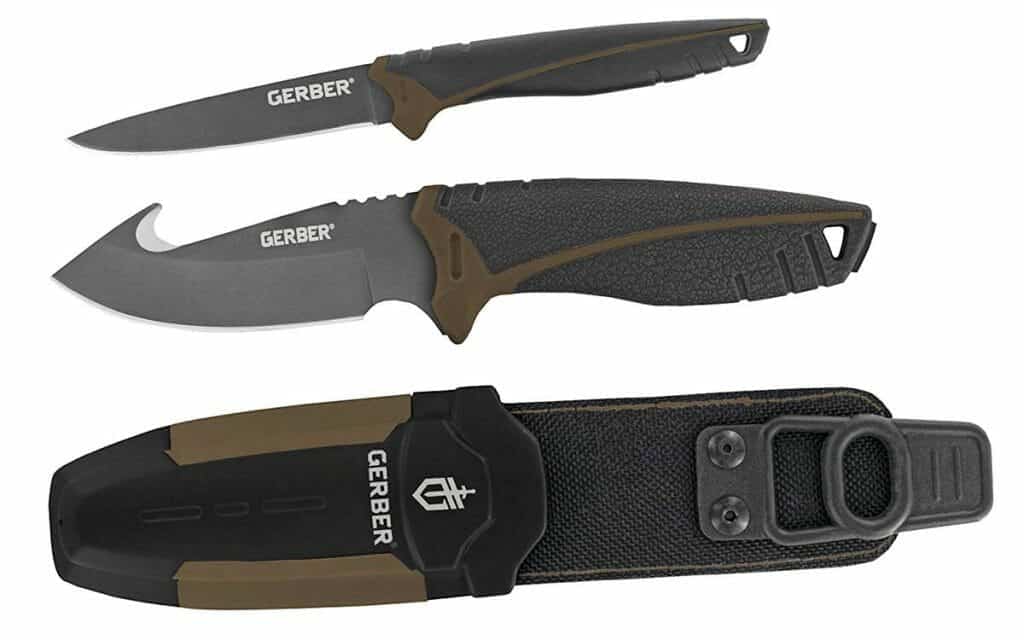 Set Contains:
8.5″ Fixed Blade Guthook (3.75″ Blade)
7.25″ Caping Knife (3.25″ Blade)
Rubber Handle
Piggyback Style Sheath With Carbide Sharpener
Thick blades and a compact sheath designed to clip onto your pack make this a great set for long hunting trips. No saw of course, but it will work just fine on big game, if that's what you're after. Gerber has a pretty decent history of hunting knife designs, especially when it comes to carrying the knives. The sheath for this set is pretty paracord friendly, so even though it's not fully MOLLE compatible, it can become a nice horizontal carry if you're clever with rope.
The Myth set is kind of an update of Gerber's Moment Field Dress Kit, which is a cheaper alternative that doesn't come with all the same gimmicks like a built in carbide sharpener. Gerber doesn't exactly go all out on steel, so you might find the toughness lacking in some areas, but rest assured this is a tried and true hunting set. Treat it right, and it will treat you right.
Buck 141 PakLite Field Master Kit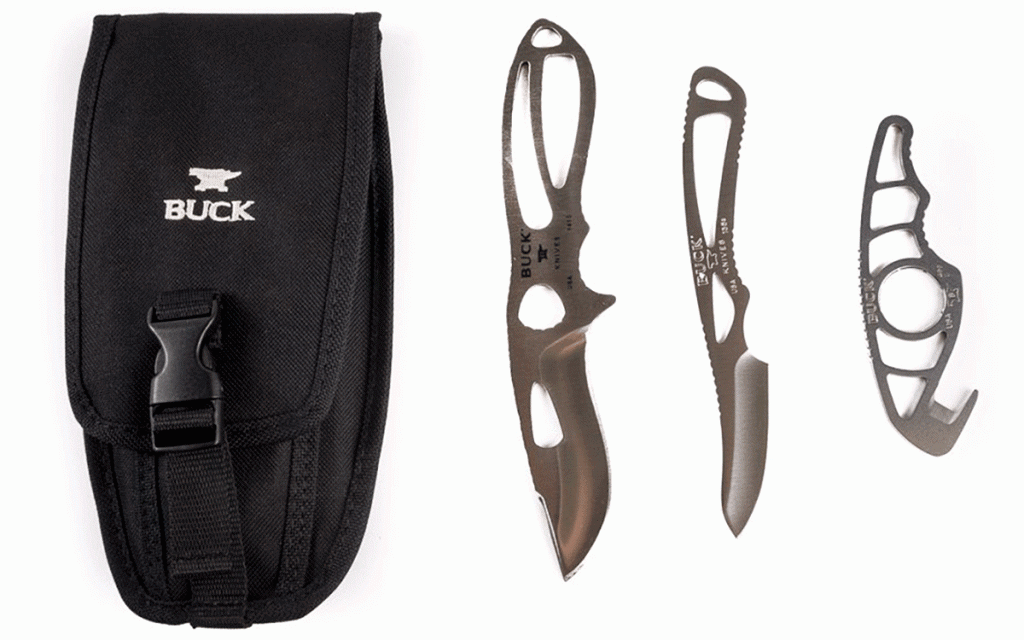 Set Contains:
3.5" Skinning knife
2.5" Caping knife
Gut hook ring
Steel: 420HC
Sheath:
Made in: USA
They might not be optimized for comfort, but Buck's Paklite series finds its way into a lot of hunting circles. They have a nice minimalist design that's lightweight and really easy to clean, plus the sheath they come with has an adjustable belt loop and removable liners so you can wash it. This set will ride nice and tight to your belt, and gives you plenty of tools to pull straight from your hip when you're skinning in the field.
Some people don't like these knives because they can be kind of a pain to hold onto until you get used to it. One way around that is to wrap the handles in paracord, which will make them a little bulkier in the sheath, or just use them until your hand adapts to the feel. It's not for everyone, but hunters who are big on saving weight will probably appreciate the PakLite knives.
Ruko 131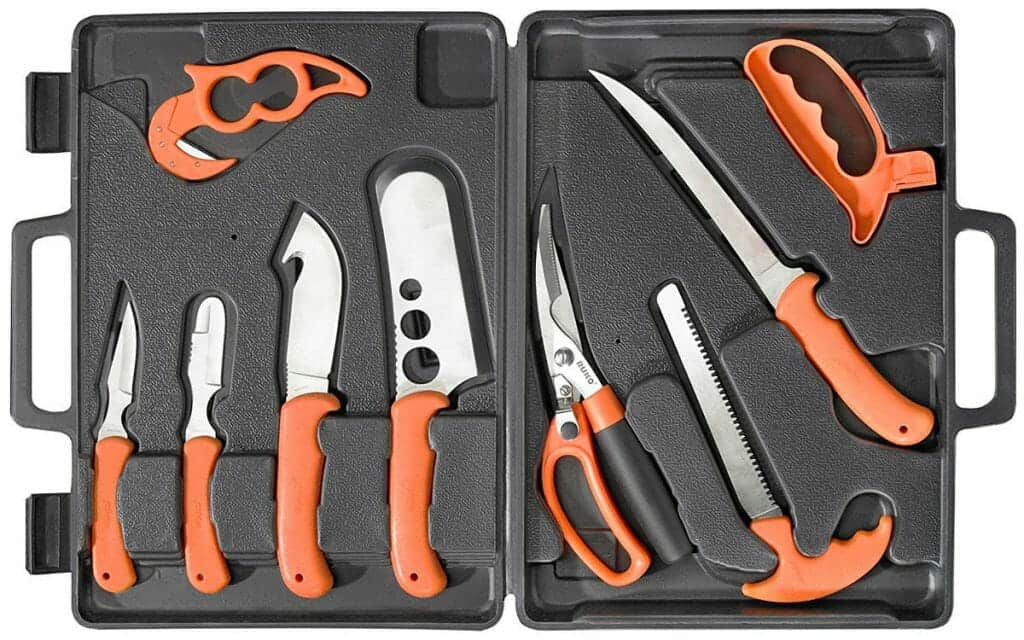 Set Contains
Gut Hook
Fillet Knife
Bone Saw
Game Shears
Cleaver
Skinning Knife
Caping Knife
420HC Steel
Ships With a Case
Whatever you think you need on your hunting trip, the 131 set from Ruko gives you something a little extra. They actually put a dedicated gut hook in this set. It's a whole tool that does nothing except have a gut hook on it, and to top it off they put a gut hook on the back of one of the knives. That's two whole gut hooks. I promise the other stuff is useful though. It's got everything from a little caper knife to a bone saw, all wrapped up in a carrying case so you've got something for pretty much any kind of animal you could possibly want to skin, dress, cook, and eat.
It's not exactly top notch quality. 420HC steel is considered low-end budget stuff, especially when it isn't made by Buck. It's a compromise in quality but it gets the job done, and you're getting a lot of steel for a price that most companies charge for a single knife.
Outdoor Edge Swingblaze Pak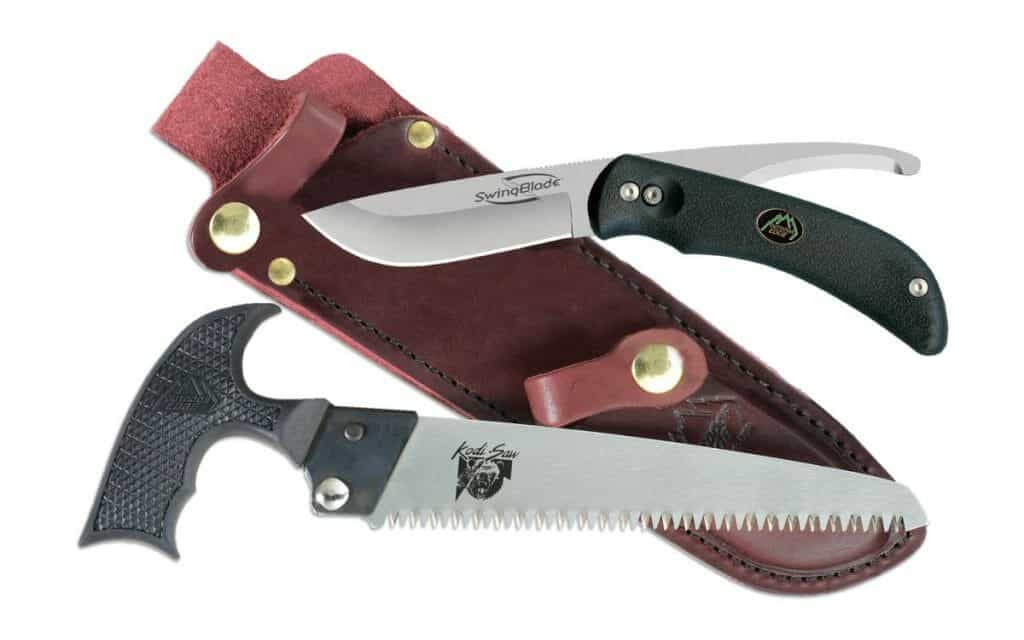 Set Contains:
9.25″ Kodi Saw (6″ Blade)
8.3″ Swingblade (3.6″ Skinning Blade & a 3.2″ Gut Blade)
Ships With Leather Sheath
This is easily the most interesting set on this list. The SwingBlaze knife is one of those oddities in the knife world that makes you wonder if designers aren't staying up a little too late to come up with something new, but there's some impressively innovative thought behind this blade.
Apparently that funny looking rounded end swinging on the opposite end of the knife blade is called a "gut blade", and all reports I've come across say it works like a charm. It's a nice change of pace from the ugly and mostly useless gut hooks everyone keeps hammering into otherwise perfectly good skinning blades. And that swinging blade does lock into place, by the way. Pictures make it look like a loose and lively knife ready to swing down onto your fingers at any moment, but there's a sort of lockbar mechanism you engage to keep everything lock up.
For all the odd design, I enjoy the simplicity of this set. It's like the Gerber Myth Field Dress Kit but you're trading out the caper knife for a decent bone saw. Both the knife and the saw fit easily into a leather sheath that's about 11 inches long. It's not the most compact, but it's snug, and there's a lot of potential in the tools.
Smith & Wesson Campfire Set

Set Contains:
11″ Cleaver (6″ Blade)
9.5″ Guthook Knife (6″ Blade)
Caping Knife
Ships With an All in One Sheath
It's hard to find out what kind of steel this set is rocking, but Smith & Wesson doesn't generally skimp on materials, so I doubt these blades have anything worse than Aus8. The cleaver is a pretty good alternative to a saw for separating the pelvic bone that not many people think about. In a lot of ways a saw is too limited where you could use a cleaver for anything from cooking over the campfire to chopping wood if you really had to.
I'm a little on the fence about the blade shape of the "guthook" knife. It seems a little to straight to me. I think the logic was that they didn't need to put quite so much curve to it because they have a guthook on the back for slitting the belly, but who's actually using that thing? Other than that, this is a pretty high quality set. The cleaver is tough, and the knives are sharp. This will get you wherever you want to go.
Tools in a Hunting Kit
The baseline set for most kits is a skinning knife and a bonesaw, but you'll see all kinds of stuff thrown in beside those. There's a little bit cross over in the knives you'd use in a butcher set, but that's more for dressing and fabricating game in house. The stuff here is for dressing game in the field. Here's a quick rundown of the different kinds of blades you might see and what they're generally used for.
Skinning Knife
This is typically short blade with a big belly. This is usually what you'd use to do most of the work before you actually start parceling out the meat. While these are usually short, you'll see a wide variety of sizes according to the size or type of game they're designed to skin.
Boning / Fillet Knife
Once you get to the bones you need something to cut the bones out of the meat. That usually involves a lot of slicing ligaments and odd muscle strands past large slabs of meat, so you need a long thin blade. That's where the boning knife comes in.
Caping Knife
Think of this as your scalpel. A lot of hunters use these for trophy cuts or getting the hide off, but it's useful anytime you need to make very precise cuts. The important features are that it's thin, short (about 3 inches), and very sharp. These are also nice to use for small game in general.
Game Shears
At first glance these will basically look like heavy-duty scissors, only modified to be able to cut through thick skin and meat. Generally at least one blade of the shears will have some modification like a recurve with slight serration, but they come in all shapes and sizes. The important thing is that they're sharp and can come apart easily so you can clean them.
Bone Saw
It's like a regular saw, only sharper and (hopefully) more resistant to corrosion. They come in all shapes and sizes but it's important to get a bone saw specifically. Using a wood saw for dressing game will be a lot messier than it should be.