Knife Collecting is Expensive Work These Days
We look at about a thousand percent more knives than we actually use for four very good reasons:
The internet makes it easy to look at a million knives.

We're running out of room on our knife shelf, or drawer, or closet, or vault.

Knives are expensive, and we are a bunch of broke hillbillies.

Knife companies come out with a hundred new designs a second.
In the spirit of looking, we've put together a short list of knives that have come out (or will soon) in 2017 that make us wonder if maybe bank robbing wouldn't be a more suitable profession than writing.
We're not saying we'll actually do it; just that our lives would be a lot less complicated if someone maybe bought some of these knives for us.
Spyderco C36CFTIP Ti Military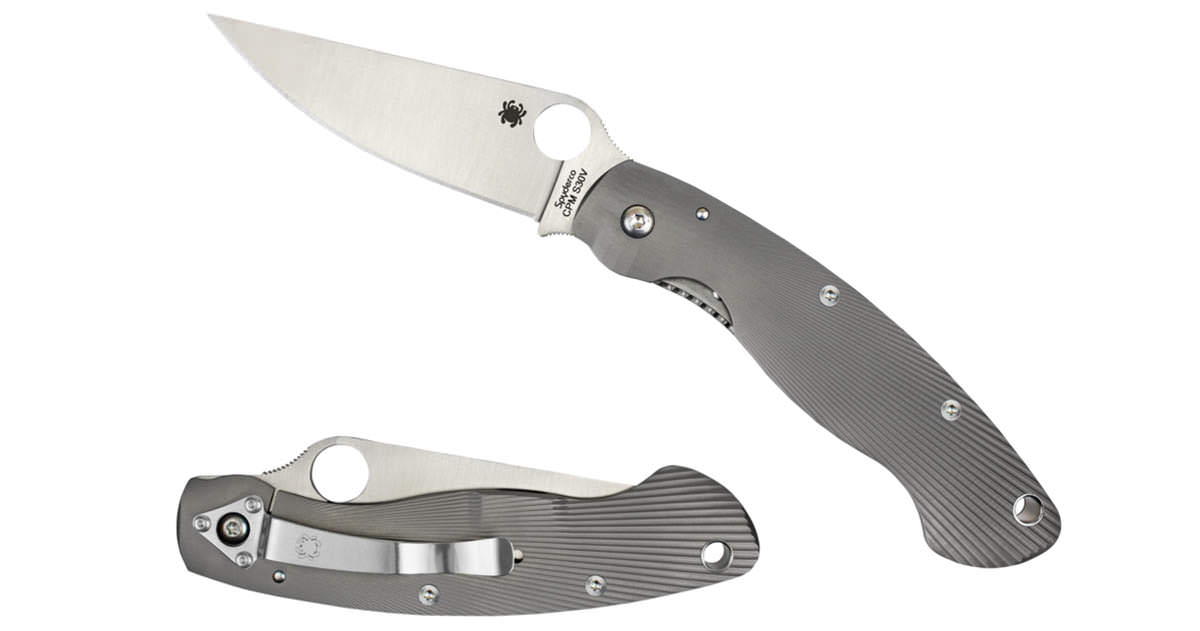 | | |
| --- | --- |
| Overall Length: | 9.5″ |
| Blade Length: | 4.0″ |
| Steel: | S90V |
| Handle: | Carbon fiber / Titanium |
| Weight: | 4.7 oz |
The new Ti Military looks like Spyderco took all the hardest and most expensive materials in their factory and melted them into a little rectangle. The main adjustment in this model is an upgrade to CPM S90V (because apparently S30V wasn't hard enough for everyone), and a slightly longer blade.
They're also getting all Chris Reeves on us by changing the liner lock to the R.I.L lock making the the new Ti Military lighter as well. The practical thing to do, if you really want a knife like this, is to just go with the older Spyderco Ti Miltary which has been proven as a pretty reliable knife already. But then there's that constant underlying urge to take a S90V steel blade into the backyard and go crazy on a bunch of cardboard boxes.
ESEE Expat CL1 Cleaver
| | |
| --- | --- |
| Overall Length: | 11.0 |
| Blade Length: | 6.0″ |
| Steel: | 1095 |
| Handle: | G-10 |
| Weight: | 25.5 oz |
Not technically a knife, but the Expat CL1 looks way too sweet to leave out.
This thing makes us want to go camping… More than usual, I mean. It's made with the staple ESEE 1095 high carbon steel with a G10 handle, full tang, and a hefty 25 ounces and it looks like it could do some serious damage to some tree limbs. But I'm actually more interested in trying to cook with it in the field. It's big enough to handle thick cuts of meat, but the steel is easy enough to sharpen quickly to do finer cuts on smaller stuff. And also it just looks like fun to use.
Mostly, though, it's exciting to see something different come from ESEE. If I had any complaint about the company, it's that their designs are all pretty much different sizes of the same thing. All the same steel, all the same scales and handle material. It's a great design, and I enjoy the simplicity of it, but sometimes you just want to see something different and the Expat Outdoor Cleaver is exactly the kind of variation I didn't know I wanted.
Tops Knives BOB Fieldcraft Folder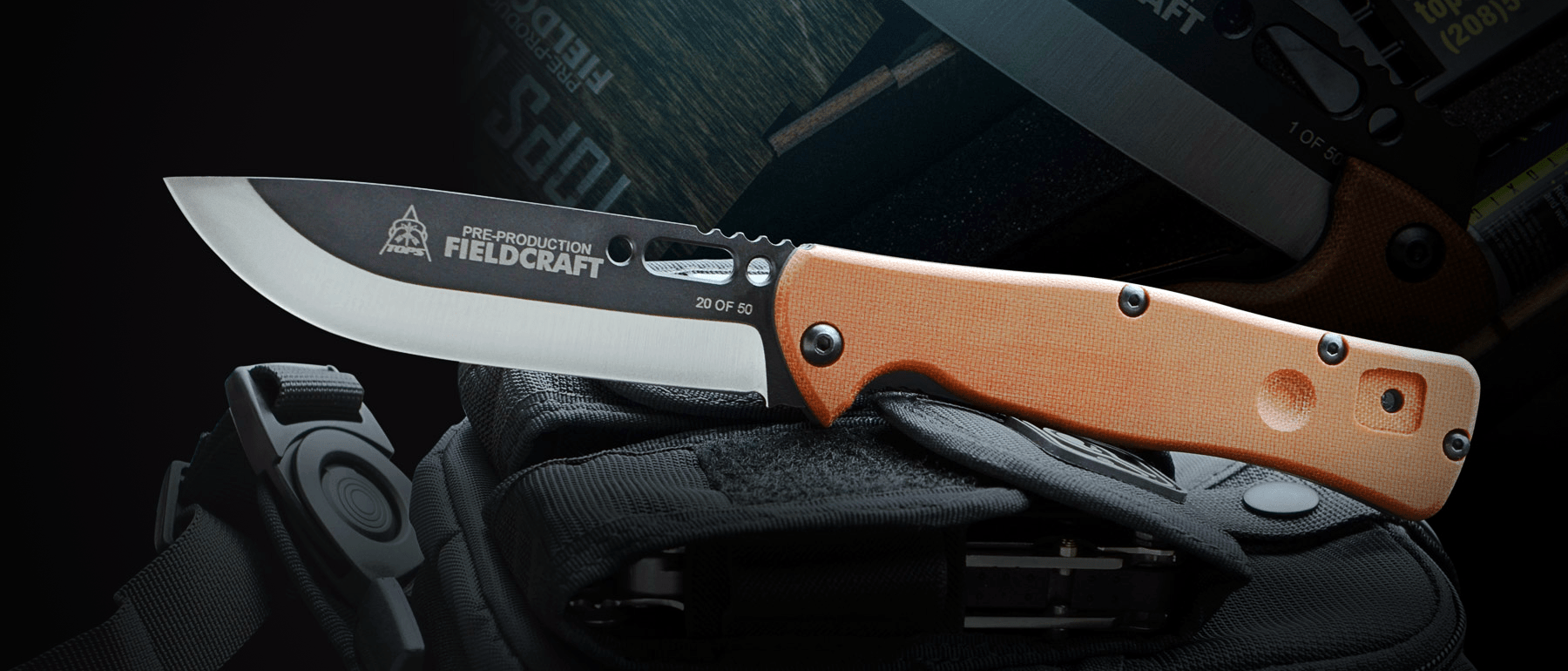 | | |
| --- | --- |
| Overall Length: | 10.0 |
| Blade Length: | 4.5″ |
| Steel: | 1095 |
| Handle: | Canvas Micarta |
| Weight: | 8.1 oz |
The BOB fieldcraft folder has been a long time coming. They teased us with a model that was supposed to be available in 2016, but they got caught up with tweaking little things that kept the knife stuck in development.
Tops Knives finally announced production of it at the Shot Show earlier this year, this time saying they would release 50 limited edition versions of it as a sort of beta test to work out the kinks. Those ran $500 so we spent a lot of time pouting in a corner while we waited to see when retail stores would get in the regular production models for all us plebeians.
This thing is everything I've ever wanted in a knife. It has a simple, strong design, a large blade that fits into a reasonably sized handle, and tough carbon steel. In fact, for all intents and purposes it looks and acts like a fixed blade bushcraft knife, but it's a folder, which means I could carry this around with me to the grocery store without looking like I'm trying to compensate for something.
As of this writing, the pre-production sale is over so we're all in an awkward purgatory state where no retailers seem to be carrying the production model, and there's no word yet from Tops as to when we might start seeing it. When it does come back out, though, sources say it should be priced under $300, so I guess we need to start saving either way.
Benchmade 781 Anthem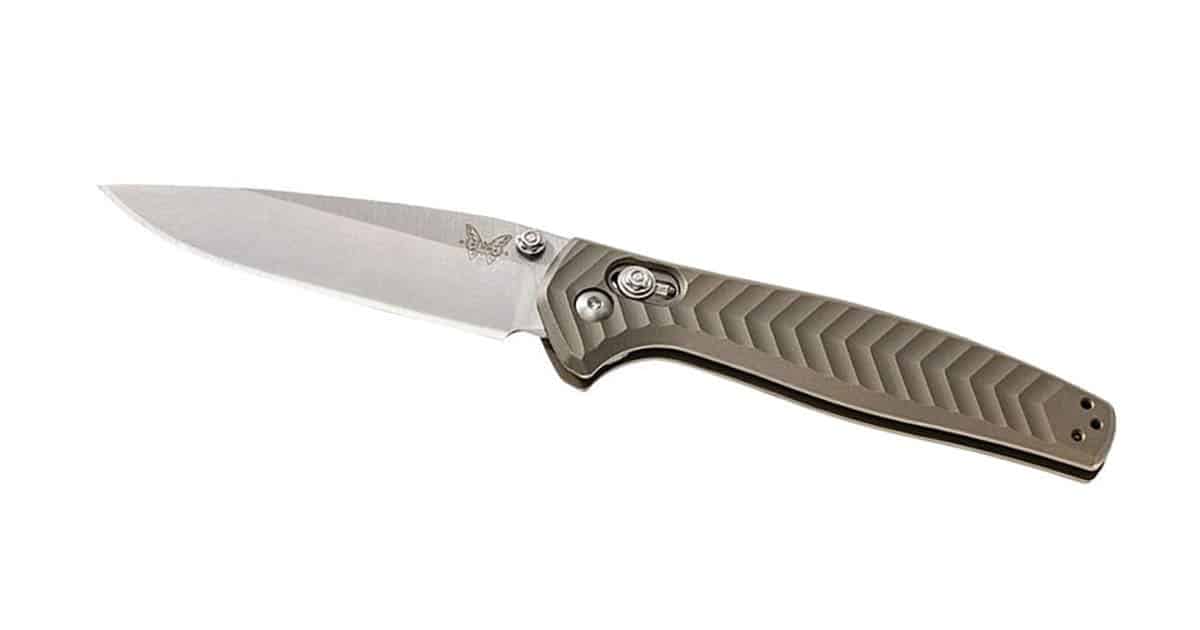 | | |
| --- | --- |
| Overall Length: | 8.06″ |
| Blade Length: | 3.5″ |
| Steel: | CPM-20CV |
| Handle: | Milled Titanium |
| Weight: | 3.7 oz |
Benchmade introduced a lot of great knives this year that we would love to start carrying around. Pretty much all of them S30V with comfy looking handles and their typical sleek design. Some of them are a little too fancy for our taste, but they're at least nice to look at. The 781 Anthem was what really caught our attention though.
Generally I'm not a fan of all-metal handles, but in this case, a titanium handle that's all one single billet titanium piece is pretty attractive. All the scale and spine detail on this knife has been milled, so there are no added pieces that might get knocked loose aside from the pocket clip, which is also made of milled titanium steel. Unlike most of Benchmade's new line, the new Anthem features CPM-20CV steel which is actually a little harder than S30V steel, so this knife should have incredible edge retention, albeit a little more on the frail side.
Knife Collectors Can't be Millionaires
In the grand scope of things, this is a modest list. We didn't even get into stuff like Marfione Custom knives, because the idea of a $1000 price tag makes us sit down really fast. After gazing at all the new line ups from the Shot Show and Blade show and the stray press release has made us realize we will never be rich.
All these damn knife makers have basically dug a bottomless pit with their fancy new S10000V steels and we're all climbing cautiously down into it. If someone handed us a check for a million dollars to get out we would just try to use it as a parachute and jump straight down the middle of that pit.