The Ultimate Dalstrong Kitchen Knife And Block Set Guide
Dalstrong presents a worthy alternative to brands like Wusthoff or Shun by having some of the best customer service in the industry, and knowing how to make all their knives easy to find and learn about. They used to be a budget brand, and there are more than a few professional cooks and chefs who still look down their noses at Dalstrong knives. But lately Dalstrong has pushed into the high-end cutlery world pretty aggressively and come out with some interesting stuff. The quality is decent enough, if a little inconsistent sometimes, but they're always quick to answer questions and fix problems or send replacements if you get a bad set. On top of that, everything they make looks beautiful, from the white-box packaging to the mirror finish on their steel.

Dalstrong isn't the best answer for everyone. There are more traditional brands for high-end sets, and if you're looking for other styles in the reasonably priced range there are more options than you might think. But a set of Dalstrongs is a pretty safe bet because they've chosen the unique path of putting customer satisfaction over quality on their list of priorities. When you don't like something, there's a decent guarantee of getting a replacement or your money back if something goes wrong.Make no mistake, this company has some marketing genius behind it, but they also understand that quality plays an important part in keeping us happy.
Here is the complete list of Dalstrong knife series
We cover the following Dalstrong knife series in this article:
Gladiator
Phantom
Crusader
Shadow Black
Shogun
Omega
Quantum 1
Frost Fire
Ronin
Valhalla
Delta Wolf
Gladiator Series
The Gladiator series is currently the most expansive and low-cost in Dalstrong line up. The only series that might beat it for price are the Shadow Black series and the Crusaders, which are both still pretty limited in knife options and have vastly different ergonomics. The only other series that comes close to the same broad variety of knives is the Shogun series which which is up a tier in price. This is the tried and true base line option with Dalstrong.
Gladiator 8 Piece Set
Specifications
X50CrMoV15 Steel
Rockwell Hardness 56
Full Tang
Laminated Pakkawood Handles
Mirror Polish
Solid Acacia Wood Storage Block
Includes BPA-Free Dalstrong Perfect Finish
Set includes 7 knives and 1 honing steel.
Pros
Most budget friendly Dalstrong series
Full basic set
Series offers the widest range of colors and knives
Cons
Lower end carbon steel compared to Dalstrong's more expensive sets
A little to light for harder cutting
Set Includes: 8" Chef knife, 7" Santoku knife, 9" bread knife, 9" carving/slicer, 6.5" utility knife, 6" serrated utility knife, 3.5" paring knife, 8" Gladiator series honing steel.
This set is kind of the default option of all the Dalstrong options. It's from their cheapest series, and the general consensus is that these knives are fairly comfortable. A few people find some of the longer knives a bit unwieldy, but once you get used to the feel of them you don't really notice. They also lean more on the light side, which makes it a little more difficult to cut harder vegetables, and that's really not ideal in western-style kitchen knives. But I think it's only fair to give some leeway to the balance in an 8-piece set that falls under $300. This set in particular includes a modestly-sized block made out of solid acacia, which is one of the big selling points for me. Of all the blocks on here, I think this one looks the best, and it's small enough to fit easily into pretty much any kitchen.
The Gladiator series as a whole is also a good option if you want a particular color. Dalstrong is always changing their line up, but as of now you can get a Gladiator set in green, red, white, blue, and black.
Gladiator Series 18 Pice Colossal Set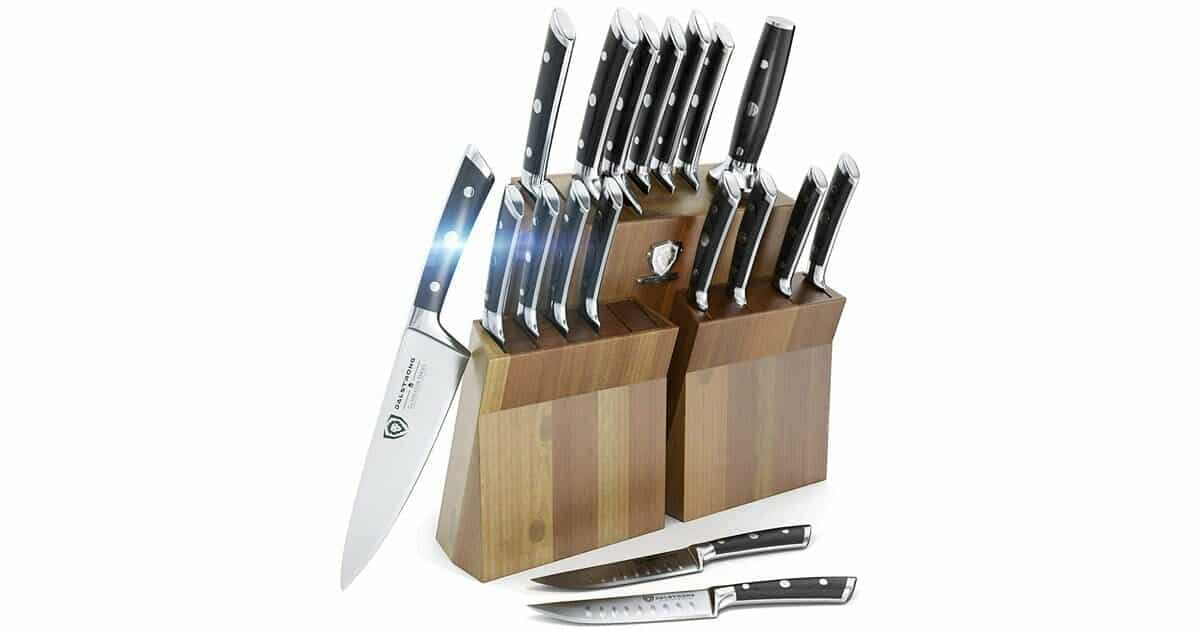 Specifications
High Carbon ThyssenKrupp German Steel
Rockwell Hardness 56
Full Tang
Satin Polish
Laminated Pakkawood Handles
Walnut Wood Block
Pros
Literally any knife you will ever need in the kitchen
Including steak knives. Let's not forget the steak knives
Cons
It's gonna take up a lot of space on the counter
Do you really need that many knives
Set Includes: 8.5" Kiritsuke chef knife, 8" chef knife, 7" chef knife, 7" nakiri knife, 9" carving/slicer, 9" bread knife, 6" boning knife, 6.5" utility knife, 6" serrated utility knife, 5" sterak knives (6), 3.5" paring knife, 2.75" bird's beak paring knife, 10" Gladiator series honing steel.
Same series as before, just more. A lot more.
The most important addition here is in the steak knife department. You have no idea how much I appreciate Dalstrong for bringing steak knives into this. As a heart-endangered pseudo redneck, I've always felt that steak knives are vastly underused by most other kitchen cutlery companies.
You get some other cool stuff in this set too, like that giant nakiri-style knife, and the kiritsuke chef knife. Again, the kind of stuff you don't see a lot in other sets, so this covers pretty much any kind of culinary tradition you could think of, if you're the kind to experiment.
But the steak knives. That's where it's at.
Gladiator Steak Knife Set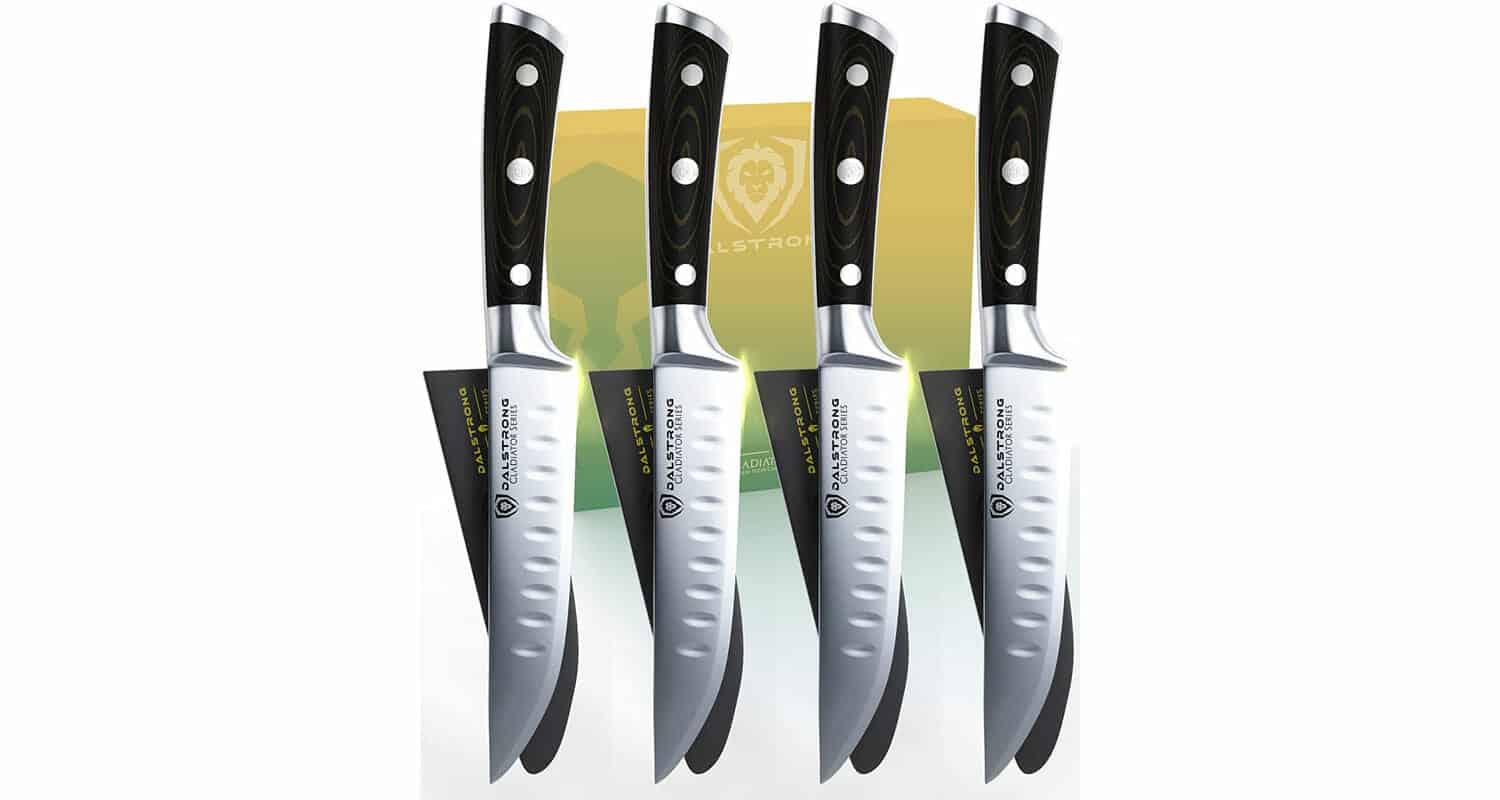 The series makes a solid transition into steak knives with the high carbon steel and graton edges to help with food release. Dalstrong has also been kind enough to offer a few different options in this style: the plain-edge knives with black handles, the serrated edges with black handles, or the plain edge with white handles.
The white handles do come with a couple problems, though: they don't offer any other Gladiator knives in white (yet), and the handle material is ABS plastic instead of G-10.
That means the white steak knives are usually about $10 cheaper, but they won't have quite the same feel. Still a nice set either way, though.
Phantom Series
If you're more into Japanese style knives, the Phantom series should probably be the first place you look. Dalstrong also has the Shogun series which features Japanese style knives, but they're much more expensive and it's easier to find the Phantom series in a set right now. The only possible problem is they don't make a huge variety of knives under the Phantom name, mostly having a strict selection of Japanese knives with a couple Western staples like chef and utility knives thrown in.
Phantom 6 Piece Set with Magnetic Stand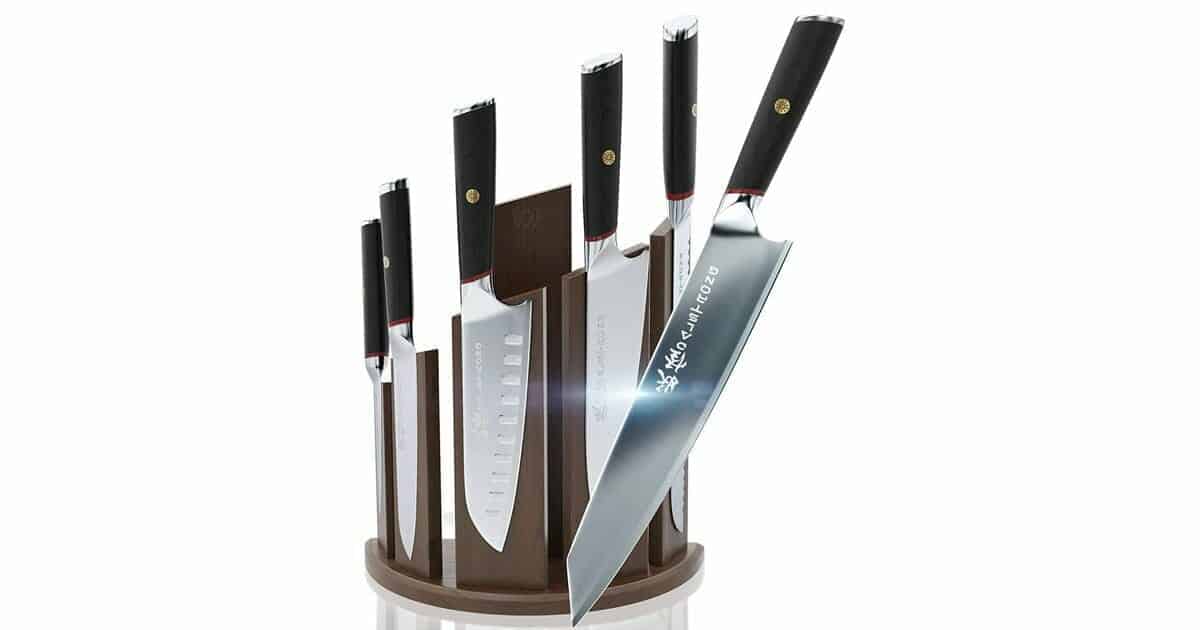 Specifications
Full Tang
AUS8 Japanese Steel
Rockwell Hardness 58
Ice tempered steel for better edge retention
Traditional Japanese D-shaped handle
Laminated Pakkawood handles
Pros
Nicer Steel
Efficient block design
Good balance and edge retention
Cons
Engraving makes the knives a little harder to clean
Set Includes: 9.5" Kiritsuke chef knife, 8" chef knife, 7" santoku, 9" bread knife, 5" utility knife, 4" paring knife, Dragon Spine Double Magnetic Sided walnut knife block.
This set only comes with 6 knives, but you get pretty much every kind of chef knife, plus paring and utility knives, so it's not like it'll leave you without all the tools you really need.
One of the most striking things about this set is the block, which can hold a total of 12 knives thanks to the double-sided magnetic design. It might take some getting used to. Just looking at it, I get a little confused and the shape probably won't play well with small counters. Anyone who's had to work in a very small kitchen can attest to the ergonomic nightmare that large round shapes can create with limited space. It gets points for being unique, though, and it gives you plenty of empty slots to build on your set.
The steel is the other interesting thing to me. I've seen Aus8 in a few other kitchen knives, but not a lot. Part of me wonders why not go all the way to VG-10 as long as you're going Japanese steel, but I think this was a calculated compromise between hardness and price. With the steel being cooled in liquid nitrogen it seems likely that you won't have too much trouble with edge retention.
Crusader Series
These are unfortunately difficult knives to find as a set. Dalstrong's intention with this design seems to be durability since they've used a softer X50CrMoV15 steel cooked to 58 HRC and ground the edges to 16 degrees while most of their other knives are 61 HRC with 12 to 15 degree edges. Either way, these are good tough knives that highlight minimalist design and easy maintenance.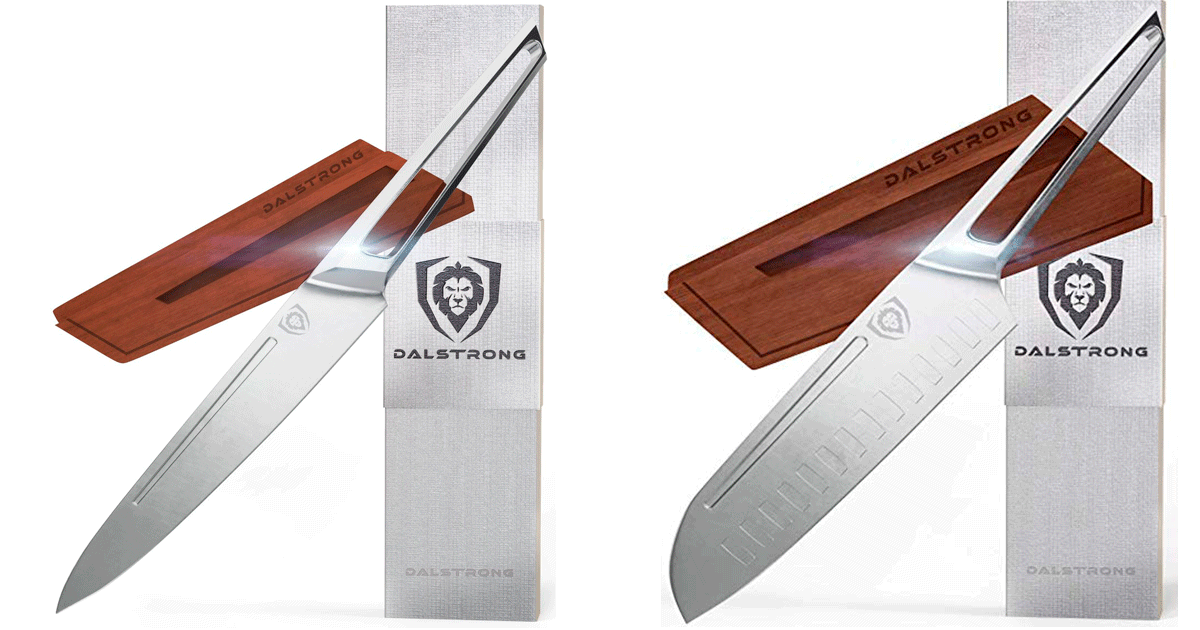 Crusader Specifications
X50CrMOV15 high carbon German steel
Rockwell hardness 58
Acacia wood sheaths with magnets
Edges sharpened to 16-18 degrees per side
Pros
Low cost option
Highly rust resistant
Easy to clean
Ships with magnetic wood sheaths
Cons
Minimal all steel handles aren't for everyone
Soft steel
There's a lot about this set that's interesting, and maybe a bit confusing.
The handles can be a hit or miss thing, depending on who you are. They don't exactly work to conform to your hand, but the skeletonized construction does make the weight and balance more agreeable. What stands out to me, though, is that even though these knives are all steel, the blades are made from X50CrMoV15, but the handles are a different steel that's higher in chromium. So they've managed to weld these two pieces together without creating a seam or groove.
The steel and the bare-bones design is probably a big reason why the price is lower on this series. It uses the same soft steel of the Gladiator series just without the pakkawood handles. Instead you get a stripped down stainless steel loop, which Dalstrong calls a "pure" design and attributes the name to that. History buffs will maybe see a good joke in that logic, but ultimately what Dalstrong has made here is a good series for people just starting out on the cook-at-home adventure, or someone on a tight budget.
Or, more likely, someone with a very specifically themed kitchen decor.
Currently Dalstrong is putting this series out into a few different sized sets.
The important thing to know about the Shadow Black series is that it's probably the most comfortable series in the low-budget options.
The hard-line geometry of the handles actually reminds me a lot of Zero Tolerance folding knives, which is pretty interesting to see on kitchen cutlery.
Shadow Black 5 Piece Set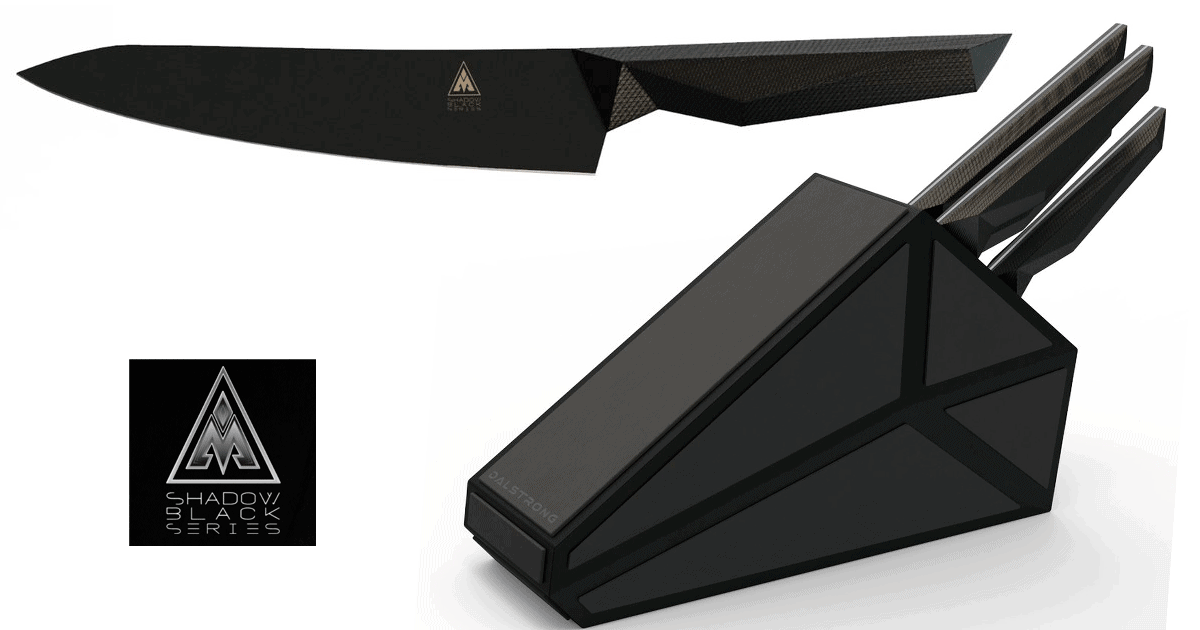 High carbon German steel
G-10 handles
Titanium nitrade coating
Pros
Comfortable handles
Rust resistant coating
Relatively low price
Cons
Budget steel
Owning one immediately reveals your midlife crisis
Set Includes: 7" Santoku knife, 8" chef knife, 5.5" Utility knife, 4" paring knife, 7" cleaver.
Despite what the description on Dalstrong's site might have you believe, no one is going to think you look more muscular using these knives. Their insistence on playing the Shadow Black series off as some kind of tactical kitchen option "inspired by the F-117 stealth bomber" distracts from its real appeal as the more comfortable alternative to their Gladiator and Crusader knives.
The 5-piece set belies the range of options offered under the Shadow Black series. Dalstrong has added quite a bit since they first released the series. It's still not as many as what you'll find in the Gladiator series, but it still offers a nice range of Western and Japanese knives. So it's kind of a shame that they sell such a small set with no room for adding individual knives on. It still gives you the basics of what you need for heavy cutting and fine-tuned carving.
I haven't seen anything that mentions what specific steel they're using, but Dalstrong calls it "high carbon German steel" and lists the Rockwell Hardness at 58, so I'm assuming it's the same thing in the Gladiator and Crusader series, just with a black coating.
Shadow Black Steak Knife Set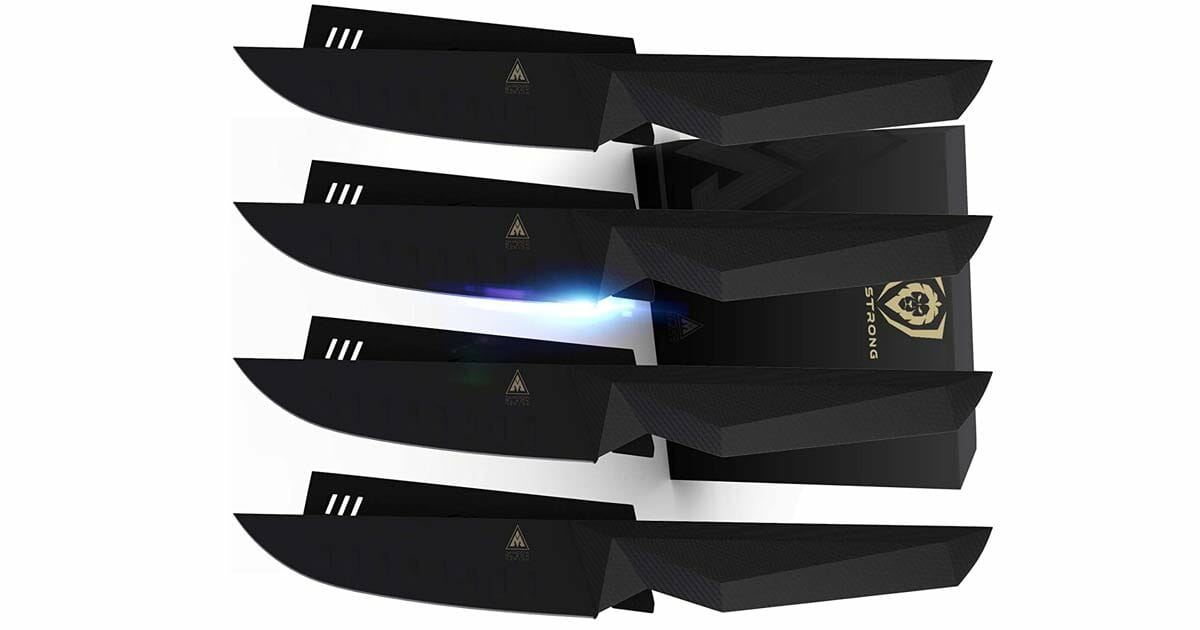 Like the rest of the Shadow Black set, the handles are what really stand out on the steak knives. The difference is that other people besides yourself will be using them. Despite the weird angular look of these knives, they meant to be very comfortable. And even if your guests don't like them, it will at least give them something to comment on during long awkward pauses in the conversation.
Shogun Series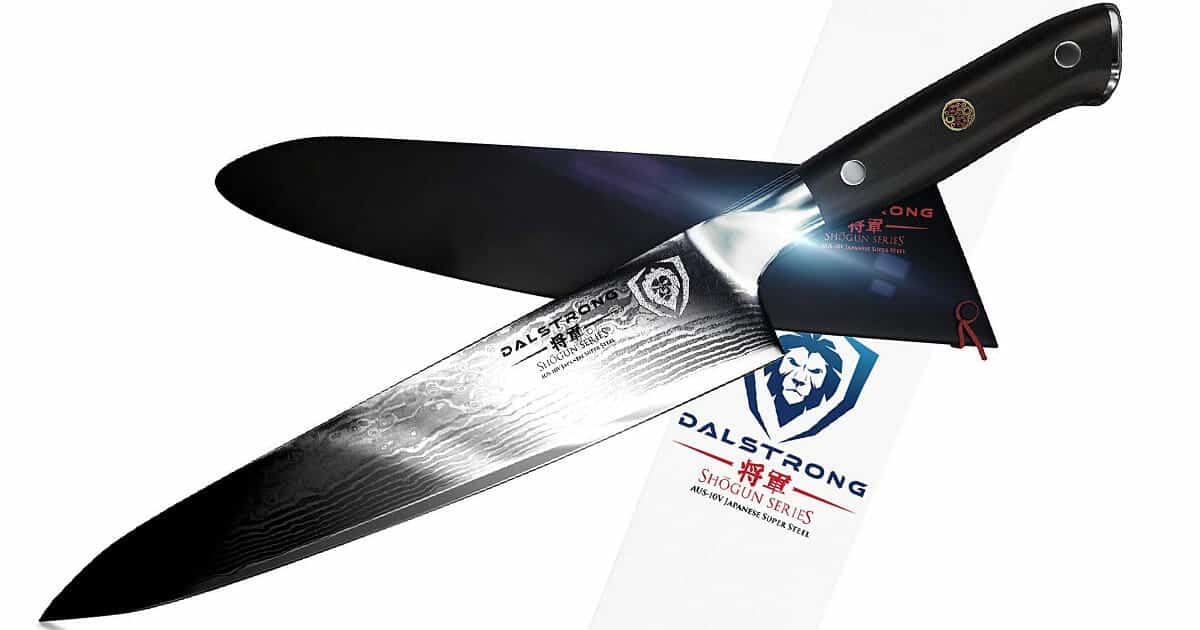 Specifications
AUS10V steel with SUS410 cladding
8-10 degree edge
Rockwell hardness 62
G10 handles
Full tang
Pros
Nice steel
Great edge retention
Cons
Pretty expensive
Steel is hard enough to be a little brittle
Shogun is definitely one of their nicest series. They're a fairly well done Japanese style with AUS-10V steel, which is getting into higher-end territory than most of their other sets. It's a lot like VG-10, but in this case Dalstrong has layered it with a high carbon steel, so it comes out a lot harder than usual. That also means it's going to be more brittle, and most of the blades in the series are made thinner for precision. You really have to cut clean and careful with these, but as long as you're treating these knives right they will work beautifully.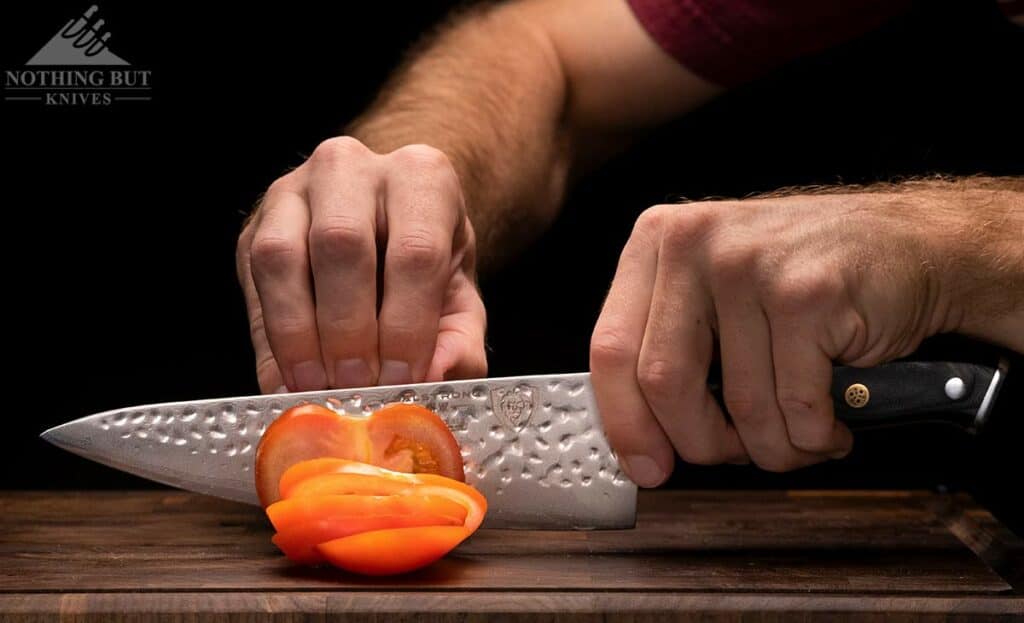 They've also made a quite a few different types of knives in the Shogun series. I think there's something close to 30 different knives in this series (including steak knives, by the way), so unlike their other high-end series, Omega, you can build a full matching arsenal in your kitchen with Shogun knives.
For now it looks like they sell two sets in the Shogun series: a 3-piece paring knife set, and a 5-piece set in an acacia wood block.
If you want to learn more about the Shogun series, check out our in depth review of the Dalstrong Shogun Series X chef knife.
Shogun Series X 5 Piece Set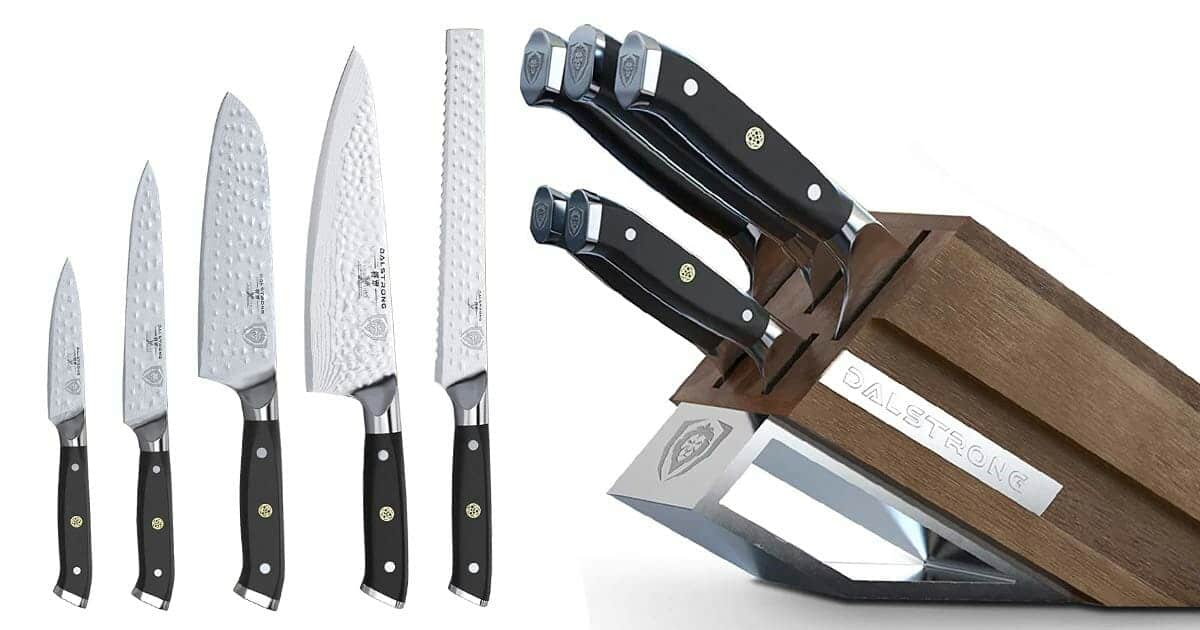 Hammer finished Damascus steel
Handmade Acacia wood handles with stainless steel finish
Pros
Basically the same Shogun performance with a more interesting aesthetic
Better for food release
Cons
Limited block comes with all slots full
Set Includes: 8″ Chef knife, 7″ santoku knife, 6″ utility knife, 3.5″ paring knife, 8″ bread knife
This is essentially the same as the regular Shogun series; they've just made the knives with a hammer finish. Usually when a kitchen knife has a hammer finish it's not just an aesthetic choice. With Japanese knives it's called a tsuchime finish, and while it does give a nice call back to how a lot of hand made knives looked coming out of old school Japanese blacksmiths, it also helps to reduce drag and stop food from sticking to the sides as you cut.
Ultimately, the steel, angle grind, and rockwell hardness are the same as regular Shogun knives, and Dalstrong is the kind of company that understands branding well enough that two sets with the same series name won't have a vast difference in performance.
Shogun Steak Knife Set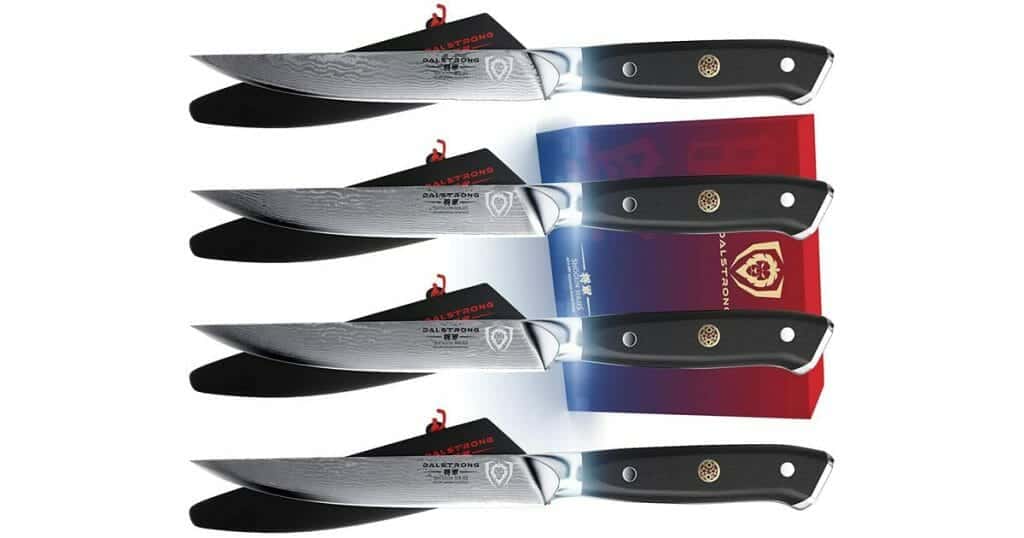 Since the Shogun Series is mostly about Japanese cutlery, I think Dalstrong made an effort to make these steak knives slimmer than usual. That effort created a pretty stellar looking set alongside the Damascus steel. In some ways it's on the opposite end of the aesthetic spectrum from the Shadow Black series. The real difference is in how the Shoguns cut, though, because this is the series where Dalstrong starts getting really serious about their steel, and refine the edges down to 12 degrees.
Omega Series
It doesn't look like Dalstrong has started selling the Omegas as a set, even though they've updated the series with enough knives to make one (including a steak knife set). Right now, if you want these as a set you'll have to buy them all separately, but they should fit in nicely with the Shogun series knives if you want to mix and match with a block you already have.
Specifications
BD1N-V hyper steel
Rockwell hardness 63
Vacuum heat treatment
G-10 Handles
Full tang
Pros
Very very sharp
Incredible edge retention
Cons
Pricey
Can't buy whole set at once
Limited options
I hadn't heard of BD1N-V steel before coming across these knives, but it turns out it's not that uncommon among kitchen cutlery. In terms of composition, it's about the same as 440C, just with some nitrogen mixed in.
That combined with the right kind of heat treatment (and apparently Dalstrong's vacuum heat treatment is pretty stringent) creates an incredibly hard steel. In fact, the only series that has harder blade material than the Omegas is the Infinity series, and you've gone to an extreme when you're comparing things to ceramic blades.
Omega Steak Knife Set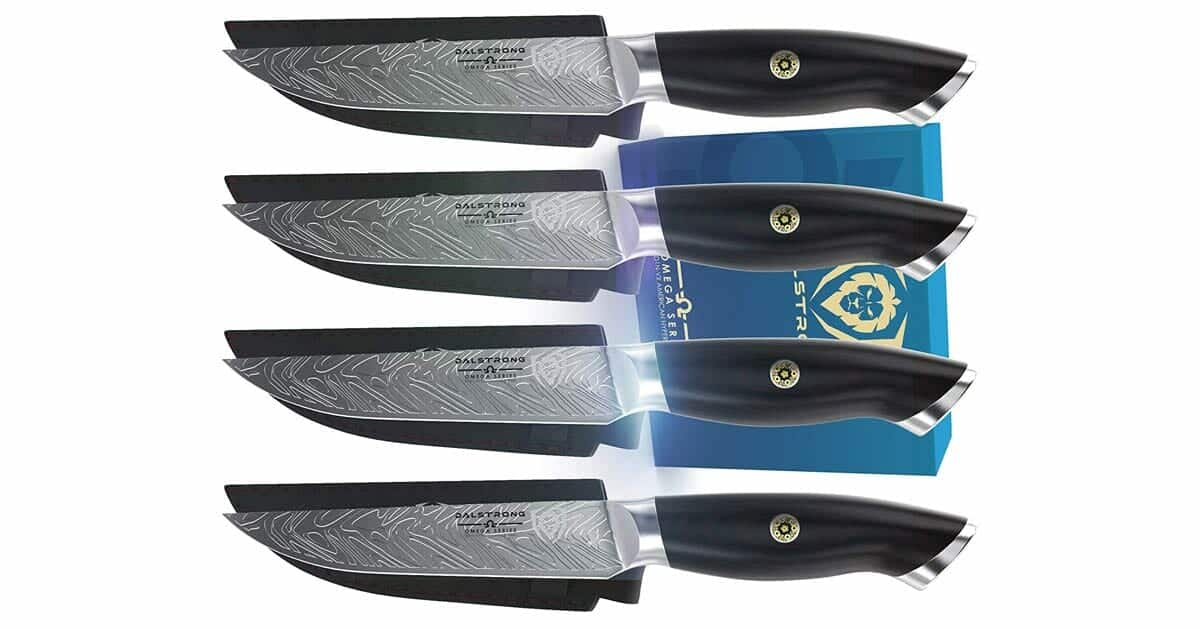 As things stand now, this is as high-end as you can get with Dalstrong steak knives. They have all the wonders of the hard-cooked hyper steel in the Omega series, but the attraction for me is how thick the handles are. Dalstrong put a lot of effort into workshopping the balance of these knives, and the shape of the handles go a long way to creating a solid, comfortable grip. These are also just the most visually striking knives. There are so many little details the blend into each other really well, so the knives tend to have a profound effect when people see them for the first time.
Quantum 1 Series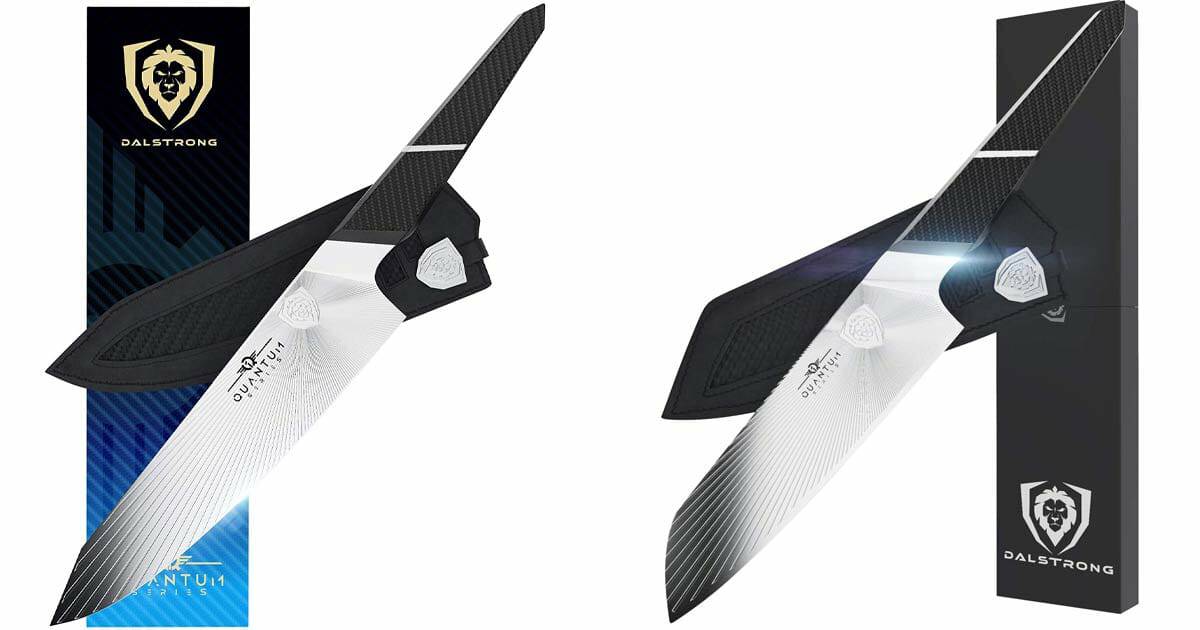 Specifications
BD1N-VX hyper steel
Rockwell hardness 63+
Vacuum heat treatment
G-10 and carbon fiber hybrid
Full tang
Pros
Razor edge
Super hard steel
Well textured handles with an interesting aesthetic
Cons
High priced
Not offered as a set
Thin handles arn't for everyone
This series actually shares a lot of details with the Omega series: They run the same steel and hardness, and what sounds like basically the same heat treatment. Even the angle grind is at the same 12 degrees. But you take a step back from the microscopic details and you see the two series are very different.
Mostly noticeably, the handles of the Quantum knives are textured and have some carbon fiber running through them. Where the Omega knives fill the whole hand from the middle, the Quantum knives make the most use of space by widening near the top where you need the most grip anyway. When we start talking edge to food, the Quantum knives probably cut about the same as the Omegas, but shape of the handle might make you cut a little more delicately.
The one really big similarity, though, is that Dalstrong's Quantum knives aren't sold as a set. It's still a fairly new line, and it's very high priced so I doubt we'll see a Quantum block set anytime soon.
Frost Fire Series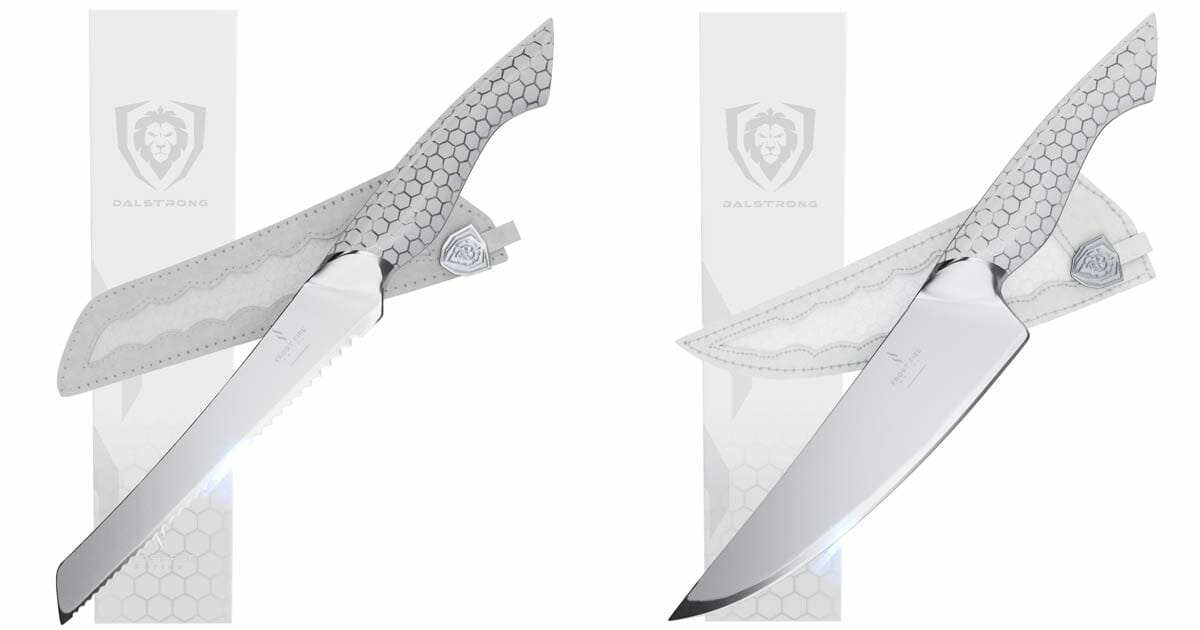 Specifications
10Cr15MoV steel
White resin handle with aluminum handles
Individual knives come with PU leather sheaths
Sandblasted finish to reduce food sticking
60-61 Rockwell hardness
Full tang
Pros
Highly corrosion resistant steel
Unique aesthetic
Leather sheaths are an interesting tough
Cons
Not sold as a set yet
Somewhat odd design line may throw some people off
If you really like contouring, then you'll probably like the Frost Fire knives. Dalstrong went a little crazy with the lines in this series, but there's no denying it made these knives memorable. Besides the extreme contouring of the handles, the blades of many of their Frost Fire designs have extreme ways of tapering at the tip or swooping along the spine that might make the overall balance and ergonomics a little different from what you might be used to.
The name is in part a reference to the white color theme, but it more functionally refers to the sandblasted finish on the blade, which, according to them, gives it a "frosted look to enhance non-stick properties". That non-stick feature is a really good feature to have for these, because a lot of the knives are pretty tall, and would otherwise be frustratingly prone to a build of vegetable trimmings.
The leather sheath might seem like a weird accessory to add. I've never personally seen someone wear their chef knife in a sheath when they're cooking, but maybe that's just because they were never given the option. Regardless, Dalstrong is going to send you one with these knives whether you like it or not.
Ronin Series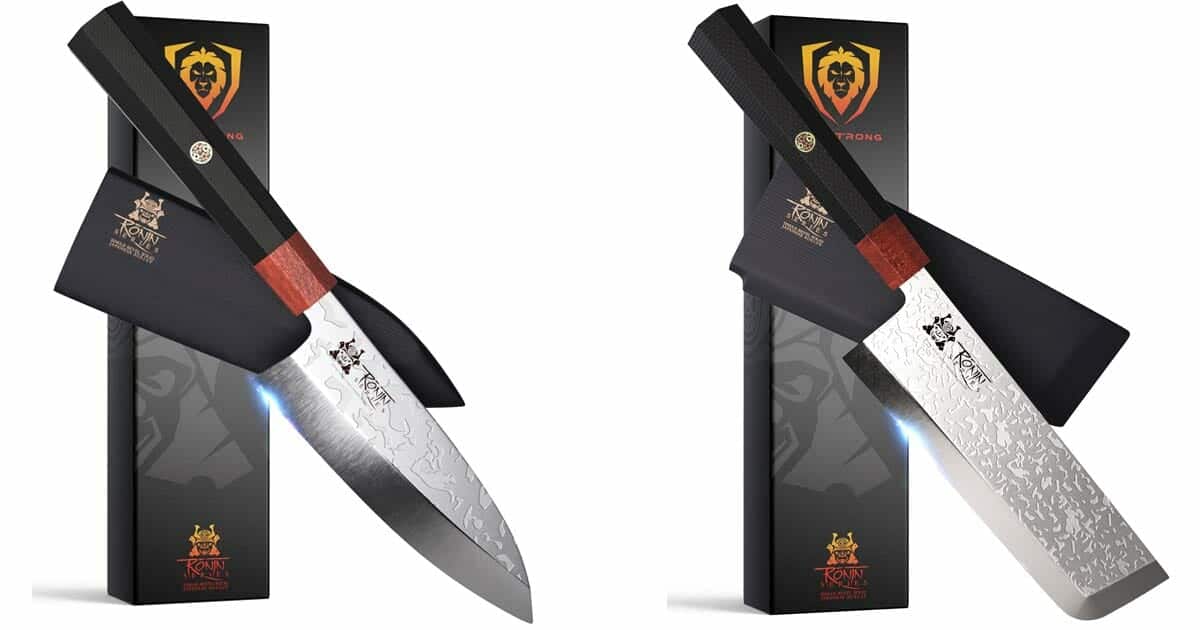 Specifications
AUS10V steel laminated for stain resistance and durability
Single bevel grind
G-10 Octagon shaped handle
Knives ship with magnetic wood sheath
Pros
Great for butchering fish and cutting sushi
Premium steel
Tough but comfortable handles
Cons
Series currently has a very small selection
Very hard steel makes it more vulnerable to chipping
This is a much more traditional series than we've typically seen from Dalstrong so far. Between the octagon handles, the blade heavy balance, and the single bevel grind, the Ronin series looks well suited to Japanese cuisine. It certainly takes a harder line than their Shogun series, which has some premium knives in its line up, but definitely leans more toward the Western style.
The VG-10V core on the blade is laminated with a pattern to reduce drag and add toughness, but some of the designs, like the Honesuki, have such a high grind, the steel layering isn't likely to add much more than aesthetic appeal. For the sushi knife though, it should be more than enough to prevent food sticking at the very least.
Valhalla Series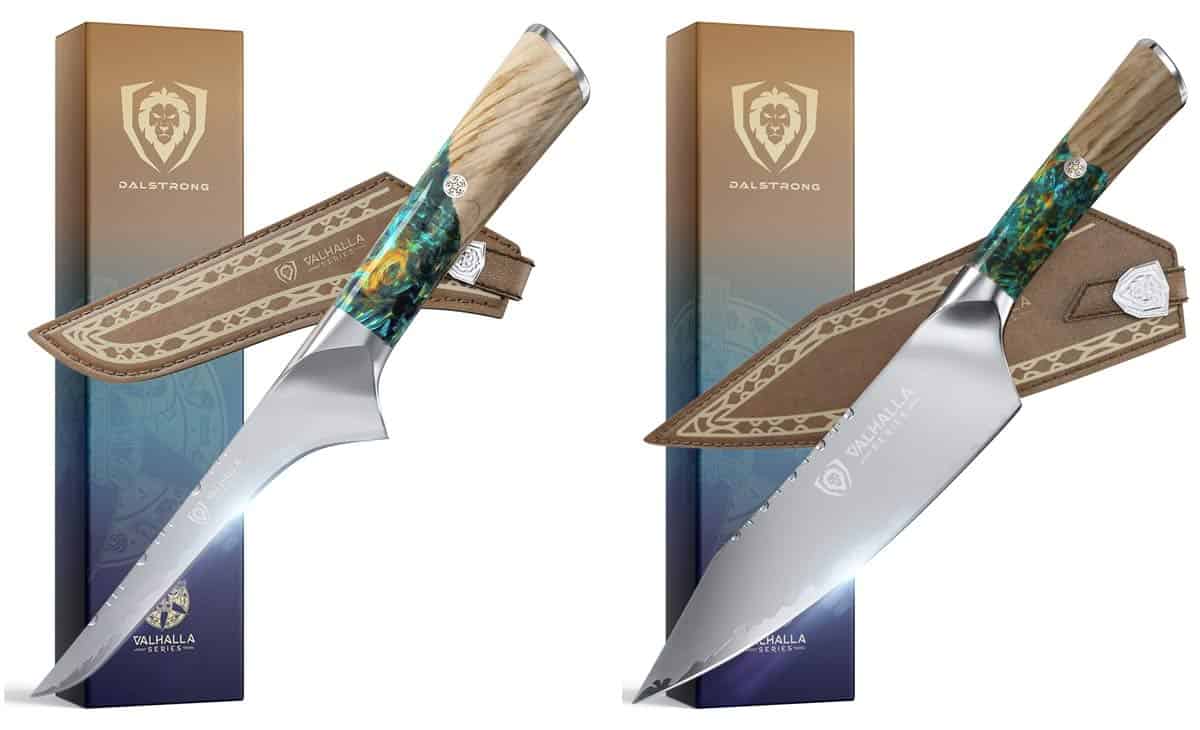 Specifications
High carbon steel
60+ HRC
8-12 degree edges
Resin handles with
Pros
Looks weirdly spectacular
Hard steel with thin edges
Minimal bolsters are good for pinch grip
Handles have a good heft
Cons
Somewhat prone to staining
Not sold as a block set
Handles might get a little slippery
The hard angles and clean lines of viking-style knives really seem to play well with the way Dalstrong designs knives. Both the look and the product description of these knives are over the top, but that's par for the course with this company.
What's really important here is that Dalstrong seems to have successfully made a few seax kitchen knives resulting in a paring knife, a chef knife, and a santoku knife that stand out as both looking different and possibly have a different feel in terms of utility. I've always liked the seax lines for knives because they tend to create very strong tips for knives and they're usually easier to make straight cuts with.
That said, I am a little concerned about the steel on these. Dalstrong only says it's a "high carbon steel", then say they treat the blades to a 60+ HRC and grind them to 8-12 degrees for the edge. That happens to be the same specs on the Delta Wolf knives, which are sporting 9Cr15MoV steel. And that's a fine steel for this price point. It's sharpens well, and has okay corrosion resistance, but without a coating you'll have to be extra careful about cleaning these blades off.
Delta Wolf Series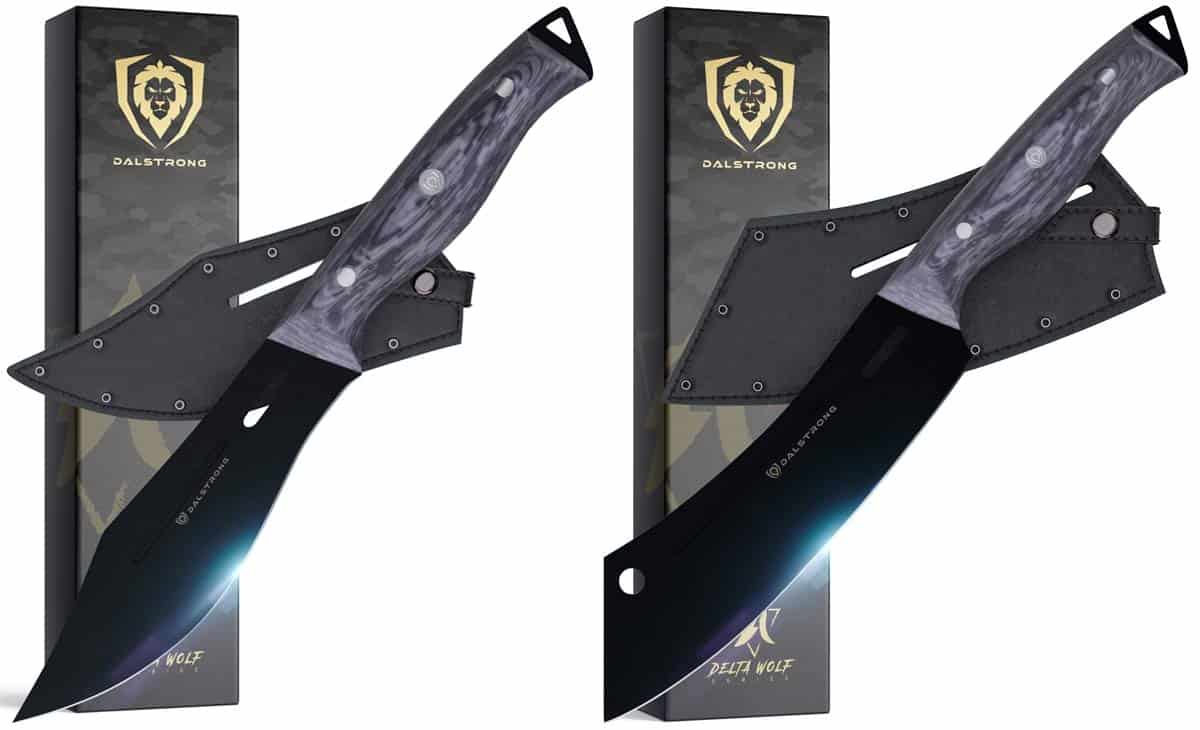 Specifications
9Cr18MoV steel at 60+ HRC
8-12 degree edge
G-10 Midnight camo handle
Titanium Nitride coating on the blade
Comes with PU leather sheath
Pros
Handles provide a good full grip
Super thin edge
Bowie-style blades
Supports Wounded Warrior charity
Cons
Fairly soft steel
Not sold as a block set
The odd drive to create tactically-themed kitchen knives continues with the Delta Wolf series. While the name is a military reference, though, the design and aesthetic actually come across as more outdoors survival and hunting kitchen knives. All that's missing is for them to slap belt loops on the sheaths.
Aside from that, there are a couple really important details about this series.
The most important might be that the series seems largely geared toward butchering and meat carving. Between the barong, the bull nose butcher, the slicing knife, and the bowie styling on the chef knife, the Delta Wolf designs feel very much like they're meant to be used outside around large chunks of meat and grill.
What's also neat, but not as obvious is the 9Cr15MoV steel. It doesn't sound impressive, and on the whole doesn't impress most steel nerds, but as far lower end Chinese steels go, this is a pretty decent, fine-grained material that grinds really well. The fact that they've cooked it to a 60 HRC range along with a 12 degree edge should mean that these knives will have pretty good edge retention, but when the cuts start getting sloppy, the Delta Wolf knives should actually be one of the easiest of the Dalstrong knives to hone and sharpen.