A Surprisingly Tough Hiking Gentleman's Carry
Finch pushes this as a knife for the "day hiker and the extreme adventurist". That was surprising to me, because this knife looks and feels like something I should be wearing in a blazer, if I were the kind of idiot who wore blazers.
The Cimarron came off as flimsy looking to me at first. It has a long thin blade, a milled clip, and a lightweight G-10 handle. On the surface it has all the makings of a knife meant to be seen and used lightly.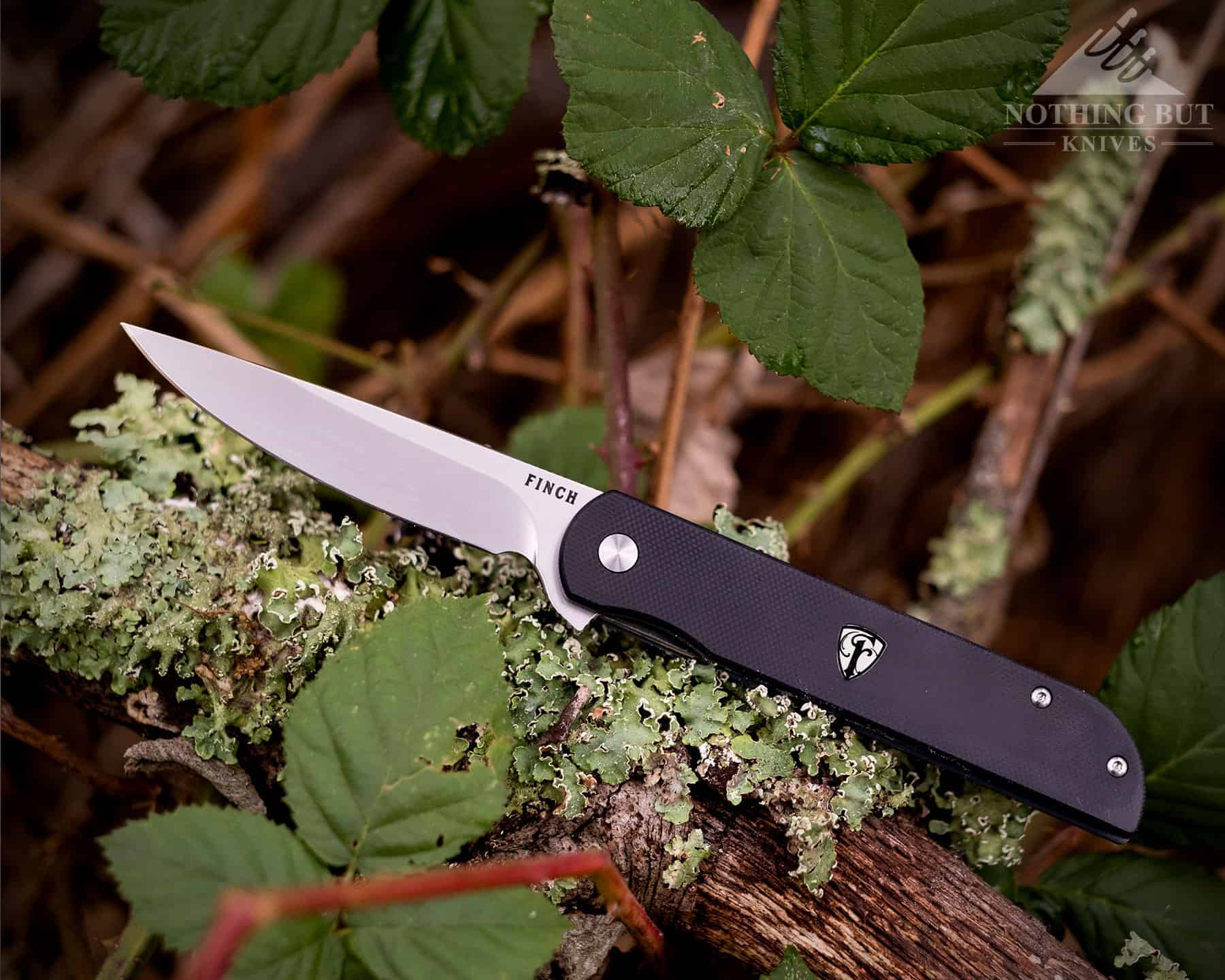 It turned out to be a bit tougher than I gave it credit for. Not so much that I'd call it hard use, but enough that I'm willing to pack it on a hike. The steel is tough (possibly to a fault), and the handle material might be lightweight, but it's still thick and solid. And it slices well along with all that. What this has turned out to be is a budget(ish) gentleman's carry that can do a fair bit of traveling.
Although it's likely to show signs of that travelling quickly.
Specifications
| | |
| --- | --- |
| Overall Length: | 7.9" |
| Blade Length: | 3.4" |
| Blade Steel: | 14C28N |
| Open System: | Flipper |
| Blade Thickness: | 0.12" |
| Blade Shape: | Drop point |
| Blade Grind: | Hollow |
| Handle Length: | 4.5" |
| Handle Material: | G-10 |
| Lock Type: | Liner |
| Weight: | 3.11 oz |
Pros
Nice grind that cuts great
Sturdy handle that's pretty comfortable
Comfortable balance that makes for nice blade control
Overall good looks, fit, and finish
Cons
So-so edge retention
Strictly right-hand carry
Finish on scales scratches easily
Price seems a little high for the materials involved
The Fit, Finish, and Finch Knives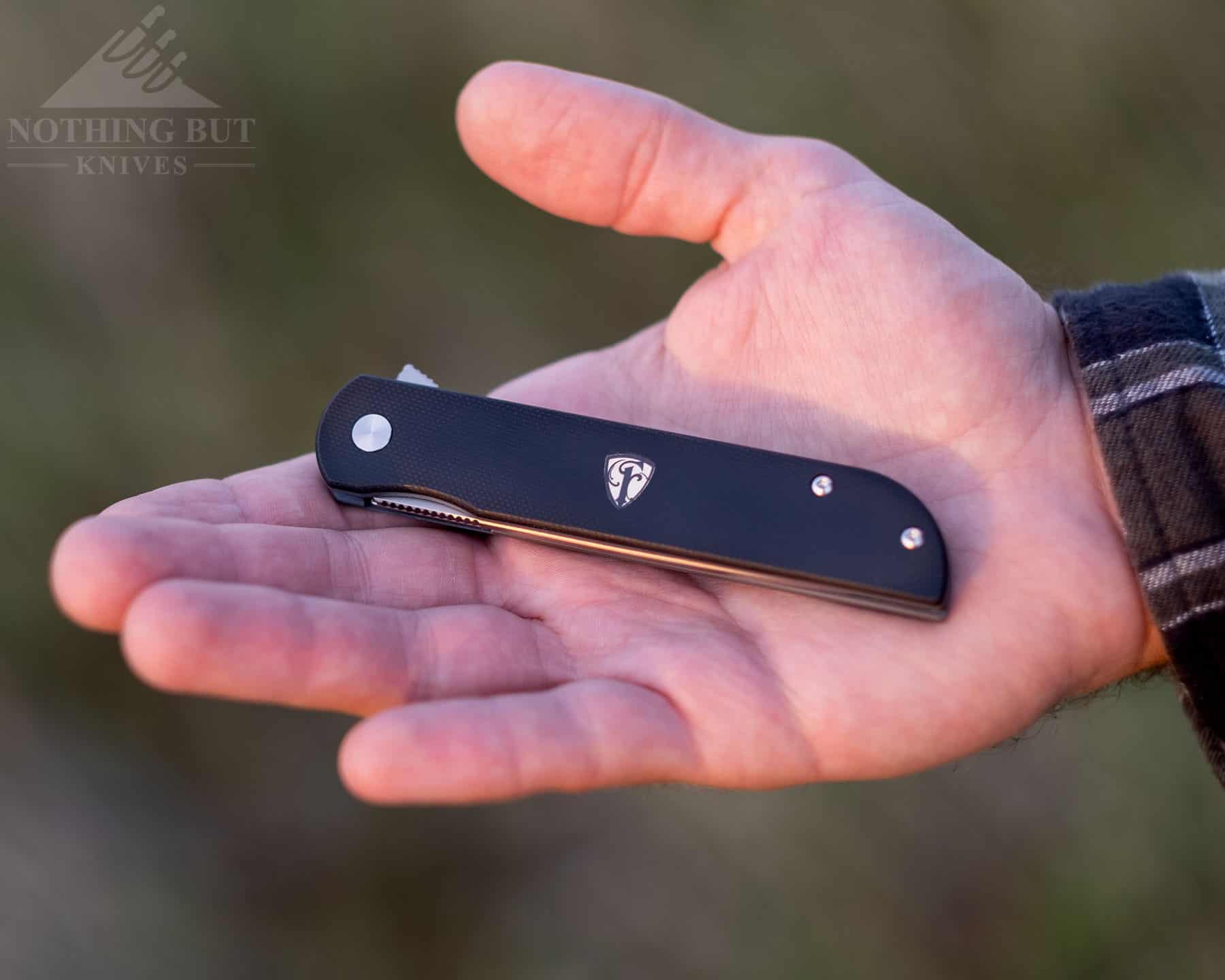 My main concern with this knife is that it's from a company I have no experience with. Most of what I knew about Finch Knife Co was that it's run two guys from Kansas using a Chinese factory to make their designs.
There are a lot of great companies doing the same thing, but there are a lot more terrible companies doing that, so getting the Cimarron was as much about seeing how Finch is handling their QC as it was that we just liked the look of the knife.
From afar, it looks a little like Finch Knife Co. is trying to capitalize off the steady obsession with classically styled knives, so it was a nice surprise when I picked the Cimarron up and not only did it feel solid and comfortable in the hand, but the action is butter smooth. It feels like something that came out of the Bestech or Civivi factory. So whatever manufacturer Finch is partnered with, they're doing a good job.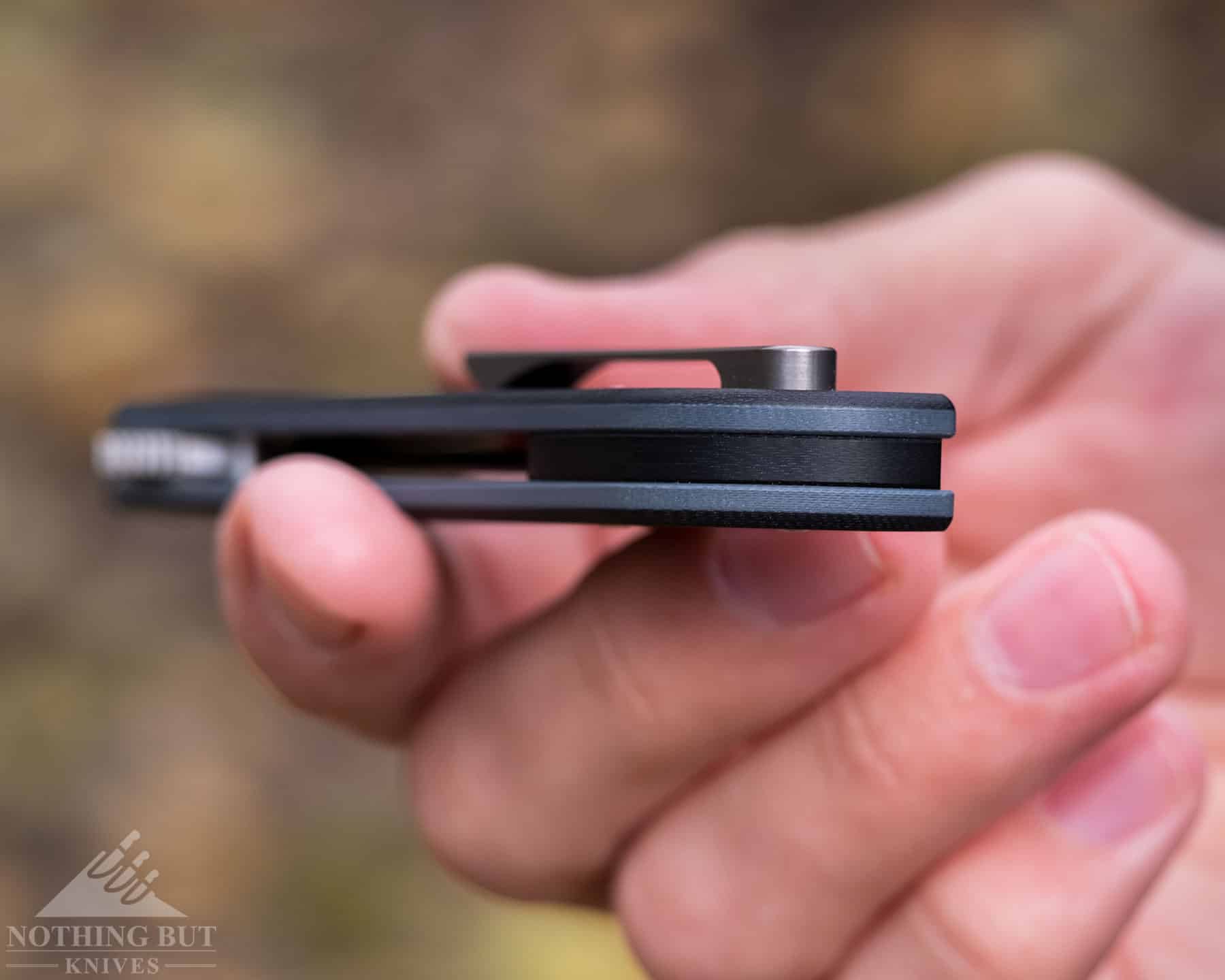 The more I look at this knife, the more satisfied I feel about how well everything fits together. The scales are a set of two-toned G-10. I actually thought each side was made of two separate slabs at first because the color contrast is so pronounced, but it's just the one G-10 piece on each side with a simple spacer in between, and to me it looks pretty great.
The blade centering is perfect, although it almost looks like the grind might be just a little uneven going off a little asymmetry on the backside of the tip. If it is uneven, though, I haven't noticed it interfering with the cutting performance, and at this point I'm getting into microscopic criticism. The Cimarron is a nice design that's been made well. So far Finch Knife Co is doing fine where build quality is concerned.
A Good Edge that will Need some Stropping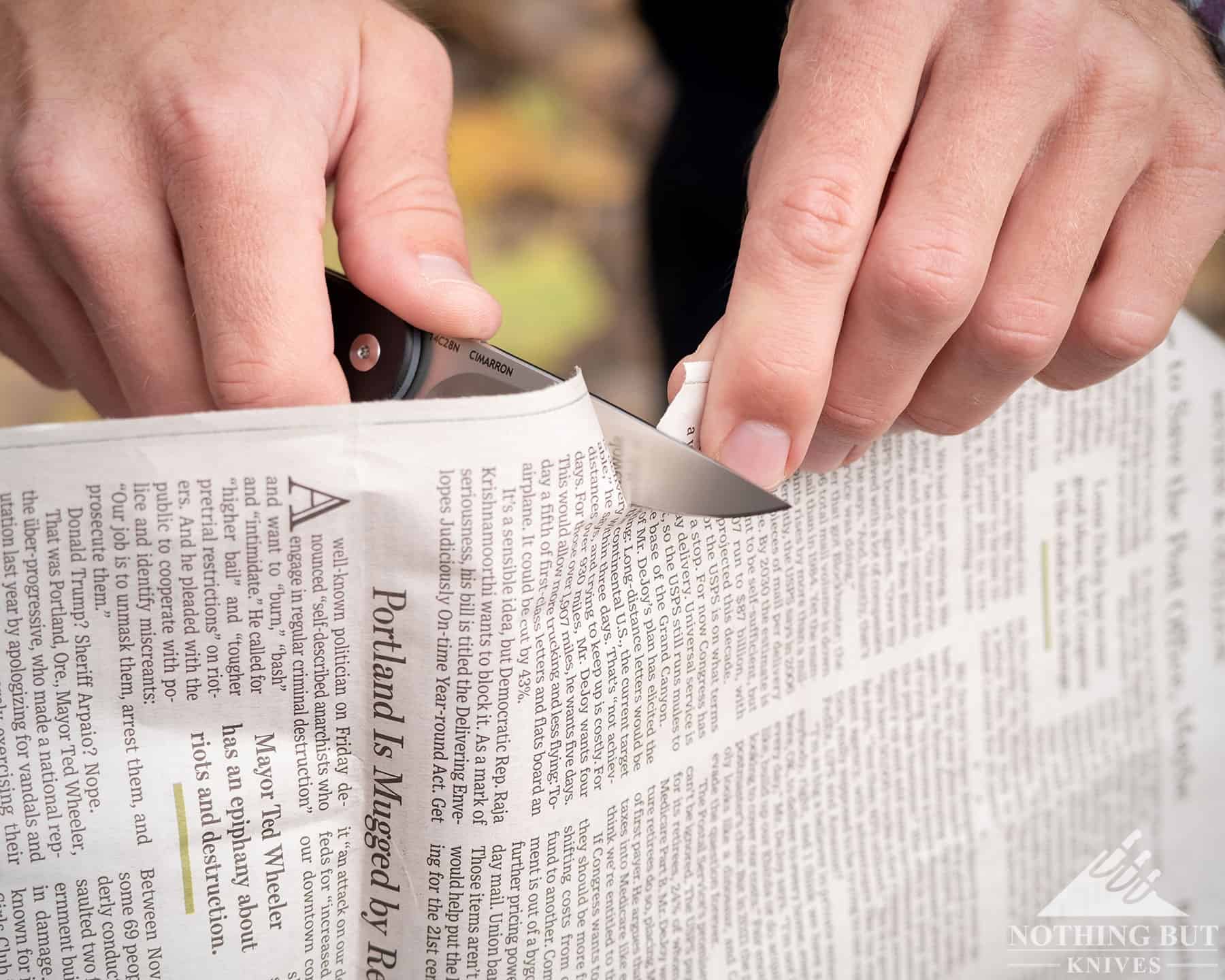 I'm slowly coming around to thin blades like this. Cutting with the Cimarron feels incredibly smooth.
It's not as clean clutting as the blade on the Civivi Crit, which is a thinner blade stock and a proper full flat grind. But it's close enough in shape for the comparison to still be relevant.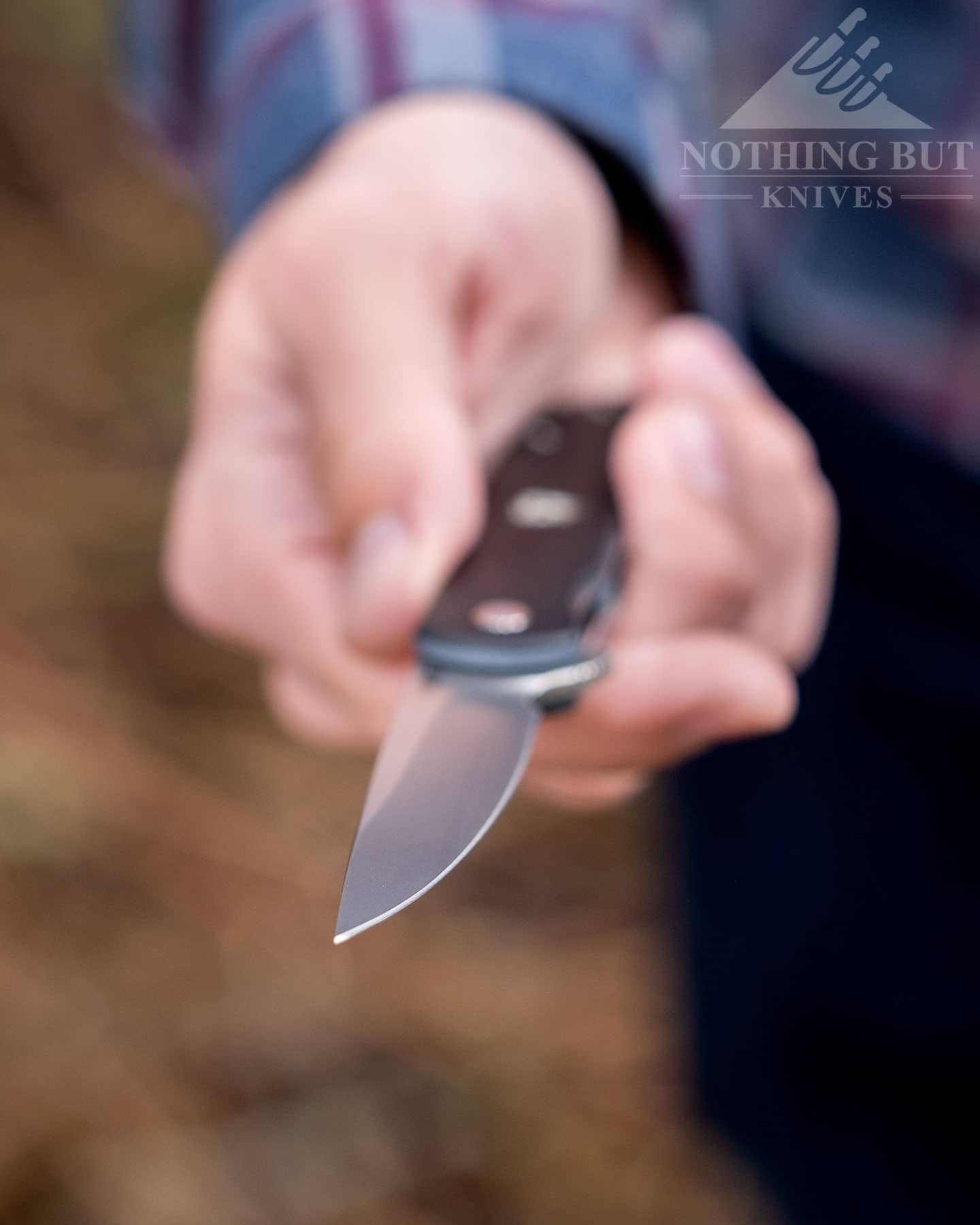 Generally I don't pack knives with blades this skinny, but there's something to be said for how lightweight this is and how good it is for piercing.
There's also something about the particular way Finch has set the handle width to blade length ratio that suits my hand really well. Three-and-a-half inches is pretty long for a folder this skinny, but somehow I always feel like I have good control over the tip.
Tough Steel and Its Ungentlemanly Edge Retention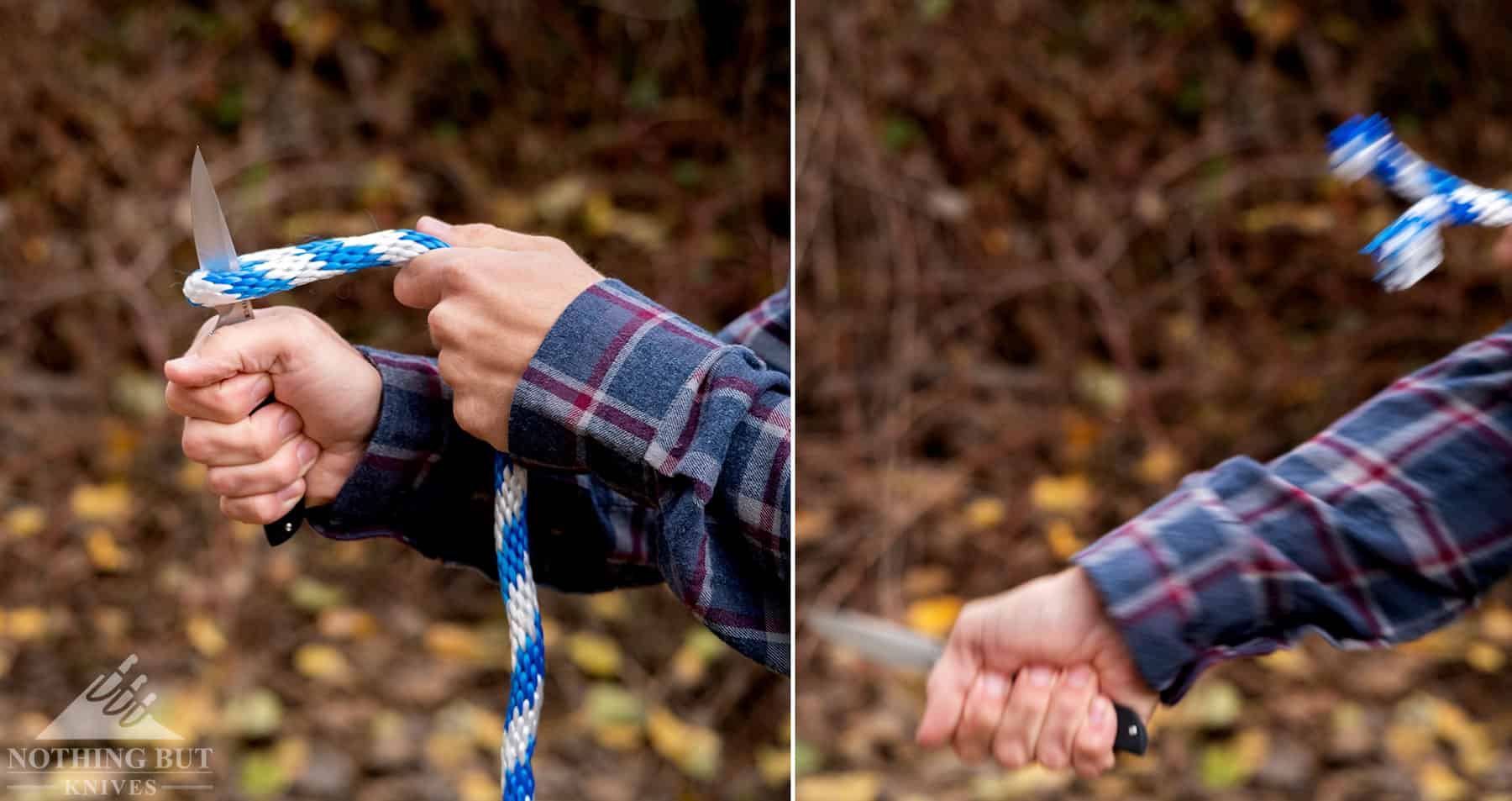 The factory sharpness is a huge upside of this knife, but it didn't keep that sharpness for long. I broke down a moderately large box and basically compromised the Cimarron's ability to cut paper with the bottom inch of the edge.
That's about what I expected when I saw the steel, though, and this is where we start getting into the weird contradictions of this knife's design. Finch slapped a 14C28N steel blade into a G-10 handle. On paper that sounds like a nice little camping folder. It's using the same steel as Mora and Victorinox and it has a flat grind with a slight drop point blade.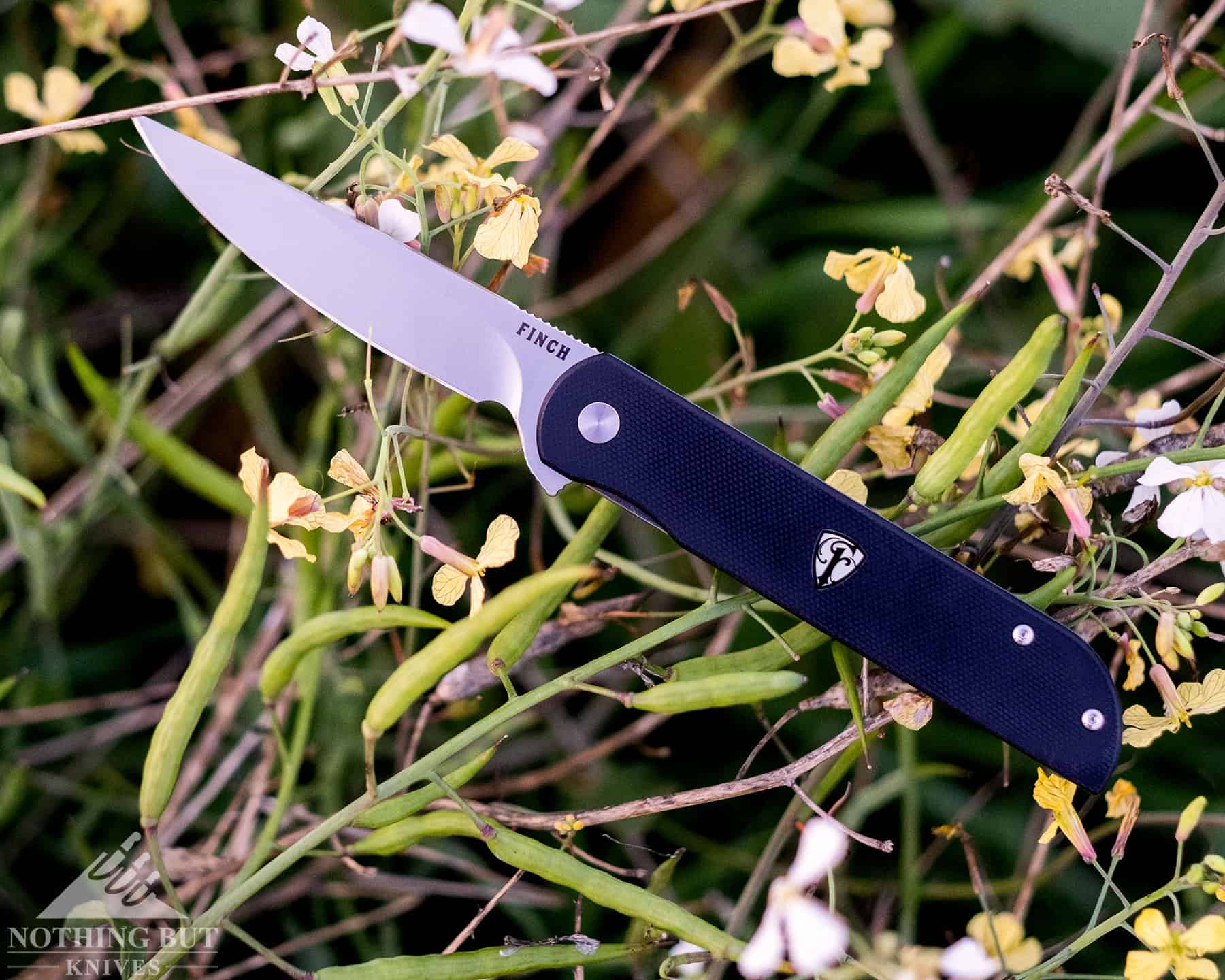 But looking at it, I wouldn't want to do most of the things with the Cimarron that I'd do with a Mora. It's not a skinner, and it's definitely not a bushcrafter. If I'm camping that hardest thing I'm likely to do with this knife is cut up a stick, and even then I would keep to light wood processing like making notches and cutting a point on something thin.
The most ideal situation I can think to use this knife in is a picnic somewhere in a mild wilderness where I'll mostly need it to open packages and cut a log of salami.
Handle Comfort and the Dangers of Screwdrivers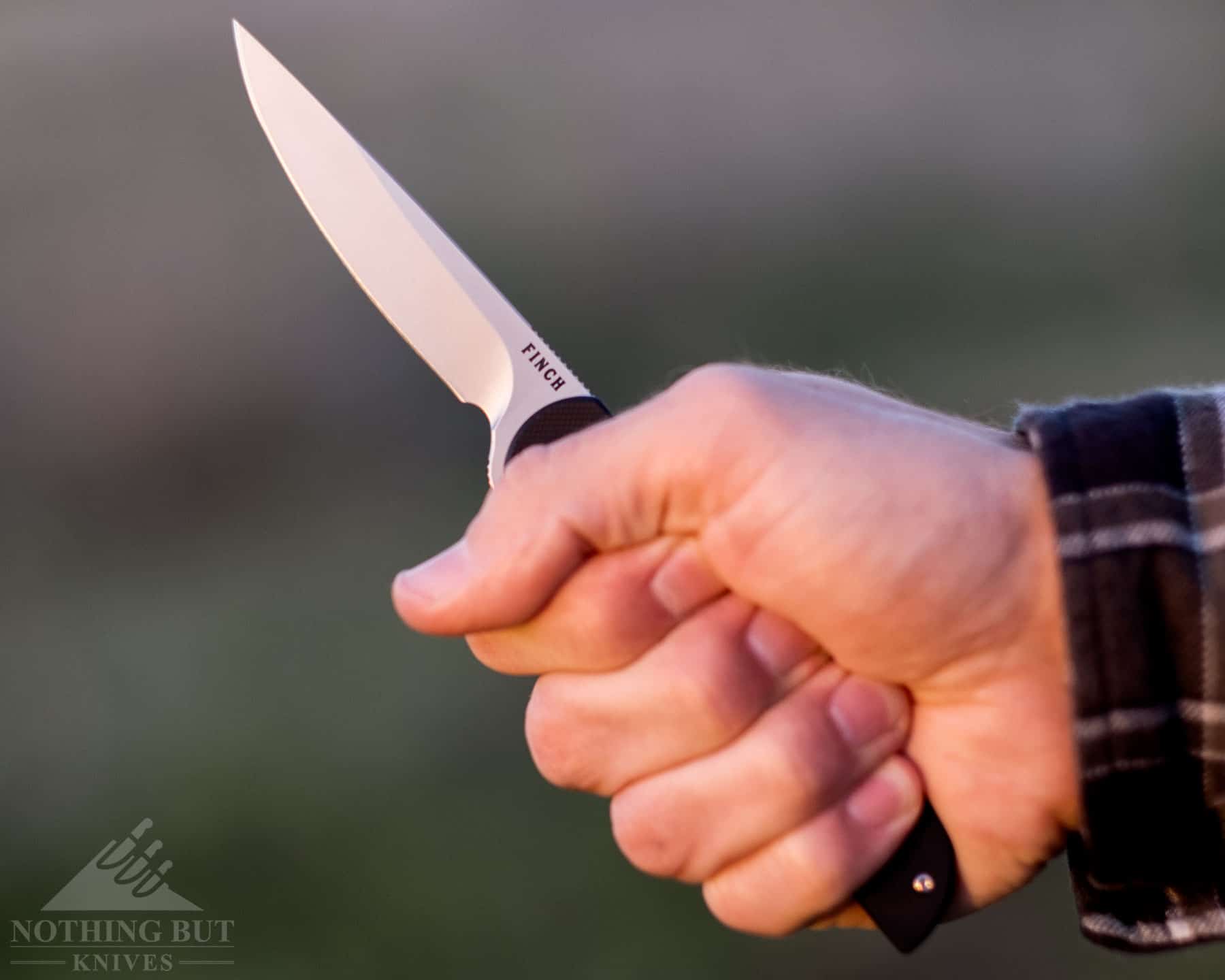 More and more I find myself liking the lines of this handle. There's nothing especially clever about the scales or shape except that it's simple and effective.
I even like the way the Finch Knife Co symbol sits in the black scales. Except for the fact that it almost looks like a Ferrari symbol, which is to say, almost makes me look like an asshole whenever I carry it.
But it's not an ostentatious design. It's comfortable and it looks good in a classic way. They only broke away from the straight-lined aesthetic to allow for a finger groove that gives easy access to the liner lock and makes gripping the knife a little more pleasant.
In that vein, though, there is sort of a hotspot on the opposite side of the handle from that finger groove. It doesn't poke at the hand, but it does create a weird pressure that could stand to be alleviated with a little extra chamfering.
Or, at least, it could if the scales on that side had any room left for chamfering.
The Handle-Centric Balance
The balance point for the Cimarron seems to sit just beneath the spot where you disengage the lock. That puts it roughly in between my index and middle finger in most grips, and I think that's part of the reason it provides such a good feeling of control. The handle operates as a kind of ballast.
The Cimarron isn't the only folder that's weighted like this, but I was surprised by the balance, because it looks like something that's going to be blade heavy because it's so long. It doesn't look like they've done any milling on the inside liners apart from cutting out the liner lock, though. They left the full iners intact, and even threw the spacer on for good measure. After handling this knife for a while I'd say that was a good choice for weight distribution. It gives the whole thing a very maneuverable feeling.
The Scales are Smooth but Delicate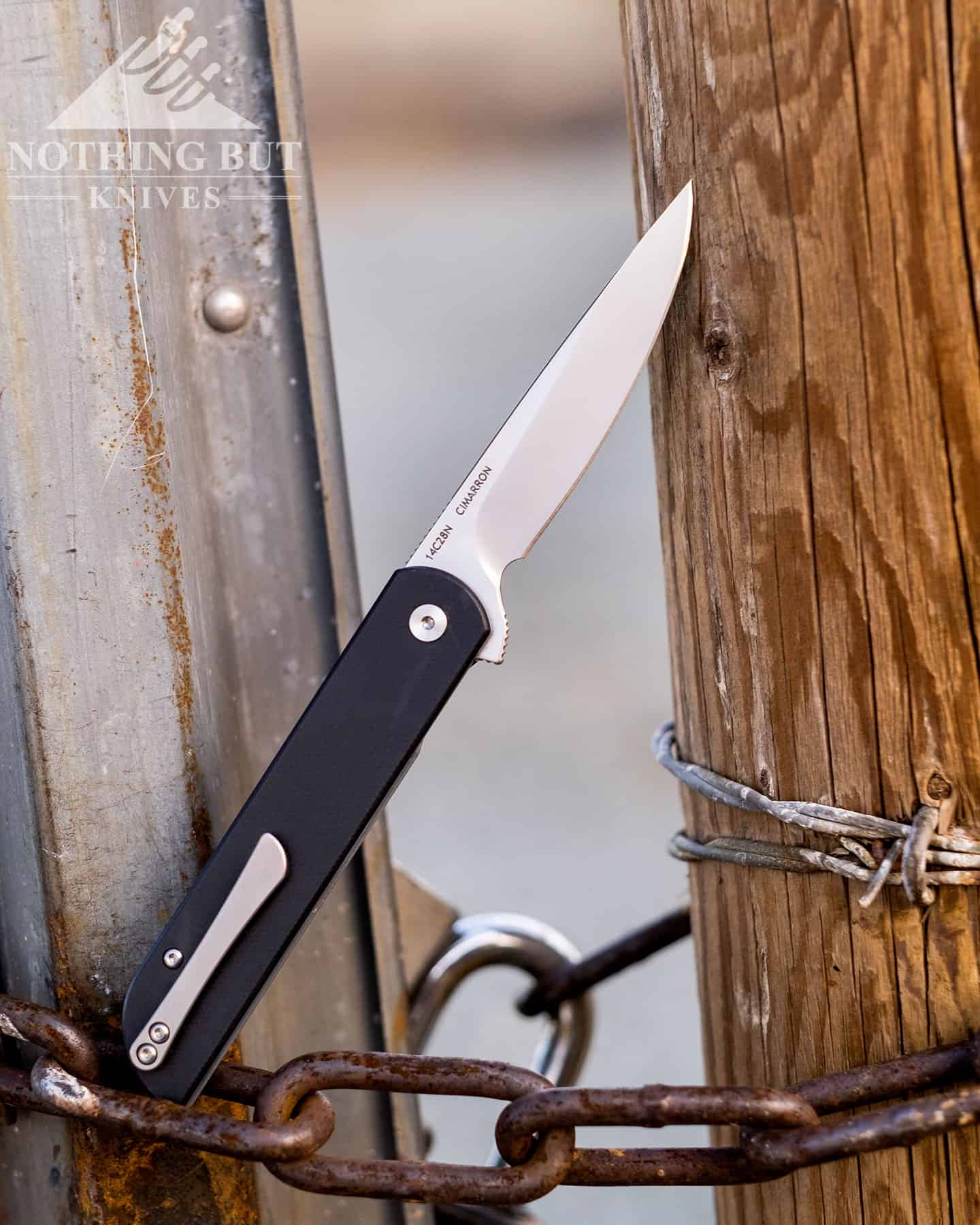 After I came to terms with the look of the Cimarron, I discovered a little problem with the gentlemanly aspect of the handle: the finish on the scales scratches very easily.
I actually left a pretty good scar on mine near the pocket clip from when I was trying to take it apart and the screwdriver slipped. It left a T6-torx-screwdriver-sized scratch, and then it left a couple more after I did a couple experimental scratches to see how much pressure it took to leave a mark. It doesn't take much.
This isn't too much of a bad thing if you're using this as a hard use knife and don't care too much about the looks anyway. But we're in an age now where you don't have to make that kind of decision. There are a lot of good, tough knives in this price range (and below) that won't end up looking like you pissed off a crazy ex.
The Cimarron's Identity Crisis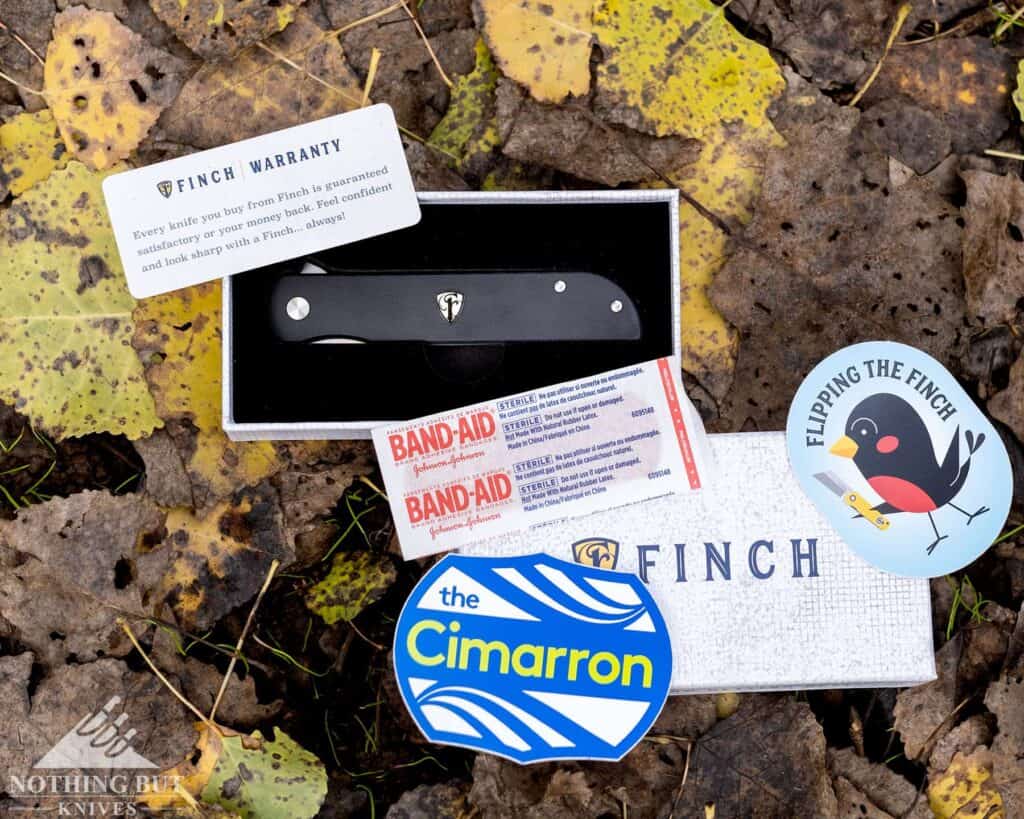 The really weird thing about this knife is that it looks and performs like a slicey gentleman's folder, but the materials want it to be something more rugged: The blade is long and slim like it's meant just meant for cutting thread but the steel is tough and receptive to stropping, the scales are smooth and look nice but they scratch easily and have a good width for tight grips.
The Cimarron is like the skinny nerd who used to be in good shape. You know that with a little more work he could run twelve miles and bench press two hundred pounds. His dad probably hunts all the time and he has siblings in the military, but he'd rather hang out in coffee shops and tell the barista about his pen collection.
That whole vibe is really the crux of what makes me like and dislike this knife at the same time.
Comparison and Alternatives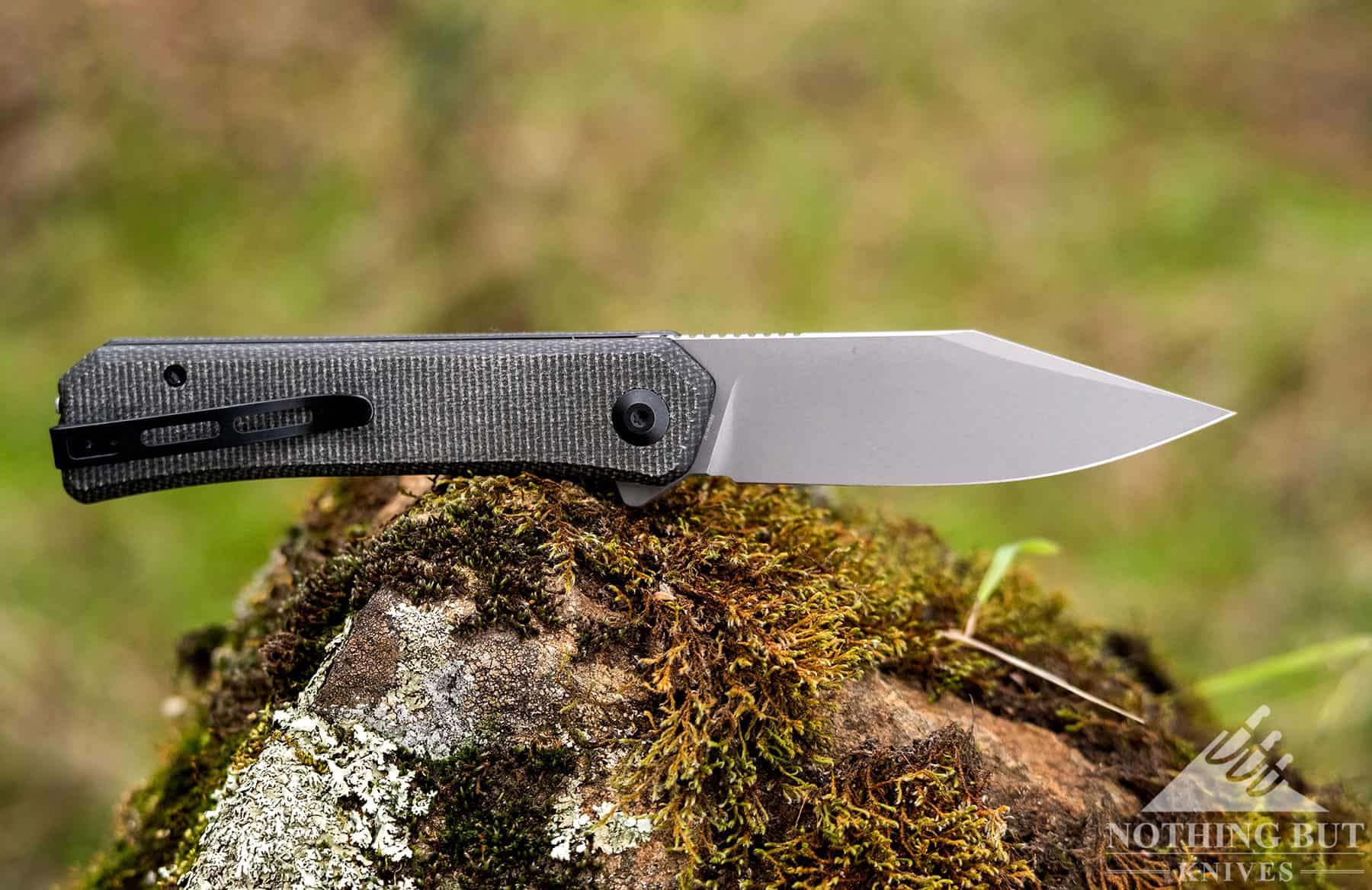 For something a little thicker, the Kizer Begleiter seems like the obvious alternative. The G-10 Vanguard version is actually cheaper than the Cimarron and has a full flat grind. But the Begleiter is also thicker in the blade so it doesn't cut quite as well, and be a bit more space hungry in the pocket. That might be different with more expensive versions of the Begleiter, but as long as we're talking about spending less than $100, the Finch Cimarron is lighter and cuts better.
The Civivi Crit, on the other hand, cuts much better and has a similar blade profile. It's also a little heavier thanks to the tool bar, but I've found that the two feel pretty similar in the pocket, except that the Crit is a deep carry. I think what the Cimarron mainly has over the Crit is that it's more durable by virtue of being simpler and having thicker scales and liners. Also there are a lot more color options with Cimarron (at least as of this writing), so there's a little more viability for personalization and gift giving there. The Crit far and away cuts better and generally has more functionality thanks to the tool bar.
Conclusion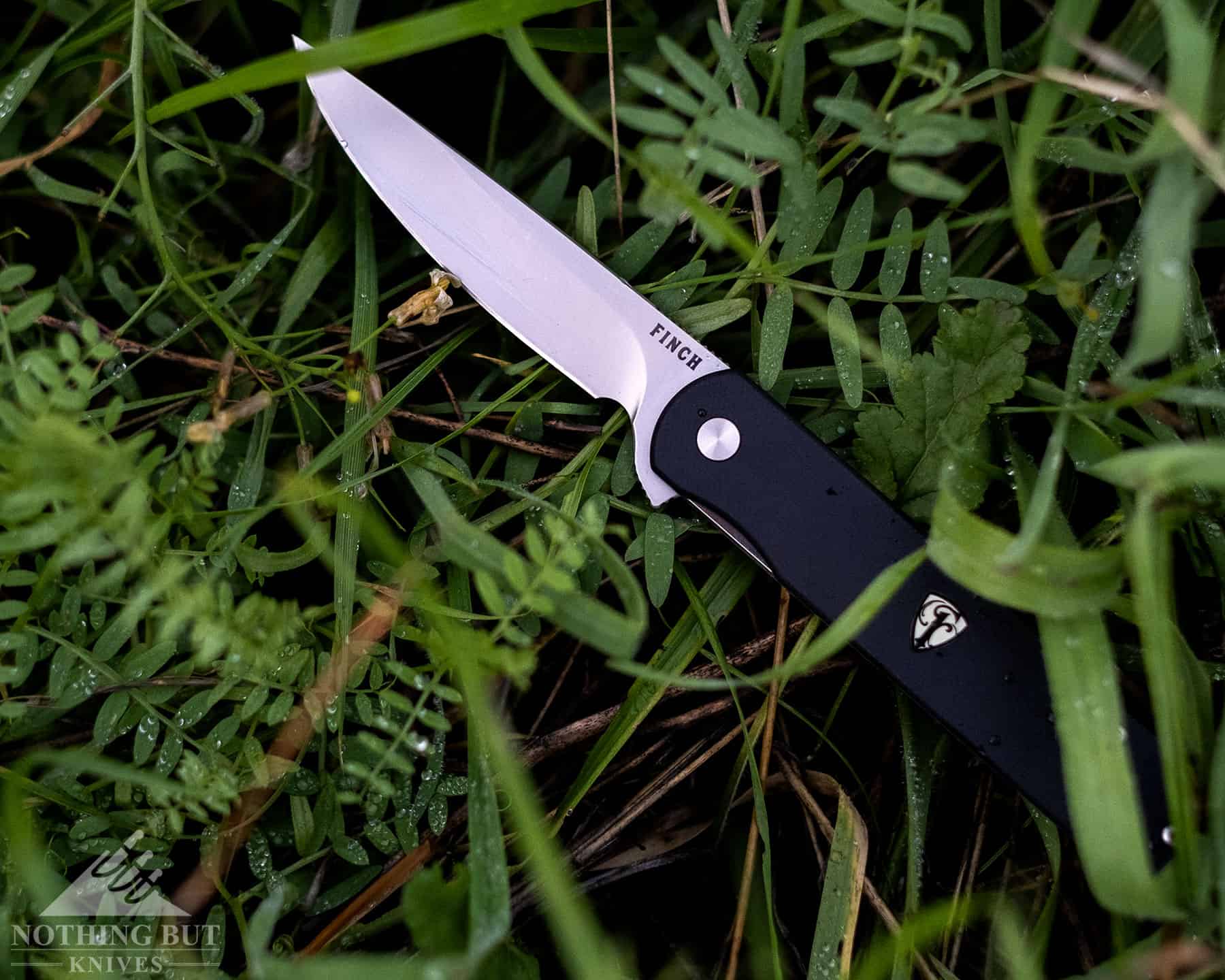 The main criticism I could make about the Cimarron's design is that one man's "clean and classic" is another man's boring. It's a well made knife, even if some of the elements seem to conflict for me. With the shape of a gentleman's carry but the steel of a hunting knife, there doesn't seem to be any perfect place for this. But I like it well enough in spite of that, or, as a collector, maybe even because of that.
The more pressing criticism is that this (currently) runs about $90, which is a tough sell with G-10 scales and 14C28N steel. It's not bad stuff by any means, but with so many other knives out there with the same materials at half the price, Finch really needs to make a better argument for itself. The main upside is that most of their designs are pretty unique. It's hard to find the same kind of vintage-inspired lines as what you'll get with Finch, and I'll even say that the price is worth it in the sense that you're getting a good knife that can last you a long time, and provide reasonable performance for most of the years you might end up using it.
It's just that there's no reason to get this unless you really love the way it looks. It would be one thing if it was made in the States, but as long as it's coming out of China with these materials at this price point, I have a hard time recommending it.