An Innovative, Budget Bushcraft…ish Knife With A Sheath The Feels Like It Was An Afterthought
So this review is mostly gonna be pictures with the exception of the specifications below and a few relatively useless observations that I put up just to make it look legit, because every time I hold the Cima G20 all I can think is, "where in the world did this thing come from."
The answer of course is that I got drunk and went on a weird ass online knife-buying spree. What's crazy is that this may be the best knife I ever purchased on a drunken late night knife-buying binge, other than the Disney Princess Knife, of course.
There are two versions of the G20. The one in this review has a red G-10 handle and a black oxidized blade. The other version of the G20 has a polished blade and a micarta handle.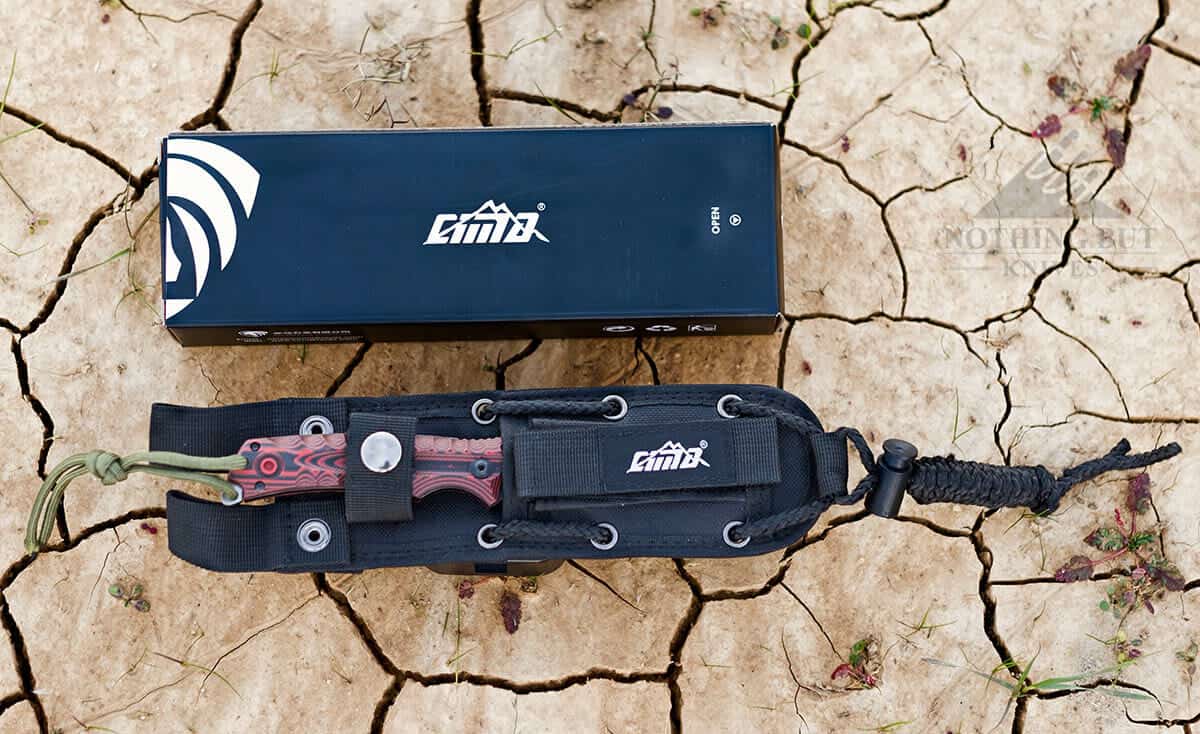 Knife Specifications
| | |
| --- | --- |
| Overall Length: | 8.26″ |
| Blade Length: | 3.86″ |
| Handle Length: | 4.41″ |
| Blade Steel: | AUS-8 |
| Blade Shape: | Drop point |
| Blade Grind: | Full flat |
| Handle Material: | G-10 |
| Weight: | 6.5 oz |
| Manufacture Location: | China |
Pros
Excellent cost to quality ratio
Removable magnesium rod (fire starter) built into the handle
Practical Handle Design
Sheath ships with adjustable leg ties
Comfortable handle
Cons
The knife sits loose in the sheath
Handle may be a bit small for those with really large hands
Made in China
The Magnesium Fire Rod is Really Small
Blade Construction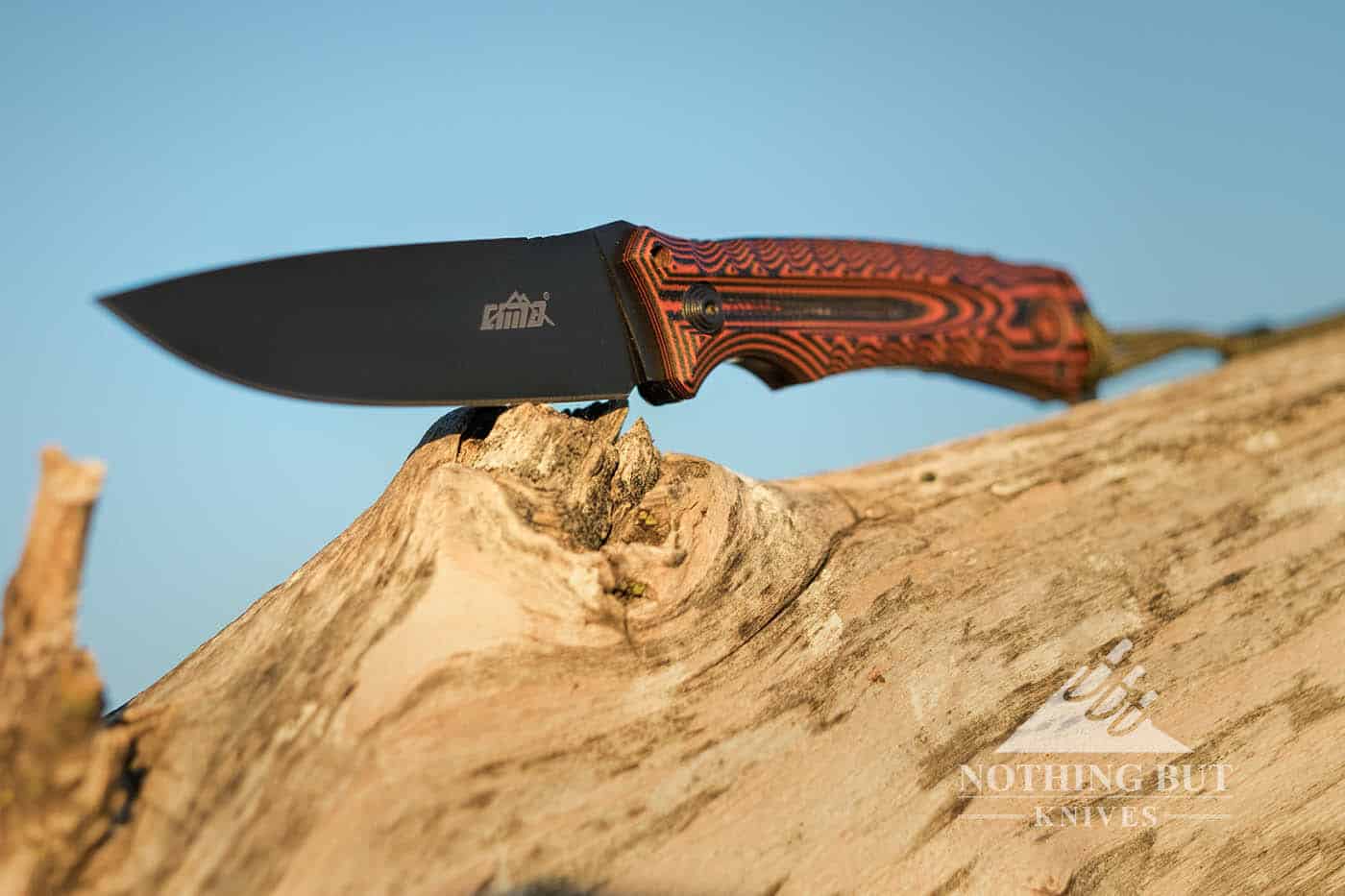 The 3.86 inch blade of the Cima G20 is made of Aus8 steel which I think is a good choice for a budget, buscraft knife. It is easy to sharpen and it can take a beating. It doesn't hold it's edge as well as higher carbon steels, but it fairly corrosion resistant. The blade has a full, flat grind similar to the popular Cima 1, and the black oxidized finish looks nice and it held up well to chopping and carving.
Handle Ergonomics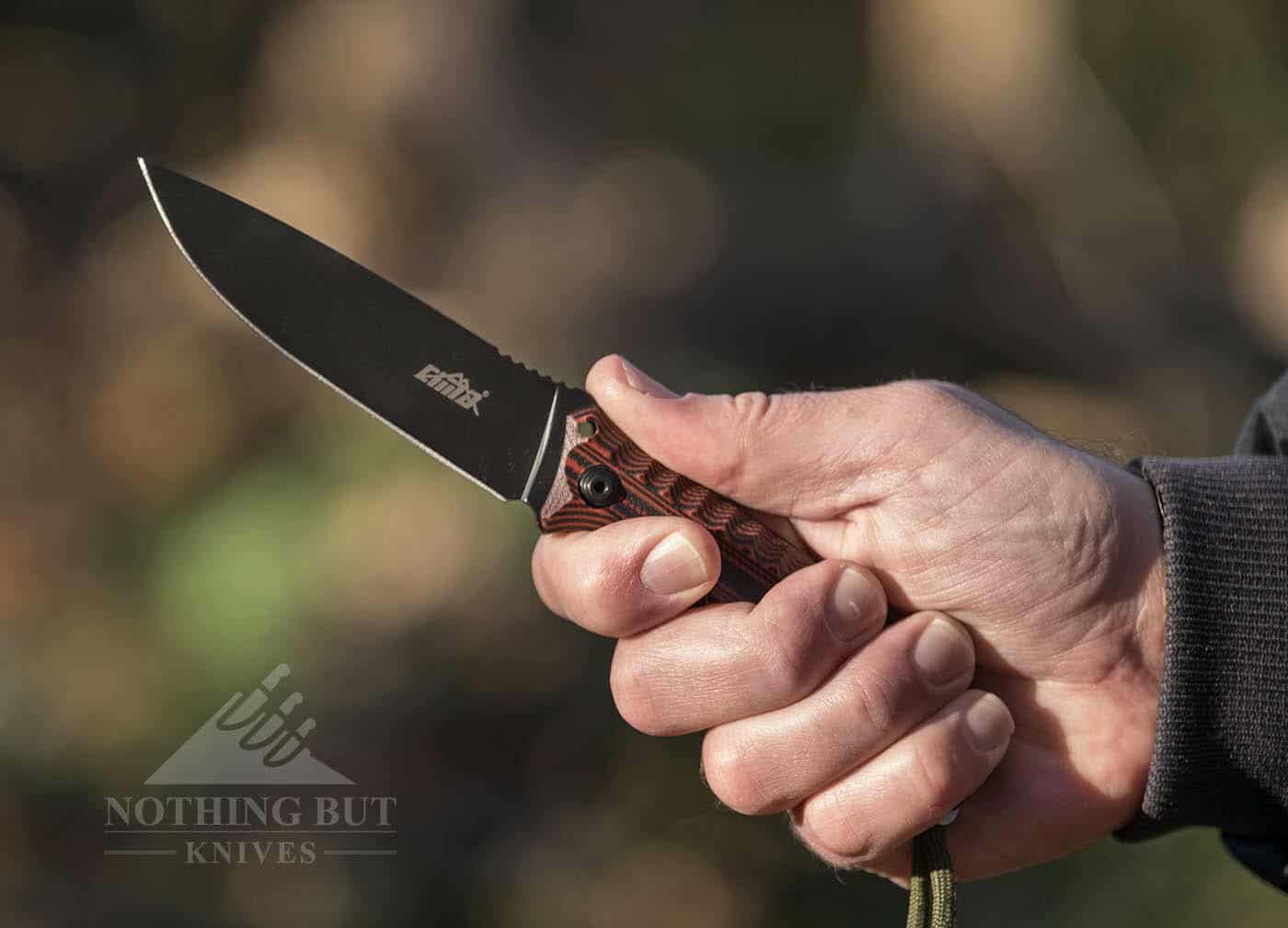 I gotta give props to whoever designed this handle. It is ugly as hell, but it is surprisingly comfortable and easy to hold even when it is raining or just wet outside.
One piece of constructive criticism I am capable of adding in spite of my somewhat limited use of this knife is that the handle works well for small to average-sized hands, but if you have lunch box hands look elsewhere for a budget bushcraft…ish knife, because really manly hands will have so much real estate hanging off the end of the handle it will just look and feel awkward. Sort of like when a really fat guy wears a crop top: There's just too much hanging out for that thing to be functional.
Sheath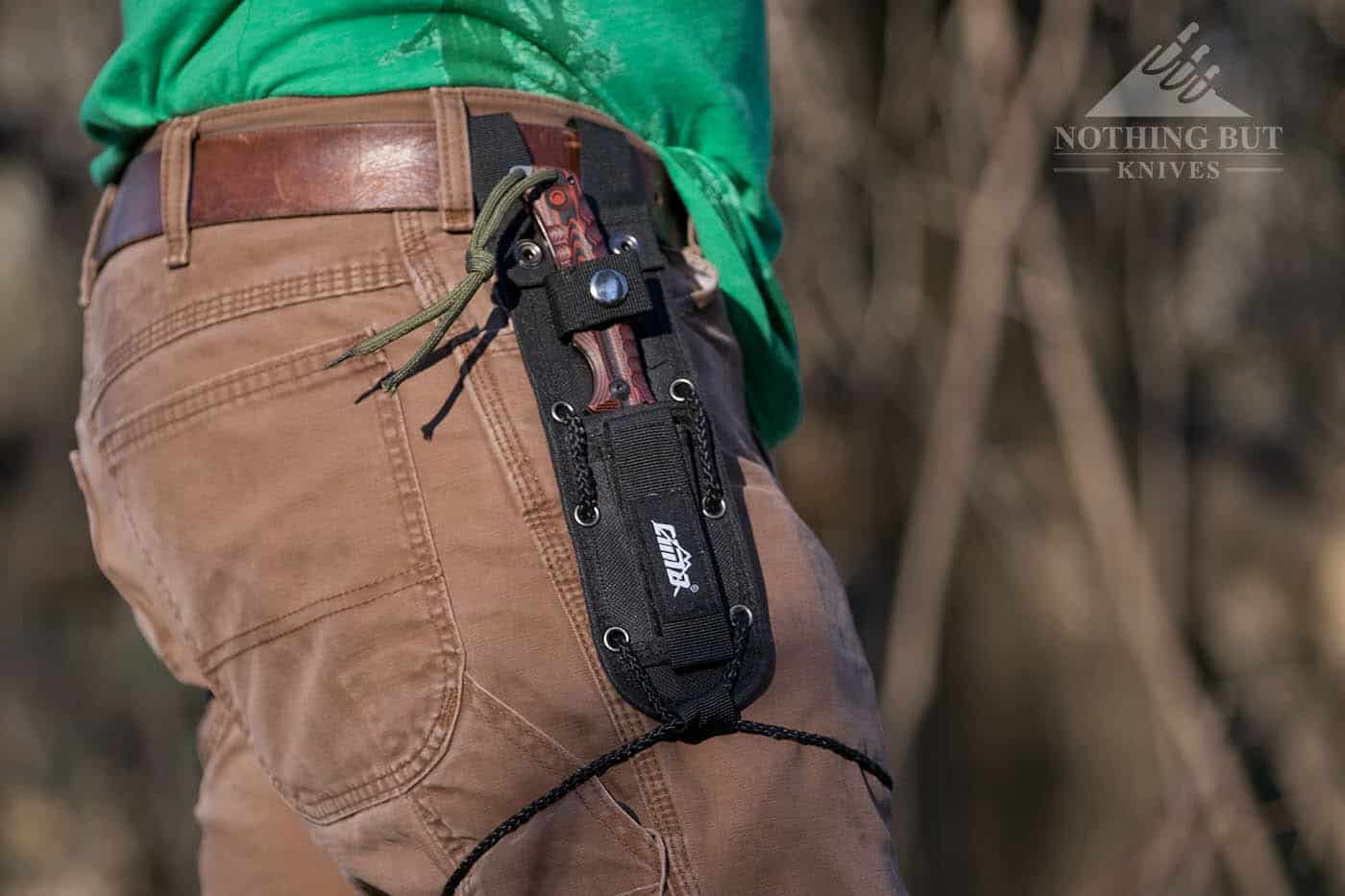 The included sheath looks pretty cool, and it is fairly well built considering it holds a budget knife, but it is totally worthless if the person wearing it ever decides to assume the upside down position. I understand that you may feel the above statement does not apply to you, because you are always appropriately vertical. If that is the case, good for you. Kudos for being sure footed and always hiking and camping sober. For the rest of us, the included sheath is about as useful as a tire without lug nuts.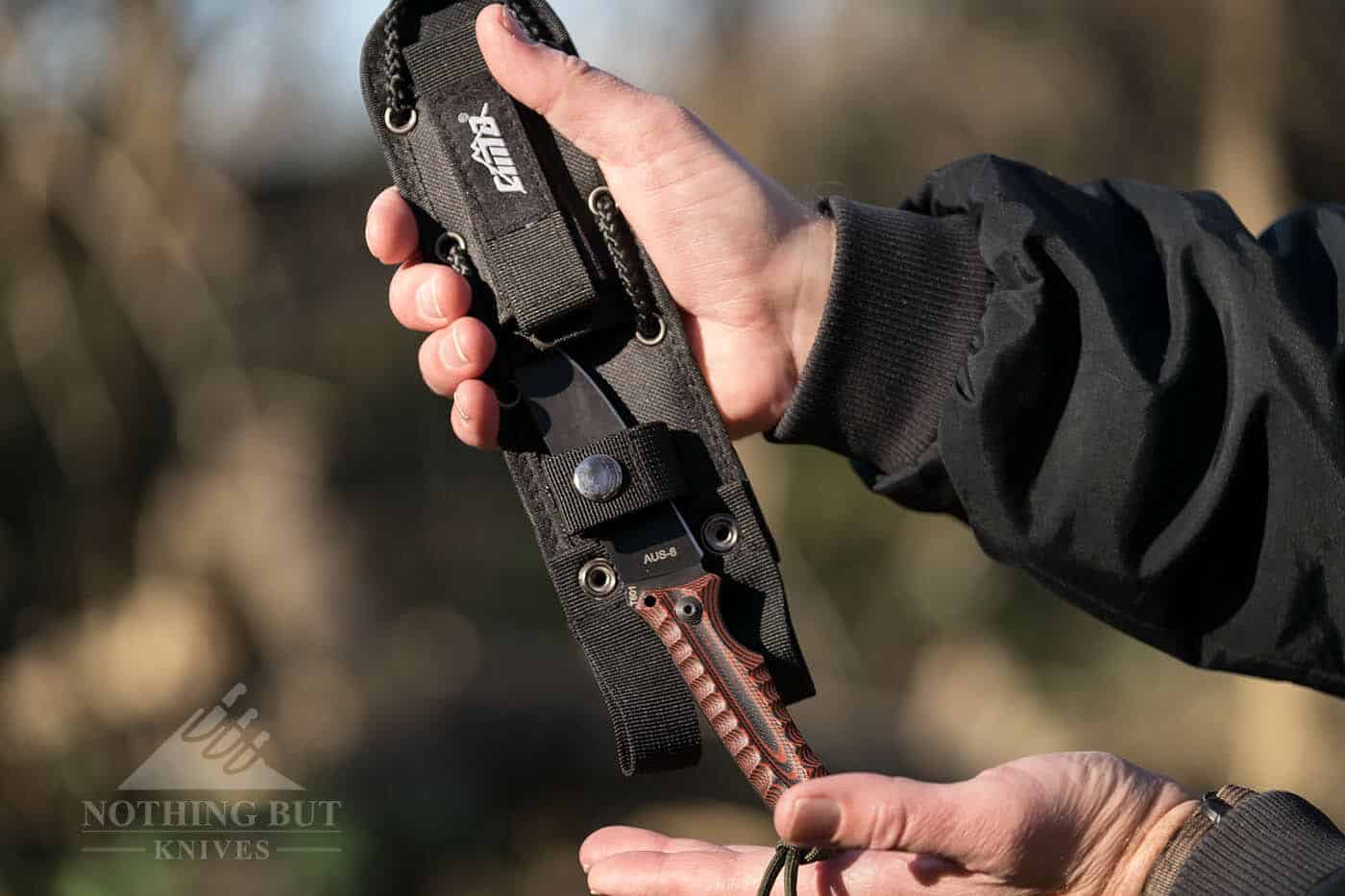 As you can see in the above shot, the Cima G20 sheath boots the knife to the curb pretty easily. This sounds like it has been a fairly common problem with the G20 sheaths, but I think Cima may have finally got their Q.A. dialed in, because the sheath complaints online seem to have died down a bit. I may give it some time and order another one to see if Cima has in fact fixed this problem.
Performance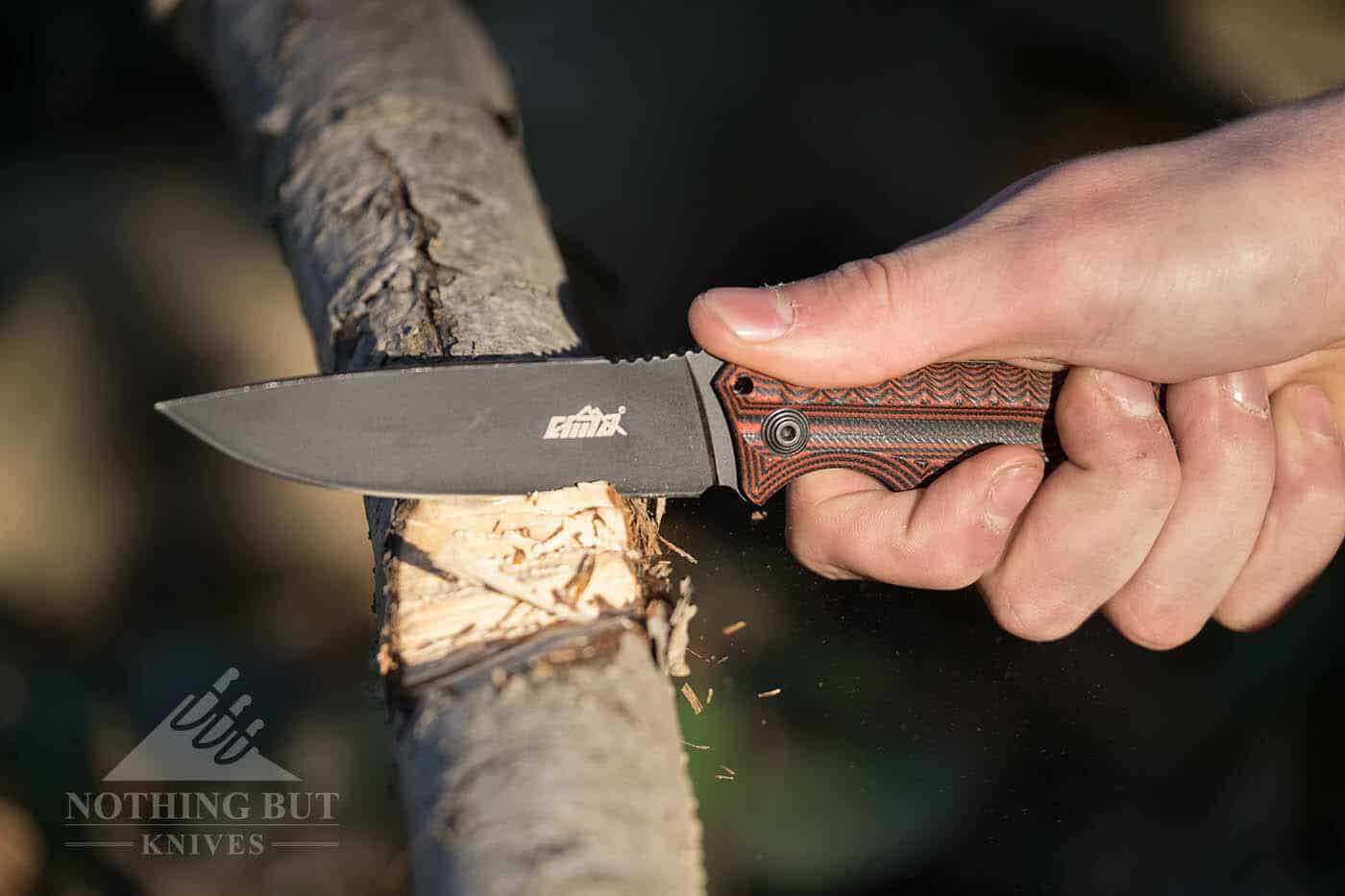 For a relatively small knife the Cima G20 handled most tasks pretty well. Obviously it is not on the level of the Mora Bushcraft Black or the Condor Swamp Romper, but it is cheaper. I was especially surprised with how well it handled chopping. The handle was easy to hold even when the blade made contact with wood, and it cut through a variety of branches at a faster pace than I expected. That being said the G20 would obviously not be my first choice for chopping, but it will get the job done faster than most other small, fixed blade knives.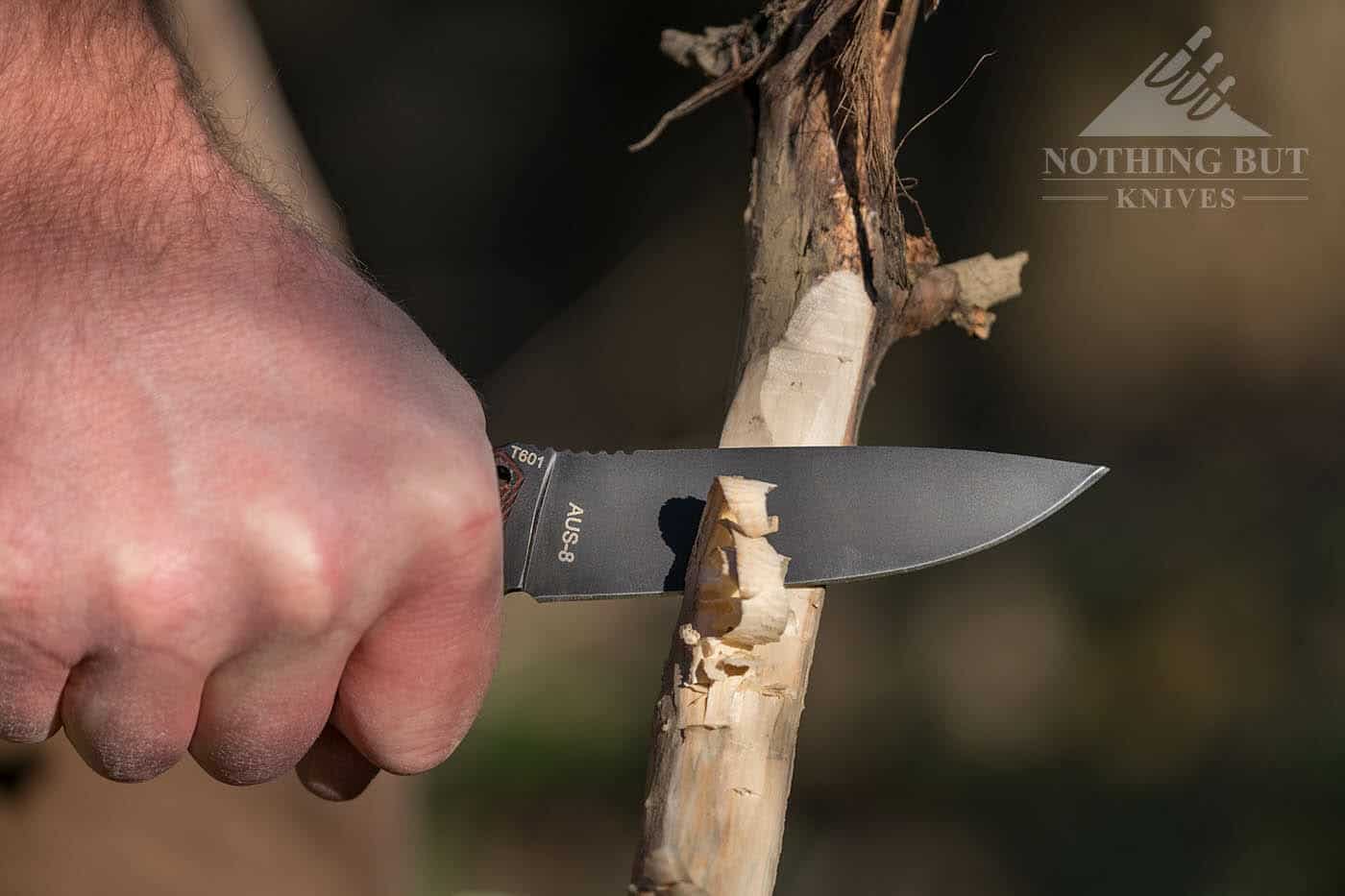 Due to it's small size and decent handling the G20 handled feathering and carving pretty well. It should be able to carve tent stakes or a spoon much better than most of the bigger bushcraft/survival style knives on the market.
I didn't actually use it to carve any of those things, because that sounds like a lot of work, but I did make some respectable weenie roasting sticks that worked quite well. A more capable person might want to use the G20 to carve a wooden sheath that actually works.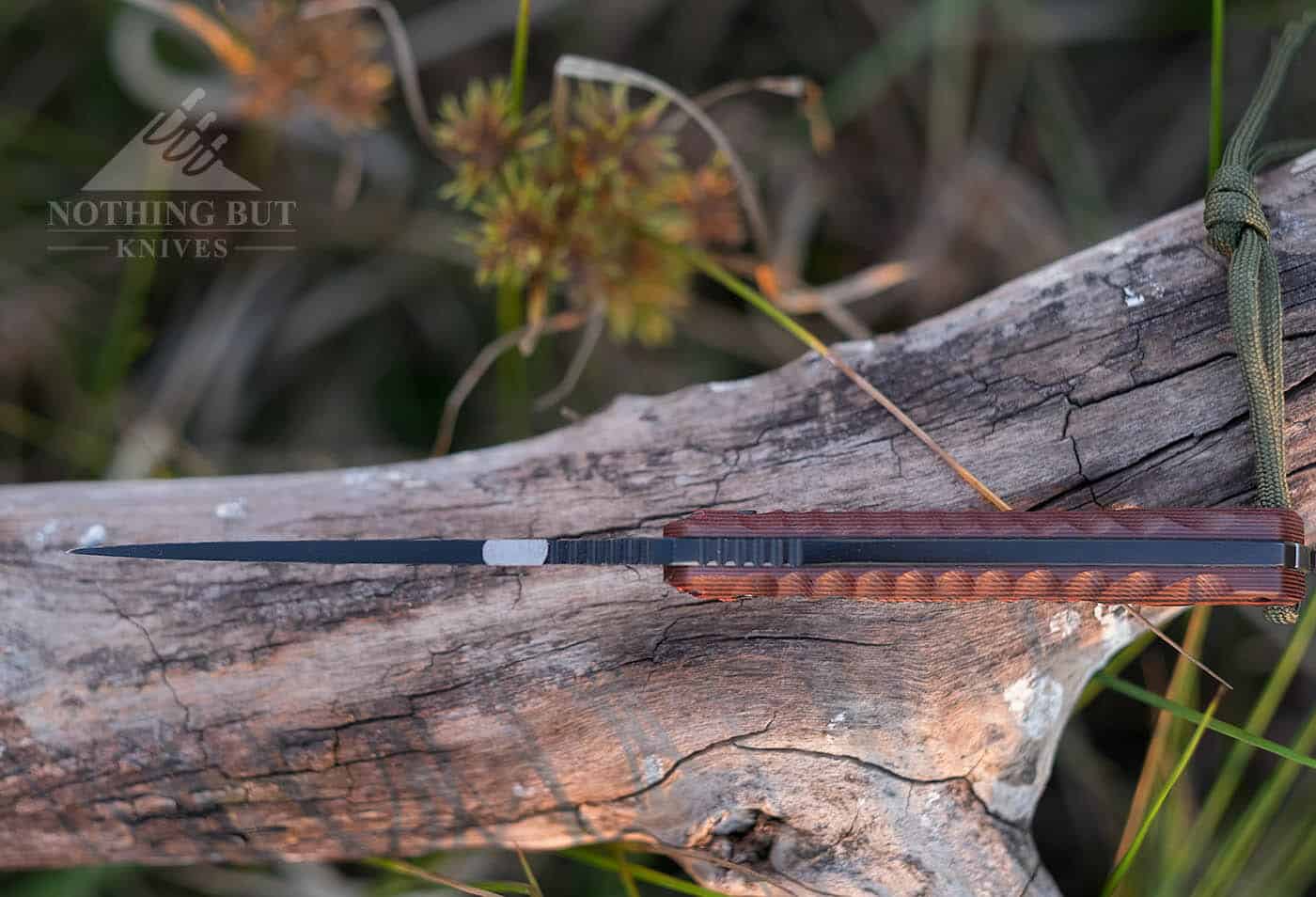 This is a picture of the top of the knife. You will notice that is has a section specifically designed for striking the included fire starter. However the included fire starter so small and worthless that it would take a lot more than a "specially designed bushcraft knife spine" to get a fire started unless copious amounts of gasoline were used. Fortunately I always have copious amounts of gasoline on hand, and I was able to start a very respectable fire.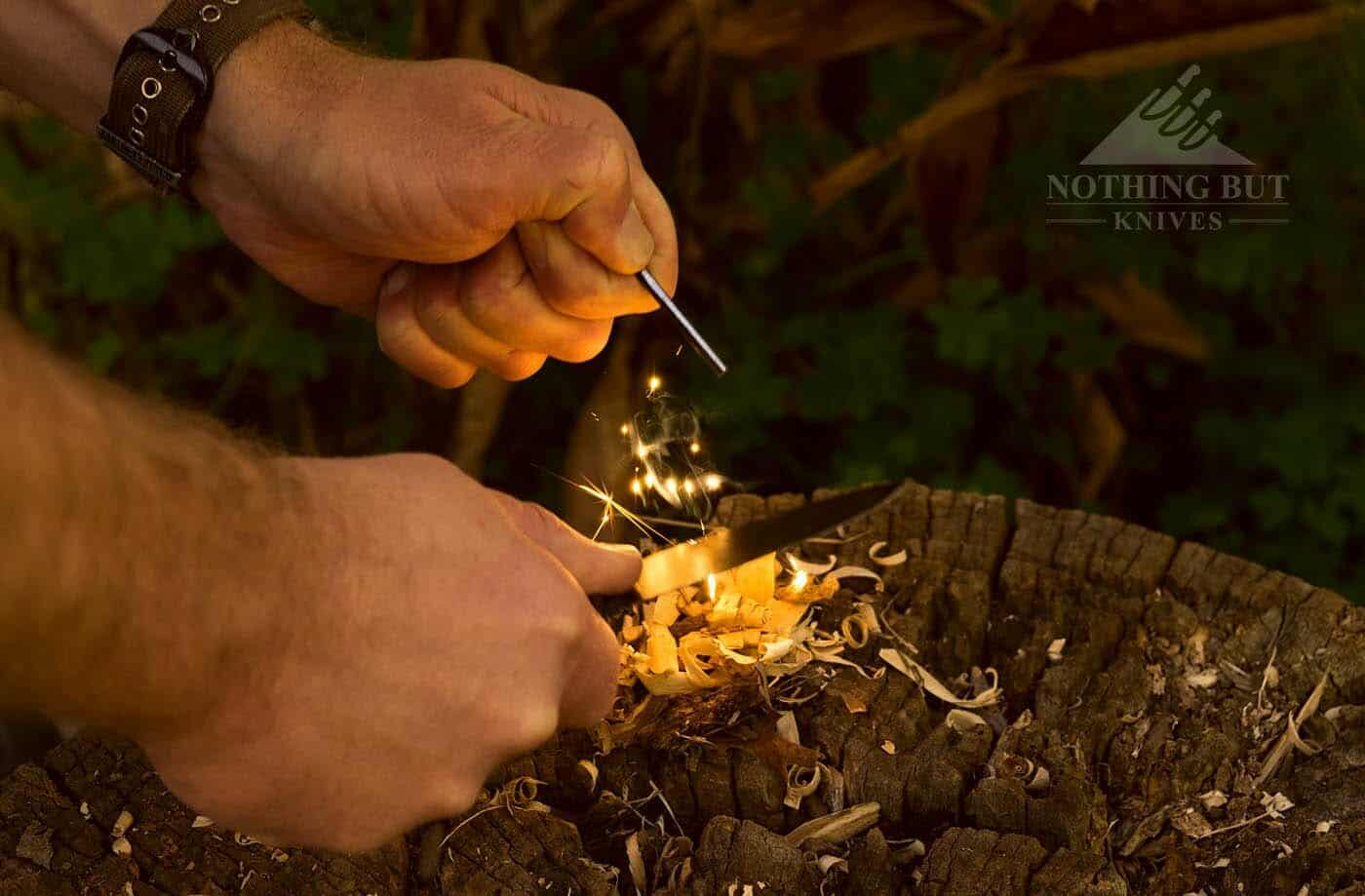 Review update: I was finally able to get a fire started without gasoline, but it took forever, and there wasn't much left of the diminutive fire starter when I was done. I didn't even bother putting it back in the handle of the knife, because reattaching the lanyard that holds it in place is more trouble than it is worth.
Other more capable knife reviewers have gotten fires started much faster than I did with this knife and it's accompanying fire stick, so I think I will chalk my troubles up to operator error and sloppy technique rather than blaming the gear in question.
Conclusion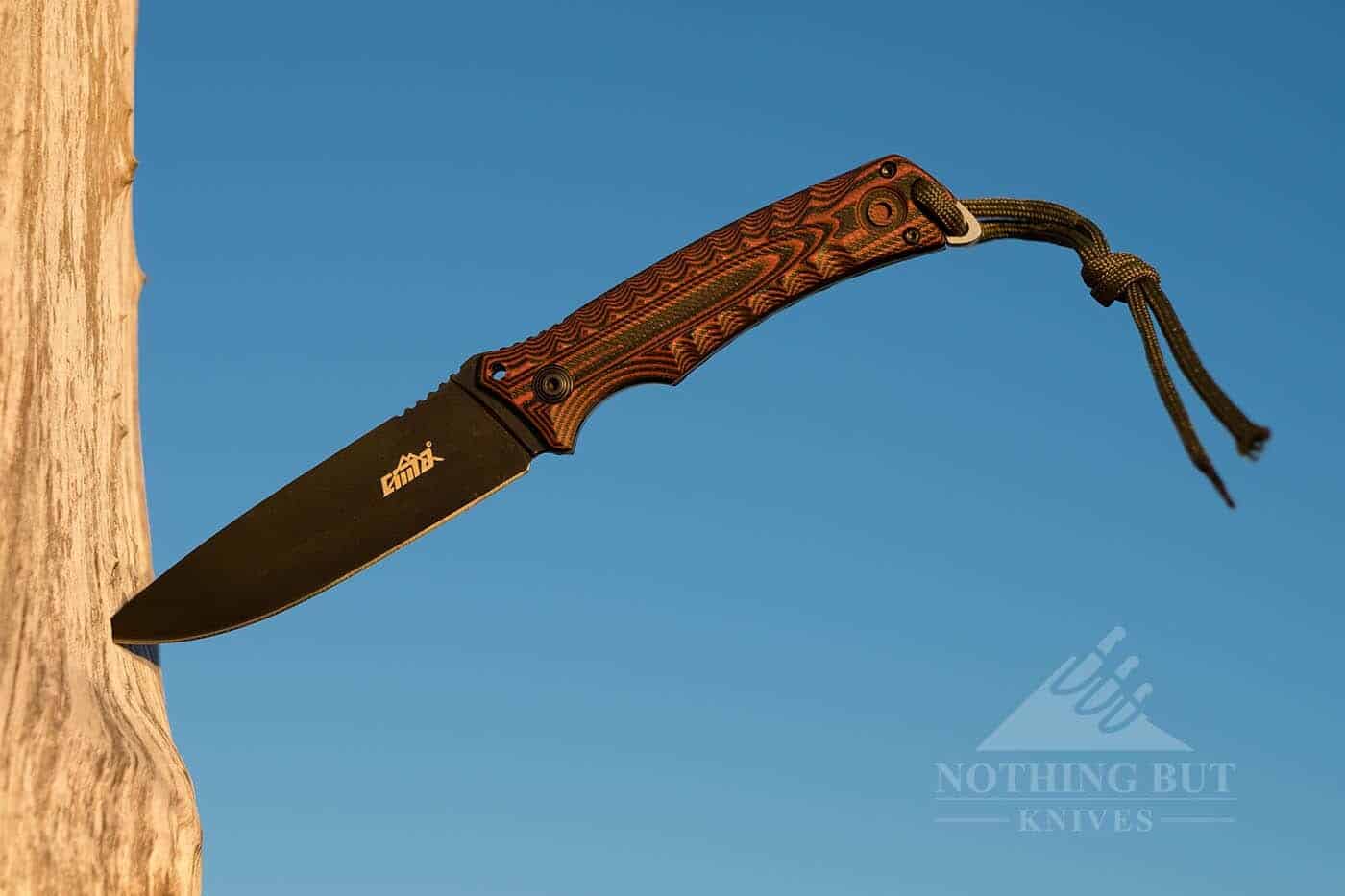 I was pleasantly surprised with the build quality and handling of the Cima G20, but the ineffective sheath is a big drawback. If Cima can get their sheaths dialed on the G20 than I would definitely recommend the knife to anyone looking for a small, budget bushcraft-ish / survival fixed blade knife for camping, backpacking or general outdoor use. Overall I don't regret buying this knife in spite of the fact that I don't remember doing so.