The Russlock Micarta Smooth Looks Good But Falls Short Of The More Traditional Case Designs From A Performance Standpoint
The world of traditional folding knives can be a true rabbit hole with plenty of models to choose from. And while most brands have their signature touch, it's rare to find a unique model that looks or operates differently than the rest. Personally, when I find one, I want to get my hands on it. And that's just what I did, as you'll see in this Case Black Micarta Smooth Russlock review.
I'm a big fan of traditional knives, and I've had a thing for Case models for a long time, but I'll admit I was late getting to the Russlock. Once I saw it, though, I knew I had to try one. I liked the idea of the lever, and it just looked like a really cool piece. But is it? Keep reading to find out.
Specifications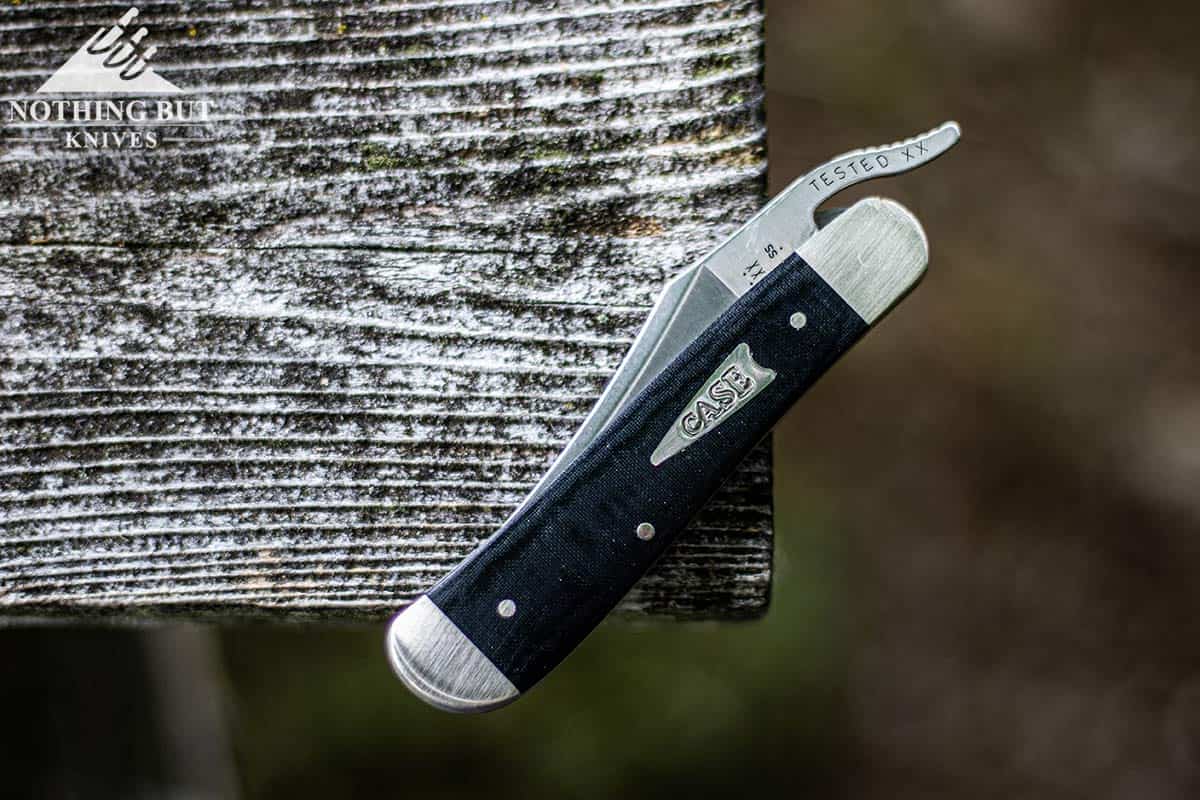 | | |
| --- | --- |
| Overall Length | 6.25″ |
| Blade Length | 2.7″ |
| Blade Width | .06″ |
| Blade Steel | Tru-Sharp Stainless |
| Handle Length | 3.5″ |
| Blade Shape | Clip Point |
| Blade Grind | Flat |
| Handle Material | Micarta |
| Lock Type | Liner Lock |
| Weight | 2.7oz |
Pros:
Unique Design
Looks awesome when closed
Cons:
Is it a liner lock, slip joint or friction folder
Bad Quality control (At least with the one we bought)
Action is subpar at best
A bit overpriced
The Case Black Micarta Smooth Russlock Review: The Pros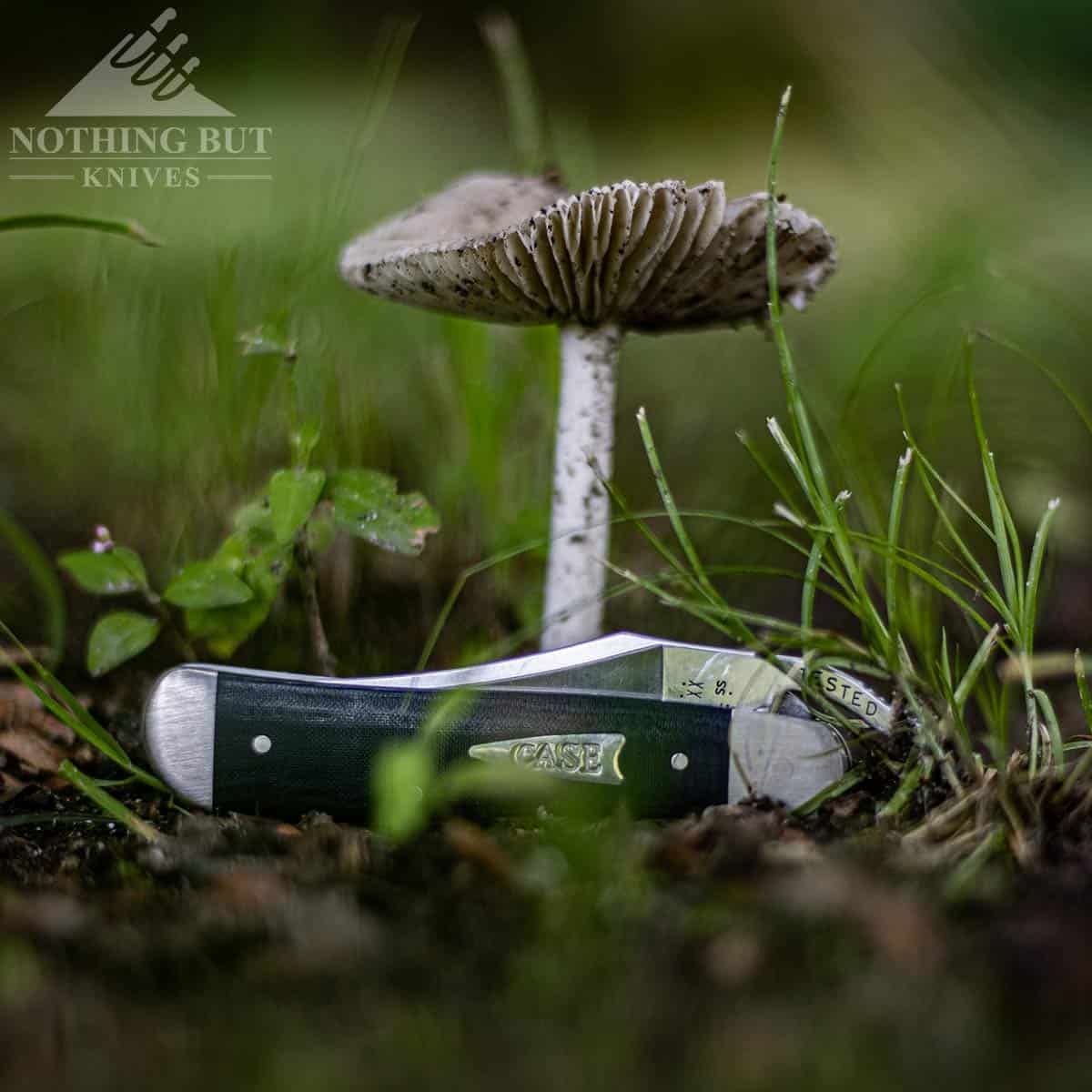 I'll be frank: the cons of the Case Black Micarta Smooth Russlock do outweigh the pros, and it's by quite a large margin. But not everything about this knife is a failure. Let's take a look at what this knife does well first.
It Has a Unique Design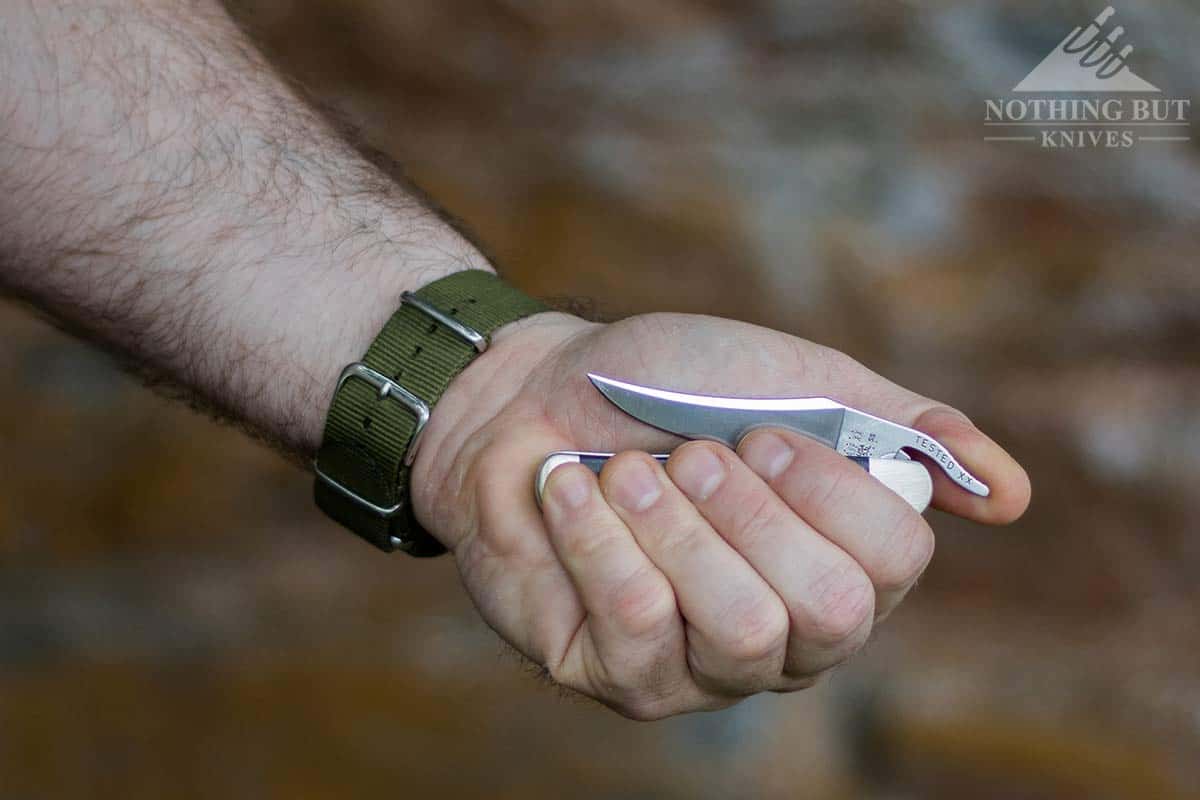 Kudos to Case for doing something different. The Russlock design debuted in 2000, so it's still relatively new in the world of traditional knives. The design utilizes a pronounced, gimped lever hanging off the base of the blade (similar to a friction folder) to allow for convenient one-hand opening. The idea is to pull it out of your pocket, use your thumb to push the lever over and around the swivel, and continue until the liner lock snaps into place.
One-hand opening is an area where traditional knives do typically fall short, so it's admirable that Case sought to solve an issue. Does it work perfectly? No. Is it a little clumsy? Sure. But is it different from other knives? You bet, and that alone wins it a few cool-factor points.
It Looks Incredible When Closed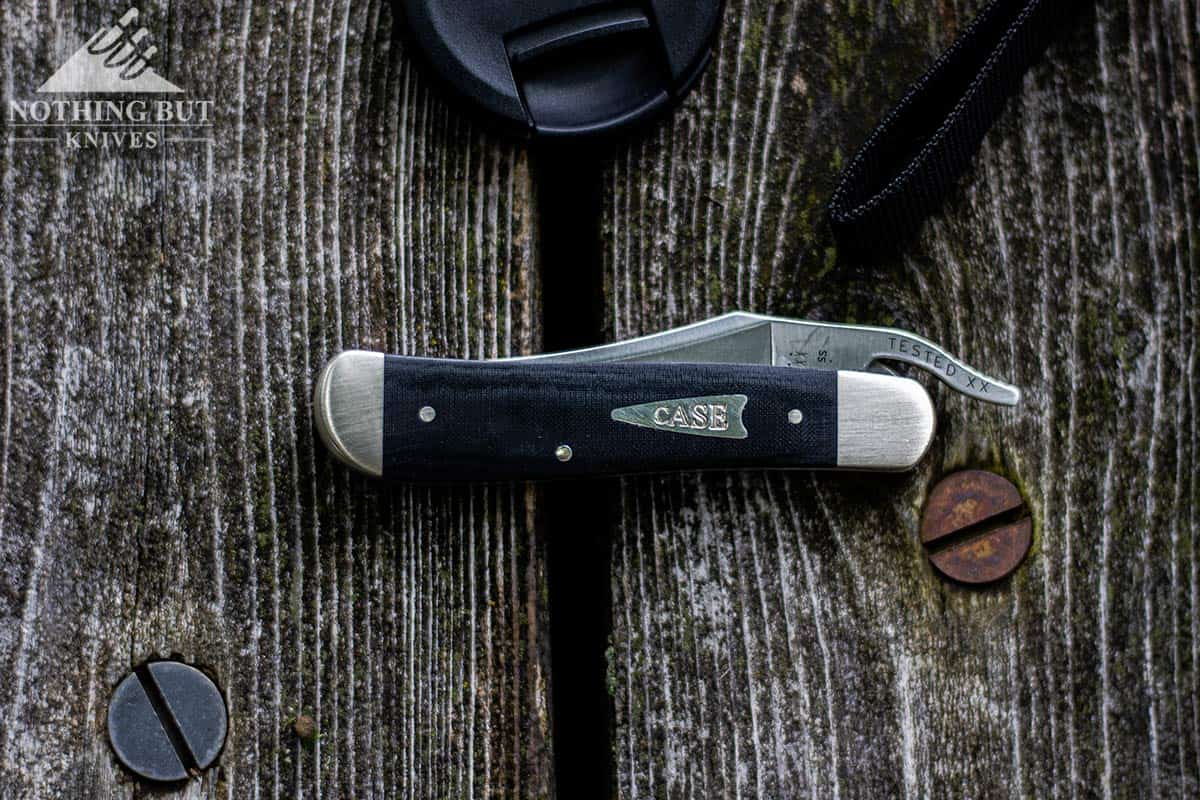 I know that the way a knife looks when it's closed might not carry a lot of weight with some knife shoppers, but collectors and enthusiasts can appreciate a pleasing design. There is something about the gimped lever, the Micarta, the brushed stainless, and the polished Case shield that just look great together. It's modern without being too contemporary and classic without being boring. That feels like an accomplishment.
I'm also not a huge fan of Micarta, and I feel like it can be a bit boring or difficult to photograph, but the black Micarta on this Russlock is very well refined, and it looks and feels outstanding. That's an area many Micarta-handled knives fall short, so it deserves a mention.
The Case Black Micarta Smooth Russlock Reviews: The Cons
Here comes the unfortunate part: There is a lot about the Russlock that doesn't hit the mark. In fact, it missed the mark by so much that it made me wonder which target it was even aiming at.
It's Having an Identity Crisis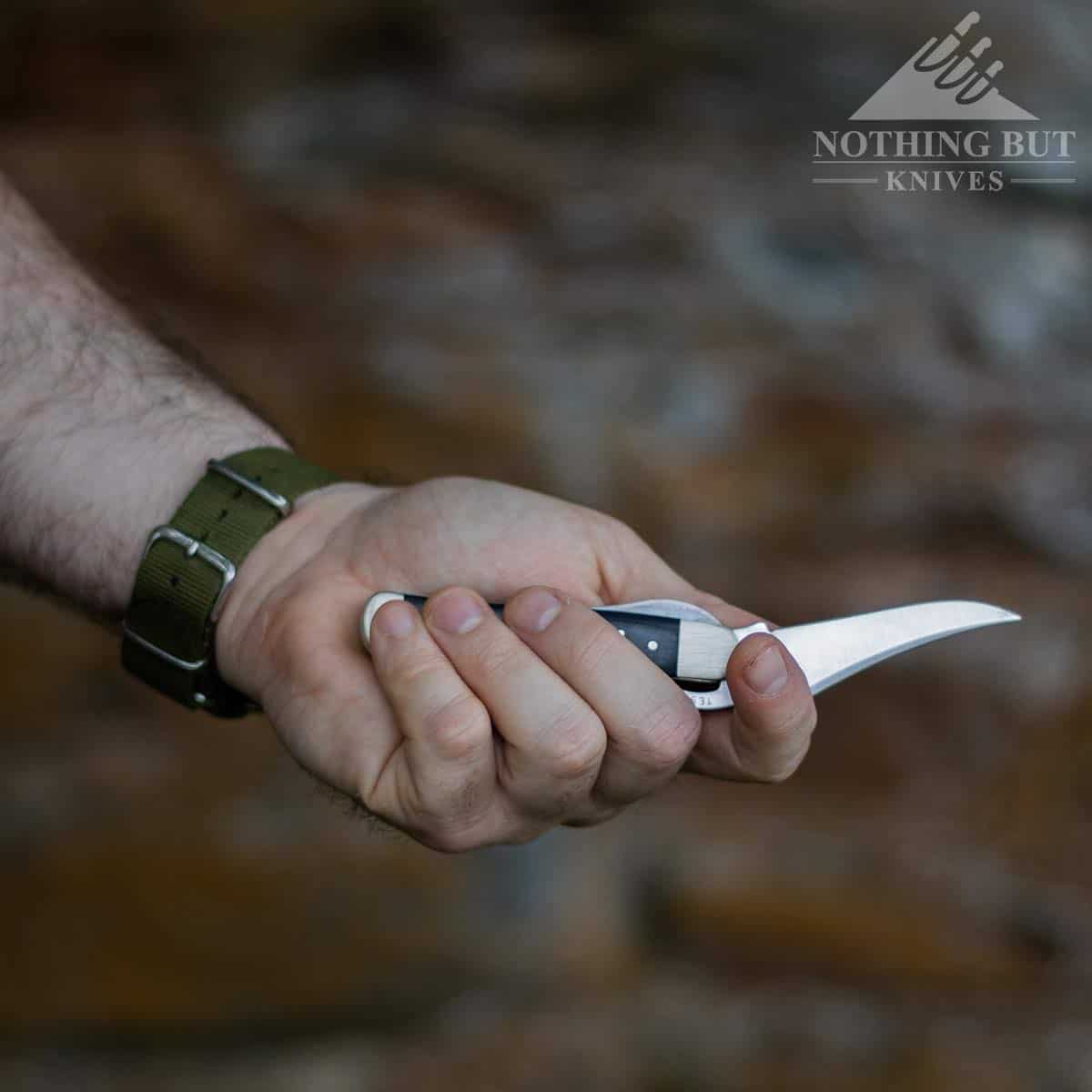 The Russlock doesn't know whether it's a slip joint or a liner lock, or even a friction folder. Case says it's a liner lock, which it clearly does include, but it also acts like a poorly designed slip joint and an awkward friction folder. And none of those characteristics play well together.
The first thing I noticed about the Russlock is how stiff the blade was to operate. It was downright clunky. Also, the spring snaps the blade shut with such force that the tip of the blade pops back up above the handle, leaving a sharp clip point blade tip to run your hand into while it's in your pocket. Oh, but sometimes it doesn't do that at all. Sometimes the blade just stays open between .25" and .5" from the handle. There's so much slop from the lever overpowering the spring that it just becomes unreliable.
I knew it was a liner lock, but I had no idea there would be a heavy spring in the handle to keep the blade from operating smoothly. But I learned from previous mistakes to withhold judgment until the action breaks in.
Today's Judgment Day: the blade is still stiff, and the knife does not shut properly. It just doesn't seem necessary to include such a heavy spring on a knife with a liner lock and a lever that acts somewhat like a friction folder. With 20 years' worth of time on this planet under the Russlock's belt, this is inexcusable.
Case's quality control took a vacation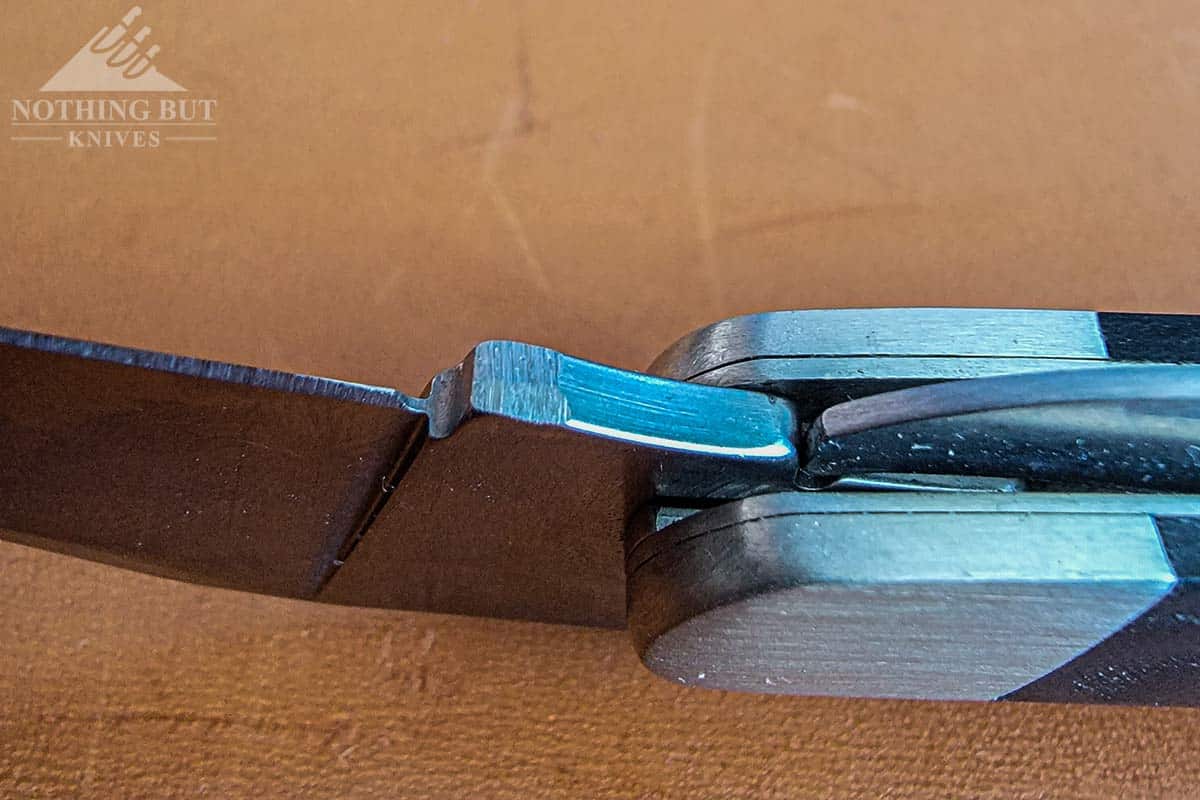 I was upset with the Russlock's unnecessary spring, but the next point put me over the top: Case's quality control team isn't doing its job.
On the Russlock's web page, Case states, "Note: Because we use hand-crafting and natural materials, your knife may not look exactly as depicted." And I get that. But, this is a $90 knife, so the fit and finish really need to be spot-on.
Well, mine wasn't. The tip of the kick on my Russlock's blade is covered in heavily ground machine marks. It's almost as if the kick got too close to the sharpening machine, and the folks on the assembly line said, "Just send it."
But, I have a theory of why this knife might look like this. I've been comparing this knife to some of the Russlocks in Case's photos, and the kicks on the knives in the pictures come to sharper angles. I think the tip of this kick was intentionally ground to allow the knife to close better. Not only does it still close poorly, but why wouldn't someone take this freshly ground spot and bring it up to the smooth, satin finish everywhere on the blade.
It almost seems like a mistake a first-time knife maker might make, but Case is anything but a first-time knife maker.
The Action is Subpar at Best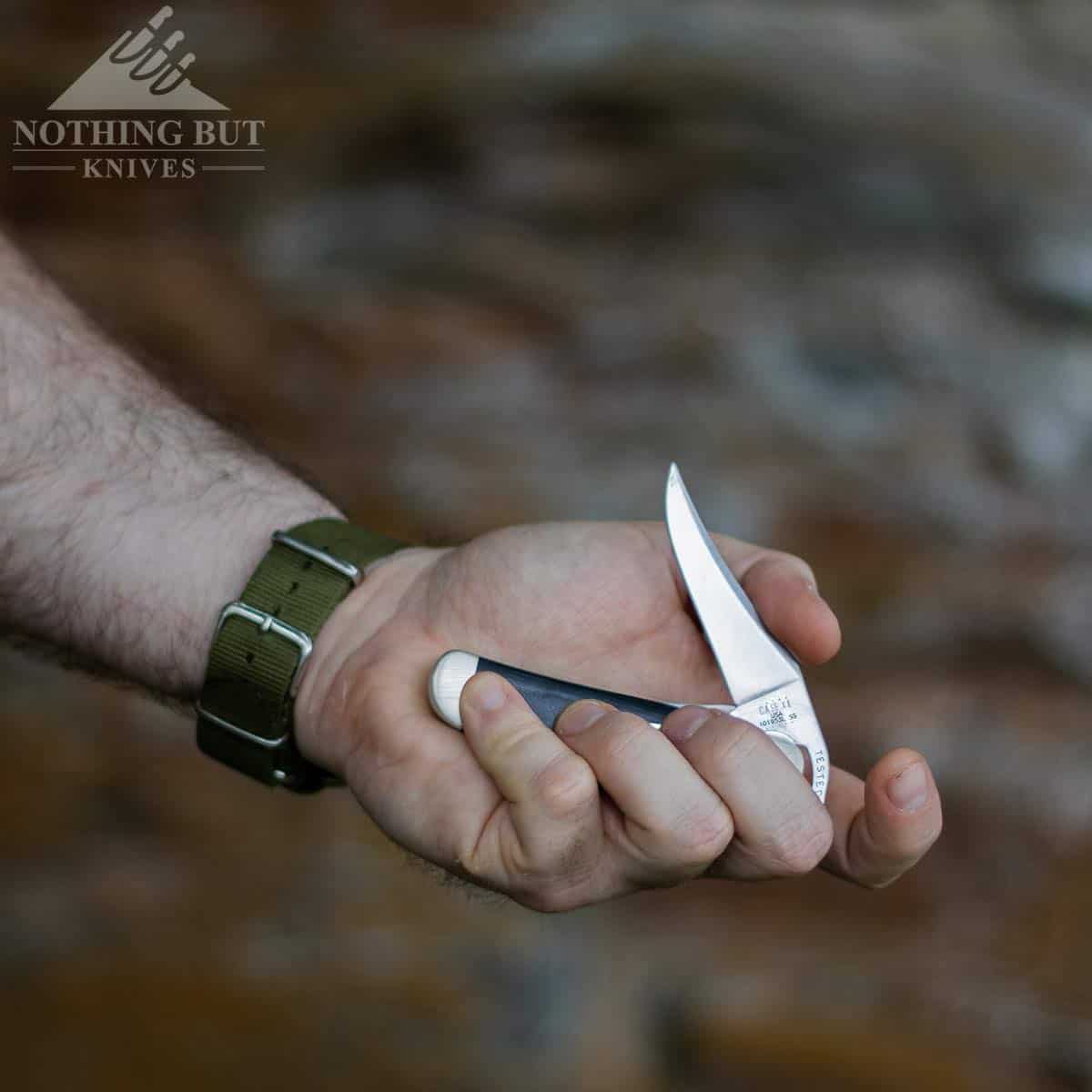 I know I beat up the action already, but since this knife is coined for that action, we need to dive deeper.
There's a learning curve to opening the Case Russlock with one hand. Some people need to use their thumb to push the lever to their index finger, while others are able to open with just their thumb (I'm proud to say I'm a member of the latter group). But it's clunky and almost seems like it's a two-stage process. And there's a reason for that.
Instead of the blade being rounded around the swivel so the blade can operate freely and take advantage of the liner lock, it has a somewhat square design. This means that the spring has to work itself around a corner on the blade before it can open and close completely, turning the already non-intuitive opening style into a two-stage process.
It's Not a Cheap Knife
As mentioned earlier, this particular Russlock is a $90 knife. For a traditional folder, that's a steep price, and you're not getting a whole lot for it. The design is interesting, and the materials are top-tier, but the action and quality control leave something to be desired.
While it might seem that I'm being harsh on this knife, it's the near $100 price point that has me this way. You can overlook some of the issues with the Russlock at $40 or $50, but at almost a Benjamin, these issues become glaring.
Who is the Case Black Micarta Smooth Russlock for?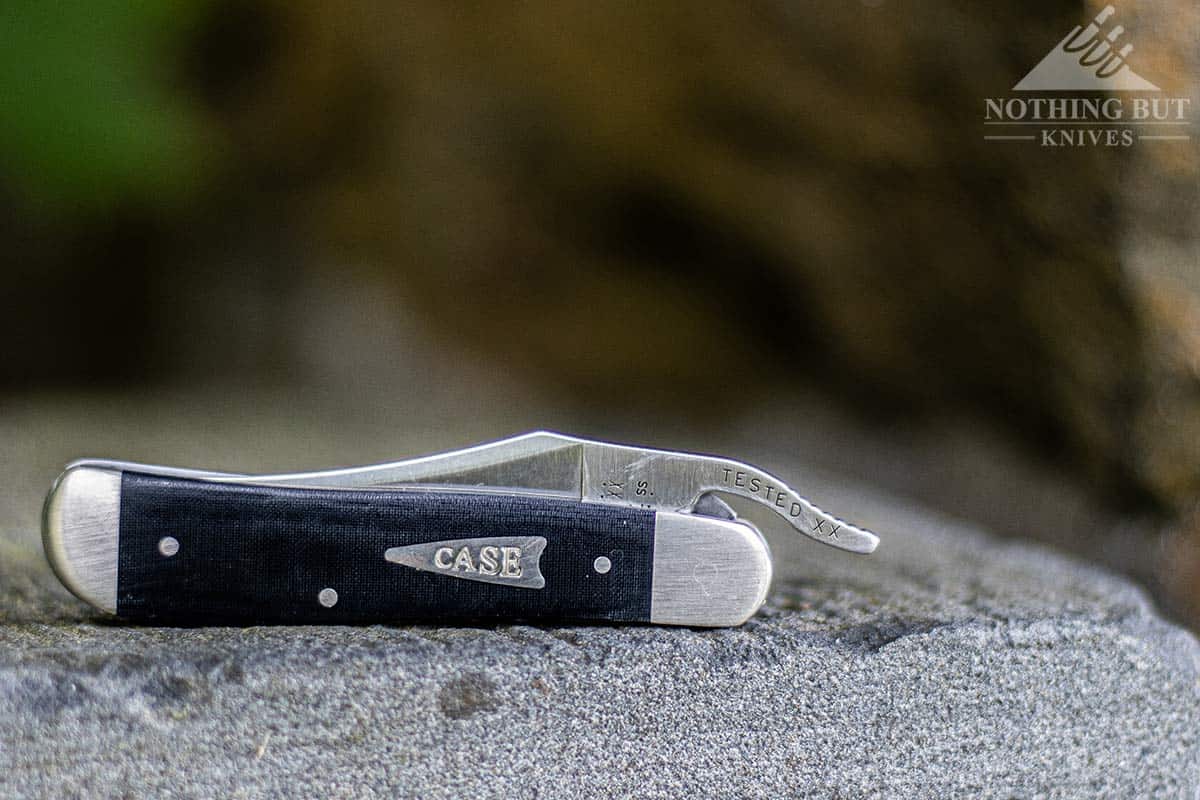 I really wanted to like this knife, and it broke my heart that it ended up failing my review. I love Case knives, and the unique design sang to me. But I just don't like this knife.
So you might be wondering, Who is the Case black Micarta Russlock for? Probably no one. At least, I wouldn't recommend it to anyone. But, I will offer an interesting alternative instead.
If you're looking for a traditional Case that won't let you down you like the Russlock will, check out the Case XX WR Trapper. This is a knife that just doesn't disappoint. It comes with a spey blade as well as a clip point, and the quality control is much better. The spring works properly, allowing this knife to operate as it should. And the blades, for the most part, look much better than the Russlock.
The Trapper is a simple slip joint design with polished Vanadium steel blades, but it gets the job done. It also helps that it reminds me of the Trapper I had as a child. I hid it in the barn and would retrieve it every day after school before heading into the woods in search of adventures.
Conclusion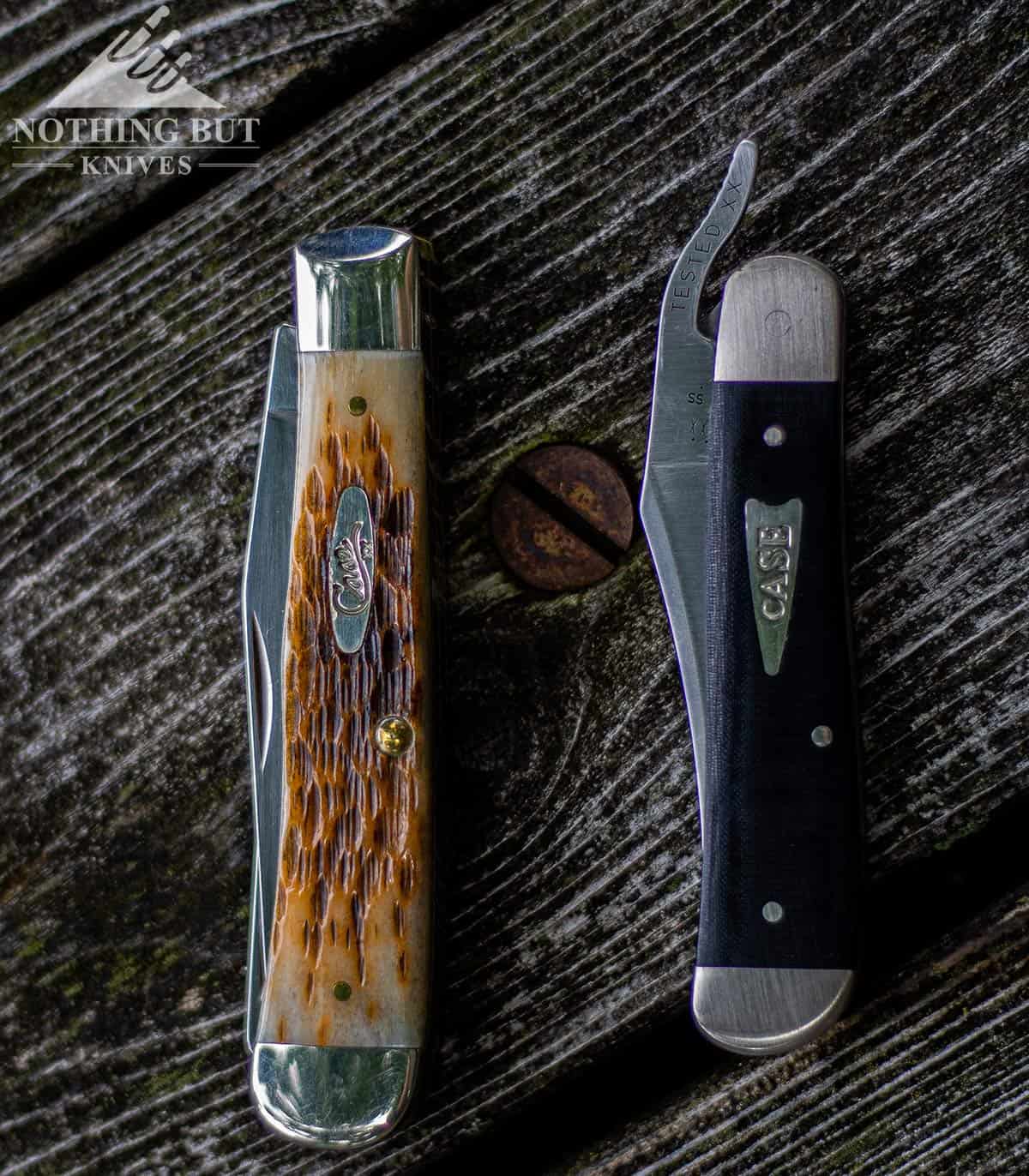 I often think that I fall in love too quickly with a product during testing, and I have to rein it in so I can offer a fair and subjective review. This time, that wasn't the Case (pun intended).
I truly wanted to like this knife, but there just isn't much to like. The action is strange, it doesn't operate smoothly, and the blade doesn't shut every time. And, with its relatively hefty price point, you can certainly do better. For almost half the price, you can carry around a bone-handled trapper that won't let you down.
Head back to the drawing board, Case. And start looking at your knives before they head out the door, will ya?