Ceramic Knives Are Lightweight and Corrosion Proof, but not Great for Cutting Frozen Meat
We've seen ceramic knives being used by home chefs in shows like Master Chef USA. While they all serve the same function, a ceramic knife is a very different beast from a steel knife. They require the user to be a lot more careful as they cut as ceramic is a harder, more brittle material, but it's an excellent choice for people highly concerned with corrosion and hygiene, or aren't particularly fond of sharpening their knives.
Here are its pros and cons:
Pros
Ceramic is a lightweight material, making most ceramic knives significantly lighter than the typical steel knife. That cuts down on hand fatigue quite a bit when you have a lot to cut up.
Ceramic is also the second hardest material after diamonds, so ceramic knives tend to stay sharper longer compared to steel knives.
Ceramic knives are denser and less porous so they are more sanitary to use.
Because ceramic is inert and has fewer pores than steel, ceramic knives won't transfer odors or taste when you chop different food types. If you chop spices and need to slice pieces of meat, all you need to do is to give your ceramic knife a quick rinse and it won't transfer any spiciness to the meat.
Ceramic means no metal, so no rust.
Cons
Ceramic is very brittle. Ceramic knives are not meant to be used to cut frozen meat, bones, or anything that can't be easily sliced.
They also tend to be more expensive. It used to be difficult to find budget ceramic knives that were decent quality, but that has changed over the course of the last few years as more and more durable ceramic knives are being sold at cheaper prices.
Ceramic knives are meant to slice. You absolutely cannot use it to chop, pry, or cut anything with an especially thick skin like gourds. You will need your trusty stainless steel chef or butcher's knife for that.
It is damn near impossible to sharpen a ceramic knife at home, so even though the edges will still in shape over several years of (proper) use, you won't be doing much edge modification at home. Thankfully most companies who sell ceramic knives also offer sharpening services.
Start With One Knife Rather Than A Whole Set
If you are unsure if ceramic knives are something you would like to add to your kitchen cutlery set, it might be a good idea to just buy one to test out rather than starting with a whole set. We recommend starting with a ceramic chef's knife as they're usually the most versatile.
If you really like the ceramic chef's knife you may want to invest in an entire set of ceramic kitchen cutlery, or you may want to stick stainless steel knives for everything but the chef's knife. Check out our article on the best ceramic chef knives under $50 if you are looking for a budget ceramic chef's knife.
Our Favorite CERAMIC KNIVES

& Sets

Here are a few of our favorite ceramic chef knives. Any of these blades would be a great option for testing a ceramic knife in your kitchen.
Vos 8 inch Ceramic Chef Knife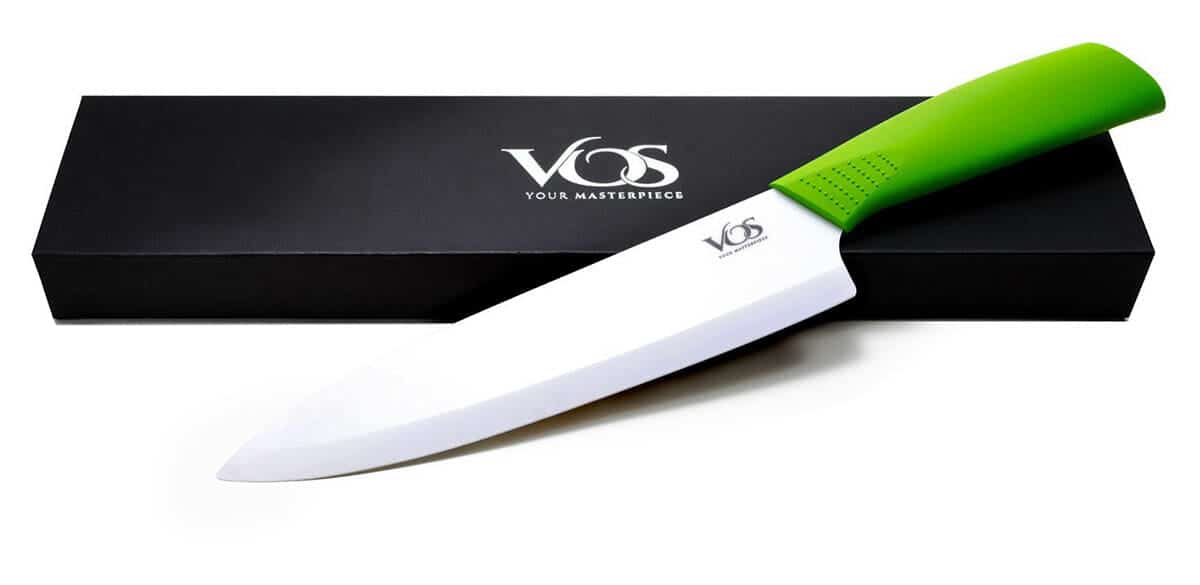 The VOS 8 inch ceramic chef knife offers impressive value at its current price point. This knife ships incredibly sharp and holds its edge well even if you are a busy cook. The handle is incredibly grippy and comfortable thanks to the bit of texturing set into the sloped portion at the top of the handle. It feels very natural in a pinch grip.
Vos 5-Piece CEramic Knife Set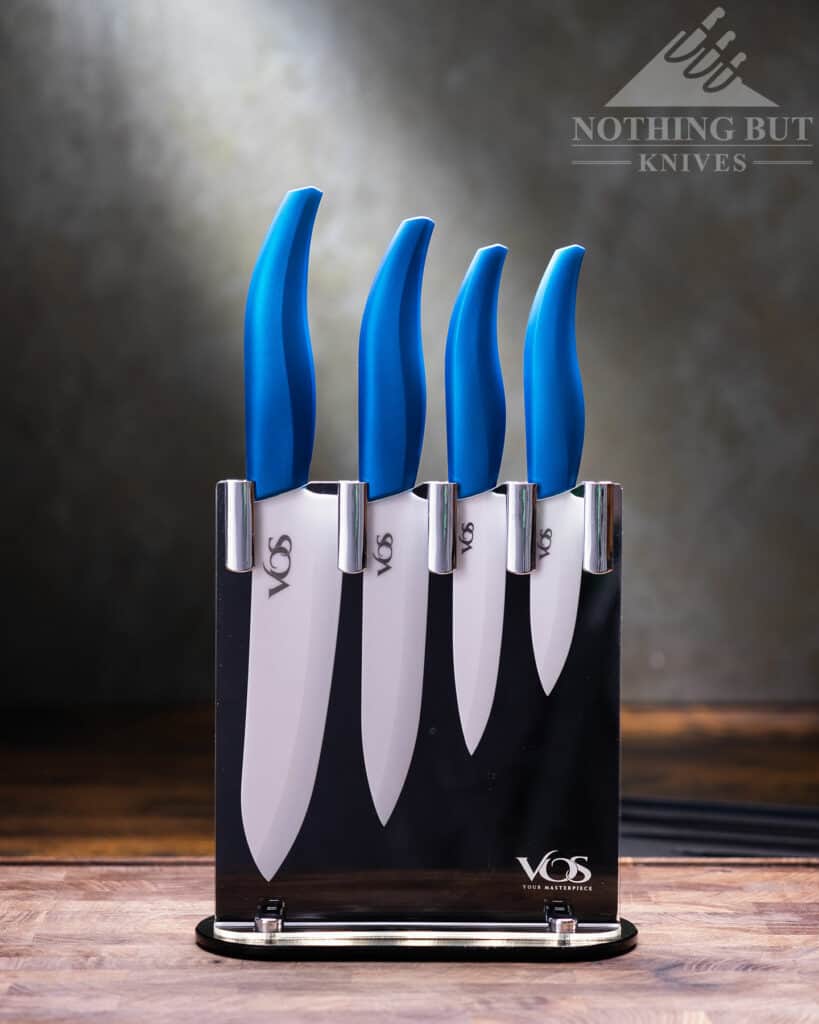 Set includes 6″ chef knife, 5″utility knife, 4″ paring knife and 3″multipurpose knife.
Most people who are shopping for ceramic knives already have a steel knife set in their kitchen. With that in mind it was nice to see Vos come out with a small set that ships in a compact storage block. If you are worried about counter space, this set may be the way to go.
The ceramic blades have a nice even grind that shows Vos has improved their fit and finish over the last few years. The handles are extremely grippy even when wet. This set has become one of our most recommended ceramic knife sets since its release.
2) Kyocera Revolution Series 7-inch Professional, Ceramic Chef`s Knife With White Blade
Kyocera Advanced Ceramics is a well established brand that is trusted by professional chefs and cooking enthusiasts world wide. They cost a bit more than the average ceramic chef's knife, but most people who have purchased this knife say it is well worth the price.
Kyocera Ceramic Revolution Paring Knife Review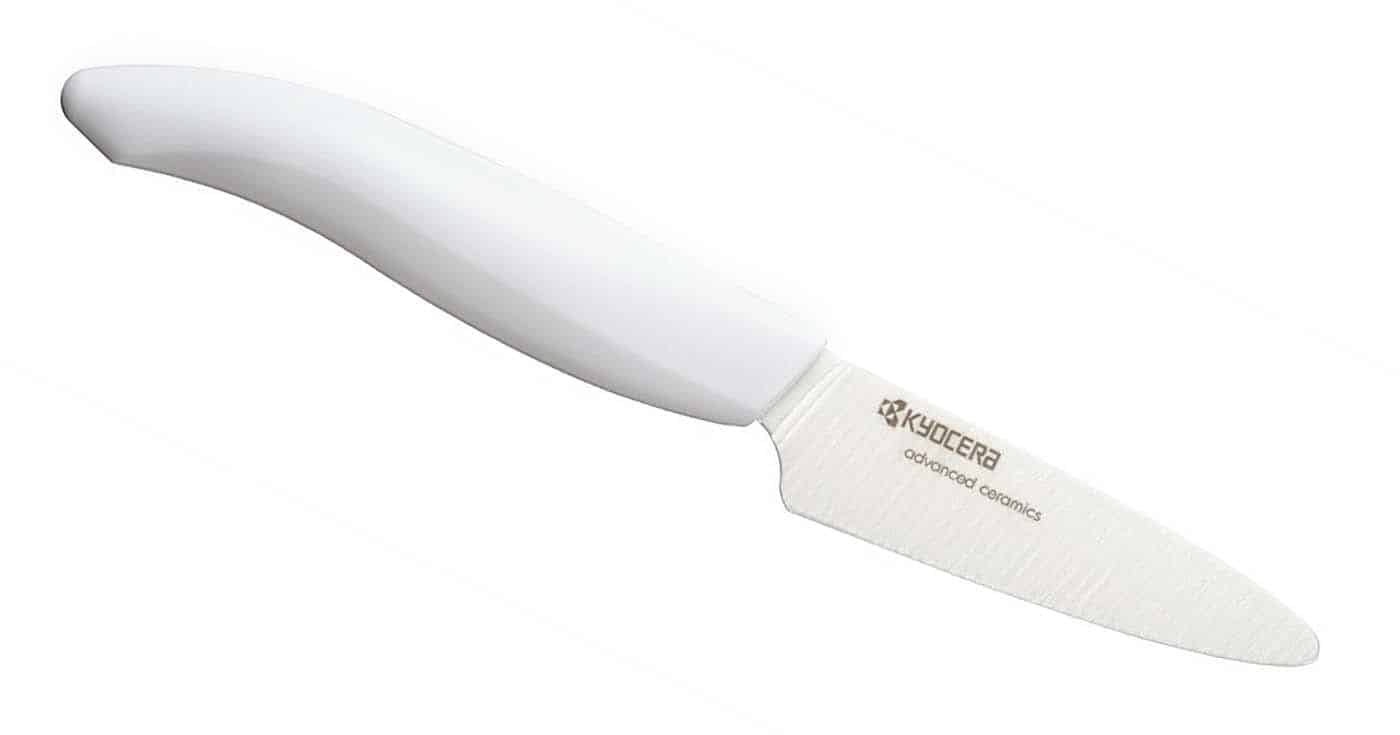 The Revolution Paring Knife from Kyocera is a great choice for your first ceramic knife purchase, because it is cheap, well designed and fun to use as long as you don't try to cut cheese. This is an excellent fruit and vegetable knife when you just need some easy slices off a cucumber. So if you are looking for a good salad maker that you won't have to sharpen this is a great choice. Check out our in depth review of the Kyocera Revolution Paring Knife if you want to learn more about this impressive ceramic knife.
Kyocera Innovation 4-Piece Knife Set
The Innovation Series from Kyocera first caught our attention because they used a new type of ceramic called Z212. Kyocera claimed that this material holds its edge longer than other ceramic knives on the market. This claim has proved to be more than an overhyped marketing claim. These knives really do hold an edge for an incredibly long period of time.